For The Love And The Buzz
Young. Keen. Driven, Focused. Four words which perfectly sum up Liam Duncan.
Liam Duncan is an angler we've wanted inside the pages of CARPology for years. Unfortunately though, this likeable Leicester lad isn't into publicity; he doesn't like the limelight. As he puts it, "Some people love doing all that - and are good at giving information, so there's no need for someone like me to do it. And anyhow, if I held up some of my rigs, people might spit their tea out!" Whilst that's extremely unlikely, it didn't bode well to getting him to agree to doing an interview. Thankfully though, this month Dan Wildbore finally managed to sit down with Liam during one of his sessions (he only fishes weekends) on a quiet lake and what follows is a fascinating insight into his angling life…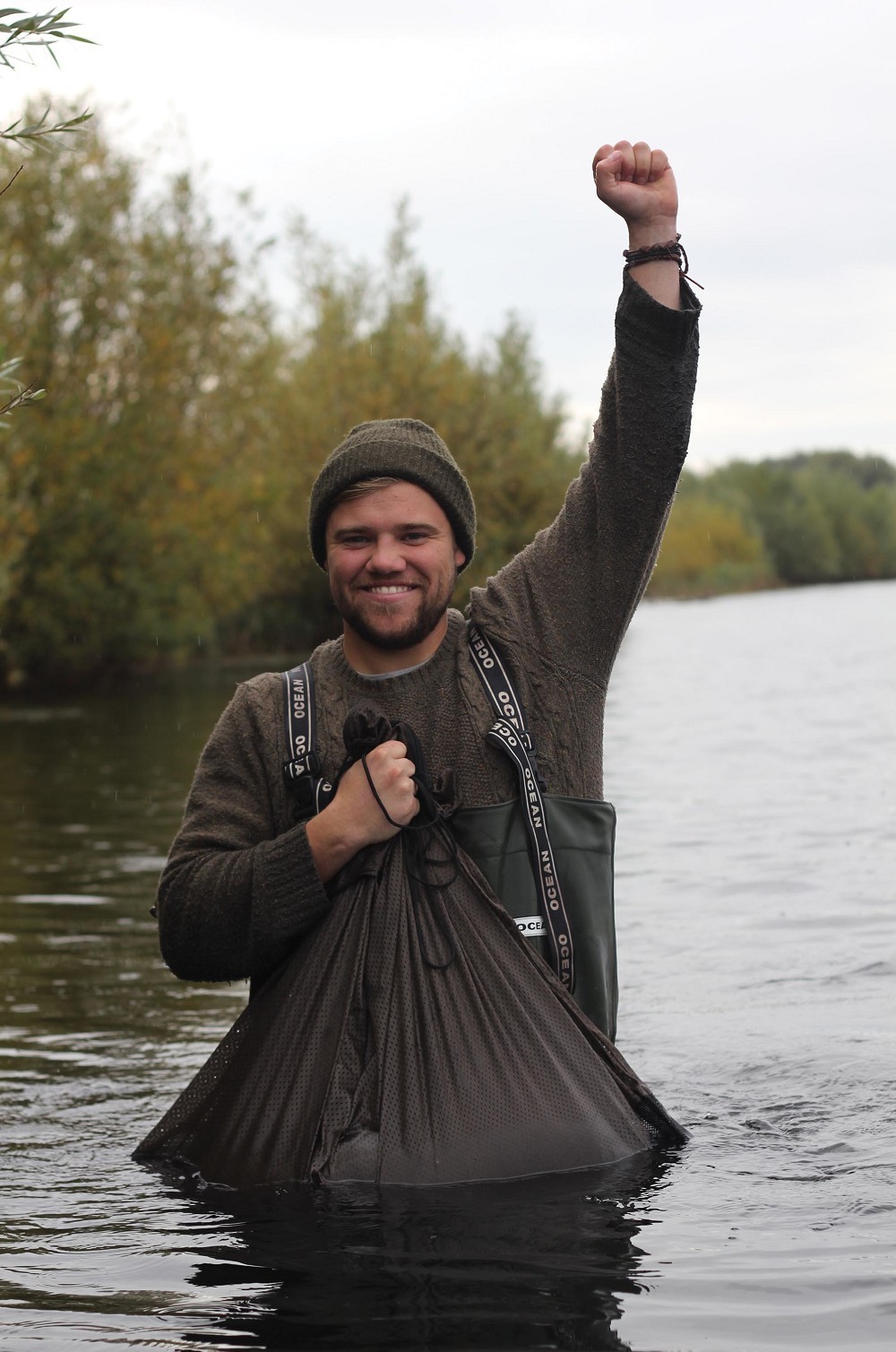 The international carp anglers sign for: 'job done, target achieved'!
Dan Wildbore Being a Leicester lad, you have not been blessed with lots of big carp, but where was the first place that you joined?
Liam Duncan: "It was Sandpit on the Sand and Gravel ticket in North Leicester. There were a few nice commons, topped by Blind Eye that was around 35lb. Myself and a friend did a couple of seasons on there; we struggled like mad on the first season, even though I caught Blind Eye on my fourth night. I was actually off work with a broken hand and the pictures I had with that one I'm in a cast!
"It wasn't until the second year that we got to grips with the place really. It was only a few acres with 30 to 40 fish and it taught me a lot about 'spot fishing' in weed. We would bump into and speak to Lee Petty quite a bit at the time and we did look up to him I suppose. He was a Leicester lad that had travelled and caught loads of big fish from up and down the country. He said to us that we should get out of Leicester and go and fish elsewhere, as there were a lot bigger fish in other counties."

Dan WIldbore: Being a weekend angler, I suppose you had to pick a sensible option for where to fish next?
Liam Duncan: "Yeah, we looked long and hard at it and ended up getting a ticket for the St Ives complex. I also got a ticket for a local brick pit with some special carp in it too, so I could use that for my work nights and local fishing if you like.
"Kev Wilson had caught the Fat Lady, which put it on the map for us Leicester lads, but by the time we got down there it had gone, so I ended up fishing on all the pits on the complex, flitting around really and not settling.
"In the end I spent the summer mainly fishing on the brick pit and caught some of the old ones that I wanted from there. It was a park lake and came with its limitations, but all that goes by when you just focus on why you are there. The carp were special and to catch some of them was a real buzz."
Dan WIldbore: I suppose going somewhere like St Ives was a bit overwhelming due to the size of some of those lakes?
Liam Duncan: "Particularly Fjords and Meadows, which was a really big pit. I caught a few fish from around the complex that first year and it was a real buzz doing so. Once I had done a bit on each, I decided that the following season would be spent fishing the Shallow Pit for Colin. It hadn't done 50lb at the time and I knew that it was going to get really busy as soon as it did. The complex was quiet because everyone had thought that it was all about the Fat Lady. There were times in the summer when I would get down on a Friday after work and have the place to myself!
"I had done my first year and caught a few and it wasn't until the following spring that it happened. I always found that when it got busy in the spring and there wasn't much weed out in the pond, the fish loved it in the out of bounds.
"It can be quite peggy in the spring and I was lucky to get one of the swims that fished towards that out of bounds area. I waded across to an island and got up the tree and I could see a lot of fish in there. They were bubbling and sheeting up, so I gave that area a kilo of Krill and another kilo a bit closer to the spot I could fish.
"On the Saturday morning they were trashing the second pile of bait and it wasn't until the Sunday morning when they were on top of the rod. They were absolutely smashing it, with sheets of fizz all over it. They dwindled out as the morning went on and I thought my chance had gone, but then, out of nowhere, I was away! I had a feeling it was her and when she went in the net it was no mistaking which one it was. She looked awesome and was my first really big fish at 48lb 8oz. It was a huge buzz to catch her and a lot of work had gone into it that's for sure."
Dan WIldbore: I suppose after catching that one, the Round Brown was next on the list?
Liam Duncan: "The lake actually backs onto The Meadows and you can't help but poke your nose through the bushes from time-to-time. My mates had been on there and caught it and I had a game plan of how I was going to do it.
"Thankfully I had caught Colin early, so I could enjoy the spring on there. There were a handful of originals and then a lot of stocked fish too. If I had to guess the stock I would say there was around 75-100 carp in 110-plus-acres. It is four lakes all connected, with loads of finger bays and places that the carp could be in. There is a lot of legwork but it's really enjoyable fishing.
"I tried to get down on a Wednesday night to bait up and if the conditions were biblical I may do the odd night. It meant packing up at silly o'clock for work and it did kill me, but if it looked cock-on I would occasionally do it.
"I caught a few fish that year but it wasn't until the autumn when everything started to come together. I was fishing a spit that was flooded and hardly anyone was fishing the lake at the time. I was having to wade my gear up this 100yd spit to a small bit of dry land at the end. It was a popular swim that fished in to The Meadows, but because of the water level it was left alone.
"I kept baiting the spot and I had quite a lot of fish off it. It was October 11th when I eventually got the bite that I was looking for. It was a proper autumnal morning and it was such a buzz to see her in my net. She weighed over 43lb and what a lovely old fish she is."
Dan WIldbore: I'm guessing St Ives was your first proper campaign? What did you learn from that?
Liam Duncan: "Being a circuit water you saw quite a few anglers. I had to put 100% in my fishing all the time. There were some very good anglers fishing it and they were on the ball, so if I wasn't then they would capitalise. I would get up during the night and listen, just to put in every ounce of effort I could."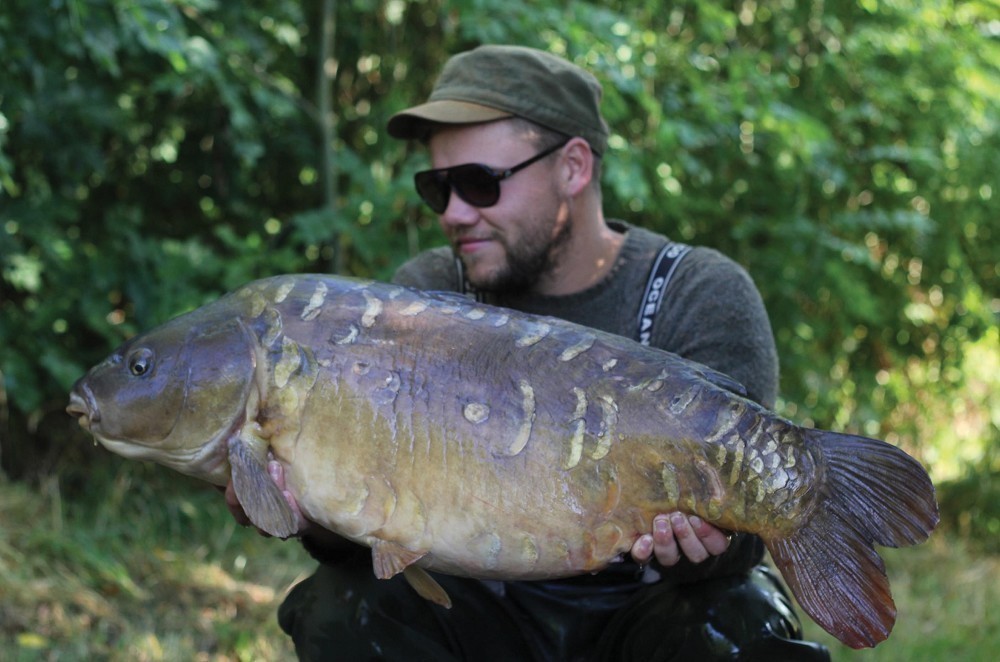 A local history fish: the mighty Scaly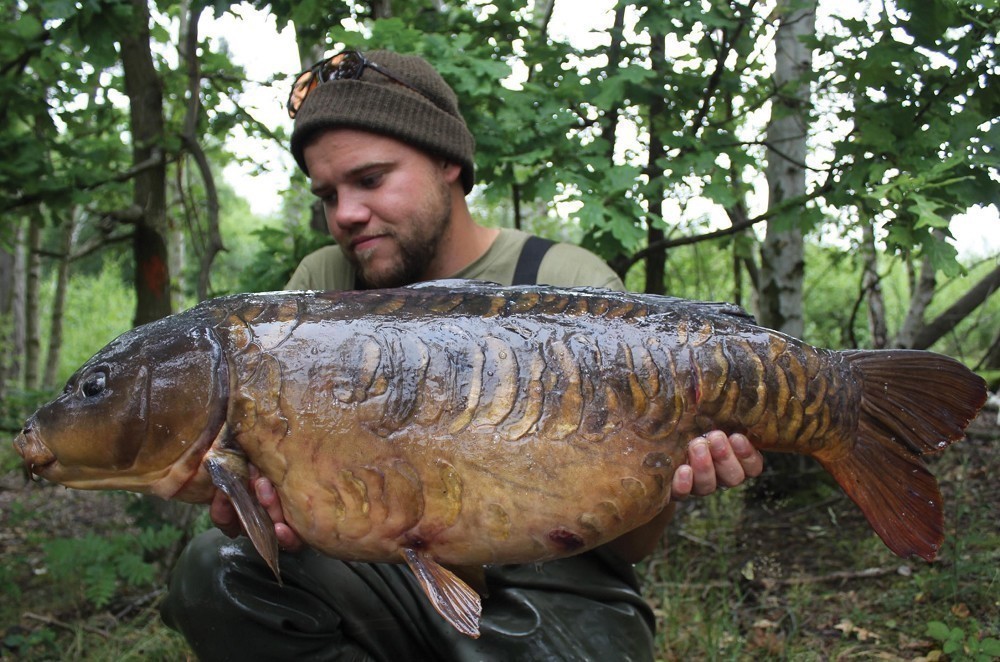 Lincoln was the next stop for a big common, but this mirror was more than welcome
Dan WIldbore: Other than St Ives, the Cambridge scene has gone quiet, which often means there are some big fish around, did you hear of anything while you were fishing St Ives?
Liam Duncan: "There are loads of lakes out this way for sure. I wanted to stay on St Ives and a friend had been fishing on Longreach. I had spoke to him a lot about it, but I didn't want to go on there while he was fishing on there. I had caught a couple of big mirrors but fancied a crack at a big common. Years ago I got to hear about a lake in Lincolnshire; it was a bit of a park lake with a lovely old common of over 40lb in it. Randomly, I had actually enquired about a ticket and was due to meet him the morning after I caught The Brown. It was great timing really, so I shot up on the Sunday with the missus and took her out for some food to celebrate and I got my ticket for the new lake, too!"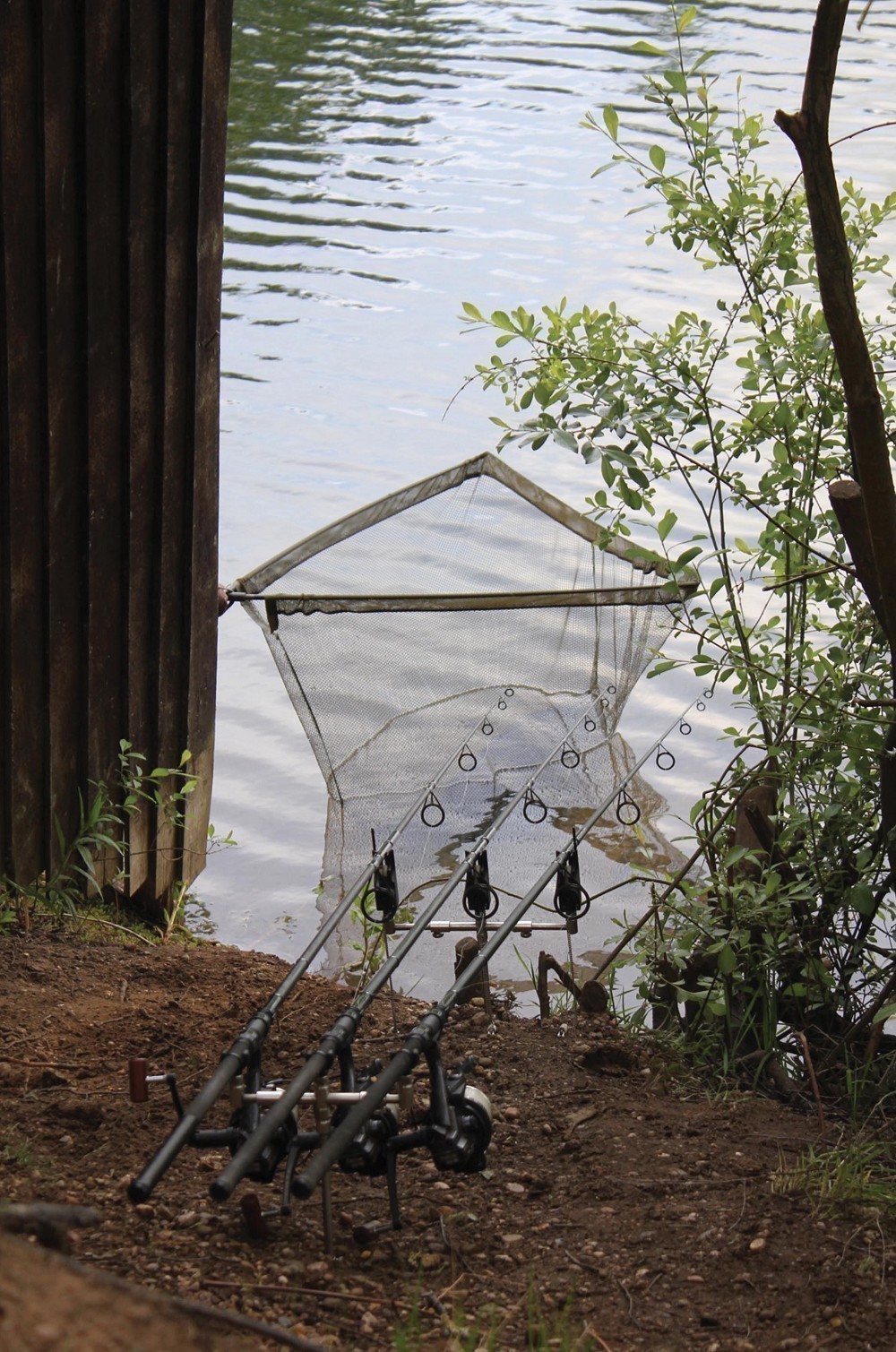 Big carp morning!
Dan WIldbore: How did you approach the new lake?
Liam Duncan: "I had just come off the back of a couple of really good seasons using the Krill and I knew it would work wherever it took it. That first season I had 16 bites, with it being very low stock it was pretty successful. Most of the action was over lots of particles in the summer and I could never really get the fish going mad for the fishmeals, which is something that I had not seen too much.
"The Manilla was released that year and I ordered some early on, with the plan to use it in the spring. If the fish were not on the fishmeals, they would certainly like that stuff as it smelt and tasted bang-on. I caught from the off, just boilie fishing, which was wicked because I couldn't get bites doing that sort of fishing.
"I had a week off in March and I think I had five bites that week. I fished boilie-only all spring and I ended up catching the big one in May at 42lb 8oz. It was a really old history fish for the area and I couldn't have asked for anything more. I wanted my first big common to be a special one and it was: a truly immense and treasured carp for sure."

Dan WIldbore: Do you do much research into a new venue before you arrive, or do you just prefer to scope it out yourself?
Liam Duncan: "I normally join a lake for a specific carp. I like to do as much research as possible; through social media I like to get into contact with like-minded people. I look back at times of year or moon phases, and whilst I only fish weekends, if a fish that I was targeting came out on a certain moon phase, then I would book some holiday. I make notes all the time when I'm fishing and I will log sightings, captures - anything that will help me find out some sort of pattern. I have found that some fish like certain areas, so you can pin them down to certain spots."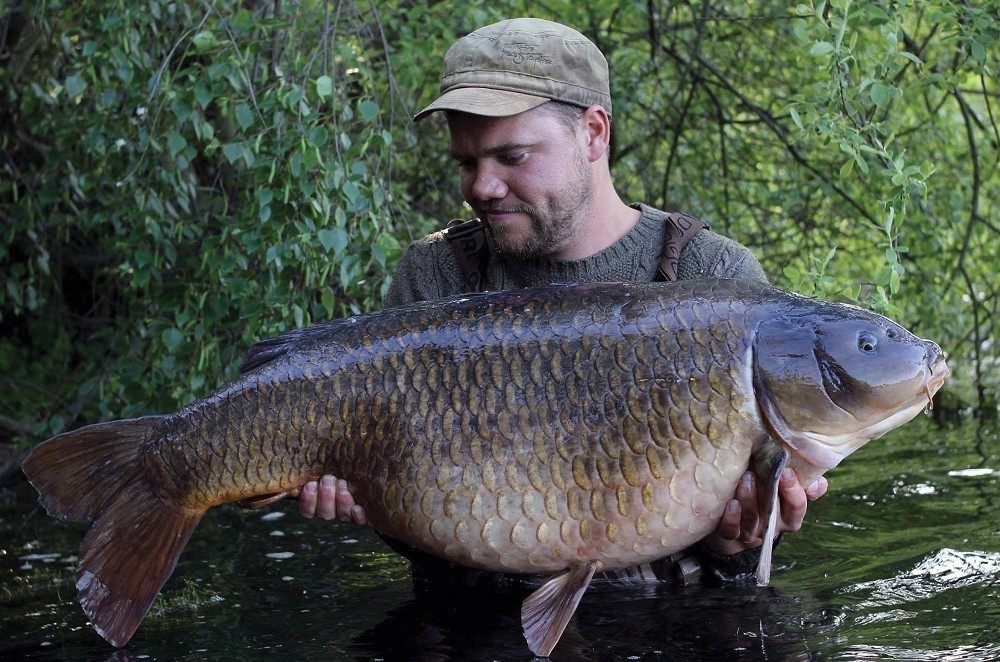 A Lincoln jewel: 42lb of magnificent ancient common carp
Dan WIldbore: How much influence does this research have on your initial approach?
Liam Duncan: "It has a big influence. If it's known for a spring capture and in a certain area, I will put my effort into those spots. I don't think you can put it all down to gospel, but if there is nothing else to go on I will fall back on it. I still use my eyes, but I do take influence on what I have found out for sure."
Dan WIldbore: Do you think that by only being able to fish short sessions it allows you to angle better?
Liam Duncan: "Yes, massively. Most of my target waters are an hour-and-a-half journey, so it doesn't allow me to do too many overnight sessions. I have to put everything into my session; I have two nights to put every ounce of effort in while I am there. I try and learn something for the next trip too, so putting in maximum effort in is key."
Dan WIldbore: How would you define a good angler?
Liam Duncan: "I've always said the amount of carp they catch on limited time. I have met some anglers that can only fish one night, but still end up being top rod. I have also met guys that can fish five days, mid-week, and don't really catch a lot. And yet they still persist on bragging about what they catch, but the guys that have very limited time don't seem to. I also respect guys that keep going when fishing for a target. I have a friend that has fished five seasons for one fish. He has caught everything else but that one has eluded him. He keeps going back and I respect that."
Dan WIldbore: How would you describe your style of angling and have many anglers influenced your angling decisions as you were growing up?
Liam Duncan: "A few of the names from Leicester were venturing down South and told us that we had to. We wondered how they caught so many big fish, but they just said we need to travel. So we started to drive South on a Sunday for a look around various lakes. We got a right buzz for it, so we have to thank the lads for telling us to do that.
"My style of angling is one that likes to learn. The other spring there was a guy catching a few on the beachcaster, which is something that I have never used before. I went around to him and asked him how it all worked. He was catching loads and from a difficult lake too. Now I know that I can take this to another lake and catch. You can never stop learning and I'm not afraid to ask people. You can never be a know-it-all, nobody can, which is why I like to learn."
Dan WIldbore: You are a relatively young angler but have built up an album of special old carp, regardless of size, is this important to you?
Liam Duncan: "This is something that I am passionate about and one day we may have to fish for whatever we can, but while these special old carp are swimming around I want to look back at my album and angling, knowing that I did everything I could to catch them.
"This is what drives me: fishing for amazing looking carp. I would quite happily fish a lake for a mid-thirty if it's a lovely looking fish. I feel that you appreciate them more when they have something about them and it isn't just about digits on a page, a list of how many thirties and forties you have had."
Dan WIldbore: What do you feel are the key factors when tracking down certain fish?
Liam Duncan: "Putting in the legwork. You are not going to learn much sat behind the rods all day and night. I often reel in after bite time and go for a walk. The best way of sussing fish out is finding them and watching them. Even if it's in a snag or out of bounds, you can learn so much by watching them. If you keep climbing trees and looking, you will find carp in certain weather conditions. I will remember these things and when that weather comes in again a few weeks later, I know where to look when I get to the lake."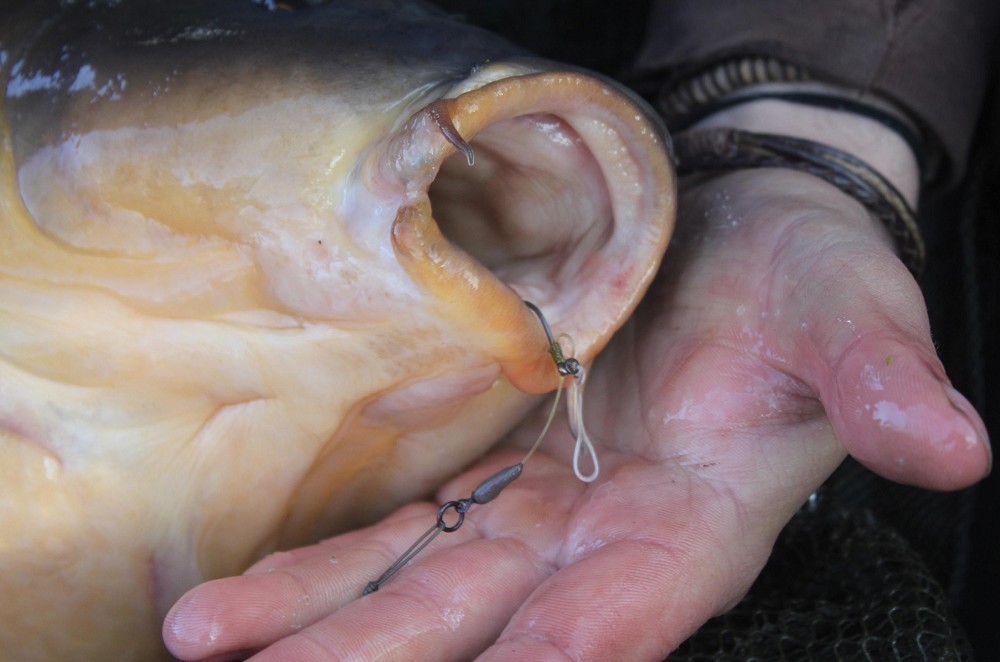 Boilie fishing in the spring
Dan WIldbore: I suppose quite a few of the lakes that you have fished are relatively well-known, have you kept on fishing these sorts of lakes?
Liam Duncan: "I suppose The Meadows spoilt me in that between myself and a few friends we were the only ones really fishing it. That meant that we had that freedom and no stress at all. On a lot of the busy lakes it's hard to get anything going, but on the quiet waters you can rock up at any time and know what to do. I can have my rods in the clips ready, so that I can cast out in the dark should I arrive late. I don't have to worry about someone being in the swim or jumping in off the back of my hard work. That sort of fishing is what I love most and is what I have looked for in recent years. I don't have to hear all the negative swipes that can happen when you are fishing with lots of other anglers. I can enjoy my fishing for what it is and that's what it's all about for me."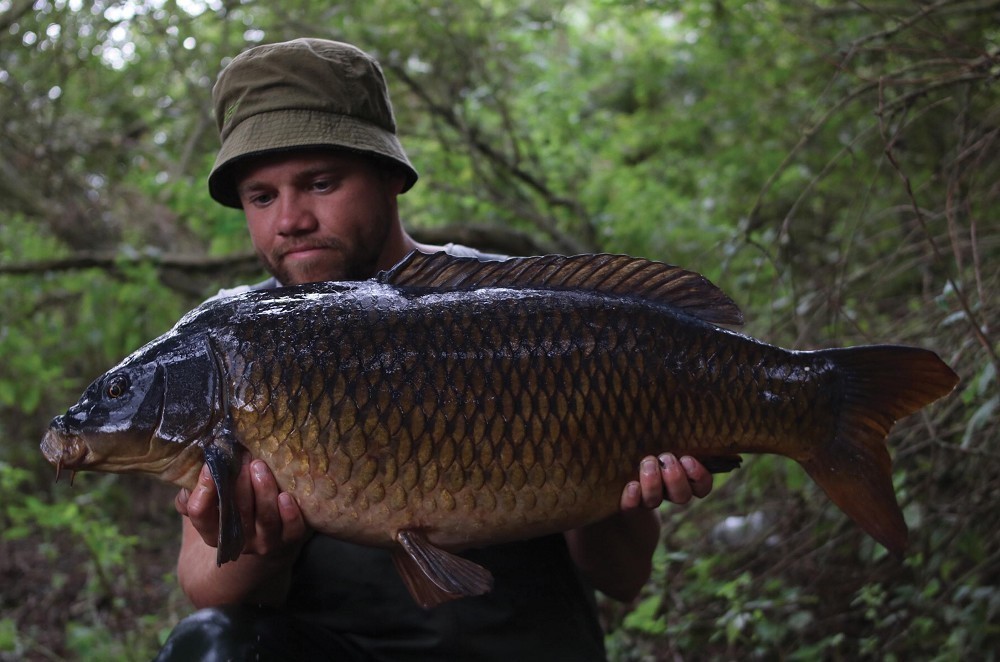 Not headline news, but commons like this are exactly why he goes fishing
Dan WIldbore: Do you fish every weekend?
Liam Duncan: "Pretty much, unless the missus has me pencilled in for something. She really understands having grown up with me and being together since school - I even used to tie rigs in class! She knows the score and we see each other all week and is willing to lose me at the weekends. She knows it's my passion and she would never stand in my way of doing what I love so much."
Dan WIldbore: You've been incredibly successful, but can you pull out three key reasons for this success?
Liam Duncan: "Dedication is a massive part of it. Every weekend I am fishing. Good bait is one of the most important things in carp fishing too. Some of the lakes that I am fishing I am going through a two-month blank. You have to have something that you are totally confident in through the tough times and with Sticky Baits I have total confidence.
"Having reliable tackle and rigs are vital too. I don't want to be losing any fish, especially on low stock lakes. That is why I love my Hinges, as I don't really get hook pulls on them. Having confidence in a rig is important for sure."
Dan WIldbore: Do you do much bait prep work?
Liam Duncan: "Whatever I am using, I soak it all in liquids. I glaze my boilies with the matching liquids and in the summer months I use a lot of particles. When you cook particles and let them cool, they suck in all the liquids, so I add a full litre bottle of either the Cloudy Manilla or Krill, depending on the bait that I am using, and all that liquid absorbs into the particles. I want my bait to let off as much attraction as possible and I feel it has helped me catch more carp."
Dan WIldbore: I guess you are very particular in the way that you fish, making sure that everything is bang-on?
Liam Duncan: "It has to be 100% for everything. I have to know that my bait works, my hook is sharp and I am presenting on something that I know the fish want to feed on. When you are fishing lakes that are tough, you have to make sure it is all done to the best of your ability."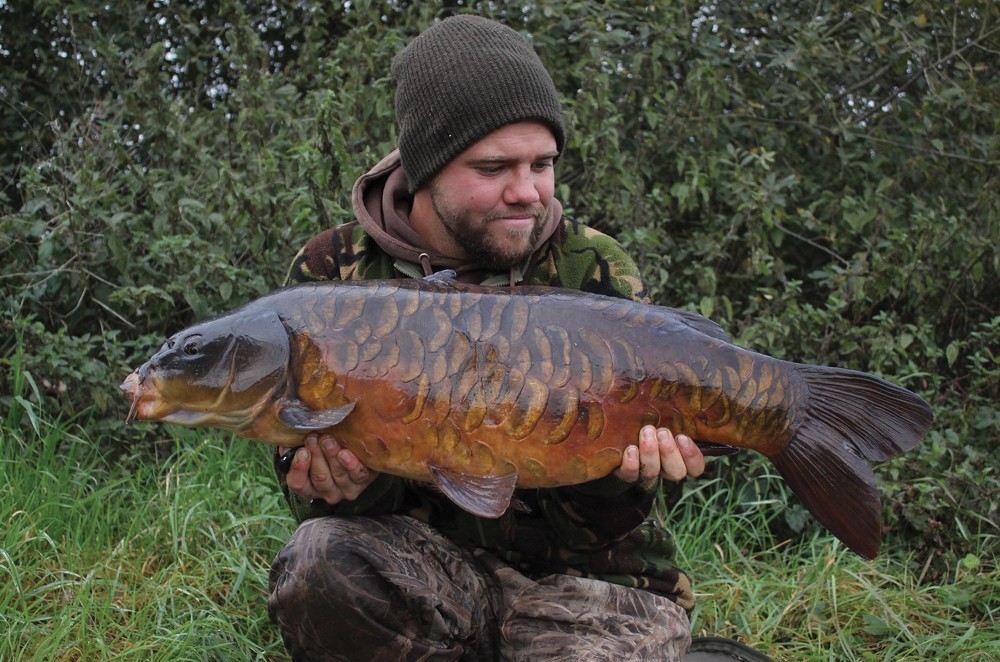 They don't have to be big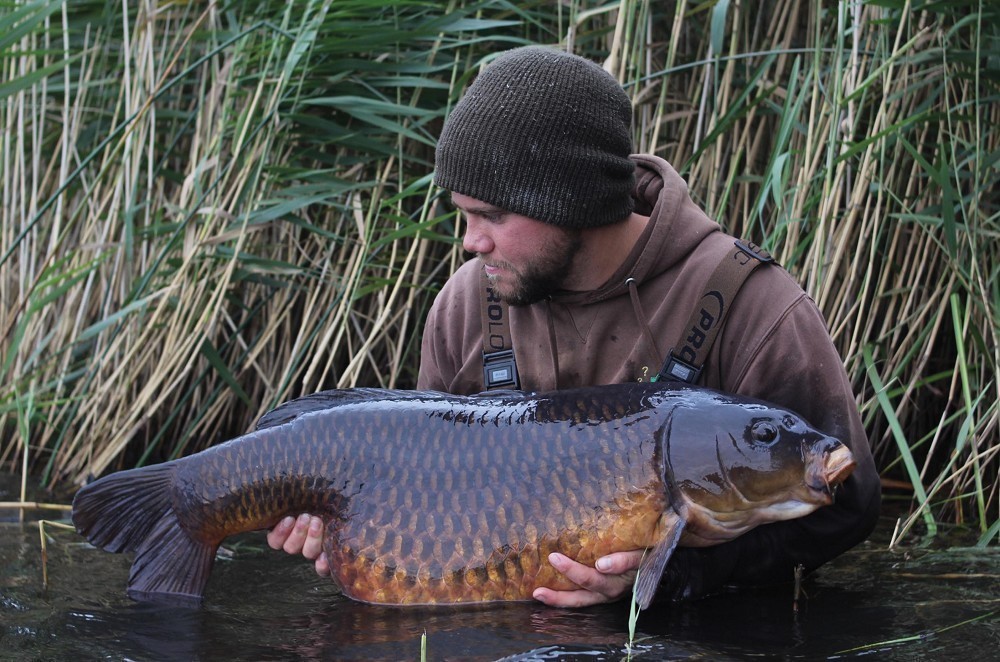 A proper old Cambridge-shire common!
Dan WIldbore: I notice that you have braided main line on, is this something you use a lot?
Liam Duncan: "I do in the summer months due to the amount of weed that is in the lakes that I fish. It protects my line and helps with weeded fish for sure. It is a bit of insurance really: if I hook something I know that there is a very slim chance I will get cut-off. You can also get a much better feel for the bottom too. The drop is everything to me and with the braided main line I can feel if I have landed bang-on or not, which is key on some of the lakes that I fish."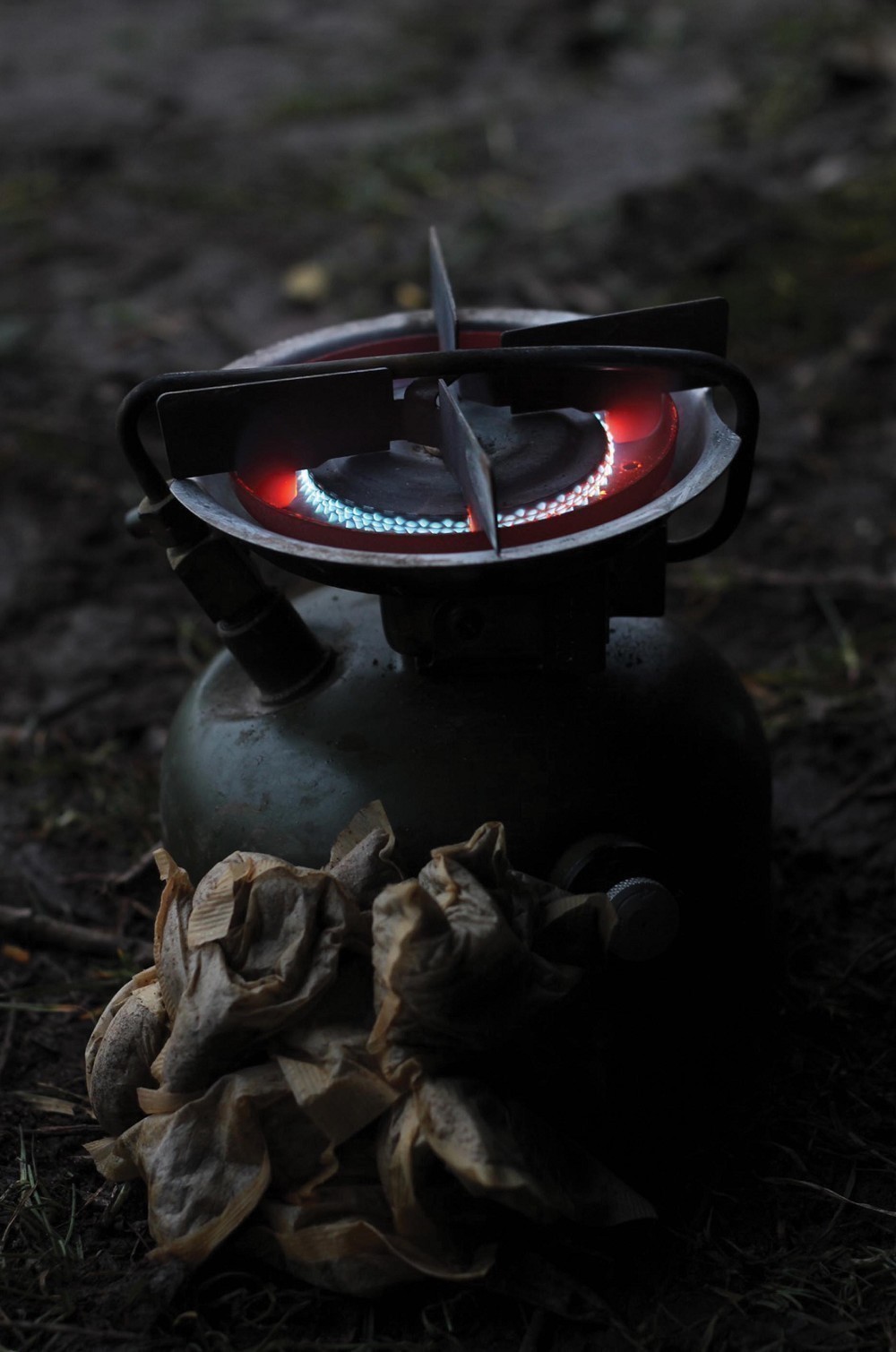 Sharing the buzz with friends always passes the time
Dan WIldbore: What type of areas/spots do you look to target?
Liam Duncan: "I like really small spots. Those spots that may take a long time to find, especially in an area after you have seen them showing in the morning. If I have watched a display, I will wait for it to stop and them plumb the hell out of it. I am very persistent in spot finding and I will find something that they have been feeding on. If I get a firm drop on a clean bottom then I am happy. The smaller the spot, the better it was and it does take a lot of casting. The Lincoln lake taught me that; I had to be so particular on where the lead landed. Some of the other lads have to fish Chods because they don't have the patience."
Dan WIldbore: Finally, you have a close group of friends that all fish, I suppose that is quite nice?
Liam Duncan: "Yeah, it is great, we are all friends outside of fishing and we can all share the buzz of catching big carp. It is great having people to speak to while you are spending all that time on the bank chasing your dreams."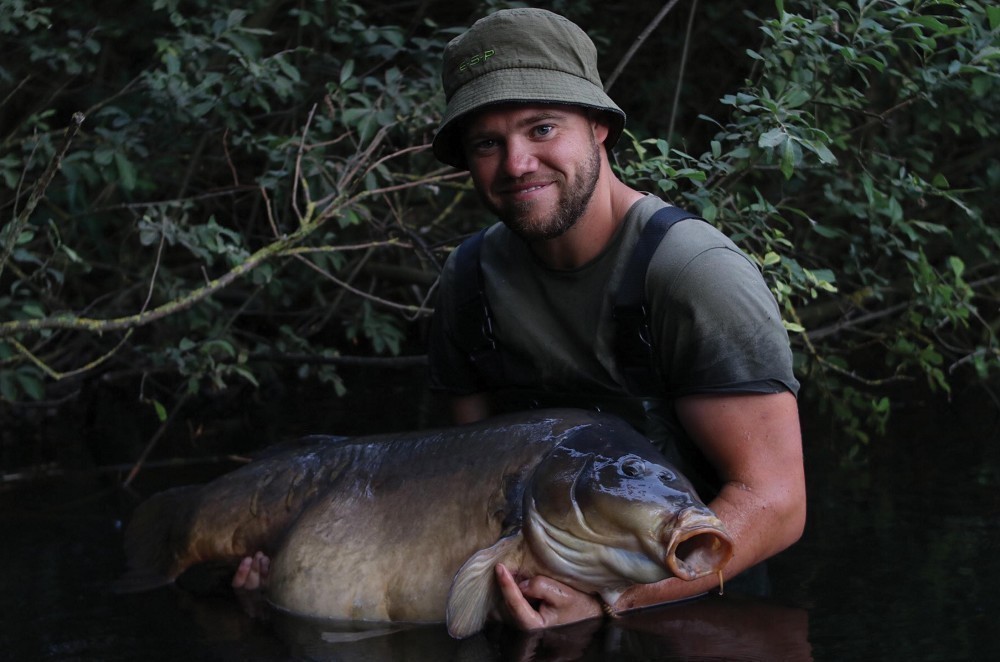 A virtually unknown 51lb mirror carp