The 25 Greatest Captures That Shaped Carp Fishing: Part 2
From the world's first 100lb common carp to Pete Springate's Yeoveney brace...
The world's first 100lb common carp caught by Colin Smith
We could, of course, have chosen the first 100lb (king) carp ever caught, but we've gone for the second. The first was a 101lb 4oz mirror from Euro Aqua in June 2012, but that venue's controversial feeding policy puts many anglers off. However, this fish, weighing 100lb 8oz from Etang la Saussaie in France, looked much more natural and, while not necessarily an extra-special feat of angling achievement, represents something wider. The realisation that king carp can grow to these sizes has been a revelation to carp angling as a whole, with feed suppliers, bait makers, fish farmers and lake owners all now better equipped to create the best fish possible. And the 100lb mark is in its own right an incredible ceiling to smash through. Plenty of anglers will have gawped at this fish and imagined themselves being in the presence of a carp so large. The current world record, by the way, now stands at almost 113lb!
'It's a fighter'
When Damian Clarke rocked the world 'common' record in 2011 with this very fish, he almost set another for the longest fights too. In total, Damian battled with the 88lb common for just over 2hrs. Incredibly that still falls some 11hrs (you read that right) short of the all-time record, set by Phil Thompson in 1990 when he hooked into a mythical - unseen - monster at Horton Church Lake.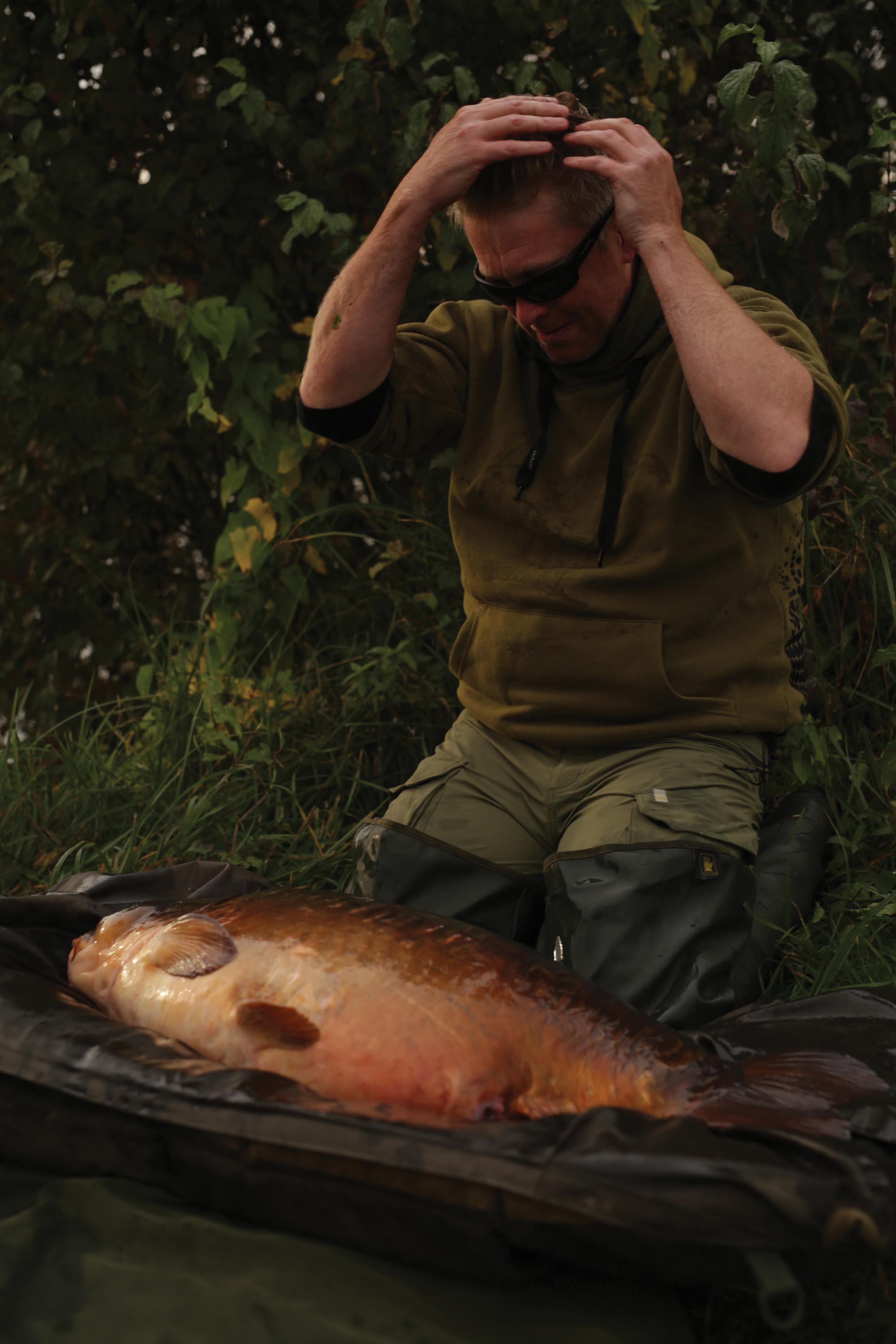 Nick Helleur's mind-blowing River Thames 50
In early autumn 2018, Nick Helleur sent shockwaves across the angling world with the capture of a 50lb 12oz mirror from the River Thames. Not only was this a river giant - the biggest ever reported from flowing water in this country - it was also drop-dead gorgeous and Nick's spellbinding story of the capture enthralled thousands. Amazingly, it was Britain's second river 50, following the capture of a 50lb 1oz mirror - an escapee from Eric's Willows Lake - back in 2016.
Pete Springate: Yeoveney Brace
Such is Pete Springate's importance in the history of carp angling that he is affectionately known as 'Sir' to many. This moment, back in 1978, still shines like a beacon of early modern carping. In unheard-of scenes, Sir Pete banked fish of 38lb 8oz and 36lb 8oz in the same night from Yeoveney. 14 years later, he banked another amazing brace in the shape of Mary and Mary's Mate from Wraysbury (pictured here).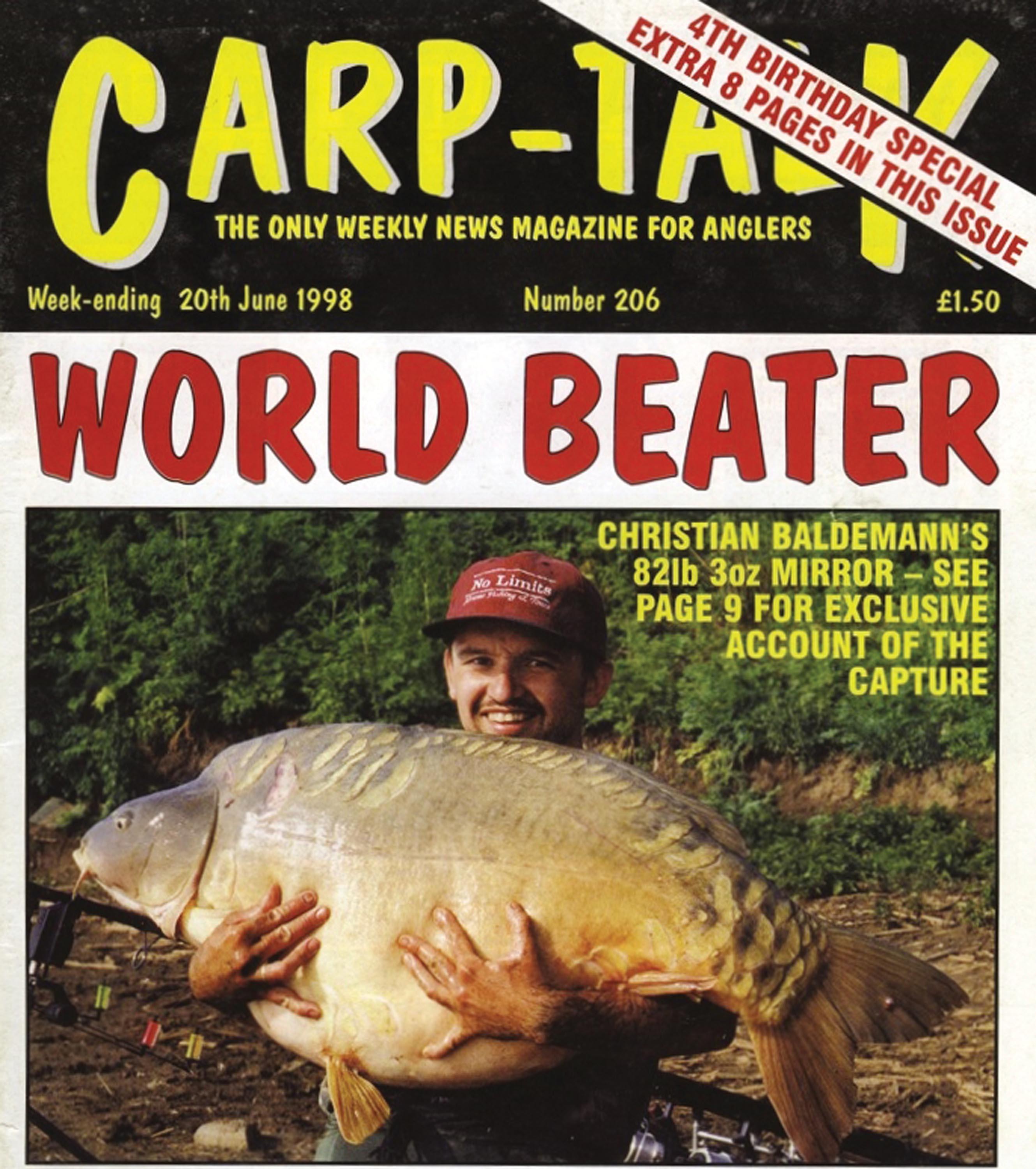 Christian Baldemair's Raduta World Record
In a photo eerily reminiscent of Kevin Ellis's overseas monster, Christian Baldemair broke the world carp record in 1998 with a giant mirror of 82lb 3oz from Romanian mega venue Raduta. The fish, which was used in an advert and appeared multiple times in the angling press, sparked massive British interest in the venue, which was formed by the flooding of an inhabited valley.
Crowy's Memories
"In one way or another, I was involved with nearly every single issue of Carp-Talk. My favourite one though, without a doubt, is when Lake Raduta broke the world record in 1998 with the reported 82lb 3oz mirror by Christian Baldemann (aka Baldemair). I spent ages trying to track him down at a time when mobile phones weren't as common as they are today. Eventually I got his story through one of his friends while he was standing waiting for the bus. When the pictures of his gigantic fish arrived in the office they just blew me away, and even today when I look at that cover it has the same effect. What a fish!"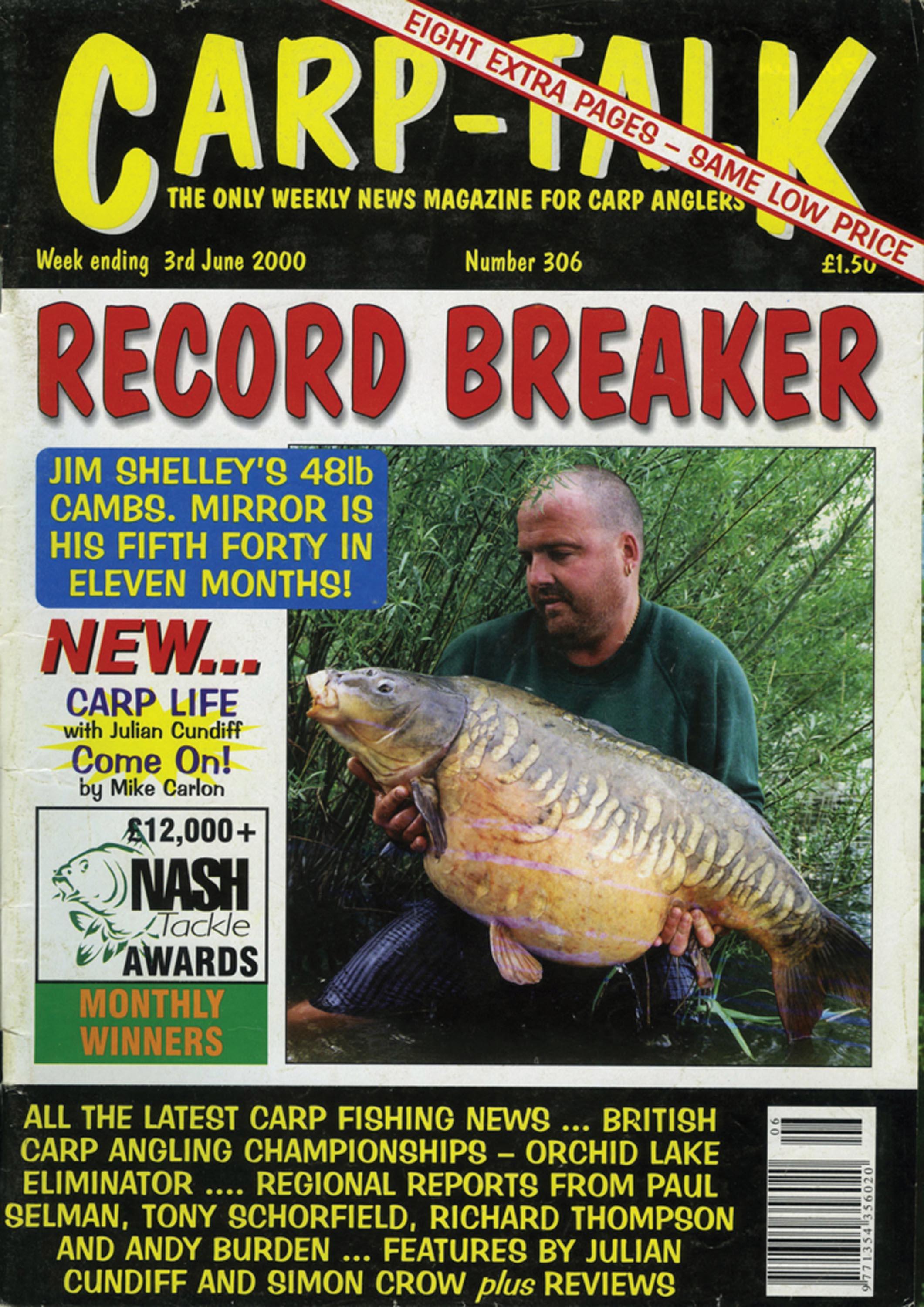 Jim Shelley and the 48lb Fen mirror
Many things can be levelled at Jim Shelley, but you cannot doubt his carp-catching ability. One of the fish that really put him on the map and caused tongues to wag across the country was the massive linear he snared from the daunting Fen Drayton in Cambridgeshire.
JIM'S ACCOUNT
"I spent a lot of time on this water in the spring of 1998 and 1999," Jim revealed in the new story which appeared in Carp-Talk issue 306 (June 2000). "Until this year my efforts had been in vain, but finally we managed to pinpoint where the fish regularly visited, and after four weeks of heavy baiting I landed a common of 23lb 6oz and a mirror of 31lb 8oz. Ten days later I was back again and found the fish in the area once again. This time I fished with pop-ups straight off the lead on 2ft hooklengths placed in the observed patrol routes of the fish. This produced two takes in quick succession, which I lost. Fortunately the biggest of the bunch was still in the area and managed to hook itself 2hrs later. Amazingly it was a fish I'd never seen before until just a few hours before I caught it," concluded Jim in the report.
---