Rollin' Baits Inception Range
Inception is one of Rollin Baits' four unique boilie ranges and here's how it shapes up…
In recent months we have had a good look at Rollin Baits' impressive range of own-brand boilies, and this time it's the turn of Inception. As with all of the Rollin stable, it's a boilie that comes from a company with impeccable bait-making pedigree and is packed full of fish-catching goodies. As you should have come to expect by now there is also a full range of matching products enabling you to plot a full campaign with this range.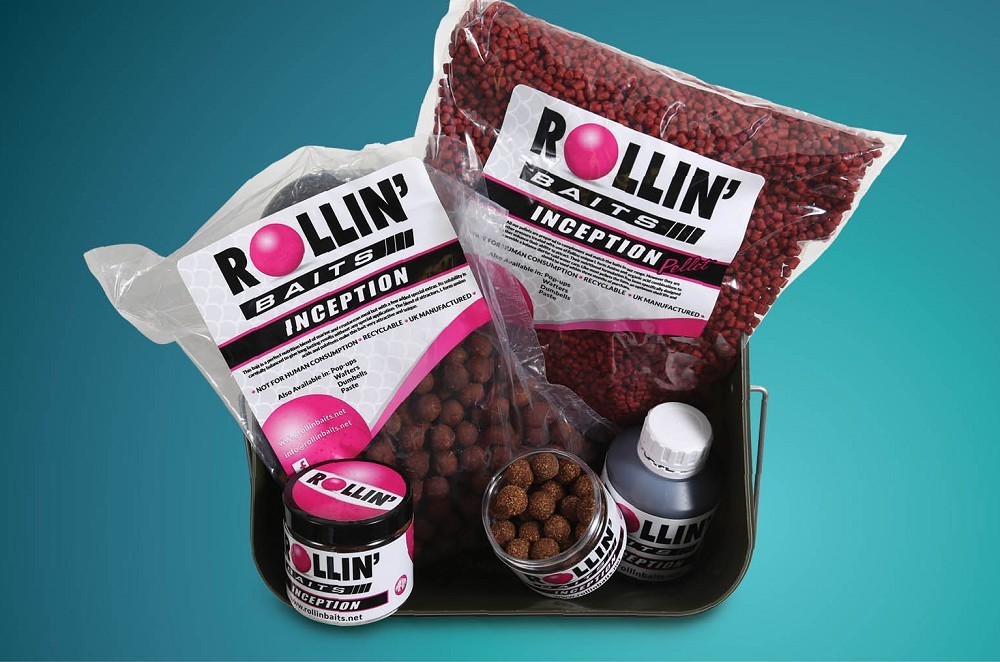 The Big Questions
What sort of boilie is the Inception?
You could say this is a classic fishmeal, but it's far from run of the mill. At its heart is a blend of marine and crustacean meal, but this being Rollin there are certainly a few 'special extras' included in this boilie. There's a blend of attractors, L-form amino acids and palatents that combine to make this another cracker.
A good summer bait then?
Undoubtedly this one will perform well in the warmer months, but it also has a very soluble profile so you could comfortably use this bait well into autumn and beyond.
What are my options with the boilies?
You've got plenty of shapes and sizes to choose from. In standard spherical form, the Inception is available in diameters of 12, 14, 16, 18, 20 and 24mm. If you fancy something a bit different then there are also three different barrel-shaped baits available. These come in 12mm by 16mm, 16mm by 20mm and 20mm by 24mm. All of them are freezer baits.
And there are matching products as well, right?
Yep, Rollin Baits always back up their main boilies with a range of accessories. There are corkdust and corkball pop-ups in the Inception flavour, plus pellets in 5, 10 and 20kg sacks in 2.3, 4 or 6mm sizes. You can also pick up Inception wafters. If you want a matching liquid, then the Inception glug is formulated from fresh organic substances and made with the same specific attractors used in the boilie range.
So how do I get some?
You can order direct from Rollin's website. All the boilies are £9 a kilo (except the 12-millers, which are £10 a kilo), but there are discounts if you order in larger quantities. Anything over 15kg will set you back £8.50 a kilo. Over 30kg and the prices comes down to £8 a kilo, and it's £7.50 a kilo is you stock up on 50kg or more.