Wolf's X-Spod Is A New Challenger
Wolf's product range continues to grow, including a challenger to the mighty Spomb…
Wolf are certainly making waves within carp fishing right now. What began with a range of high-end rods now includes pioneering British-built alarms, bait-moulding devices and now these: two new baiting rockets under the X-Spod banner. Here's everything you need to know…
THE BIG QUESTIONS
These look a bit different to traditional spods…
They certainly are. The key design element here is the use of magnets - 24 of them in the Performance and 16 in the Competition, to be precise - to keep the device firmly shut until it impacts with the water. Each X-Spod has four symmetrical claw-like sections which open independently, meaning your bait is deposited quickly and evenly.
How do you fill them?
Those four mirrored panels break apart easily and enable you to fill the X-Spods with ease. You can either break it open down the middle like a clamshell, or just open one of the four claws for quick one-handed filling.
How well do they seal?
Really well! Probably better than any other spod on the market because there's no spring or button release for you to accidentally trigger before you cast out. In fact, you can bang the nose of a fully loaded X-Spod pretty forcefully and it just won't open – but when it slaps into the water's surface it opens with unerring regularity. It's one of those devices that needs to be tried to be believed.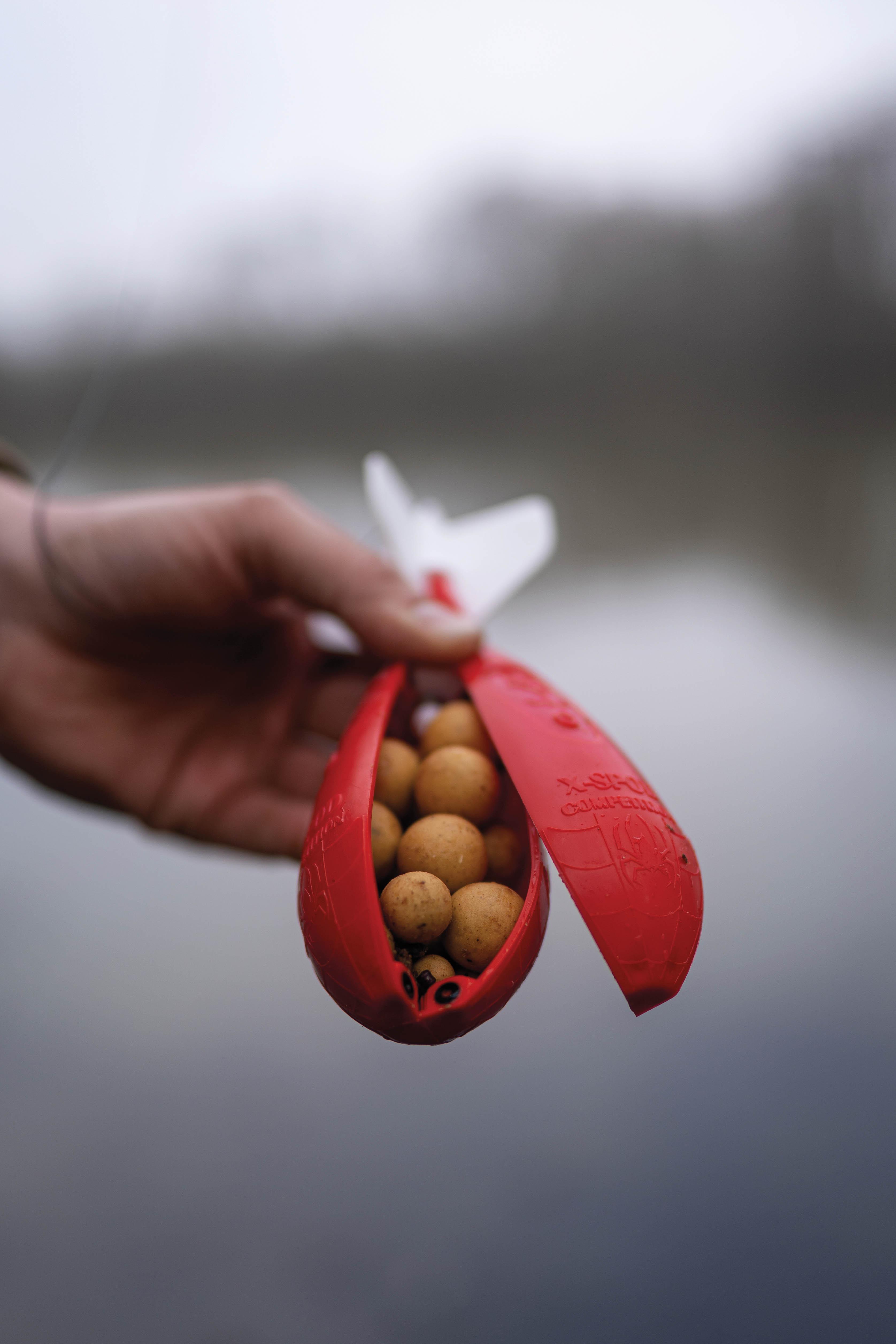 And there are two versions?
Yep, the Performance and the Competition. The Performance is the long-distance version which is slightly heavier and has a larger carrying capacity. The Competition benefits from additional tail fins and is more of a medium-sized baiting tool. Both are still more than capable of being flung a long way, with Wolf claiming a maximum range of more than 130yds for the Competition and 175yds for the Performance.
The Performance weighs 2.29oz unladen and can be filled with 4.23oz of pellet or more than 20 20mm boilies. Its smaller sibling weighs 1.48oz unladen and can take 2.75oz of pellets or more than 35 15mm boilies. And best of all, thanks to those magnetics, you can load it with liquids too!
Aren't they a bit flimsy?
This is another area of the design where the X-Spods need to be seen to be appreciated. Made from a mix of rubber and plastic, and with no fragile release mechanisms, they are virtually indestructible. Stamp on them or even run them over with your car, these devices will keep springing back into position ready to go again. These were initially launched under the Spider Spod name and were only released after three years of research and development, so they have certainly been put through their paces.
They sound great but are the prices just as attraction?
The Performance retails for £16.99 whilst the Competition is a pound cheaper at £15.99, which give or take a couple of quid, is in line with their competitors. And both are available in three different colours: Orange, White and Black.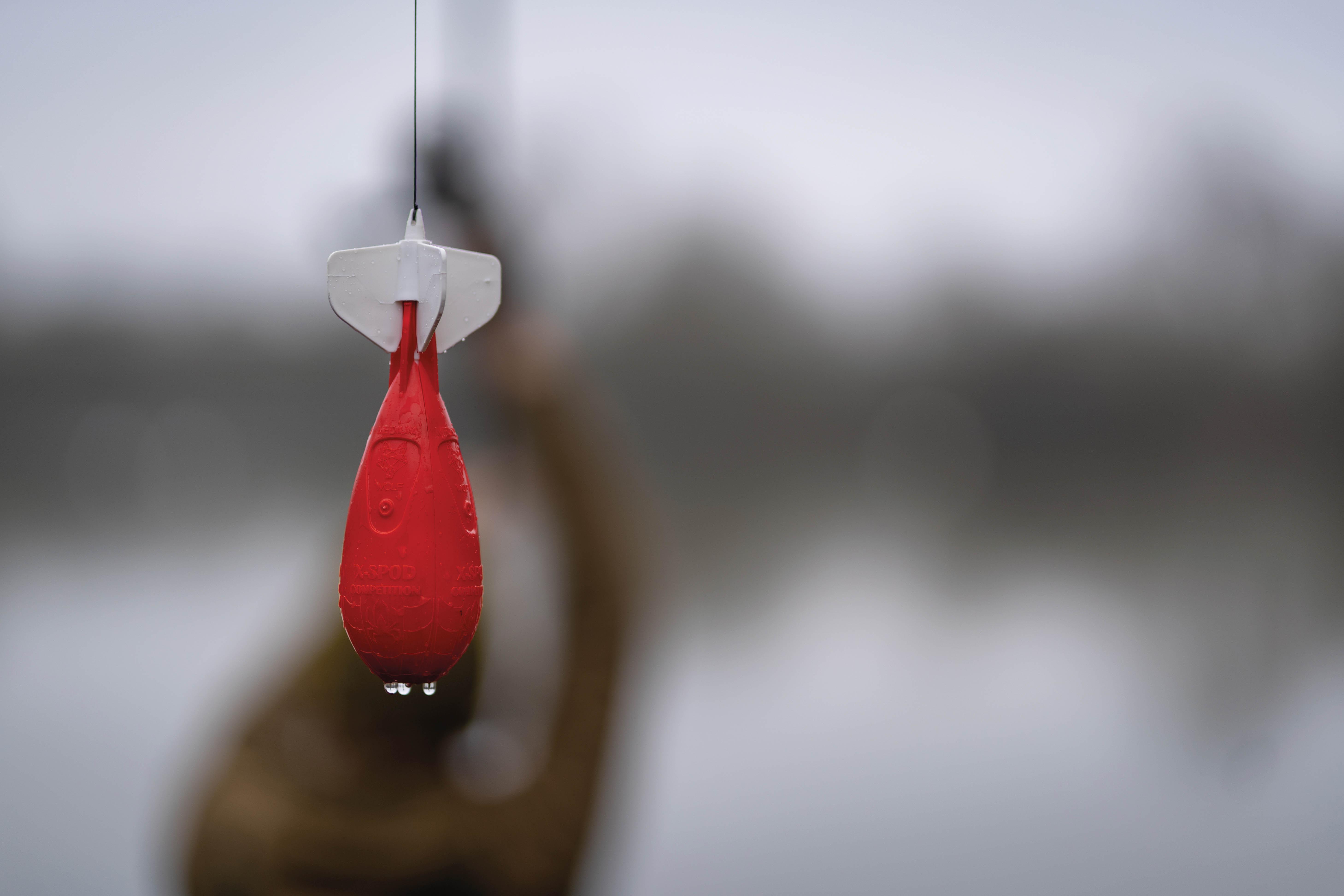 Wolf Spod Marker Rods
Providing the perfect accompaniments to the X-Spods are Wolf's range of powerhouse rods. There are three models - the X, the X3K and the X1K. The X is designed for smaller waters, while the X3K is the all-rounder. Heading the range is the X1K which is a real casting weapon. All three are available in 10, 12 and 13ft versions. From £189.99 to £219.99
We Really Like
They don't open midair and then open every time on impact with the water.
That you can use a wide range of baits, from boilies and pellets to sloppy spod mix or just neat liquids.
They are virtually indestructible - seriously.