Boilie and bag tricks to help you this winter
Sticky Bait's Craig Mortimer explains...
This year I've been fishing on Nunnery's D Lake in Suffolk. It's known as a big fish water and as such it's by no means a walkover venue. Add in to the mix that I'm not blessed with an abundance of time and as such most of my angling has been made up of short overnight sessions. With that in mind, I have had to tailor my bait to such sessions.
Pre-baiting would be the easy way round this, but with it often being fairly busy, it just isn't possible and fair on other anglers fishing it. I don't like putting bait in when people are fishing, so I have played around with my bait to make it stand out a little more.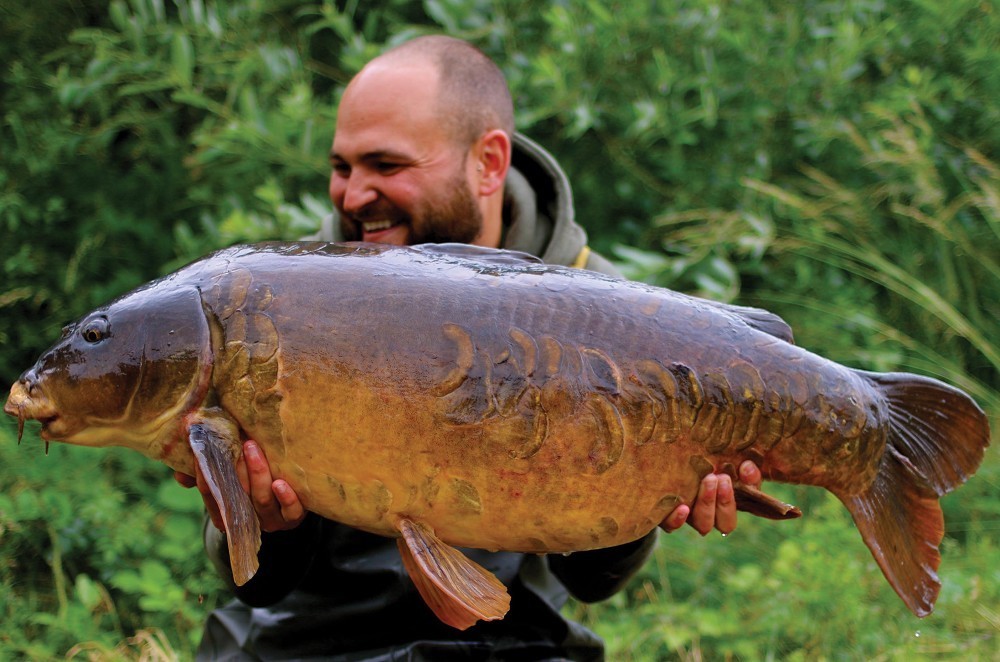 An awesome looking 36lb 2oz mirror, caught on a quick overnight session
The first thing is my boilies, which for this year is Sticky's Krill. I want them to appear washed-out, yet still have that flavour kick and boost to them. I start off by adding some boiling water to my baits, which instantly gets them to react and kick off their attractors. I leave them in the water for 24hrs prior to going fishing, but once the water slightly cools, I add some GLM to the water. It smells like the seaside and combined with that fishy, Krill smell, the baits smell awesome. They will sit in the GLM-infused water for a while and take on all that smell and taste from the powder. I then add some of the Pure Krill Liquid, which again gives the water that they are soaking in a real flavour kick. The end result is some fresh, fishy smelling baits, but with the appearance of a washed-out bait. For overnight fishing these are perfect and I have caught a number of cracking fish using them.
How to make hot baits
To my rig, I use a small PVA bag, again full of Krill goodies. It draws attention to my hookbait and I keep it mixed up in a small tub for weeks. It doesn't go off, providing you keep it out the sun and have the lid sealed.
I start off by adding some Krill Pellets to the bowl or bucket. I use these in a 4mm size, to allow plenty of leakage and smell around the bag. I then crumb up some of the Krill boilies. The boilie crumb is one of the best attractors for carp and they really do love gorging on it. I then take a handful of the Krill Clusters and pop them in the Krusha. The Clusters are a superb, natural product that smells incredible. Naturally very oily, they really do compliment the bag and add a slow-leakage element to it, with everything else being pretty instant.
I give this a good mix around before adding some of the Pure Krill Liquid. I use this stuff all the time and it is such a brilliant smelling liquid that is totally natural. I add a healthy amount of this, just to give the mix a slightly damp feel. Over a few days the mix will absorb all that liquid and you can add slightly more if you want to.
The beauty of the liquid is that it is very water-soluble, yet heavy at the same time. This means that it will leak off the bag from the off, but seep in to the silt all around your hookbait, sending off so many food signals to the carp.
How to make pulling PVA bags