How to create balls of fire
Cambridgeshire bounty hunter, Dan Stacey looks at a neat little hookbait that definitely puts him one step ahead of the crowd...
U
p until now, Dan has kept himself out of the public eye. Generally, he likes to do his own fishing on his own terms. Within his hometown in Cambridgeshire, he is located in what can only be described as a carp mecca. Being surrounded by some sought-after carp, Dan has made the most of it, managing some very special carp in his angling life – topped by The Fat Lady from the St Ives complex.
Having only known Dan for a relatively short period of time, I've been intrigued at his tactics, rigs and baits. It's obvious that he is a thinking angler, someone who doesn't mind trying things that are a little outside the box. Just recently, he has been receiving some remarkable success stalking with hemp balls. Yes, hemp superglued to a corkball – not something you see on the banks of Drayton Reservoir hey? The thing is, he hasn't been targeting any old carp, he has been pinpointing tricky, historic fish that have literally seen it all over the years – the success he has been having is outstanding compared to many.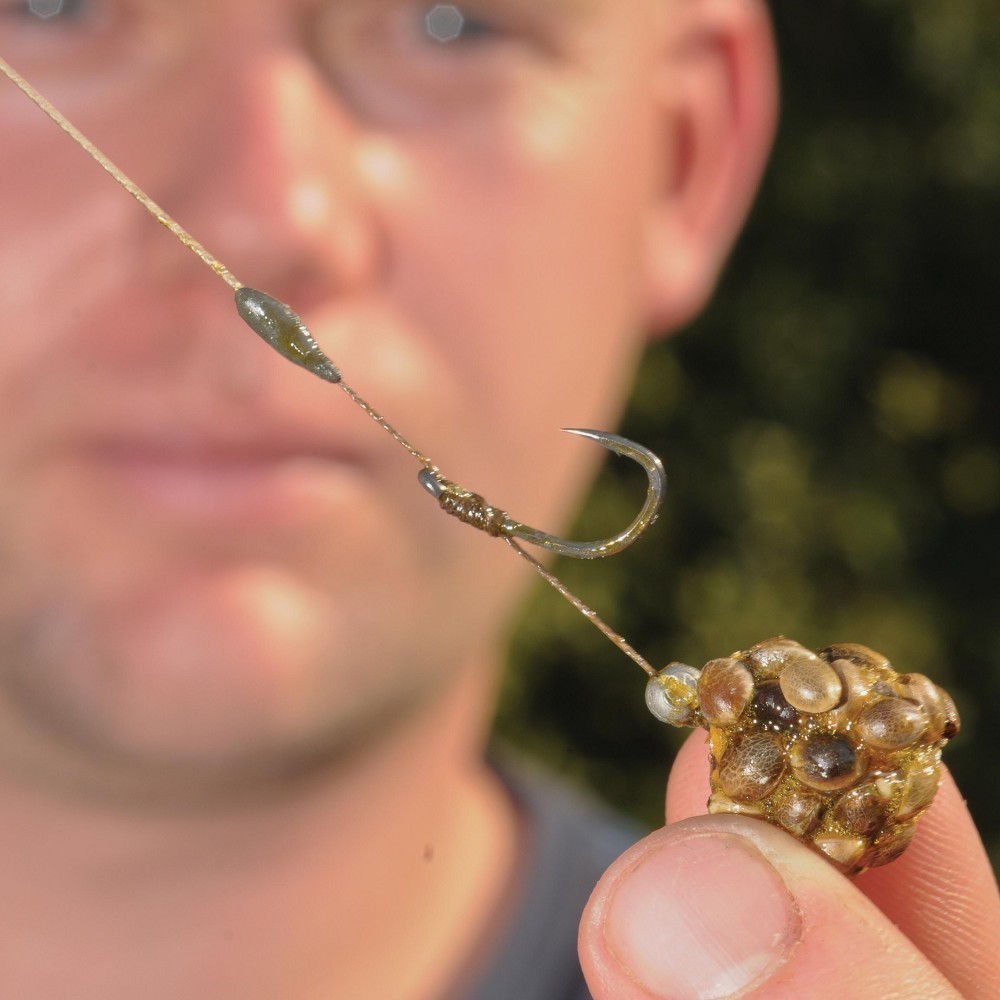 Carp never see hemp on the Hair
It is with these in mind that I meet him on a warm, sunny day at a local water. I want to learn more about these balls of gold.
Dan explains: "Hemp is without doubt one of the best carp baits of all time. Each grain is full of oil and natural vitamins that the carp adore. I'm positive that it's the oil that makes it so attractive, though. Hempseed is a tiny little bait that also resembles tiny water snails that inhabit the weed. This makes them appear natural.
"The thing about hemp is that carp only ever eat it as an offering… NEVER on the hook. Therefore, they can be cagey and almost feed on hemp exclusively knowing that it is safe. How many of you fish with hemp in your spod mix or feed it by hand in the margins? A lot I would guess. But how many of you actually use it on the Hair? Not many. In fact, the only lads that I see making an effort to use hemp on the hook are match anglers and their results are mind-blowing!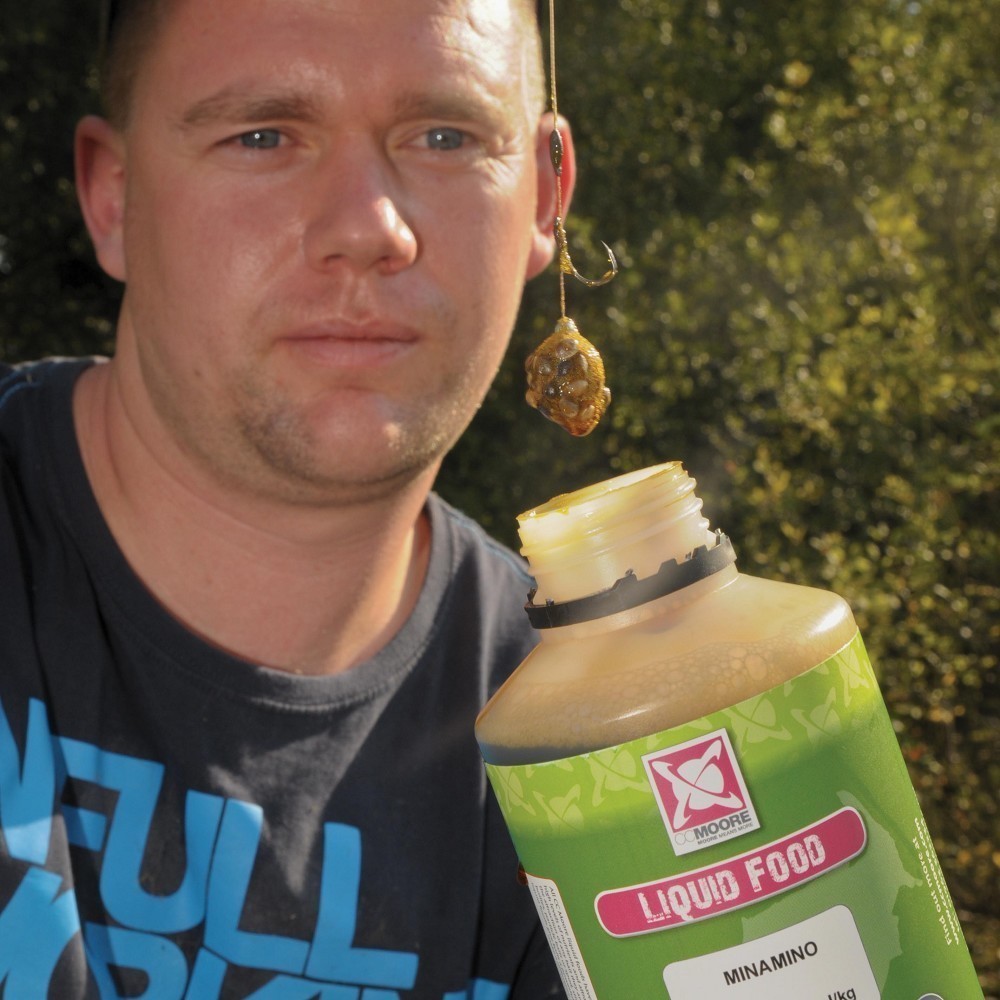 Try dipping them in Minamino for extra attraction
"As a result of the heavy loose-feeding, carp can become preoccupied on hemp and quite simply if there was any other bait on the lakebed it could quite easily get dismissed. In this circumstance a hemp hookbait would surely be the way forward?
"I'm a fanatical margin angler and therefore witness some amazing things about the way that carp behave… and more importantly feed. When hemp is in situ they will become totally obsessed. They'll search the swim until every last grain is devoured. It's that good. At first, I used to try all manner of hookbaits: boilies, corn, pellets – you name it, I tried it. Sure, I got the odd bite, but more often than not I'd struggle no doubt because I was feeding it with hemp. It was this that led me into the hemp-ball idea.
"I had to find a solution to my problem and mimic the free offerings that the carp loved so much. Somehow, I needed to present a grain or 10 of hemp on the Hair. The only way was to form a hemp ball. I'd read a few articles in the past about the use of Kryston Bogey, but in all honesty I didn't get on with it. Consequently, I started to experiment other ways.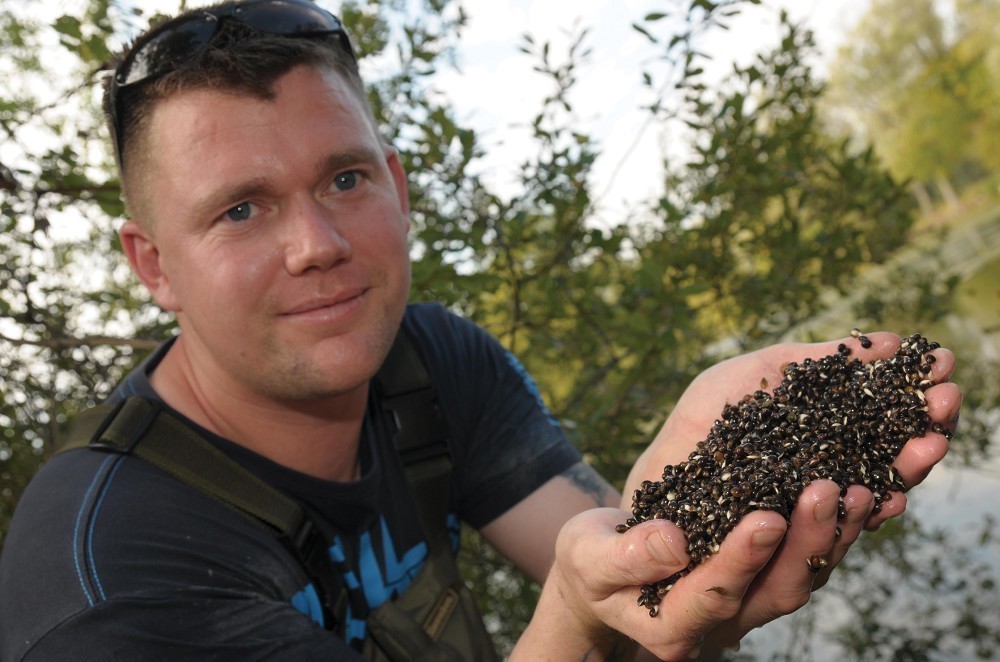 Feed fresh hemp over the top of your hookbait
"To create this wonderful little hookbait you will require a small section of cork-stick, 8mm-10mm will suffice, depending on the size you wish to make. You will need some dry, uncooked hempseeds. Using N-Trap, create a KD Rig and slide a section of cork-stick onto the Hair. For a hook, I opt for a trusty size 8 Wide Gape. I then squeeze a split shot onto the Hair to balance the sliver of cork.
"Squirt some superglue onto the cork-stick and then gradually add each dry seed one at a time. Some tweezers will help in placing each grain. Continue to do this until the whole of the cork is covered in hemp. It takes time, but trust me, it's worth it. Leave the superglue time to dry/harden and eventually your hemp ball will be ready to go!"
At mega close-range Dan opts to feed by hand...
Putting theory into practice
Having listened carefully to all the hemp spiel, I was keen to watch Dan put all his theories into practice. There was only one way to do this – ask him to get out on the bank and catch a carp on a hemp ball.
"Anyone can go to an overstocked commercial carp water and catch a 10lb carp," says Dan. "It's easy to think that you've invented a new wonder rig or bait by catching on this sort of water, but come on, surely it's better to experiment on a proper water? Commercial carp eat practically anything. So, to really put my hemp balls to the test I thought I'd go to a water that posed a challenge – a lake that wasn't overstocked. In fact, there are only 80 carp present in this beautiful Cambridgeshire stillwater. Unfortunately, I can't name it because they don't seek publicity so I'll refer to it as my 'carping paradise'. Back in the day it was fished by Nashy, Maddocks and Hilton, so there's an example of just how old and special the fish are.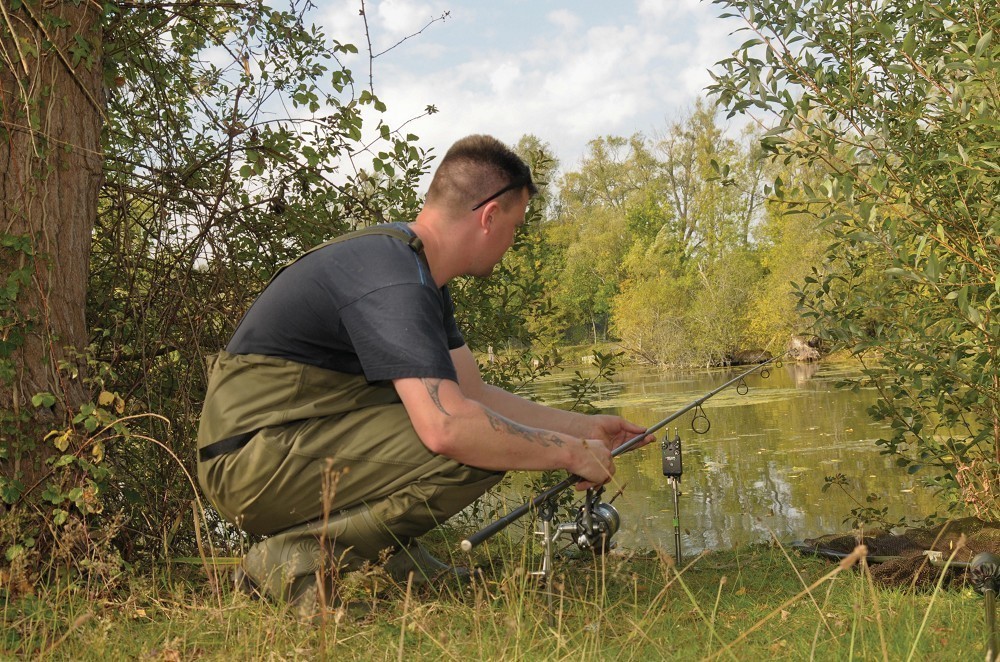 Slackening off the line
"It's a beautiful water steeped in history. Huge willows cascade into the margins and tickle the surface. There are features everywhere. That said, the carp are clued up and each one of them is different. A PVA bag chucked into the lake with your eyes closed certainly won't fool these chaps. I will have to fish well and use my tactics to the best of my ability in order to succeed.
"I arrive bright and early midweek. The sun is blisteringly hot and even at this time of the morning the carp are bobbing around in the thick weed. After a quick scout around I find some fish in the bay. It's very weedy but there are plenty of clear spots in the margins. Little dinner plates of gravel look prime feeding areas.
"Hemp: They become obsessed. They'll search until every last grain is devoured."
"My plan of attack is to keep mobile and fish as many spots as possible throughout the day. Although the hemp balls can be fished in open water, my favourite way to present them is definitely in the margins. That way, I can see everything that is happening right in front of my eyes.
"By fishing this bank, I can bait up a few swims with hemp and keep going back to check whether or not the spots have been visited. With this in mind I grab the spod rod and quietly tap the surface with bait. The spod tips up and introduces every last seed right on top of the gravel. It may sound crazy that I'm using a spod at such close quarters, but it is far more accurate than scattering by hand. I want my particles to be tightly congregated and quietly lowering a spod does just that. It's perfect for up to 10yds.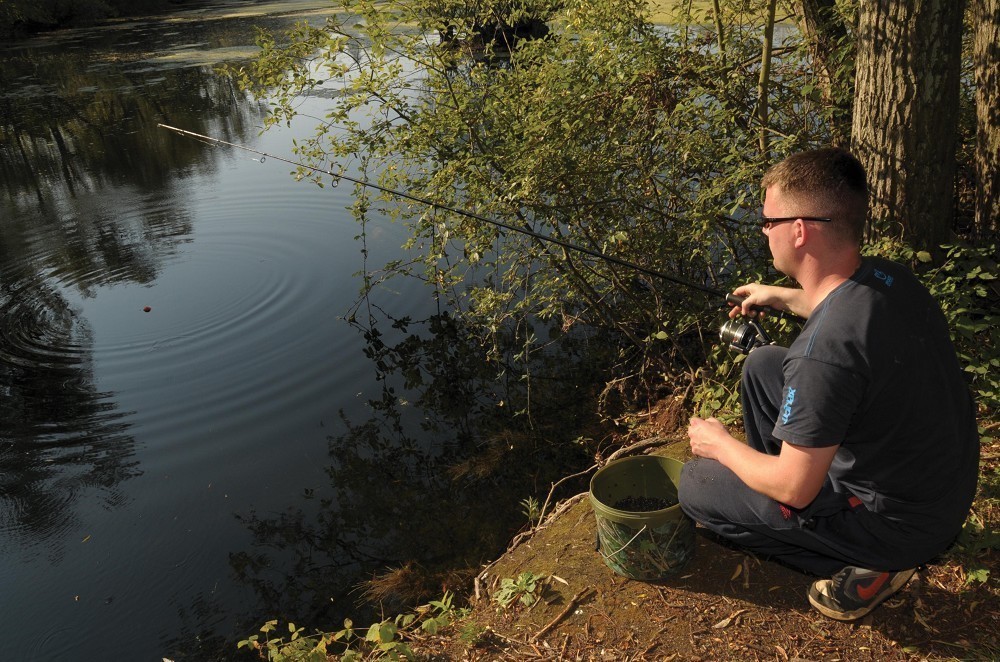 ...however, for optimum precision, try lowering a spod in
"The hemp flutters down to the bottom with next to no disturbance. I do this in another three swims further up the bank and then whip up a few hooklengths ready for the day. In true Blue Peter style, my hemp balls are ready to go because I prepared them a few days before the session. They're also soaking nicely in some CC Moore's Minamino. Using simple KD Rigs whipped on N-Trap and Wide Gapes, I'm soon lowering the first rig onto the spot.
"The hookbait is balanced wonderfully and pops up up off the weight of the split shot. The hook is lying flat on the deck, just as it should with this presentation. It looks so natural you can barely pick out the hookbait. Once submerged in water, the dry hempseed looks just like the prepared stuff. Sometimes I glug the hookbaits in Hemp Oil or Minamino. This boosts the attraction and darkens them up further.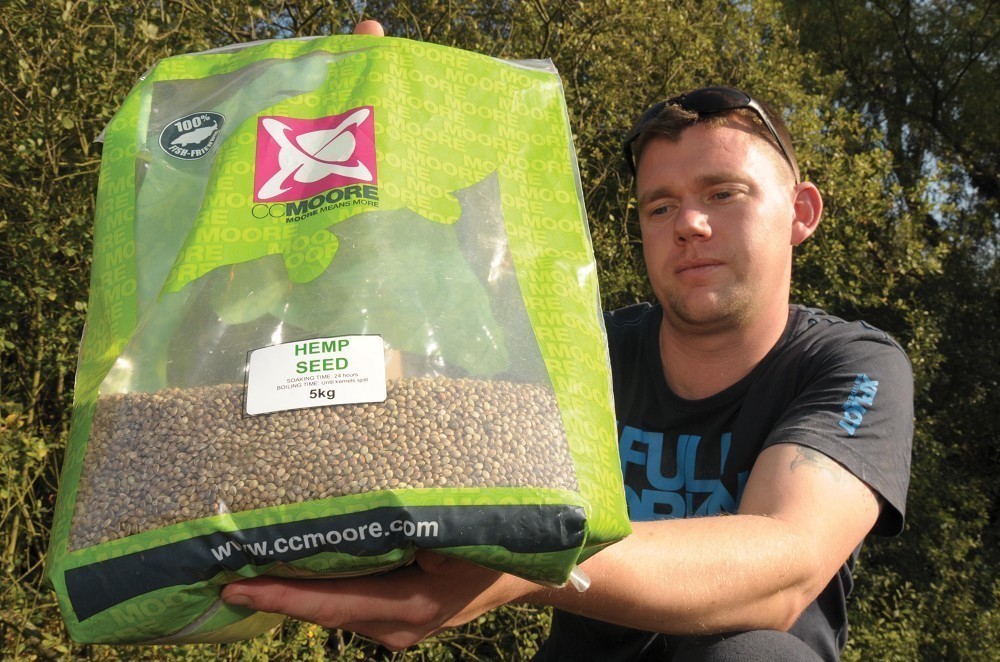 Use the dry hemp for your hookbaits because it sticks to the glue better
"I now have two rods in position and feel confident that a carp will come across the bait at some stage. I've fished the lake for a few years now and know that they like to patrol the margins on hot days. They are wary, though, so I've slackened off the main line allowing it time to sink out of harm's way.
"It doesn't take long for action. I sit there for an hour or so and the first rod lets out a one-toner. Hemp can be an instant bait when the carp are up for a feed. I'm on it in a flash and soon battle it out amongst the dense weedbed in front of me. After a hectic scrap I net a lovely old skool mirror a tad over 20lb. The hemp ball is hanging from its bottom lip and I smile to myself.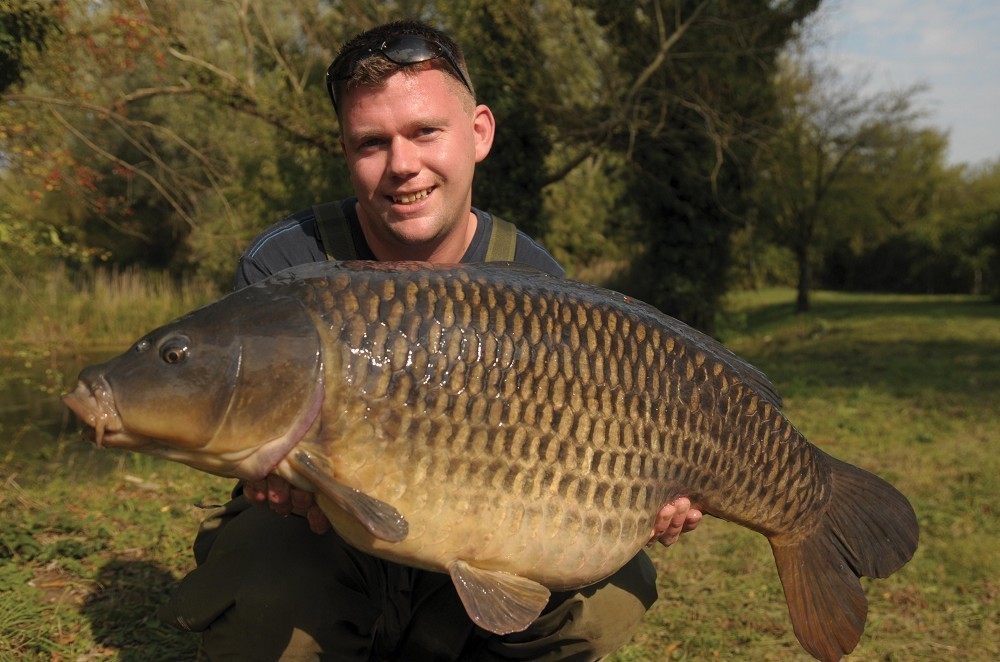 Dan cradles an immaculate common at well over 30lb
"With the pretty fish photographed and released, it's time to get the rod back out. I follow the rig with another spodfull of hemp, slacken off and sit back. It's amazing just how little hemp you need to put in to get the carp grazing. I actually think that people overdo particles. I've witnessed carp spending hours feeding on a handful of hemp. The seeds are so small and oily that it holds them in the swim for a long time. The oil seeps into the lakebed and silt providing so much attraction. Just be sensible with them because you can't take out what you've put in!
"As James and I are talking particles my other rod in unbelievably away within 30 minutes of the last. This one feels a better fish. It's keeping low just thrusting the rod forward slowly. Applying firm pressure to steer her away from the weed, I eventually have it under control. Under the tip she holds firm and I can see a big common is the culprit, a really big common. Panic stations set in and I nervously draw a deep-bodied carp to the net. It's one of the big girls and one I recognise. On the scales she goes over 33lb and I'm elated. Need I say more about the hemp balls?"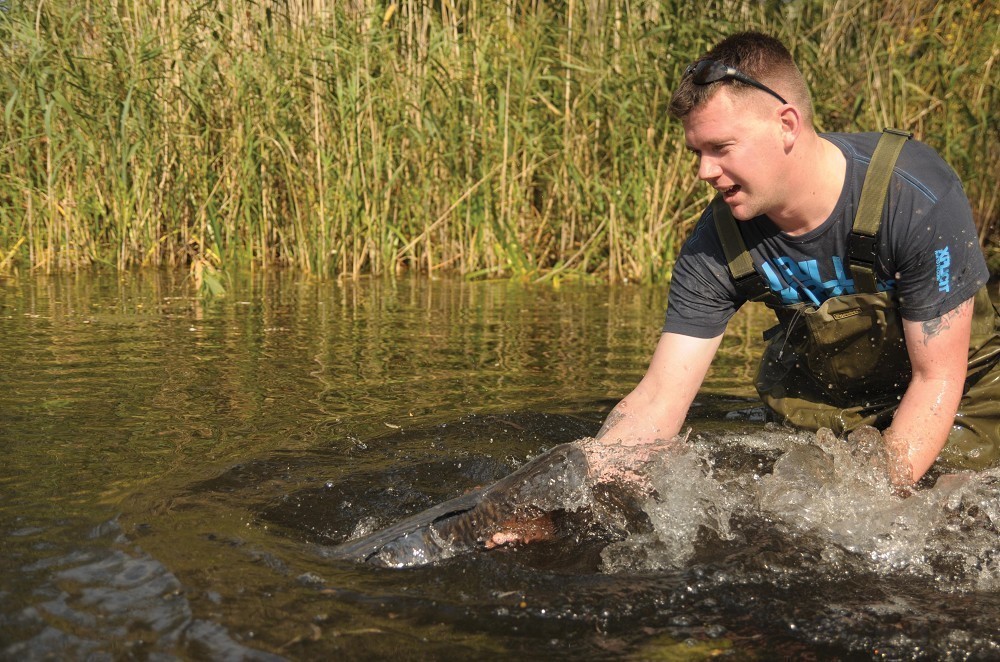 Back to her watery kingdom
How to create a hemp ball