The bait trick you must try in spring
Keith Sykes reveals one very clever little trick for this springtime...
The light levels are beginning to increase, new aquatic vegetation has begun to sprout, and soon Mr. and Mrs. Carp will be shaking their fins, cleaning their gills and bodies as the onset of longer feeding spells commence. This is the time for us to have a few little tricks up our own sleeves for these still wary carp, and non are better than some of the water-soluble natural additives that are on offer. One of my most favourite little gems is liquid fish protein extract; it has countless applications and I use two of them as a matter of routine.
This material is sold by several companies, invariably under various guises, but in essence they are virtually, if not, all the same. Nashbait are soon to release a very good version, highly refined, and nice and salty.
Firstly, they make an absolute brilliant base for a bait soak, which can be expanded upon (that's for another time) with the addition of other bits and bobs. In this way they also act as a very good hookbait enhancer and hardener, oozing with soluble free amino acids which everything aquatic finds irresistible! I should like to also mention the Glug Pots that Fox have released: a simple yet brilliant means of accessing your glugged baits; you can see exactly what you are trying to pick up!
However, the piece de la resistance is the Tea Bag method: a nice mouth-watering, attractive bag of goodness with the hookbait smack bang in the middle! A brilliant method for fishing single hookbaits, providing added pulling power which you can't overdo!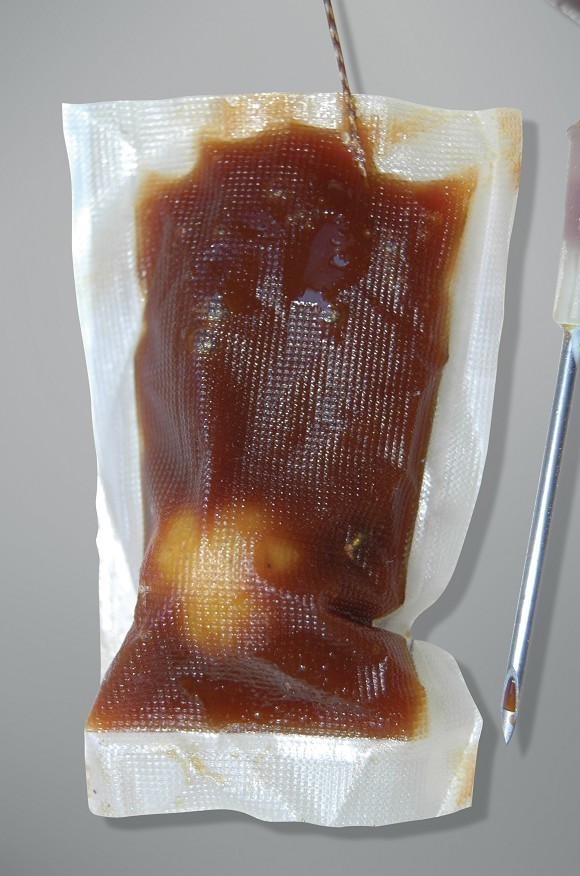 Messy, but effective! The 'Tea Bag' method is a stunning little edge for this springtime
As is with anything new, it comes as being a tad fiddly to begin with, but soon you find it's no different from having a brew, with the exception of it being a little bit smellier! The one most important factor which must always be considered is the PVA used in the situation you are angling in; it must dissolve quickly and totally in cold water, but if the water is deep not before the bag has landed on the lakebed or close to it, all obvious points I know. (It's worth checking your PVA, as the dissolve rate/time will vary depending on how old it is and how it has been stored.)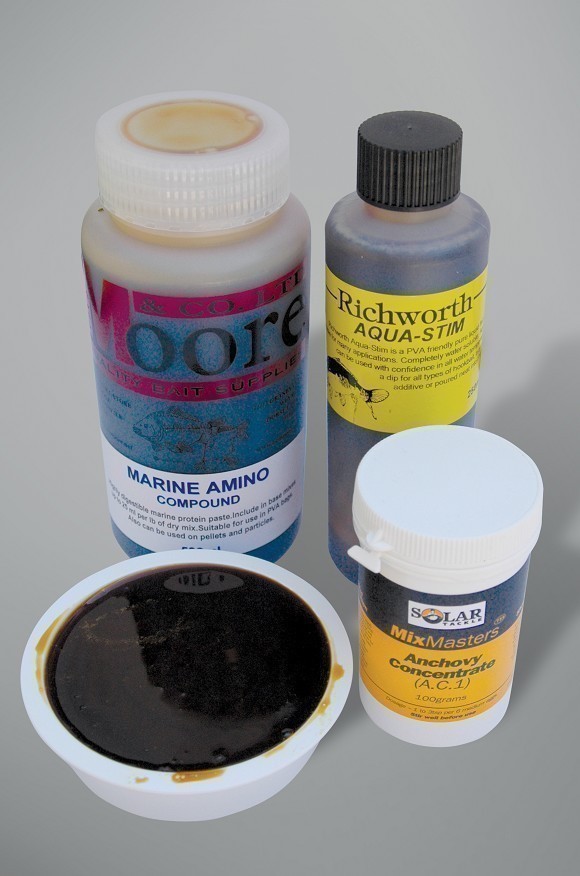 I tend to make my own small bags/tubes depending on how much liquid food I want it to carry. The photos are, I hope, self-explanatory and I tend to use the following methods: either place the hookbait within the tube, holding in place by pushing the hook through the side of the bag, or seal the tea bag around the needle of the syringe. Once the bags are sealed, I then gently fill with the extract until full, in the case of the hookbait in the bag you will find, with practise, that you will be able to slide the needle down and alongside the hooklink and then fill. Remove the needle and then finally seal. It is simple to make up a number of tea bags in either form and the applications are endless, as you will hopefully find out in your own good time.