The ultimate big carp spod mix
Steve Cliff reveals a mix that incorporates the popular Krill Liquid that helped him catch over 30-thirties last season…
Fishing has been part of my life for over thirty years and in this time I have seen pretty much everything that there is to see. New bait, tackle, trends and fashions, but my fishing never really changed for 25 years or so.
If someone said to me three years ago that all I could ever fish with was hemp and corn, I would have shrugged my shoulders and would not have given a care in the world.
It has only been recently that I have really paid attention to some of the baits that are out there. My mate Dan Wildbore gave me a call one day and asked me if I had seen the Krill. I hadn't really though about it, and replied no. It wasn't until a few weeks later he showed me it and I saw it for the first time.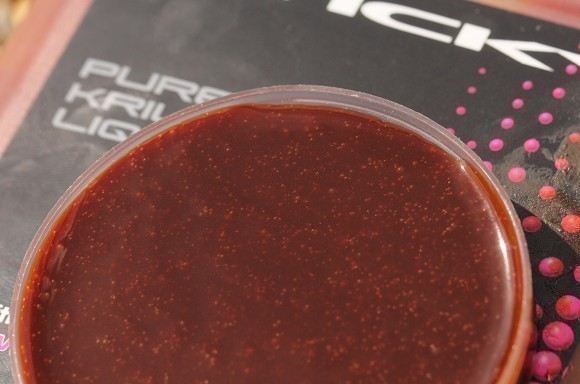 The Pure Krill Liquid has changed Steve's fishing and has a great way of getting it to the lakebed
I am no mug and although I am not really on social media and keep an eye on everything, you can't fail to notice what this stuff was doing. I was fishing at the time and he gave me a few handfuls just to see how I got on.
It was a warm June day and I could see the odd fish coming through the margins in front of me. I stood back behind a tree and occasionally flicked the odd half bait down to a little clearing in front of me. As a couple of baits fluttered down to the bottom, a group of three or four fish were coming past at the back of the spot. Before the bait hit the bottom, one of the fish actually turned and made a line for the baits. It sucked them both up without hesitation and dropped down to engulf the rest of the bait before his mates could get in on the action.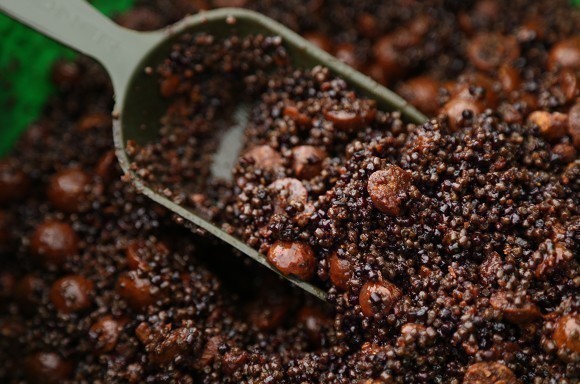 By soaking it in to Bloodworm Pellets and Krill boilies for atleast a few hours, the liquid will absorb in to the bait
Amazingly, I fed the spot for half an hour and I have never seen these fish react like this to bait; it really was incredible. I rigged up a rod and managed four bites that afternoon, landing fish to over 31lb.
It really got me thinking and I do this a lot. I don't just like to be like everyone else, I wanted to play around with some of the products and see what I could do with them. The fish clearly loved it and being a corn and hemp fanatic, I always thought I was invincible fishing this way. However, that reaction changed everything and I nipped down to Browns and got myself stocked up after feeling like a kid in a sweet shop.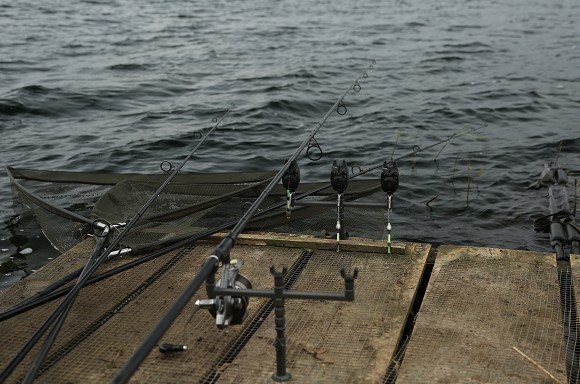 It can be very effective at times, even during the colder months
It was 2015 that I really gave it a good go and me and my old mate Rob Gooch had came up with something that worked from the off. Now it was Elstow Pit one that we were fishing and the Krill was producing a lot of fish. A true testament to a good bait is when fish keep getting caught on it and this was happening regularly.
We had settled on something that was very simple, but worked for a number of reasons. First of all, 2kg of Krill would be chopped, crushed and thrown in the bucket whole. Then, we added a tube of the 2.3mm Bloodworm pellets. These have been going for donkey's years now and when you watch them in the water, they release this huge red hazy cloud of attraction that seeps off them for hours on end. All carp love pellets and these little beauties also had another purpose.
One of the key additives to the mix was the Pure Krill Liquid. This stuff absolutely stinks and other than Hemp Oil, I have never been fussed about liquids. Most of them that you see on the shelf are just a sweet liquid with a nice smell to them. This one certainly doesn't smell nice, but blimey do the carp like it. This liquid is a proper food liquid and requires a bait spoon should you want to use it in a mix; it gets very messy.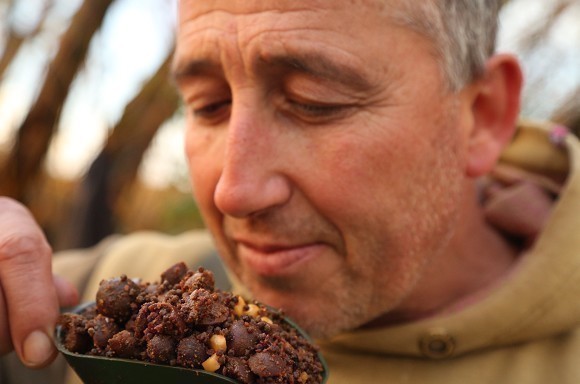 It absolutely stinks, but the carp love it
Anyway, this liquid was pulling in carp like nothing I had seen before and we had to find a way of getting as much of this liquid down to the bottom as we possibly could. The best way of doing this was to make the mix up a day prior to the session and adding half a bottle of the liquid to the mix. By the next day it had all absorbed in to the pellets and boilies and would leak out the baits over time.
We called it tar, as it looked like someone was about to pour it over the roads to resurface it. Before going out, I added a little bit more liquid so it wasn't so stiff in the Spomb, making it easier to load and unload.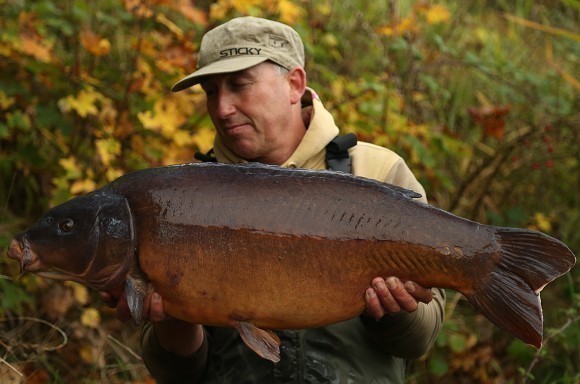 One of two thirties caught in a morning for Steve....
No matter where I took this mix, it worked wonders. It was like an addiction to the carp and all you needed was one to make the mistake, you knew his mates could not resist getting in on the action too.
It was the autumn that it really did kick off. Rob went in and did a job on one swim, catching 9-fish, 7 thirties in one rota weekend. His mate followed him in and had 5 that night to 37lb, before I got my chance after him. We were all using the same mix and introducing it to the same spot. I had my fill for a couple of nights and landed 6-fish to 36lb, which was a fish that seemed to elude me since the first time I stepped foot on the place over 20-years ago.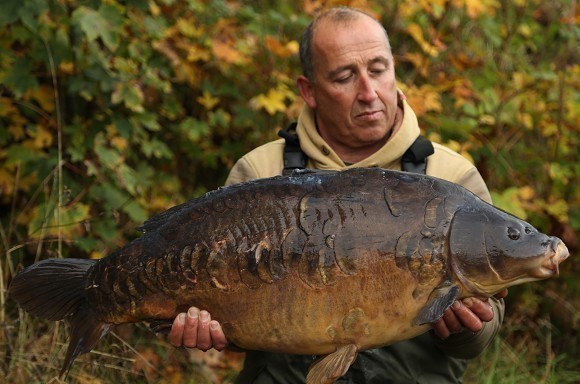 ...Including a mirror that had eluded him for many years
Gary went in with the same mix after me and caught one of the A-team, Black Cloud at 42lb along with a string of others and so it continued. It wasn't until the introduction of the Krilled Tar ended that the bites completely stopped.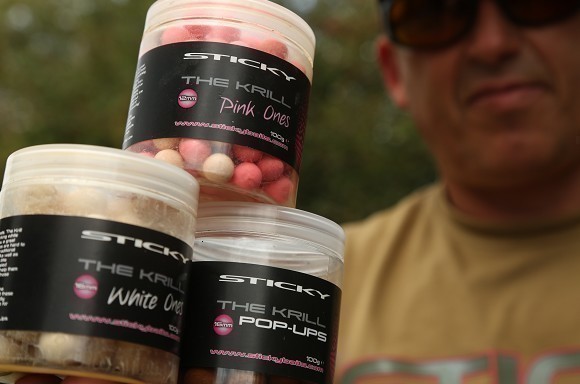 Using small, balanced pop-ups is his favoured approach
The same scenario happened in another swim a week or so later and I enjoyed 15-fish in one trip to 38lb. I cant remember the last time I felt happy Spombing on top of their heads in Elstow, but I had to do to keep the bites coming. The more I dropped in the swim the more I caught and I have never been so confident in a boilie in my life.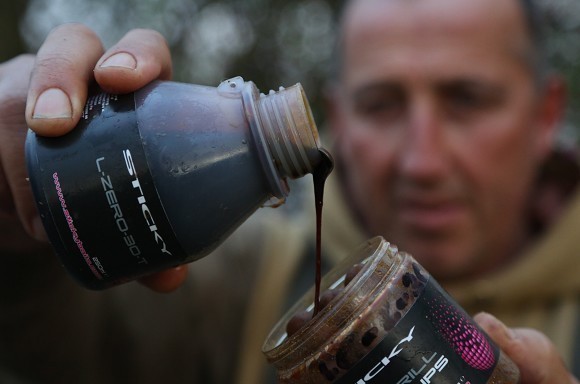 He glugs these in L-Zero or Krill liquid to give them a real fishy boost
I only really fished a bit in the spring and most of the autumn on their, but ended up with around 67-fish, 25 or so of those over 30lb too. With there being so many bits and bobs in the mix, I made sure that I had a nice little balanced pop-up over it. I use this on a Slip-D rig, which makes the hook point and eye sit on the bottom, with the main bend of the hook and the bait sitting proud of the bottom.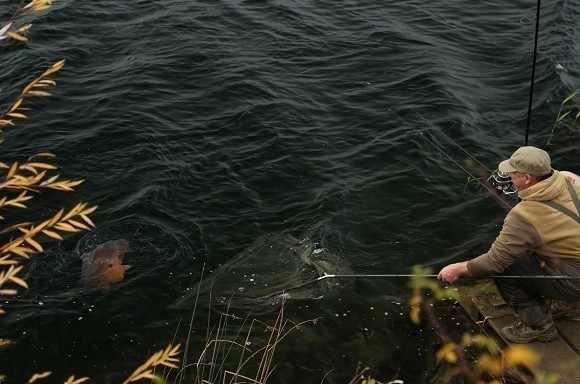 Steve had an impressive 31-thirties last year fishing over this mix
I had a tub of a variety of small pop-ups, but all soaked in either the pure Krill or the L-Zero-30T. Both of these are smelly, fishy liquids, which is exactly what the fish wanted. I think in the warmer months there isn't a combination out there that I have found to work like this, it really did and has completely changed my fishing an outlook on boilies that's for sure.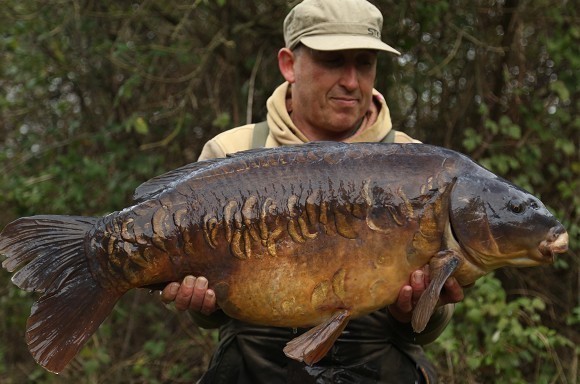 The awesome pump snag linear at 38lb