Why Citruz in winter?
Max Hendry takes a look at winter bait application, be it whilst looking for more bites on big fish venues, or when tackling more prolific waters
I've worked at Nash for over two years now and one product that really stands out as far as I'm concerned, is the Citruz range. It's unique, colour-wise and also in respect of its makeup as a bait. The sweet liquid combination, along with the powdered attractors make it ideal for the angler wanting a quick bite - either over bait or when using a single hookbait approach. In the twelve months or so, my initial work in its development, all the way through to seeing the final end product has been hugely fulfilling; but I've also gained an insight into what really goes into the bait-making process. It's fascinating working on new products, and also when tweaking existing ones to be even more effective.
The development
Citruz was designed originally by Keith Sykes and Gary Bayes, whose remit was to produce a high-leakage bait that could complement any boilie and that would be the ultimate winter hookbait. The attractor blend is diverse and so prevents the bait from falling out of favour. Added to this, the strong scent prevents the ingress of foreign odours like those of say, silt or decaying weed. This is important with a hookbait that you want to to chuck anywhere at a showing fish, without the worry that the bait might not be working for you.
My first outing with Citruz was on an open day at Cardiff Angling's Cefn Mably Lakes. It was a freezing cold day, but it seemed to make little difference to the fish. Alan Blair and I were demonstrating Citruz-based cold-water methods. Fishing small hookbaits and bags of the Fizzing Stick Mix led to eight bites on a day when the lake was actually fishing poorly. We even managed a PB or two for the anglers that attended and this gave me great confidence in the bait from the off!
The success of the Citruz pop-ups heralded significant development in the range and we now have several complementary products to accompany them. The first of these were the pink boilies: two different pink tones and packed with attractors. This bait quickly became a firm favourite with Alan, who caught carp all over Europe fishing his quick-hit, short-session style. It's a bait that doesn't require overloading and often fishes better in small quantities, aiding its 'quick bite' nature.
The hookbait also became a mainstay for my fishing in the spring. Many anglers make the mistake of applying too much bait too early as the fish start to become more active. I've found that they're often only just getting on the move and not staying in particular areas for long periods of time; this lends itself to the single hookbait approach. Putting hookbaits out to areas that the fish frequent is an active form of fishing. You need though, a bait and rig set-up that can be cast with accuracy to most areas of a lake, without tangles and knowing that your pop-up is effectively presented. I like to use the Gyro Rig, utilising a bait screw which allows me to keep my hookbaits fresh by changing them regularly for casting at showing fish. It's a tactic I've had success with in previous seasons when I've needed to nick a bite.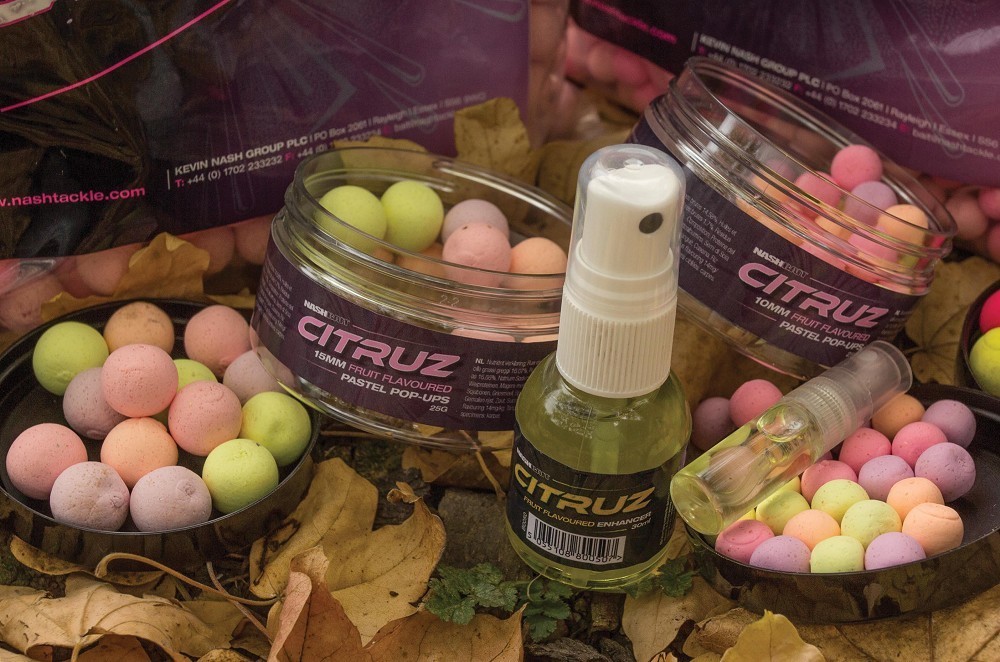 Pop-ups and booster spray - deadly in the cold weather!
Fishing singles
The single hookbait approach is particularly good for 'day only' sessions. This has meant that I'm able to get out when I'm free and can make the most of my time on the bank. Pre-tying my rigs at home means I'm ready when I get to the lake. Chigborough Lakes in Maldon is a venue that lends itself perfectly to this type of fishing. I like to turn up and follow the sun across the south-facing bank for the day, dropping singles into likely-looking areas along the tree-line, as I try to locate any carp that might be resident in the snags. This method is pretty effective and on one occasion I bagged three nice fish in just a couple of hours' fishing. It is however, about applying the right method on the day.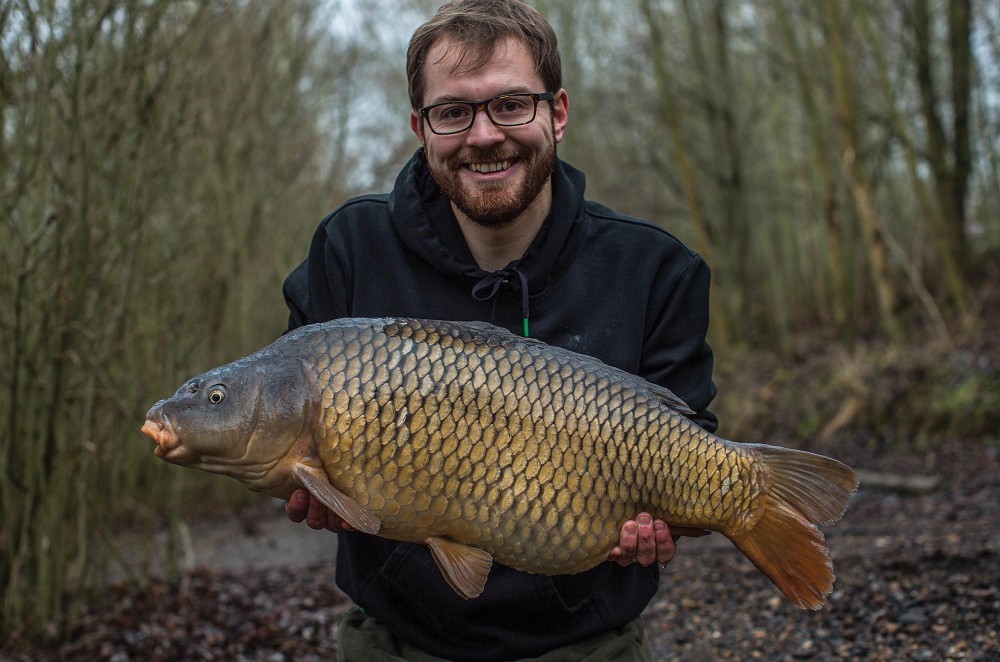 A January day ticket twenty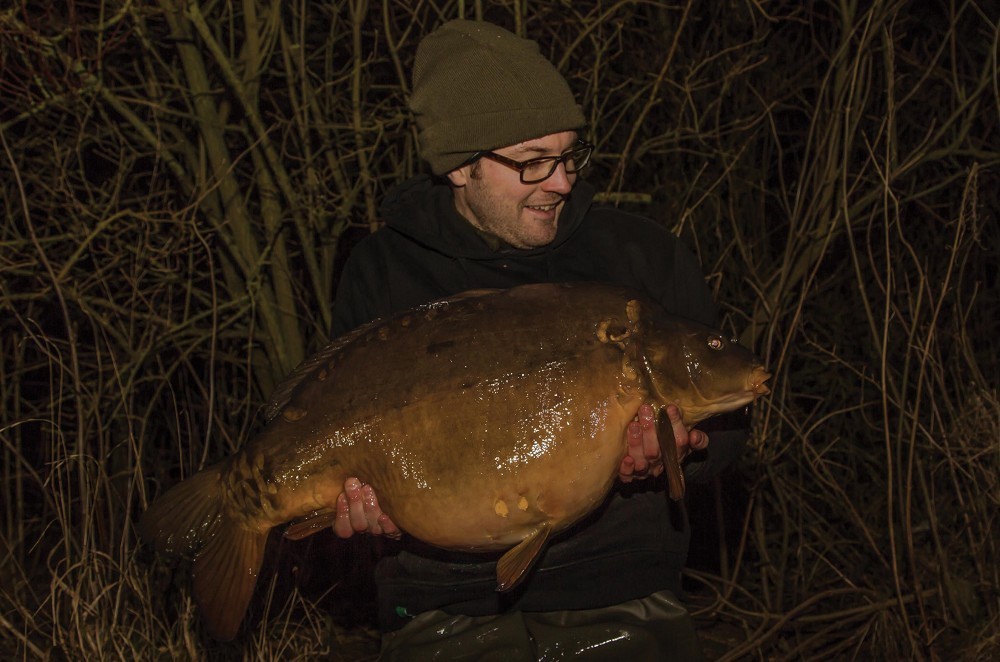 A return two days later and a January thirty!
Giving them bait
Whilst I normally opt for singles initially, sometimes when the lakes have a higher stock of fish, I find it's better to first, get them interested in some bait. A winter session with Oli Davies springs to mind…
We were out shooting a feature on Churchgate Lakes, which have a decent stock, so I was keen to make the most of some competitive feeding and introduced some Citruz Flake to the swim. Rather than spodding, I boiled up the kettle and added an early sample of the Spod Syrup to the mix, soaking it the night before fishing. This allowed me to make groundbait balls that I could catapult to the island margin. I adopted a 'little and often' approach, feeding over my 12mm Citruz Wafter and landed six carp, including a real bonus mid-twenty common. The fish was certainly well above average size from the small-fish, high-stock venue. From the moment I introduced bait I experienced liners and a bite would be quickly forthcoming. The full range of Citruz products allows an angler to be more versatile and gives you lots of methods to try in an effort to induce bites.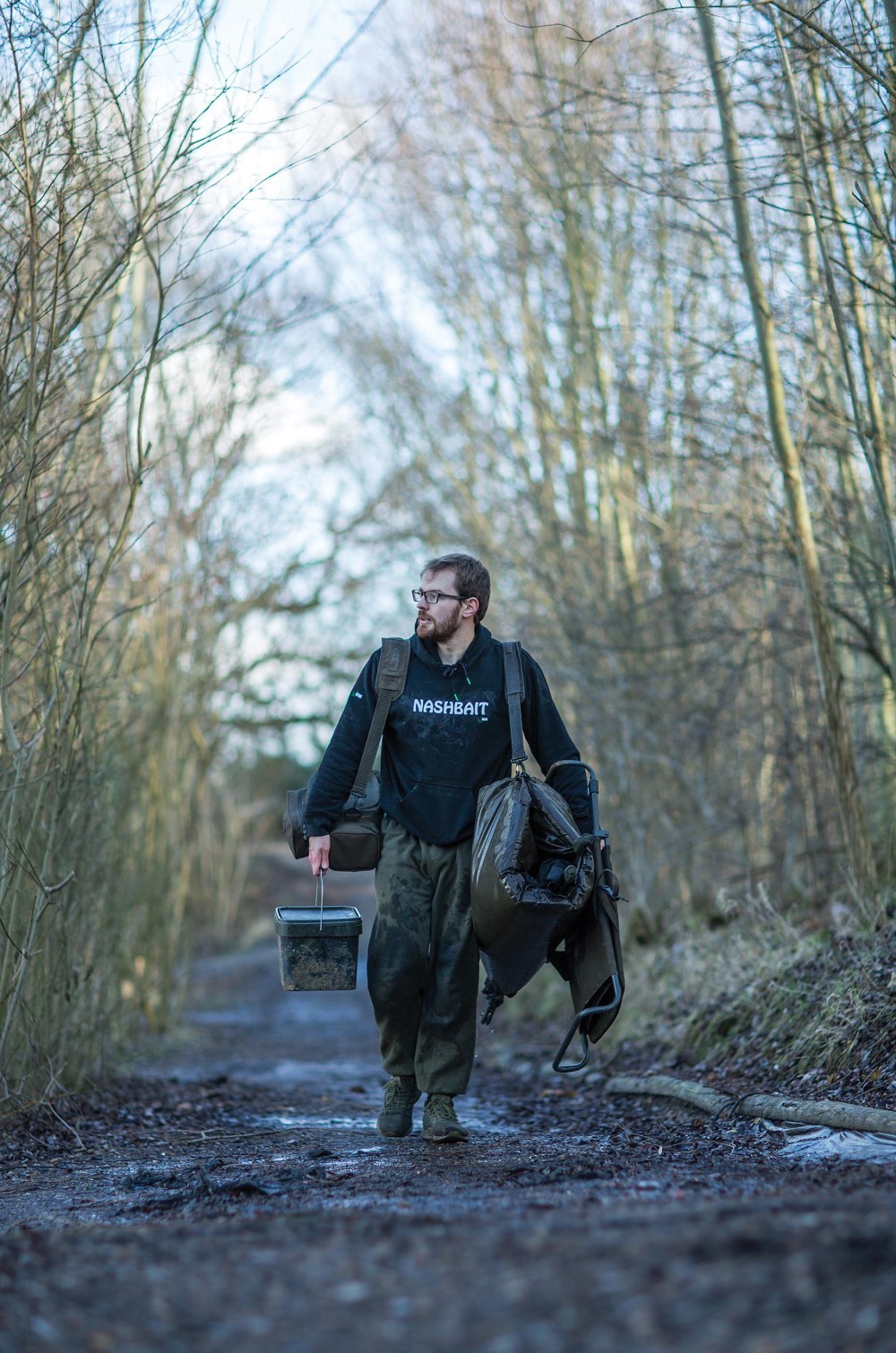 Looking for quick bites on a winter's day
Cultured Hookbaits
The range grew further to become the one-stop bait for an angler wanting to make the most of short feeding spells in the winter by way of maximum attraction and minimum feed. The cultured Citruz hookbaits in both the pop-up and bottom-bait versions provide unrivalled leakage for anglers wanting something a little different. I found these to be particularly effective for bigger fish and the attraction and leakage is maintained over a long period.
My first session with the cultured hookbaits was on a lake in Northamptonshire. I managed to find the fish in the dark with a strong head torch and get the rods in position without spooking them, and within a few hours I'd landed a 29lb mirror. I fished Cultured Bottom baits over a firm gravel lakebed on a Slip D Rig and was able to land one from a venue that was to prove to be quite a tricky water. It was well worth the overnighter in what were freezing conditions. I backed that up when I returned a couple of days later, landing a January thirty. It seems that no matter how cold the weather is, you still have a chance with Citruz - confidence in itself. It shouldn't be confused as a small fish method either. I've witnessed a consultant catching fish over 40lb from some hard venues on Citruz and it should never be overlooked.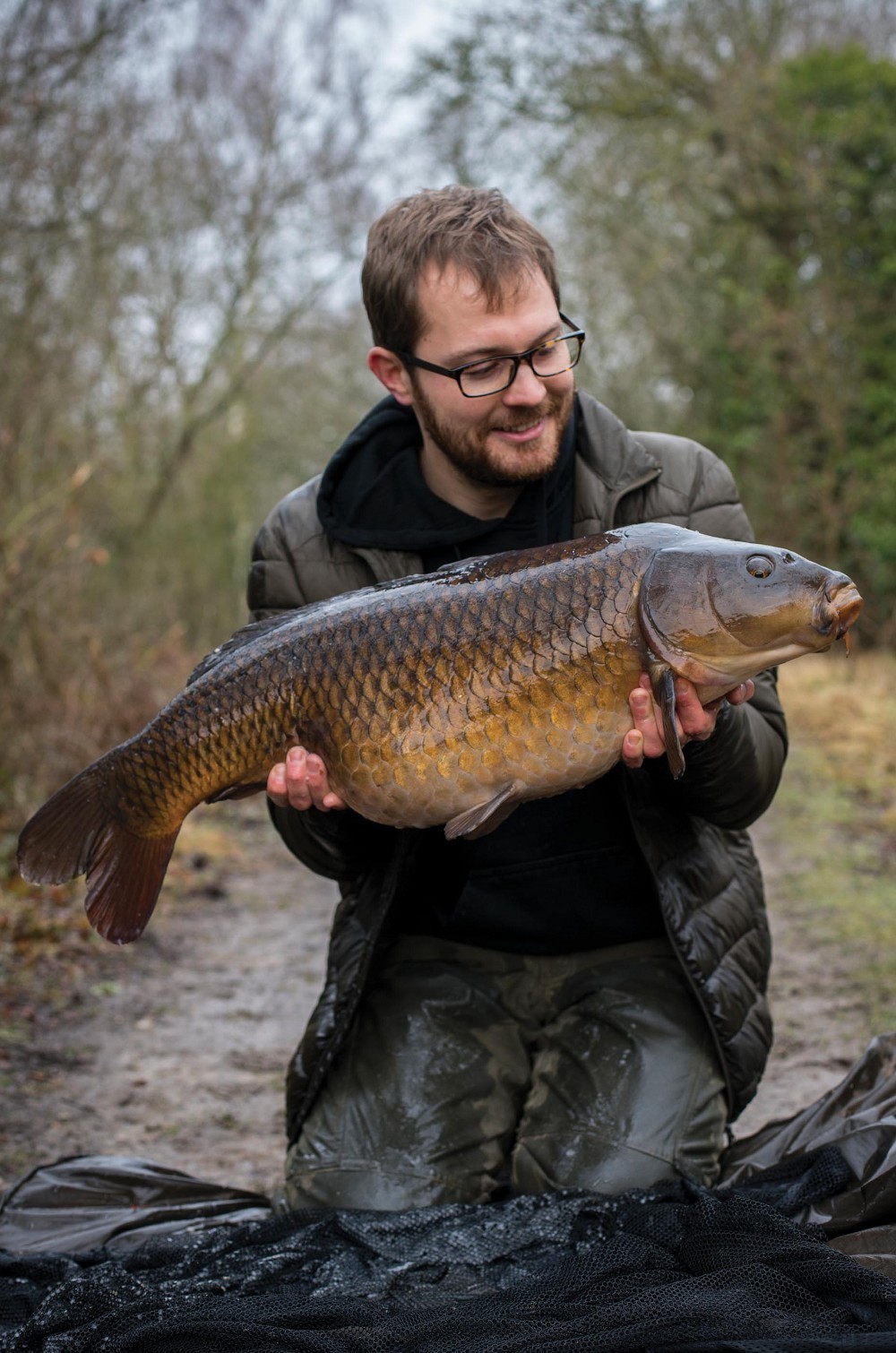 Single hookbait fishing is a super mobile approach. Casting to likely looking snaggy margins with high leakage hookbaits result in bites in just a few hours fishing
Longer trips
I've also fished longer sessions abroad where I want a bait that will work over a lengthy session. When we filmed The Social 2, I had a full week at my disposal. I must admit this is something that I seldom experience in my fishing, so I had to have a different game plan when it came to my baiting approach. I fished Citruz pop-ups on two rods, over a bed of mixed Scopex Squid and crushed tiger nuts. The pop-ups were fished over the top to provide quick bites over the bait. I quickly found though, that the fish didn't like having feed introduced over their heads. Rather than bait after each fish, I decided conversely, to try and get more bites over each bait-up; this meant making my hookbaits more attractive than the rest of the food items in the swim. I did this by using the hookbait spray and boosting my Citruz pop-ups. This approach produced eleven fish during the five days' fishing, which I was happy with. The fish included some crazy orange koi of over 29lb, the like of which I'd not experienced in my fishing… certainly a highlight of the week!
The Fizzing Stick Mix with its active powdered ingredients makes the bait rise and fall in the water column, which pulls fish to the hookbait. The fizzing element comes from the cracking candy in the mix - this produces a noise in the water that curious carp will investigate. The rising particles also carry the scent a lot further and quicker than a standard bag mix, again increasing its quick bite potential.
In 2018 we saw even more development with the eye-catching Citruz Spod Syrup for bait mixes with the attractor profile of the range. In the development stage we spent a lot of time finding ingredients that both stayed low in the water column, and spread, therefore giving a lot of coverage quite quickly. We reduced the oil content to produce a liquid that was a soluble carrier for the attractors. Its thickness - that sees it cling to your bait - ensures that the liquids go to the lakebed, is also key. Countless samples and tank tests saw us happy with the end product: a highly visual, thick liquid packed with attractors that was super effective in even the most cold fishing situations.
Pellets in your fishing
The development of the original Citruz products also gave us a lot of the elements that we now use in the pellets. These are spun and they go through a treatment process incorporating powdered Citruz additives and a high-attract, extremely soluble liquid. We teamed this combination with a low-oil coarse pellet that breaks down in even the coldest temperatures to produce a nice spread on the lakebed. Like the Flake boilie, you can scald the pellets to make balls for feeding, or soak them in Spod Syrup with the Fizzing Stick Mix to make an attractive PVA stick. The extra liquids extend the timescale of breakdown, helping it work over long periods and I use this a lot when I want the stick to pump out attraction all night.
Development continued, with the introduction of Citruz White boilies. Anglers that remember the hugely-effective Amber Strawberry boilies will know their success was, in part, down to their colour. White is an attractive colour to carp and this allowed us to combine our white pop-ups with a matching bait. In the colder months when the fishes' eyesight become less efficient, white boilies are an ideal addition to a baited area. Their use on busy park lakes and canals where the fish see an amount of bread fed for waterfowl has been particularly successful; the water clarity - or lack of - doesn't compare to say, a gin-clear gravel pit.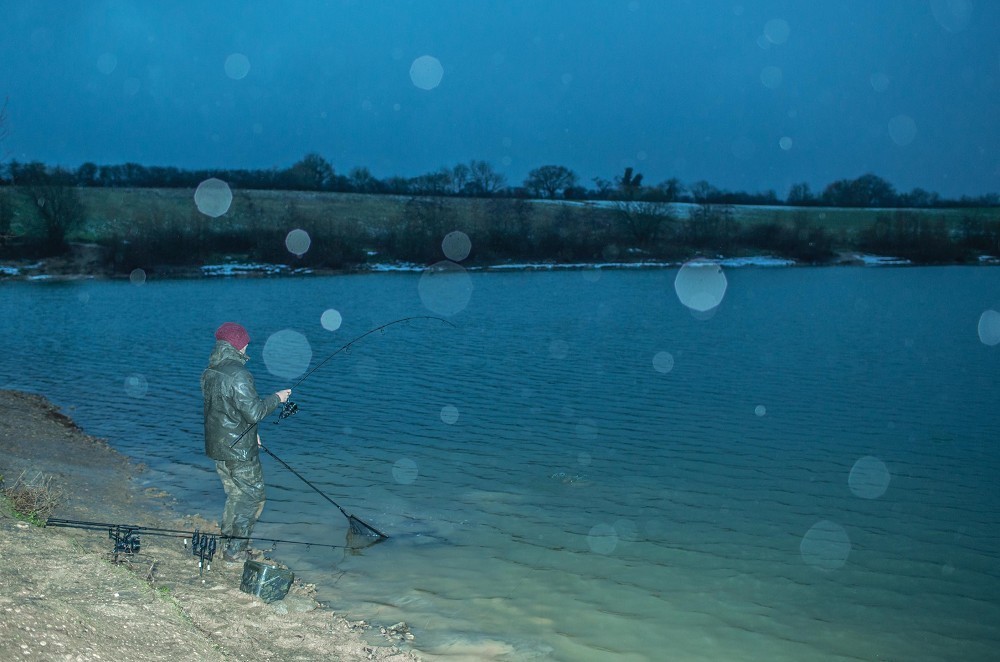 Tempting a bite in the worst possible conditions
The Citruz effect
With such an extensive range it's hard perhaps, to try and select what to use. I try to steer people towards the pop-ups initially. You can't really go wrong with a pot of these and they get you started. Confidence is key with all bait obviously, so catch a few and then see how the rest of the range might fit into your fishing.
In the recent couple of years I've turned to Citruz countless times - be that by way of a small 'topper' for my hookbaits, a solid bag mix for casting at showing fish, or even a cultured bait cast to my baited area. The attractors often get me quick bites, even when the fishing is slow. Citruz is something that all anglers should have in their armoury, whether it be just a tub of pop-ups or a bag of bait. It's always good to give yourself confidence when the fishing is slower and the bites are hard earned.