Carp Letter from America - August 2016
Brian Wingard let's us know what he's been up to in August in Carp Letter from America...
Spending August in the pub seemed to do us a great deal of good. The limited number of carping forays we went on still produced a number of decent fish. But, we shan't tell you about those because we had already asked a home grown, that is American home grown, carp angler to guest write August's Carp Letter from America. Brian Wingard has been carp fishing in the states, mainly in and around his home state, Pennsylvania, for some ten years. In that time he has shown himself to be a successful carp angler and as a result has become a consultant for the likes of CC Moore, Korda, Cygnet and Trakker. He also promotes carp fishing to the New World helping to organise fish-ins here in America for both experienced carp anglers and novices alike. So without further ado we'll turn you over to Brian and, well, we'll head back to the pub then. Cheers
Simon and Andy
Over the past year I have enjoyed Andy's, Simon's, their wives' and friends' adventures across Pennsylvania. I often chuckle because so many of their experiences both good and downright awful are something I have had numerous times. Every time I read a comment involving "are you going to eat that" I almost want to start laughing hysterically because that is the big welcome to America. You have the "are you going to eat that" as the most common question and "why do you want to fish for carp" running a close second. These other anglers and bystanders look at you like you just came off a spaceship in some areas when you say you are fishing for carp. I have answered the why-do-you-want-to-fish-for-carp question so many times I now have a line I give right back to them over and over. Usually it invokes some thinking on their part before they can relate to it. Since 95% of the anglers practice catch and release I often start my comment back to them with a simple question. I ask them what is the biggest bass they have ever caught on any given lake. Most will say only a few pounds unless they are an exceptional angler and then they brag about the big one at 7-8lbs. I simply say, on any given day my smallest carp will weigh more than the largest bass you will catch in your lifetime with a 10lb fish being extremely easy to catch. I then go on to ask why they like to catch bass (most anglers here fish for bass at some point in their lives as it is probably the most sought after fish in the states) and most will say, "because they put up a great fight." I will tell them if you are a catch and release angler why not go after the biggest hardest fighting fish in the lake? Usually that will make them rethink what you are doing and also themselves. Quite a few times years later I have run into those same anglers who now have tried fishing for carp and do it occasionally. Oddly enough I still bass fish and I think this is one of the reasons I have been very successful in my carp fishing. They have similar habits to carp, certainly in terms of positioning themselves near drop-offs and depth changes. On windy days they hold near the bank that gets the most wind because the food comes right towards them. Also in proximity to any type of snag situation you can almost guarantee you will find both species of fish just hanging out waiting for the next meal.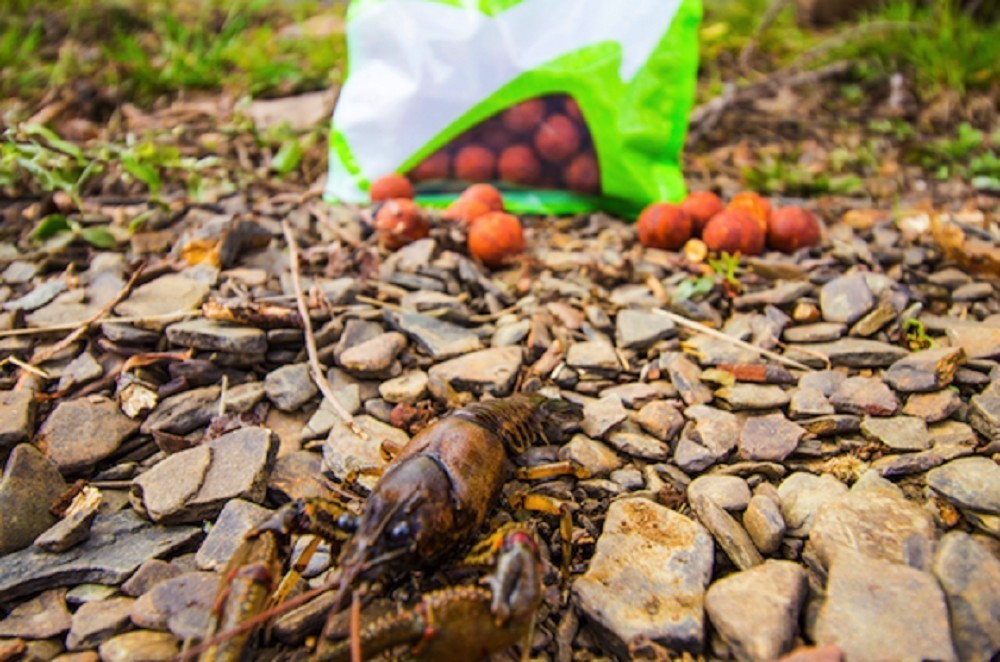 American crayfish brave dry land for Pacific Tuna boilies
Summer time can be extremely tricky fishing only because, in my opinion, there is an abundance of natural food in the lakes here. You have snails, crayfish, clams, mussels, freshwater shrimp among countless other goodies to choose from. The spring and autumn are often easier months to catch because the carp are gorging themselves before spawning in the spring and in the autumn eating lots before the winter slow down. During the summer I try to match the hatch so to speak and fish mainly natural oriented baits. Do not get me wrong on most lakes you can go out and catch at any time of the year but to get into the bigger fish usually requires some attractive goodies. I often soak my baits in dips and concentrates to maximize the draw to the bait and as it leaks out it can entice them in from a great distances. Granted there are some small lakes of say an acre although the majority are 100s if not 1000s of acres in size with the largest being Lake Erie that is a mind boggling 10,000 square miles on the surface. On the larger lakes you play quite the waiting game sometimes so being able to draw them in can yield better results. In contrast to Andy and Simon I rarely use corn unless I want numbers of fish. I mainly boilie fish when I want larger fish of 20lb-plus and upwards. So doing I found my average size sky-rocket compared to results attained with other commonly used baits. But this is my own experience, it's worked for me.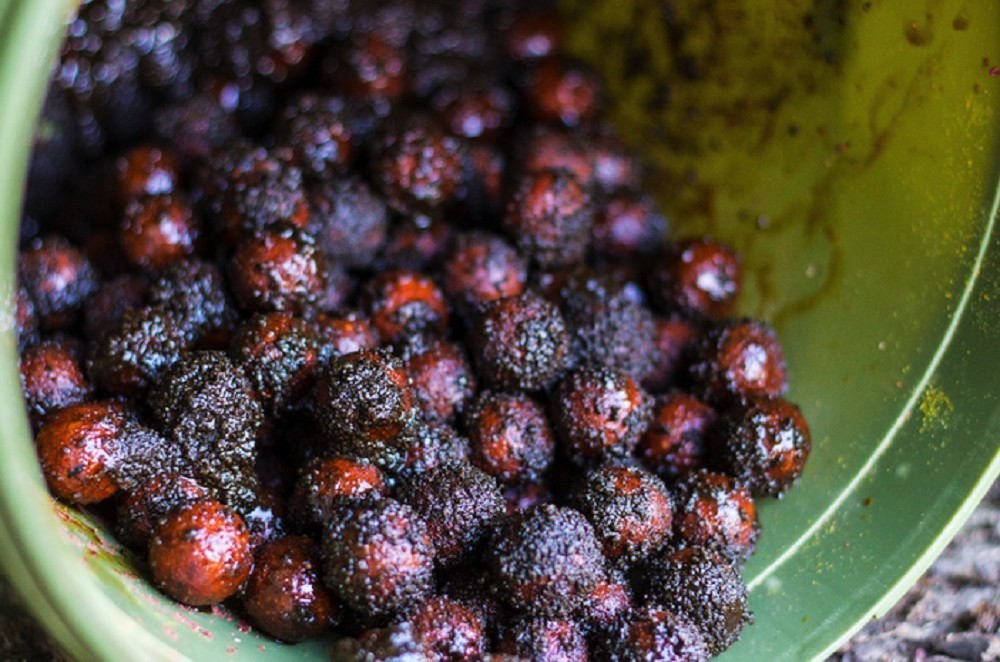 A little extra for the boilies
So finally managing a quick session before the promotional work took place, and knowing it was prime food source season, I prepped my baits that consisted of CC Moore's new Pacific Tuna range. I was curious how this would work out during the summer months and definitely gave them a good dousing of liquids for what would hopefully be a quick response. Often times I will soak baits for a day or two then soak them again up to 3-4 times depending on the bait. With each layer of additive going on it soaks deeper and deeper into the baits and gives a time-release effect so to speak, providing a prolonged draw and attractiveness that can pull fish in from a far distance especially on windy days.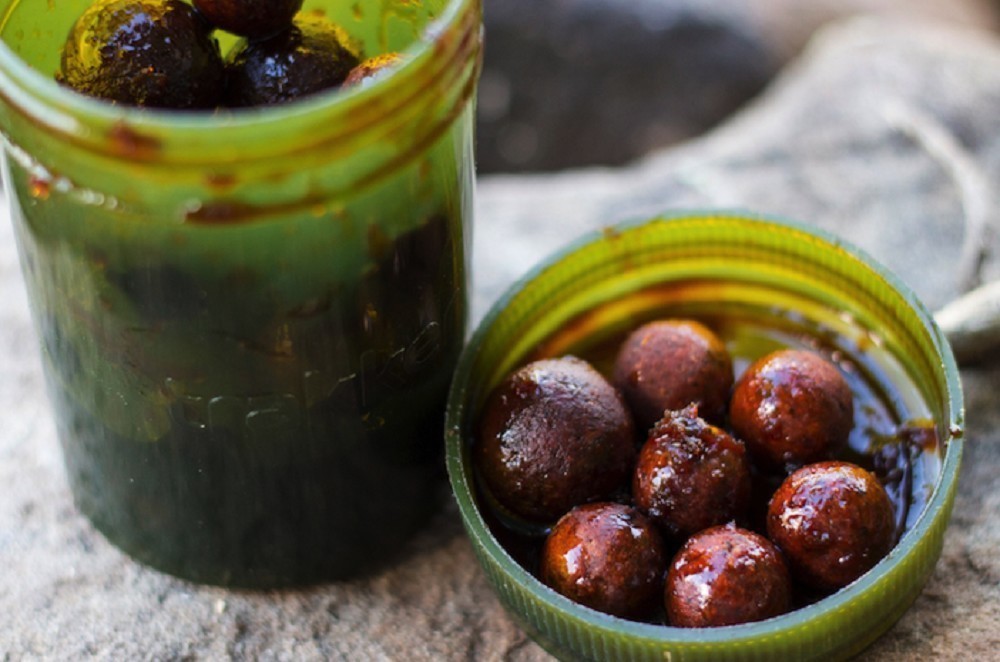 Giving them a good soak.
Now that my baits were sorted I had to rush around to get things prepped for a fishing day with the Fish and Boat Commission – the organization that regulates all fishing here in Pennsylvania. I never got out for my quick session as life always seems to get busy for myself at the worse possible times. My friend Brian Verbitskey helped out with some pre-baiting at the lake to hopefully guarantee some results for the staff who came out. Each year the Pennsylvania Fish and Boat Commission allows its staff a paid day to go either fishing or boating. Four members of their staff wanted to go carp fishing, utilising more advanced methods to see how they worked. They have been carp fishing before with the regular methods like using sweet corn but nothing more than that. Corn or a dough ball on the hook is what most anglers know when it comes to carp fishing in the States. A few extra steps and you can go from catching a fish here and there to hauling in fish after fish. So with things being rushed around as always I got all of my gear sorted and headed out to the lake bright and early. No matter how many sessions I do, I always find myself staying up into the wee hours making sure I have everything sorted and ready for the next day's fishing. It is also a guarantee that I will 100% forget something important! So we met up at the lake with Commissioner Lichvar and his son Logan, Brian V, Joe and four members of the Fish and Boat Commission.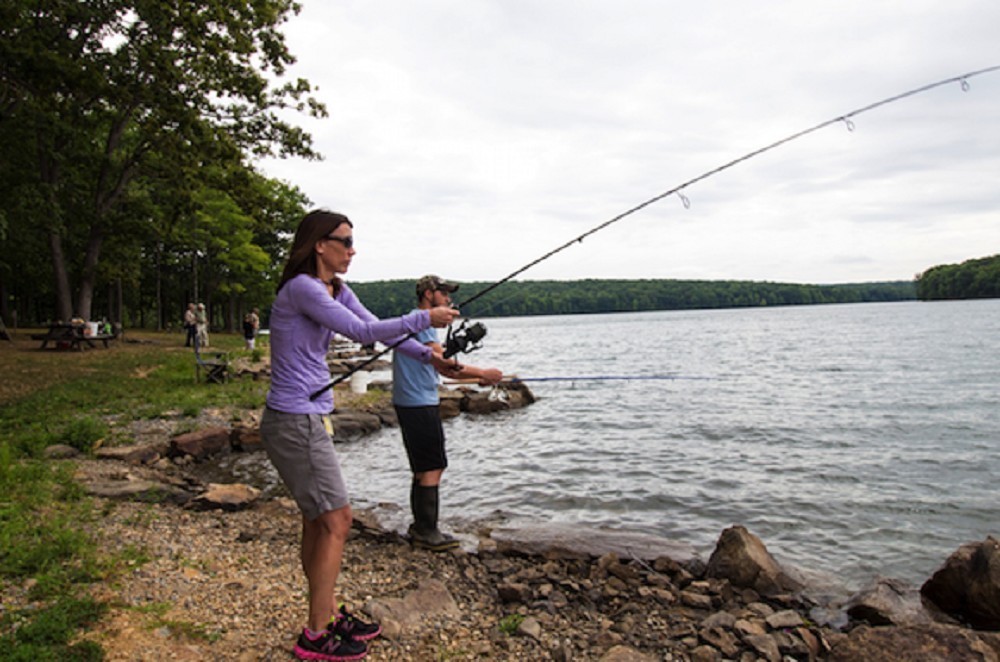 Attached to a hard pulling fish.
As soon as we got down by the lake we saw some fish rolling over the baited spots. Surely this had to be a good sign for the day. Taking out newer carp anglers you always want them to have the best shot of catching at least a single fish at some point in the day. The thrill of the alarm screaming off and the battle to land the fish is usually enough to give them the experience they need to understand what it is that attracts people to carp fishing. Usually the morning bite is excellent and also in the evening but this day the fish were basically flipping us the bird and laughing from a distance. During the morning we instructed them on some of the basics such as hair rigs, basic baits to use and also on some more advanced items that most of them are unfamiliar with. Even a bite alarm is not common knowledge as it is a specialty item. So after eating lunch and some peace and quiet the calm suddenly turned chaotic with Brian V's screaming alarm that was soon followed by my own. Handing off the rod to the staff they would soon see the fight that carp out of this lake provide.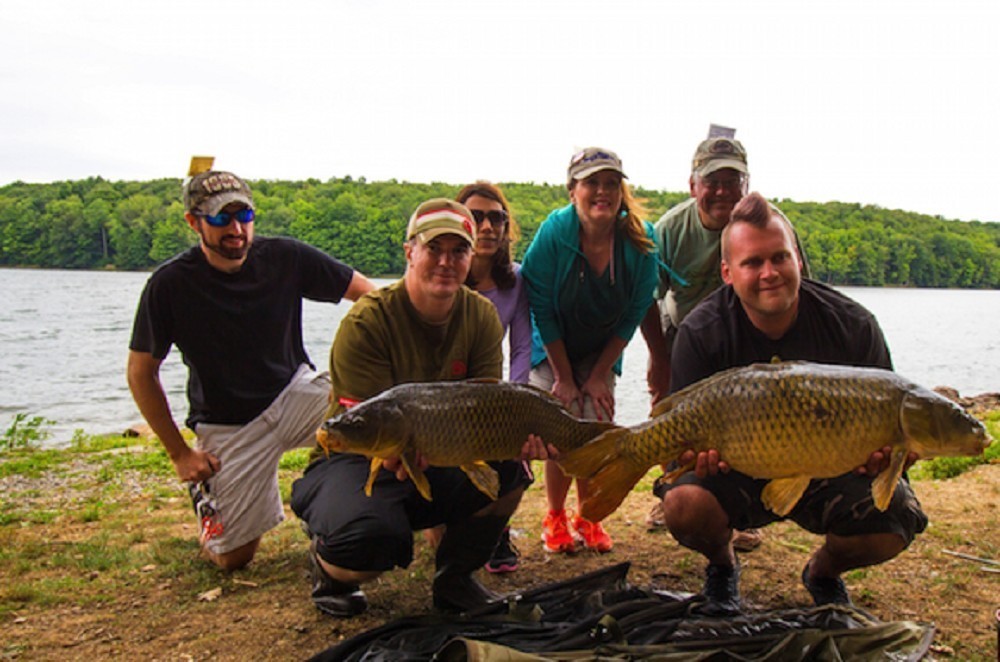 A couple of nice fish for the newcomers to carp fishing. Makes a change from bass at least.
When both fish were finally landed the biggest was over 27lbs, a new PB by a large margin for that individual. They definitely gave them both a work out as they kept peeling out line for quite some time. The really great aspect about the Pennsylvania Fish and Boat Commission is the fact they are very open minded and carp fishing is no exception. They promote carp fishing throughout the state and many anglers from all over the country come here to fish.
So with the first of two promotions behind us I had to get a session in for myself as it was already mid-month and the time was flying by. Full moon was coming and I had my baits prepped. No matter what life threw at me this time I had to find my way to the banks. Particularly in the summer months with so much food sources in the water I almost feel the full moon allows the fish to find more of those sources close in. I certainly take advantage of the situation at hand and make the most of it. As soon as I got off of work I drove out to the lake. The thing I envy about Andy and Simon is the amount of gear they carry with them. I used to take virtually nothing carp fishing but now I take everything and the kitchen sink for even a short session. Here is an example of my short session gear. Of course the hard part is getting all your gear to the targeted swims in just one trip so a barrow is almost a must for myself as most spots are a good hike through the woods.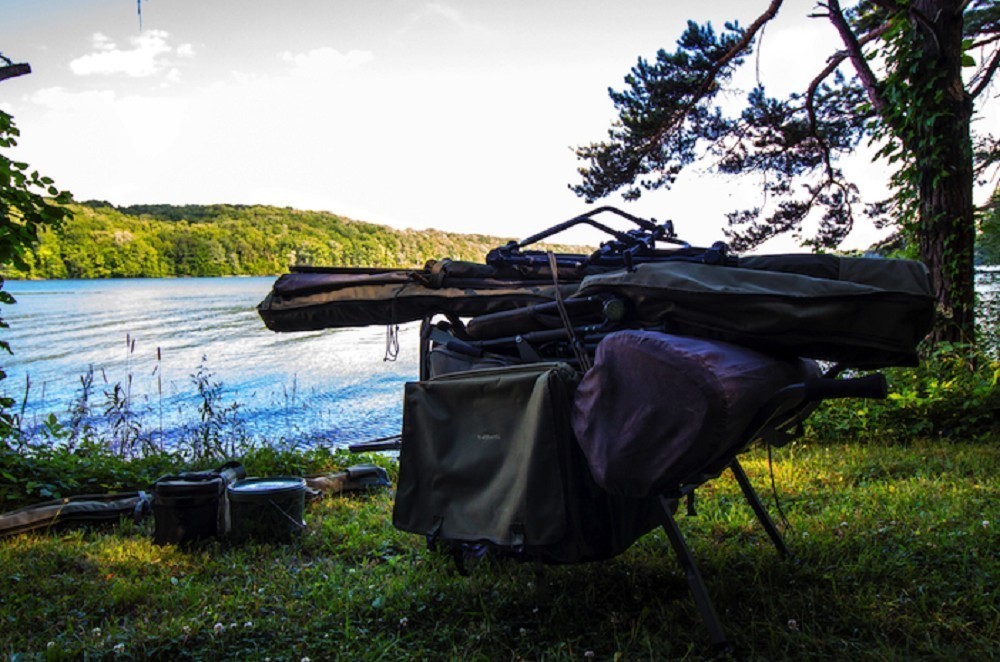 Gear for a short session.
The full moon did not let me down. Even though this is a spot I have fished before many times the lake is forever changing. A new weed bed had grown in over the summer, but I finally found the edge of it after casting out the lead numerous times. Fishing to the edges of the weed beds are always guaranteed to produce a fish. With the middle rod I hit a known drop-off that goes from 15 to 24 feet and that sudden change always holds a fish. In addition I fished under a tree that has quite a few snags near it. Being close to the rod is a must because as soon as the fish hits they are a freight train right to the snag. I have lost a lot of fish due to this but the rewards are always worth the efforts involved. The full moon came out and it felt like daytime sitting on the bank. It was dead silence for hours and then finally all hell broke loose with back-to-back runs. My first double of the season and nearly a triple. I was a tangled mess to say the least. Fishing in tight spots is always an adventure in itself with no room to move around in. After landing these three fish I would eventually chalk up some 20+ doubles for a successful night of fishing.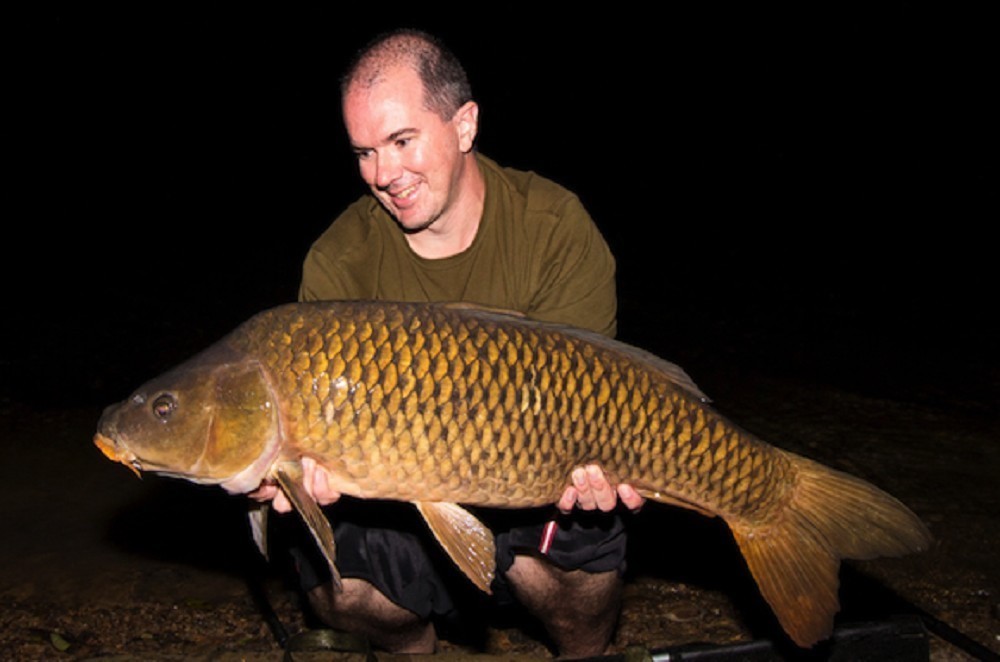 Night of the full moon and a good common.
Sometimes the bigger picture is promoting carp fishing as many people pass through this area and questions are always a given as they are fascinated by everything we do and have. Often times it prompts someone to want to learn more about the sport and in many cases we will see them stop by at a future social to learn more or even fish. The summer months are rarely about myself when it comes to fishing. I try to take an active role among many others to promote the sport and hopefully allow them to experience all of the fun I have had on my journey through the years. Seeing someone land their first carp or even a new PB is always a very special experience to take part in and often takes you back to the first time you did the same. And now that summer is coming to a close it is time to focus on some of the great autumn fishing before the winter-time leaves us begging for spring.