Carp Letter from America: March 2018
Carp Letter from America is back...
Last year we started our diary with an explanation of our origins (see here for enlightenment). But then we sort of came to an abrupt halt. Simon's other, less exciting, more mundane non-fishing life became too busy for him to do anything but cast a line in early summer and then, apart from a handful of overnighters, nothing at all before the cold weather came and shut everything down.
The few trips he did manage were productive. An early season session turned up yet another 29lb fish (Simon's specialty), which prompted a second trip with Andy to the same swim. More fish came. All for Simon. Andy suffered one of his very rare blanks.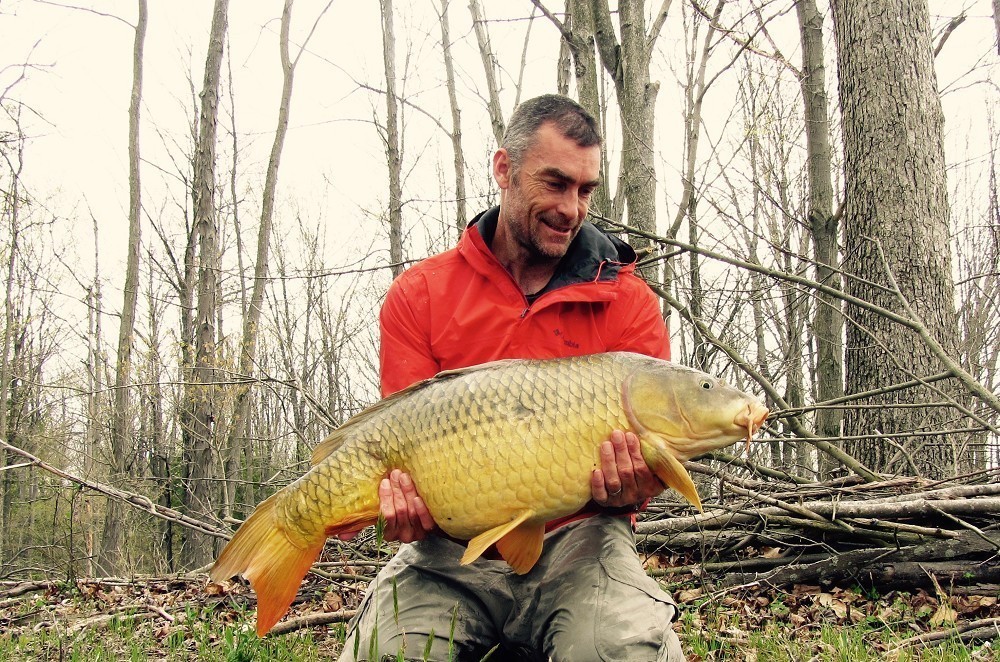 Early season reward from last year.
And that was almost it for Simon. Aside from sneaking out for a couple of overnighters mid summer, which again saw regular fish come to his net, including a middle of the night mirror (a rarity here being only the third one banked in five years of fishing), he managed to attach himself to just one of Andy's multi-day forays to the Other Lake - though with a stunning lack of action.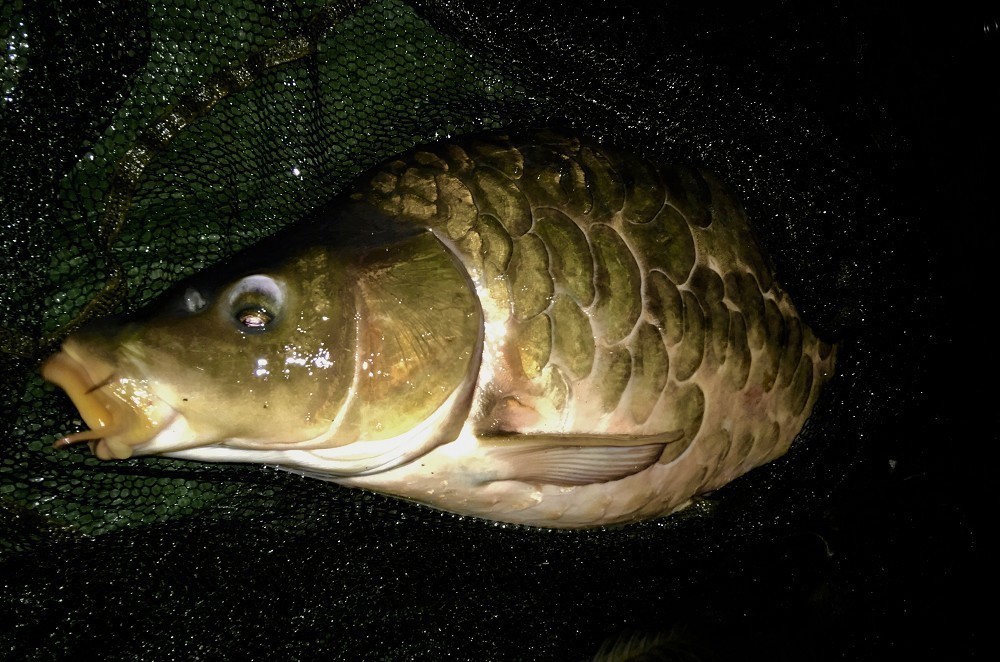 A hastily taken night snap of a rare mirror
Andy got on the water considerably more than Simon. A return trip to General Pinochet lake found him not only battling the heavy weed coverage in the bay he fished, a very rum bunch of neighbouring campers, but also more than fifty carp in less than three days fishing. Things got so hectic at times that he dared not fish with more than one rod for fear of the consequences.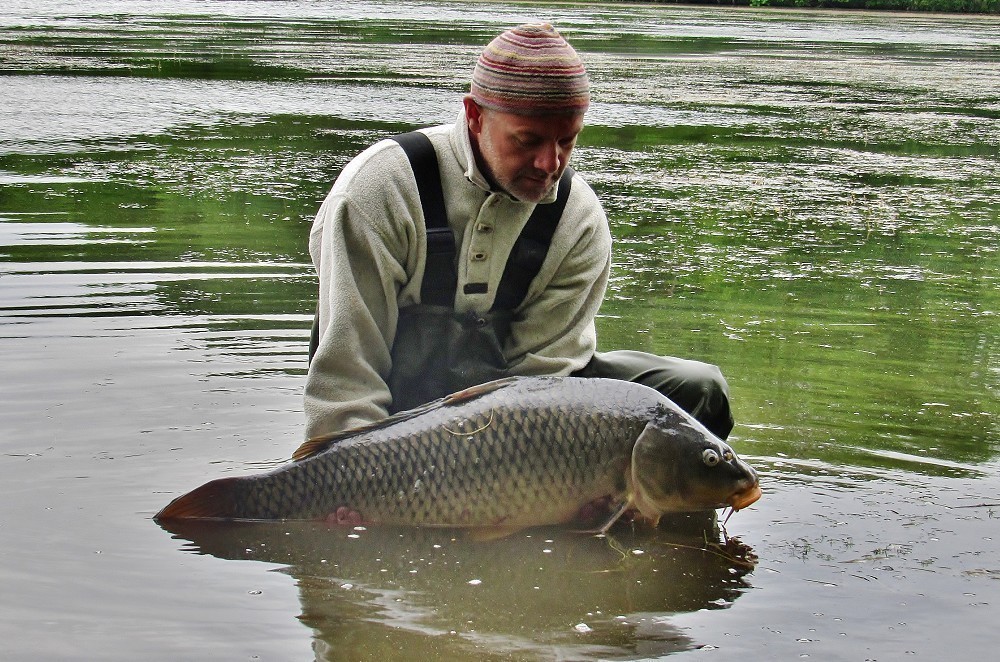 One of the many fish Andy hauled from a weedy bay on General Pinochet Lake
Sessions on more familiar haunts also produced fish. An April trip to the Other Lake with The Neighbour saw the nascent American carper sneak out a nice plump common.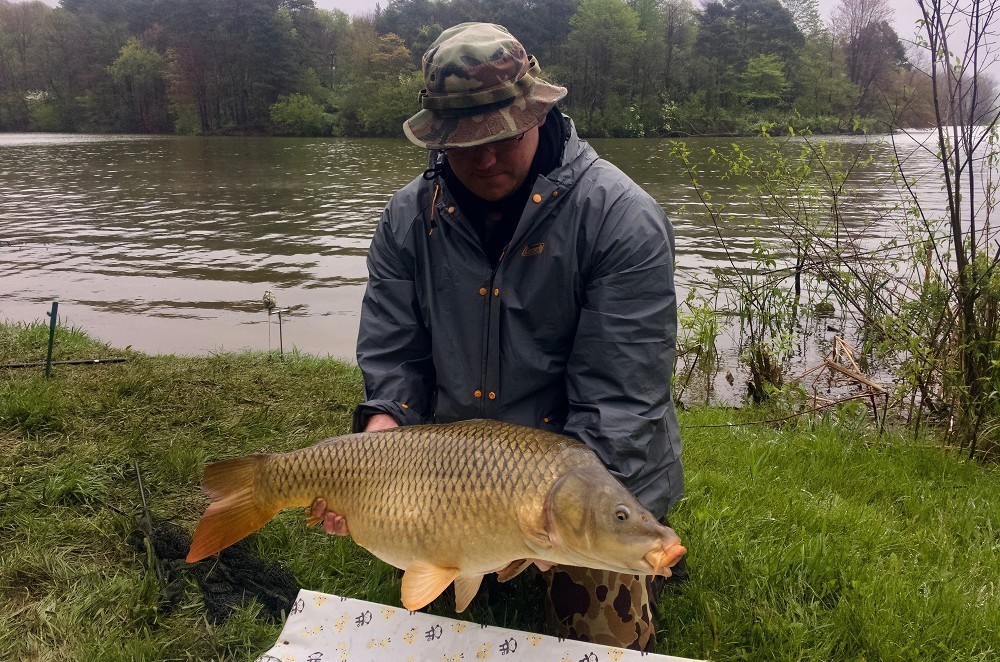 The Neighbour continued his carp fishing apprenticeship with a plump April common.
Further trips to the same lake later in the year continued to produce a handful of carp but there was a curious reticence from the fish compared to former years. Simon joined Andy on one session and for a day and a night, in an area previously a shoe-in for runs, caught nothing. In fact didn't even have a hint that there were any carp in the vicinity, no shows, no beeps on the buzzers. Donning the snorkel and mask combo and diving down to his baited area showed that it looked entirely untouched, the free offerings neatly surrounding his rigs. No sign that any carp had moved in to mop any of them up let alone muck around with the hook bait. Andy did bank a few fish but in terms of numbers we were well down on previous years.
Interestingly this has been an increasing trend at this venue. We do fish the same area when we go to this water simply because the accommodation is lakeside and as a result very convenient for fishers and family alike. It's possible we've brought considerable pressure to the resident fish in this arm of the lake. Over the three seasons we've fished here we must have caught more than three hundred fish, almost all from the swims in front of the cabin we stay in. Among those fish there has to be a number of repeat captures and we've knowingly caught at least one good fish three times. Its possible that the pressure we've exerted on this one arm of the lake is having an effect - especially if, as research on carp movement on these big lakes suggests, many of the fish are permanent residents of this particular area and so regularly see our baits whenever we turn up. This is, of course, the usual situation for English carpers. All fish have been well taught by the angling crowds.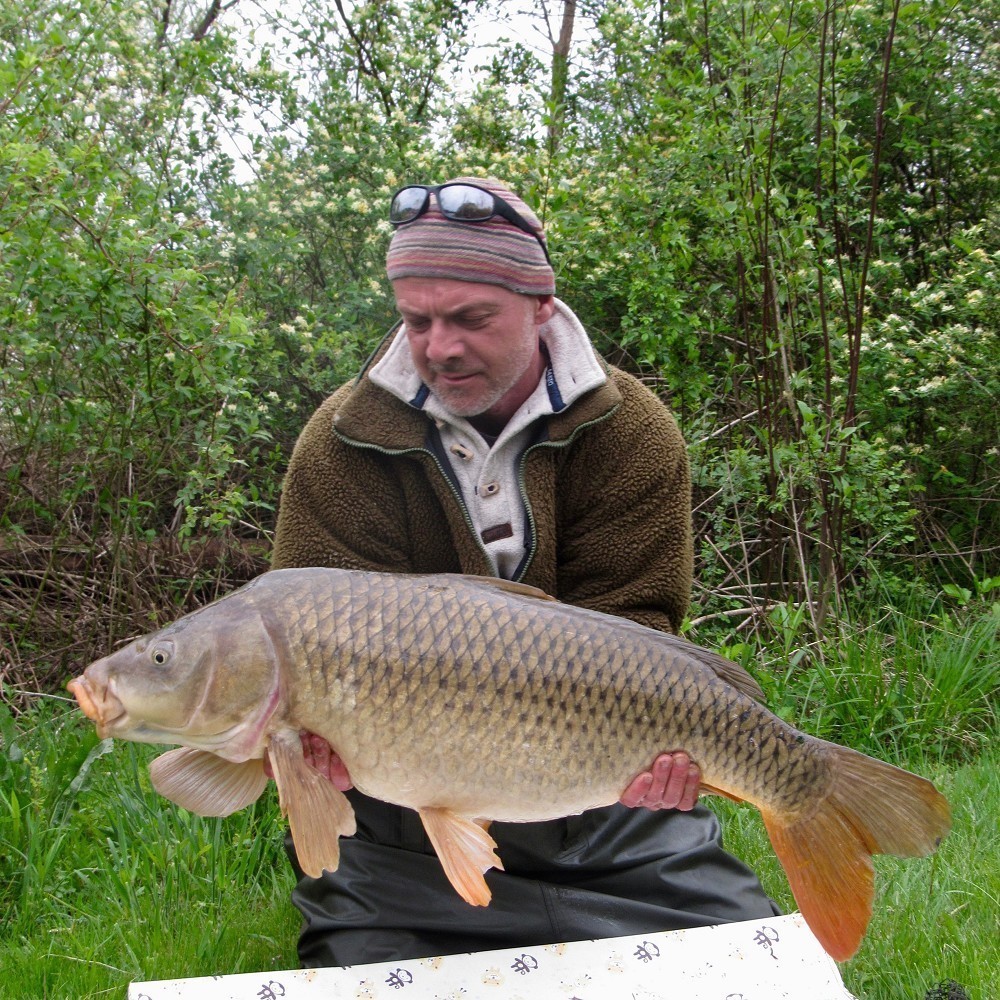 A good fish from the Other Lake and quite possibly one we've had before.
Here, while there are a few well-known carp lakes where pressure has changed the behaviour of the fish, these waters are the exception rather than the rule. And we don't fish 'em. We fish for relatively naive fish in waters mostly untouched by modern carp techniques; or at least waters that are so large that the small handful of carpers around makes little impression on the fish's memory. Now it seems we may have created our very own corner of an English carp pond all by ourselves. Despite this we'll almost certainly go again this year. It is such a good spot that giving up the chance for more days mucking around by the water with the possibility of some good fish thrown in would be hard to do. And when we do go back we might get a better idea of whether we were just incompetent last year or alternatively, we've given the fish a crash course in Carpology.
All-in-all and given Simon's rather truncated fishing season last year he is desperate to get out and plunder the waters in 2018. And, as mentioned, Andy is equally keen since this is going to be his last season on American soil, at least for the foreseeable future. When we can start on the carp is always a little difficult to judge. The weather here lulls you into thinking Spring has arrived with a mild couple of weeks in March only for temperatures to plummet back below freezing for another two weeks. You lot across the pond may have been sitting under the so-called 'beast from the east' but that is normal weather for us over here on the cusp of spring. To counter the uncertainty we have developed a cunning plan. That plan is not to fish for carp.
You can find out how many not carp we caught in next month's Carp Letter from America.