Carp Letter from America: May 2018
Simon Blanford and Andy Bell let us know what they've been up to this month...
Much of April, aside from our largely inept attempts to catch not-carp was spent exploring and measuring, dipping our collective toe in here for a couple of hours, finding depths there for a few more, adding some bait in this lake and that river. All this was in the expectation that the end of April and in particular the first few weeks of May would be when we'd start to see some proper rewards for our efforts. At least Simon was busy doing this. Andy had buggered off to Blighty to party away his time at weddings, attempt to wheedle out some more presentable tackle from his brother and renew his and Mrs Andy's visa. He would be away for the whole month.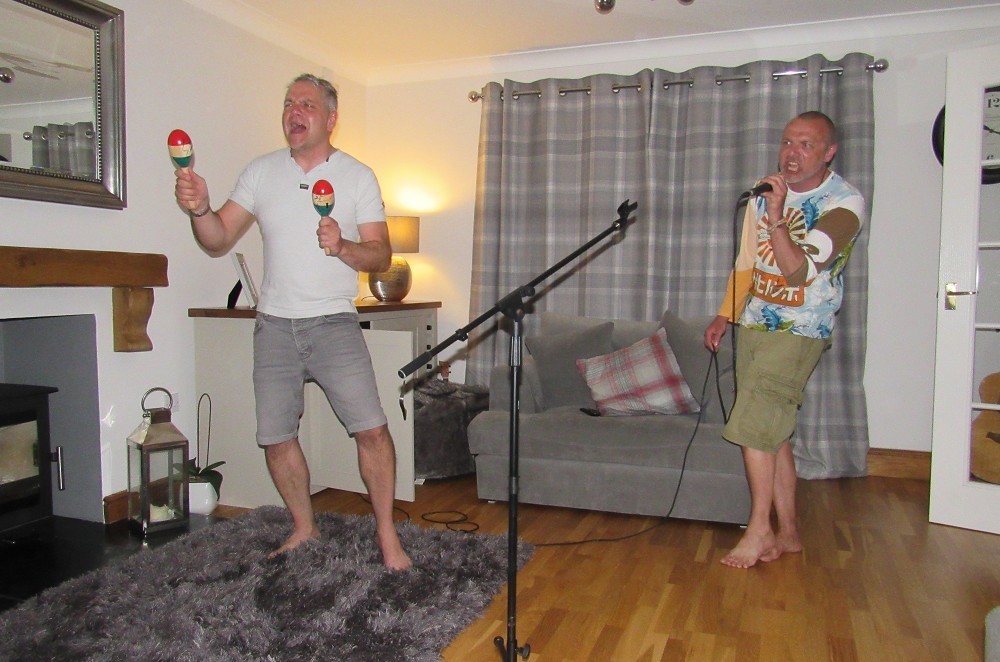 Andy returned to the motherland for May greeting his long lost family with a traditional rendition of 'How Much is That Doggie in the Window'. No idea who the old weirdo on the maracas is though.
In late April Simon had already slipped away to the Record River for a quick session to try and get the 2018 carp campaign up and running. Access to the river isn't easy, the vast majority of the bank privatised by landowners, motorhomes and other holiday encampments. Because of this we tend to visit the same large back eddy containing a mud bank and deep channel that invariably holds carp. Access is from a little parking spot under a railway bridge. It's an odd place. The areas under bridges often are a little off-putting. The press of damp, graffiti covered concrete, a general air of neglect, dilapidation and damp excretions. Under this particular bridge is also where hunters seem to think a good area to unburden deer of their insides. Scattered around are not only carcasses and bits of carcass but also black bin bags that bulge with the weight of deer guts trying to slop out. It might be ok if a quick exit from the car saw one rapidly beyond this charnel house but it doesn't. The path along the river follows the edge of a corn field and last year it was full of turkey feathers and bones as if the unwanted from Thanksgiving had been lined up at the edge of the field, executed and then buried in a very shallow grave. As we said, an odd place, though also one that gave us our first river twenty.
In the end Simon had just one run from a swim that should have been worth a few more. The fish, a slight version of its kind, was also rather manky with sores on its flank and head. A fish nonetheless but not the perfect specimen one hopes when kicking off the season.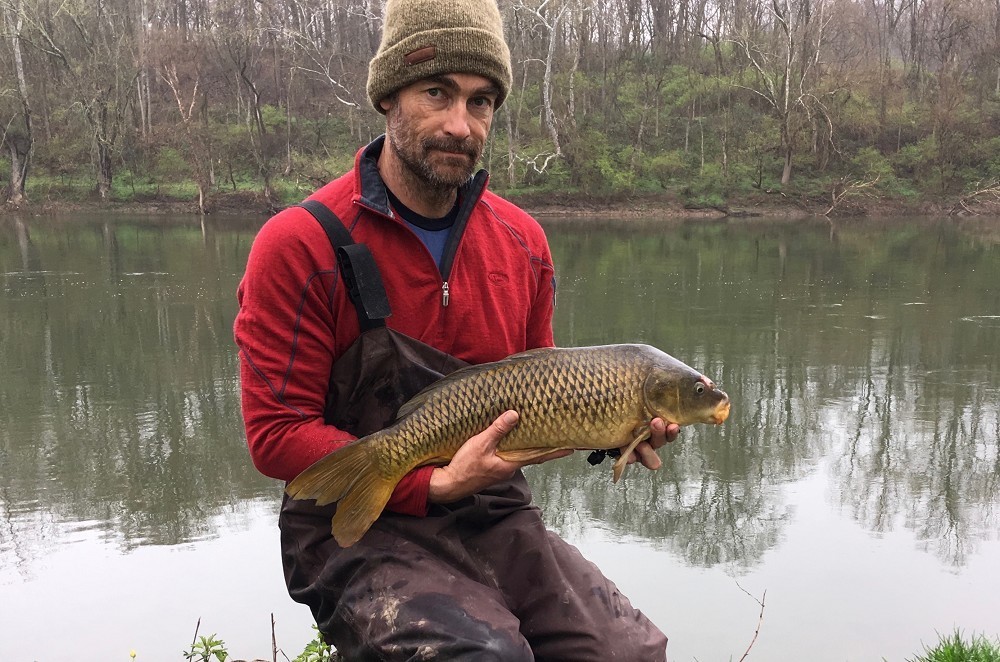 Our first fish of the season. Simon looks, well, he looks, umm, happy?
Simon had also identified a potential couple of swims on the Big Lake and in mid-April had started to bait up a couple. On one of these trips he came across a lone angler casting a variety of hardware into a shallow bay. Unprompted he volunteered the information that, "there's a muskie out there, came up and shook his big 'ead at me, out of de wader, shook 'is 'ead."
There was indeed a muskie out there. The fish was visible, cruising just under the surface, its tiger stripes clear. Not of legendary size, but a nice fish of nine or ten pounds. The portly grey haired man kept casting and re-casting across its nose, the close retrieves causing the fish to sink in the water before reappearing a little further on. It was not in the least interested. Eventually it disappeared and Simon made to do the same when he noticed a tin of the golden grains open and spilling over by the man's other rod.
"Sweetcorn!" Simon exclaimed. The man looked at him as one does the village idiot. "What," said Simon, "are you using them for?"
"Carp," said the man.
"You fish for them often here?"
"Oh yes, great fun they are. Had them so big they wouldn't fit in me net." He indicated a folding net at his feet, the kind salmon fishers sling over their shoulder when wading the Spey, or Tay or Tweed. "I've had many fish over thirty inches here," he added.
This measuring a fish's size by its length stumps us a little. Simon, to a certain extent, is used to it, at least when it comes to trout. But when it comes to carp, or in fact any 'rough' fish, what does 30 inches mean? We don't know. It sounds big - but probably isn't.
Simon mentioned that he and Andy fished The Lake regularly and the man laughed, "I live over that way! Say you ain't them foreign fellas with the 12 foot poles are ye?" This with the kind of chuckle used to indulge the much odder end of society. Still, it was fame. Of a sort.
Andy was less than convinced. "Not sold on the Big Lake yet," he said before leaving for the mother country, "I'll wait until you nab something worthwhile before having a go."
Simon went with Miss Simon No.1 to test the water. In a couple of hours they landed three fish. Four pounds, four pounds and six pounds. Not quite the stamp we were after measured by weight or length.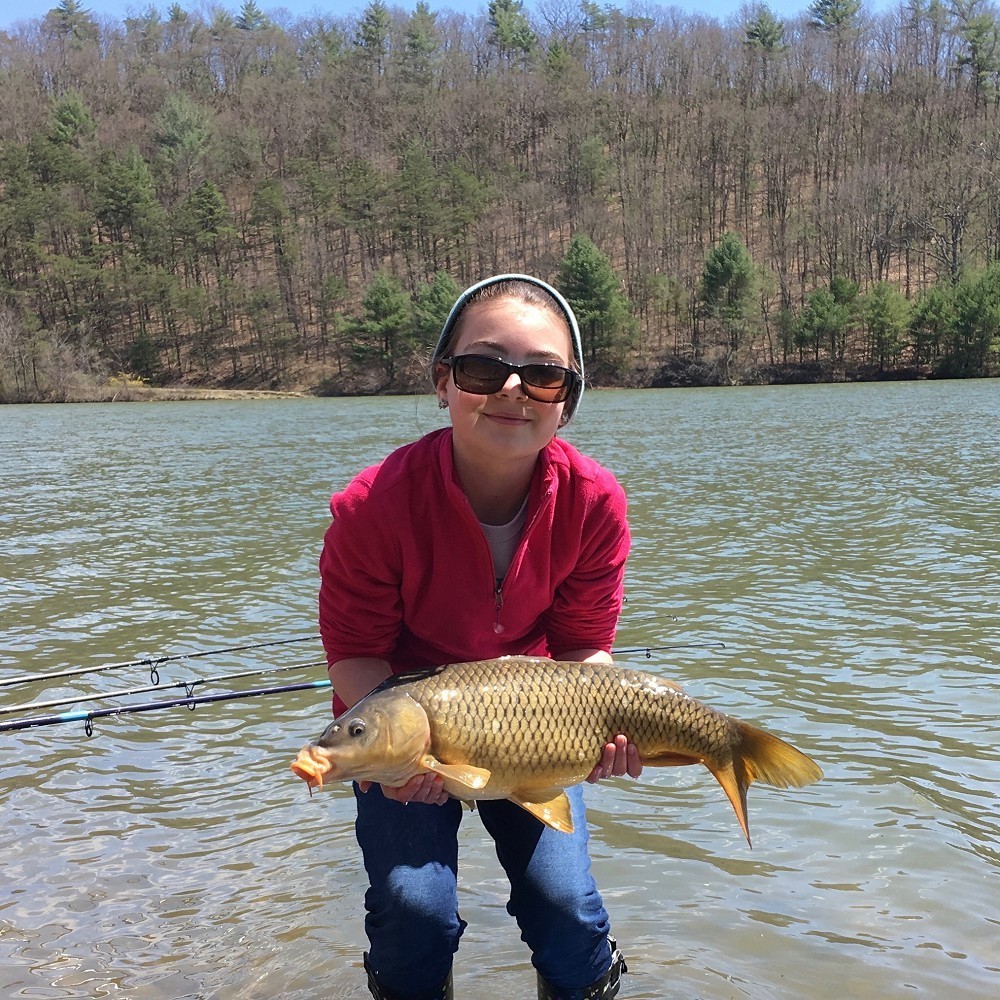 Miss Simon No. 1 with one of the Big Lake carp. Perfectly formed but, oh so small.
Simon returned for an overnight session having carried on baiting one particularly area. On arrival, and filled with expectations of a good session he found a tree parked in his swim. Not a branch, not a log, but a whole damned tree, branches, trunk and a considerable amount of root bole. The thing must have drifted down the bay on the strong winds the area had had recently experienced and of all the bank space the chunk of dead wood could have chosen to ground itself, it chose the swim Simon had been assiduously baiting. There was no way to fish over or round it so Simon went down the bank to an alternative area. He fished until midnight, caught a four, a four and then a six pounder and in some disgust packed up, Andy's evaluation of the water ringing in his ears.
It was a shame because baiting campaigns can really work. Iain Sorrell, is another English exile here in the US but, unlike us, one who is not only a very competent carper but also one who has a deep background in the sport from his early experience of the scene back in England. Among many good articles Iain has produced for the American carping crowd (crowd may be over egging it a tad - the American carping gang, gathering, gaggle?) is one on pyramid baiting. Pyramid baiting needs no introduction to English carp anglers we're sure but Iain's article nicely blends instruction with his own knowledge of the man credited with its introduction to carp fishing at Savay, Mike Wilson and his development of the technique. Of course, simply baiting up is an aspect of pyramid baiting, it is the very first stage. But to really get the benefit requires that the baiting continues at regular intervals over a period of time so that the larger carp eventually push out the smaller. The results from the effort (and expense) of such a campaign can be spectacular. Even a relatively minor one Simon did a few years ago produced a sequence of fish better than anything we'd had before.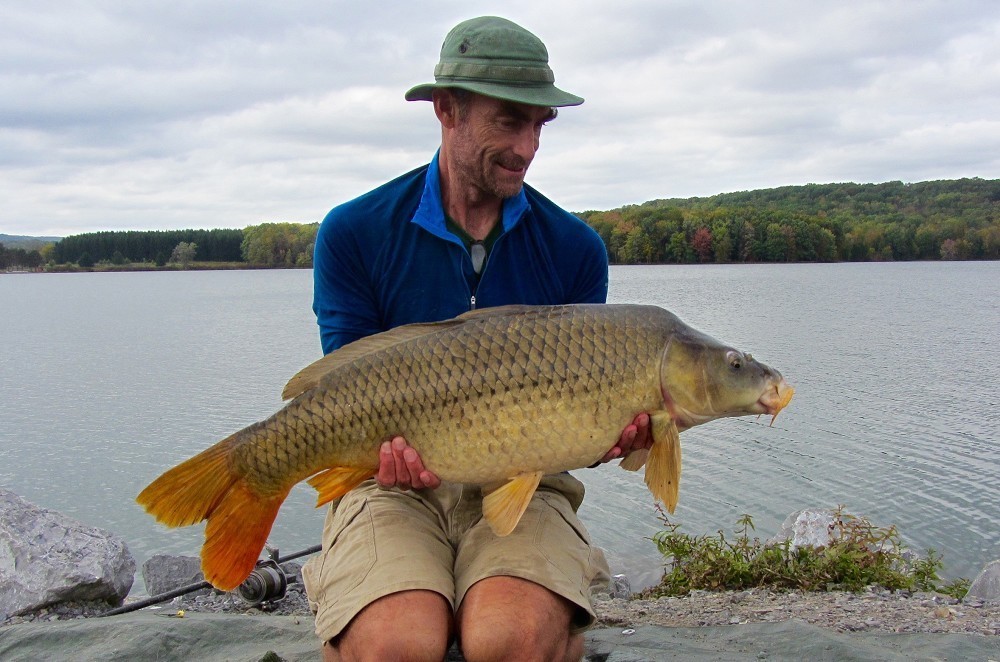 One of a sequence of good fish from a previous baiting campaign.
The only trouble with this scheme aside from the expense in bait and travel, is that it requires patience. As Iain points out, you shouldn't really fish the areas your baiting up for a few weeks at the least. That's difficult. The temptation is to have at it after three or four visits with the bait bucket. Sitting on your hands for maybe 18-20 bait-ups over a three, four or even five week period, all the while wondering whether it is working and what monsters may now be swimming around down there over your primed area, can be hard to do. But, if our patience holds, US waters are ideal for this kind of effort in contrast with what we suspect many English waters to be like. In England the sheer number of anglers and the pressure on the waters available for carp angling make a three week baiting campaign unrealistic unless you happen to be one of those lucky few who may have sole access to a private lake. Here in the US there are fewer anglers competing for the same spots and virtually no anglers competing for the same fish. So even if someone does happen to be angling on your carefully primed spot its generally unlikely they'll be fishing for carp. Most of the time anyway.
Simon's frustrating visit to the Big Lake was followed by a week being ill (coming down with a most virulent form of man flu) and then by Mrs Simon being away for the following week doing clever intellectual type things at an academic conference. Simon resorted to nipping out to bait some spots on The Lake and during one of these sessions a single rod stuck out there 'just to see what might be about' picked up the first twenty of the season.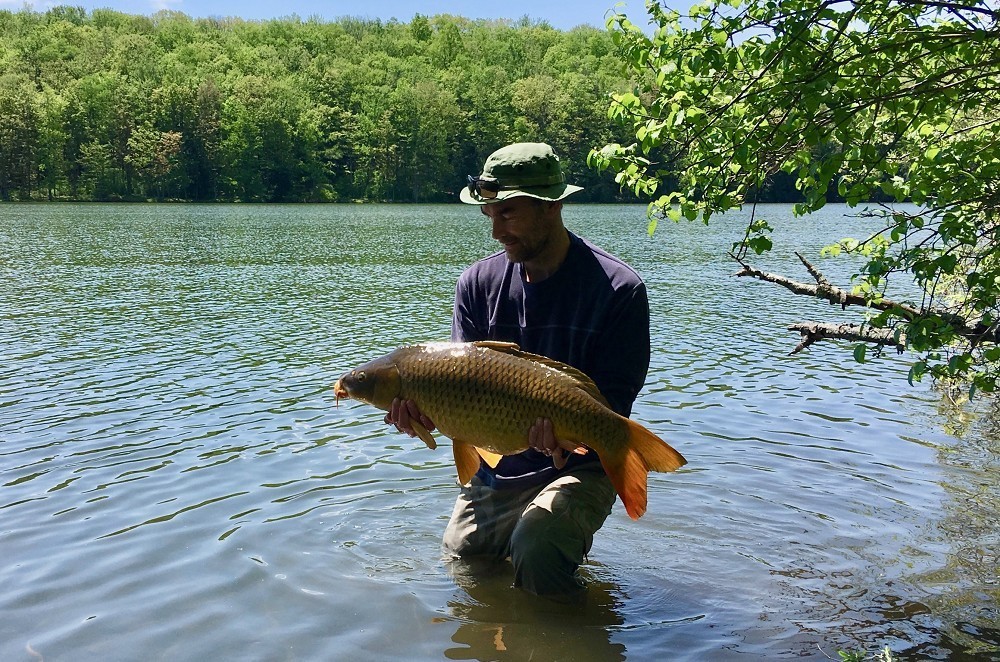 The first twenty of the season.
If the baiting approach Simon had been using on The Lake wasn't exactly classic pyramid baiting yet it at least got some food into an area we'd caught good fish from in the past. So it was with great anticipation that Simon left for an overnighter in the last week of May. Arriving at the lake he was shocked to see someone already setting up in one of the swims he'd been prepping. It turned out to be one of the regular carpers in this area, Brian Lee. We chatted, compared lakes fished and then he wandered back and Simon started to set up.
A few minutes later Brian returned to introduce Simon to his dog. The dog's name was Hunter. It was big and black and shaggy and looked steadily at Simon as if wondering which body part it should fasten its teeth into first. Simon doesn't really dig dogs. Too many formative experiences with bad tempered, mean-spirited farmyard curs followed by fending off potentially rabid feral dogs in a variety of insalubrious foreign settings as well as experiences with a particular Staffordshire bull terrier that owned a pub and took an instant dislike to him. Brian had a very firm grasp of Hunter's collar. "This is my bodyguard," he said with a smile. We talked more about the chance of bears and the probability of bow hunters, against both of which Hunter might prove invaluable, before settling into our sessions.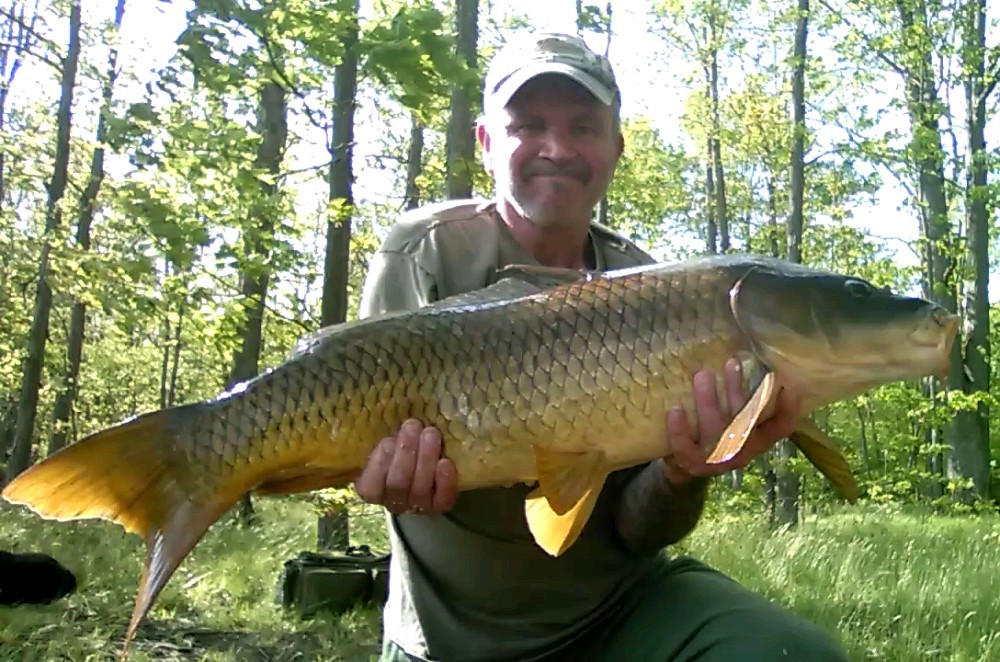 A long, middle of the day twenty for Brian Lee.
Runs came regularly but all were lean, aggressive and fighting fit males, each putting Simon's heart in his mouth at the strength and distance covered in their first runs. Brian took a long twenty during the afternoon but it wasn't until the morning that Simon hit a good fish, a mid-twenty with the characteristic bulging belly of a female on the verge of spawning.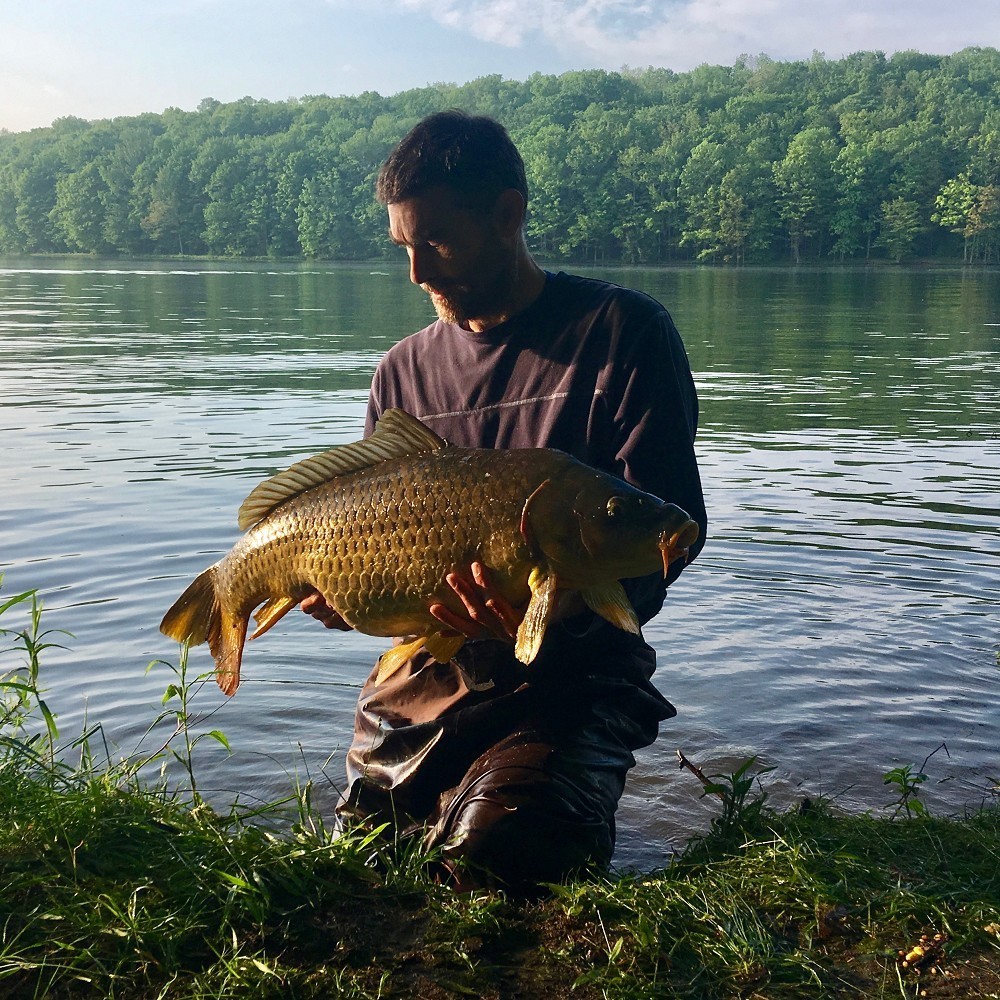 A fat female makes a welcome visit.
This was followed almost immediately by a fish of almost exactly the same size but of opposite proportions, another long common. Morning action was still regular and within a few minutes of putting a double back Simon had a solid run and hooked a fish that ambled back towards the bank and into the clear, four foot deep water at his feet. It was big, its belly clearly visible either side of its broad back. Having just returned two mid-twenties this fish was clearly a thirty. And thankfully it didn't seem to want to do very much. Unlike so many fish here that take off for the horizon on feeling the hook, this one chugged away, a short distance out, hugging the bottom, impossible to lift through the water column. Then the middle rod's alarm sounded and the line streamed off the reel.
"Brian," Simon yelled. Hunter came to life, deep, resonant barks rebounded off the trees. A curt word from Brian put a stop to it though and he was soon at hand, summed up the situation, picked up the rod and began to play the second fish. Simon's was still chugging away two rod lengths out as unmovable as it had been at the start.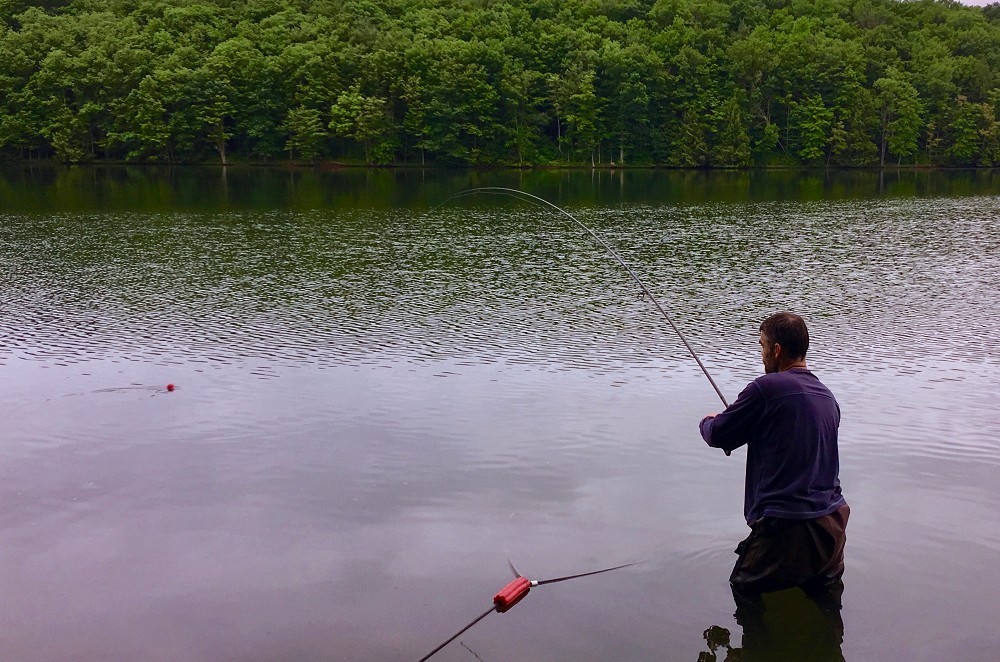 The fish chugged away two rod lengths out.
Brian was getting control of the other fish when the third rod went. We let it go, the alarm's wails going on and on as the unseen fish decided to visit Ohio. Simon's fish carried on chugging away while Brian landed the other fish, left it folded in the net and picked up the rod for the third. It had found a snag, the line having that well known disassociated feel it makes when still attached to a fish but also threading through something solid. Brian set about easing the fish back towards us. Simon's was still chugging away.
Eventually with the snagged fish skillfully hauled back through whatever it had found and now fighting free close in, Simon's fish began to show signs of tiring. It came up in the water, made a couple of ponderous but short runs and then was ready for the net. Simon reached for it, got its head over the string. And then the hook pulled. With a squirm the fish got off the frame and disappeared. There were some expletives and a considerable sense of disappointment. Nevertheless, there was more need for the net and it was quickly put into action to land Brian's second fish that proved, like the other he'd landed, to be a mid-double.
"Even both of those put together weigh less than what I just lost," said a rueful Simon.
Hey ho. So May ended, Andy returned and over a late morning coffee Simon's fishing exploits were dissected and Andy divvied up some of the spoils he'd brought back. June is spawning month and hence a time when fishing can be a bit hit and miss. It's easy to decamp to a lake for a few days to find the place deserted, they all having disappeared up some inaccessible backwater to indulge in their annual proliferation. But Andy is not deterred and dives straight into the fray with five days at General Pinochet (the water, not the dead and presumably well decayed former Chilean dictator). He's caught a hatful of fish from this water before and just by the sheer numbers he's banked is owed a biggie. Simon will lick his wounds and get back behind the rod pod. There's a lake down the road that, rare for here, holds a high proportion of mirrors.
Apparently. See how we get on in June's Carp Letter from America.