Dean Watson Blog - Christmas Special
A special Christmas blog from Bait-Tech's Dean Watson
Well it's the season of good will and spreading Christmas joy, after one last visit to my syndicate water that is. This session found me once again nestled the Shropshire hills, hunting a winter chunk.
I arrived at the lake with my gear already set-up for me by Santa and his elf! Getting in the Christmas spirit as the swim was decorated with festive tinsel, along with a lucky Santa and why not. No need for bankside grinchs!
All three rods were cast out on to ''known'' winter spots and with the weather being so mild I was hopeful of one more fish for 2015. Although it had given a cold night ahead.
Each rod was cast out with a bright Hi-Vis pop-up, with about 20-30 baits as freebies over the top, that being the ever faithful Poloni boilie.
Nightfall was soon upon me, 14 hours in darkness really does take its toll when you're fishing on your own. The night passed without a beep and the following morning I was greeted with thick dense fog. I couldn't see a thing, it was like pea soup! The fog cleared around midday and that's when the right hand alarm burst into life. The yellow Hi-Vis pop-up came good and after a 5 minute battle a lovely dark common graced the net, which went just shy of 16lb on the old Reubens.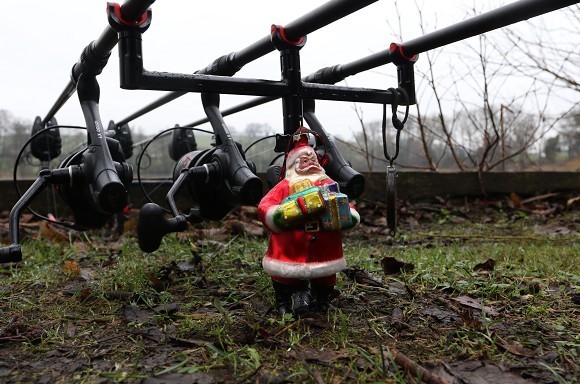 A perfect scaled common which will go on to be one of the kings of the lake one day. Even with the small ones I still get a buzz, especially at this time of year. After few a snaps he was released back to his watery home. The rest of the session passed without a flicker of anything. The wind had died, the mist had returned and the lake seemed lifeless. Safe to say that was my last fish of 2015 but a fish none the less!
I like to thank everyone who has followed me this year, reading my blogs and watching my videos.
I'll see you all in 2016 for more carp hunting sessions, until then have a merry Christmas and a great New Year.
Tight lines & stinky nets
Dean