Everest, Egos And Even Personal Grooming...
Bill Cottam's with us once again to dish out another dose of cynicism and sarcasm!
THE EVEREST OF CARP ANGLING?
I read quite regularly these days, that several of Europe's particularly challenging waters are referred as being 'the Everest of carp fishing'. Now, as tough as they may be, and as gruelling as they undoubtedly are, this does strike me as being something of an exaggeration…
For the non-mountaineering experts amongst you, Mount Everest is 29,029 feet high. To put that into a more comprehensible perspective, it's five and a half miles to its peak. Scaling it involves a ten-day trek to reach base camp, intense and lengthy altitude training, and an eight- to ten-week expedition costing something in the region of forty thousand dollars per person! Climbers can expect temperatures of -19ºC in summer and -36ºC in winter, and it is snow-capped throughout the twelve months of the year. After around 26,200 feet, climbers reach what is commonly known as the death zone, due to the likelihood of mountaineers meeting their demise on this particular part of the climb - Mount Everest has claimed the lives of some 300 people!
And for those of you who have a fascination with climbers' toiletry habits - and I know there are a few - those on the world's highest mountain are required, by law, to carry a poop tube: a section of plastic drain pipe with a removable end. The accepted procedure is to have a number two in a resealable plastic bag, before stuffing the bundle into the tube. The contents of the tube can then be deposed of when you eventually make it down the mountain - and there was me thinking that being forced to answer the call of nature in the woods and burying it was a little inhumane!
So, my point is, that although a handful Europe's toughest big-fish venues may well represent the ultimate carp-fishing challenge in a similar way to how Everest is recognised by mountaineers as being one of the world's most difficult climbs, I will never accept that the two are even remotely comparable.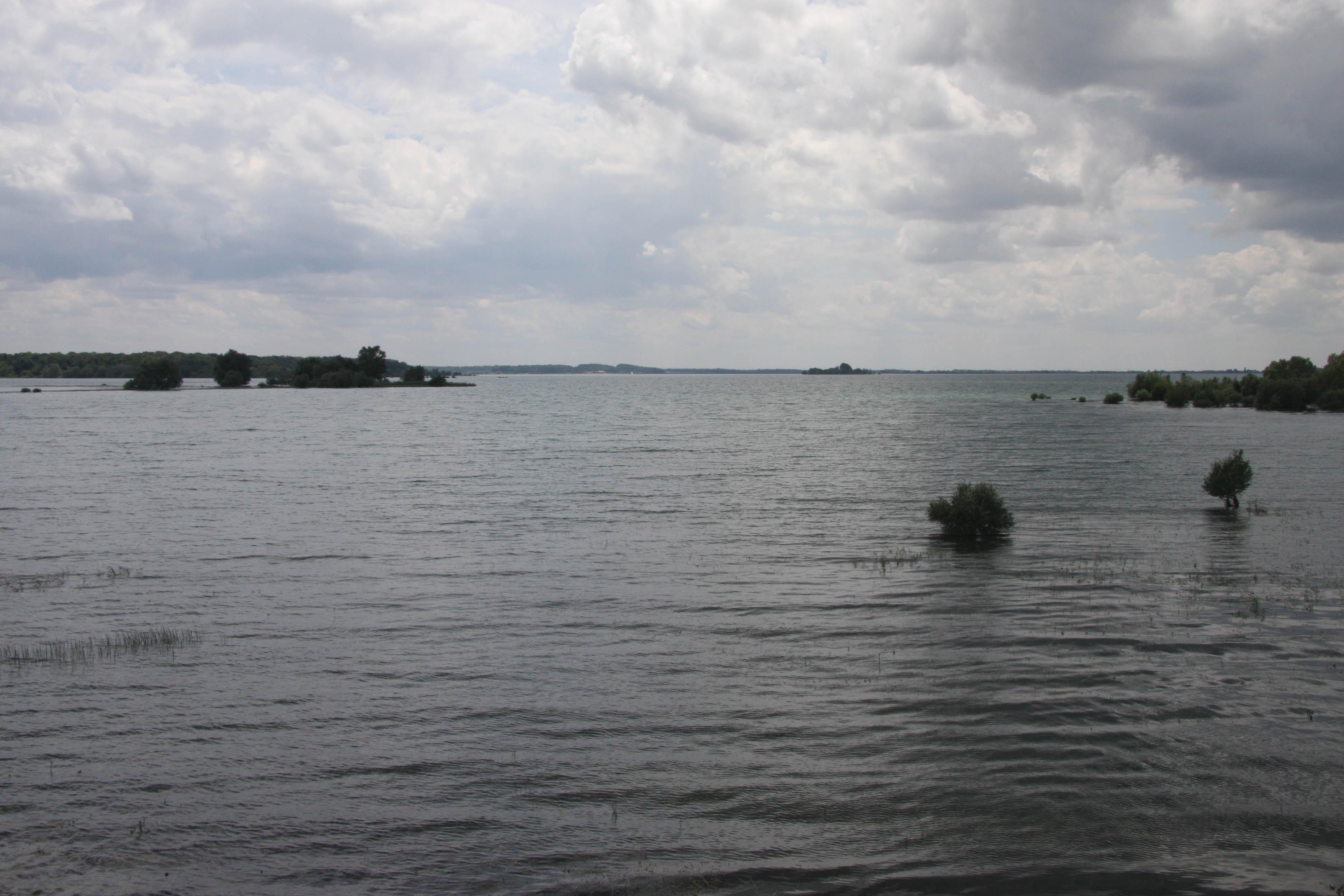 COMPETITION TIME
I know you all like a competition, and I am not ashamed to reveal that I am camo-trouser-wettingly happy, massively honoured, and more than a little touched to have been given free rein by the boss men of CARPology, to launch our new 'Egomaniac of the Month' competition. Sadly, you are not able to put yourself forward, but you are free to suggest anyone else you consider worthy of consideration. Successful applicants should be totally self-centred, so far up their own backside that it hurts, and not at all frightened to tell others just how remarkable they are.
Other traits that will enable the angler in question to potentially get themselves a seat at the top table of carpy egomaniacs include: claiming to have invented just about everything good that has ever happened in carp fishing since 1968; being personal friends with the carping greats; sharing hints and tips, irrespective of whether they are asked for or not; having the right sponsors; and most of all, being comfortable talking about themselves in the third person and being able to make every angling news story about themselves. Being a time-served carp angler, having long-term experience on a wide variety of different waters, and having a good track record of catching a few decent fish are all totally irrelevant and of no consequence at all.
It is vitally important that you understand that we live in times where social media content can fool a great number of people, and where public perception is everything, so don't be tempted to let the facts get in the way of putting forward a potentially suitable applicant!
To illustrate just how unbiased we are and how we offer equal opportunities to all, the winner doesn't even need to be a capable catcher of carp; he can be a serial no-hoper… we just don't care! It's all about just how highly the eventual winner rates themselves!
REEL HANDLES
Folded reel handles… if ever there was a carp tiger trait designed to make life harder than it need be, it surely has to be this nonsense. I can only assume that the idea is to enable the aforementioned carp tiger - or indeed, tigress - to stare longingly at a battery of rods that are positioned ridiculously close together, but in truth, the practice leaves me totally bemused. Surely, having to get out of bed, locate and put on your waders in the dark, and paddle the length of a football pitch up to your neck in onion weed to get to the rods is hard enough, without having to partially assemble your reel - all before you can even think about stopping the scaly banger making it to the snags when you get there.
I realise, of course, that such practicalities fade into piscatorial insignificance when compared to looking the part and impressing the life out of your fellow carp tigers, but it does strike me as being rather an unnecessarily tedious way of going about things.
I am currently using Shimano Ultegra 1400 XTD reels, and I have to say I am very happy with them. I hear on the carpy grapevine, though, that some folk would not dream of using them due to the fact that the handles don't fold down, and consequently, their use doesn't allow rods to be positioned 10mm apart on the rests. Well, fear not, for I have a solution that will take your street cred to a whole new level. As I have mentioned on numerous occasions in the past, I am all about setting trends, not following them - sheep and shepherds, and all that stuff! My way of doing things now, is to cast out, wade 20yds to my buzzers, tighten down, set the bobbin, and then totally remove the handles by undoing their screw caps. The handles can then be stored in the bivvy at the bottom of the rucksack, and the rods can be positioned as close together as you want! I honestly don't know how I do all this for the money… see you around carp tigers!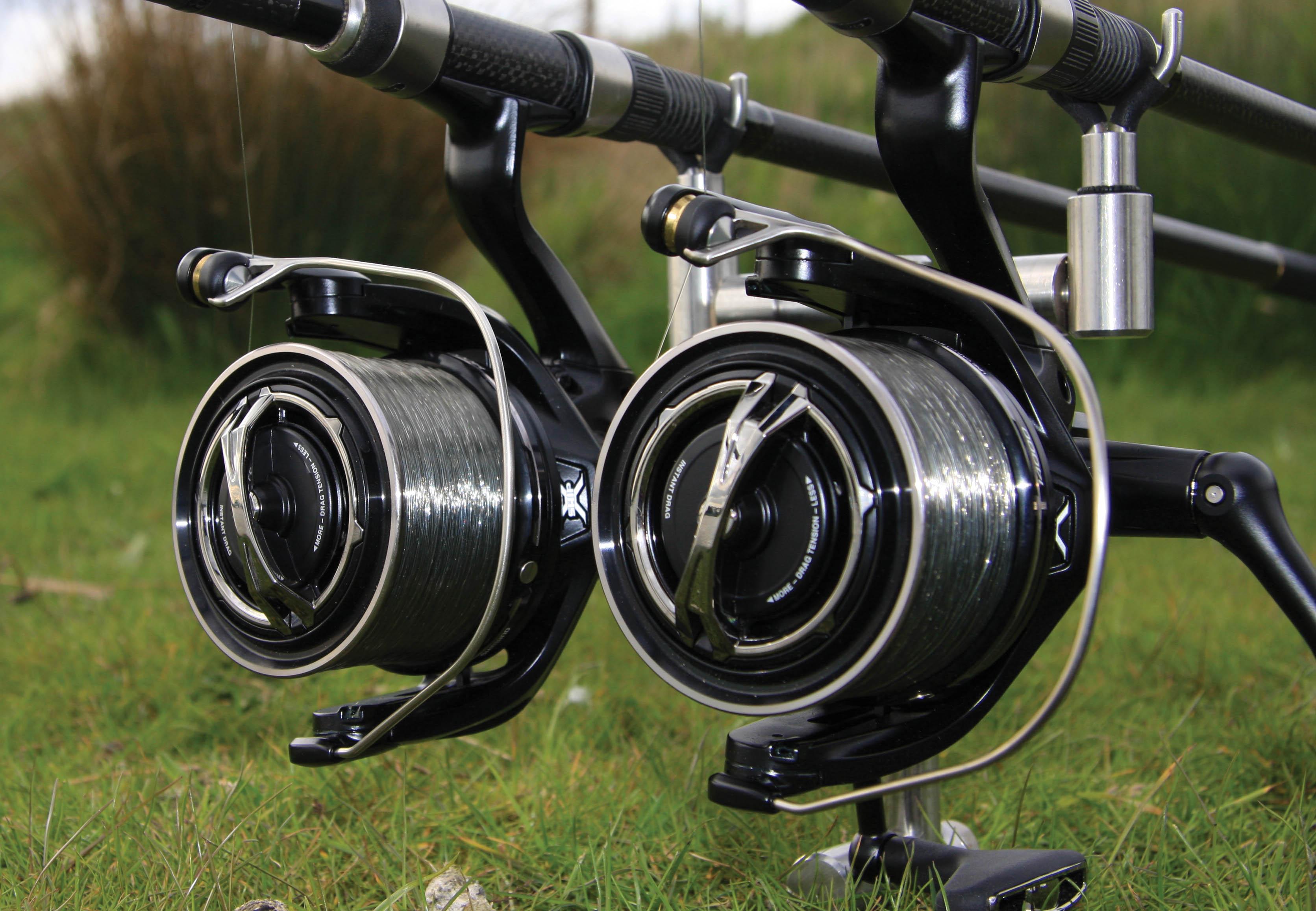 Snow Carp
As I write, the weather forecast has suggested that we - those of us in the frozen North - might be in for a bit of snow, and I will certainly be keeping my eye on proceedings. I have been doing a few day sessions of late - and catching the odd one - and the chance of getting out in a bit of white stuff would be too much for me to resist. If my memory serves me correctly, I have caught four carp in what I would class as 'proper' snow: one scraper twenty, and three little 'uns from a very prolific water which, in truth, I only went to because there was snow on the ground. Having said that, any carp caught in the snow is pretty special in my book!
Snow carp aficionados might recall that a mate of mine, the late Nick Elliott (ex of Bankside Tackle in Sheffield), hit the headlines when he caught a fish known as the Pilgrim from the Tip Lake at Darenth in the mid-eighties, in a blizzard and with a considerable amount of snow on the ground. The capture was awe-inspiring, and just reward for the effort he had put in on the Tip and the miles he had travelled to get there on so many occasions.
Snow carp don't get much better than Nick's capture, in my opinion, but another mate of mine, Hans Van Keijzerswaard from Holland, arguably topped it a couple of years ago with the capture of a glorious 80lb common. To catch a carp in the snow is a dream, and to catch an 80lb common is arguably an even bigger dream. Realising both ambitions in one capture is nothing short of unbelievable… a win-double to die for and one that would undoubtedly have the head honchos of Sky Bet quaking in their boots!
Hans's common came during a very tough week on Lake Sumbar in Croatia, which, it has to be said, is quite prolific in terms of captures of very big fish, but even taking that into account, it was a truly amazing capture.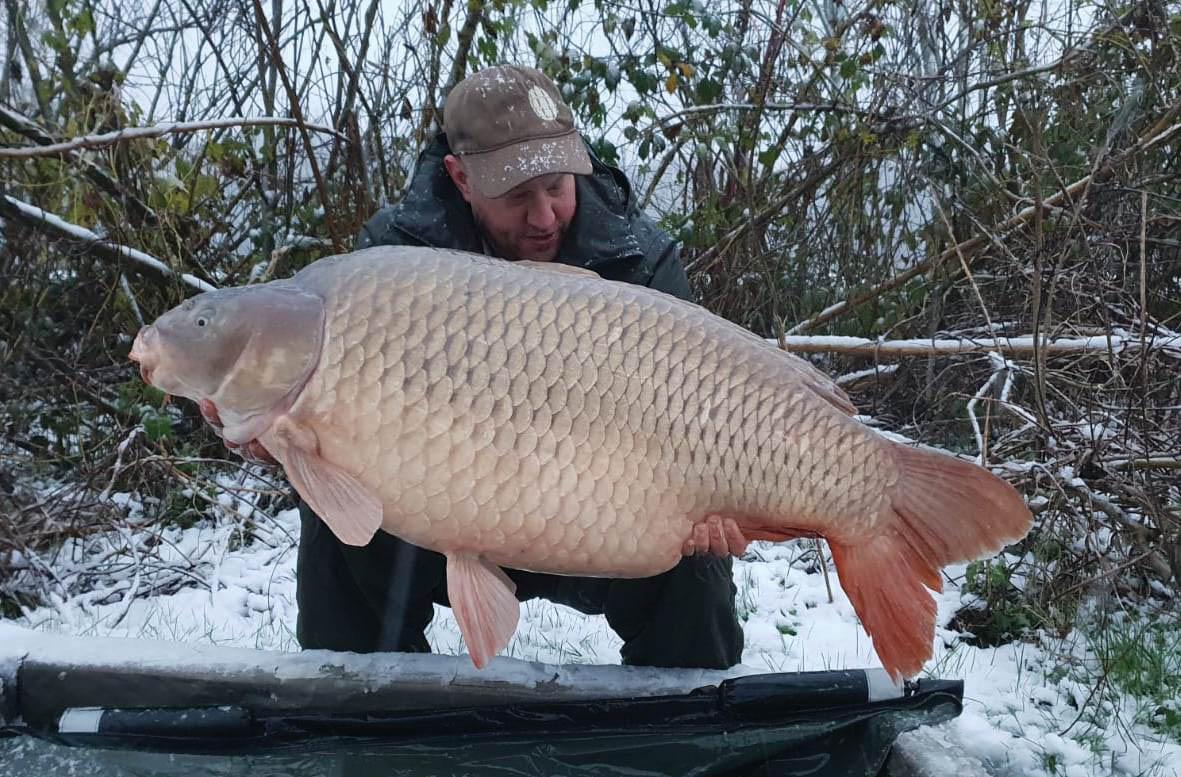 COCONUT OIL
Without wishing to blow my own trumpet, I like to think that every day is a school day as far as 'Carping Allegedly' is concerned, and with that in mind, I thought I would take this opportunity to educate you regarding some of the joys, and the myriad of uses, of good quality coconut oil.
It is no secret that moisture-rich coconut oil is largely responsible for my being able to maintain the complexion of a twenty-five-year-old, and the flowing locks of a prize-winning Afghan hound, but it has many other uses that can be of great benefit to the carp angler. It is a little known fact, that by generously rubbing them with coconut oil and leaving them overnight, sticky backed labels can be removed from just about any surface, without any residue being left. My prediction, therefore, is that Nick Helleur, having rightly pointed out the error of so many carp tigers' ways, will soon be signing a multimillion-pound consultancy deal with one of the top coconut oil manufacturers, as carp anglers across the world run out and buy up stocks to help them remove all those stickers from their bait buckets!