Going Bonkers For Bobbins!
Bill Cottam kicks off this month with a sideways look at the modern-day demand for vintage metalware…
I was happily catching not very much at all on one of my local lakes recently, and with my next overseas trip rapidly approaching, I decided to take advantage of an opportunity to tie up a few rigs in readiness for France. Generally speaking, I am not a fan of rig-tying on the bank, but this seemed like too good a chance to pass up, so I got all my end-tackle paraphernalia out and began constructing a nice selection of Super Nova Snowman and Multi-Rigs. I had just reached the stage of loading the first of the rigs into the rig wallet, when I heard a rustling in the bushes behind me. A rather smart-looking carpy type was soon at my side, but after seeing that I was tying rigs, he immediately apologised and took a couple of paces backwards.
"Don't be daft!" I responded, "no secrets here!"
The kettle was already on the boil, so I did the polite thing and offered my new-found friend a brew. He promptly sat down and made it clear that he was with me for the duration. As the minutes ticked by and we put the world to rights, I began to notice that he couldn't take his eyes off my newly tied rigs, and the bits and pieces I had used to construct them. I was quite flattered to be honest. I give an awful lot of thought to the components I use and always do my best to ensure that they are as effective as I can possibly make them, but they are not exactly conversation-stoppers. My new mate's next comment stopped me in my tracks…
"How would you feel about selling them - three for a hundred and fifty quid?"
I looked up in disbelief… a hundred and fifty quid for three rigs! And to think, I wasted thirty-five years of my life trying to make a living from selling boilies!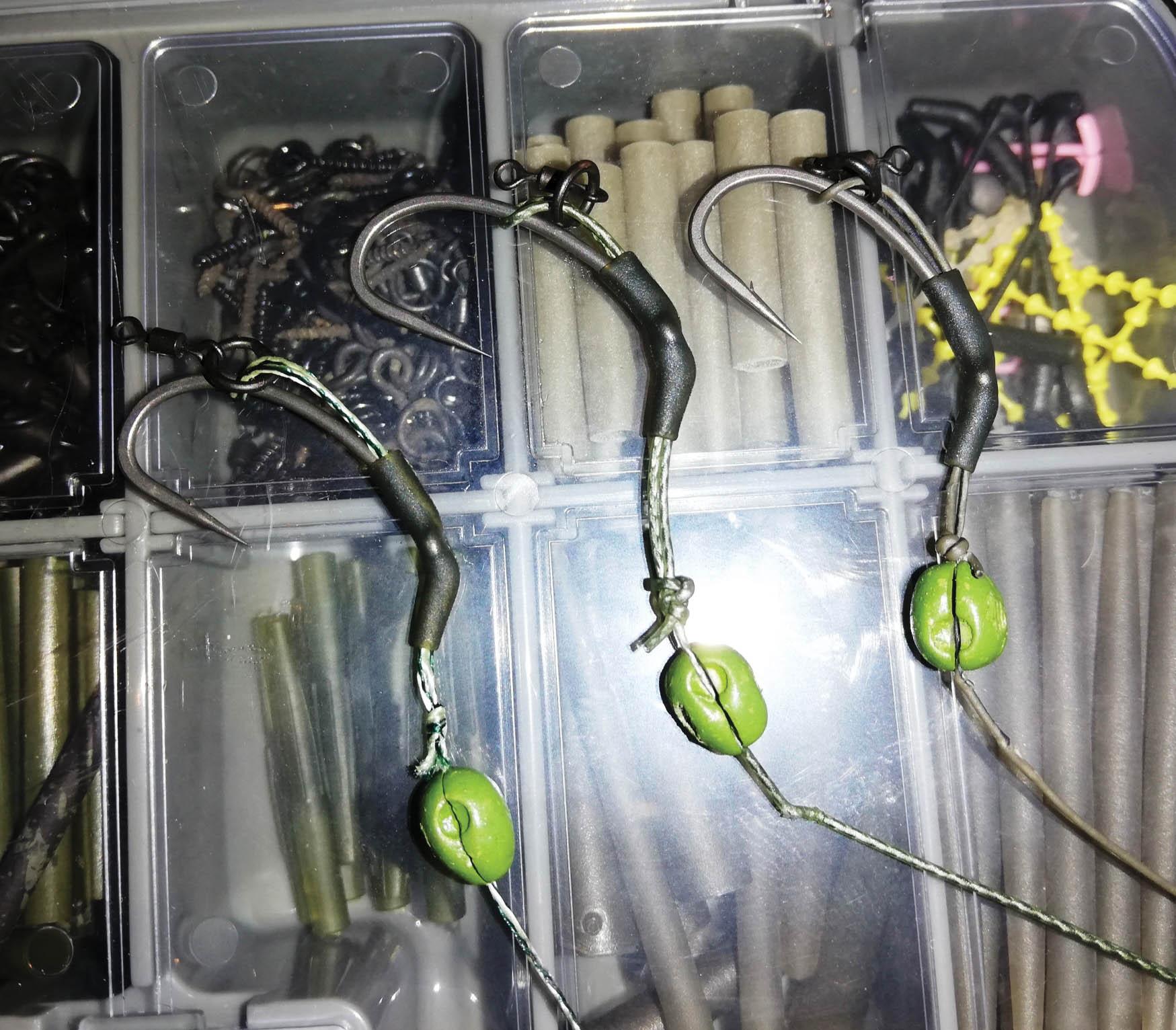 As the conversation continued, he mentioned that he had been after an orange one for ages. It was at that moment I twigged that his offer was actually for my collection of old-style Solar baiting needles, and not for my rigs. I was gutted, albeit still more than a little bemused.
I refused the offer. I like Lockey's baiting needles and they have travelled so many miles with me over the years. My main reason for not accepting his cash, however, was that I have always worked on the assumption that, if somebody is prepared to give you a hundred and fifty quid for three seemingly insignificant items such as these, it is because they are actually worth four million quid on Bargain Hunt. This time next year Rodney, and all that…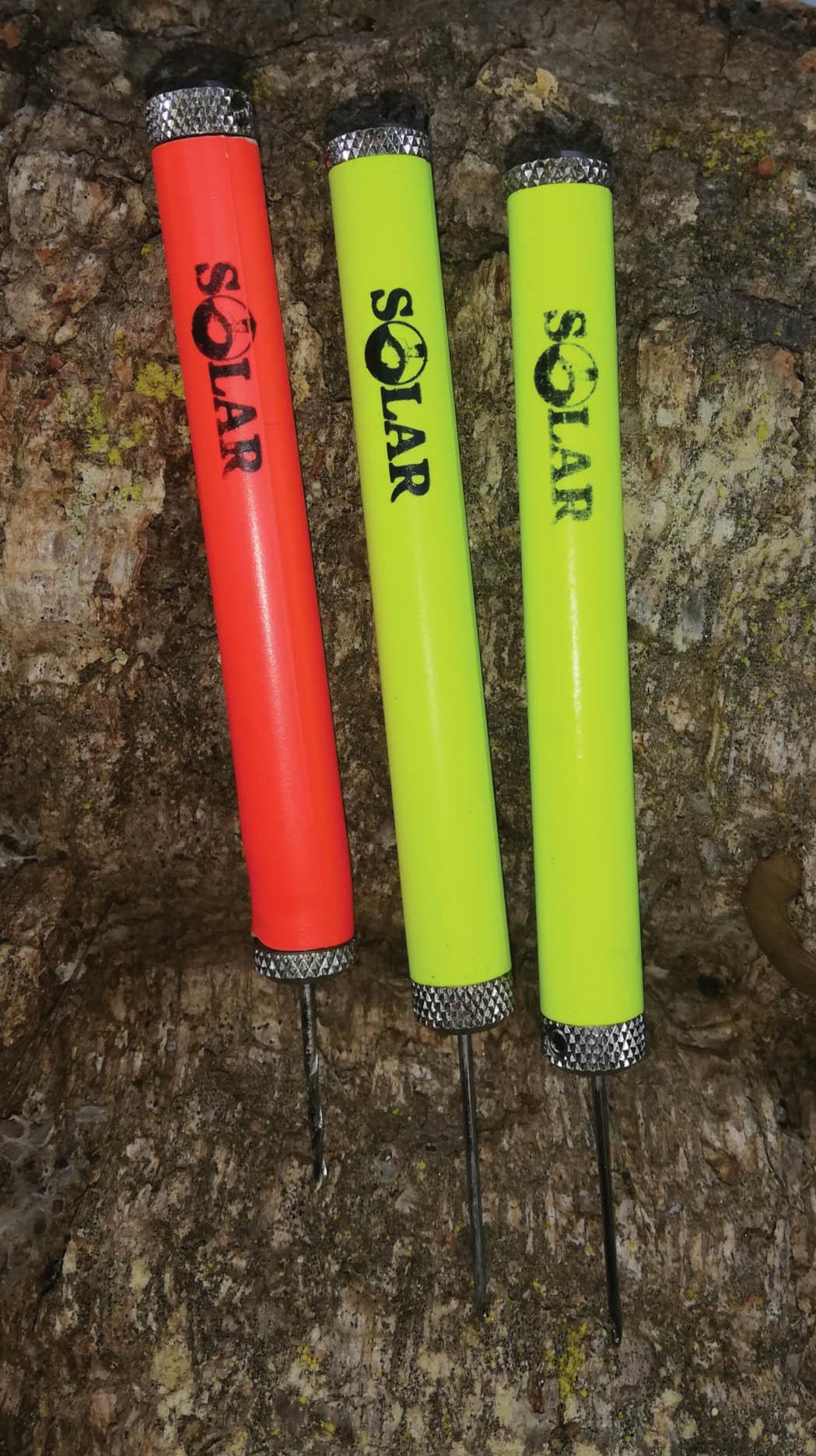 It wasn't until my friend had left and I began to have a scout around the internet, that I realised that there is actually a nice little industry in retro Solar gear. There are now dedicated social media pages aimed specifically at the lunatics breaking their necks to pay ten grand of their hard-earned for a baiting needle, twenty grand for a pair of stainless steel end caps, and six million for a Worldwide Pod… and don't even get me started on the going rate for some of the rarer Solar bobbins!
Having said all that, I know there is a considerable demand for these items or similar. There are people prepared to pay obscene amounts of dough for some of the old Nutrabaits catalogues, or the limited edition Trigga Happy bobbins that Martin Locke kindly manufactured for me a number of years ago. If my memory serves me correctly, I think we produced only three thousand units, and we sold the lot in a matter of weeks. Those of you who have contacted me and enquired as to whether I have a box of 'em hidden away in the carp cave, have sadly been left disappointed… how I wish I had!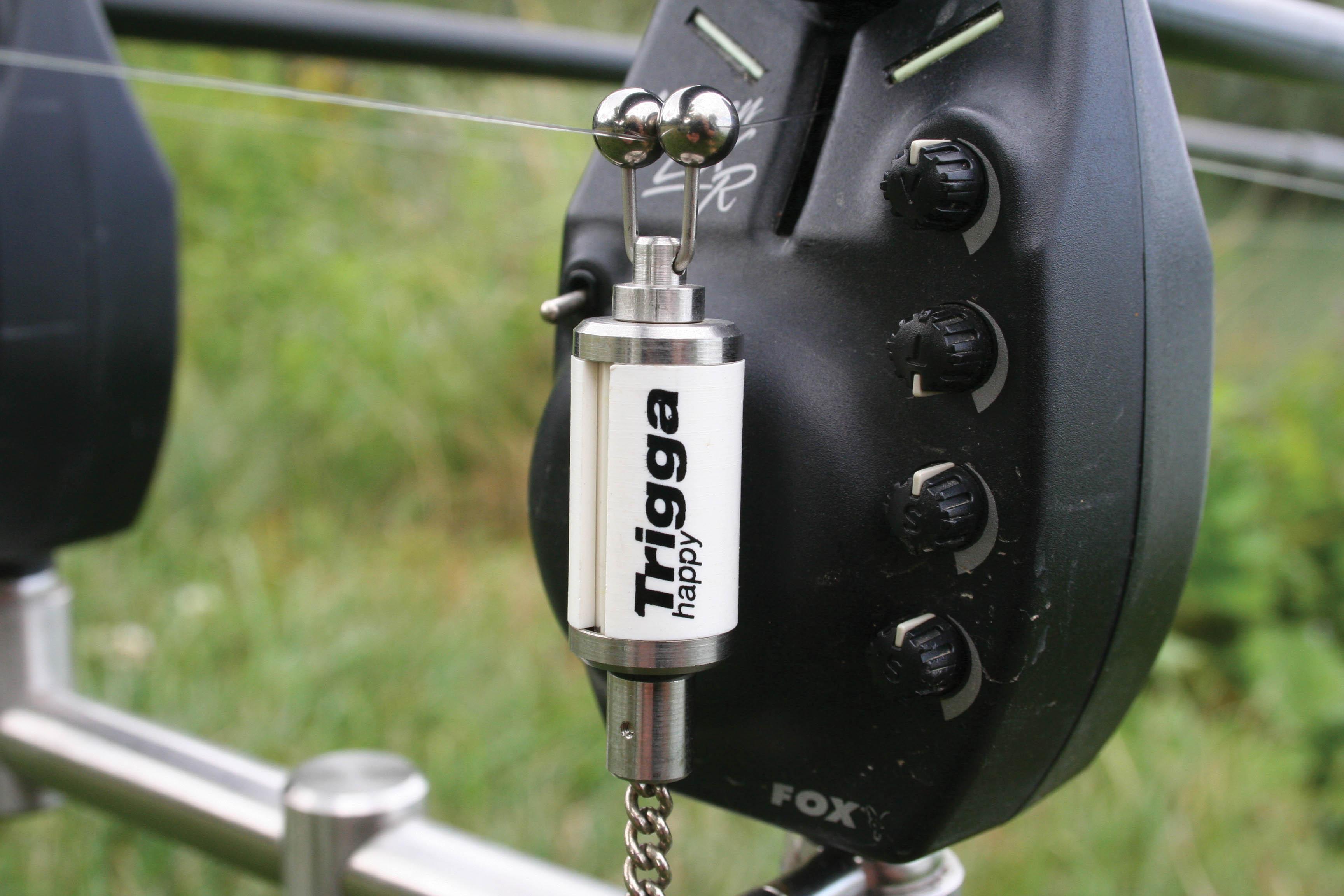 I have fielded similar enquiries about the original Trigga Happy coffee mugs, and a number of Nutrabaits products that have been discontinued due to issues with the supply of raw materials over the years - Leek and Asafoetida oils, The Biollix base mix, and the old Arouser enhancer being perfect examples.
I hear on the grapevine that there is also a growing demand for several of Rod Hutchinson's classic flavours and additives of yesteryear, and that enthusiasts are currently remortgaging their houses in an attempt to get their hands on some of them.
The same can be said for some of Stevie Neville's highly rated stainless steel products. In common with Lockey's bobbins, there are collectors who actually have the aforementioned bits and pieces mounted in glass display cabinets in their homes! I totally get it that book collectors are prepared to pay top money for some of the rarer and older angling books, but the habit of hoarding and displaying bobbins and bankstick stabilisers is something that will never cease to amaze me.

I feel I have missed out a little here, so perhaps the powers that be will forgive the placing of a quick advert within these wondrous pages. I would like to take the opportunity to mention that I currently have available, a thirty-five-year-old pair of perished Shakespeare thigh waders. They are a matching pair in that both feet leak equally badly… £1,200, no offers!
LUCKY TO BE ALIVE
When I think back to how I used to live on the bank during my teenage years, it's a miracle that I'm still alive, and that my cholesterol levels are not off the scale! In common with many carp anglers at that time, I used to think nothing of making a brew using lake water. The fat-filled frying pan would be left outside the bivvy overnight and then put back on the stove the following morning, the footprints and peck marks that had, unsurprisingly, appeared overnight, thus melting away. My god, I would no sooner still do that now than I would acknowledge a carp caught on a Zig Rig!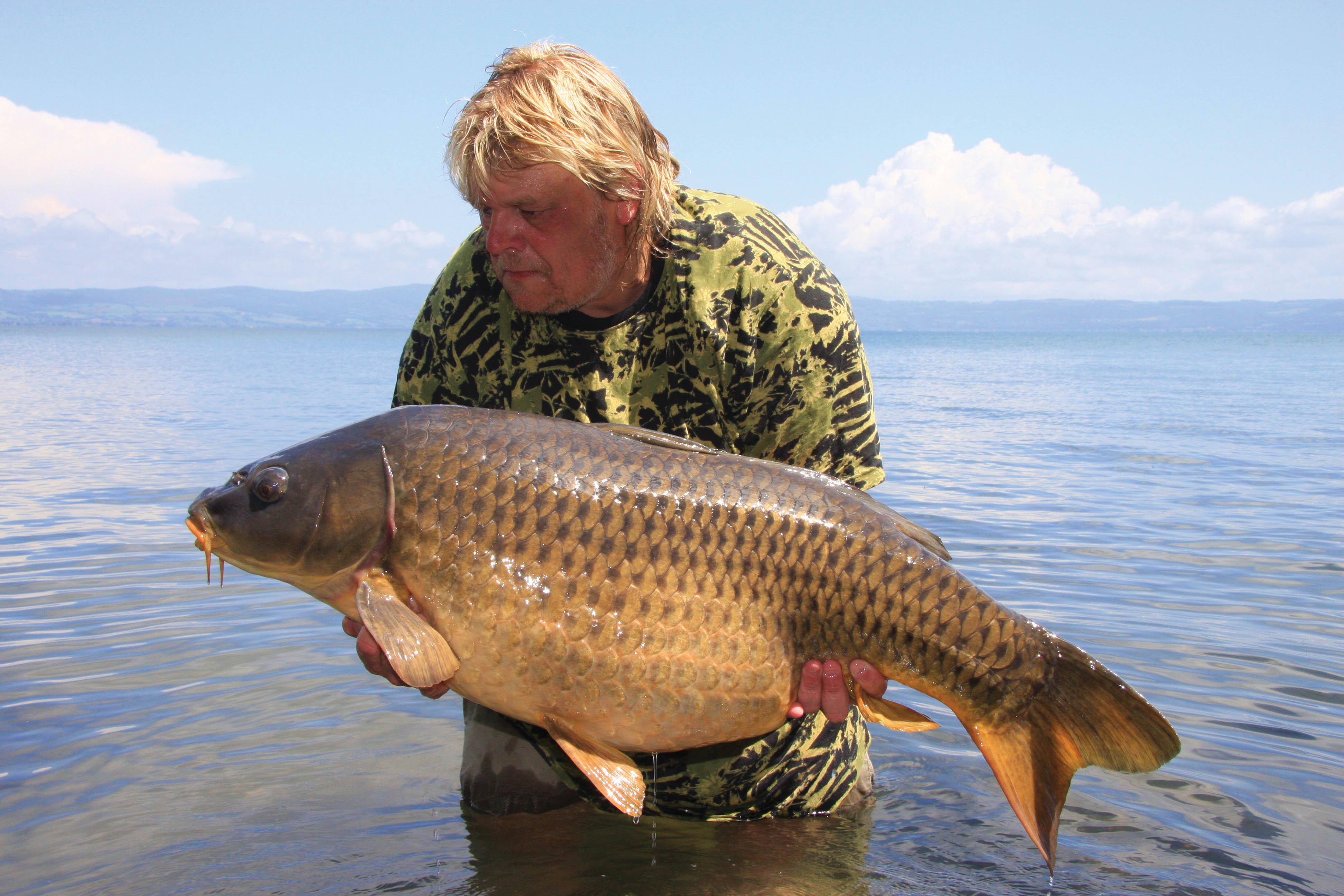 My on-the-bank diet was appalling in those early years. Nick Elliott - my regular fishing partner at that time - and I used to work our way through more burgers in a weekend than a busy McDonald's might do in three months!
I realise, of course, that there is considerable evidence to suggest otherwise, but my eating habits on the bank have improved quite dramatically since. I actually think I eat quite healthily these days. Breakfast is invariably porridge or cornflakes with a banana; lunch - if I bother with it - is very often a tin of spiced mackerel; and dinner is freshly cooked chicken fillets with salad or vegetables and new potatoes. I am also happy to report that, although I continue to drink far too much coffee, I no longer make it with lake water and only brew up with tap water from home, or bottled water from the supermarket.
My improved bankside diet is obviously one of the reasons I am able to maintain such a sylph-like figure and remain such a fine physical specimen. And I do it all without cycling six hundred miles a day, fuelled only by a twelve-shot Americano and a protein bar… unlike my mate Jules!
The carp-catching machine that is Simon Crow, is another carp angler who looks after himself and he has obviously reaped the rewards for doing so. I hear rumours that he actually winds in and runs around the lake every day! Mightily impressive stuff, but I should point out at this juncture that he spends quite a bit of time on smaller, more intimate venues… I bet he wouldn't be quite so keen to do three laps of Lac Du Der before breakfast!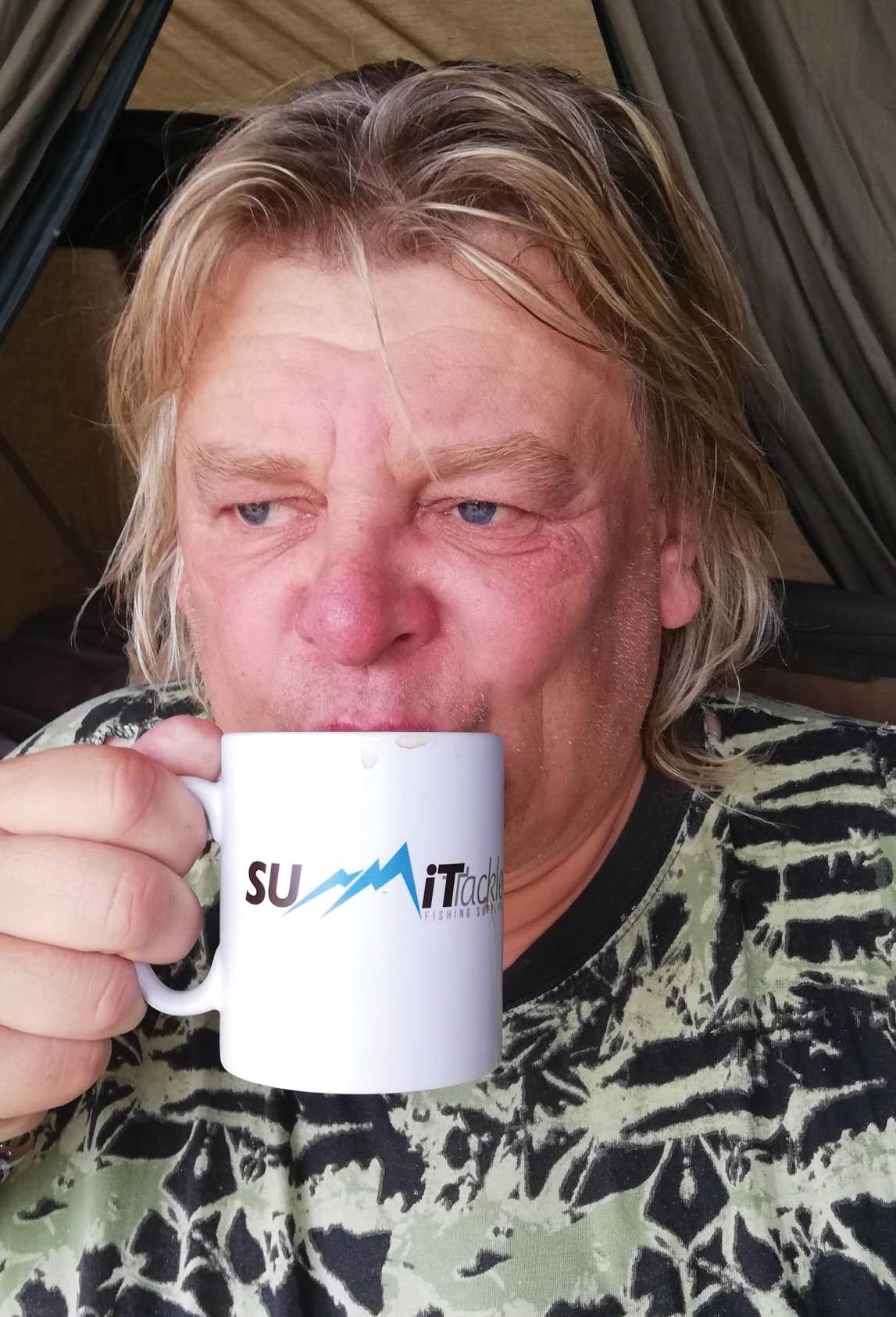 KEEP THOSE PAPER PAGES TURNING!
Carpworld, Carp Talk, Crafty Carper and now Anglers Mail, to name but four, have all fallen by the wayside relatively recently, and I fear more angling publications may follow as the world continues to change at such a rapid rate. A huge chunk of my inspiration has come via the written word over the years, and indeed, it continues to do so, but reading from my phone, tablet or laptop will sadly never compare to turning paper pages.
Call me old-fashioned, but I love the smell of print and the feel of a magazine or book that's fresh off the press, and always will do. I had a similar feeling of sadness when albums, or more to the point, album covers, were replaced by soulless CDs, and now it's hard work buying them and vinyl is doing its best to make a comeback!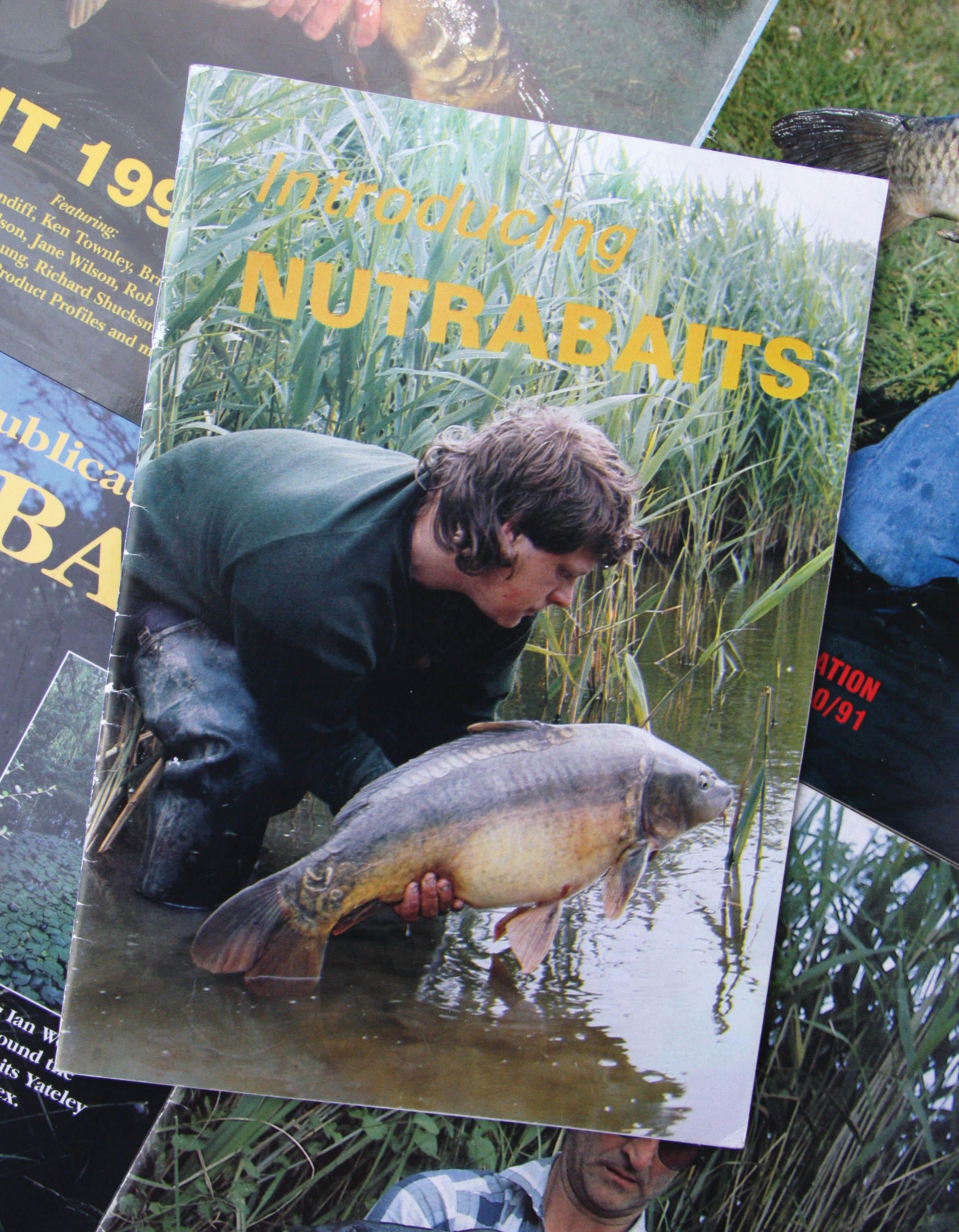 I do my best to embrace technology and to move with the times, and I do regularly read and watch stuff online, but at the risk of repeating myself, it just isn't the same. My plea to you, then, is that you should do your best to continue to support the printed word wherever you can. I understand that the price of paper, printing costs and diminishing advertising support has rendered such things considerably pricey compared to what they once were, but magazines and books cannot possibly survive if people stop buying them, and what a desperately sad day that would be…