MONSTERS OF RIVER AND ROCK : Part 2
Caribbean capers, big Italian carp and exactly what happened with that barbecue on the Trent… it's all here as we conclude our fascinating interview with musician-turned-angling author, Iron Maiden's Adrian Smith
CARPology: You're a keen river angler and you've caught some amazing barbel and carp (to over 20lb!) from various stretches. Do you prefer rivers or stillwaters, and do you have a favourite UK venue?
ADRIAN SMITH: "I do like the rivers. I've been mad for the tench since around 2010, so I've been fishing a lot of lakes. I've also though, got back on the rivers. The River Colne's on my doorstep and it holds some good barbel. I've had just a couple of small ones so far this year. It's been very warm, and with the river also low it's been difficult; you have to fish at night. I also fish the Thames. There's a backwater near Windsor and that's interesting. Potentially, there are some huge fish there - big barbel and chub. I've had chub to over 6lb and barbel to over 11lb this year, but it's been hard work. Fishing late into the night can be tiring, with having to lug all your gear back to the car park in the early hours of the morning. There are some big carp along that stretch too. I think I hooked one, one night. It tore off and went straight into a snag… I just couldn't stop it. You find even the big barbel don't do that; they just tend to hug the bottom.
"I couldn't say that I prefer rivers over stillwaters. You can't beat getting to a lake early on a summer's morning to cast your feeders out for tench, carp or whatever, with the mist rising from the water. Settling down to fish for chub and barbel when you know they're around, and watching that quivertip with the Beta light on the top is pretty exciting too, so I enjoy both."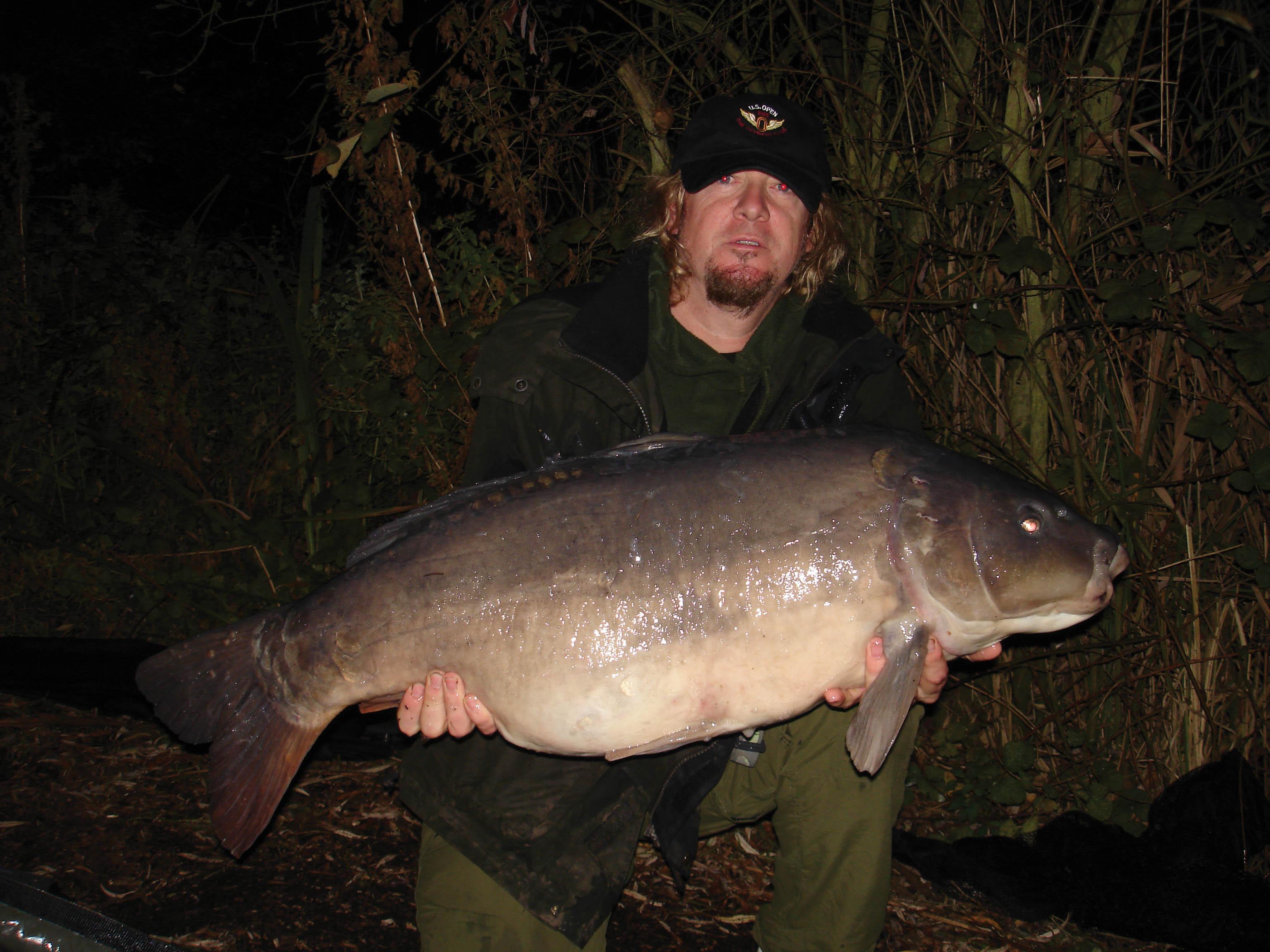 Are there any countries you'd like to visit to fish that you haven't already? You've fished in France a little bit, I know. Where else have you been, what have you caught and where would you like to fish?
"I've been lucky enough to fish all round the world: through the Caribbean, France, Spain and Italy. I've fished quite a bit in France, because the band usually rehearses for the European tours in Paris. At the weekends I usually head out with my tackle to explore. Last year I visited some of the waters north of Paris, where there are some fantastic fish. I was actually fishing for barbel, but there were a lot of carp there - some really big ones too. I caught one that bottomed-out the 30lb scales, smashing them to bits, so I'd like to go back there and give it a proper go. Compared to England, it's less crowded there and there's more space.
"I spent a bit of time in Tuscany, Italy. There you've got the River Arno that goes right through the city of Florence. I'd played at a festival the year before and was looking in the river. I saw some quite big carp, so I wanted to go back there and when I revisited, I caught quite a few small ones. The trouble with fishing in countries like Italy - and America too - is that venues aren't managed like the fisheries in England, where fish of a certain size are stocked, with smaller ones removed, so there's a lot of pioneering to be done.
"I caught a nice carp in Florence. I was with a guide and using a whole slice of bread. I just laid it, freelined on top of a weedbed. I was right in the heart of the city. There were tourists everywhere… it was mayhem, really noisy, and it was a hot summer's day. I looked away just for a second and I heard the rod then being dragged across the path! A fish had come up and taken the whole slice of bread. It was a 25lb common, so the potential is there for something really special. The guide, an Englishman, had caught carp to 50lb from the river there.
"I don't have any specific destination in mind to visit, because I've been lucky enough to fish all over the world. I'd rather visit the places I know quite well and try to get the best out of them. I like to fish locally too, because you can keep an eye on what's going on. Information is so important… updates on what's getting caught where, and just form really. It's easier to do that if you fish locally. I live right on the Colne Valley so there are loads of great waters near me. On the other hand though, you've got a lot of anglers, so it's a different kind of challenge as well."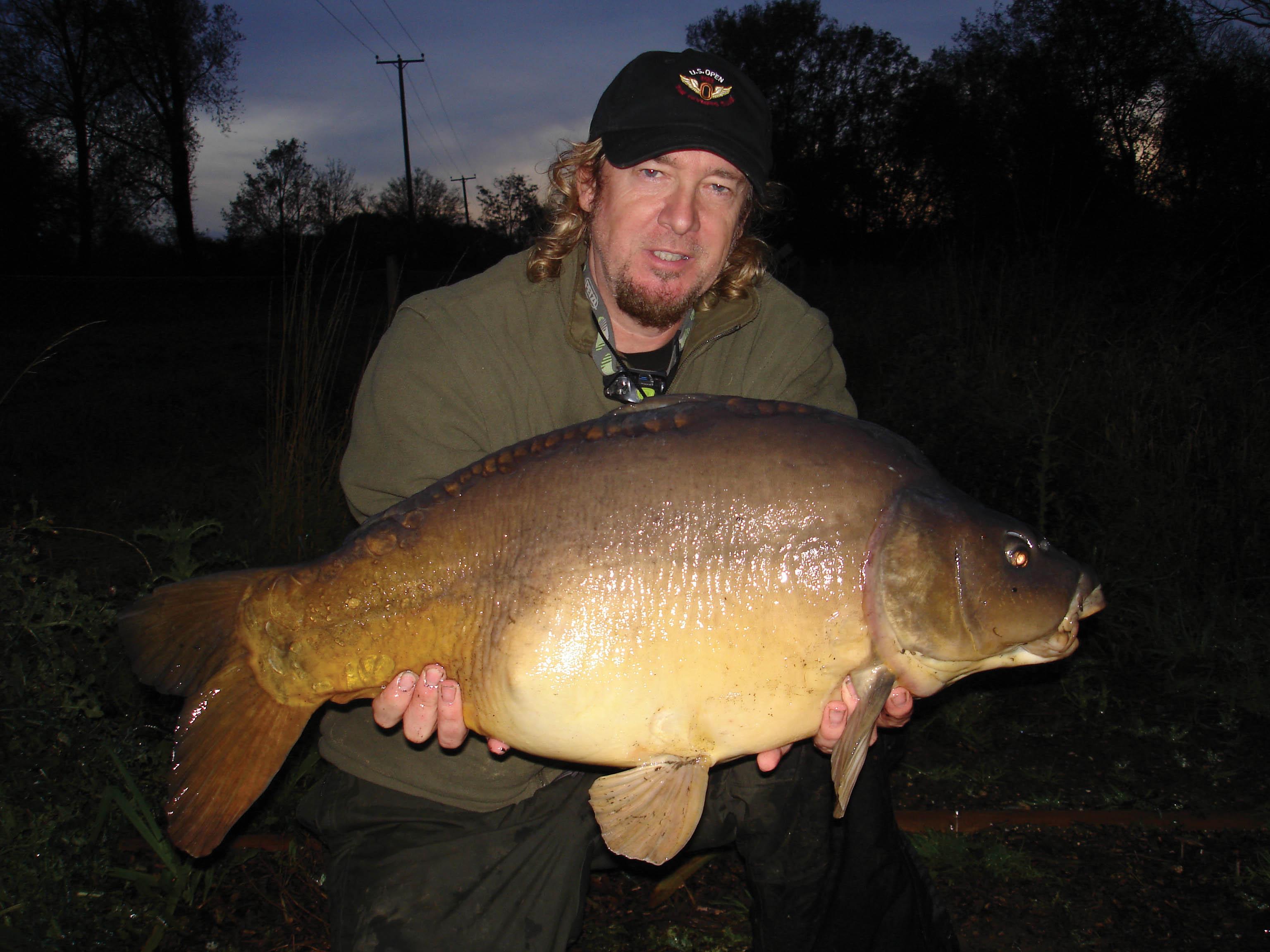 You've fished with Dean Macey and Mike 'Spug' Redfern on the River Trent. I love the story about the barbecue, but we won't spoil the story. Is there anyone in carp fishing you'd like to fish with, and why?
"I've been fortunate to have fished with some good anglers and you never stop learning. That's the great thing about fishing, there's always a new challenge. Carp fishing, what with rigs and staying ahead of the game, well that's another thing, but I'm not really into the technical side of it all. I rely on locating the fish and I like to get away from the crowds to do my own thing… putting a bit of bait in here and there, where other people perhaps, would overlook the area. That's a little bit harder in the short term, but over time it can pay off.
"I never used to fish with others and have always been a bit of a loner by nature. I met Spug though, and we've had a few really great trips. I've corrupted him and made him fish for bream, barbel and zander. (Laughs) We had a great session on the Trent: Spug, Dean Macey, Lawrence King and me. They're all good anglers and we had a great time. I learnt a lot. You always learn off other people. We'd arranged the trip months in advance and by the time it came around we were so excited, it was unbearable! We got up there and wheeled our barrows and bivvies to the bank. We were going to stay for two nights. I managed to get the best swim, up near the head of the weir. It's a fair old chuck and you just throw your rigs up into the white water and get bites all day! At night, the fish moved down to where Dean and Spug were and they managed to pick off a few. Dean had an incredible barbel catch. In the space of an hour he had three doubles. The story of that is in the book.
"Collingham Weir was also the scene of the famous (well, famous amongst us four anyway) barbecue incident. A rather large man, in a rush to get to his rod that was buckling in its rest and with the alarm making a frightening squealing noise, collided with a blazing barbecue. It was laden with food and the mishap didn't go unnoticed by the remaining three anglers. A bit of a laugh was had, shall we say, and the full story of that particular episode is also in the book. So yeah, although it's nice to have your own space and peace, it's also great to fish with others on occasion."
You're an avid reader of angling publications. What book would you say is your favourite, and do you also have a favourite author?
"I do read a lot of fishing books, yes. There's a lot of downtime on the road during a tour - you're in airports, on the bus, on a plane, or you're sitting in a hotel waiting for the clock to tick round to show-time. I used to love reading Tony Miles, an all-rounder who wrote about fishing the Queenford Lagoon for bream, and big tench, barbel and chub. The way he wrote made you feel like you were on the bank. I like stuff like that; it's atmospheric.
"I enjoy Dave Lane's books. I think he writes very well and he puts such a lot of work into his fishing - quite impressive. Chris Yates is another author I like. Chris has written some great books. Although his fishing's very simple, his writing's quite complex… his thoughts, the things behind everything that happens in his fishing and the reasons. It's all very interesting and he really captures it.
"I think the best fishing writer alive, though, is a guy called John Gierach. He's a fly fisherman and a writer, and he's excellent. He writes really, really well and I've taken a lot of inspiration from him; he's got a great turn of phrase."
Being an angler in the rock business is very unusual. Surprise us with a few names of some that have shown an interest in fishing - rather than being completely perplexed. Did I read somewhere that you went with Scott Gorham of Thin Lizzy fame?
"Being an angler in the music world is certainly quite unusual, but you'd be surprised what you see. We toured with Judas Priest once and we'd just finished our set. The two guitarists, Glenn and K. K. turned up backstage in full golf regalia - tartan pants, pink shirts, the lot. Then then they got changed and came out in all their studs and leather…. you just never know! I did go fishing with Scott Gorham. He's not a fisherman, but a golfer. It was one of those corporate days and he invited me along - that's all in the book and the story's quite funny.
"When I was playing with Bruce Dickinson's solo band, we toured with Lynyrd Skynyrd. They're all quite keen anglers and they love their bass fishing - they're good old southern boys. Their English tour manager, Steve Cox, was a very keen carp angler, and quite a successful one… maybe we got a little bit more stage room or a few more lights as we had the fishing in common, I don't know."
Of all of your captures and personal bests, which is your favourite?
"I always remember catching my first double-figure barbel, down the River Kennet at Burghfield in the mid-nineties. I was using a quiver tip rod with 5lb line through to the hook… just one rod with a big ol' piece of luncheon meat. I got this fish in and I just thought that it looked massive. It was so deep! I've caught bigger ones since, but the first one really knocks your socks off. I was lucky enough to catch a chub of just under 8lb a few years ago on the River Colne. Again, it just put me into a case of the shakes. I thought I might've broken the record, but that was 9lb-odd - I think Andy Maker had that from a stillwater. It was massive; they just look unreal and they're the sort of thing you dream about. Also, every time I catch a carp, they never fail to impress me with their bulk and their size… even double-figure ones. I've been lucky enough to catch them up to 40lb, and catching a 40lb carp… their sheer size and their bulk is so impressive. Their power too… just that plodding weight out in the lake when you hook one, real heart-stopping stuff."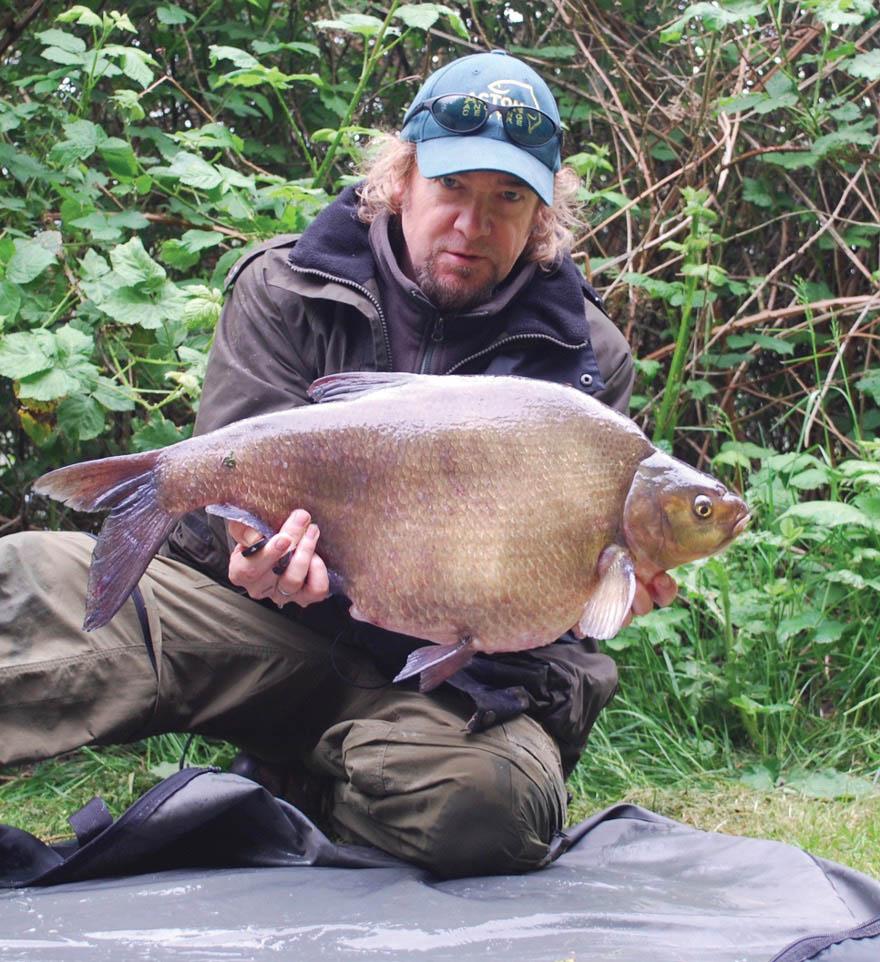 Iron Maiden has always been a very private band, seemingly keeping their personal lives out of the press and away from the public eye. This book is obviously very personal to you and there are a few things in there that we didn't know. How did it feel revealing some of that stuff… any nerves about it?
"Yeah, Maiden are a pretty low-profile band. We don't want to be celebrities, we just want to be musicians and get on with playing and writing music. When the idea of writing a book first came up, I thought, it was a bit left field as I'm known more as a musician than an angler. (Laughs) Once I started writing it though, it just seemed to flow - my growing up, fishing with my dad, packing it up for the music and not picking up a rod again for 10 years before getting back into it, and being lucky enough to visit such incredible places. I suppose the book's autobiographical.
"There are some quite personal things in there about touring in the '80s. You can only imagine the occupational hazards of being on the road on a rock tour and touring with bands like W.A.S.P. and Mötley Crüe! There was a lot of craziness in the '80s and there were some incredible highs, like playing all those nights at Long Beach Arena in Los Angeles, and headlining the Hammersmith Odeon and Madison Square Gardens. Also though, there was being banged up in a hotel room whilst on the road for 12 months, and just feeling really burnt out.
"I was conscious that a lot of people who aren't into fishing would check out the book to read the Maiden bits. On the other hand though, I didn't want to dumb-down the fishing, so there are a couple of real hardcore chapters. Actually there's quite a lot of hardcore fishing, and whilst I say 'hardcore', its anecdotal rather than technical, and just about catching the tench and the barbel. I caught a barbel of 15lb 8oz and there's a whole story to that. Everything's kind of interwoven with stories from the road. Occasionally though, the stories from the road and the fishing tales literally cross lines…
"I was in the Bahamas on one occasion. We used to go out there to a studio called Compass Point. I did a little bit of fishing out there, off the front with a little rod and just for something to do - I didn't have much gear with me. One day, I was sitting down there. I'd put a big chunk of squid on with a heavy weight and I chucked it out as far as I could. I sat back thinking about a nice snapper or something for my tea. Next-door to where I was fishing was a row of condominiums. I noticed the one up to my right, where a rod was sticking out over the balcony. Someone's fishing off of his balcony! I thought.
"I'm sitting there and my rod starts knocking. I strike and I think I've got a fish on. At that exact moment, the guy who's got the rod out from his balcony comes flying out in his dressing gown. He then leans into his rod and strikes. We're both reeling frantically, thinking we've got a nice fish on the end, until we discover the inevitable: that I'd cast over his line! The guy, would you believe, was the late Robert Palmer, and he'd just had a big hit with 'Addicted To Love'. We're both standing there winding as we're facing each other. He then looks at me and says, 'In all of the Caribbean…' What he meant was, You had the whole sea to cast at, and you had to cast over my line! There's much more to the story though, and later, in the studio as we were recording the song 'Powerslave', things got a little bit out of hand. It's all detailed in the book.
"I tried to give the reader a little bit of an insight, not only into my fishing, but also what it's like to be in a band and touring the world. There's a lot of stuff about when we toured in our jumbo jet, Ed Force One. There's also stuff about writing songs in the studio, how we wrote 'Wasted Years', and actually fishing whilst on tour… like when I went out after sturgeon in Vancouver on a day off. I went out with a guide on a jetboat to fish for these great big sturgeon and there's lots of stuff like that in there. There's stuff about recording and writing songs, and how songs are written.
"As far as carp go, there's a story in the book about my first. The book details how I fished as I was growing up and how carp fishing was viewed at the time. My dad thought that all carp anglers were crazy. There weren't that many around, but there were a couple in our club. Most of the members were old boys who all wore flat caps. They had their their quill floats and their match rods, but there were also these couple of hardcore carpers, and I used to sell them worms. These two carp guys lived near me, so I supplied them with worms for their fishing.
"There's also a story about a river carp I caught a few years ago during a campaign on the Colne, and the 40lb mirror I had from Korda. I was after the tench, but I thought I'd try for the carp as I was geared up for them. If I'd had used lighter tackle, I'd have probably caught more tench. I was kind of half-carp fishing (laughs), so I'll count that one! Really then, there's quite a bit of carp fishing in the book, along with everything else.
"As far as revealing stuff that's quite personal was concerned, I think you have to be quite honest about things too so that people believe what you're writing. There are a few things in there that I thought twice about including, but when I looked at them afterwards, I thought I might as well leave them in. There have though, been a few times when I've woken up in the middle of the night and thought to myself, Oh, I wish I hadn't written that! or Should I really have written that? but as they say, publish and be damned!"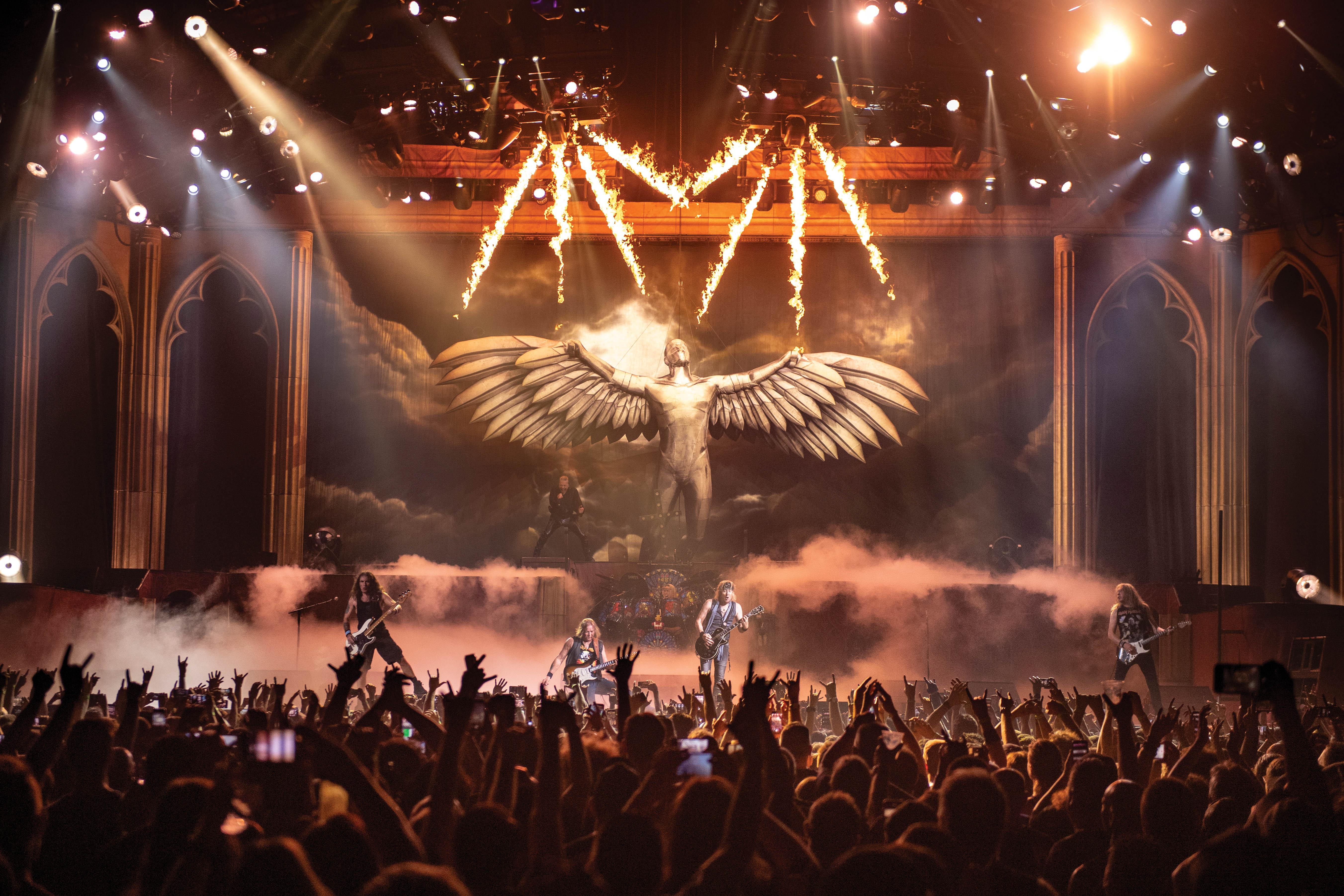 It came across that you really enjoyed writing the book, so is there a possibility of another, maybe one just about fishing?
"I really did enjoy writing the book, and going back over my whole life and reliving the memories - mostly really good memories. The great thing about fishing is that you remember those fish and how you felt when you caught them. I also tried to tie together fish I'd caught with whatever else was going on in my life, musically mostly, as in what tour I was doing at the time or what songs and what album I was working on. A good example of this was when we did the 'Powerslave' tour that lasted the best part of 12 months. We finished in Canada and I was really burned out. I ended up staying in Canada for six weeks and fishing for trout right across the country. Maybe I'll do another book just on fishing, yeah, who knows? I've got so many other stories and I've been to so many crazy places to fish - I hope still, to go to a few more."
Following on from the previous question, I think it's fair to say that the vast majority of people who know Adrian Smith, know you as Iron Maiden's guitarist and not so much as an angler. I think it was quite a ballsy move to do a crossover book, rather than it being autobiographical or just straight-out Maiden stuff. You don't see that many crossover books…
"Yes it's a bit of a crossover, but I don't think anyone's really written a book about fishing and music. It's mostly fishing though - I'd say about 70 percent. The bit of music stuff keeps it moving along and just makes it different. Hopefully being a little different is good. You're always taking a chance when you do something unusual like this, but hopefully people will appreciate it and it'll be well received."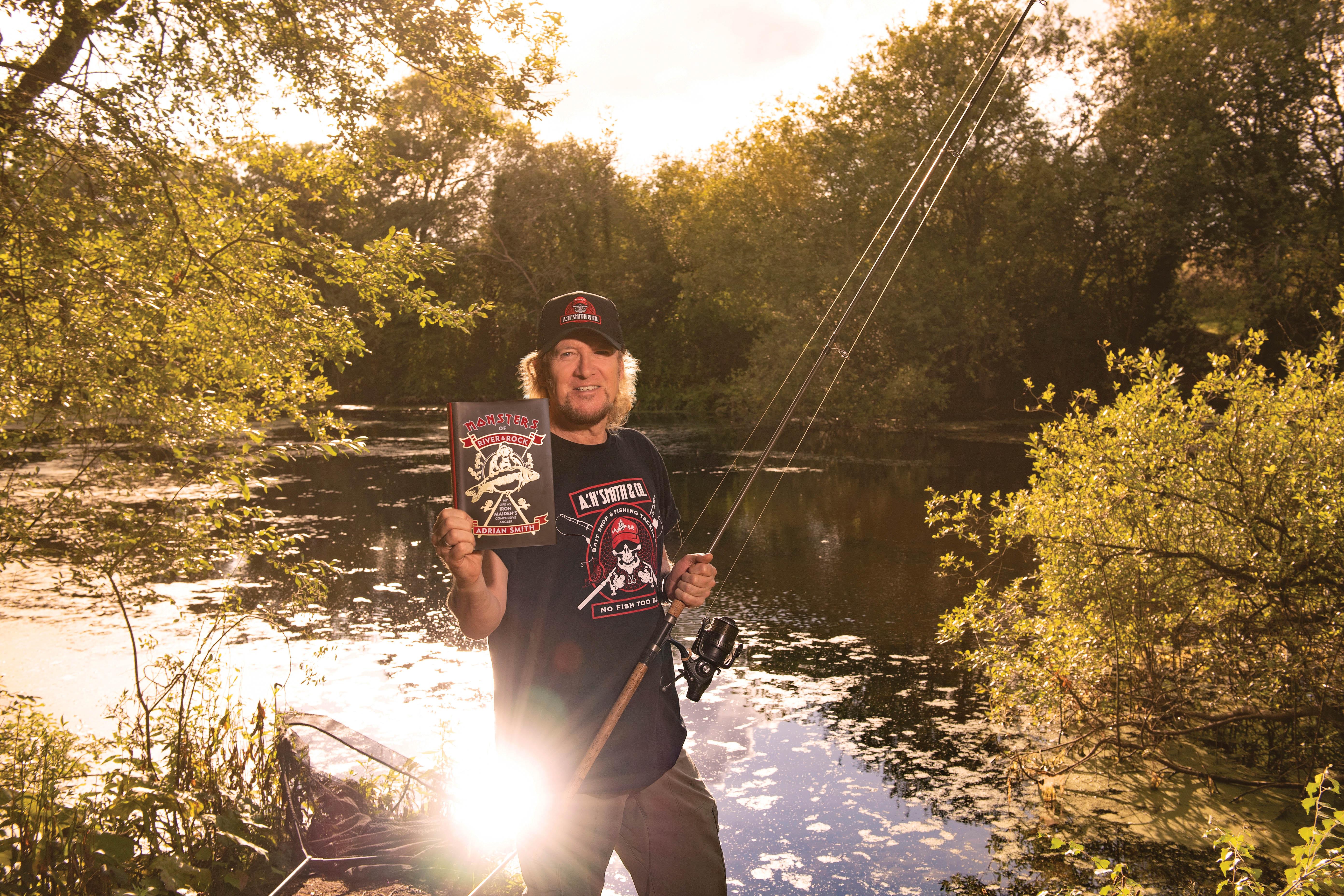 To finish off, are there any species that you have your eye on, already having caught so many of your target fish?
"I've caught some nice fish across a number of species, but rudd and roach I haven't. Good fish of up to 2lb, especially rudd… I'd like to go and chase them a bit more certainly, maybe on some waters in the Fens. I'd like to go up there and give that a try. Sometimes it's the location of the fish, and quite often, I'll go and stay in a pub or somewhere. I'll have a meal and take a walk around to have look at the town, all just to soak up some of the atmosphere of the place."