New Adventures
Adam Clewer recalls how life has changed since moving to North America and what the fishing is like...
The last year has been truly life changing. I say that not to exaggerate; it's true. I appreciate carp anglers are susceptible to hyperbole; where every capture leaves one 'buzzing', every sunrise is awesome and life-long aspirations are seemingly achieved multiple times per season. But my family and I really have moved to the other side of the world and started afresh. Okay, I have exaggerated slightly--we haven't moved to the other side of the world, just a different continent, namely North America. We saw this move coming for some years. My wife originates from Pennsylvania and increasing work and fishing opportunities for myself have tilted our path in this direction. Therefore, and as always keen to follow the wind of adventure, in January 2019 we bid warm farewells to southern England and hello to a slightly chillier New England. Like the Pilgrims of 400 years ago, we departed Southampton and arrived on the east coast of Massachusetts. Similar to their experience, we were not accustomed to winters in New England. Every piece of water, lake, river and even saltwater harbour, was frozen. The fisherman in me experienced plunging hopes as we learned that this fate remains, likely until April. My pain was eased by the fact that my rods were also packed away for the winter, sleeping in a container with our remaining possessions, chugging their way slowly on a ship, en route to New York.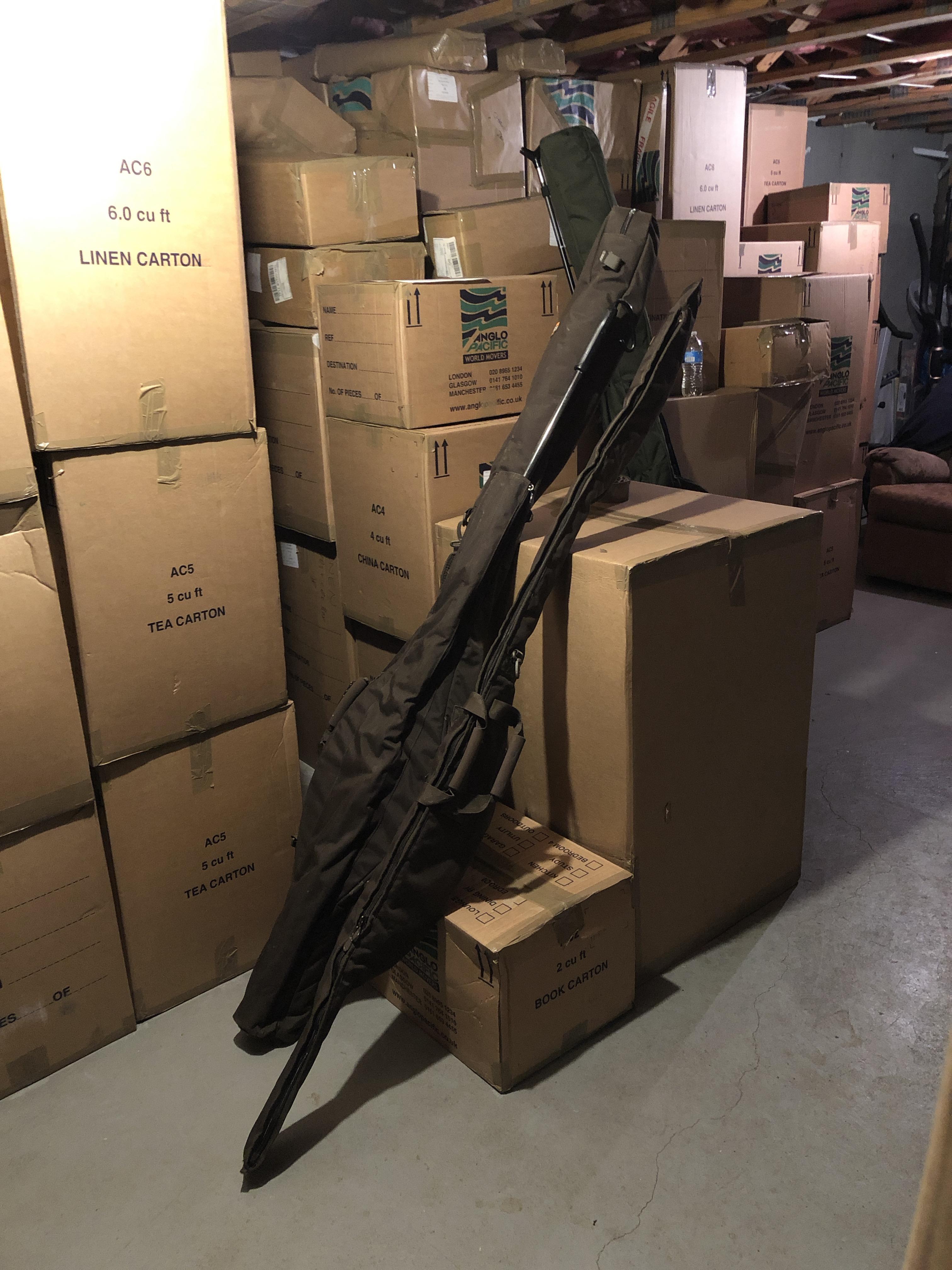 Whilst the seasonal temperatures were bitterly cold, the warm reception we received was wonderful. I had recently accepted the invitation to lead a church on the South Shore of Boston. My beautiful wife and daughters made the brave move to embrace this opportunity and integrated well making new friends and beginning new schools. Massachusetts is a beautiful state and leads the USA for education and medicine. New England is, as the name suggests a blend of England and USA. There have been times when we have forgotten we're in America. Culturally this has made the move simpler with contrasts easier to bear. We rented an apartment, which overlooks a lake surrounded by woodlands, and retained our house in England. Whilst the view was of frozen water and the banks lined in snow, I knew this wouldn't be the case forever. Bring on the spring!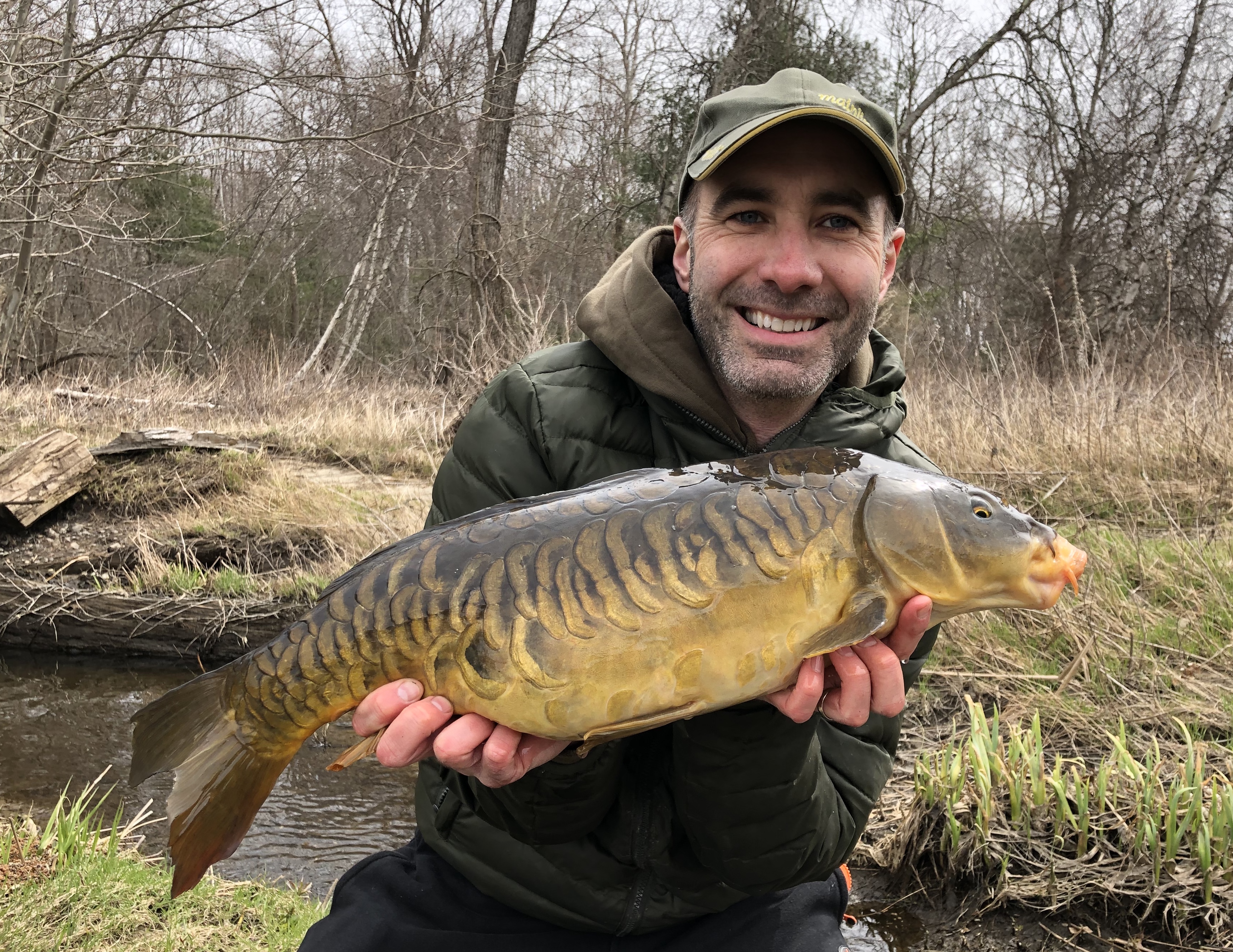 Spring eventually did arrive. Fortunately, our container, carrying my fishing tackle, arrived at a similar time. My goodness I was pleased be re-acquainted with my rods! I had missed them dearly! I try and fish most weeks; last year I enjoyed a phenomenal season on a Somerset syndicate catching fish over 30lb every month. At last, it was time to begin the new adventure. The lake behind our apartment contained an assortment of predatory fish, native to the US, with, sadly, no signs of carp. Fishing with a small rod and light lines for the blue gill and bass has been good fun, but doesn't satisfy the urge for big carp.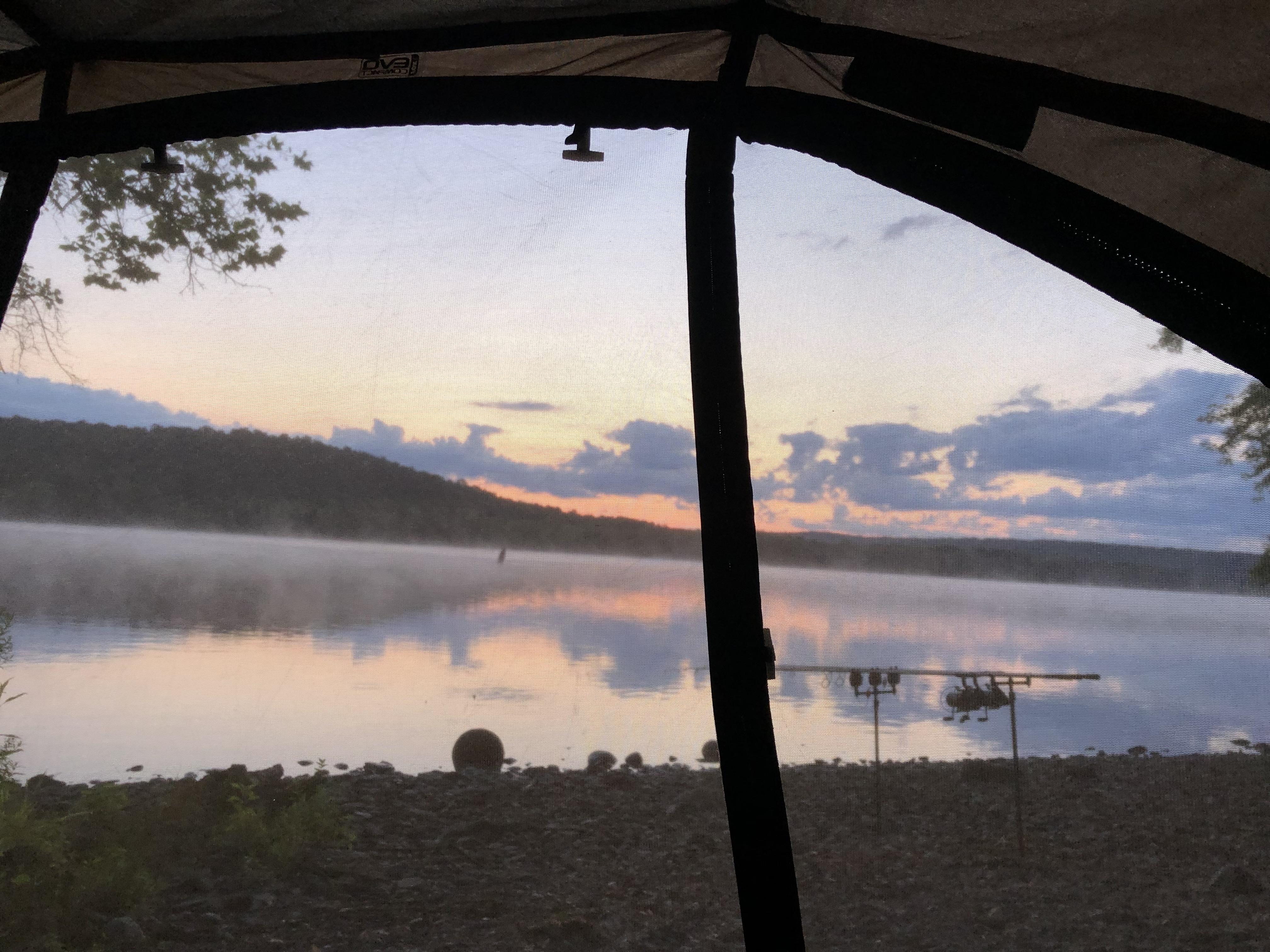 Being fairly well-travelled in the USA and enjoying various contacts in the fishing world, I wasted no time in connecting with friends old and new who might be able to point me in the right direction of New England Carp. Fortunately, the carp fishing world is a small and largely friendly place. Fellow Englishmen abroad Dean Brookes and Iain Sorrell were exceedingly helpful, as was local Bostonian Martin Columbo. My first trip out was spent fishing a river with Dean. The water temperatures were frigid, with ice lining the stretches of river where the current was slow. However, we caught fish. Not monsters, but beautifully scaled mirror carp that certainly put a smile on my face. Next time out was in the company of Martin, and this would be my first night on the bank since making the big move. The lake was modest in size by US standards, but at 700 acres it was a different world from the lakes I previously fished in England. Incredibly, I caught that first night, with a 17lb mirror succumbing to my Essential IB wafter. Ironically on such a large water, I fished in the margins.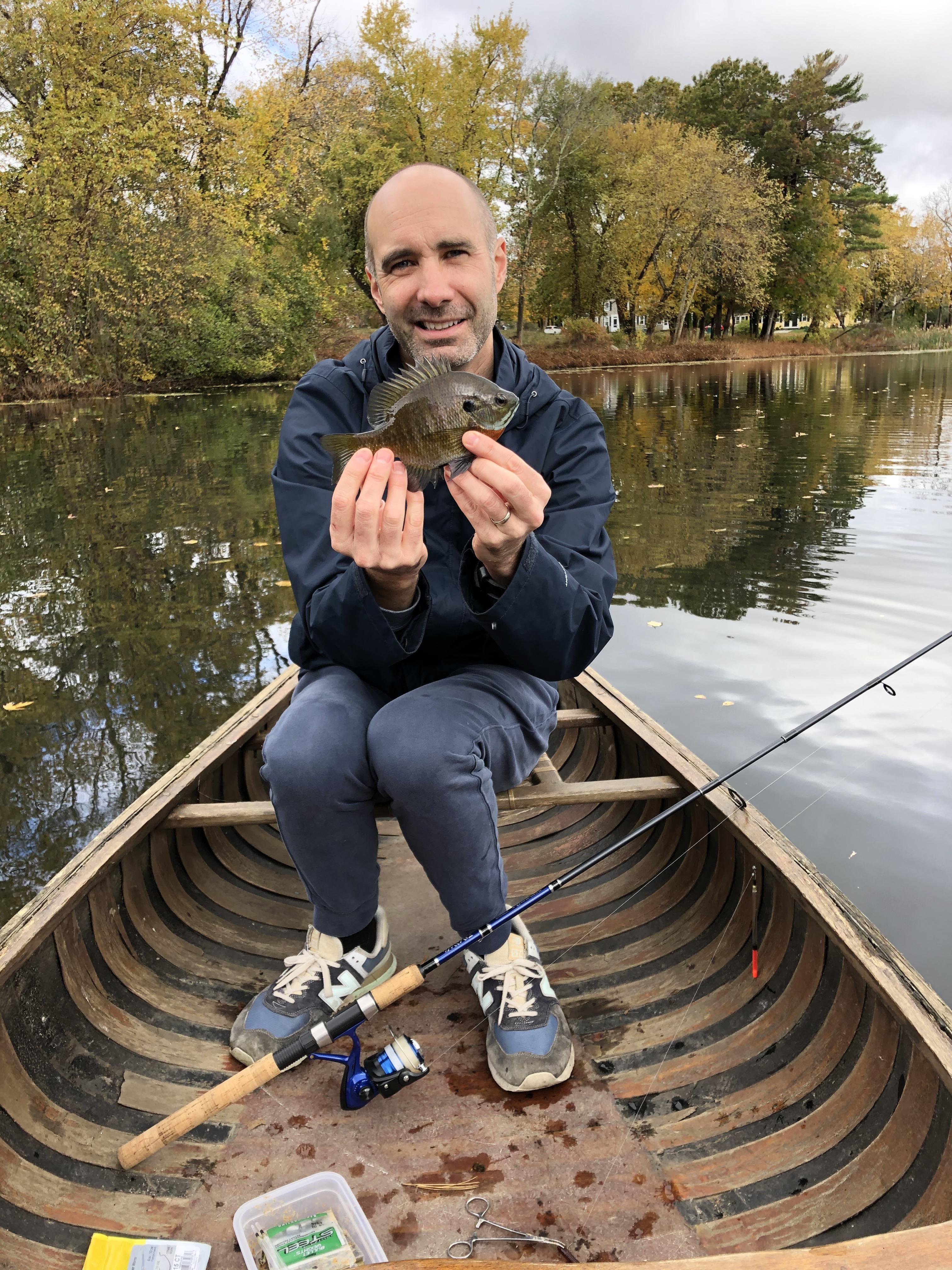 After enjoying success in the company and with assistance of others, I felt ready to venture out on my own and explore. Pioneering is often discussed in the most wonderful of ways. However, and this subject is in itself a large topic, pioneering can be both hugely rewarding and yet at the same time can be a complete waste of time! Fishing a large water for weeks on end that contains no carp is over-rated! My next few trips out enjoyed mixed response. I continued to fish the running water of local rivers in early spring, and even fished a day session in downtown Boston. My debut into urban angling, whilst trendy in some quarters of modern carp angling, is not for me. Sirens, joggers and passers by asking endless questions is not my idea of solitude and escapism – important components in my fishing.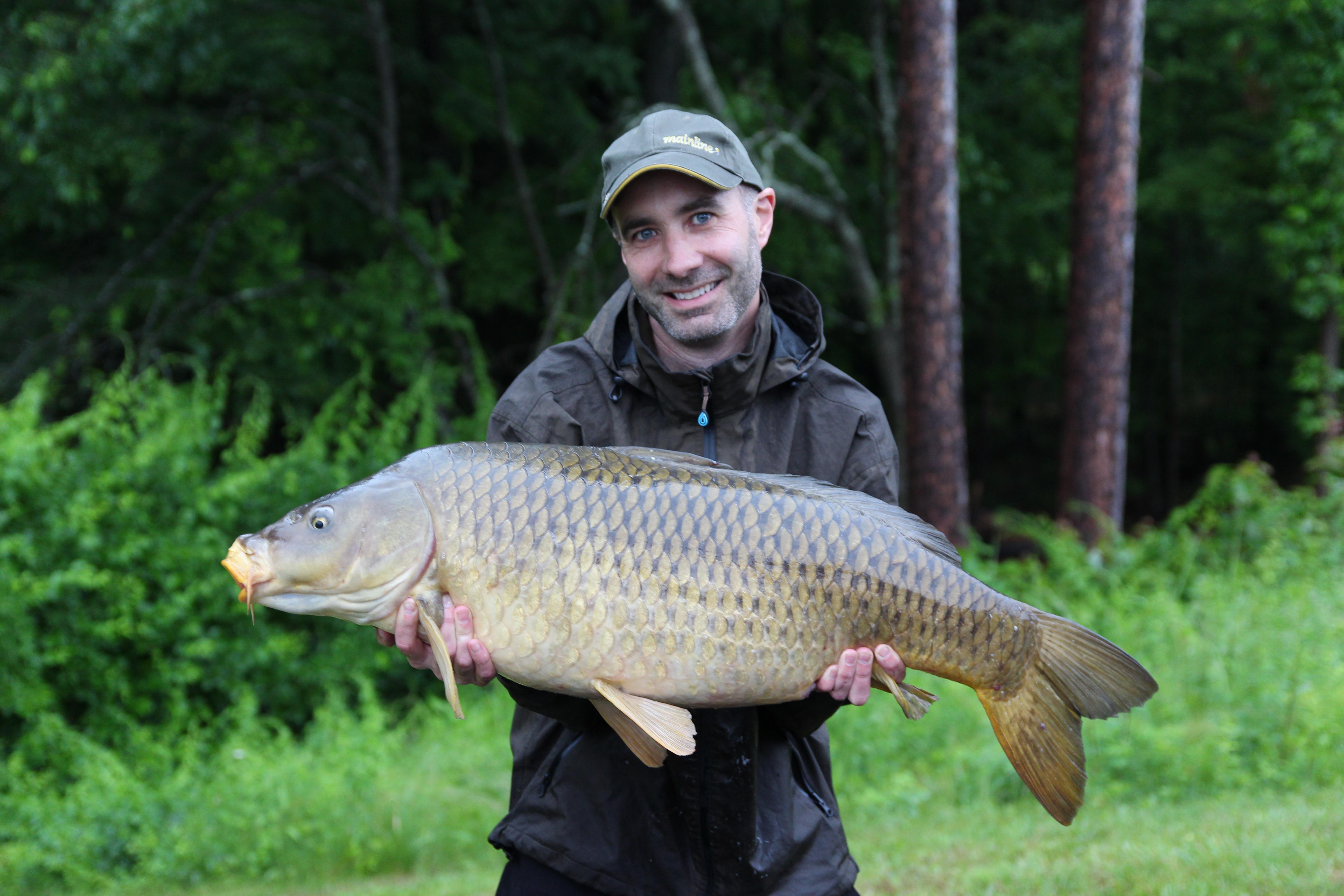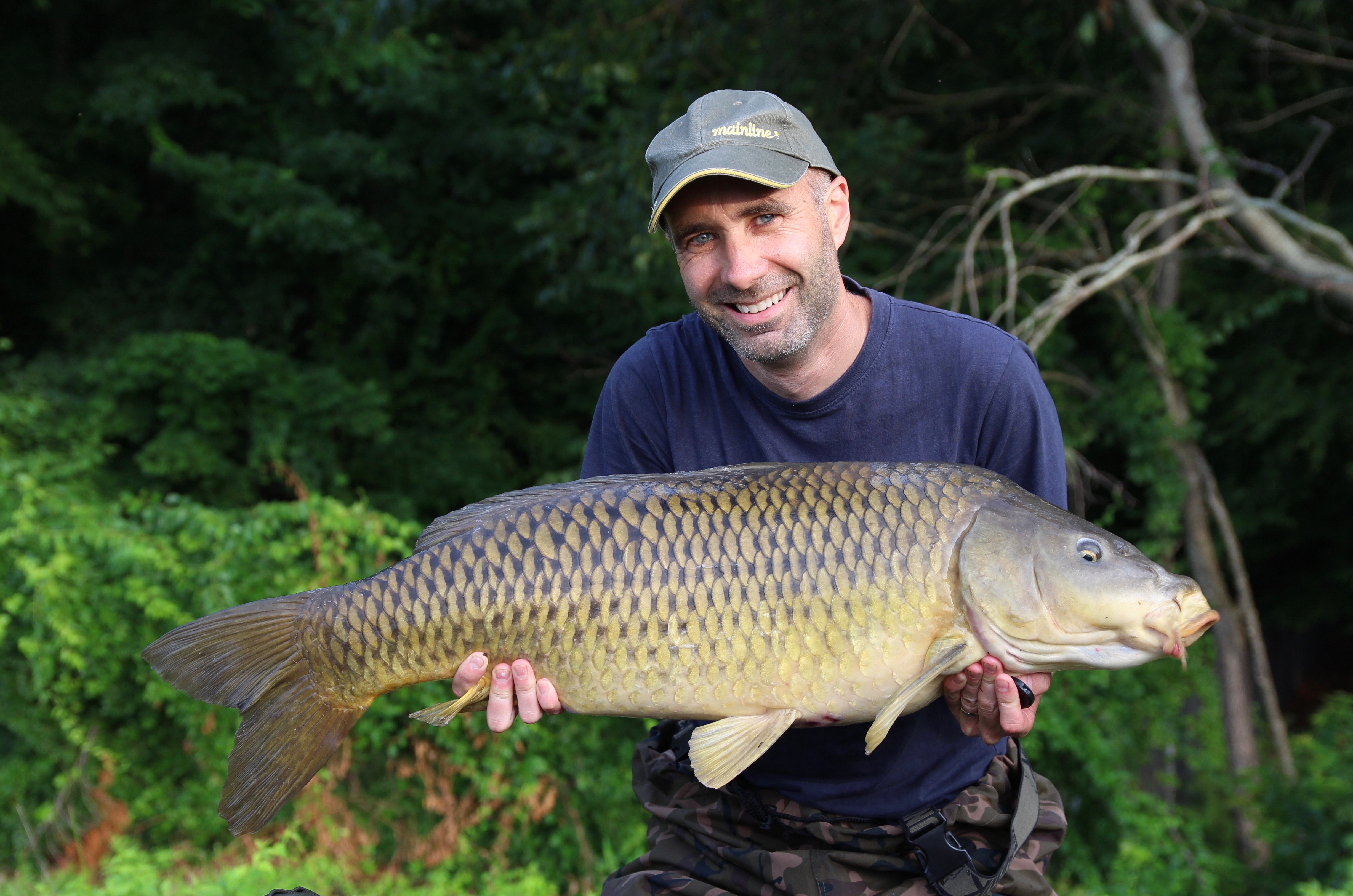 One reoccurring comment that I was hearing from a number of sources was that if I wanted to catch big fish--and by that they mean 30lb or above--I needed to head to the western side of the state and fish the Connecticut river. The Connecticut river is the longest river in the New England region of the United States, flowing roughly southward for 400 miles through four states. Dean and Iain knew the river well (as well as you can a 400-mile-long river) and provided some pointers. The two-hour drive seemed reasonable, not least given the price of fuel. During the late spring and early summer, I headed west, exploring a few sections of the Connecticut enjoying good results, but not always enjoying the fishing conditions. Let me explain. In the USA there are no syndicates or memberships and very few fisheries tailored to carp fishing. A simple state licence opens up much of the waterways. This is all good news, of course. However, it also means there is no expectation of carp anglers or the means of which we go to in our pursuit. Therefore, that means largely no night fishing other than on designated camp sites. This law, which can be enforced by gun carrying police officers, is sometimes overlooked. Nevertheless, set up a large bivvy and it's unlikely to be ignored and said angler will be moved on, day or night. This took some getting used to. The areas I fished alongside the Connecticut were mixed, with some so far from the beaten track that seeing another human being was unlikely; all good to bivvy up! Other stretches were less suitable for a bivvy or shelter of any kind, meaning to fish overnight in those places meant sleeping in the car. I must say I don't like this one bit and am still struggling to get used to it. However, on to the good news. Everyone was right—'go west and you'll find bigger fish' was good advice. Over the spring and summer my average size increased noticeably, with two commons and a mirror over thirty within the first two months of fishing the Connecticut. A rake of other good twenties also visited my net, with all fish falling to the Mainlines Essential IB boilies.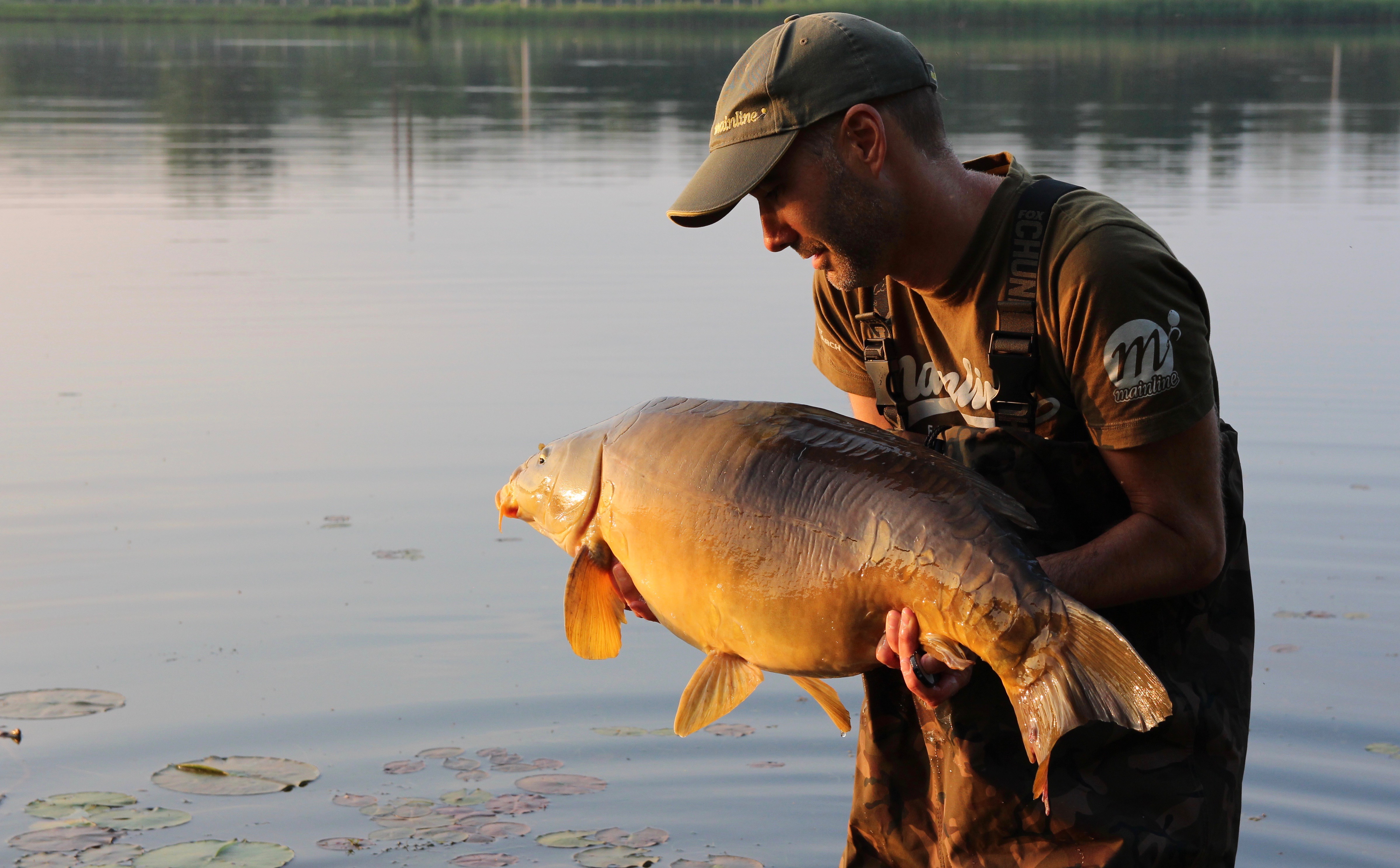 As the summer continued the hot and humid weather made sleeping in the car unbearable. It was time for a break. Living 40 minutes from the beautiful beaches of Cape Cod was the perfect fix.
Fall in New England is as beautiful as its reputation suggests. The colours I saw on the trees surrounding the lakes and rivers were different to anything I have seen in England. Largely this is due to the extreme contrasts of severely cold winters and reliably hot summers. Returning to being by the water was a joy. Determined to keep on exploring, I took the opportunity to drive six-hours north to fish the mighty St Lawrence river on the New York/Canada border. I must say, I love the St Lawrence, and whilst occasionally daunted by its size, depths and strength of current; I have caught quite well from several areas. A busy period, with children returning to school and other life events happening, meant I arrived late in the season with fall quickly turning into early winter in the days I was in New York. The spirit of unending exploring fuelled my fishing on the colossal river with several areas investigated and four sections fished over five days. I caught fish from each 'swim', but nothing bigger than low twenties. Unlike Massachusetts's New England blend of mirrors and commons, the St Lawrence is almost entirely commons.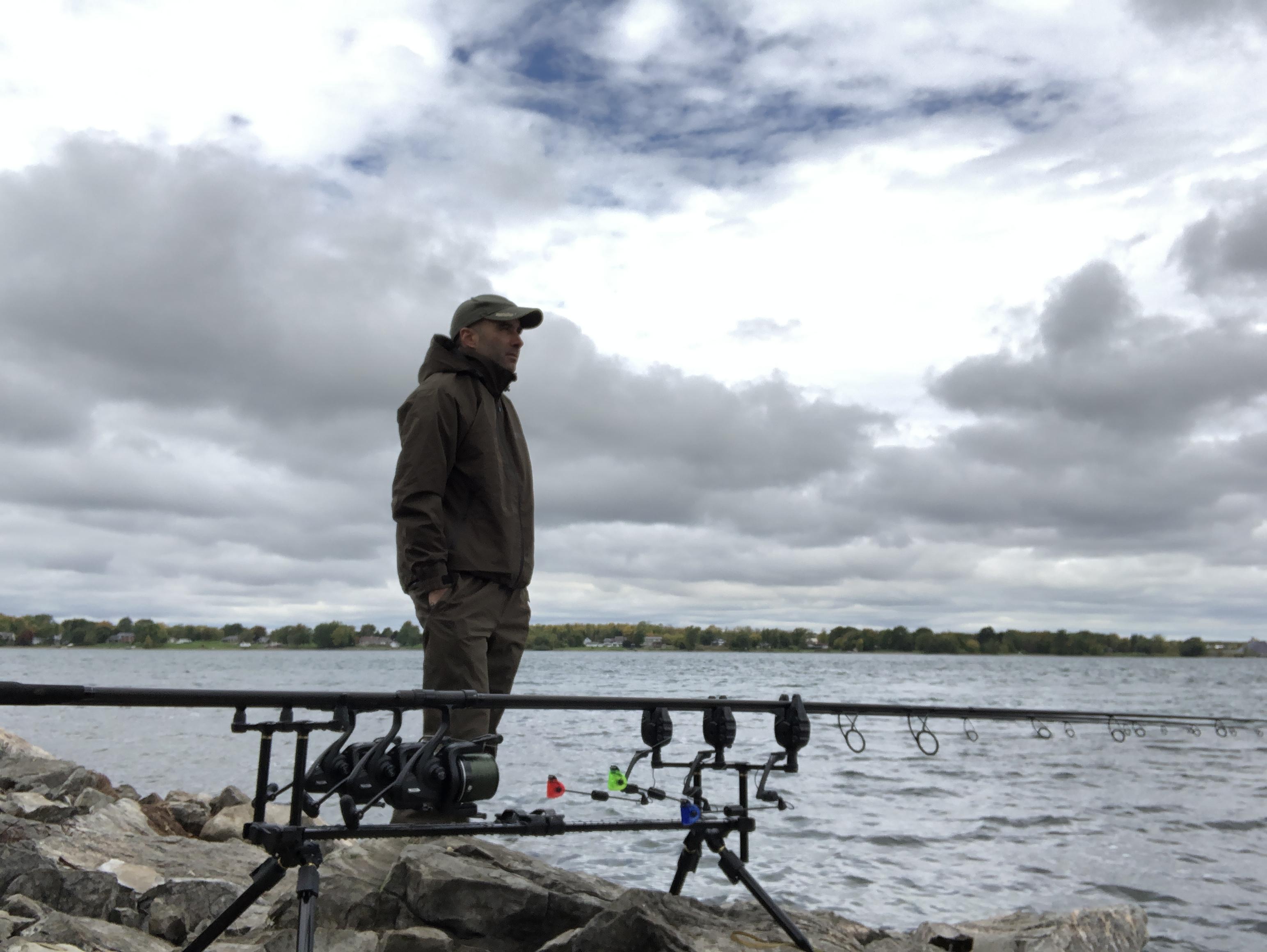 Returning to Massachusetts, and with the awareness that winter will bite again, I was keen to get some days out on the bank with my daughters. My children have always enjoyed nature and love to go fishing with their dad. Two-day sessions were fished during October with beautiful scenery lining the banks of a local river. The fishing was good too, the fish noticeably active and feeding with welcome enthusiasm.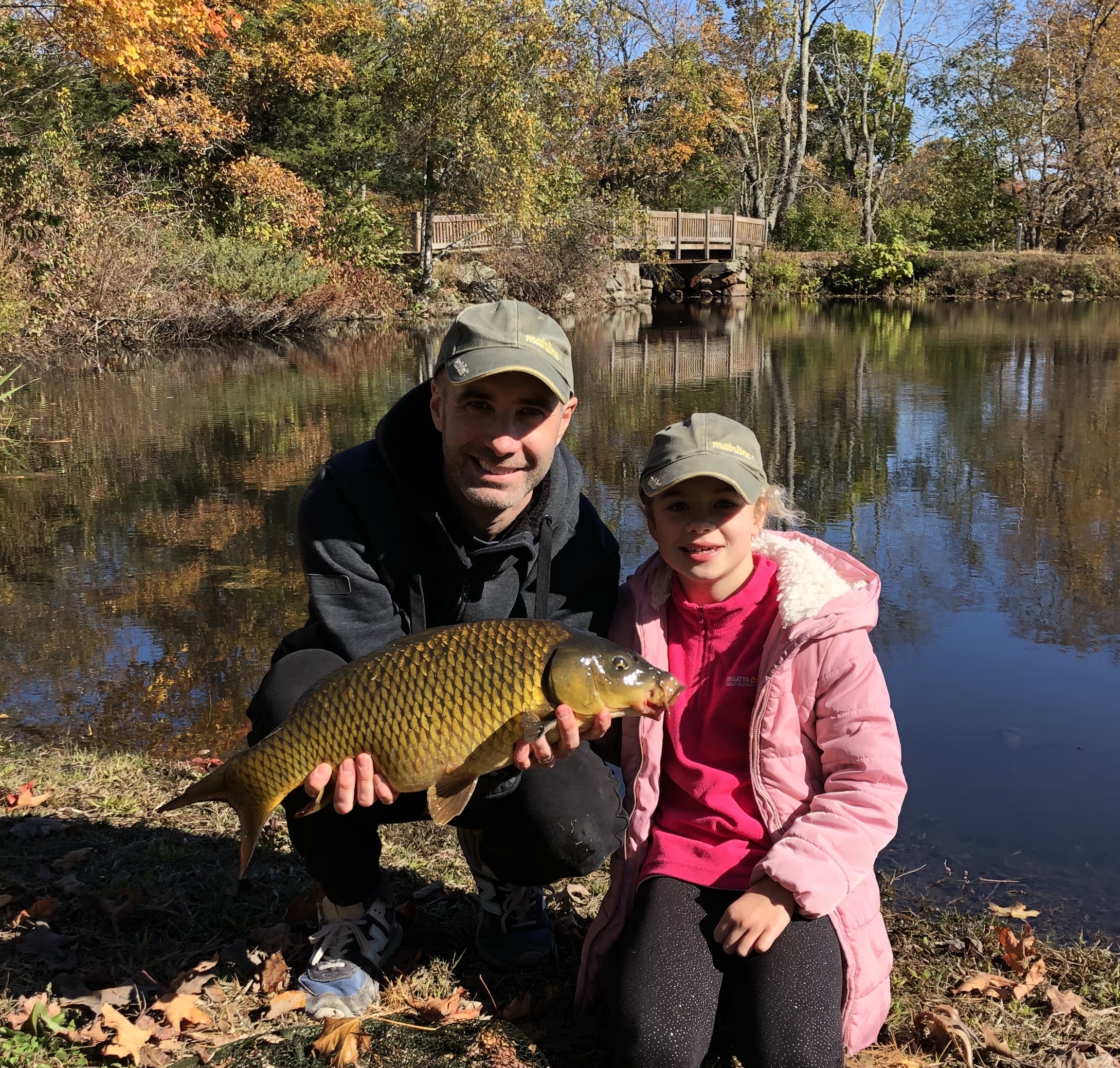 In November my family and I returned to visit friends and family in England. The trip was long overdue and hugely enjoyable – although it did feel slightly strange eating a Christmas dinner with my family 6 weeks prior to the big day. Naturally I took the opportunity to squeeze a night in at Yateley Sandhurst with good friends. The fishing was slow, but the curry and company was great! Returning to Massachusetts in late November triggered a shock similar to that of our arrival back in January; winter was back! As I write this, snow lines the ground outside my window. Lakes are again frozen, and I am lamenting not making more opportunities to fish during warmer times. I guess the blend of highs and lows are what makes life interesting. Spring will come (eventually). And, when it does, I will be ready. Adventure awaits.