Put a spring in your steps
Luke Vardy explains why it is important and how to be prepared for spring action, with 5 simple and effective edges…
With consistent mild weather fronts soon upon us, it is important to stay one step ahead of our quarry and prepare for what the forthcoming months have in store. Being prepared throughout the 4 seasons is a must, but even more so in spring, so that full advantage can be taken when the carp are actively searching out food on a daily basis and have woken up from their winter slumber.
1. Know your spots
Ten minutes in the right place is better than ten hours in the wrong place. It sounds obvious, but it plays a massive part in your results throughout the year, especially spring. This is the only time throughout the year that I use my marker rod - understanding the underwater topography is critical for success and a marker rod will allow you to gain the vital information you require. Distance sticks are an essential piece of kit to have in your armoury, so you can record set distances and wraps out to your chosen spots. Create yourself time to head down to your chosen venue and have a plum/marker around in each swim, jotting down spots that you have found, either in a diary or smartphone. This way, if you have 2 or 3 spots in each swim that offer different prospects and opportunities, then arriving to the venue and seeing fish in a particular area offers you the opportunity to fish your spots with minimal disturbance and know you're fishing 100% effectively. Another positive outcome of knowing your spots is that every time you visit the lake, you can easily top your spots up with free bait and prime them for your next session. My preference is an A5 diary, this offers you the opportunity to sketch any treeline markers and distances to your spots (plus you don't lose your notes when you accidentally smash your iPhone, or have replaced it by this time next year!).
2. Stay vigilant and open minded
It is a well-known fact that if you're not on the fish then you aren't going to catch them, so stay vigilant to any movements or happenings on your specific venue. Try and stay in touch as much as possible and report any sightings or catches that are seen or heard of, even when you're not there. Weather conditions can play a huge part in this, you will often find the fish inhabiting summer haunts when the conditions are right. Don't turn a blind eye to the shallower areas of the lake, carp will often take full opportunity of bathing in the sun when the weather permits. Although fish sightings in spring tend to be more frequent than winter, don't be surprised that night time shows become even more frequent - time and time again I've been lay on the bed chair, watching the water and seen waves silhouette along the surface from a fish showing itself, this can be a clear indicator as to which areas of the lake they are visiting at different times.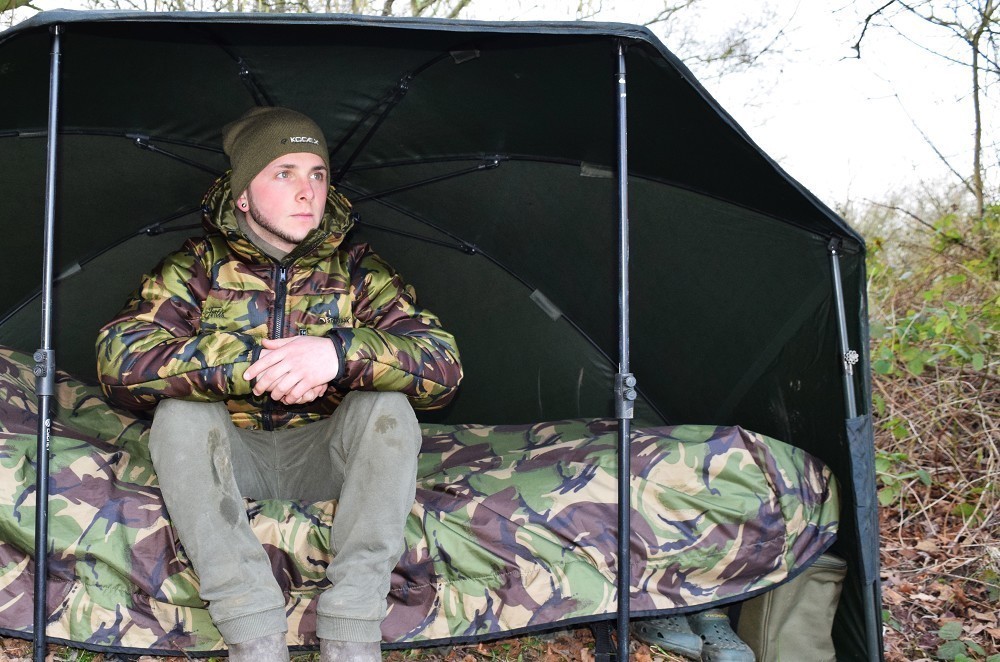 3. Be prepared to fish certain depths
For me, spring rarely offers an opportunity either on a zig rig or a floater. The fish are not always promised to be hugging the bottom during these months, so being able to adapt and fish to where they're holding up always guarantees extra bites. As the fish have now woken up and are moving around, you will find that they will inhabit most areas of the lake and also all different depths. Be vigilant to early insect hatches, this will be apparent either in the carp's behaviour or wildlife taking full advantage above the surface. Another key thing I have found is that if there is a fly hatch in full swing, then head down to the windward end of the lake and have a look along the margin, you will more often than not find a collection of washed up insect shells and this is a clear indicator as to what's happening in the lake at this time.
Try matching the hatch with small bits of dull coloured foam – black, brown and white combinations have proved successful for me, although depth has always proved more important than colour. When I'm not matching the hatch and fishing a high-visual piece of foam, for example yellow, I tend to apply small amounts of Ectoplasm which gives out a powerful aroma to draw in the attention of any passing fish. Once you've found an area of carp activity, it's a simple case of working the depths to find where the fish are decimating the hatch, you can cover this by fishing 3 different depths on all rods. As an example, if you're fishing in 10ft of water, I would start with 6ft, 8ft, and one just below the surface. Once you've had a bite then it will be clear which depth the fish are feeding at, this allows you to change all the rods to suit. Kodex zig & floater hook link has lo-viz fluorocrystal characteristics which makes it virtually undetectable underwater. With a diameter of 0.25mm and still maintaining a 12.9lb breaking strain it allows you to apply plenty of pressure during battle if required, this is my 'go to' hook link every time.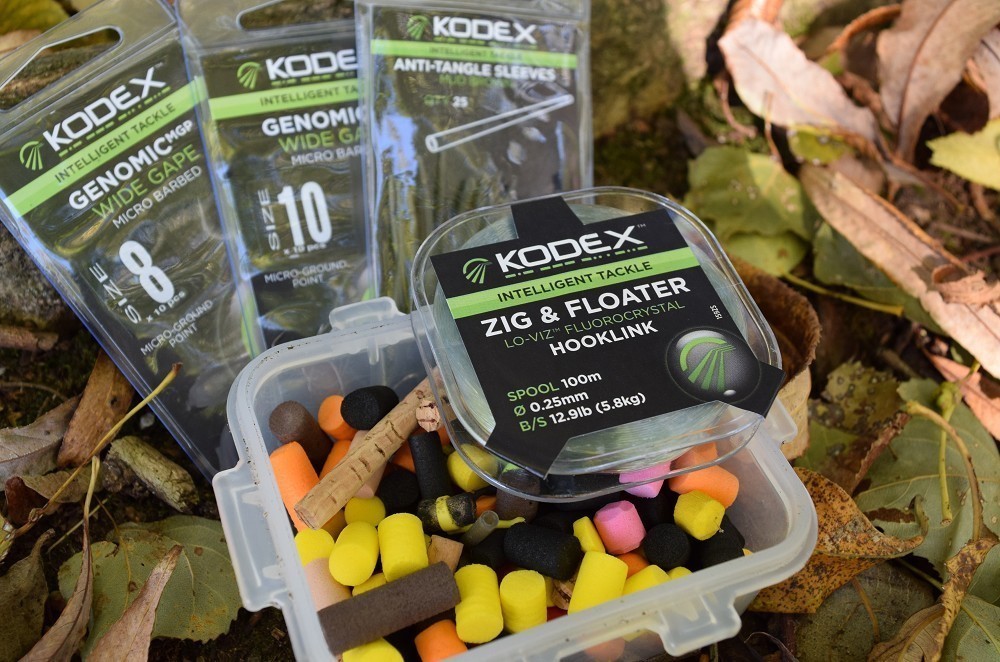 4. Tackle and rig preparation
Spend time during the quieter winter months before spring re-spooling your reels, re-energising and sorting all your kit so you can fish effectively at all times. It is important that no time is wasted when you're in an angling situation, so being prepared with tackle and rigs that are up to the job are a must. Tackle and rigs can all be prepped in advance of your session, rigs can be tied and stored neatly on a rig board, and tackle carryalls can be arranged into a neat assembly to ensure you can work effectively with everything to hand.
Having everything organised and tied prior to you turning up at your venue will allow you to react to any sightings you may find when you arrive. There's nothing worse than spotting fish in an area of the lake and then having to tie rigs as its happening, you may well just miss out on a window of opportunity.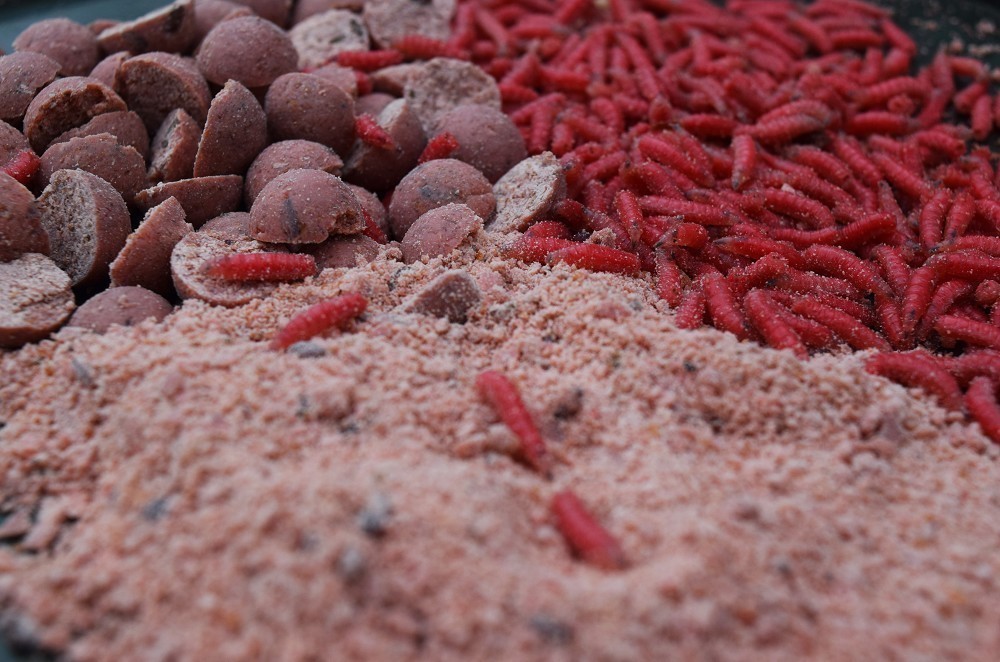 5. Bait and application
Bait has always been down to personal preference. There are so many different options out there - the world is your oyster. The most important aspect being that you use something you have confidence in and that has a proven track record. When I refer to my spot fishing and topping my areas up when visiting the lake, I like to use a mixture of small items to keep the areas nice and polished and keep the fish in the areas for a prolonged amount of time. For this, I will use particles, maggots, boilie/crumb. This selection of bait offers me a variant in hook bait options, should I need to try and encourage more bites or make adjustments on the day.
A great tip for topping up your spots is to use the addition of an oily liquid; I personally use hemp oil, but there are other fishmeal based liquid alternatives that offer the same principles. The key reason why I add the hemp oil is the benefit of watching your spots from a vantage point on the lake and being able to tell whether or not the fish are visiting the areas you have baited. When a fish feeds or passes over my baited areas, a fresh slick will rise and flatten off the lakes surface, this is a clear sign of fish moving around the spots. For example, if you have 4 different areas baited around the lake and can watch them from one area at all times, you will soon work out which areas the fish are visiting at different periods of the day. These particular sightings get noted into the diary ready for the next session.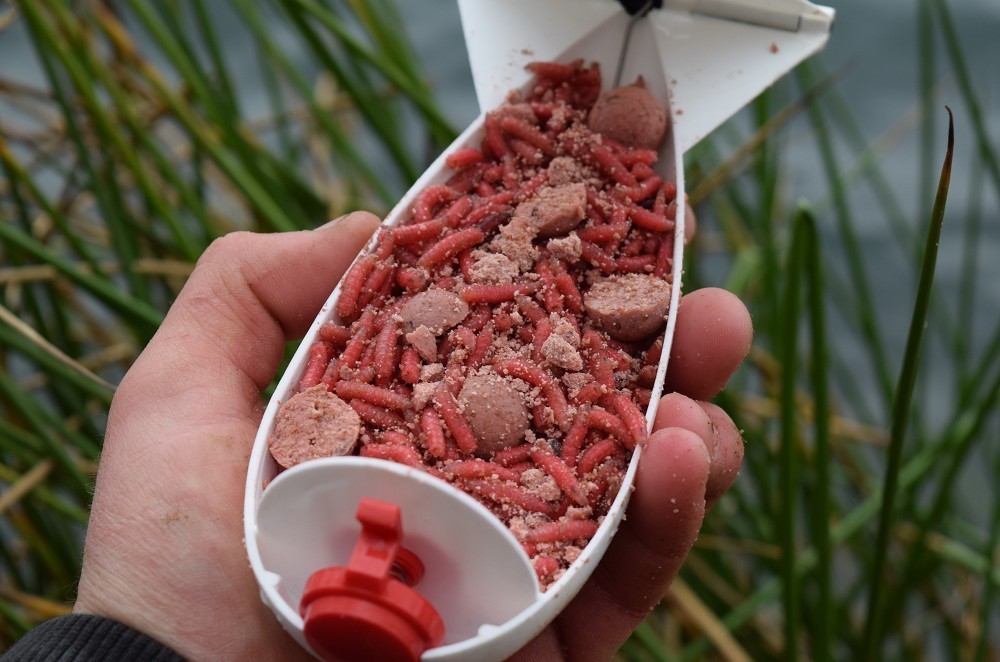 To summarise; The most important aspect prior to spring is to make sure that all the hard work and homework is carried out prior to when your campaign begins. Simply, put a spring in your steps and get spring success. The harder work that goes into your preparation the better then results will be.
Luke Vardy