Regan's Ramblings #88
Fresh from this trip to Vegas (and marriage), Regan discusses writers and his chosen lakes for 2011.
Now I've had a bit of a result, as I found most of this article on my laptop by accident after a conversation with Joe, so it will be a little bit disjointed with my last one as I wrote most of it before I got married, but as I just run on a load of rubbish really it won't matter, so here we go.
I'm going to mention this time something that Ali Hamidi wrote in another publication about someone moaning about magazines these days being dominated by anglers who are only in the magazines because they work for or are a consultant for a big angling company and not in the magazines on merit. To be fair to Ali, he does then concede that there is a certain amount of truth in that, but he then goes on to say that the big angling companies only employ the services of good anglers who know how to present themselves well and catch fish. 
Now, without going onto much Ali, most of the best anglers I have met along the way have got no inclination for being 'famous', they just simply want to go fishing as a brake in between work. I'd also say that just because they are a consultant for a tackle company and they can catch fish for fun, it doesn't make them interesting, in fact it's very often the reverse. And as for the full time anglers, I wouldn't personally allow some of them to even have a vote as they don't live in the real world, and there is nothing impressive about catching fish when all you do is fish. So I for one am not interested in what they have to say anyway. 
"Most of the best anglers I have met along the way have got no inclination for being 'famous'"
Just to prove my point, a couple of month ago Ozzy asked me if I would have a word with Joe (the editor of this mighty magazine) to see if he could do a bit of writing to help him with the cost of his fishing. When I spoke to Joe about it, he said yes, no problem, I'll have a couple of articles off him (Now I know Ozzy only wanted to do a couple of articles, but Joe didn't know that). So I said to Joe, just out of curiosity, why only a couple? That's all the space I've got at the moment he said. He then went onto explain that most, if not all, (correct me if I'm mistaken Joe) of the other contributors in the magazine were all tied up with the advertising or are sponsored. 
For those of you that don't know who Ozzy is, he's only the British carp record holder who is on fire at the moment, catching carp for fun from all sorts of waters. He absolutely took Conningbrook apart and is doing the same where his fishing at the moment, Push Backward's favourite saying for Ozzy is, "No carp is safe when Ozzy is about." What a breath of fresh air people like him would bring to the magazines instead of the same old faces in the same old places. I have said to both Joe and Rob why don't you get some old character in the magazines and balance things up a bit, surely the younger anglers would enjoy reading about the history of their hobby, book collecting, ideas from yesteryear, how we've arrived to where we are today with our baits and rigs and so on. Do you know what, a lot of my mates are now between sixty- and seventy-years-old and have been fishing all their lives. Dig some off those old farts out, I'm sure that would be very interesting. 
That said, the chaps that run the magazines know better than me what sells and what doesn't I suppose, and after all, that's all that counts really when you are selling something. It's a bit like bait really, when you think about it, the best bait is the one that catches the most fish, regardless of what it's made up from.
By the way, when Joe told me that most, if not all of the others are in the magazines because of their association with the trade, I said, "Well what the f*** am I in the magazine for?" His reply was, "You're in for the readers, Regan." So I better pull my socks up then.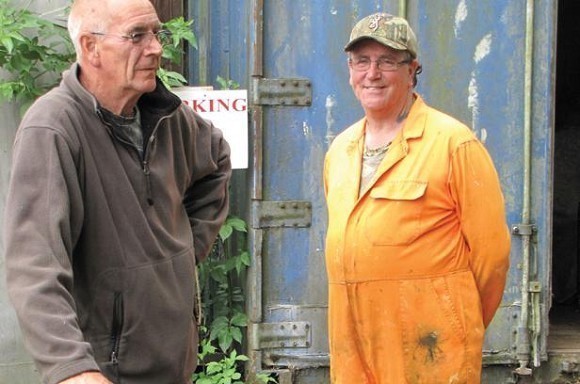 Prior to the wedding
Today is the 12th of March. I was pike fishing yesterday on the Thurne System and as I packed up last night and started steaming back to the slipway to recover the boat, I phoned Maureen up. I started the conversation by saying, "Do you want the good news or the bad?" She said I don't mind. "Well the good news is you will be going to Gatwick in a nice shinny clean smelling van, sitting beside someone who's had a wash and smells of aftershave. The bad news is I didn't catch." 
You see, tomorrows the 13th and Maureen and I are flying out to Las Vegas were we will be getting m, ma, m... f*** I can't say it. We are getting hitched after nearly 25-years together. We are then spending the rest of the time driving around California. If I'd have caught anything decent yesterday my intension was to go again from first light today and not coming back until after it was dark (well, it will be the last time I can get out for seven weeks). I was then going to scab about in the dark putting my boat and tackle away and then belt down the A12 at four o'clock in the morning, probably smelling of dead baits. I must have something right though, mustn't I, I've been doing it for over 50 years. 
Out angling
Well, that's all that I found on the computer so I'm back up to date again. Ken Dorset did get me into that water and I intend to go as things stand at the moment for the first time Tuesday the 3rd of May, which will be the first time out since the 12th of March. This year I've joined four syndicates/clubs and every single one has a full publicity ban on them, the three that I have fished before are all really special and all three are completely different: one being day-only, one a complex of waters and the other, when it's your turn you are the only one allowed on the lake for that week. The only thing they all have in common is that they all hold some lovely fish. 
Since writing that bit, I've been to my new water and I'm well chuffed; it's terrific, and as my sister Yvonne lives just three minutes away, so with permission she popped down for the evening with her husband Gordon and had a cup of tea with me and watched a pair of hobbies going back and forth feeding on the wing. When you join a new water it's a bit like joining a new family, I love it. They say a change is as good as a rest, and at the moment I feel really up for the challenge ahead. 
I got a bite before I even got my tackle out of the van. When I arrived I was having a walk around getting my bearing when I met a couple of chaps putting their tackle into their vans, I asked them a couple of questions about parking and so on and as they were about to leave I just said, very casually, "This place is easy, bit of a runs water isn't it?" Well, you should have seen their faces. They both jumped in feet first. It was nearly as good as after my first walk around a local water. They had a book that had to be filled in every time you visited the place, and under comments, I just put "looks easy". I caught so many I run out of sacks, it was brilliant.
Pete Regan
This article was taken from Issue 88 (July 2011) of CARPology magazine. Be the first to read CARPology's articles in print before they're posted on-line, and get your hands on loads of additional content by subscribing on-line.