'Through The Keyhole' With Bill Cottam!
Bait names and branding come under scrutiny this month, and we go 'through the keyhole' with our eminent, and always entertaining satirist-in-residence, Bill Cottam…
WHAT'S IN A NAME?
When I left Nutrabaits in 2018 and found myself all alone in the carp-bait wilderness, I had a couple of quite productive meetings and toyed with the idea of starting another bait company. Although the wife and I eventually thought better of it, I did get as far as putting together two new bait concepts, ear marking a small group of potential employees and coming up with a new brand name. I have always considered a strong bait brand name to be vitally important, and something that stands the test of time, globally, is obviously a huge advantage. Dynamite, Mainline, DNA, Premier and, dare I say, Nutrabaits are all great names, and those companies have deservedly reaped the rewards from their powerful branding.
My idea for my second proposed tilt at bait world domination was provisionally going to be 'Bill Cottam's Carp Nutrition', which I think could have had legs and potential longevity, had I pursued the project.
I was guilty of poking a bit of fun at some of the brand and bait names kicking around in Europe in the previous carnation of 'Carping Allegedly', one of my undoubted favourites being an Italian company called Carp Enemy, who—no doubt after months of boardroom brainstorming—decided to call their new wonder product 'Shit'!
Shit—or 'Pure Shit' as it is proudly proclaimed on the product packaging in this instance—is actually an acronym for Stinky High Intense Taste, but that to me was a total irrelevance; it appealed greatly to my unbelievably childish sense of humour, and that was that!
Of course, some of the amusing product names used overseas are simply lost in translation, but that won't stop me from bringing them to the assembled masses who so rightly hang on to my every word in this magazine. Whilst on the subject, please do not take my ramblings too seriously…
The dog and I were taking our permitted daily exercise on one of my local ponds recently, and the young fella in the first swim we came to spent ten minutes apologising for the fact that he was using a rod pod in a swim where he could have quite easily pushed banksticks into the ground. I just about managed to keep a straight face, but I did mention that if the set-up police came round, he could well face the indignation of not being deemed sufficiently carpy, and could potentially have his green ESP chunky knit confiscated, but I digress…
I have to admit that I never thought Carp Enemy's Shit would ever be bettered as a bait name, but it has been brought to my attention that there is a company based in Kreuzau in Germany who have upped the ante somewhat…
Ladies and gentlemen, I give you Cock Baits, and even more amazingly, Cock Tackle! Now, I am very happy with the companies that see fit to support my fishing, but I can't tell you how much I want to walk around with 'Cock Tackle' emblazoned on my T-shirt!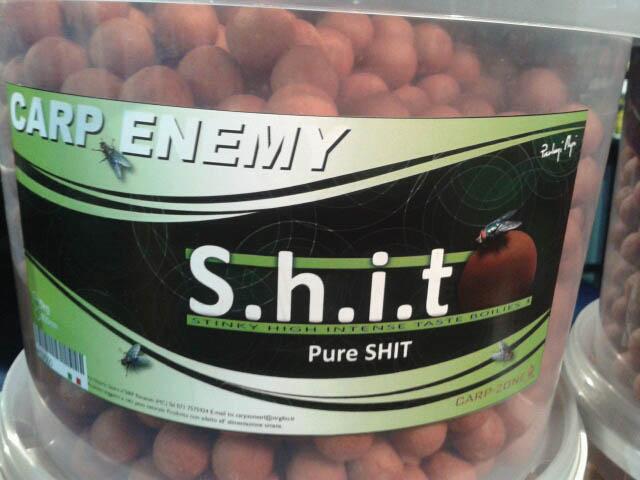 A BAG FOR EVERYTHING
In line with 2021 carp-angling guidelines, I have a bag for everything—or at least I do now. I acquired a RidgeMonkey Armoury Tackle Box last year, and I must say, I am very impressed. The sections that store the pre-tied rigs are still a bit short to hold some of my lengthier efforts, but hey-ho, I understand that these companies have to cater for the masses and so cannot possibly please everybody. I love it, though, and my only concern, even though it fastens shut very securely, is that when I do eventually drop it from a great height and spill the contents everywhere, it holds that much gear that it will take me two weeks to pick everything up and reorganise it.
With that in mind, I came to the conclusion that I needed a bag of some description, to use when I am transporting it around, and seeing as RidgeMonkey don't currently produce such an item, I set about scouring the internet for a perfectly sized carrying case.
After three nights of trolling around, my prayers were eventually answered when I stumbled across the Large Avid A-Spec Tackle Pouch, which measures 35cm x 23cm x 10cm and is absolutely perfect for housing my Armoury Box… in fact, it fits like a glove!
So, there you have it, proof yet again, that every day is indeed a school day if you continue to read this nonsense!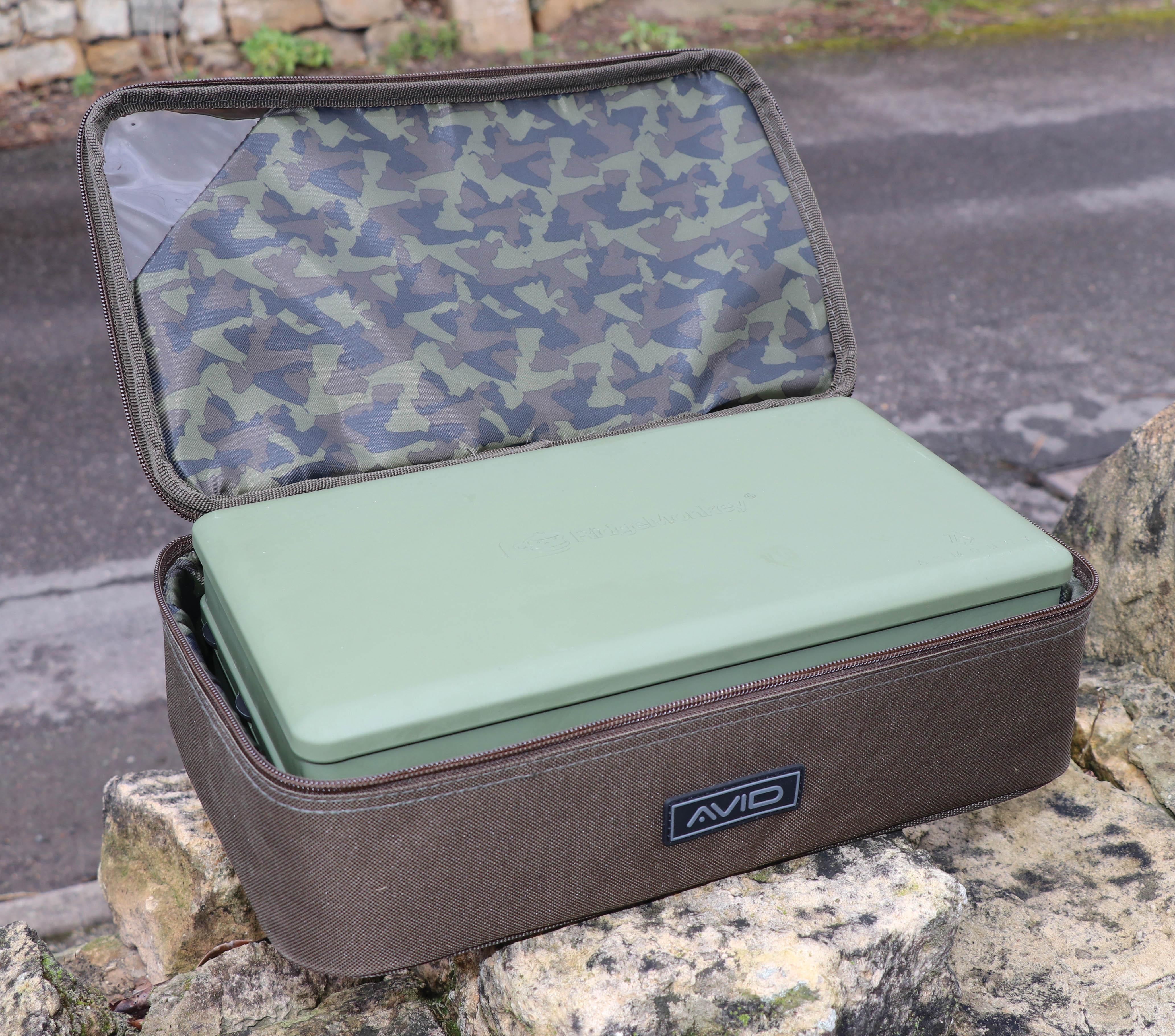 THE CARP CAVE
Every man should have a man cave, and every carp angler should have a carp cave! Although I would never claim to be anything more than an enthusiastic amateur, I do love photography, and am privately quite proud of some of the images I have in my collection. Likewise, many of the carp I have been fortunate to have caught over the years mean an incredible amount to me; I genuinely cannot believe how fortunate I have been…
It might surprise you to hear that if you were to visit the wife and me at Cottam Towers, you would find no evidence that a carp angler lives there: no fish photographs on the wall, no carpy memorabilia around the place, and certainly nothing to suggest that the man of the house owned and ran Nutrabaits for well over thirty years. Each to their own, of course, but having all that stuff around the gaff just isn't for me.
It's a slightly different story if you are privileged enough to be granted access to the room where the real magic happens: the carp cave! As you can probably imagine, access to the carp cave is only via retinal eye scanner and face-recognition door locks, and once inside, you need to negotiate the myriad of lasers that crisscross the place.
The cave is home to all my gear, two bait freezers and all the other bits and pieces that any carp angler worth their salt cannot possibly do without: seventy-nine different bait buckets, a hundred assorted pots of hookbaits, a rig-tying bench, six hundredweight of leads, leisure batteries and enough boating paraphernalia to put on my own regatta. The walls are emblazoned with a couple of pieces of carpy artwork, a few stickers (sorry Mr. Helleur), a collection of branded mugs on a shelf, my framed Hall of Fame certificate, a stuffed kestrel and, just to add a bit of variation and class, a selection of keepsakes from Sheffield Wednesday's 1990–1991 Rumbelows League Cup triumph.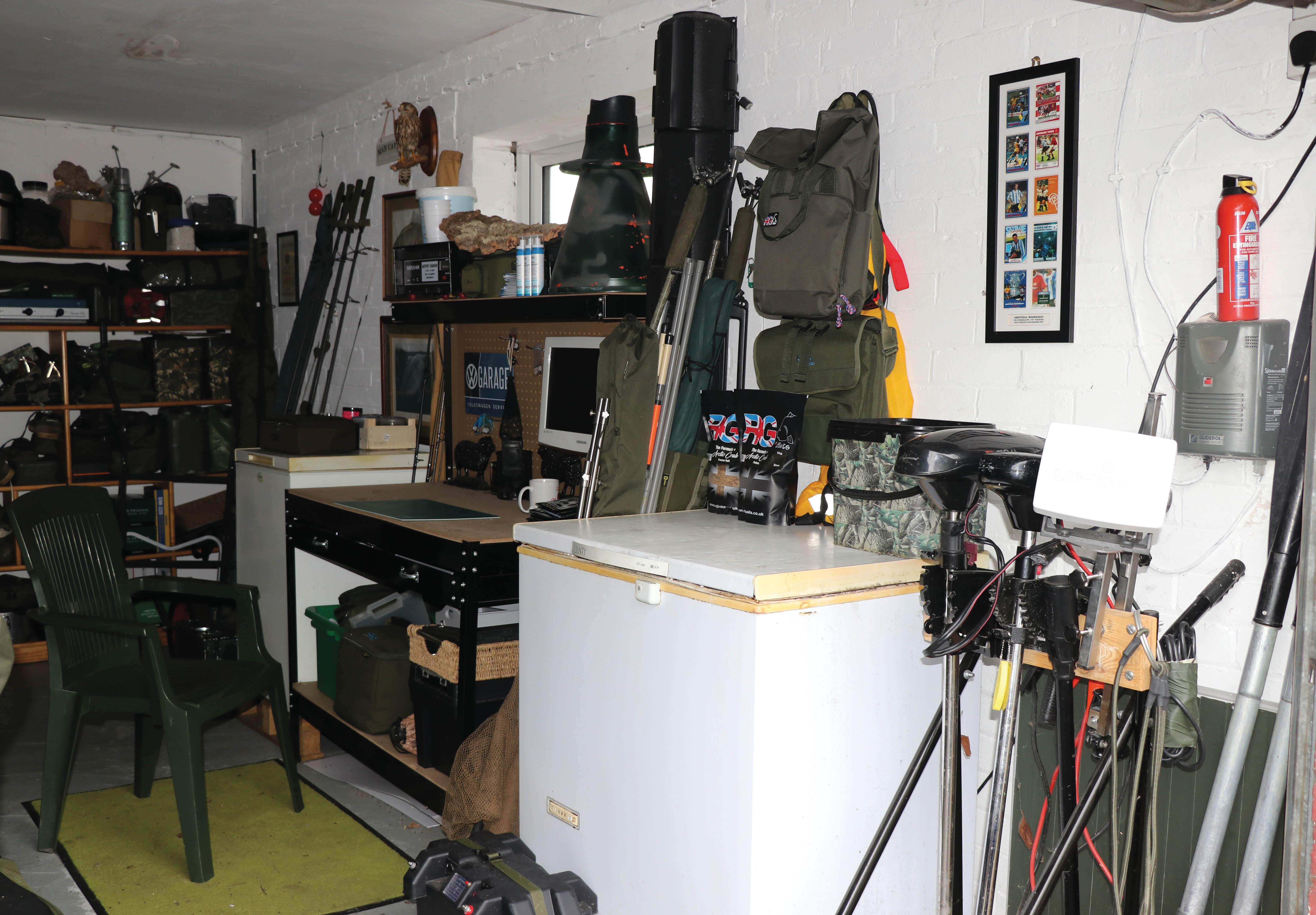 GLORY MEMORABILIA
Recent additions to the cave include three handmade pike lures, courtesy of long-time mate, Graham Slater, and a couple of Andrew Field's magnificent floats: a floodwater reed waggler and a balsa perch bob. You can check out Andrew's handiwork on Facebook at 'Andrew Field Fishing'.
In all honesty, every float that Andrew produces is a work of art in its own right, but the thought of ever being tempted to actually use them fills me with dread. It would be just my luck to attempt to flick one down the margin just as a rogue tornado whipped up and blew it to the very top of a neighbouring hawthorn bush… lovely things to display in the carp cave, though, and undoubtedly worth the entrance fee alone!
I love the carp cave and spend hour upon hour in there, tying the same old rigs, messing about with my gear and plotting the downfall of my next target fish. Funnily enough, I do have a TV in there—although it is the smallest one we own—but for some mysterious reason, it never shows the same old shite the other sets in Cottam Towers seem to… speaking of which, he may well be a celebrated man of the transvestism world, but what in God's name is that Ru Paul's Drag Race all about?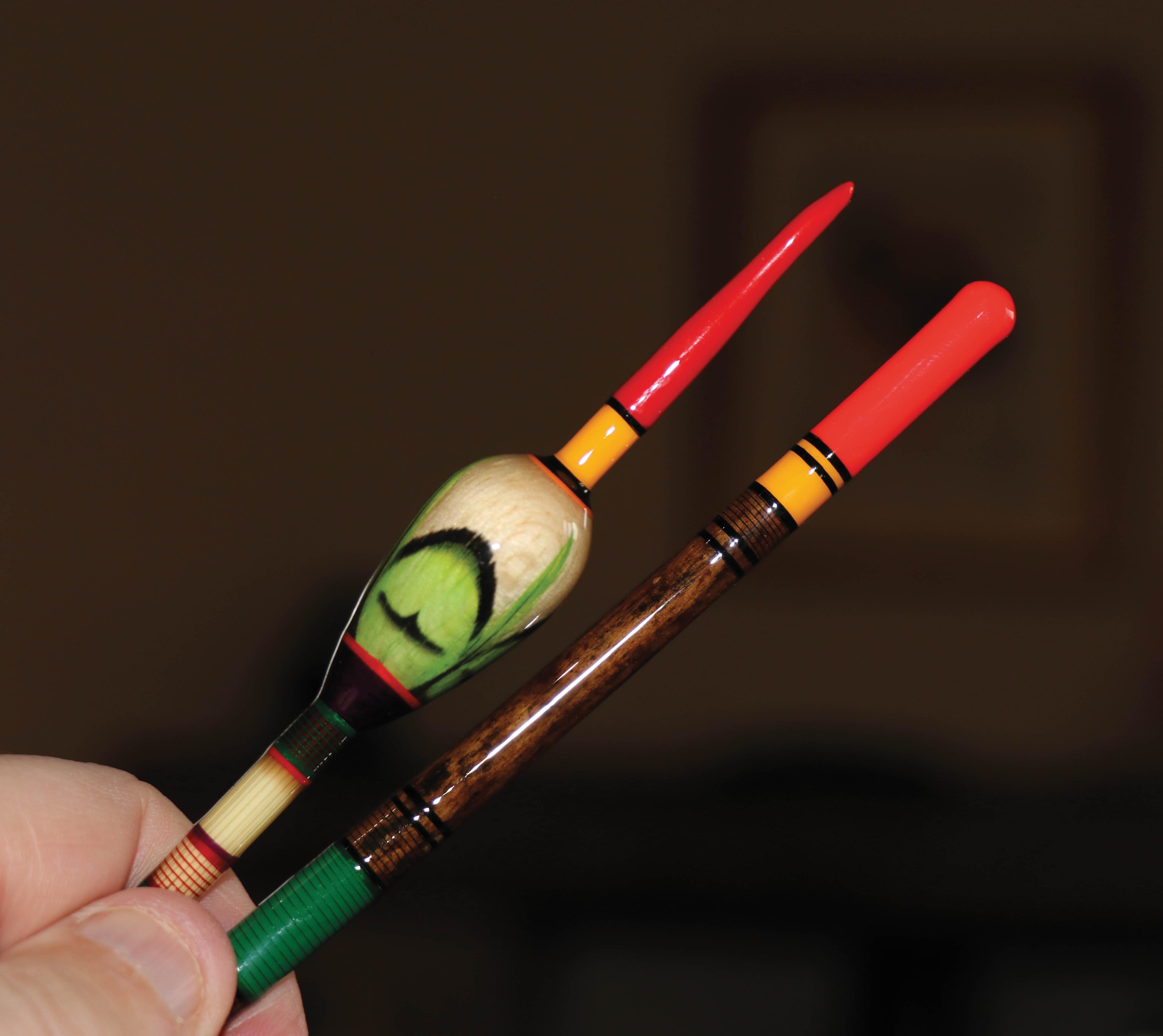 HOOKLENGTH THOUGHTS
As far as hooklength materials are concerned, I know what I like and I like what I know; and the much-used adage that if it ain't broke don't fix it, is rarely more relevant than in my case. Kryston Super Nova in 25lb has probably accounted for 90 per cent of the carp I have caught over the last twenty-five years, and most of the remaining 10 per cent have fallen to Stiff Rig presentations.
Most of my fishing is done with food-source carp baits spread over a reasonably large area, the theory being that the fish are encouraged to pick up one bait and then move off in search of more, and to my mind, nothing suits this feeding scenario better than a soft and supple hooklength—a confidence rig of sorts, if you like!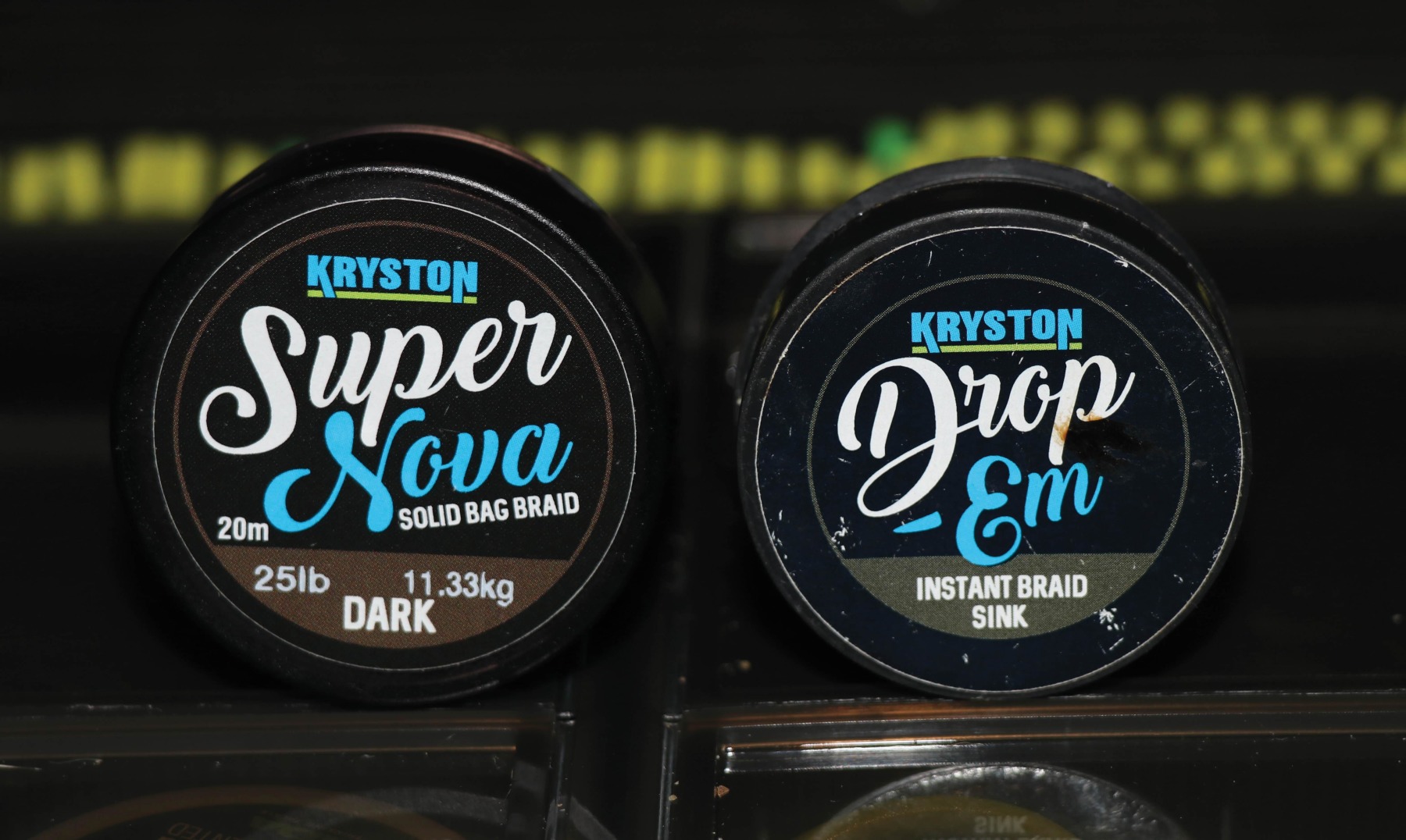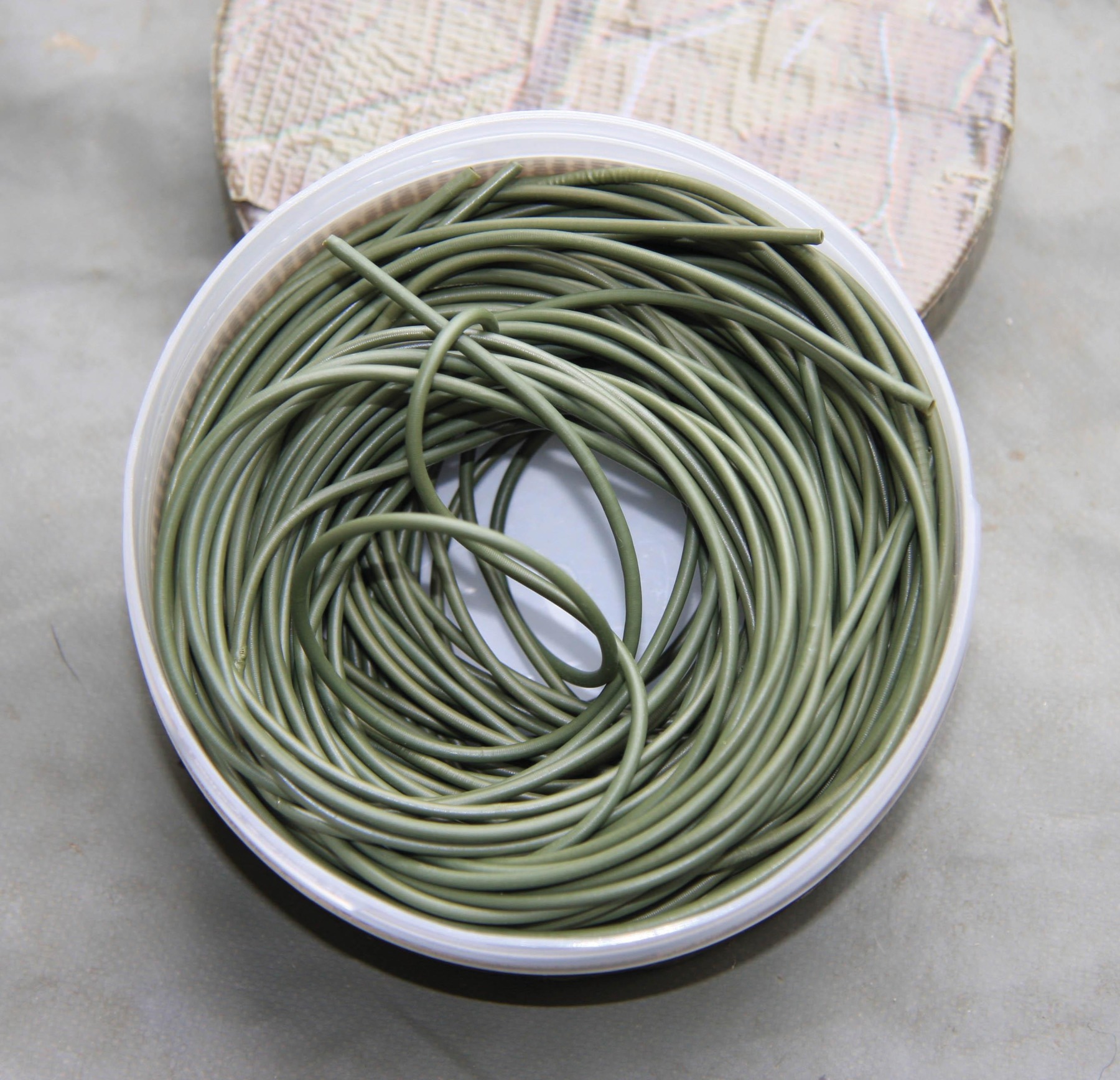 I don't care a hoot what other people say, I have long been a believer that longer hooklengths increase my chances of being successful with the bigger fish, and with that in mind, anything between ten- and fourteen-inches would be an average for me. That's not to say that my rigs do not catch smaller fish of course, but if I look at my results over a period of time, although I often think I should be catching more fish, I do seem to do reasonably well with the better-sized fish. I have no doubt that this approach costs me a few carp every year, but at the risk of repeating myself, I will take that any day of the week if my chances of the odd lump or two are increased.
I have always been totally obsessed about my last yard or so being pinned down around the hookbait, and to ensure this is achieved with Super Nova, which does have a tendency to loop slightly off the bottom, I always use a metre of the heaviest anti-tangle tubing I can get my hands on, and generously smear the whole hooklength with Drop-Em tungsten wax. I guess applying Drop-Em could be classed as a bit of messing around, but nothing is too much trouble if it enables me to present a Super Nova rig in the best way possible. Once treated, the braid becomes impregnated with tungsten and maintains its extra weight for a considerable period of time; so it's not as if you have to apply it after every cast.
All soft and supple braids are also traditionally fraught with tangling problems on the cast, but Kryston No Tangle gel, which stiffens the braid considerably and then dissolves in water, certainly makes life a great deal easier in that regard. It's simplicity itself really: put a bit of gel between your forefinger and thumb, and smear it liberally along the full length of the braid. The gel then sets, creates a stiff coating on the hooklength and then it reverts to its original soft and supple form in water. Now that's magic!