Tom's Tour Brasenose Bonanza!
Tom Maker returns to Oxford, this time for a 24hr tutorial, and some opportunistic angling ahead of a filming commitment. How did he fare? Well, once again, he didn't disappoint…
It certainly seems to be the way with busy venues at the moment, that the early bird catches the worm. With this in mind, I rose from my slumber at 4 a.m. and headed up to my old stomping ground, Linear Fisheries. After a quick pit stop for a much-needed hit of caffeine, I arrived at the fishery gates with seven or eight cars already waiting in line. This wasn't too bad, considering how busy the complex had been during the first few weeks after reopening.
READING THE SITUATION
The bailiff opened the gates at 7:15, and I was poised to head down to the Brasenose end of the complex, already knowing that was where I wanted to be, and specifically on Brasenose One. When it comes to picking the lakes, Brasenose One and Two always seem to be polar opposites. One will often fish its head off, whilst the other hardly throws up a bite. Timing, then, would need to be impeccable, if we were to enjoy success during my tutorial, and indeed immediately after, when I'd be fishing for myself.
It was due to be sunny, with clear skies and high pressure. This screamed Brasenose One to me, and (sorry!) Zigs. As luck would have it, almost everyone in front of me went to St Johns or Manor Farm, so I was pretty much free to choose as I drove to Brasenose One. I made my way along the nearside bank, and was fortunate to come across an angler playing a fish. I got out to give him a hand, and whilst dealing with the fish, I asked him when he would be leaving—you know, the usual talk. He said that he'd be leaving around two in the afternoon. On Linear you often have to wait in line. The fish were clearly there, so I decided to 'bucket' his swim, ready for when it was vacated later.
I attended to a bit of admin in the van, responding to messages on social media, and this killed some time. I then started to prepare what I thought I'd need for the days ahead, before my tutorial the following morning. Once the chap had left, I got myself plotted up in the peg, which, as a bonus, was a double swim. This suited my situation perfectly, given that we'd be able to fish nice and close together—although socially distanced, of course.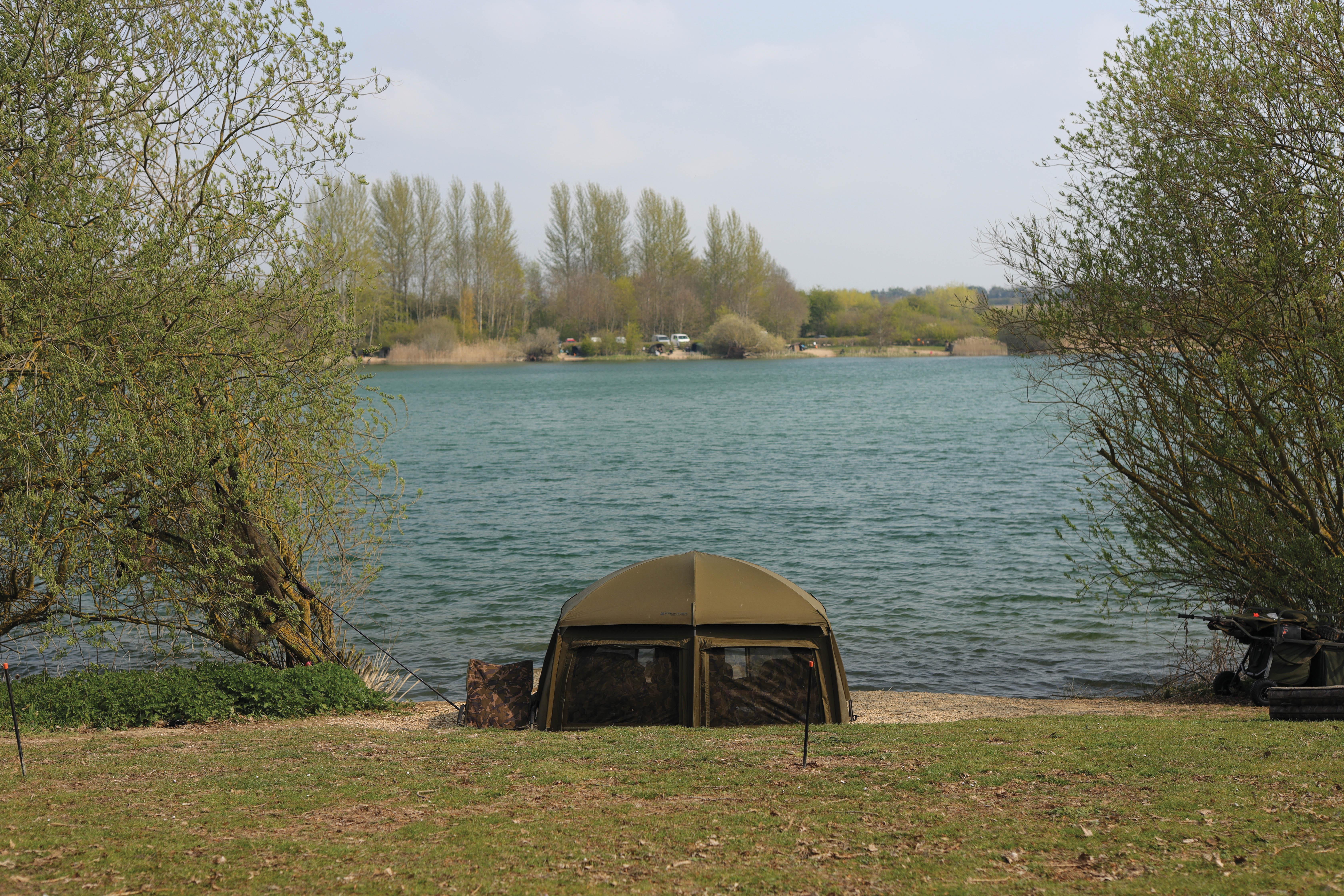 The first thing I did was cast the marker float out. I knew Zigs would be the way to go, given the weather forecast, so I needed to know the exact depth in order to fish them at the right length initially, before experimenting until the bites came.
The lad in the peg before me had caught using a Zig of ten feet, but for his session, it had been fairly overcast. Given the imminent change to brighter conditions, I knew the fish would move even higher up in the water. The marker float showed me that I had fifteen and a half feet of water to play with, so I tied off a couple of 12ft Zigs, and another of 10 ft. I cast them all into the same zone, and sat back to sort out the rest of my kit.
Now, this type of fishing isn't the usual baking-hot-weather–sloppy-spod-mix-over-three-Zigs approach. As the carp were just under the surface, it would be a case of trial and error once again, as things were on Willow Park. If I could work it out pretty quickly, with the forecast being fairly consistent each day over the session, I knew my tutorial would be a success, and that it would be a case of flicking the rods into the areas.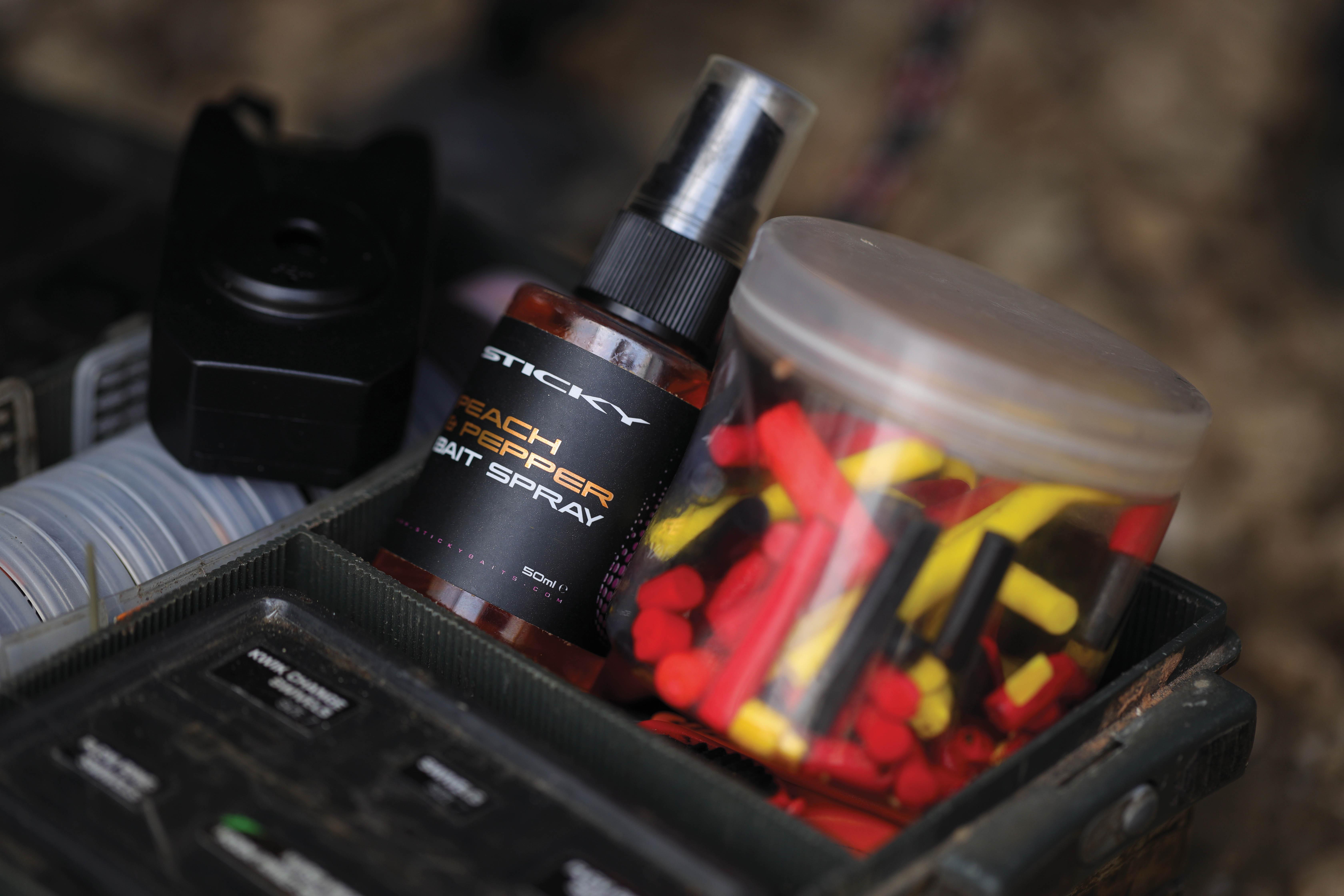 Once the bivvy was up, I switched over to a lighter line, just in case the fish were sitting at long-range. I see a lot of anglers make the mistake of going in hard with thick line on the Brasenose Lakes, and you often hear the dreaded crack of the line parting ways with the rod and reel, as they give it their all to cast in excess of 100, or 120yds. Your set-up is so important when it comes to this type of angling, as is the use of a shockleader to withstand the casts with lighter mono. Maybe this is something I can touch on in more detail further down the line, if the readership would like me to.
With the rods all out, and Herbs the carp dog fed and chilling on the bed, it wasn't long before the action started. Between about three thirty and eight o'clock, I had four fish. These were topped by a carp of 32lb, a great start to the session, bearing in mind that I wasn't really intending to fish it hard, rather wanting to save the action for Marc to some extent.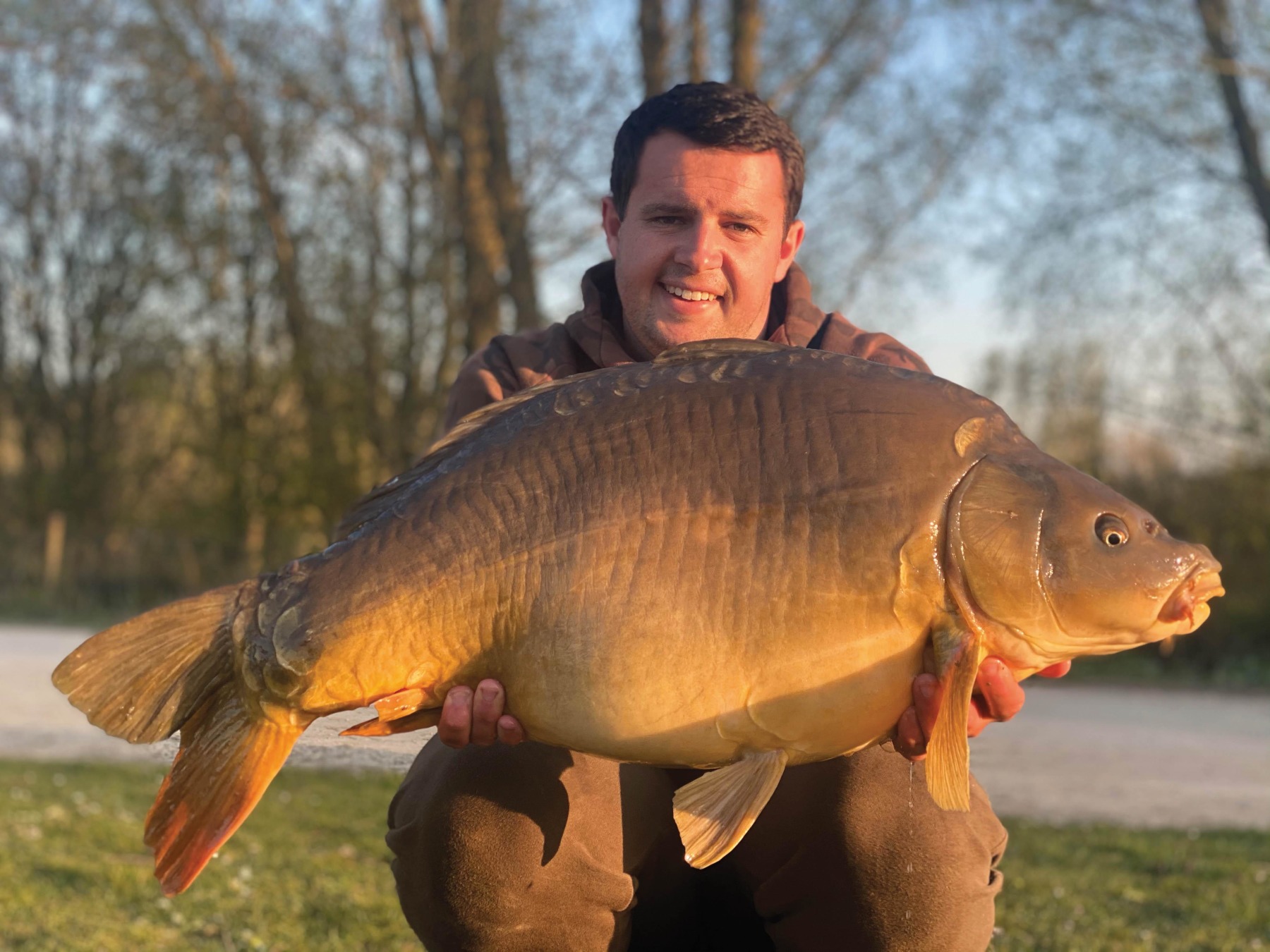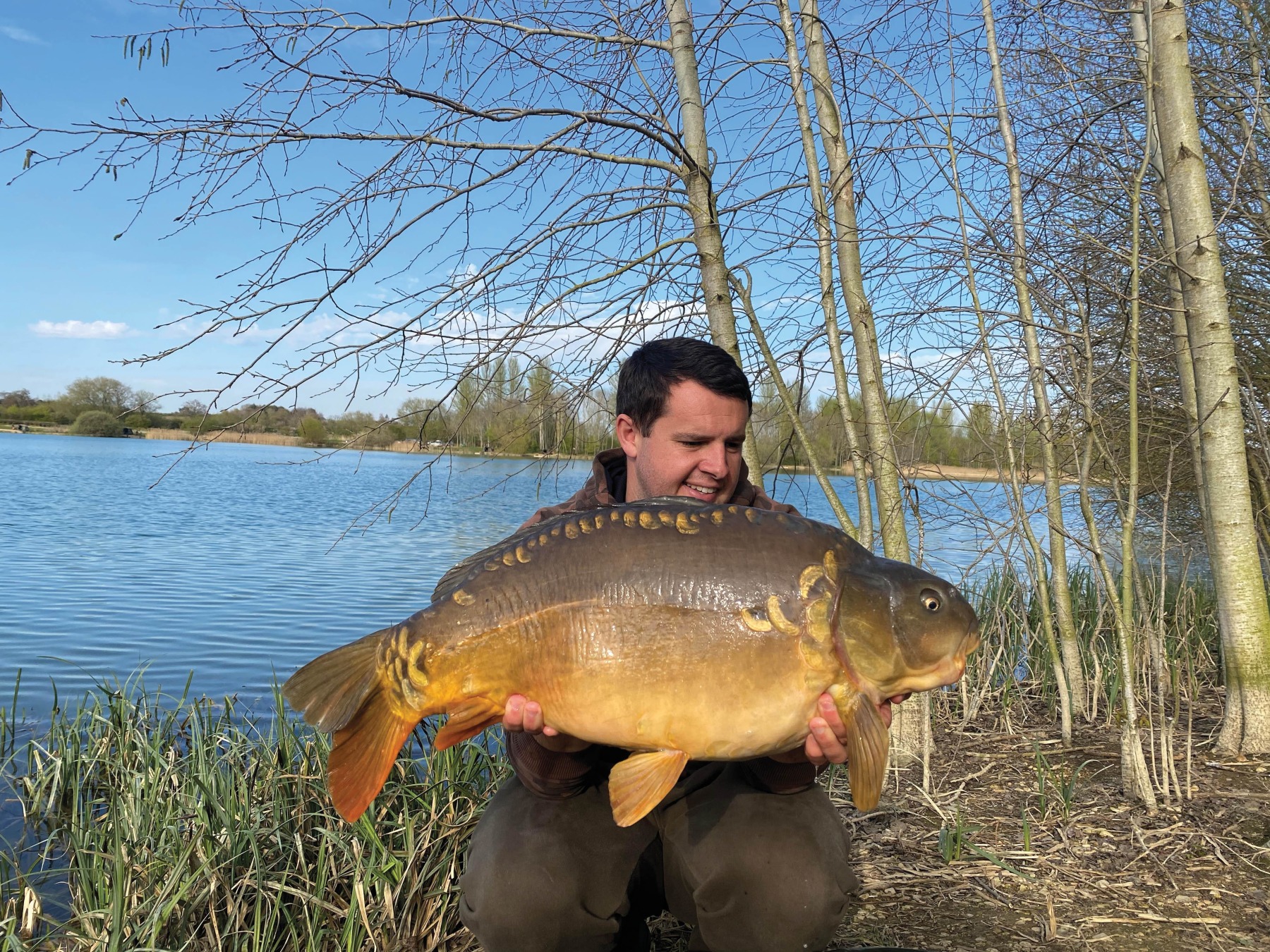 ---
10 Top Tips From The Session
Here are this month's big takeaways from Tom's session
1. Do your homework. I knew Brasenose One was fishing well, and I had etched a plan almost instantly after hearing what had been doing the bites.
2. Make your own luck. By helping the guy with the fish on my arrival, I managed to secure that swim which led to yet another memorable session.
3. Bait doesn't always come up trumps. Fish to what you can see, observing the water before making your decisions.
4. Work your Zigs. Although I did flop them out to some extent, I still varied the depths to get the bites.
5. Sleep is a priority! Even I didn't want to be up all night. Enjoyment and some good kip will help the following day, especially when you have a tutorial.
6. Balancing your set-up is a must. I could flick out the Zigs at range, with minimal effort, and also most of the time at the first time of asking—less disturbance, less pressure, more bites!
7. Study your surroundings. The hatch was clearly on after I found the larvae in the margins, hence no bites came from on the deck!
8. Enjoyment again! Marc had a great time catching multiple PBs; what more can you wish for on a tutorial.
9. Watch the weather. Dare to make a change if bites do slow, as you'll not lose anything by trying.
10. When fishing the longer Zigs, watch them like a hawk when casting, as you can easily tangle without realising, and if you're a little unsure, re-cast!
---
HEDGING MY BETS
With the weather due to be clear all night, I made the decision to stick with the Zigs. This is something I'll do if it remains clear, as in my mind, they can see the Zigs. It still puzzles me how they do so in complete darkness, especially as some anglers don't spray their foam with any attractant. I guess carp are inquisitive creatures, and the only way of finding out what something is, is by eating it! I wound in each rod and re-cast them all just before dark, to ensure that everything was set perfectly. With the onset of darkness, fish can sometimes alter their behaviour and favour different depths, so hedging my bets, I staggered the rods with 10-, 11- and 12-foot Zigs, in an effort to get the depth exactly right. I have to say, I was confident. I hit a few fish on the way down, which is always a good sign that you are right on them. It was black!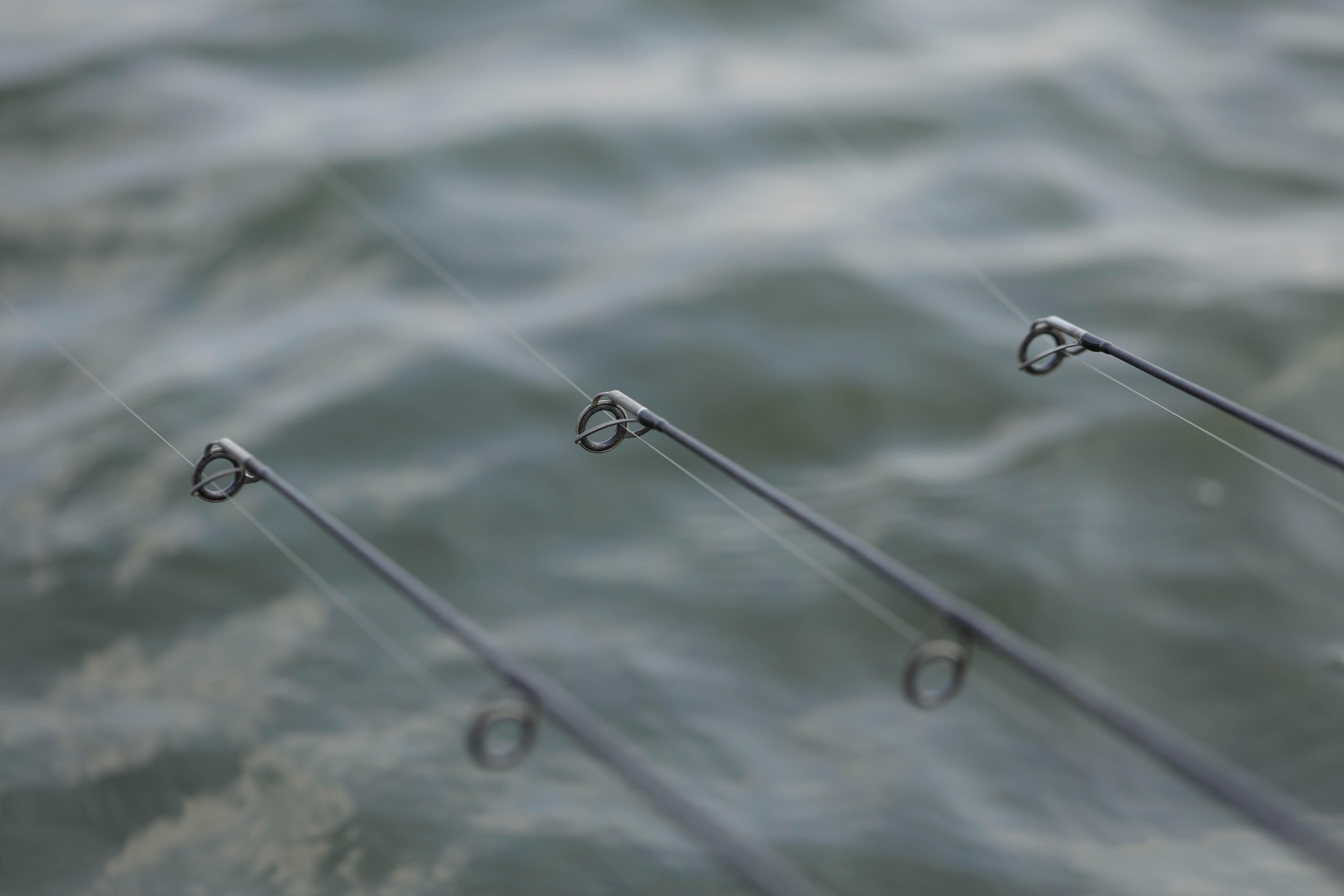 My plan was to hopefully get a bite on each rod, and then not re-cast. Then I'd have some action, but could also get some sleep ahead of the following day. By two in the morning, all the rods were back in, and I did indeed get a good rest before Marc arrived at seven, for the gate opening on Monday morning. By half past nine, all our rods were out and positioned in amongst the fish. The morning was lovely and warm, with bright blue skies, so I made the decision to stick with 12-foot Zigs on all our rods—the fish were certainly going to take advantage of the sunshine!
The day proved predictably hectic, and between 11 a.m. and 7 p.m., we had 15 bites between us. Almost every 20 minutes or so, one of us had a bite, a double-take or two thrown in for good measure. It seemed that the fish were super-tuned in to black Zigs, and as long as we got them in the strip of water in front of us, we were virtually guaranteed a bite! We never left them out for too long either. If we hadn't had a bite on a rod after half an hour, we re-cast it, just to keep the rigs moving and working.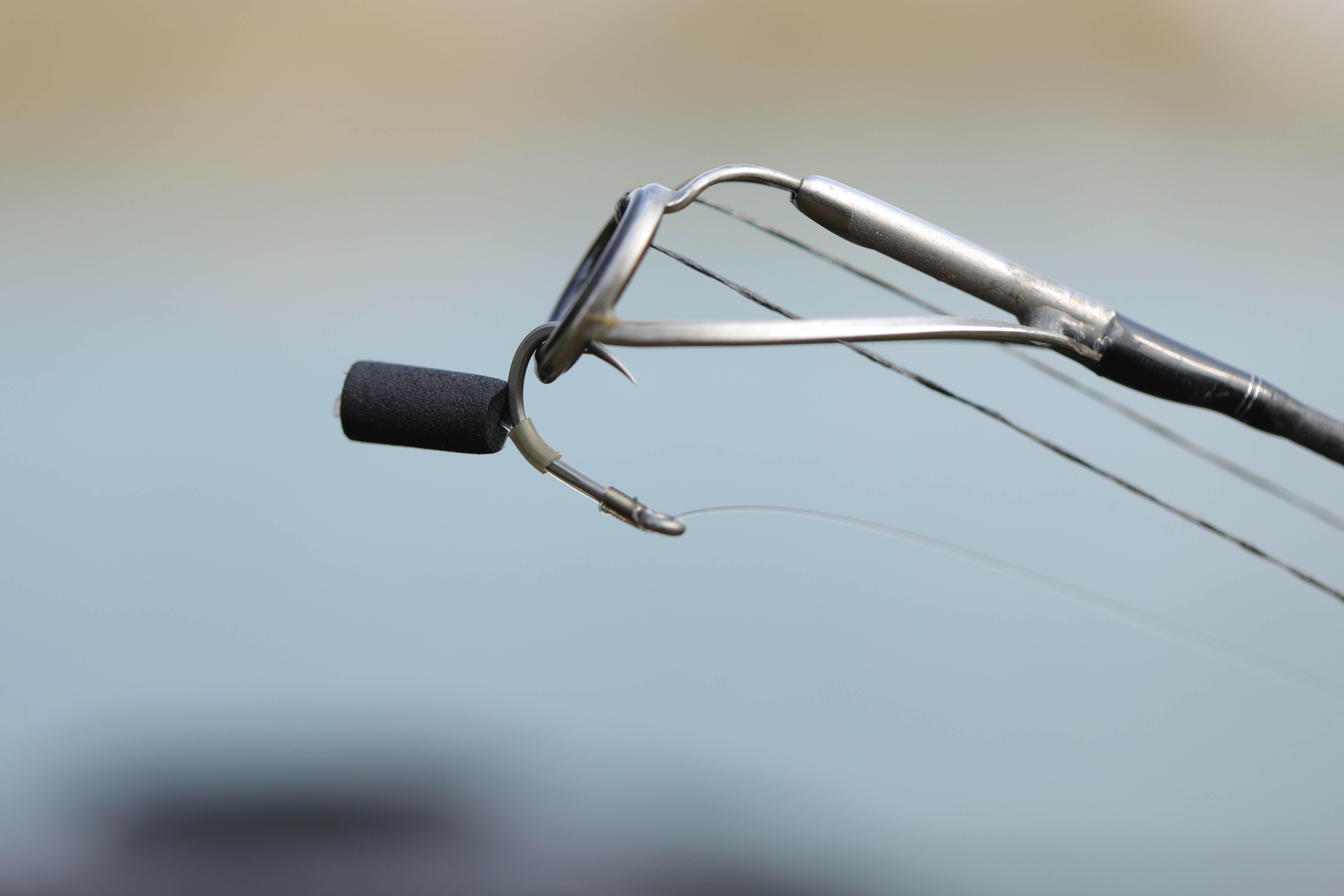 During the night, I decided not to fish at all, and to concentrate on helping Marc catch a few in the darkness. Yet again, we stuck to using Zigs, the weather remaining consistent throughout the session. He steadily chipped away at the fish through the night, and a first-light bite brought a new PB for him of 35lb, which was excellent to see, and what I do tutorials for. The fish tagged on nicely to his first common, which was also a new PB—not a bad few hours' angling at all!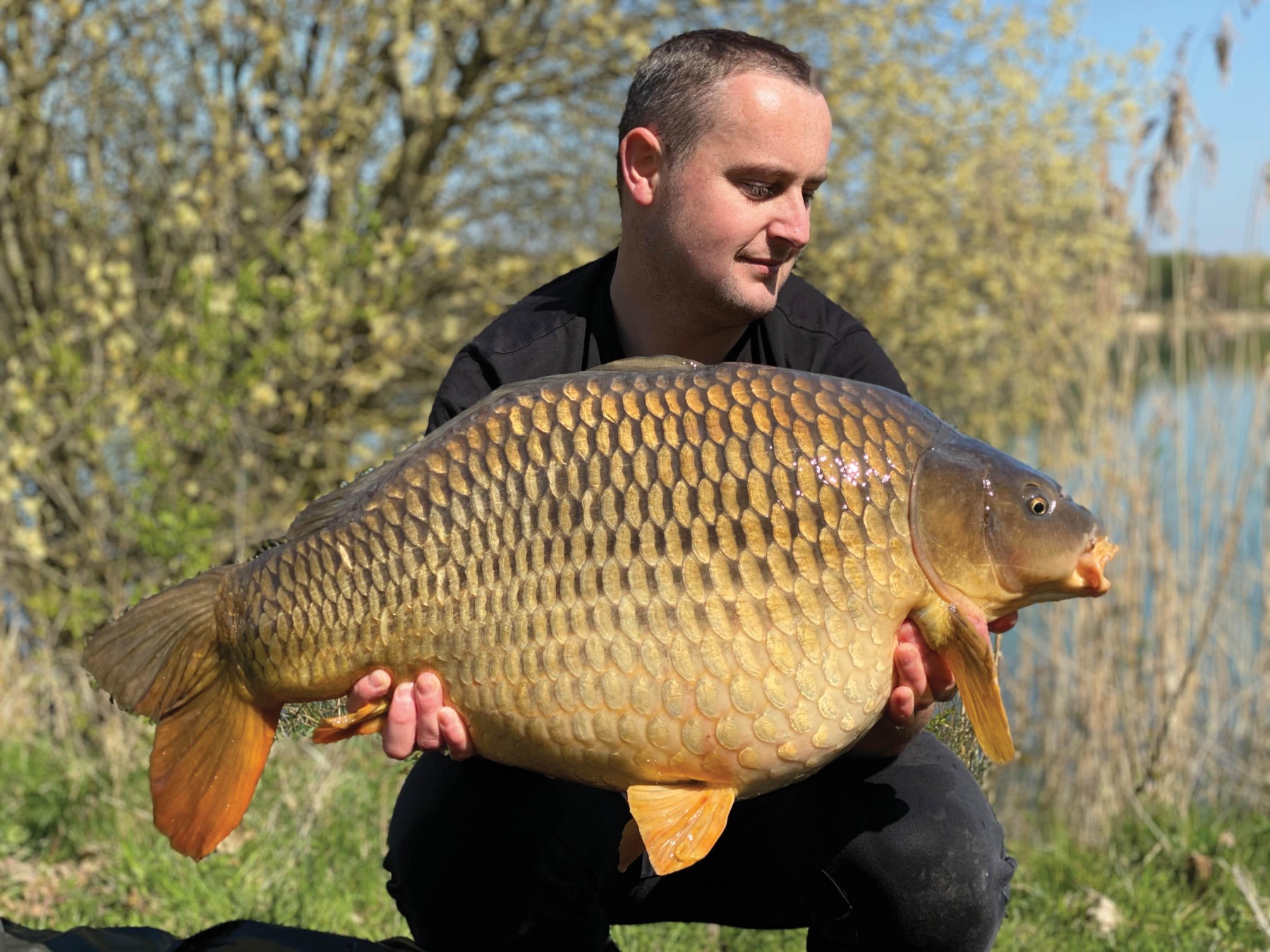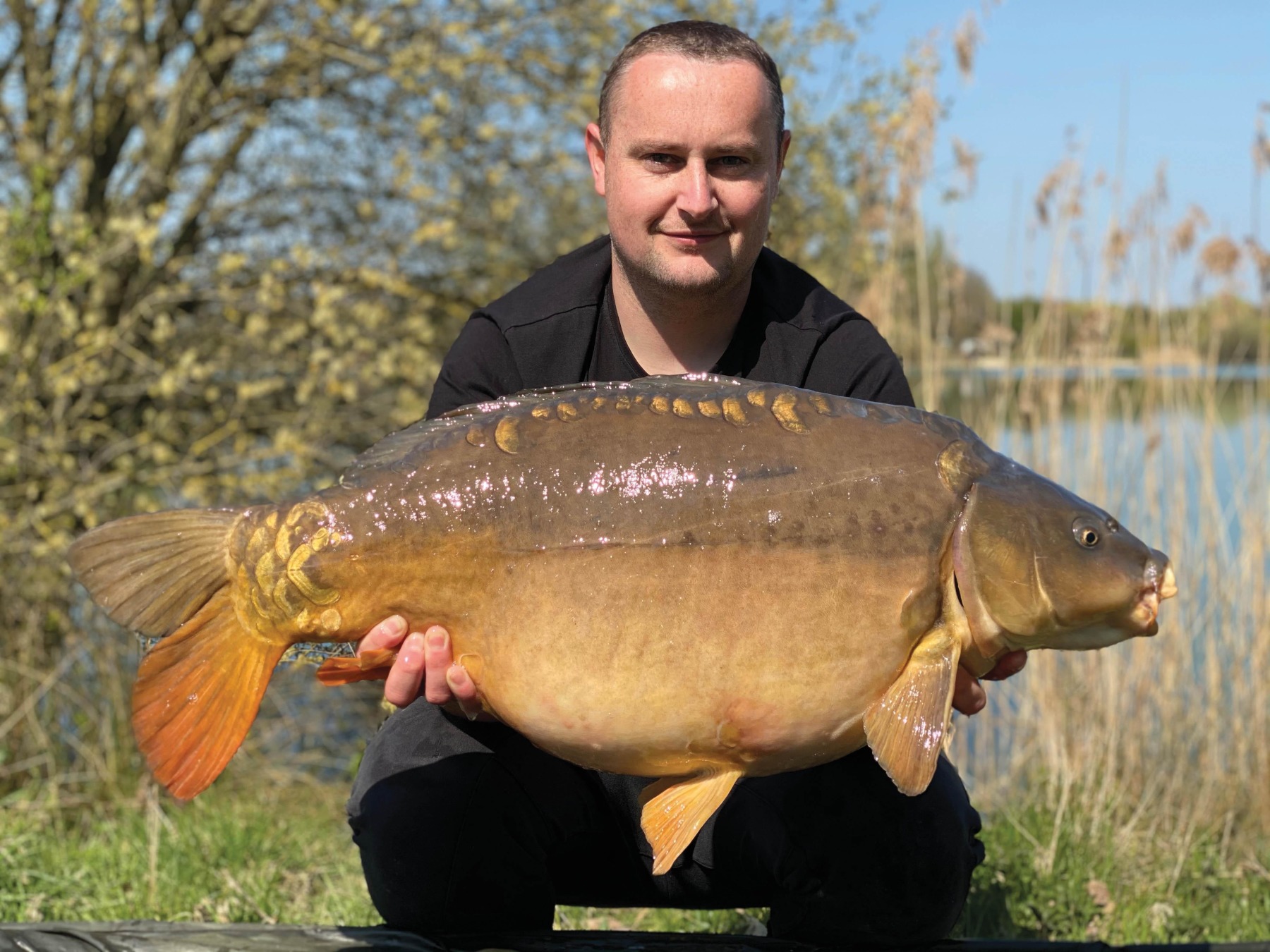 YOU HAVE TO MATCH THE HATCH
On the Tuesday, I didn't cast the rods back out myself. I nipped to the shop in the morning, and then moved to the swim next door. Even though the fish were clearly in the upper layers, I planned to put some bait out during the afternoon. I found a nice spot and flicked out two rods to it for the night, while keeping one on a Zig.
Unfortunately, the rods on the baited spot remained silent all night and through to the next morning. The Zig rod, however, was far from dormant! It went off five times during darkness, almost every hour, on the hour, from midnight right up until six o'clock on Wednesday morning. I could have, and really should have changed the other rods back over, but to be honest, being up every hour for fish was plenty for me! Sometimes, no matter what you try on the deck, you can't buy a bite if the carp are adamant that they're going to remain at a certain depth. For whatever reason, they just loved being in that segment of the water (for its warmth, I presume), and they wouldn't stray from it.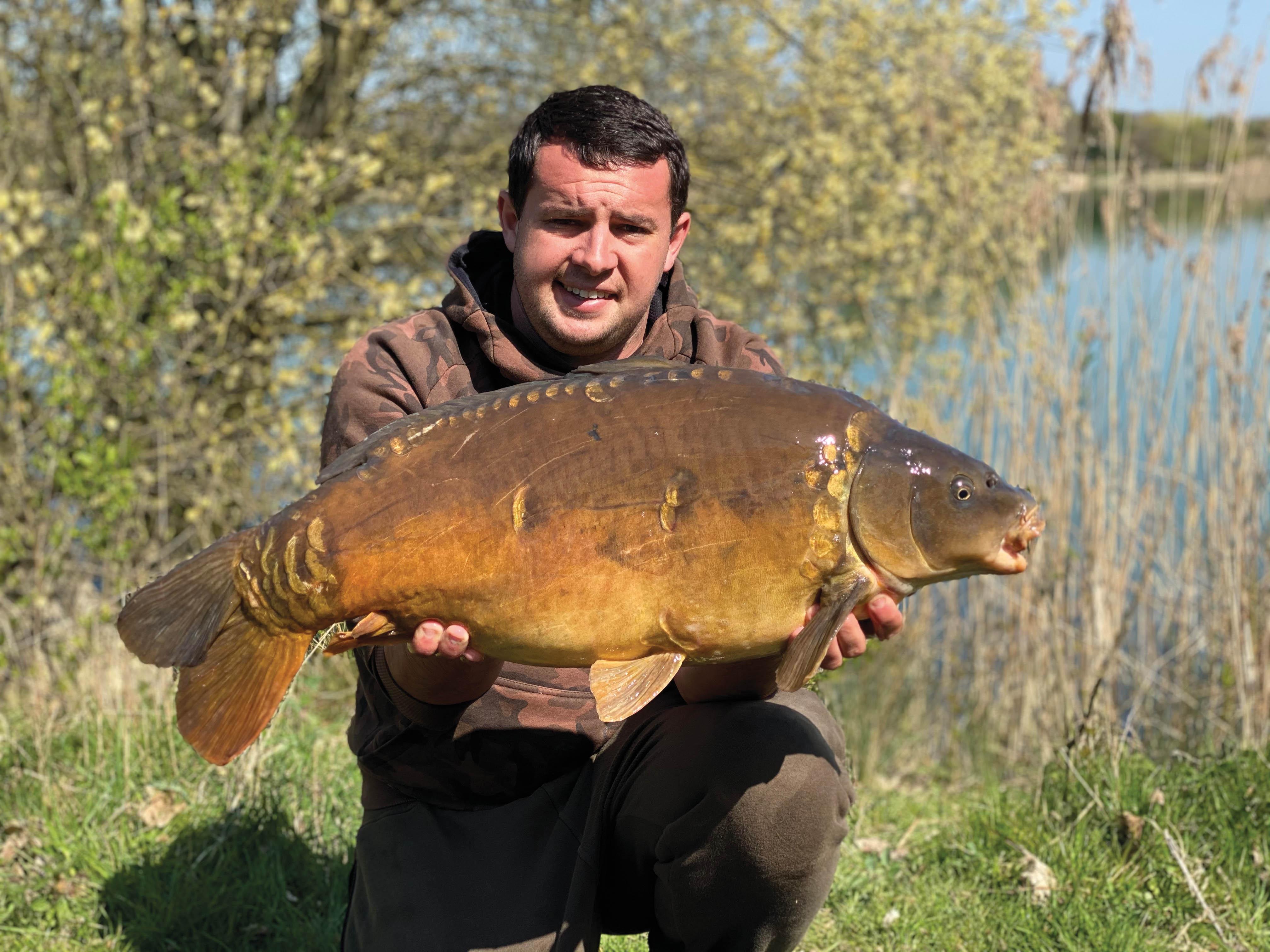 Wednesday morning brought a change in weather conditions, a fairly strong north-north westerly wind whipping up. It was noticeably colder, and the sun was covered by a thick layer of cloud. I swapped the rods back to Zigs, and that brought four more fish through the early morning period. They seemed a bit more spread out than when it was warm and sunny, though, with the bites coming to 10- and 12-foot Zigs. To be fair, a lot of the other anglers on the lake were catching fish too, many realising that Zigs were the key after quite a few had noted my tactics, and roughly what I was doing to tempt the bites.
I have caught hundreds of carp on Zigs, maybe even thousands, and throughout that time, I have always found that regular re-casting helps massively. Not only does this mean that tangled rigs are going to be less impactful on your session, but when fishing single Zigs, you can chop and change the foam, or just give it a boost with bait spray, which also makes a difference. I think the seemingly insignificant speck of foam becomes infinitely more attractive with a bit of flavour, and it ultimately brings me faster bites.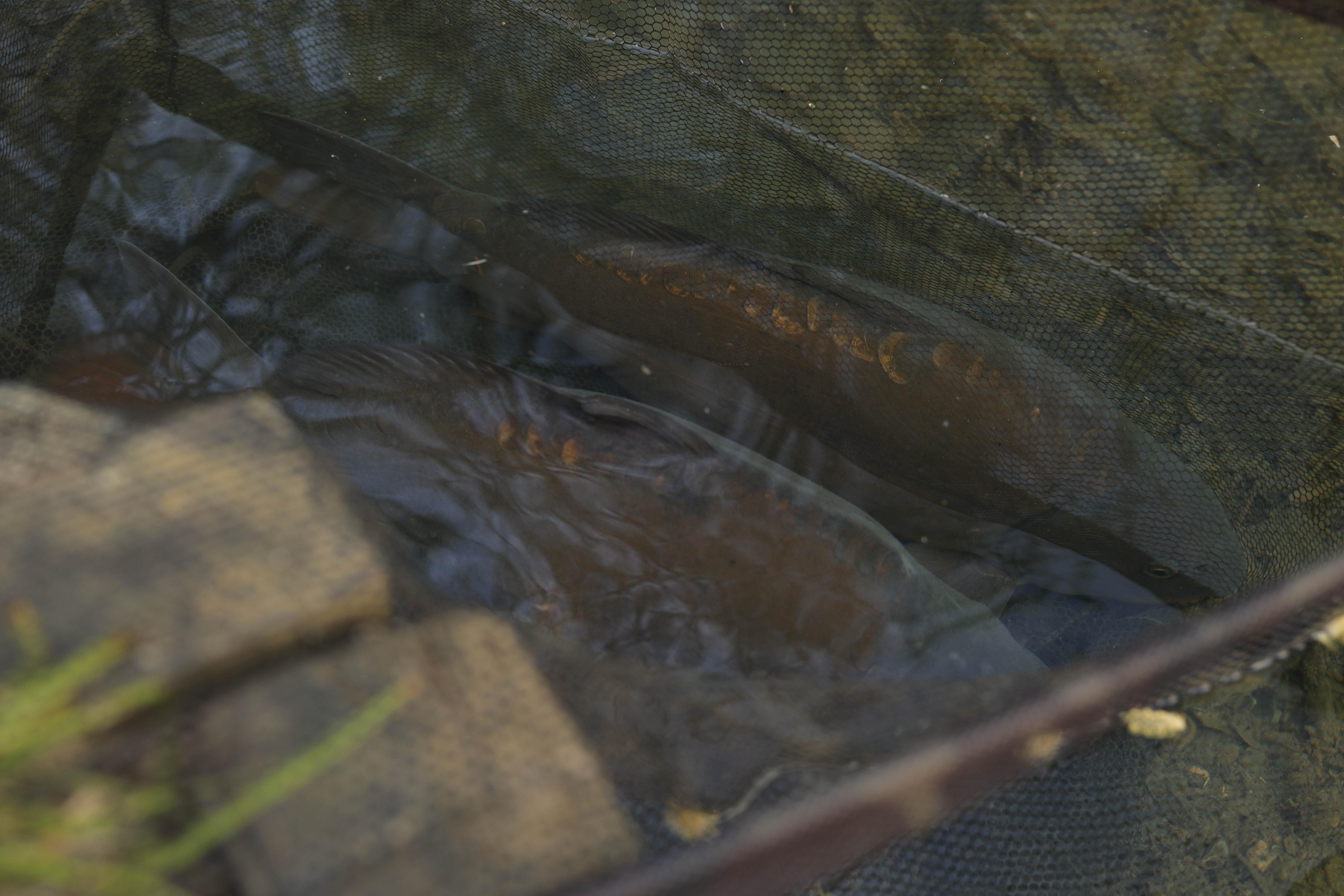 I had to pack up around lunchtime on the Wednesday, heading off to begin a filming project, so I was well happy with the result. I caught 25 fish in total. The biggest were a trio of thirties, topped by a fish of thirty-four pounds. Overall, the general stamp of fish was excellent. The smallest was around 18lb, and at least 20 were over 20lb—you certainly can't grumble at those numbers! Compared to the rest of the waters on the complex, the Brasenose Lakes give you a real chance of big fish on Zigs. You are just as likely to catch a forty on the bottom, as you are up in the water, unlike on lakes like St Johns, where the smaller fish tend to fall to suspended baits.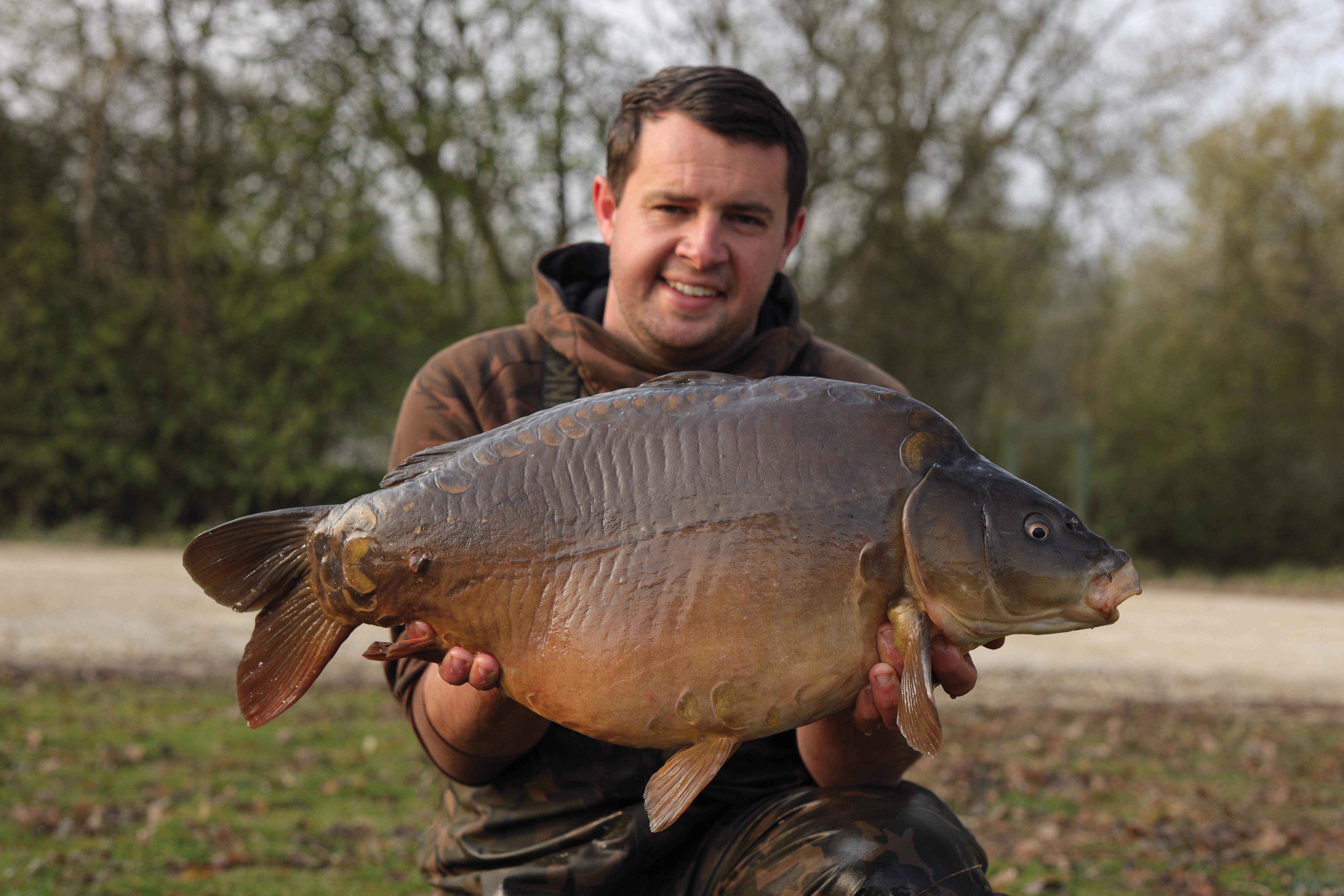 If you are heading out angling soon, certainly don't ignore Zigs, particularly black ones at this time of year. Whilst I sat there, the margins were littered with insect larvae casings, which were clearly what the carp were feeding on. As a fly angler will say, you have to match the hatch. And, as I proved by flicking out some bottom baits for the night, if you aren't where the carp want to be, even using a bait they want to eat, one that arguably dominates the complex, then you still won't catch them!
---