Tom's Tour... Northern Exposure
After his successful filming trip and debut for Pecky and Scott's CarpFix TV, Tom Maker heads to Pool Bridge Farm in York, for a crack at the venue's Q Lake…
After we last put pen to paper, I found myself sitting on the banks of Brasenose, having felt the Linear bug once again. After that first St Johns Lake haul, I seem to have been on a real roll with my angling, despite pretty much all of it being part of a commitment, be that filming-based, or product- or photography-related. I've squeezed in sessions on Acton, Hunts Corner and Manor, but my travels this month take me north, not only to see the boys from the Sticky office, but for an opportunistic visit to the lovely Pool Bridge Farm in York, and more specifically, Q Lake. Ahead of my trip, though, I was due to meet up with Tom Anderson for a spot of lunch, before Tom Gibson and I headed to the lake. It had been a long time since I'd seen Tom (A), and it was great to enjoy a bit of laughter as we caught up.
---
Venue Focus: Q Lake
Dug in 2008 and was stocked with handpicked carp, this uniquely designed lake allows anglers to fish from the central island. As of spring 2020 there are at least 5 30s and over 100 20lb+ carp, with quite a few of these pushing the 30lb mark. Showering facilities are provided for those fishing the Q Lake, and there are pizza, Chinese and Indian takeaway services that deliver to the complex. All pegs must be pre-booked using the online booking system. poolbridge.co.uk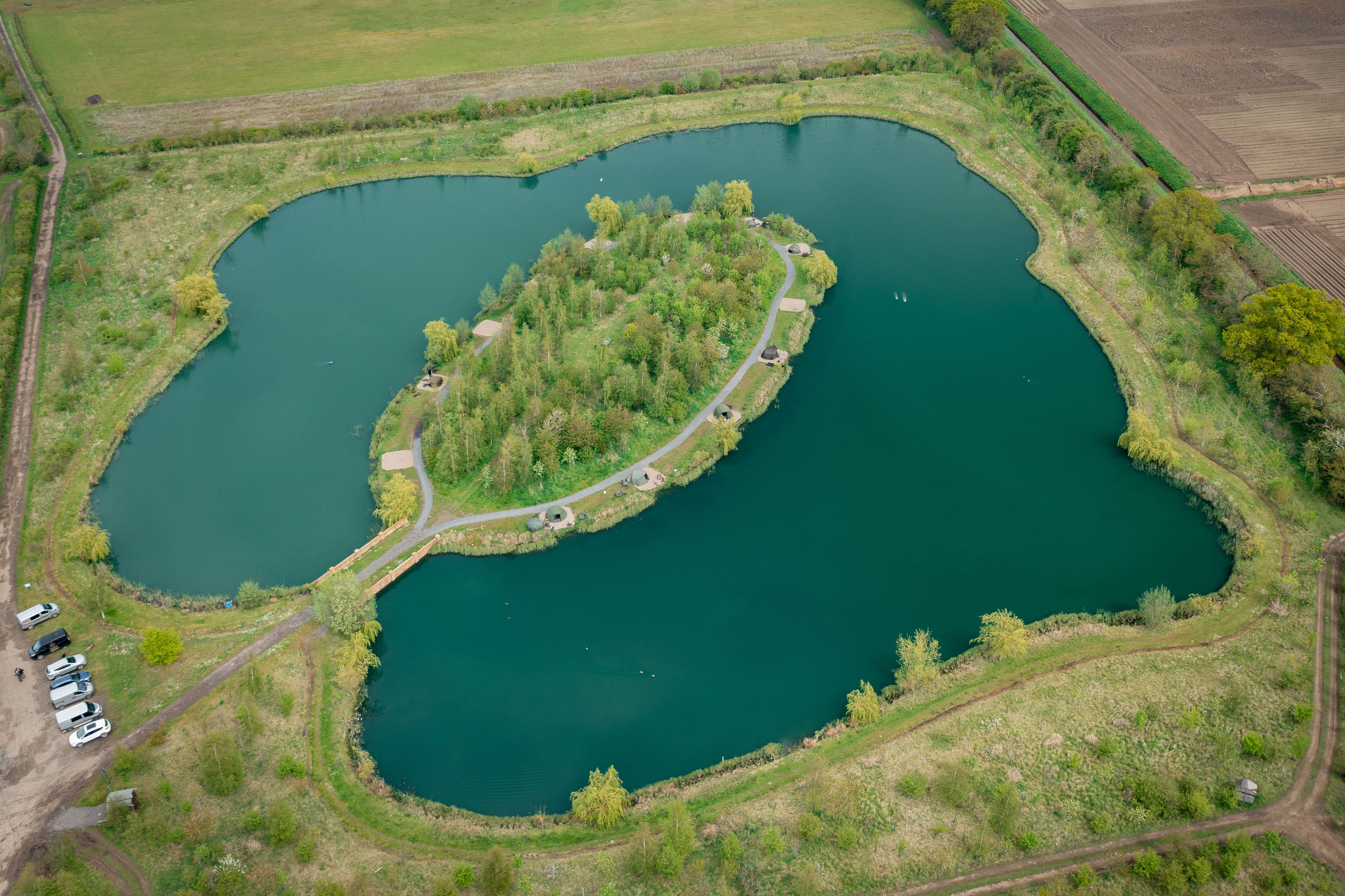 ---
THE SESSION
After stuffing my face with a lovely burger, we made for Q Lake, around a 40-minute drive from where we were, and with a view of grabbing some supplies on the way. Weather-wise, it was looking good—even up north!—with low pressure, warm nights and south-westerly winds forecast—the timing couldn't have been any better, to be honest! The odd heavy downpour saw me anticipate, and indeed dread a wet start to the session, the mother of all storms coming over as we made our way to Morrisons. Fortunately, though, this proved to be just a flurry, and we continued on to the lake.
I had visited the lake once before, around a few months ago when we began this series during the days-only period. It hammered it down all day, we hardly saw a thing, and where the fish seemed to be showing, we couldn't get near. I was keener than ever, then, to get my revenge on the venue after that abysmal first outing! It was absolutely freezing too—any more excuses?
THE LAKE ITSELF
After arriving at the farm, we drove straight down to the lake. The complex itself really is top drawer. It has only a few match or coarse lakes on site, along with the newly dug M Lake. As mentioned earlier, the one we'd be focusing our attention on this time around, however, was Q.
The fishing on Q is pretty unique, and I believe I'm right in saying that the water is the first of its kind in terms of layout. A bridge takes you onto an island in the middle, and everyone fishes from there to their water in front. This not only benefits the angler by having his or her own slice of water, but the carp also have 360 degrees of movement around the lake without barriers. You're not looking across the pond into someone else's bivvy, or sharing the same water as someone else. Each peg has a clearly marked area that's your water, and you do as you please with it; it really is a great set-up that Mike has created.
The lake being a members' water with a booking system, Mike had kindly allowed us to reserve several of the remaining pegs in the hope that we'd enjoy some success. As with all new lakes, our first point of call was the water's edge, where we looked for signs of carp. It didn't take long before several fish gave away their whereabouts on the end of the wind. They made it pretty clear from the off, that they were liking that particular area, and fortunately, we had booked the three remaining pegs at the same end. Fifteen minutes passed, with several more shows during that time, all spread around the bay in front. That was enough for us to take a steady stroll back to the van to grab the gear, ready for the afternoon and evening ahead. With the carp clearly around, I wasted no time in getting a rod flicked out to the area of activity, before I then set up camp for the evening.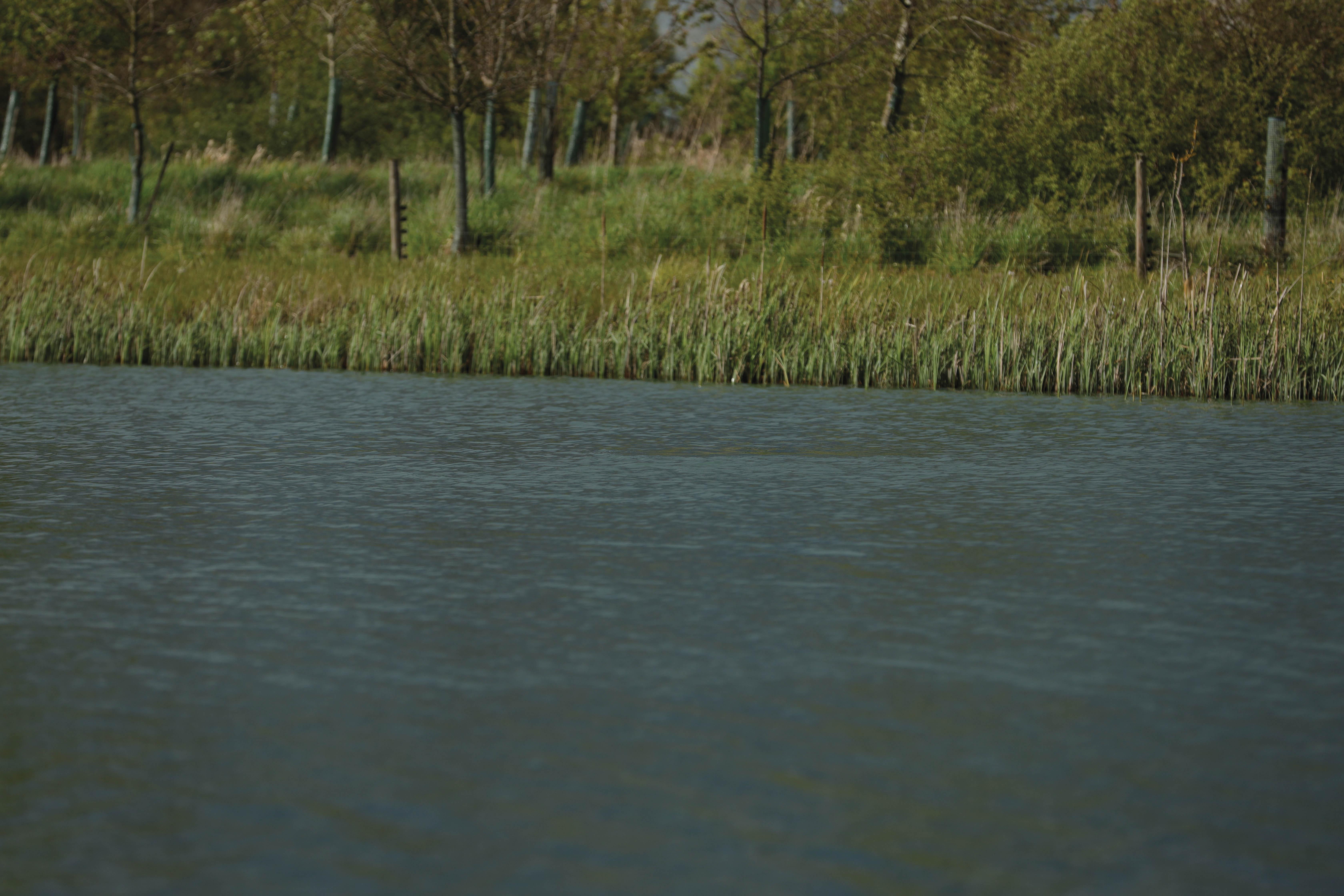 BE 110% HAPPY…
By the time I'd got myself sorted, it was well into the afternoon, as I started searching for some decent areas for the rods. I'd been told that the venue is pretty choked with weed, but its growth had been held back slightly this year after the introduction of Blue Dye. Finding the right spot to present on, would therefore be crucial.
The far margins were where I started with the leading rod, and at first, my weight went down with a half-decent thud. It came back clean pretty much every time, but I could feel a slight resistance as I dragged it back towards me. Most might just feel the drop and be happy that a spot is presentable, but I couldn't sit there with 100 per cent confidence, without also having a cast with the grappling lead.
I was casting as tight as possible to the far margin, as this is the place where a lot of the anglers said the carp like to use as their patrol route around the lake. A few pull-backs with the grappling lead confirmed my suspicions, inasmuch as there were a few strands of weed still growing that could easily cause a problem if I were to cast a rig amongst them, and especially so if it grew vertically. It wouldn't take much for a rig to get snagged, therefore hindering presentation. Whilst some might say that I thrashed it to pieces with the leading rod before I finally settled, everything needs to be perfect before I can present, and it doesn't matter how many casts it takes—one rod presented effectively is far better than three which might not be!
My left-hand rod was cast tight to an overhanging willow—this was actually a spot from the peg next door, but with that free, I spread my rods more. The second was sent towards the reeds in front, and the third shorter, to a shallower bar which seemed to run through the middle of the lake. I had been told about a spot called Matt's Pads, but I think I was in the wrong swim to fish it. The three rods had all been placed in areas of varying depth, just to hedge my bets.
We'd planned on staying two nights if need be, but if we had a successful start, we'd also decided to wrap up the following day. Simple D-Rigs with Krill Wafters were cast to the spots, each accompanied by a decent hit of bait. With the carp clearly active, there was no reason why you wouldn't give them some grub in an effort to hone in on the spots.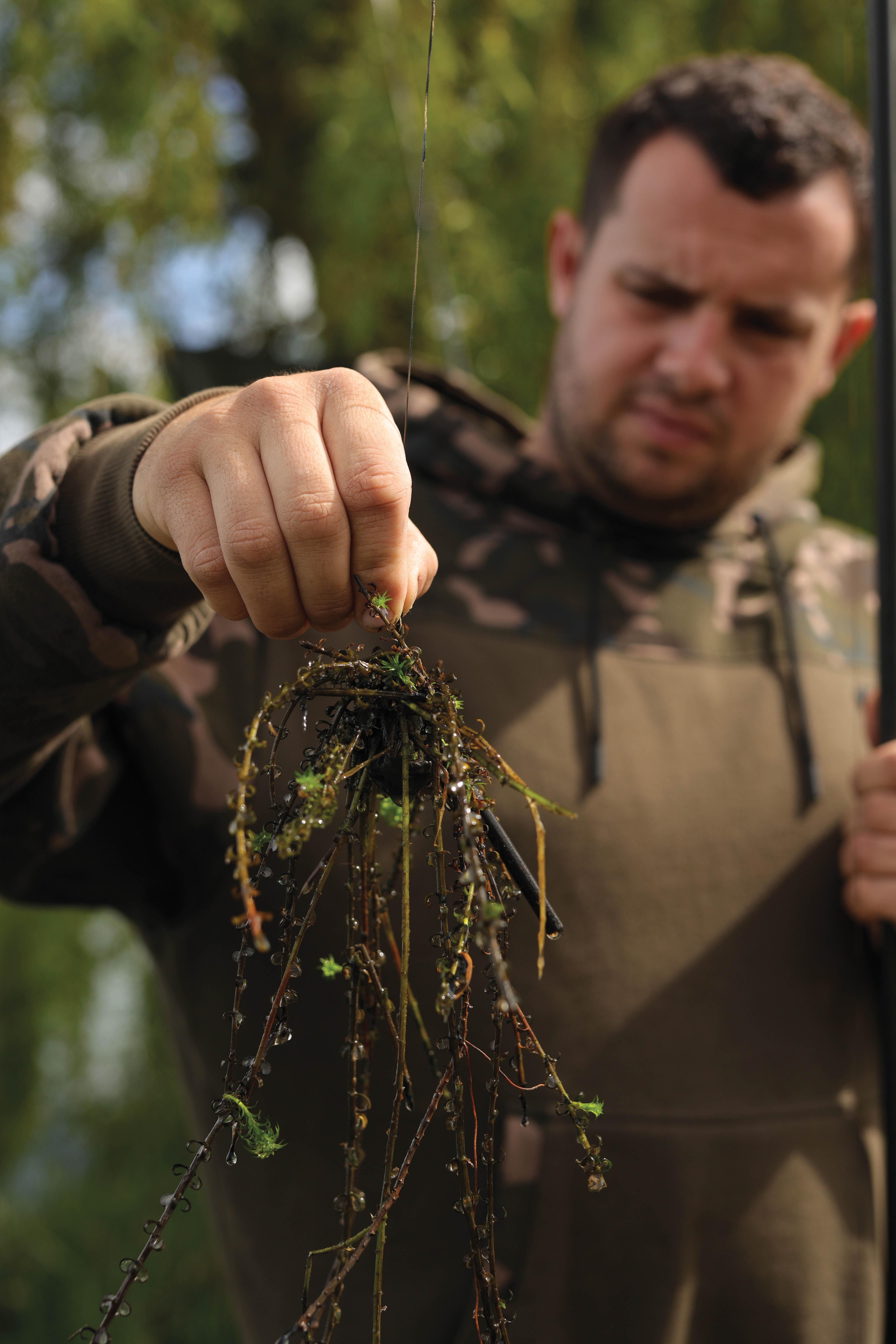 A venue rule worth mentioning is that it's a pellet/boilie-only water, so a little tip in these circumstances is to ramp up the attraction with liquids, but only where it matters. As I was using Krill Active boilies, there was no need to coat, or pimp, shall we say, the baits themselves, as they're already brimming with attraction; it's a case of merely using some soluble liquids that give off plenty of smell.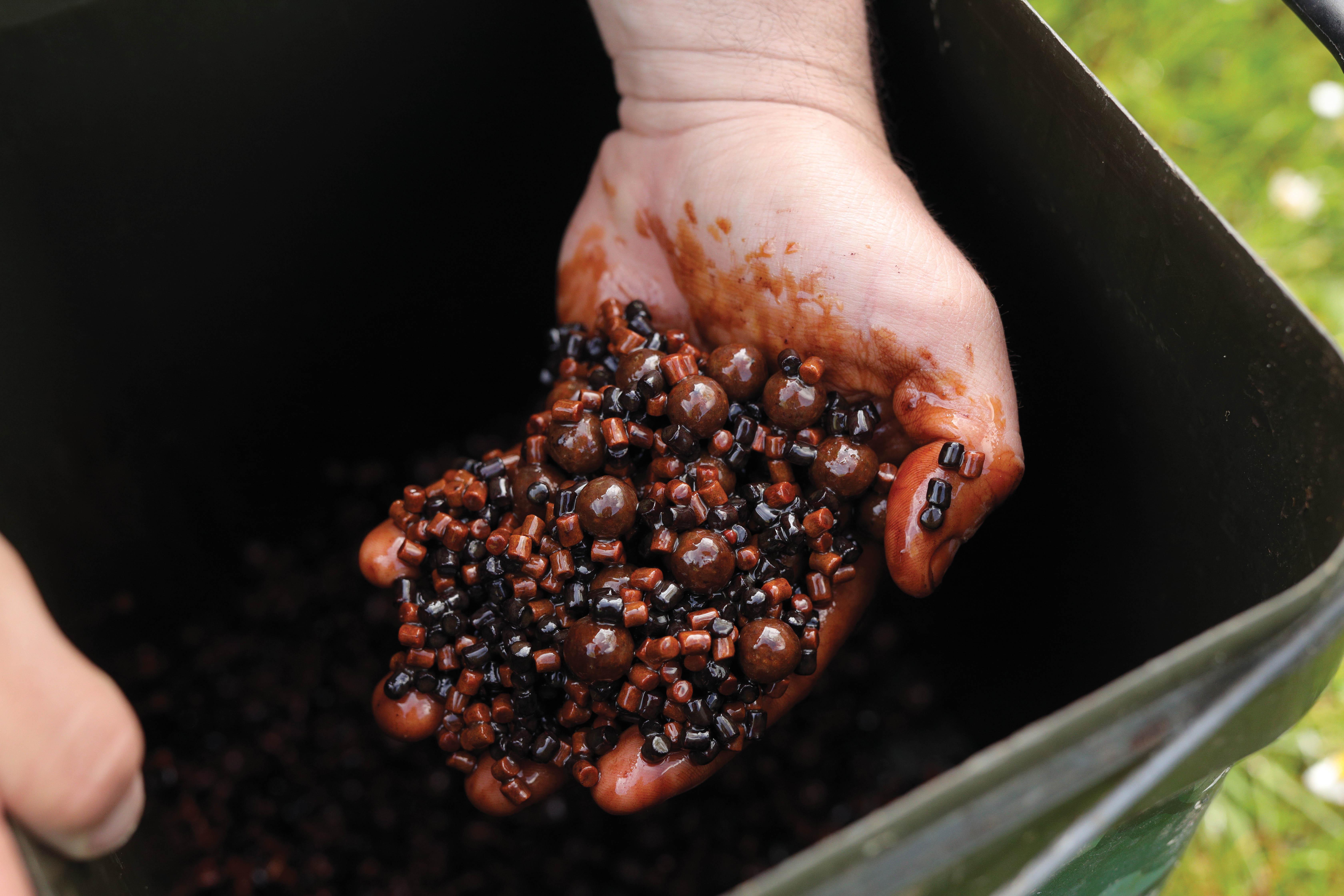 As the evening drew to a close, Mike, the owner, was fishing a few pegs further round, along with Tom who'd also flicked the rods out for the evening. The carp continued to show, but more towards Tom, who was to the right of me. The constant liners continued into dark, with all of us getting the occasional rise-and-drop on the bobbins. One I had, really pulled the rod around, but as the bobbin settled back down, I realised that it was just that, a liner, albeit a somewhat savage one.
Mike later joined us in the swim, along with a member called Lee, and we sank a few beers as we watched the sun set before us. I turned in pretty early, as the travelling had caught up with me. It's some slog to Pool Bridge from my house down south, so I was eager to catch up on some zeds, in the hope that the usual bite time of first light would arouse me before my alarm. I couldn't believe how warm it was; the nighttime temperatures in the preceding weeks had been pretty low, but those we were experiencing were into double figures, and the carp were clearly very happy about that too.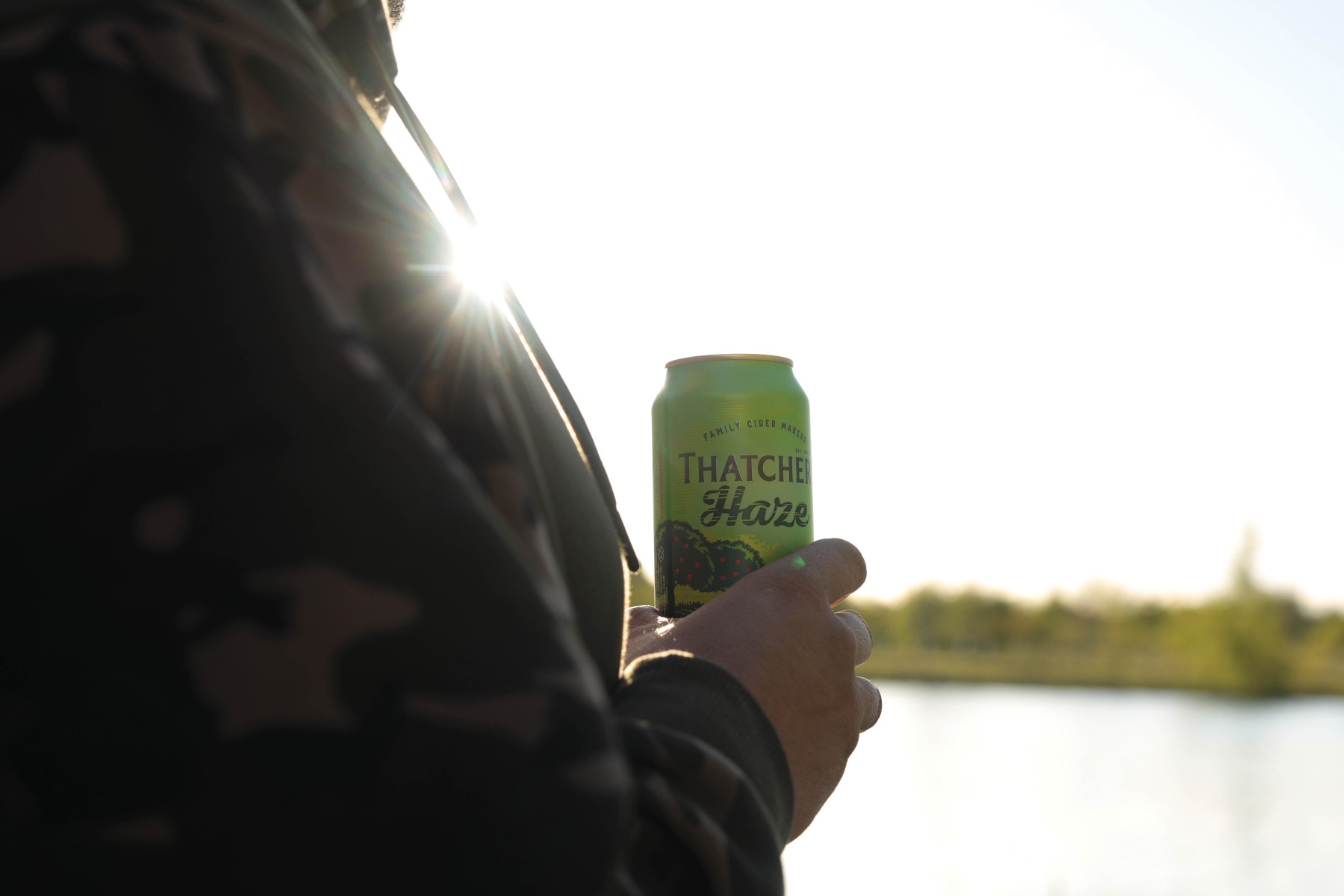 INTO THE ACTION…
The night soon passed, and although the liners continued, no bites came my way. Just on first light, however, and as predicted by the other anglers, the action began, as the rod underneath the small willow tree went off. Straight away the fish kited left, and it felt half-decent too. It's only around eighty yards to the far margin, but when they kite as this one was doing, they always feel better than they might actually be. Eventually, after a decent fight under the tip as it got ever closer, it rolled into the net. It looked like a twenty-pounder at least… happy days!
I secured it in the net ahead of full light. I knew Tom wouldn't be long with the camera, as I'd already seen him about, catching some shots of the sunrise. I slipped back into bed for another twenty minutes, before Tom duly arrived to see what I had. He'd also managed one on first light too, one of the older commons in the lake at 16lb 8oz, and a nice touch.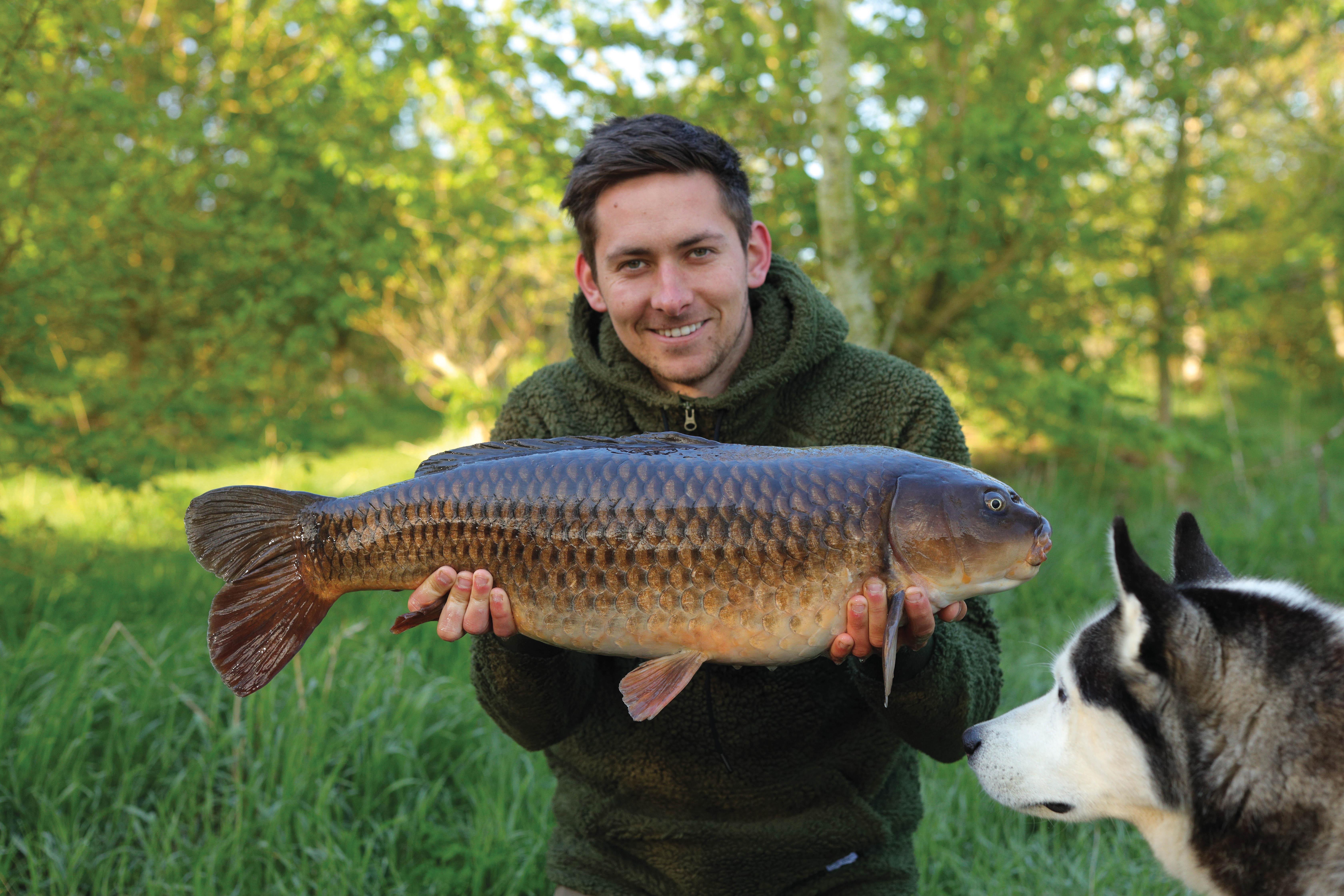 We then treated everything like a little bit of a social, without the serious side, or pressure to get the feature done. Every now and then, you just have to unwind, and it was nice to simply enjoy the session for what it was. Angling doesn't always have to be super serious; you can chill out and enjoy the moment, regardless of the outcome. I stumbled out of bed once more, and we rattled off the shots on the bank behind. The fish was a solid-looking mirror of 23lb 2oz, and easily the biggest fish I'd caught that far north, that's for sure! With the feature seemingly in the bag, the slight element of pressure was off, and we enjoyed breakfast whilst taking the photos.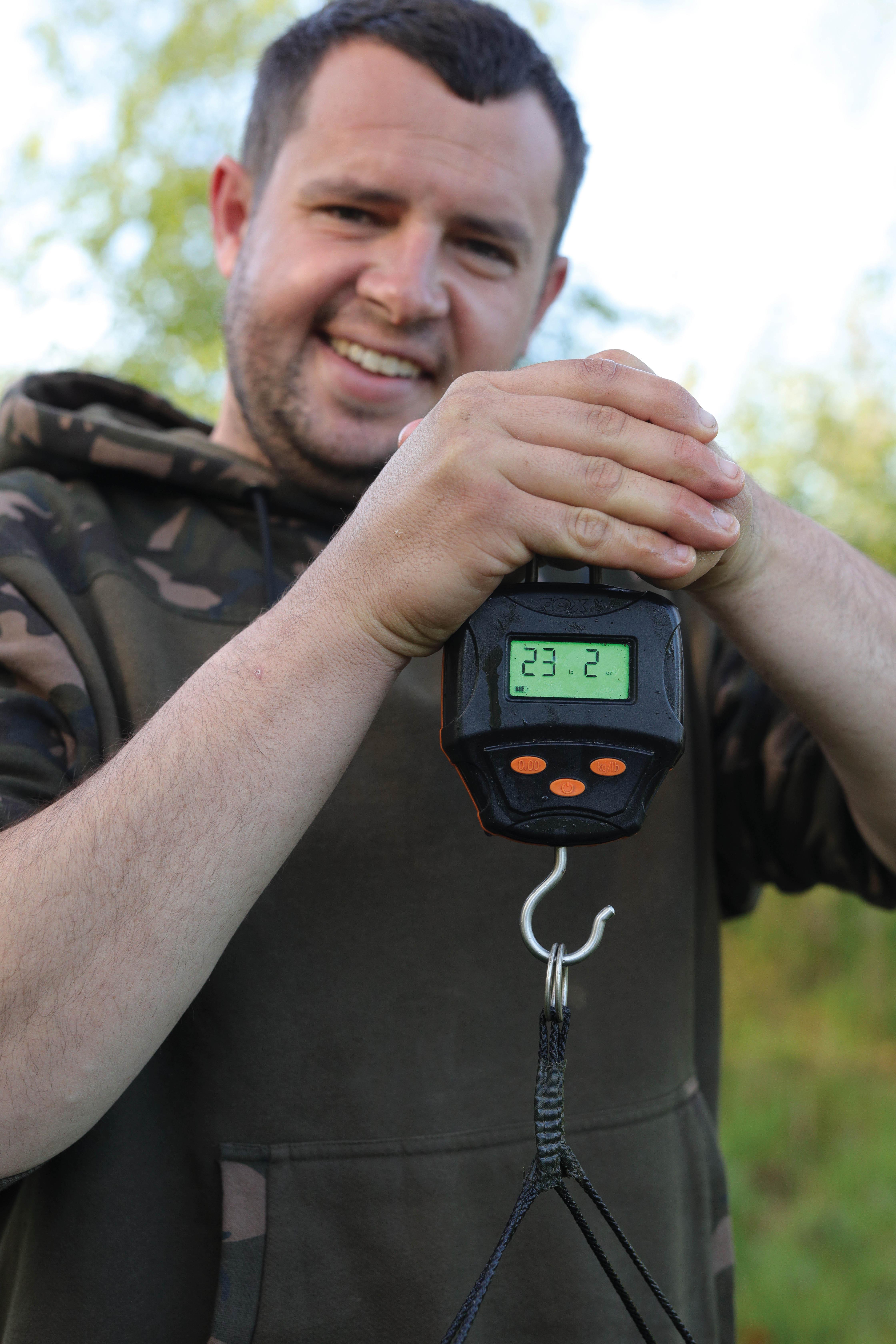 A VIEW FROM ABOVE
We both needed to stretch our legs with the dogs, so we went for a stroll after reeling in and clipping up the rods with a view to being able to get them back out as soon as we returned, and by the time we got back, the sun had risen above the bank and was beaming down into the far margin. The same willow looked good for a bite again, so I made sure that rod went out first with another good hit of bait. I don't think it was out any longer than 30 minutes before it was away again. This time, though, the fish felt really odd, and almost tench-like. It turned out to be a tiny common of around 4lb. It was, though, nice to see that the fish had successfully spawned, and that there'd be little or no need for stocking.
There are a few large cats in there too, so to avoid them too, as they've been growing over the years, is some achievement. Mike came around once again to see how I'd fared, and he was chuffed, of course, to find that I'd managed to get my revenge. My swim was booked from lunchtime, so we had to decide whether to move, or just call it a day. Tom's swim did look good for a bite, and the fish had pushed around his way during the previous evening and night, so it would have been good to head that way. In hindsight, I should have, but given the long journey back, and also that the feature was already done and dusted, we called it a day, returning to Sticky's headquarters before making the trek south with some bait for the following week.
With the gear loaded back at the vans, Tom sent the drone up for some aerial shots of the lake, to give you all an idea of where I was fishing, and of the lake's set-up—we'd chosen not to send it up during our fishing time, as it may have disturbed other anglers. What we saw on the footage was an abundance of fish at the bottom end where we were—more in front of Peg 7. All the fish, though, were just under the surface. Did this mean that a lot of the liners we were all getting were from the fish swimming through the upper layers? Potentially, it seemed, and it was certainly food for thought that an all-out Zig approach might well have worked. I know Mike isn't a huge fan of them given the weed, and with no artificial baits allowed, the approach would have entailed trimming down pop-ups. Maybe, though, I could've had more fish. Who knows? What I did know was that I was a happy angler, walking away with a lovely carp for my efforts, having spent time on a lake which I'll definitely return to in the near future.