Travels With My Carp Rods #2
This month our humourous writer became a modern-day angler: he used and caught on a Chod Rig and has written a 'CAC'
I like my quarry old. There's something about an old mare with a bit of history with it that makes the fishing that little bit more challenging and exciting. And if the water's got some history to it, all the better (although the two invariably go hand-in-hand).
It's the same with pike angling. Being lucky enough to live in the centre of Broadland, the area's steeped in piking history and a session on one of our windswept, bleak Norfolk Broads can get the hairs on the back of my neck standing up thinking 'what the hell is out there?' or 'this area did a bla... bla... blah'. And with my carp angling I love to look over the pit, river or broad and think, 'What the hell could happen tonight?'. It's what keeps me going.
But sadly, these waters are getting pretty thin on the ground locally, and I guess nationally. And new ones aren't really appearing any more as waters aren't stocked the same any more. While it used to be roach, bream, tench and a few carp; and those few carp growing-on to become the mysterious leviathans and characters of the water, it's now carp, carp, carp – and carp. And the breeds of fish don't really offer the same allure. True, there's still one or two waters that are managed with a passion and view to producing a 'proper' fishery, but on the whole, this has largely been forgotten in the angling world's pre-occupation with carp. Fisheries used to be set-up as 'mixed fisheries', but that seems to have died a death nowadays with indigenous (that's something an aborigine plays) species ignored in favour of seemingly more glamorous residents.
It dawned on me that the majority of waters I've enjoyed fishing are only there by accident. The fish have just happened to be of the right stock or in the right environment to grow large. They may have got there by initial stocking, escape or got moved. 'Moved?!' you say. Yeah, while it's frowned upon now (for good reason), it used to happen all the time and it's responsible for many of our favourite fish prospering where they are.
I've just started my eldest angling. Okay, I told him there was a catapult involved and he came along, but angle he did. With a bit of help he managed five roach and his constant 'pulting of bread ball saw some carp start taking... And he crowned his afternoon with a common of about 5lbs. 'Better than birthdays' was his description. The next time I took him, he wanted to go straight for the carp. While he got one, he wasn't as happy as he'd caught less. Which reflects in a way my thoughts towards the preoccupation with carp maybe being a little unhealthy sometimes. And that's not a rant, just a situation we should all be mindful of, and me getting a bit melancholy in my old age.
"I love to look over a pit, river or broad and think, 'what the hell could happen tonight?'."
It's one of the sort of waters mentioned above which I've just had a bit of a tickle on. I'd fished the water on a few occasions in the past, but never got the bit between my teeth and got properly stuck in. I'd been given a bit of a swerve from someone regarding the water, and it certainly hadn't featured in my plans. In fact, I'd dedicated the close-season (I still think like that) to getting my new boat sorted and fitted-out for my river angling.
It was on returning from the session with my son that I looked at the water again, and really fancied it. I realised that I'd fished there enough, despite not really getting going, to fish with some confidence I was doing something right. The wind playing over the bars in the sunlight just looked right, ya know? So I started trickling in a little bait and explored a few new areas. The regulars were very welcoming and I started to really enjoy what few short sessions I managed. In fact, it became apparent that the 'swerve' was because the previously mentioned had stuck his foot in it on the water, and had left with his tail between his legs.
I was baiting one area where the crispy bars gave way to silt and chod before weed. And lo-and-behold I managed a 23lb 12oz scaly mirror from the spot on an early session. I was testing a prototype 'free-um' sack at the time... Okay, it got out of the onion bag overnight. There's nothing sadder than pulling in an empty sack in the morning, my face going from happy to sad in seconds, like the old theatre signs!
While the capture means nothing to no-one, it was a monumental moment for me. It was my fist ever fish on a Chod Rig! What's more, it was my first on a hook I'd sharpened. Suddenly my tail was up, I'd had my first fish and I'd become a modern-day angler: I'd had one on a Chod! I should add that I've not baited for Chod situations previously, hence not using the method. I'd used it, and the sharpening because I suspected the few plucks I'd had could be fish getting away with it on the rigs I was using, and the Chod seemed a good way of pinning it to the deck (I'd been fishing criticals), and presenting a bait effectively out there.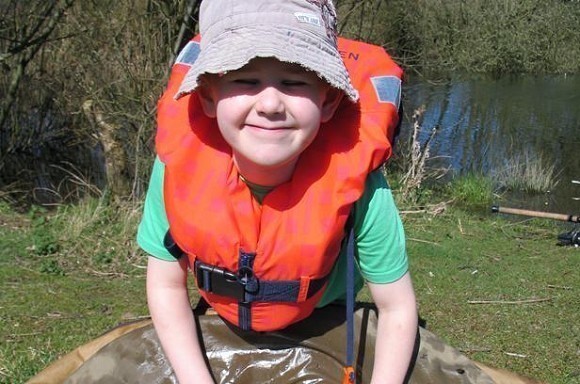 "It was a monumental moment for me: it was my fist ever fish on a chod rig!"
I fished the same swim on my next overnighter. Keen to get the baits out before dark, they all hit the spot first time. After calling an old mate of mine Dennis, who I started carping with, for the first time in years and having a chin wag (cheers Den for ruining my life) I retired, gunning for 1-2am which seemed like take time, as had a couple of the fellas down there agreed. It ripped-orf at 10.30pm. In a strange state of calm, I slowly slid the fish towards me, I find that gently persuading them in they tend not to mess about too much. After a bit of argy-bargy in the weed the fish was very well behaved and I netted it first time. I slid on the torch and immediately recognised the fish as the forty! Fifty-years-old, battle-scarred and beautiful. Steeped in history and with a story to tell, she equaled my English PB to the ounce. Lully!
A local mate popped down and did the honours at a ridiculously early hour (massive thanks 'S', you wouldn't want to be mentioned here!) and we chatted, enjoying the morning until I had to leave for work.
So I've now had two fish on Chods, one a bloody forty! And I've written a 'CAC' (Came And Caught). Aren't I the modern angler! I'd show you the pics, but you know what a forty looks like. So here's my Alf and what's important, a smile.
Footnote: John Hannent's barely anticipated publication 'Chod God' is being laser-printed as we speak. This all-encompassing, three-page A6 details all of John's knowledge on Chod Rigs and all of his stunning result to date. Packed with colour photograph, this publication is available in soft back, splash back and a luxury numbered wallpaper-bound edition (please state whether you require No.1 or 2). All in big, easy-to-read letters with a foreword by Martin Locke which reads, "Who?". Available from very, very, very limited stockists.
John Hannent Bibliography:
1986: The John Hannent Rig Guide Postage Stamp
1992: Advanced Guinea Pig and Cavy Blow-Drying Techniques
2012: On and on about River Carp, Volumes 1-427
This article was taken from issue 112 of CARPology magazine. For the very latest articles and best deals subscribe to CARPology magazine.