Travels With My Carp Rods #7
Leaving his mate Skip in charge of sorting some hefty scales for a trip to an 'unknown' French water leaves our carp explorer in a state of shock...
It's funny how carp fishing soon sorts people into 'clicks' isn't it? You know what I mean, you've got your wannabe Yateley types, your European traveller type, all-the-gears, none-the-gears, your Dwas, your Schmos (Daiwa and Shimano to the non-initiated), your spodder, your nodder, the day ticket dandy and the syndicate serious, not to mention pissheads, puffheads, pricks and pikies (in that order). It's what's great about it – it takes all sorts. And, to state fact, the massive effect that the internet is having on everyday life if further fragmenting 'groups' of people between forums, brands, etc., etc. (it's why music doesn't sell as much nowadays, as it happens)
So why does angling seem to make so many people fall out, take sides, adopt opinions, wave opinions? Aside from internet heroes (that's another story), if the angler next-door is happy, he's getting it right. Righter than you are if you're even looking down your nose at him... And we all do. If he isn't happy, can you help? Probably, you've just cast in his swim! Anyway, I don't have to get off my soapbox, I've gone right through it, I'm getting right fat!
"Skip took a long draw on a Silk Cut and added that it wasn't worth paying tackle shop prices for scales and 'he'd sort us something better"
Because, partially, of the above, and the opportunity to experience so much, I tend to try and find my fishing off the beaten track. The anticipation drives me mental when I've found somewhere or am finding somewhere and the learning by my own mistakes bit (and I learn a lot!) is fascinating. It was on one of these stories with an old mate 'Skip' that we learnt a bit about travelling light. And butchery for that matter.
We'd heard of one or two good fish coming from an oxbow lake (nicknamed 'The Horseshoe') in central France. The lake was basically part of an old river that had been canalised and left to grow dense woodland around its gravel banks and silt-up. And while it was still connected to the river by way of a narrow channel, it now formed a backwater rather then take the flow of the main drag.
Prior to the trip, Skip and I had several discussions about how we would rationalise or gear so we had to carry the bare minimum of stuff for our night sorties onto the lake, out of the watchful gaze of the Garde De Pęche... The French River Police, who would shoot us or something worse involving rubber gloves and salmon oil. We'd got the gear down to everything sandwiched in a our respective bedchairs (you don't need much for a night), the rods in straps and a small rucky with tea things, grub plus a bucket of carp food.
As ever, when discussing the inevitable leviathans we would encounter, we'd considered our scales wouldn't be man enough for the trip, so something that would take care of at least 60lbs was in order over our weak looking Avons! Skip took a long draw on a Silk Cut and added that it wasn't worth paying tackle shop prices for scales and 'he'd sort us something better, for less wedge Johnny-boy'. I left it with him.
We arrived at the lake full of expectation. Now, I'm no rocket scientist, but knowing the lake had been part of the river and bearing in mind it's horseshoe shape, there would be two ways to the spot, around halfway around, that looked so good. We'd found it at the end of a public path. A quick dash trough some light scrub saw the plot open out into a gorgeous vista, seemingly untouched by humans. Now, so we weren't seen easily, we decided to approach the spot from the other way, through the dense vegetation. And having stashed the car we started on our journey through the thicket. I had a strap of rods, a bedchair (they were lighter then!) under my arm and a bucket of particle. Skip, due to his encroaching years and a 40-a-day habit took the lighter rucksack, his bed (with the scales in it) and his rods.
After 10 minutes we realised the back-passage was harder than anticipated (story of my life). The dense thicket grabbed and clawed at us and our tackle making progress slow. Skip wheezed and, as ever, sparked up a Silk Cut so he could get his breath back. "You go on ahead, I'll catch up," he said... Christ, I could still see the car!
After an arduous trip I eventually arrived in the plot, sweating with a halo of flies. I'd been miles out accessing the radius of the 'oxbow' and halfway around was, in fact, about 9/10 of the total length of the narrow, but sizeable piece of water. I busied myself setting the gear sorted and getting a brew on as I waited for Skip. A good while passed and although I couldn't see him, I could hear him battling through the undergrowth. While I shouted him, telling him which direction to come, he couldn't answer, he was that short of breath. All I could hear was wheezing, swearing and the occasional click of a lighter as he employed another 'life-giving' Silk Wind.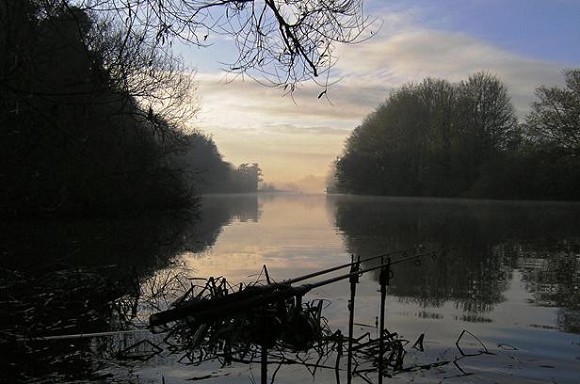 Eventually, he fell into the swim, lighting another cigarette on his way down. He lay on the deck, coughing, spluttering, blue lipped and smoking. While I was fully aware Skip wasn't the peak of physical perfection, I thought this a bit much? When he staggered up and sat on the bucket, to light another oxygen-rich fag, I went about tidying his debris (which still laid there having dropped, with him, into the swim). The rucky I slung up the back, with his rods. I went to lift his bedchair and it didn't move. While it was the same, weightless Maddocks number I had, I couldn't lift it! 'What the f*** have you got in there?' I swore.
Fresh from several fags and a swig of lager, Skip waved a know-all's finger in the air like Zorro's blade and said. "I'll show you Johnny-boy" and promptly opened the bedchair, like the briefcase in Pulp Fiction, to reveal the scales...
Cast Iron Butchers Scales! I kid ye not! CAST BLOODY IRON! The sort of thing you see half a cow hanging-off! "They go up to 110 pounds and weigh in one ounce increments," boasted Skip "I got 'em from Salters. Made of solid metal you know, not that plastic crap we'd get in a fishing shop," he proclaimed through the blue smoke of another Silk Cut. "I threw the metal tray away, unnecessary." Un-bloody-necessary? The bloody things had a hook the size of a crane's and a dial about 2ft across! On their own they must have weighed forty-pounds!
"Cast Iron Butchers Scales! I kid ye not! CAST BLOODY IRON! The sort of thing you see half a cow hanging-off! "
As I recall, we christened the Salters with a common of around 12lb, 3oz, 5 drams, a pound of mince and some chipolatas...
This article was taken from the 2012 Summer Special edition of CARPology magazine. Be the first to read CARPology's articles in print before they're posted on-line, and get your hands on loads of additional content by subscribing on-line.