Why I use shelf life as much as freezer bait...
Sticky Baits' Tom Maker explains...
Over the years shelf life boilies seem to have gained a somewhat bad reputation. It does seem that some boilies out there in the shelf life variety appear synthetic, extra-tough and unappealing to use. I know that from looking at a number of baits in tackle shops, it certainly appears that way.
I
I have always been a freezer bait fan up until I joined Sticky. I love the freshness that comes with most freezer baits. It is usually soft in texture, which makes it much easier for the carp to digest. I do however; sometimes spend up to five days a week out and about with tuitions and my own fishing. For this reason, I have had to use shelf-life baits in order to keep the bait fresh.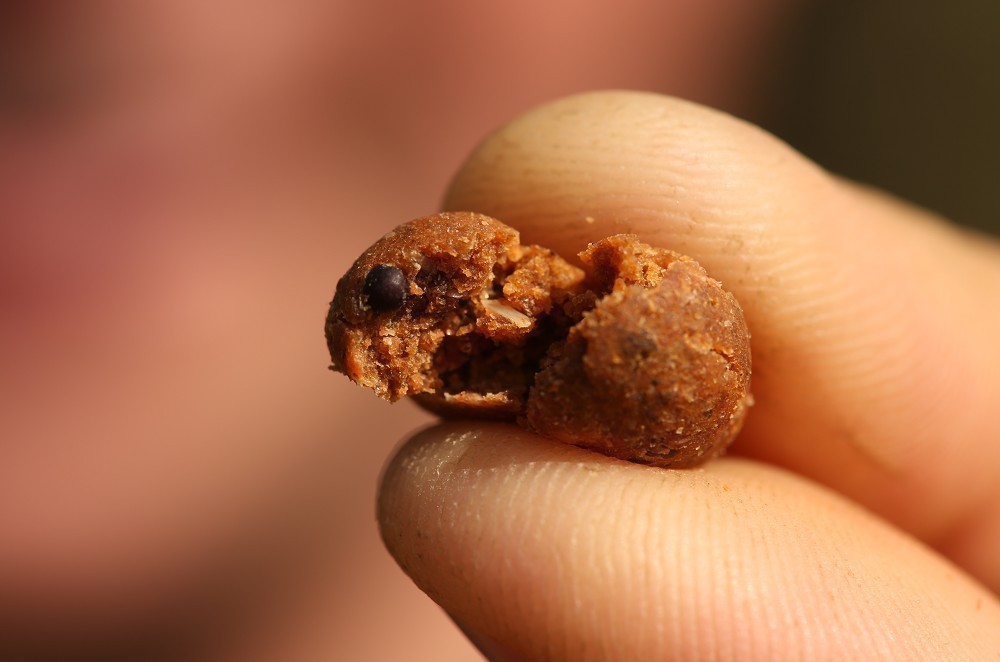 Even shelflife baits should still feel fairly soft, not rock hard balls
Upon a first glance at the Sticky Krill in shelf life, I couldn't believe how soft and fresh it actually felt. It is slightly tougher than the freezer bait, but not by any significant margin.
I am no expert on bait; I just know use my results as an indication on how much of an appeal it has to the carp. From using the Krill last year, I began by using the freezer bait. It is lovely and soft, which is perfect for what I wanted. However, it is quite an active bait and after speaking the owner, he advised that due to my circumstances with work that I use the shelf life.
I must admit I was a little sceptical at first, being an avid freezer bait devotee. However, with my job not allowing me to have access to fresh freezer bait five days of the week, I had to have a good think about it.
Interestingly, Sticky only add a food grade preservative to the standard krill base mix, as well as removing the yeast, which is an active ingredient. Other than that, the mix is exactly the same as the freezer bait. I got some through and couldn't believe the soft texture to it. The bait still had a fairly tough skin, which would make it user friendly to a degree, but nothing like I had felt before.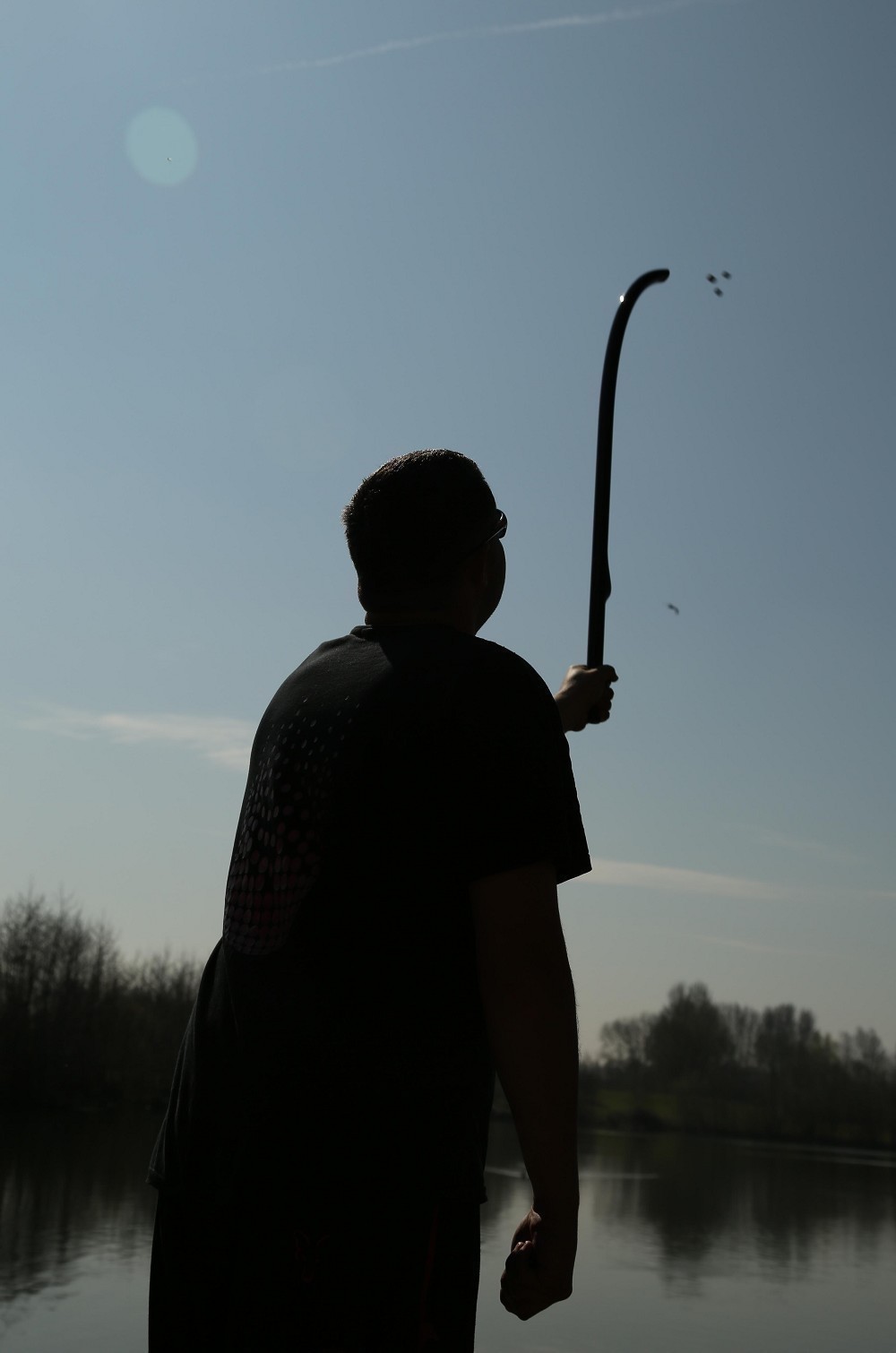 They are slightly tougher than the freezer baits and it makes them very throwing stick friendly
Very rarely do I use a throwing stick in my fishing, but these baits went out lovely in a stick. The main concern I had was how quick they could take on water or other liquids, as this was one of my favourite attributes to the freezer bait. The baits are really soluble, which allows the attractors in the bait to release in the water quickly.
I placed a kilo or so in a bucket of water and left it over night. The following day I woke up and went and checked the bucket. As soon as I peeled back the lid I was met by a red coloured liquid; perfect.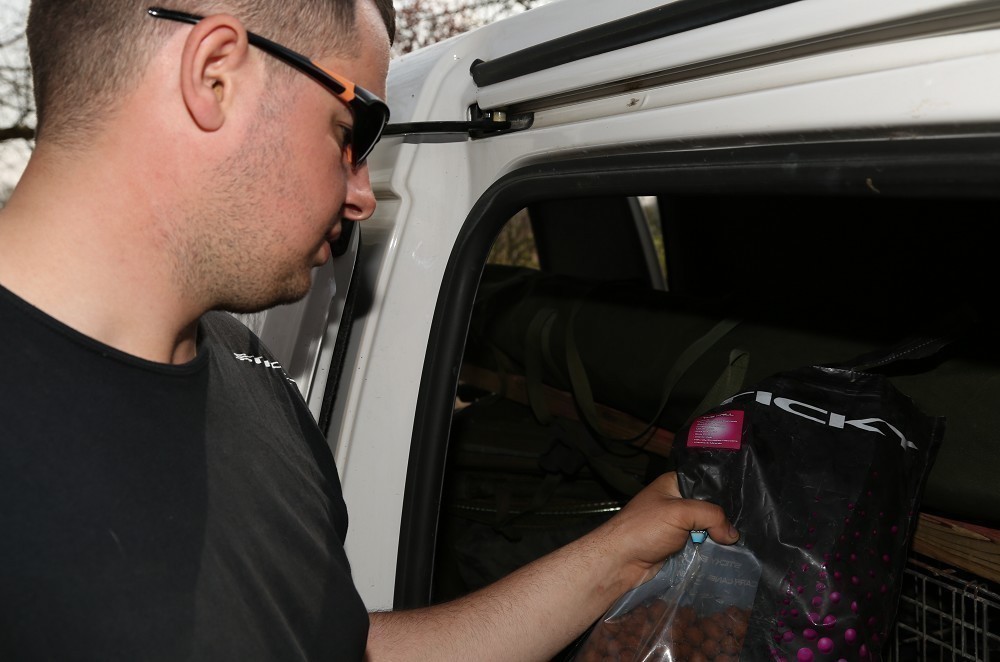 They are extremely handy for just keeping in the van and can be used whenever you need them.
This now meant that I could keep the bait stored in the back of the van for the weeks fishing and not have to worry about it going off at all. My first real go using the baits was on Hardwick and Smiths last spring.
I had always done well on the lake, but often fishing small particles on top of the shallow bars; well shallow in comparison to the deep surrounding water. I began my first trip using a couple of buckets of hemp and a few kilo's of boilies. I ended up with over 15 fish, with the biggest being a nice mid-twenty. The average size of fish however, was quite small.
The following week I decided to reduce the level of corn and hemp and up the amount of boilies. The mix was made of 40% hemp, the same inclusion of boilies and 20% corn. I had a similar amount of fish that session, but this time the majority of the fish I caught were twenties. The boilies were certainly helping me get bites and from the better fish.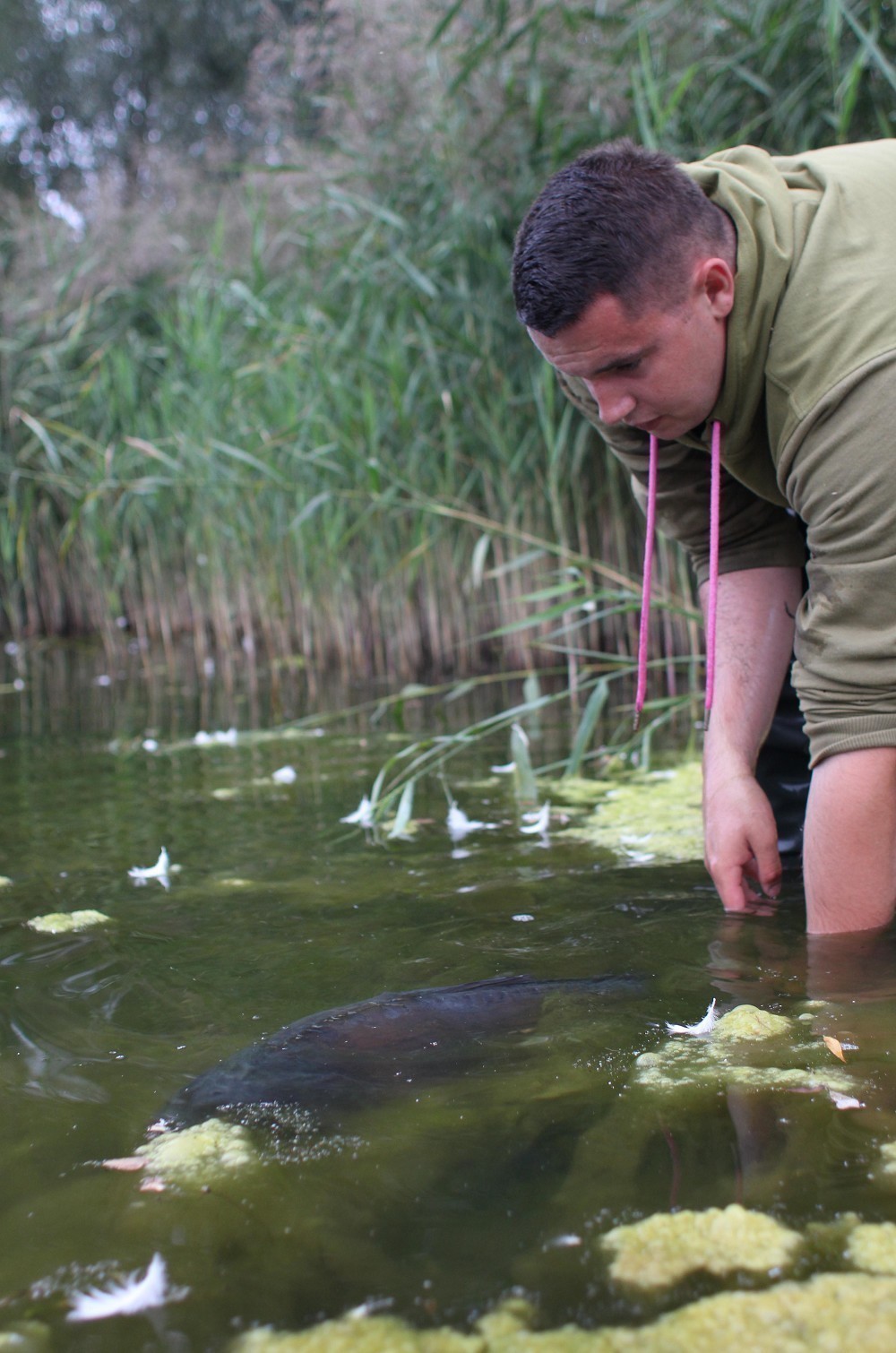 Tom returning another good fish to the depths of Oxlease
The week after was a session I will never forget. I have publicised this quite a bit, so wont bore you with the full story, but I managed to catch the biggest fish in the lake at 39lb 12oz. What a creature is was too, an awesome looking carp and one that rarely sees the bank too. Interestingly, when Dan came over to do the pictures, we both sat there watching a large spread of fizzing over the spot. He asked, well more took the mick really about how have I not had another bite. I jokingly said well I have ran out of krill wafters and have just got plastic corn out there.
If you leave them in the sun, the baits will sweat and could eventually turn.
Incredibly, I didn't receive another bite all day, even with a ridiculous amount of shows, fizzing and clear signs they were ripping up the clay bar. From that session on I was completely sold on Shelflife baits.
I know that it takes something like this to happen to an angler for them too to believe the effects they can have and the similarities they have to the freezer baits. If it worries you, there are a few little edges that can really help boost the attraction of your baits furthermore.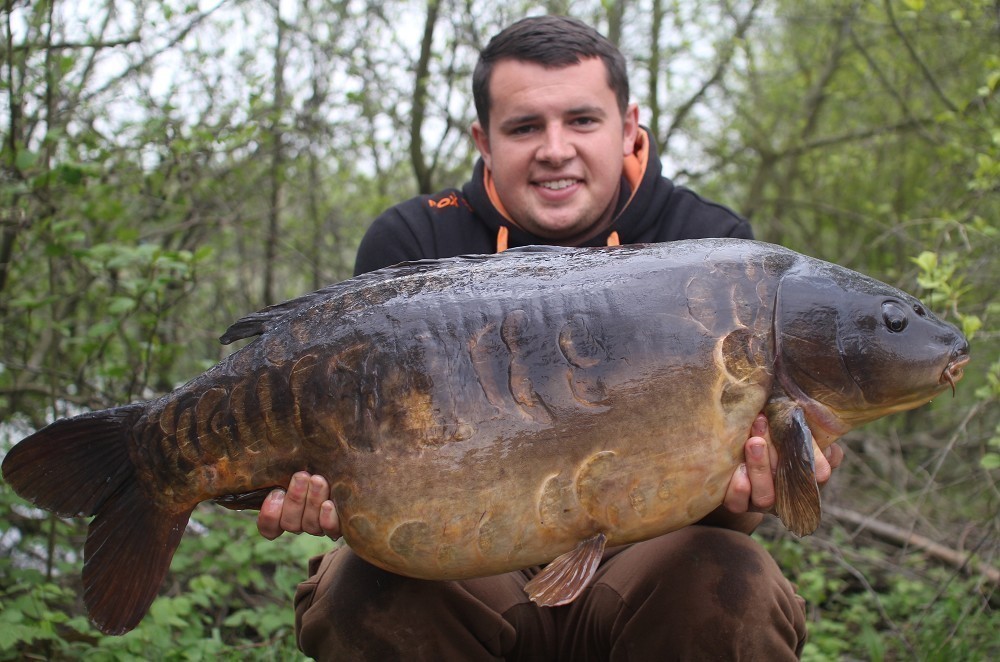 Tom's biggest fish from Linear was caught over a bed of shelflife baits, from then on he has been sold on them.
Firstly, add some baits to your hemp the night before you go fishing. The boilies will absorb the liquid and release a lot of their attraction in to the hemp. My hemp always smells of Krill, even before I add some Cloudy Krill Liquid to the mix.
Another great way of doing it is actually adding some food or attractor liquids to them. I have used the Cloudy Krill mostly last year, with Hemp Oil coming in to play in the colder months. While the Aqua-Amino is a new liquid that I have got hold of and it does some incredible things when in the water. It is a quite a thin, but mega soluble liquid and acts like an atom bomb when in goes in the water, giving off a huge cloud of attraction.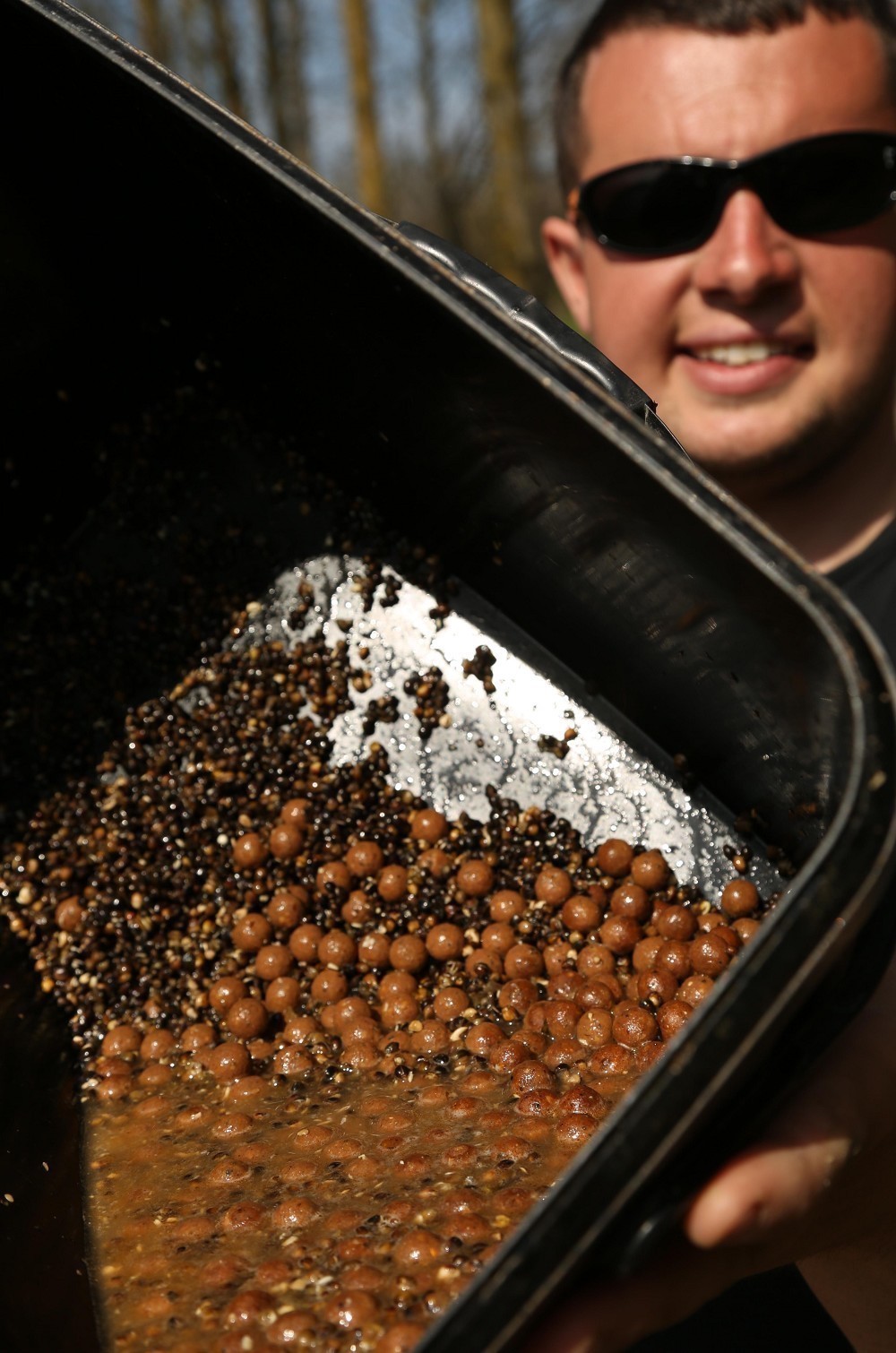 Tom's biggest fish from Linear was caught over a bed of shelflife baits, from then on he has been sold on them.
This is something I want to be using this year, with the baits oozing that fishy attraction even more than they usually do. One thing that is always on people's minds is how to store your baits. A lot of people place them in an air dry bag, but I am not a great fan of this. It ends up drying the baits out too much and defeats the object of having a softer bait.
The handy attribute to the new packaging from Sticky is that each bag comes with a reseal able top. This is great for mixing liquids around in and keeping them sealed. It is important that you do keep the top sealed and out of direct sunlight. If the bag is left in the sun, the baits will release moisture and eventually create mould. Just keep them out of the sun and in a fairly cool, dark place.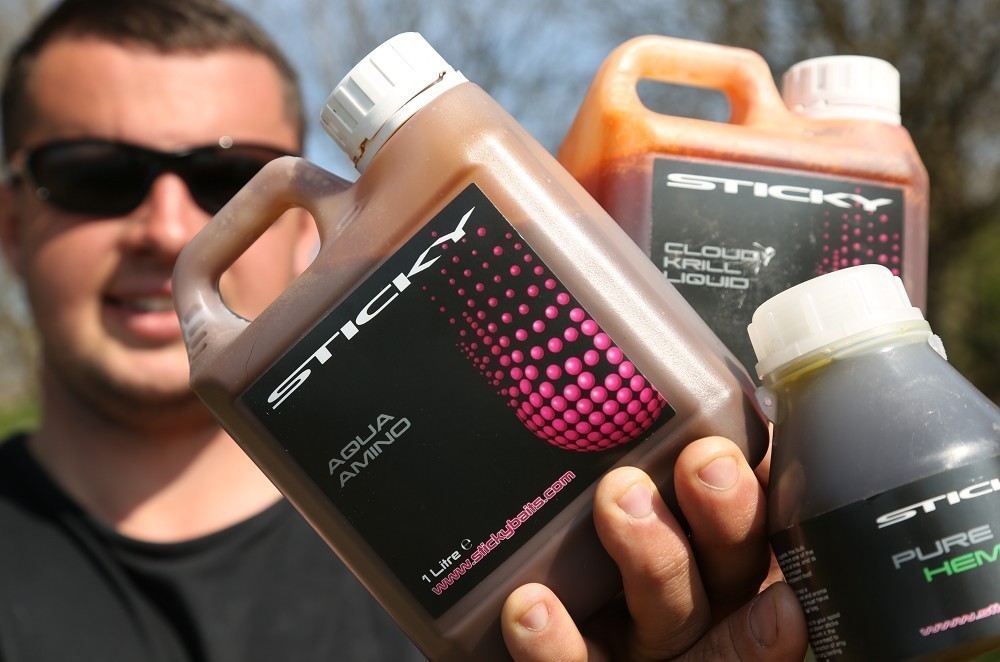 Adding liquid always boosts your baits even more, Tom has his three favourites here.
I do, now and again fish with stick mixes too. Like most people, I always make too much and end up saving it for my next session. I tend to use a couple of powders, some fishy liquid such as L-Zero and some boilie crumb. The disadvantage with adding freezer crumb is that it will go off after a short period of time.
With the shelflife baits, you can make a stick mix and it will last months. This can be kept in a little tub and be used for a number of sessions. Boilie crumb is one of the best carp attractors and additives to a spod or stick mix.
I don't tend to use the out the bag baits on the hair. I am a huge fan of the Krill wafters and use them for 90% of my fishing. Again these are a shelf life product and last me over a year.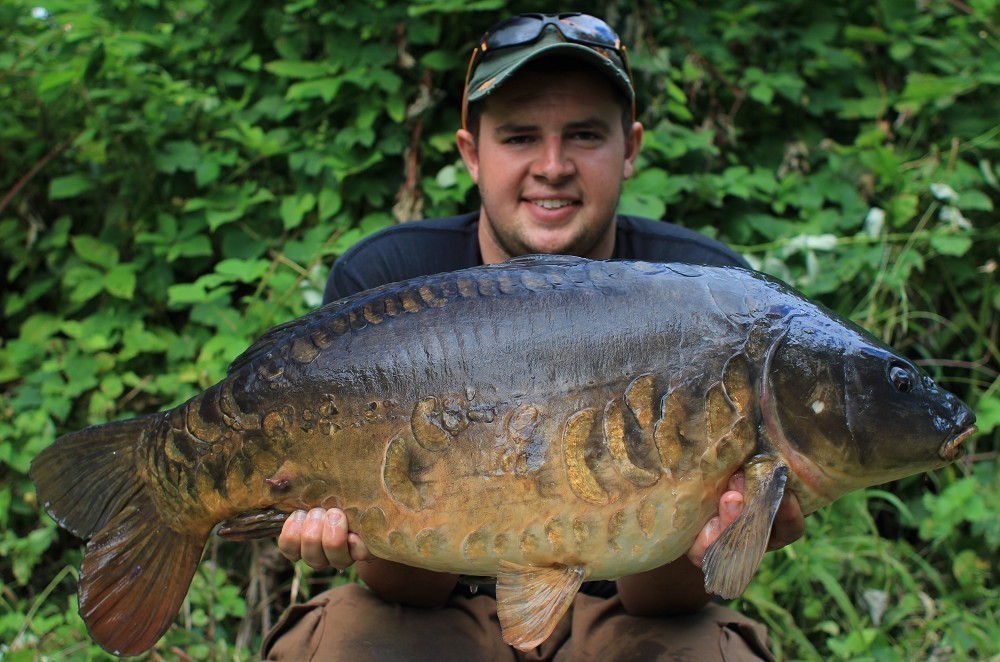 A perfect end to an incredible session, 24lb 14oz of Farlows perfection.