A Lifelong Love
How Scott Kingsley maximises his time, how he baits and his thoughts when it comes to rigs... #ThrowbackThursday
It's the end of September. The stiff breeze is blowing right into the secluded corner of the big sailing pit where Scott Kingsley is patiently waiting. As the waves lap up against the bank, Scott carefully scours the visible water in front, observing every possible sign that may lead to his next capture. Over the next 24hrs I get a great insight into this likeable lad's thinking: how he maximises his time, how he baits and his thoughts when it comes to rigs - here's what I found out…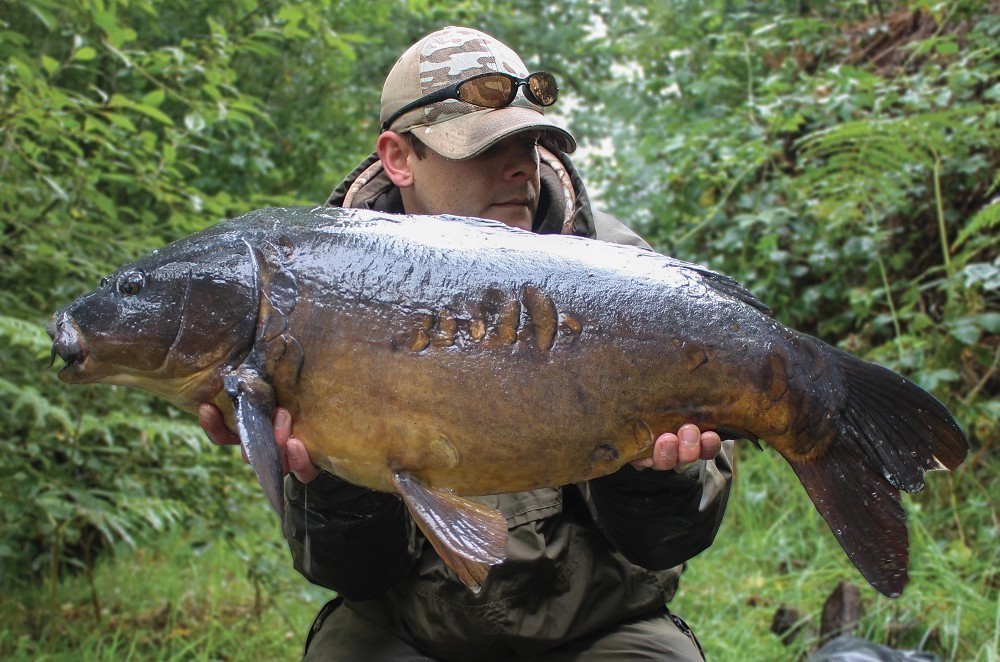 I dedicate my time to fishing for the old, rare ones
Alex Grice: Where did it all begin for you Scott, and what are your first vivid angling memories?
Scott Kingsley: "I started quite young to be honest, I was probably around seven or eight years of age when I first wet a line. I was actually on a family trip, visiting my uncle in Canada, so to be honest my first proper experience was pretty cool and wild! My uncle owned a small cottage in Toronto and one day, while we were away, he asked if I was interested in going freshwater bass fishing with him. At the time I'd never really thought about fishing, but being young and pretty inquisitive, I took him up on his offer. He took us inland to a small freshwater lake and throughout the day we managed a number of small bass! Looking back, they were special times indeed."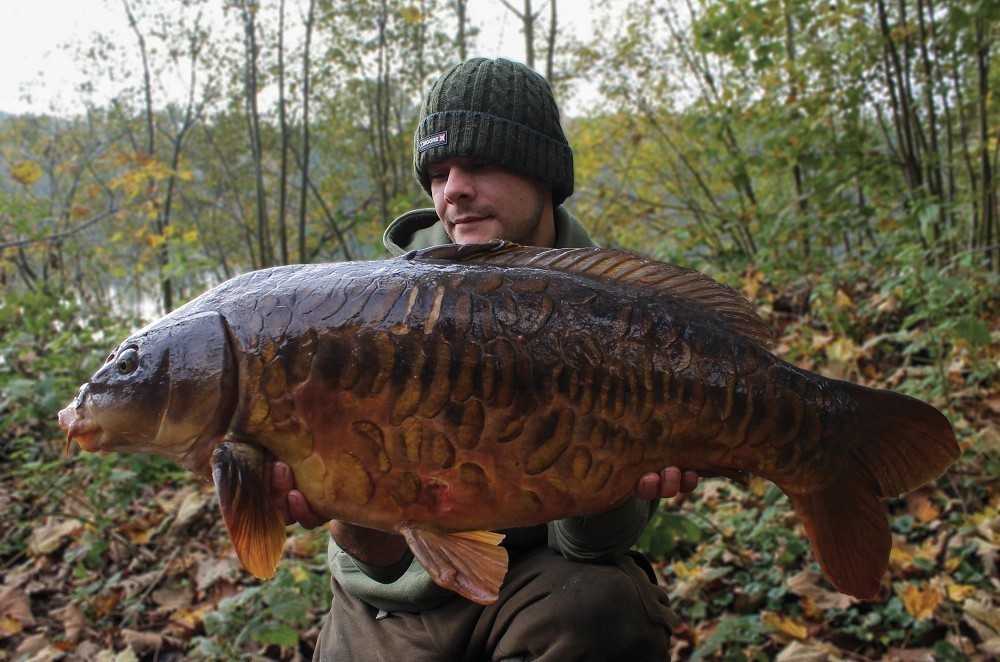 So meaningful: every capture has its place in my angling
So where did things go from there, did you get into fishing straight away when you returned?
"Not straight away to be honest, you know what it is like when you are young, you drop in and out of interests. We were living in Chelmsford at the time and I did a bit of fishing with a few friends from school, just on local commercial ponds fishing for silvers and bits. It was pretty enjoyable but it wasn't until a few years later that I began to take more of an interest."
""I remember clearly losing what felt like an absolute monster at the time and from then on that was all I could think about.""
What lit your fire to take your angling more seriously then?
"I was still fishing around Essex at the time, on the small commercial pools. I was starting to go a little more often and I had upgraded some of my gear. I remember clearly losing what felt like an absolute monster at the time and from then on that was all I could think about. I had a re-think and stepped up my tackle, started to read about targeting specimen fish and I guess it just spiralled from there."
Not long after that you moved to Norfolk, right?
"Yeah, my family moved close to Norwich and that was around the time I was starting to get new kit. It was all pretty exciting to be honest: a new place and a new adventure. I would spend most evenings trying to find out about potential venues to fish that held carp. You learn so much so quickly when you are young and I was beginning to delve deeper into the carp side of things. I started off initially fishing the days for carp, fishing a few local venues for small carp, but at the time these fish seemed massive!"
You eventually went on to working in a tackle shop, Angling Direct, did that further your angling drive?
"Without a doubt; I went from thinking about carp and fishing each week to talking about it everyday. It helped that you were constantly in contact and around dedicated anglers, which certainly rubbed off on me. The knowledge and information I gained was invaluable at the time."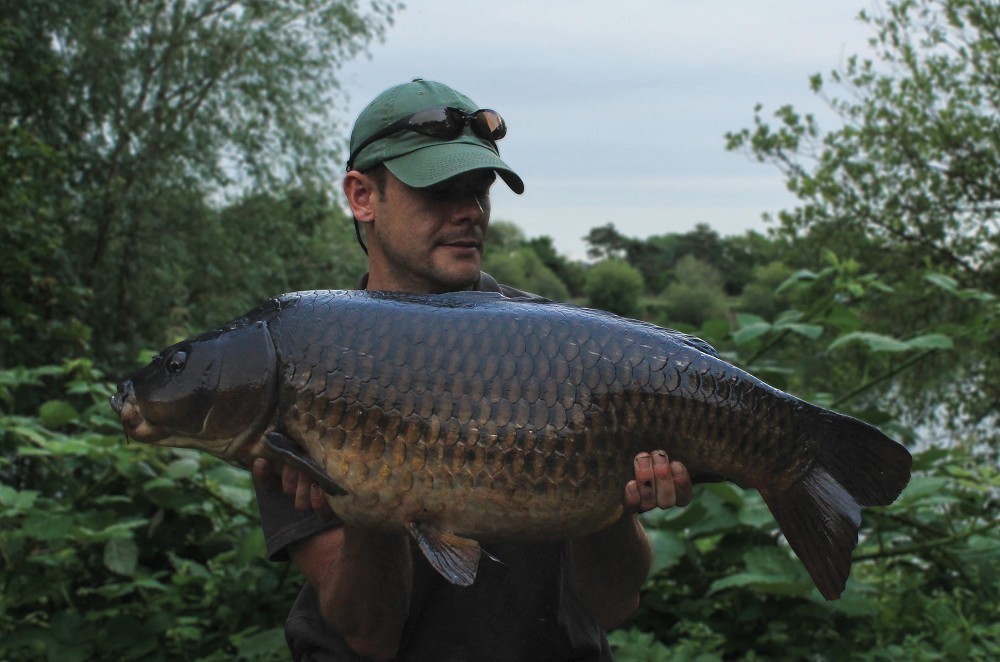 A quick stalking opportunity was the downfall of the dark common
What were the early waters that you cut your teeth on?
"I found out about an estate lake not too far from home called Gunton, probably 15-acres or so in size, but at the time it felt quite big and daunting. Add to that the venue was very weedy at certain times and I felt a little outside of my comfort zone having come from fishing small, featureless commercials. It was really exciting stuff though and the fishing was rewarding, as I had to quickly hone my skills to be able to fish effectively. The fishing was very visual and I learnt an awful lot about the fish's behaviour by closely monitoring the water, watching for fizzing and subtle signs that fish were present. I really did love the fishing on there, it still felt traditional but the venue was on a larger scale, which meant tracking them down when fishing the days."
How did you get your head around the weed?
"I had never fished a weedy water at the time, but I guess the knowledge you gain and the skills of being able to fish in the weed has stood me in good stead years down the line. Everything from playing and landing fish in the weed, what rigs are most suitable for fishing among weedbeds and how to apply bait effectively have all come from that time in my fishing life. Weed fishing without a doubt makes you consider everything, especially placement of your rigs on spots, which up until now has been a big part of my big fish targeting on a range of venues."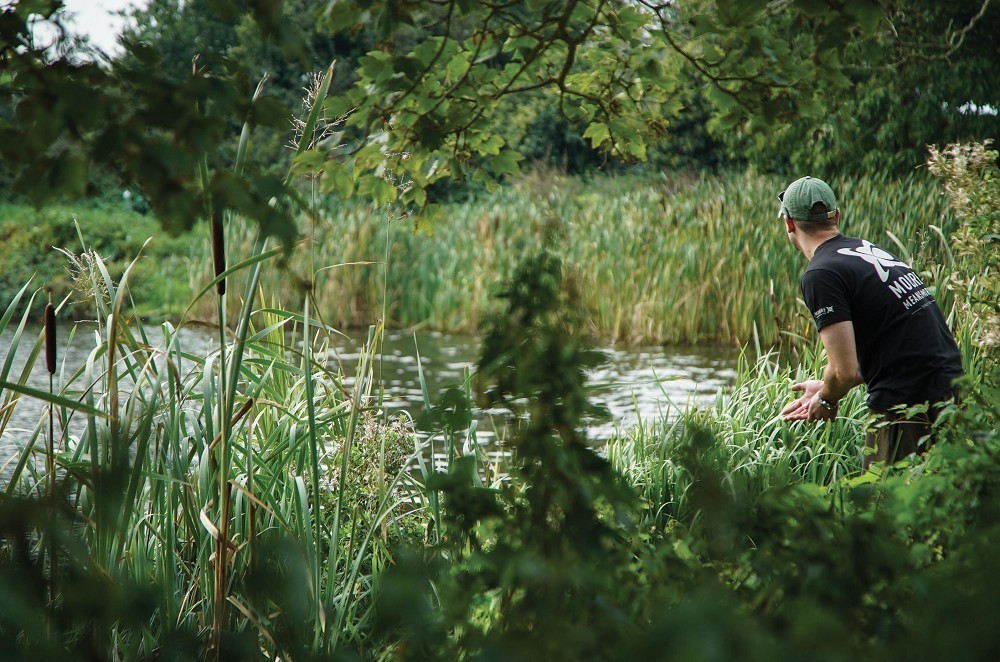 Always looking in every nook and cranny
Where did you move onto from the estate lake?
"I actually moved onto another local venue, much different from the estate lake, smaller and more uniform in shape. Small venues see a great deal of pressure in ratio to their size, so it was overcoming that which was the main hurdle in my angling over there. With it being so local, I could drop in for nights between work and the fishing was really enjoyable.
""Every year I try to push myself to another stage in my angling, preferring to fish lower stocked venues with a greater challenge.""
"There was also another pit just up the road, Layfields, containing a few lovely old gems, real woodcarvings. This lake was split into different channels, so much more of a challenge. I could nip up there if I had a few hours and try stalk a fish or two, as you could often see them milling about between the snags. At the time I was using one of the old baits from CC Moore, The Meteor, a real distinct, meaty bait, quite similar to the Tuna to be honest. I was boosting that up and crumbing baits, setting small traps and fishing a few hours in each spot, really productive on the go angling!"
How would you describe your angling approach?
"I would say I was an opportunist and by that I mean I base my angling mainly on watercraft and instinctive decisions. If I feel as though the opportunity is there to catch, I will take it. At the end of the day, you need to be on them to catch them. I try to react to signs where possible, be up at first light and I will often stay up into the night to listen out for fish. Those are the most important times of the day and even the most subtle of signs at the right time can give the game away. I always keep a firm eye on the weather, as this will often determine where the fish will be, but I will always make the effort to have a good look about and not make guess decisions."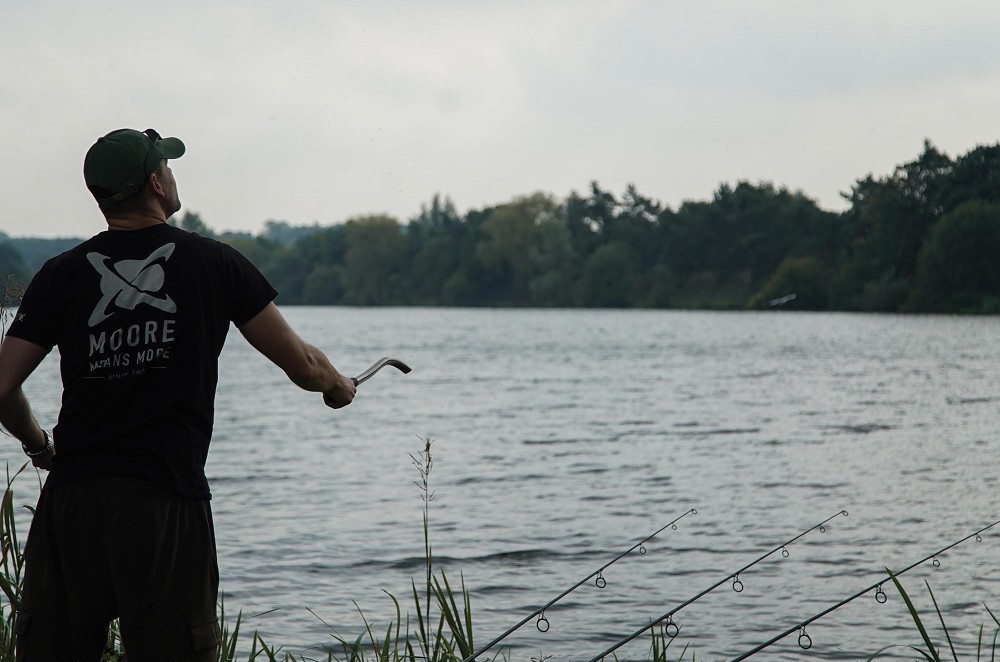 A light scattering of bait in the area they were showing
What is the Norfolk scene like today, has otter predation had a big impact on your choice of venues in the recent years?
"The otter predation has been bad, venues have changed over the years and especially on the rivers near Norwich, the otters have had a big impact. Otters are unavoidable in and around the East Anglia area, so you simply cannot just shy away from the fact that they may be on a particular water. I have seen them on the rivers and they have taken a lot of fish, which is one of the reasons why I have strayed away from the flowing water in recent years. A lot of the venues are now fenced in some way or another and lakes like where we are today, which are in excess of 100-acres, the likelihood is that otters will have little impact, so in reality I try to not let it have an impact on the venues I fish."
Where has the last few years of your angling journey taken you?
"I have predominantly been fishing a syndicate, which is strictly no publicity, and I have been having some great success on there in the few seasons that I have fished it. Every year I try to push myself to another stage in my angling, preferring to fish lower stocked venues with a greater challenge. I guess it is like any other sportsman or athlete: you want to push yourself to that next level. The rewards are greater and if I have worked hard to catch just a few fish that year, then I can look back and know that those captures hold a special place in my angling year."
Do you always set out with a target in mind or are you just looking to get bites?
"A combination of both really, I always start out trying to get a bite, especially with very little information to go on and little knowledge of fish behaviour and individual traits, then it's not easy to really pinpoint and tailor your whole angling approach to targeting specific fish. The stock of fish does make a difference though, I do like to fish for the older fish, the characterful ones that have a story to tell. I also like to mix things up a bit, I will often fish hard for a few months, then take a few months out, often over the quieter times of year like the height of summer. This just keeps me going in the long run."
Have you been targeting certain fish in your angling this year?
"Yes, I have been after an incredible mirror from a quiet venue, I worked hard over the winter to keep the bait going in every so often and much to my amazement I caught it early on in the spring. I was left at a bit of a loose end really."
""The legwork is what gets you the results in the long run, especially on the more demanding venues.""
How did the spring pan out on there in the end?
"I had been fishing the venue for over a season, so I had a good idea of areas I needed to be in come the spring. I decided to brave the winter and plug away, hoping by the time the warmer days were starting to break through again I'd have something going. I had been baiting a couple of areas with the Tuna, one was a particular spot while the others were areas, trying to get the fish feeding on the bait in a few places around the lake. The fish had been visibly visiting these areas and I just knew something wasn't far away. Lucky enough, I wasn't wrong and only a few weeks later I had the big mirror resting in the folds of my net."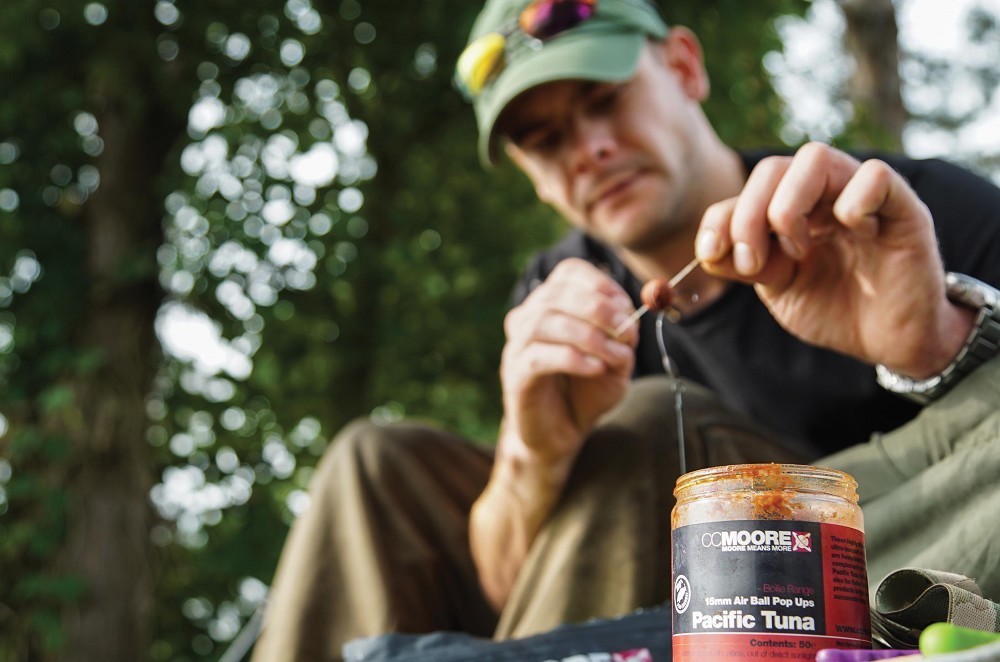 Match-the-hatch hookbaits have always been my go-to!
Are people willing to give away information on potential venues? I guess working in a tackle shop helps when it comes to grasping vital info?
"When I used to work in the shop, you would often pick up on small snippets of information that would, later down the line, prove invaluable. Close friends are willing to pass on information, which is because of the trust you build with people. Angling is about friendship and a two-way trust and I feel that aspect of it goes a long way to helping each other out. Obviously, you keep certain things to yourself."
Are you predominantly a short session angler?
"I do prefer quick overnighters and short trips; I do think you work to the absolute maximum when you have limited time. Plus, when you know you only have a night to catch you make the effort to get prepared beforehand so time is maximised when you are out. Saying that, I do try to pick weeks in the year when the conditions are at their absolute prime, especially in the spring and autumn. I try to break up my overnighters in the week, I feel if you do this you can actually pick up on fish activity much better throughout the week than if you were to do two nights back-to-back. Not only that, but when I am introducing bait I can spread my bait throughout the week, often keeping the fish interested in the spots for prolonged periods."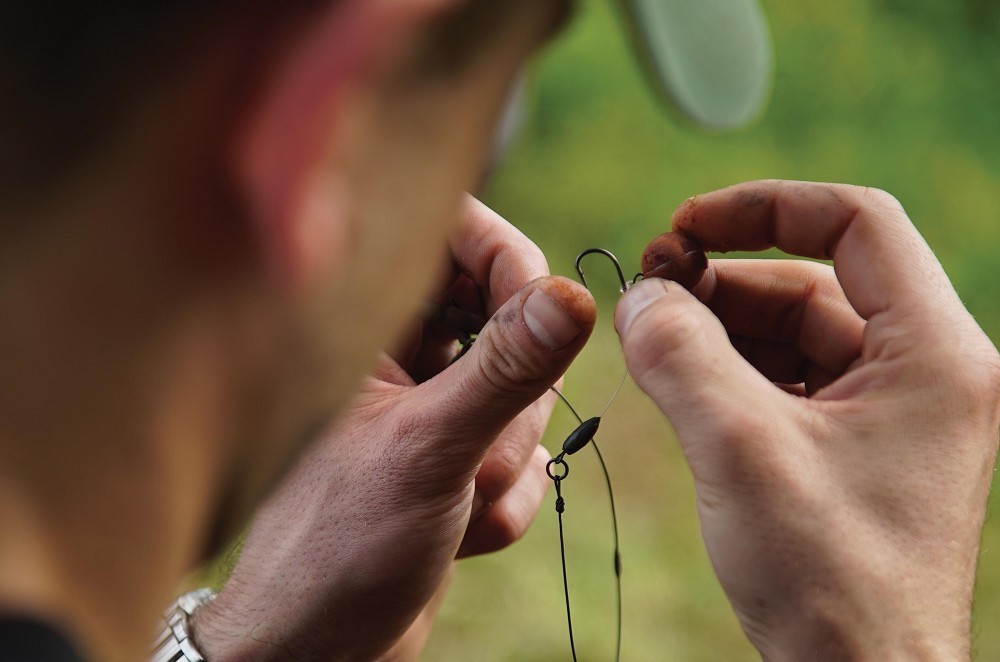 All those small percentages add up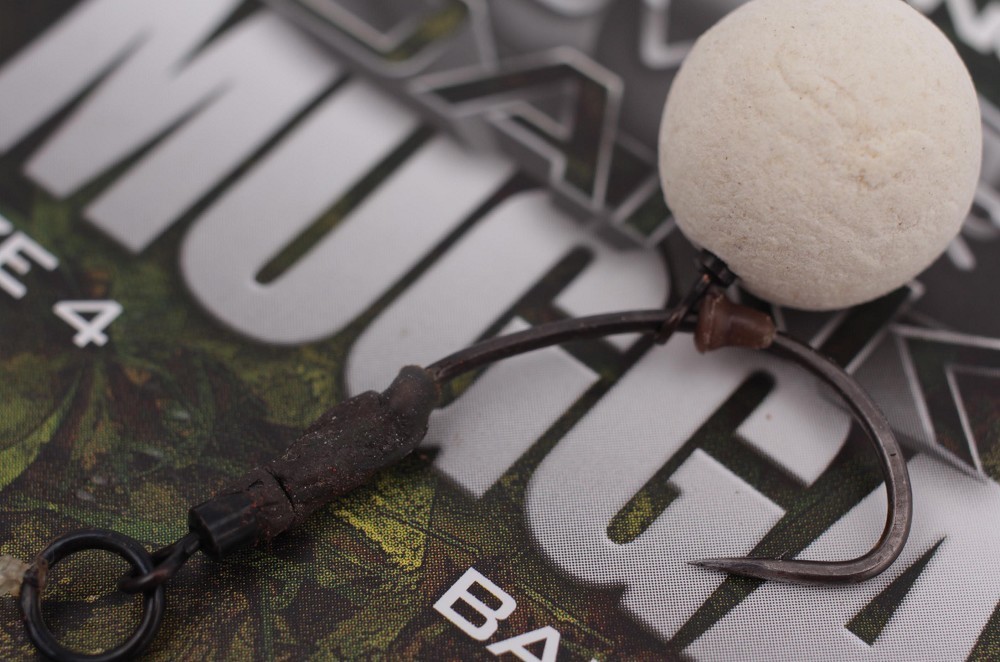 The Ronnie: I love it
How do you make the most of your angling time each week?
"It depends on the venue and how close it is, time of year and if the conditions are good. When it feels good I make the effort to get down and look, see where the fish want to be, which I may put to good use later in the week when I have the rods out. I always pop down to the lake to see friends, especially in the evenings when they are likely to show, sit with them for a few hours and take note of any fish activity. The legwork is what gets you the results in the long run, especially on the more demanding venues."
Is bait and pre-baiting a big part of this?
"I like to usually get a bit of bait going in, try to get spots going throughout the season and make sure the fish are eating the bait I am using. I am a big fan of 'match-the-hatch' type hookbaits; corkballs or balanced bottom baits play a big part in my fishing when targeting those more cute, wary fish. Ideally, I would like to bait up before each trip, but it can't always be done, especially venues that are further away. I generally introduce bait where I can after a session, so there is often bait on the spot when I have left. I would only do this on the quieter waters, where less anglers will be affected by it. I also think that baiting an area can often pin you down, and even if I have been baiting, I will still have a good look about the lake because there may be an opportunity elsewhere to be had."
""A spot to me certainly isn't a clean area, it's an area they want to feed, be it a silt bed or strip of low-lying weed.""
What rigs and hookbaits do you rely on in your angling?
"Predominantly my approach revolves around trying to get them on the bait, eating it and recognising it as a valuable food source. As I said, I often fish 'match-the-hatch' type hookbaits that perfectly mimic my free offerings, I just feel for those warier fish, those hookbaits are often more readily taken. I fish them balanced, either on the deck or as pop-ups, completely depending on the situation.
"I have switched over to using the Ronnie this season and it hasn't been short of devastating for myself. The hook holds are incredible and I genuinely think they find it very hard to deal with. The only changes I often make is fining down my approach in the winter, slightly smaller baits and hooks to try keep those bites coming."
What other key factors do you rely on when targeting special fish?
"Background research plays a big part, you know certain fish often have very distinctive characteristics and traits, so I will often try to find snippets of info on certain fish: the areas it likes to reside, times of year it does captures, specific baits it may get caught on, those type of things really. You'll often find some fish have strong preferences for certain bait, so knowing that info before setting out is valuable."
Are you a predominantly a spot angler?
"Sort of, yes, but I will often just let the fish show me where to go. Some people get so tied up on trying to find 'spots' so to speak, when in reality the fish might not even be visiting them. If I have found an area they like to be in, then I will maybe look for spots, which may differ from venue-to-venue. A spot to me certainly isn't a clean area, it's an area they want to feed, be it a silt bed or strip of low-lying weed."
Can you see yourself moving further afield with your angling?
"Yeah, definitely, there are a couple more waters that I want to have a go at around the area. I guess you are always looking for the next step in your angling, so at some point I will no doubt have to venture further afield to find the fish I love angling for."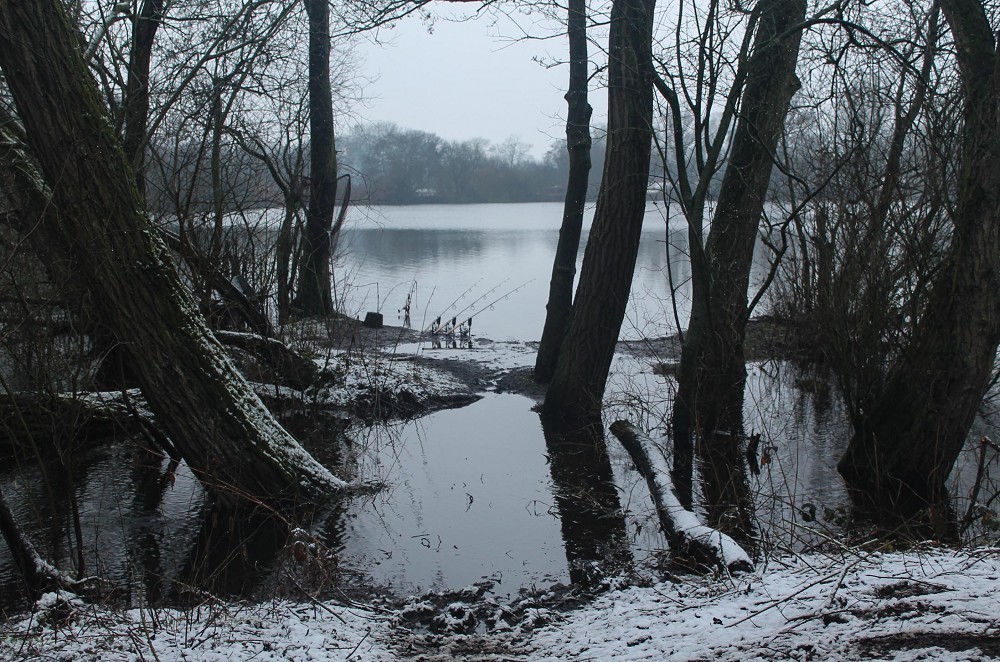 A wonderful time of year to be bank-bound
Do you mind travelling for fishing?
"In general, the waters need to be feasible for overnighters, so I try to have a few different venues on the go, some might be further afield and some might be local. I can drop in and look locally, especially in the summer months and if it feels right I can do a quick night between work and get home in good time. I guess if I have to travel in the future, I will have to work my time off to factor in getting to and from the lake."
You have also been on some nice adventures abroad, what made you decide to venture over to fish the rivers in France?
"Mainly through fishing the rivers in and around Norwich in the past, I have always had a buzz for flowing water. A good friend of mine has a house in France right next to a river, the scenery is staggering and it is more the hunting type of fishing where the carp are free to roam. The stock is incredible and not knowing what is going to come along is what gives me the biggest buzz! I have done a couple of trips out there this year and hoping to make it a regular adventure in the future."
Finally, what does the rest of the year have in store for yourself?
"I ticked my main target off the list in the spring, so I have just been trying to find somewhere to drop onto for the autumn now. I guess my main goal is to carry on enjoying my time on the bank, especially as we go into the winter months and the fantastic colours begin to make their presence."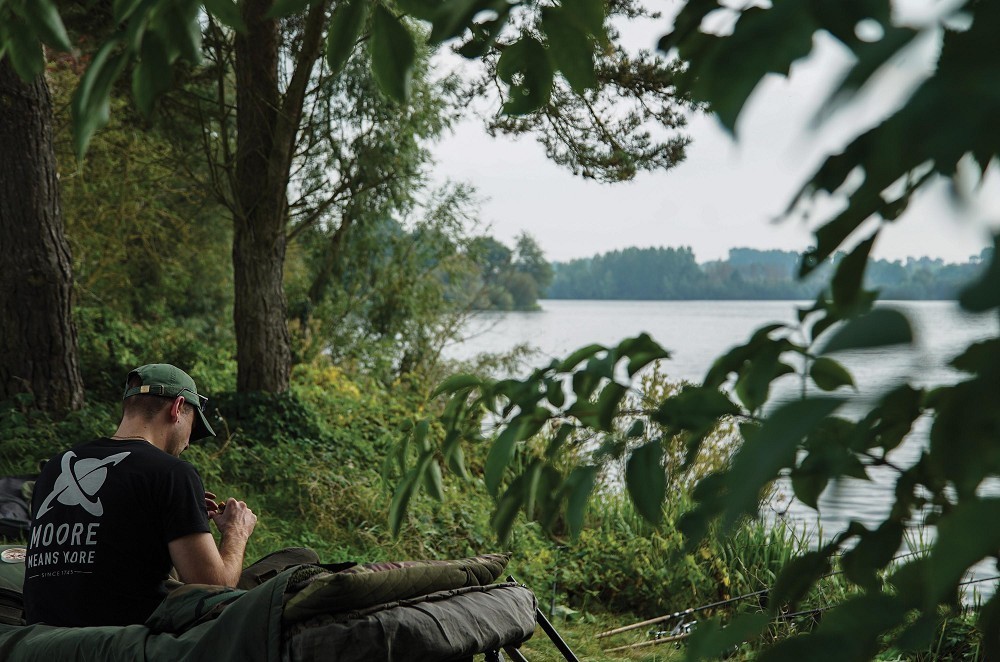 The inland sea: a new challenge awaits