Autumnal Gold
Alfie Russell angling on a private estate lake, fishing for some of the best looking carp he's ever stumbled on #FlashbackFriday
Although I love fishing through all the seasons, to me, autumn is just that little bit more special.
I long for those extra dark hours, colder nights, the stunning misty mornings and the banks littered with a carpet of red and gold leaves. The fish also seem to have a built-in knowledge that it won't be long until they go into their winter slumber, meaning they have to fill themselves up ready for a bitter weather ahead and that can result in some sensational fishing.
I'm sure most anglers that go fishing throughout this colourful season will know that night bites become more of a regular occurrence. I have personally found that during the spring, as the light levels change and the mornings become warmer, bite time is at first light, but seeing as I only get to fish short sessions and overnighters, having to leave for work early in the morning means I often miss those bite opportunities. Thanks to those increased darkness hours though, it brings more chances of a bite or two on a short overnight trip.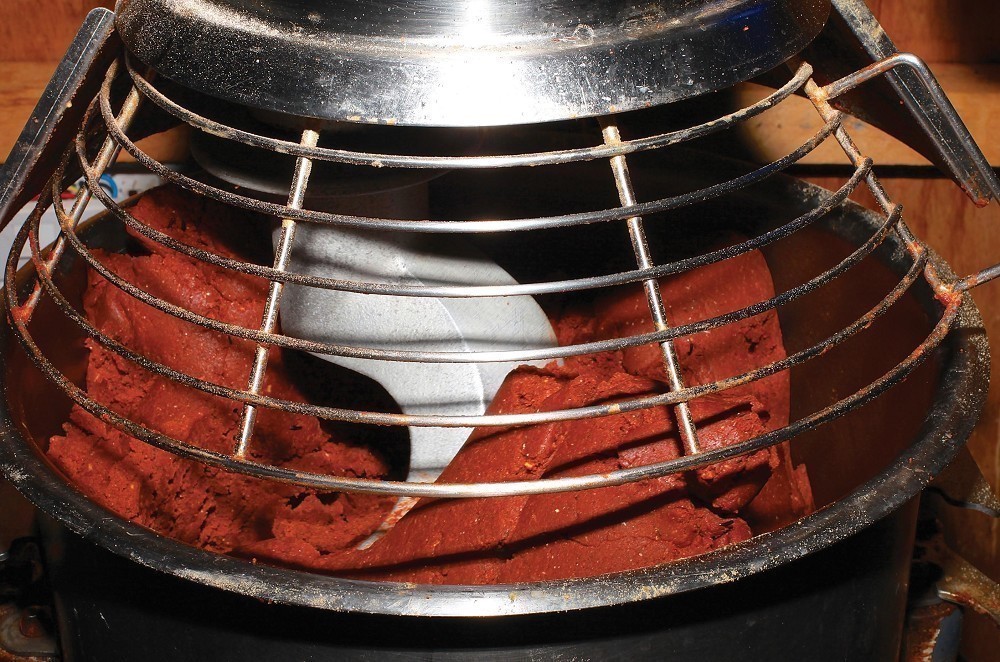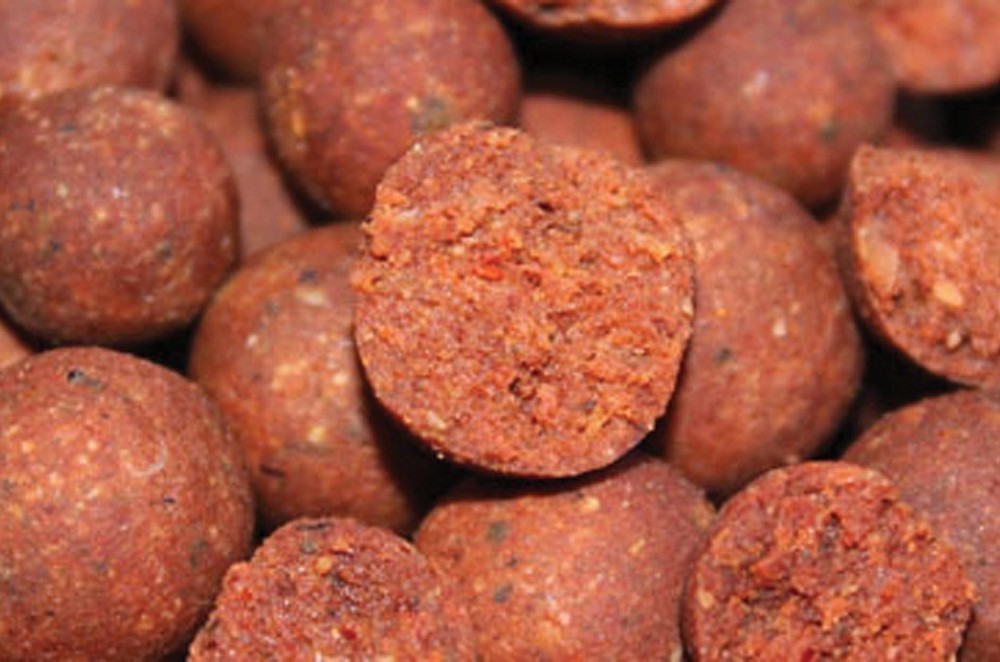 I needed a bait that was as close to the carp's natural food as I could get - that bait was Aquabait's Hot Shrimp
I generally like to split my year into seasons and focus on different venues accordingly. I like to have a different lakes for spring, summer and autumn, and then focus on other species during the bone-biting winter season. I tend to try and choose these based on the venue's layout and lakebed make-up. I am a sucker for a shallow lake, which does have its pros and cons: The fish will tend to wake up pretty early, but can also slow up just as quick once there has been a few bitter cold nights. But then with any high in the weather conditions it will often stir the fish up and get them moving again, giving you a chance as the carp will be in search of some food again.
A recent campaign took me to a shallow estate lake in the South. It was on the back of a private invitation and I was later to find out that the lake hadn't ever been fished before, so the stock was completely unknown. I actually spoke to well-known carp fishing historian, Chris Ball, about any previous stocking records but there were none. The estate groundskeeper also had no knowledge on the fish stockings so it was a chance to fish for the unknown, and certainly uncaught; just what I love doing.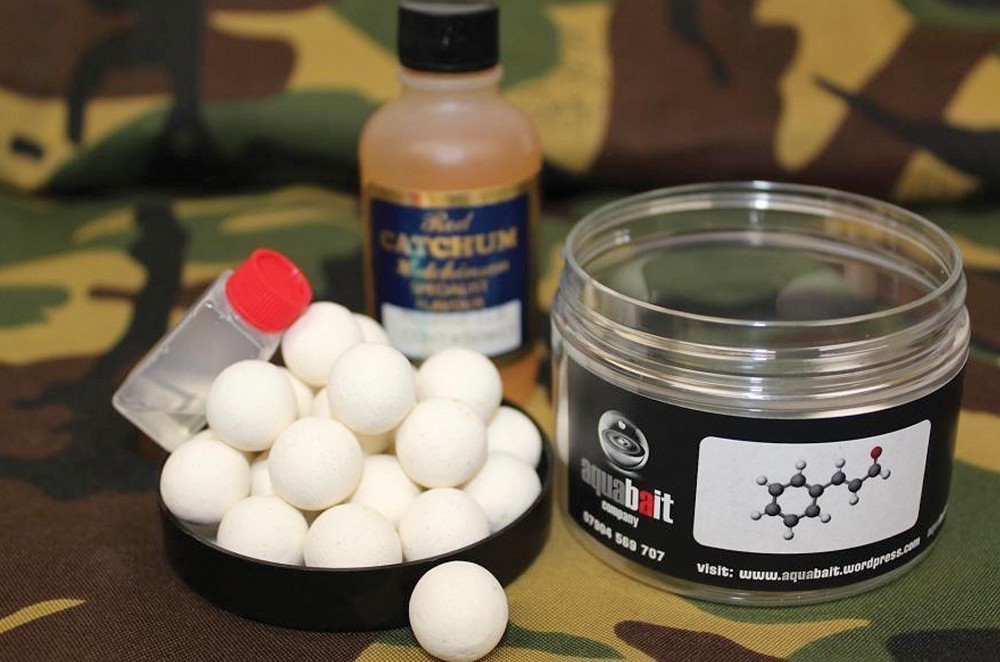 I fished large, buoyant Aqua 'A's' corkball pop-ups, which are a blend of the old Hutchy Megaspice and Ultraspice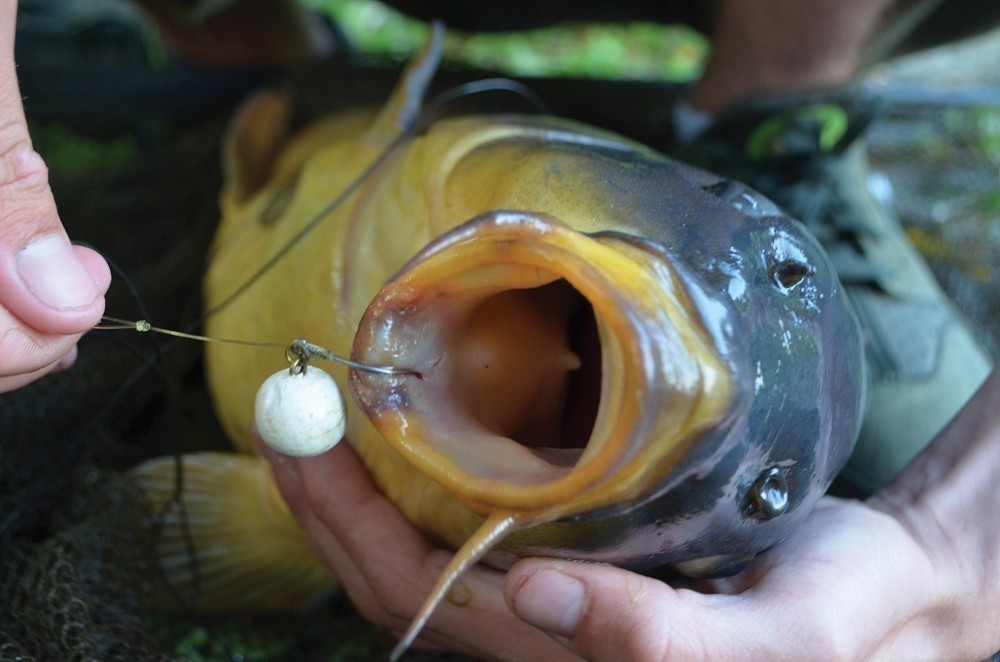 I used tried and tested rigs: Chod Rigs with very large hooks
I spent the first few weeks just walking the lake, and because of its shallow nature - three- to four-feet - and being gin clear, I quickly gathered a good idea of what type of challenge I was up against. I'd guessed there was a head of forty to fifty carp in the thirty-acres of water. They appeared to mainly be mirrors and a few looked to be over the thirty-pound mark, so no absolute monsters, but they were the most beautiful carp I have ever fished for.
I started by leading around, trying to locate some natural feeding areas that the carp had created. With the lake being so old it was extremely silty, but it also grew some horrible silkweed that littered the bottom like a sticky carpet. This was the only type of weed I found, but during the autumn months it became rotten and a white fungus type slime grew on it. I like to pay attention to things like this, especially the weed in the autumn months, as it can house a lot of natural food for the carp. But this particular weed was rotten and smelt disgusting and it didn't have much food value by the looks of things so I certainly wasn't confident in fishing over it.
I finally found a lovely silty area in the middle of the lake, somewhere that was holding food for the carp. There was plenty of bloodworm out there, but there was also a big problem: Crayfish. The crayfish tended to stay clear of the weedy areas of the lake and hang out on clean areas such as the silt or gravel. It wasn't the worst crayfish problem I had ever encountered but I still had to be careful on what was on the business end.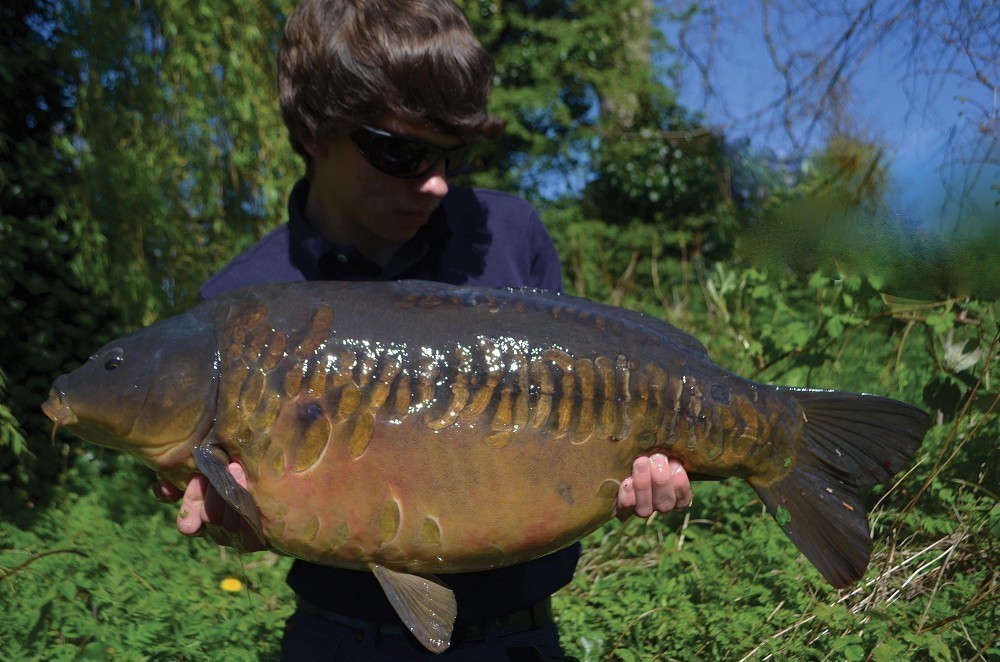 Late summer success
Luckily, for the last three years I have been working with a close friend who owns a small but successful bait company: Aquabait. It seems learning about what makes a quality bait is a dying art these days, but with so many baits out there it's easy to buy a bag of boilies and just go fishing; it's what I did myself for many years, but since learning and experimenting I have definitely found that it's a massive edge.
Spencer, my boss and good friend, has been making his own bait for twenty-five-years, all based on nutritional food value. The Hot Shrimp is a bait that I have been using for my fishing for the last year or so after being a Nash user for many years. I certainly have seen a hugely positive reaction to fish feeding when they come across a natural foodbait like Hot Shrimp compared to many artificial flavoured baits out there, and it was this bait that I used on the estate lake.
Containing multiple high quality ingredients, without any artificial flavour, the bait stinks due to the four natural crustacean extracts, GLM and hydrolysed fish extracts - it's as close to the carp's natural food as I could get.
I began to bait little and often in a small silty area of the lake, every other day for around three weeks. I wasn't baiting too heavily to begin with, as I've found sometimes on these types of venues that haven't ever seen boilies, it can sometimes freak them out a little; and that's part of the reason why I went for the most natural bait I could use.
There was no doubt that the fish were eating the bait, as throughout the few weeks of baiting I'd often arrive to find activity all over the baited area. And, with it being shallow, there was often the odd bow wave off the spot as I catapulted fresh bait out there.
Like the art of bait making, pre-baiting is very neglected these days, but with such a limited amount of time on my hands it stacked all the odds in my favour. In essence, I was fishing without actually fishing!
I arrived on a Saturday evening after preparing my kit at work the day before. With the fish having not been fished for, I knew they wouldn't be rig shy, but from past experiences of angling for virgin fish, I had a feeling they wouldn't hang around for long once being hooked and would fight for their life. Because of that, I wanted to use a rig I had out and out confidence in, so I went in with big hooks and strong tackle: Size fours and Chod Rigs. It's a simple and effective rig that I knew would be fishing perfectly over the deep silt that covered the spot.
Light leads also played a massive part in the set-up. 1: the rigs wouldn't bury too far into the silty bottom and 2: they wouldn't spook the fish on the cast with it being super shallow. On the 'D's' I fished large, buoyant 'Aqua A's' corkball pop-ups which are a blend of the old Hutchy Megaspice and Ultraspice we have managed to get hold of at Aquabait.
The lake was like a millpond that first evening - there wasn't a ripple in sight. The rods had been out for around an hour with no obvious signs of fish over the spot, so I reeled one in to check the hookbait just in case the old Ronnie and Reggie had been in for a nibble, but there wasn't any sign so I left the other rods out there.
I was just settling down for the night when I received the first bite: An absolute melter. As I lifted into the rod, I looked out and saw the fish leave the spot, exploding and thrashing on the surface and constantly rolling on the line. It was real heart-in-mouth stuff. After its short explosive battle it seemed to come in relatively easily and I slipped the net under a cracking scaly mirror just over twenty-pounds.
That wasn't the last of the action as I managed to land a further four mirror carp and also received a jittery take that was more like a savage liner than an aborted bite. The best result from that night was a crazy fighting male linear; blood red in colour that really took a loving to the Hot Shrimp, passing it all over the mat. He looked as old as the hills, with rough sandpapery skin and scales fused to his body. Definitely an earlier stocking to the others.
There was also a pattern in what hookbaits got picked up more regularly, as I landed four of the five fish on the white Aqua A's. Whether it was to do with the bright moon that night and the tap-clear shallow water so they could see the hookbaits easier, I couldn't tell you, but then I guess the amazing blend of flavours also played a part.
I was buzzing, as you could imagine, and I came into work the next day so eager to tell Spencer what I had caught that night. Showing him a few photos his jaw dropped, and I could see by his face how impressed he was with these captures. After catching original Leney strains from Oxford many moons ago, they just reminded him of how beautiful these old carp looked.
""I looked out and saw the fish leave the spot, exploding and thrashing on the surface and constantly rolling on the line. It was real heart-in-mouth stuff.""
Later that week, I cautiously asked the estate groundskeeper if I could bring Spence along for an overnighter the following week. Luckily he said yes, so I continued to bait the area every night for the week leading up to the next trip.
On arrival, we were once again greeted to a flat calm lake. It was a lovely mild autumn evening, and a beautiful time to spend out there fishing with a good friend. Plus, being the only anglers in sight made it more cherishable!
We fished two rods each over the silty area, all pretty tight together and both had white hookbaits on due to my success the week previous. It didn't take long before we had the first signs of action, both receiving liners on all the rods constantly for around a hour. We waited on edge in anticipation. Finally, the first bite came and it went to Spencer: A slow ponderous bite and battle occurred and I landed a good fish for him. In fact, it was a immaculate linear of scraper thirty and I was absolutely made up for him.
The action didn't slow up that trip, we constantly caught all night and into the late morning. It was obvious that the carp took a liking to the free food I had been giving them over the last month. It was as if the carp Gods were shining on us as bites came to Spencer, then me, then Spence and so forth. We both had our equal share of cracking old scaly carp during that session. I managed to land fish ranging from low-twenties to mid-thirty, and so did Spencer. An epic and memorable session for us both and one we won't ever forget.
We tallied up nearly twenty carp in a couple of sessions between us, certainly more than half of the lake's stock, and proving that the baiting before and in-between sessions made the action pretty busy when we did manage to get down to do some fishing.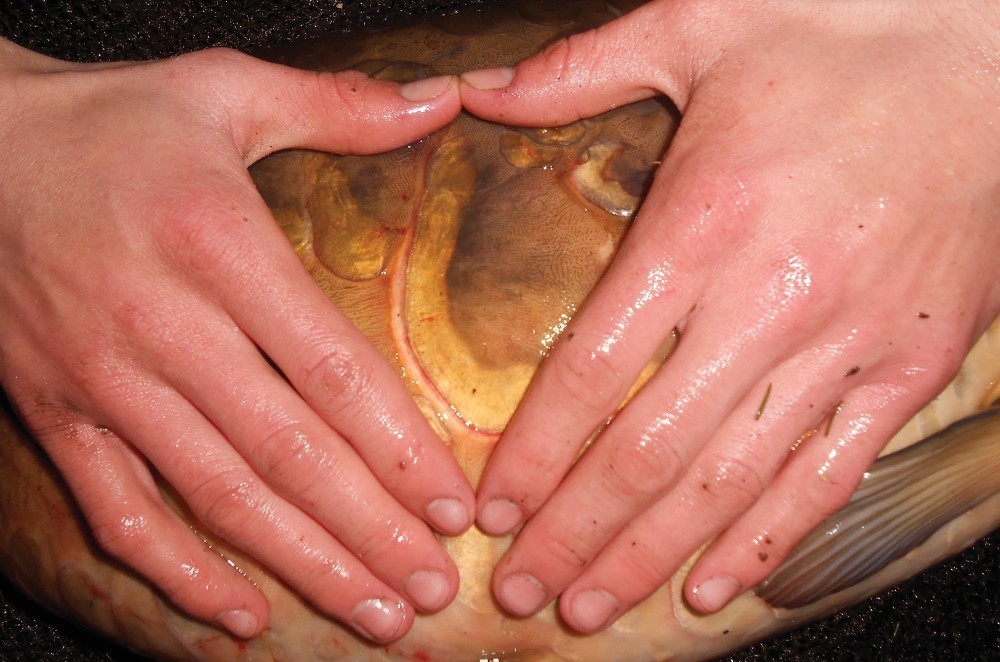 Unfortunately though, the amazing autumn campaign came to a short end when Spencer's grandson fell ill. We will both definitely be going back there at some stage in the future once his grandson is better, but for now we have mainly been focusing on work and life outside of fishing. I am positive though, that if we had kept the bait trickling in throughout the frosty nights we could have enticed those fish to feed right through the winter. It does always help to continue baiting right through the autumn if you're going to be spending the winter on the same venue. The fish will generally continue to feed all year then, meaning there isn't any chance of them laying up somewhere and staying dormant in the winter period.
But that's it for another year. This latest autumn campaign is one I will never forget. Those old, uncaught scaly carp gave me and Spencer such a huge buzz and sense of satisfaction. We had peace and quiet with a breathtaking backdrop. It was everything and more that I love about carp fishing. Here's to the next adventure!