Guest Sessions with Mark Pitchers: Roman Syndicate
Mark heads to Stanwick Lakes' Roman Sydicate #ThrowbackThursday
This month I found myself in the incredibly fortunate position of being granted access to a very exclusive water that is part of the Stanwick Lakes complex in Northamptonshire. Although most of the lakes within the fishery are open access and fishable on a day ticket, Roman Lake is the exception and is run as a private syndicate. Ordinarily guest sessions are not permitted, but whilst on a recent session on the adjacent Elsons Lake I thought I'd chance my luck and ask the question anyway. Rather unbelievably I was given the green light and to say I was thrilled was an understatement; in fact, I was absolutely buzzing!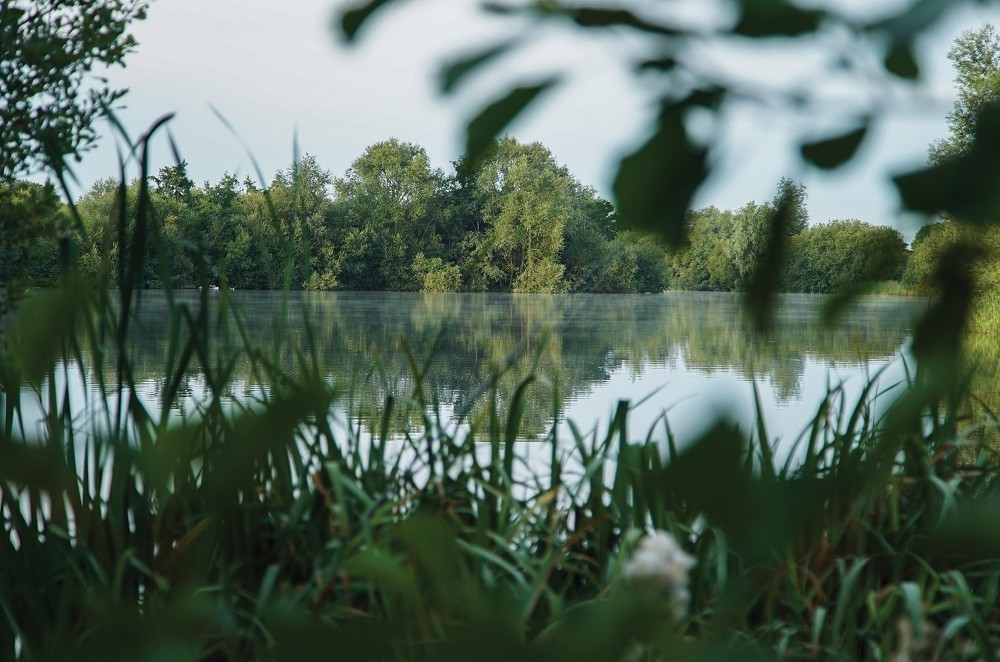 Roman Lake: incredible but it's pretty much "dead man's shoes"
About The Venue
So, you may be thinking: what's all the fuss about? Well, the lake is home to one of the jewels in the Nene valley's crown: a fin perfect common known as 'The Colonel' which has topped 50lb on several occasions. If that wasn't enough, to back this up there are a further three forties and over thirty 30s swimming around in the 11-acres of water. The lake itself is stunning: a beautiful mature gravel pit which comprises of a main body of water of around eight- to nine-acres with a narrow arm at the far end of approximately 2.5-acres. It is surrounded by reed-fringed margins and dense undergrowth which makes much of the lake's perimeter inaccessible to anglers and their prying eyes.
The lake itself came to my attention when I first visited the complex around four years ago, and after hearing about the stock it held I immediately put my name forward for the waiting list. As a regular down at the fishery I frequently joke with fishery managers Phil and John about how it must be about time my Roman ticket came available, but in reality it's a "dead man's shoes" situation, and I am fully aware it could be a very long time indeed before that opportunity does come round, if at all!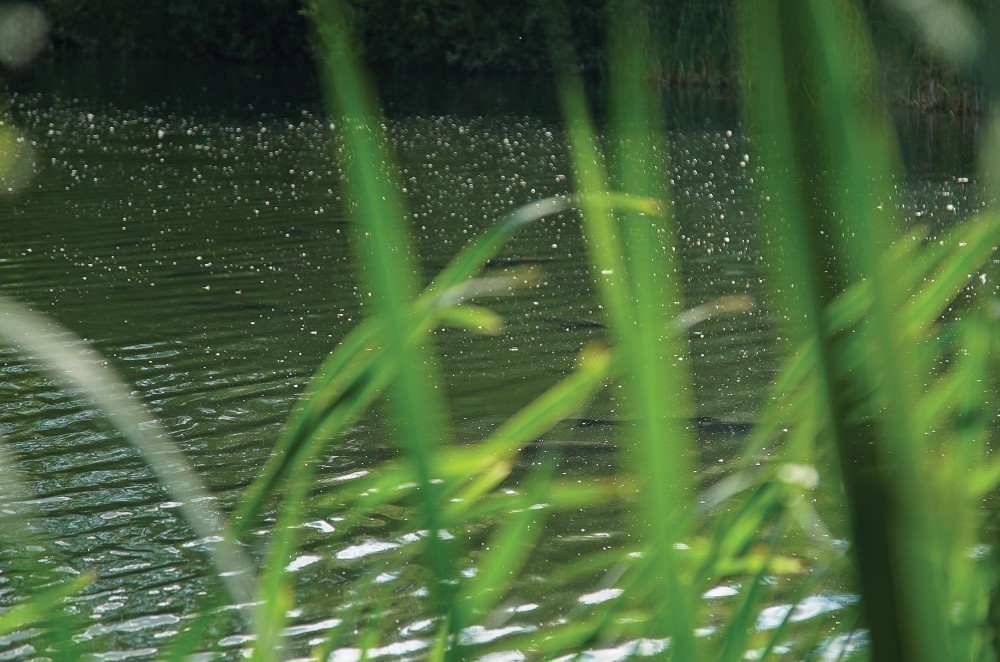 After some trotting, I finally ound them!
Session Preparation
Ever since Phil and John had very kindly granted me a 48hr pass on Roman Lake I had literally thought about nothing else. I actually knew very little about the lake itself other than what swam around in its depths, and being such a private venue any information was hard to come by. To be honest, though, it didn't feel right asking for info on such an exclusive venue anyway; I almost felt like I was pushing my luck by just being there and I didn't want to jinx anything by intruding any further.
The only knowledge I had to go on was that the lake had fished hard on the weekend prior to my session with just the one carp being landed. Because this may prove to be my one and only opportunity to fish the lake I wanted to leave nothing to chance, so, rather unusually for me my organisation was on point. All my kit was checked and doubled checked, I had bait to cover every possible eventuality, and I had more rigs pre-tied than I knew what to do with. There was nothing more I could do, it was all up to me now and I couldn't wait!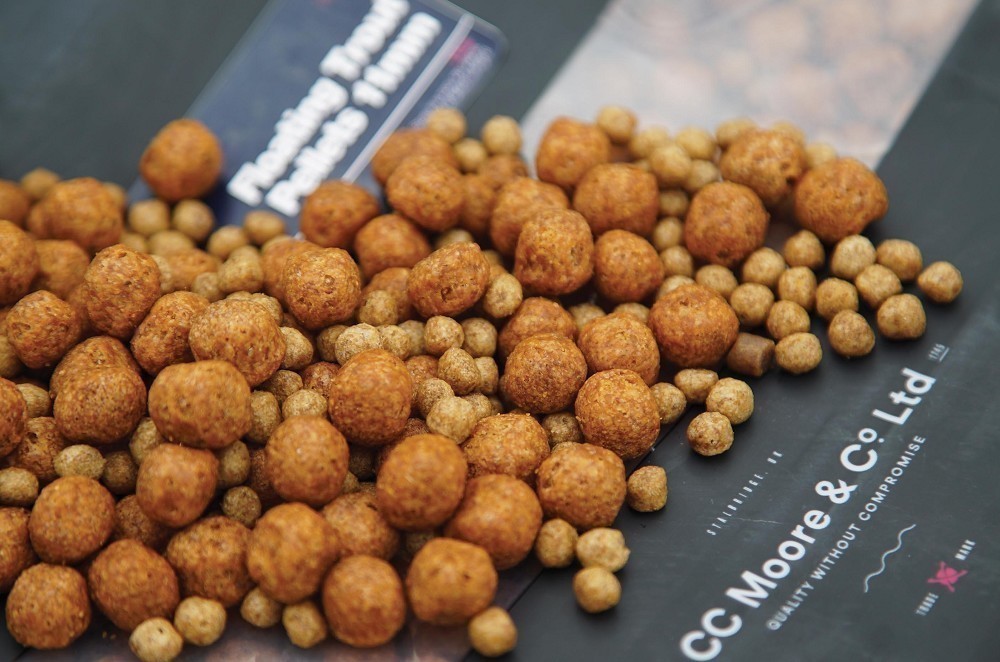 The game play was to try and tempt them with a floater
The Session
So, the day of the session finally came around and despite all my best laid plans things didn't get off to the best possible start. Shortly after leaving home one of the brake callipers on the van seized solid, so instead of arriving at the lake nice and early in the morning I had to first of all "limp" to a garage for a repair to be carried out. Thankfully it was a very speedy turnaround and I was soon on my way down the A1 only a few hours later than anticipated.
Following a three-and-a-half hour drive I arrived on bright and breezy afternoon and was greeted by Phil who unlocked the gate to the syndicate lake. I must say just driving through that gate put a massive smile on my face and I hadn't even got to the lake yet! With no other anglers present I was spoiled for choice when it came to choosing a swim but having only seen glimpses of the lake from when I had fished Elsons next-door I didn't really have any ideas as where to start. But, with temperatures approaching the mid-twenties I was confident the carp would be on the move, so having grabbed my polaroids and a bucket of floaters out of the van I set off on my first lap of Roman in search of a carp or two.
Despite the high temperatures, the stiff breeze made for very choppy conditions and seeing anything at all proved quite difficult. With the narrow arm at the far end of the lake appearing to be quite sheltered I made a beeline for there hoping the carp would be sunning themselves on the back of the wind. Having made my way over there, sure enough, as I peered through a gap in the trees I got my first glimpse of a Roman carp, and it was a chunk! Just a few yards out was a solid looking mirror of around 35lb which was taking full advantage of the sun's warming rays. As I stood there for a few moments more and more carp came into view, and before long around a dozen carp cruised around in front of me just beneath the surface.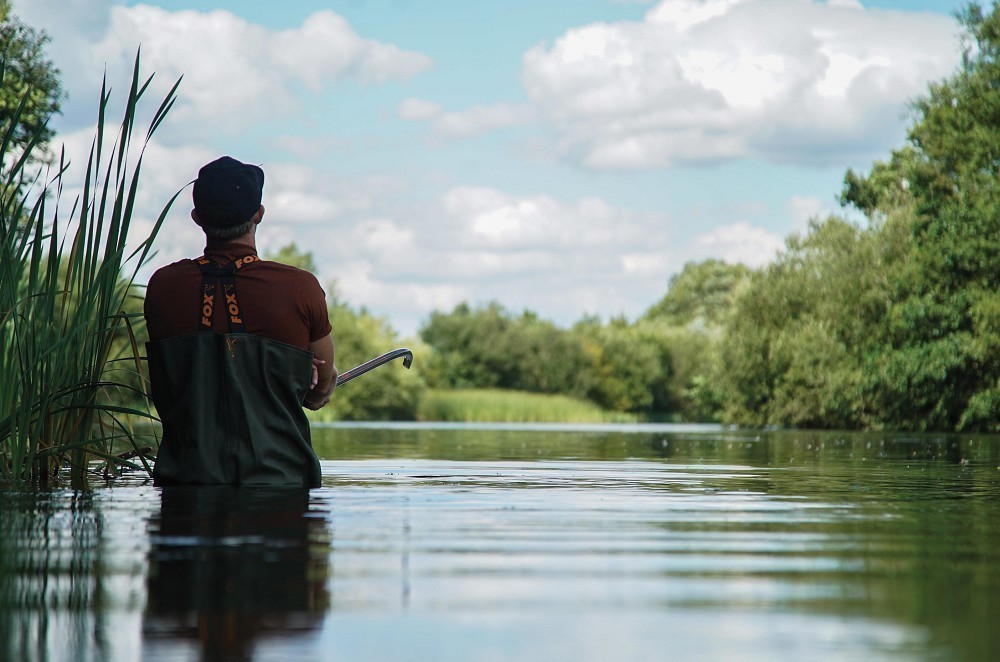 I donned the waders and took to the water with the throwing stick
I introduced a few handfuls of floating trout pellets to gauge their response, and to my surprise the big mirror began taking them almost immediately! Several of the other fish quickly took advantage of the free banquet and in no time at all most of the fish were feeding with gusto. I quickly legged it back to the van to grab a floater rod, waders, an unhooking mat and net, plus a few surface fishing essentials. When I returned just a few minutes later you can imagine my disappointed to find that most of the fish had drifted away; if only I'd had a rod to hand before!
The fish had moved around 70yds down the lake where they were inaccessible from the bank but not totally out of reach. I donned the chesties and stealthily waded my way down the overgrown margin before hiding myself away in the reedbeds a little closer to where the carp were situated. A steady introduction of floaters eventually persuaded the the carp to show a bit of interest again, although this time they were much more hesitant than before and only took the occasional free offering. Whether they were aware of my presence I'm not sure, but the next few hours were fruitlessly spent trying to get the carp feeding with any sort of conviction.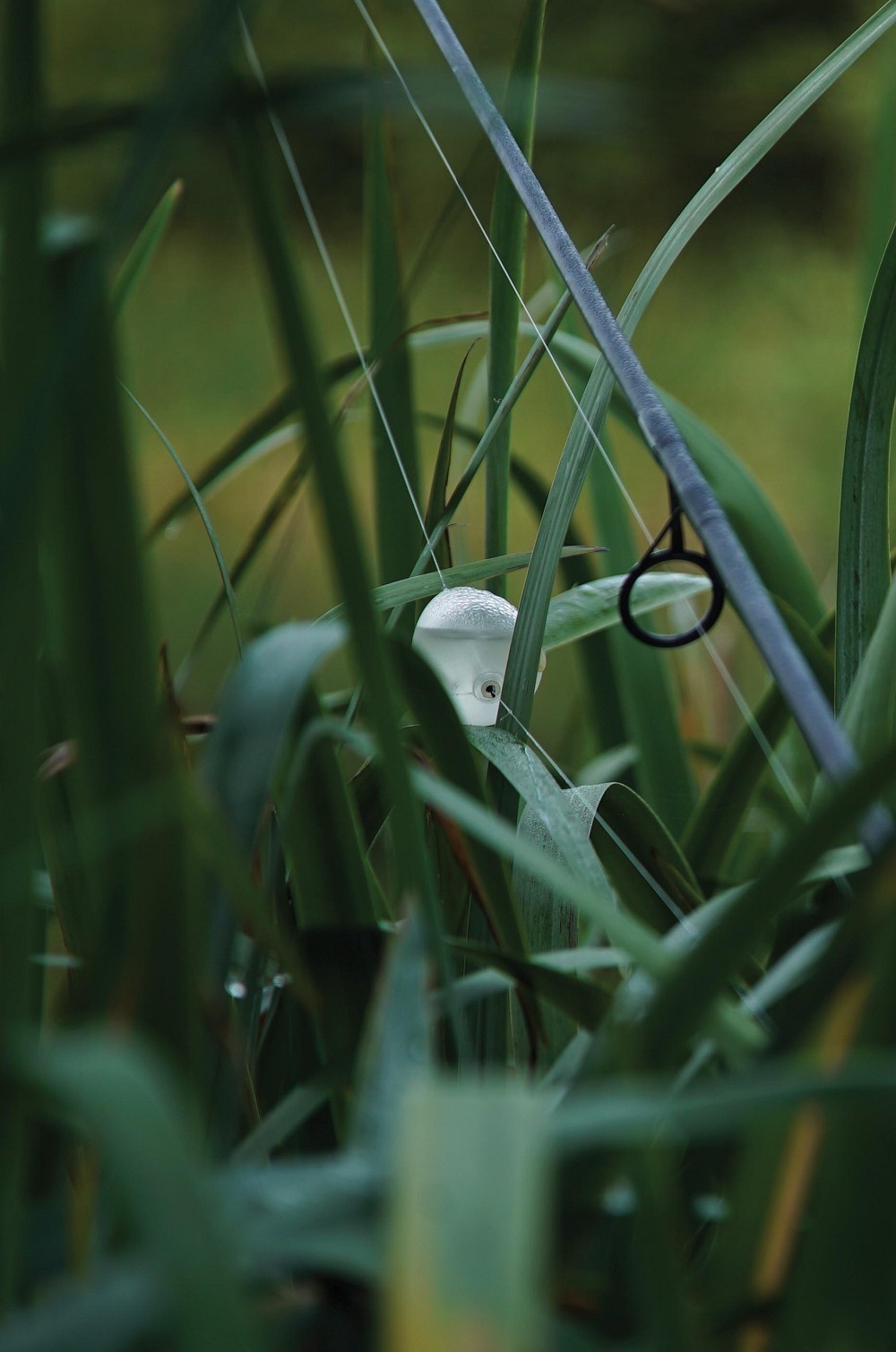 The set-up. And whilst it looks bulky and cumbersome, the extra weight allows me to punch it past the fish and slowly wind it back
With the day wearing on I decided to cut my losses and go in search of carp elsewhere. So far I'd seen around a dozen fish in that narrow arm, and with a stock of around 150 carp that meant there was a lot to be found somewhere in the main body of the lake. Although the wind had eased off slightly it was still rather gusty, but as I made my way around the lake I noticed a carp crash out in the distance on the entrance to a small corner right on the end of the wind. I headed over to investigate and as I approached the area I suddenly stopped dead in my tracks: it was like carp soup!
Although the breeze was belting into this end of the lake, this tiny corner swim remained relatively sheltered from the wind. In a small section of slack water there were at least 20 carp visible, and I was sure there would be more just out of view in the ripple. Once again I put the throwing stick to use and began trickling in some floating trout pellets just upwind of where the bulk of the fish were located. It took a while before anything showed any interest, but from nothing, one solitary fish began to sample a few pellets, and this feeding activity was the catalyst needed to encourage the rest of the group to have a feed. Within moments there were a number of mouths slurping down the floaters and it was time for me to make a cast. The rod was rigged up with a Fox X-Large In-line Bolt Bubble Float, which may seem excessive to use such a large float but this allows me to cast well beyond any feeding fish and wind it slowly back towards without causing any disturbance or arousing any suspicion.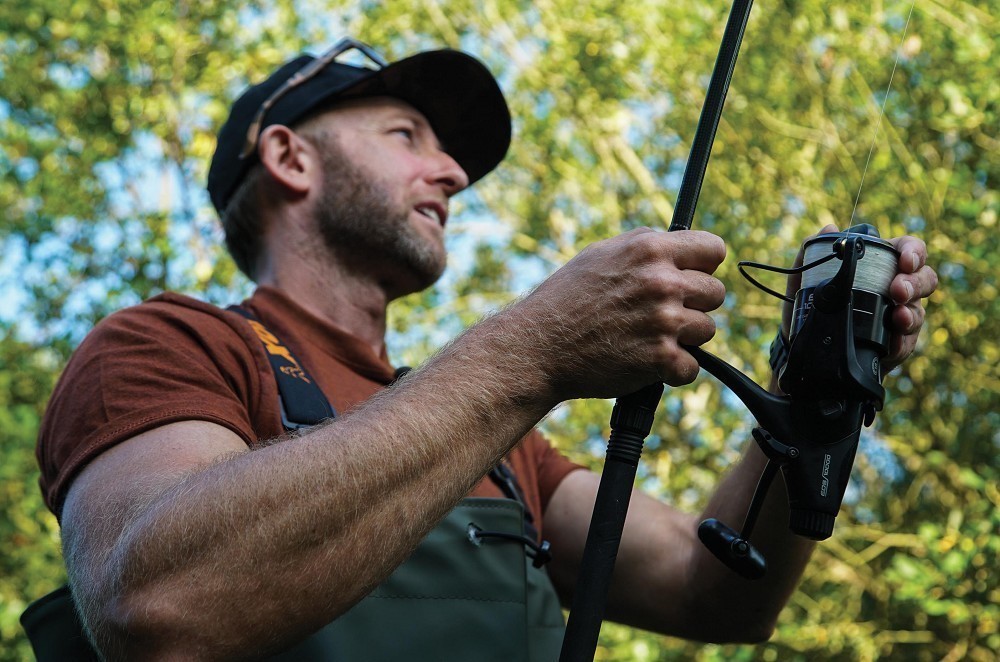 I'm in!
Having over-cast the float it was then drawn back into the group of fish which were certainly not fazed by the stealthy introduction of the rig. The beauty of using such a large, weighty float is they really emphasise the "bolt effect" and as a result bites can be quite explosive.
The wind was proving a little problematic as it was creating an awkward bow in the line causing the float and hookbait to drift slightly faster than the free offerings. This is where using the large floats has another advantage in that make "mending" (straightening) the line is much easier without dragging the float out of position. It was a couple of casts later whilst mending the line that I noticed a large swirl right next to the float and I cursed thinking I had inadvertently spooked a carp in doing so. But as the line zipped across the surface and the clutch began fizzing it began blindingly obvious that this wasn't the case at all! I was attached to my first Roman Lake carp, and as it powered off on a series of surging runs it was clear this fish was of a decent stamp.
Blinded slightly by the setting sun reflecting on the water I was just about able to see a broad set of shoulders break the surface in front of me which certainly made for a nerve wracking fight. Following an epic tussle the fish finally succumbed and it slid in the net first time of asking. As I peered into the mesh I gasped: it was a chunk alright, and a proper old looking warrior to boot!
After laying the net down on the unhooking mat I unravelled the mesh to reveal a beast of a common, not the big girl, but plenty big enough for me. With its big sloping head, sunken eyes and wrinkly tail the weight was almost immaterial, but it was clearly a big fish and I was not at all surprised when the digital scales displayed a reading of 34lb 8oz. I was absolutely blown away, what a start to the session!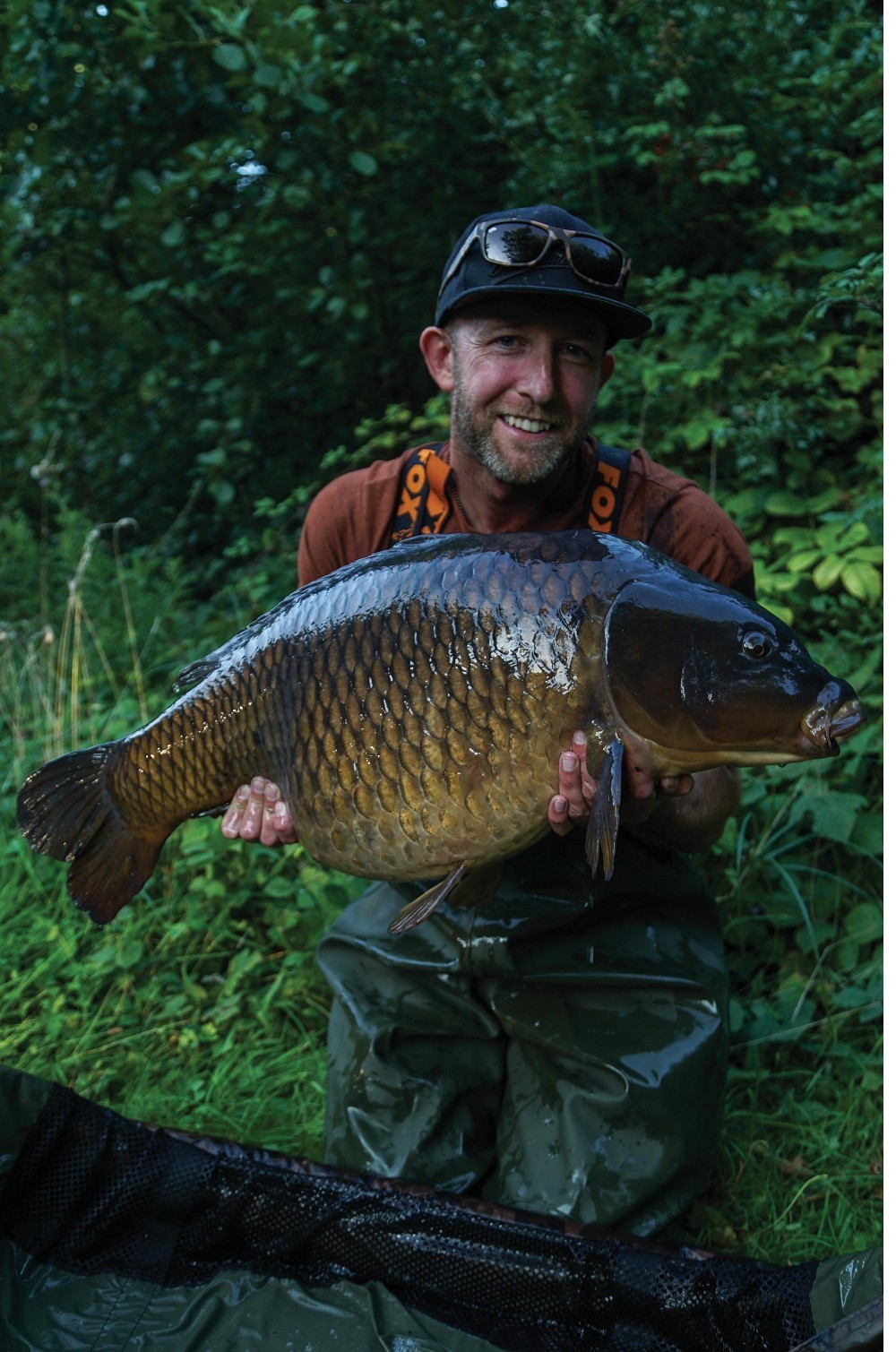 I couldn't believe my luck
With the photos taken and the fish returned, the light was fading rapidly and I decided to stay in the area for the night ahead. Although I felt the carp would vacate this area during the hours of darkness, with the wind set to strengthen and continue to push in this corner tomorrow I was confident the carp would return and my traps would be all set ready and waiting.
It was a tight, overgrown little swim, so again I had take to the water to get the rods in position. Each one was rigged up with Hinged Stiff Rigs that were baited with Odyssey XXX corkball pop-ups. These were positioned on small gravel spots along the reed-line, and baited with a handful of hemp, peanut chops and a few tiger nuts for a nice discrete presentation.
After a night under the stars I awoke at first light eager to spot any carpy activityand although my view was somewhat obscured by the undergrowth, the only signs I had seen were towards the centre of the lake. Still, I wasn't discouraged by this, the wind was picking up all the time and I remained confident the carp would return. However, 12hrs later, and after no indications whatsoever I was much less confident. A move was clearly in order and having loaded the barrow I made my way towards the centre of the lake where I had seen the activity earlier that morning.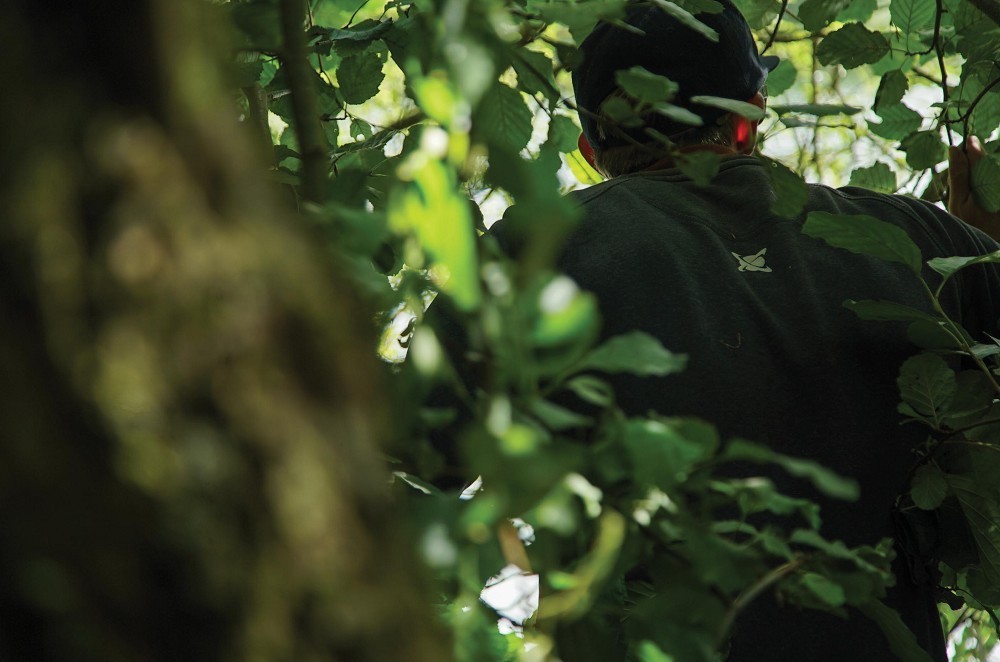 On the hunt for some more carp
After spending a bit of time leading around it was soon evident that this section of the lake was especially weedy with very few clear areas at all. I did, however, find one area of smooth clay that was totally surrounded by dense weed and it was here I chose to position all three rods. Once again three Hinged Stiff Rigs were deployed and I got busy with the spod rod and deposited a couple of kilos mix on the groundsheet-sized clay spot. Luckily I managed to get everything sorted before the heavens opened and I retired beneath the brolly for a much-needed brew.
The rain refused to relent during the night, and except for a mass slug invasion morning came with nothing to report. As the rain subsided to a light drizzle the carp suddenly became much more active. My baited spot began to "slick up" and two fish head and shouldered right over the area in quick succession. I was now receiving liners on all three rods and I began to think a take was imminent! For the next hour all I could do was to drink tea to keep myself busy and make all the waiting and anticipation more bearable! Sadly though, the activity stopped as quickly as started and the moment had gone.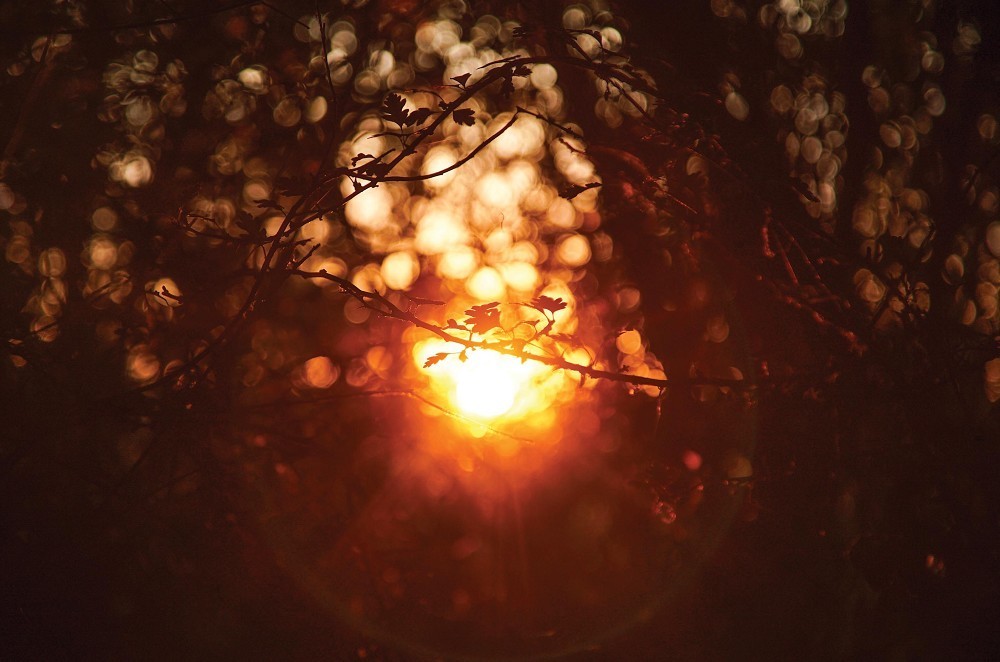 Whilst the night didn't yield any action, the morning sunrise was spectacular
With just an hour of the session remaining I decided to head over to the far margin where I had seen a very big fish crash out just a few feet from the bank. One rod was positioned on the edge of the reedbed on a small clear spot amongst the weed in a final bid to extract one more Roman carp before it was time to hit the road.
Unfortunately it wasn't to be, but I was far from disappointed because this had proven to be a most unforgettable experience on a fabulous venue.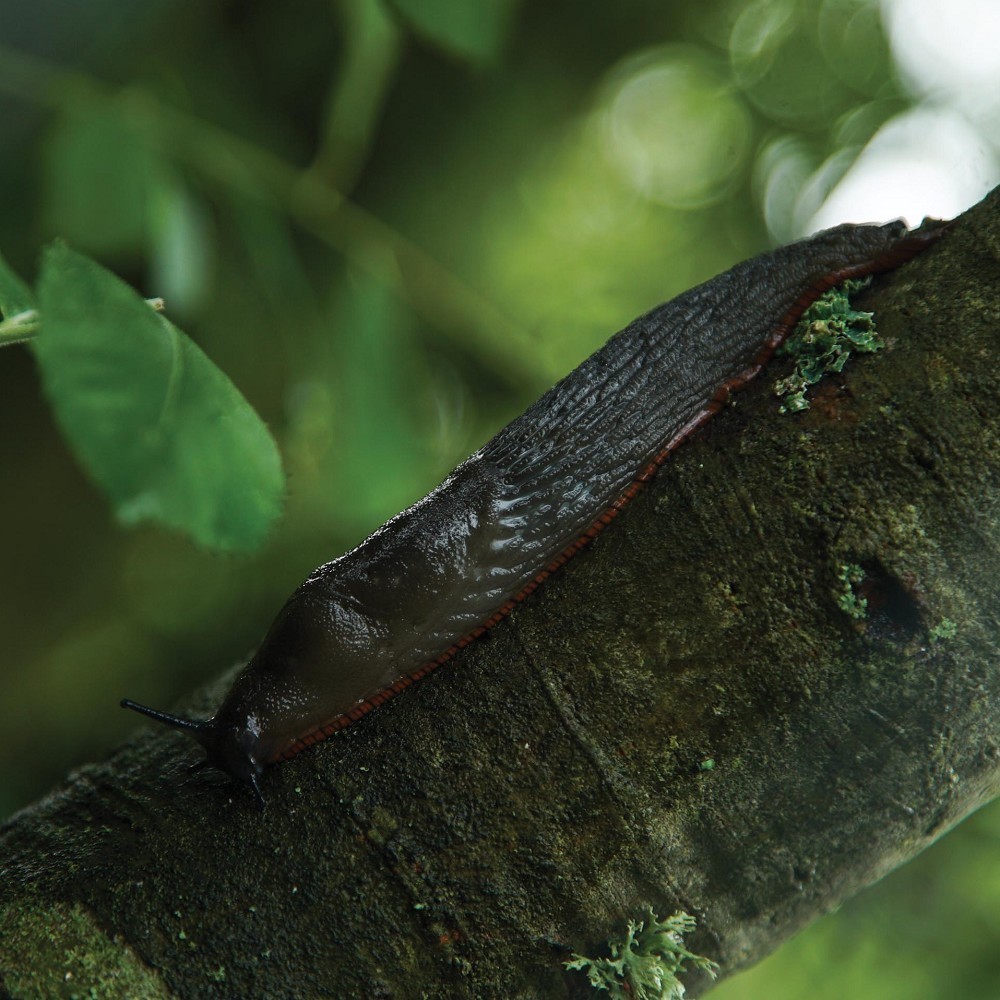 Oh, and lots of huge slugs!
Session Summary
This was a session I never even thought would be possible, so just to fish from the banks of Roman Lake truly was an absolute pleasure and a privilege. To come away having caught a 34lb+ carp, off the top, and a gnarly old warrior at that felt amazing, and if I'm honest, was truly unexpected. Looking back, however, I do think there was more carp to be caught, but it is only after observing their early morning activity and feeding areas that I think this is the case. I think my decision to stay put in that corner swim after catching was the wrong one, and although I had anticipated the fish would indeed push out during the hours of darkness I had expected them to make a return the following day. But hindsight is a wonderful thing and the carp don't follow any rulebooks!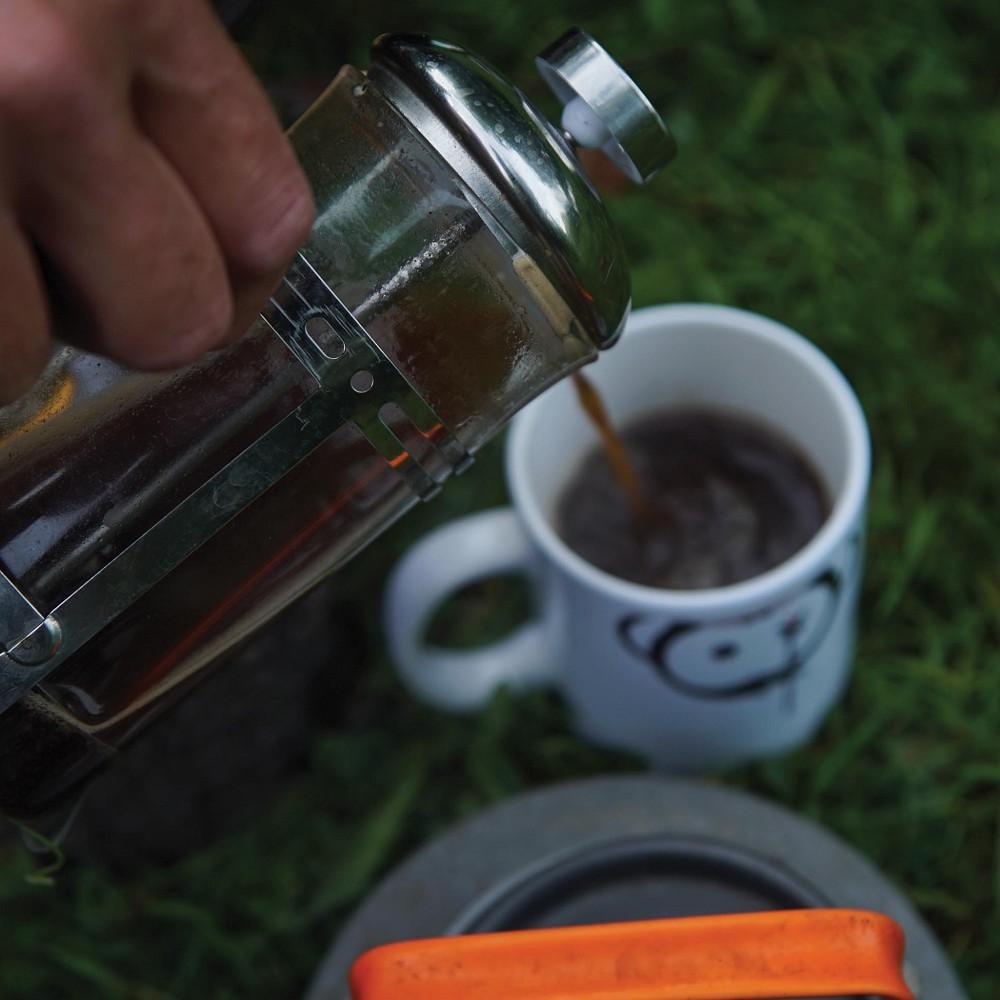 Morning coffee