Is This The Biggest Hit Of Winter Carp In Europe Ever?
French big carp water, Domaine de la Ribiere, has seen an amazing 72-hour hit of winter carp. Maybe the biggest in Europe – ever?
French anglers, Julien Filleul and Alex Farfal, have between them landed an incredible haul of carp totalling 60 fish to 34.2kg (75lb) and a staggering 1200 kilograms in a three-day stint that surpassed even their high standards. Both anglers have set personal bests and double takes became the norm.
Ribiere owner, David Cooper, commented: "We are blown away by the fish being landed. Having netted the lake at the end of 2020 we knew what we had in there was special but to see these guys catching 25 kilo, 30 kilo and fish up to 34 kilo out one after the other has been nothing short of amazing. I watched them catch two fish of 26 kilo and a 24 kilo within fifteen minutes. At times they just couldn't keep the rods in the water.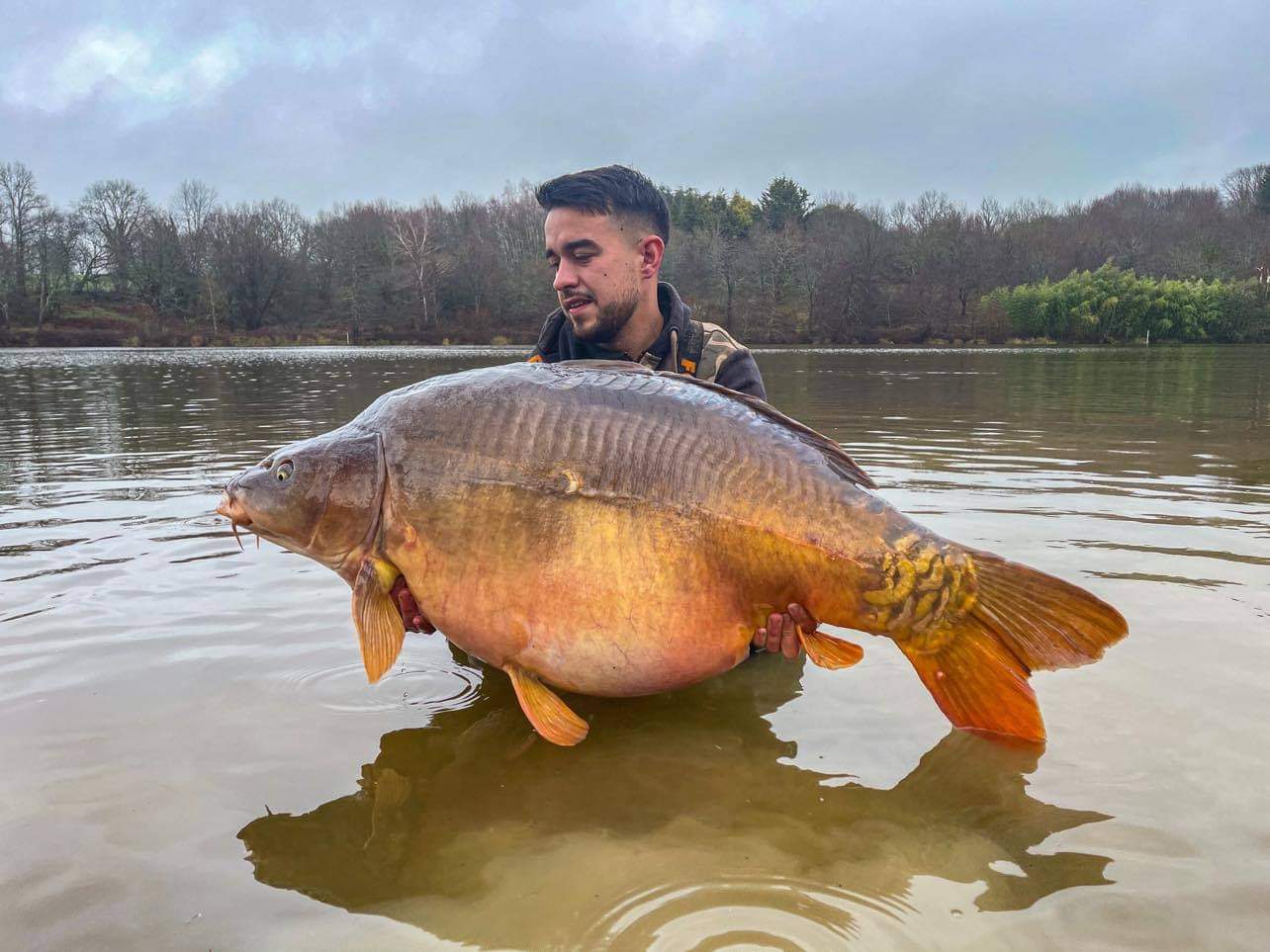 Julien and Alex are well known in France as two exceptionally talented anglers. They do their research, work hard and never stop angling. When you combine top anglers with ideal weather conditions and our stock of fish, then you get results like this. But our carp are nowhere near their top weights yet, so we can't wait for spring to hopefully see something even more extraordinary."
Their session resulted in 60 fish in total with an average weight of just under 20 kilograms. No two fish were the same and the catch included mirrors, commons and zip linears. There were three over the magic 30 kilogram with a new Ribiere 34 kilogram (75lb), 32kg, 30kg, 29.7kg, 27.5kg and four at 26kg being the biggest of the bunch.
As with many anglers, Julien and Alex's sessions are limited to 48 or 72 hours to fit in with their working week. Having fished Ribiere on a regular basis during the winter as this is the only time that sessions of shorter than one week are available, they know the lake and the fish so had their strategy in place. Fishing maize placed using bait boats over a pre-baited bed of boilie, pellet and particle. Their choice of rig was a simple pop-up using a size 8 hook.
Whilst not divulging their spots, both Julien and Alex watched the water and were not afraid to change things to get results. The move of one rod after almost 30 hours without a take by a mere ten metres saw a 25 kilogram (55lb) mirror in the net within 20 minutes! And that rod continued to produce the big fish.
Although Ribiere is a 24-hour venue, all of the fish were landed during daylight which gave the two anglers some welcome rest before continuing their marathon sessions on each of the three days.
Speaking on behalf of them both, Julien stated: "We always love coming to Ribiere as we know we are going to catch some great fish. But the size and condition of the carp has been incredible. It has truly been the session of a lifetime."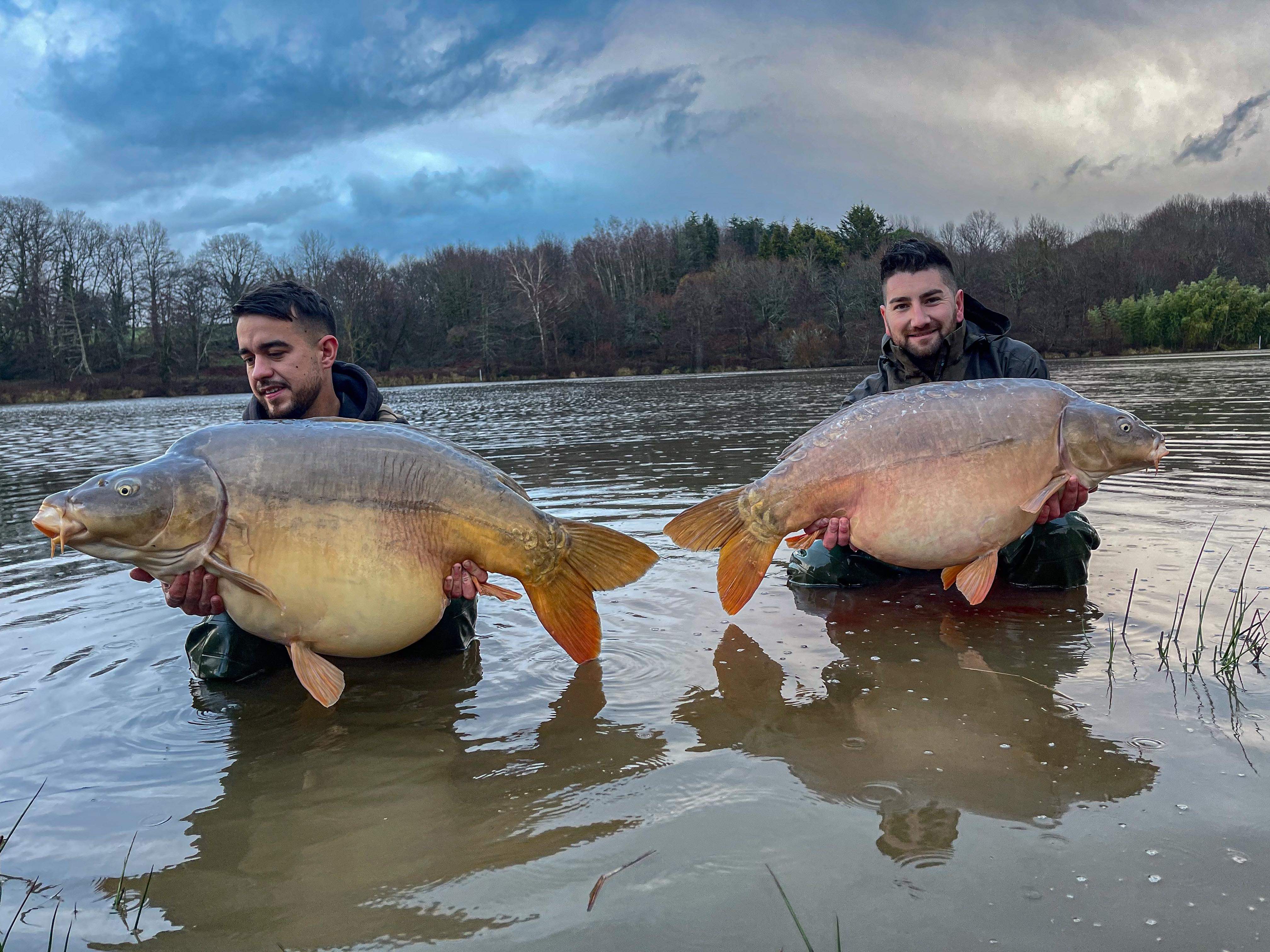 ---