Len Arbery: Redmire Recollections
CARPology counts itself extremely lucky to say Len Arbery once contributed to CARPology, all the way back in 2005, and these are those Redmire tales...
Yesterday afternoon (June 2nd) we were informed of the passing of Len Arbery. Len was a true gentleman, a pioneer, an exceptional angler; he was simply an all round nice guy. We count ourselves extremely lucky to say Len once contributed to CARPology, all the way back in 2005, for issue 12, where he recounted some of his many Redmire adventures. Just like all of Len's written work, this was a beautiful piece of writing, and this morning we've uploaded it to the site so those that missed it the first time around, can enjoy it now. Rest in peace Len, you will be sorely missed.
---
At the time of writing, November 2004, no less than fifty-three years have elapsed from time's reel since Redmire Pool first hit the headlines in the angling press. This was way back in 1951 when Bob Richard's shattered the English carp record with the 'original' Redmire monster weighing in at no less than 31lb 4oz.

Today's generation of carp anglers can't possibly imagine the amazing stir this event caused in the angling world, and, when comparing 31-4 against current leviathans, may consider it 'small beer'. But, like I say, it wasn't anything like that back in 1951, when the previous 'record' stood at 26lb. In fact many angling authorities of the time believed Albert Buckley's twenty-six pound carp, caught from Derbyshire's Mapperley Reservoir, was inviolable, not least because it had stood for over twenty-years, since July 1930 to be precise.

Fortunately for us, however, there were a few progressive souls, who didn't think so negatively and were the first to illuminate the carp path that we all follow today. BB (Denys Watkins-Pitchford) from Northamptonshire, Harry Grief at Dagenham, Essex, Jack Smith at Hunstrete lake near Bristol, John Norman at Mapperley, Maurice Ingham of Louth, Lincolnshire, and Richard Walker and Peter Thomas of Hitchin, Hertfordshire, amongst others, were gradually proving the 'uncatchable carp' legend wrong. And Bob Richard's new 'record' from Redmire brought into question, and focussed many new minds on the ultimate size carp might grow to in this country.

Redmire Pool has, therefore, been in the forefront of carp fishing's mythology for over a half a century, and inexorably bound to my life for over thirty-years too. Of course, I am old enough to recall reading the reports of Dick Walker's capture of Clarissa; his Redmire caught record carp, in 1952. But really my personal Redmire saga begins in 1971.

My friends, Jack Hilton and Bill Quinlan, had been in the Redmire Syndicate since its inception in 1968. With these close and influential connections, it was inevitable, I suppose, that eventually the chance to join them would come. This materialised in 1971 and, should a vacancy occur, it was planned that my place in the syndicate would be assured for the 1972 season. That this, in fact, didn't materialise, was wholly due to me sustaining severe injuries in a serious car wreck in September 1971. Not only did my body suffer, but also because not being fit enough to return to work for several months, so did my financial status. Even supposing I'd recovered my physical strength sufficiently by 16th June, there was absolutely no way the syndicate fees could now be put together in time. Reluctantly I phoned Jack to cry off.

When I inform you that the fee in question was £50 (for the complete season!), and there had been no increase since 1968, you may be forgiven when today's prices are considered, to believe this was but a trifling amount. What you must remember, however, is that the value of money has deteriorated considerably in the intervening years. To give you some idea of this, as a fully skilled precision toolmaker, my take-home pay in 1971 was around £12 a week. Put another way, to join the Redmire Syndicate would cost me more than a month's salary! And then you could only fish one week in three! Dick Walker always maintained that if Jack Hilton had negotiated through him, the fishing at Redmire might have been secured for a tenth of the cost. Whether or not this was a realistic assumption on Dick's part there is no way of knowing of course.

Anyway, although I wasn't yet a part of the syndicate, Bill Quinlan, especially, continued to keep me informed of developments at the pool in 1972. Jack caught the first fish of the season – a splendid mirror of 36lb 10oz. There was more than a hint of déjà vu in the capture, for this particular carp, known as 'Pinky', was also Jack's first ever carp from the pool, back in 1967, when it then weighed 35lb. Bill was next to score with a brace of 'twenties', both commons. The larger weighed 29½lb and was also a 'known' fish; on at least one previous capture it had been recorded at over 30lb. Later, that same summer, two new syndicate members began making names for themselves as successful Redmire carp fishers – Chris Yates and Rod Hutchinson.
I was waiting at the gate of Longfield, which some of you may know as 'Fox Pool', for the opening of the 1973 season when, first, Chris Yates drove by on his old motorbike Redmire bound, second, Tom Mintram unexpectedly arrived around 5.00p.m. Tom had been asked by Jack Hilton to contact me, hence his special trip to Longfield. Tom had phoned my wife to ask where I'd be. Under normal circumstances June wouldn't have let on, but right away knew this situation was exceptional. Evidently Kenny Ewington, Jack's brother-in-law, had had to drop out of the Redmire Syndicate at the very last minute, and Jack had empowered Tom to offer the place to me. Without stopping to think about where the fees were coming from I jumped at the chance, for this was just the news I'd been longing to hear. In fact, I could hardly believe my good fortune; didn't they know, things as good as this, just don't happen to people such as little old me?

Though undoubtedly very good, the Longfield carp couldn't be concentrated upon. I was going to fish for the leviathans at Redmire Pool - at REDMIRE POOL! Following the footsteps of so many great carp men. Legendary carp men, such as Bob Richards, Eddie Price, Dick Kefford, Roger Bowskill, Fred J. Taylor, Gerry Berth-Jones, BB, Pat Russell, Maurice Ingham, Pete Thomas and, the 'oracle' himself, Dick Walker. These men had proved the inspiration for so many others. And I wasn't discounting, nor forgetting, the syndicate members either. This excited anticipation almost overwhelmed me and, after just a few hours, I packed-up and returned home.

Once showered and shaved I set-off to find Bill Quinlan to pass on the good news. This wasn't as straightforward as it might have been; his old mum told me he had gone to the pub… but which one?! Eventually I tracked him down to a hostelry in Greenford and, great mate that he was, offered to loan me any shortfall in funds I might need. It was also my great good fortune to share Bill's rota, so we formulated plans for my first visit.

Because of the short notice, a full week off work couldn't be arranged, Thursday morning being the earliest I could get away. Sleep was scarce the preceding night and I left home much too early for a dawn arrival at Redmire. Some of the surplus time was spent drinking tea in lay-bys on route, and a policeman was suspicious of my first ever walk around Ross-on-Wye. Well, it was 3.00a.m.! At last, despite the drizzle, the sky began to lighten and I drove past signposts that then, had such strange sounding names inscribed upon them. The passage of time, and so many, many journeys, though has made them so familiar today, places like Glewstone, Biddlestone, and, finally, Llangarron, conjure up so many happy memories.

Bill was still asleep, which wasn't unusual and in no way bothered me, as I wanted my first impressions of 'The Mecca' to be formulated alone. Prior to this moment, Redmire had been a love affair only savoured in the realms of fantasy and now, at the moment of consummation, I didn't need anybody, not even Bill, looking on.

In the cold, thin, grey light of dawn, the pool lay unruffled by even the slightest breeze. It was, however, dimpled by a million tiny droplets of rain, which had the effect of making the pool itself, appear grey; the only exception being where weedbeds reached the surface. Here the surface appeared much darker and in some areas, where trees blotted out the light, almost black. My first impression of the place was one of tranquillity; compared with the waters I'd been brought up on, and those I was used to, it was so very quiet. Being far from the nearest road, and that being a narrow country lane, no noise of traffic invaded the peace of that moment. The only sound, apart that is, from a solitary moorhen's clucking, was of dripping and running water. This emanated from the rain of course, and from the pool's outfall in the corner of the dam, to my right. The water of which dropped over a brick ledge before chuckling over countless stones as it left Redmire and continued its journey towards Llangarron.

Finally, as if to confirm I was, at last, gazing across the mystical depths of Redmire Pool, a big, at the very least 20lb, golden scaled common carp silently 'head and shouldered' just in front of the big weeping willow's trailing fronds. This may be considered by some to be a greeting; however, it shattered my reverie and I went round to Pitchford's to wake up Bill.
Over steaming mugs of tea, Bill recounted what had happened so far that week which, though Chris and Rod had scored heavily the previous 'opening' week, wasn't much. It wasn't until just before we left for home early Sunday morning that I saw my first Redmire carp out of the water. Before dawn Bill had sneaked in, with a pair of rods and a can of sweetcorn, under the weeping willow. From here he managed to extract a 25lb leather – the one with extra long barbules.

I had to wait much longer to catch my first Redmire twenty-pounder – until October! By this time Bill and I were using luncheon meat for bait. We'd had many chances between us on this bait, the first 'twenty' coming to Bill's rod in September. For my part, any fish hooked on the meat turned out to be under the magic 20lb mark, or fell off! I well remember one especially painful incident, in the Evening Pitch, when a common that could have easily weighed 30lb plus, came off right at the net wielded by Bill. Even to this very day the thought of that loss hurts, I really wanted to land that fish so very much.

Arriving at Redmire in September 1973, planning to fish with Jack and Bill. I met Chris Yates at the gate at the end of his latest stint. Chris informed me that during the past week, Rod Hutchinson and Jack had caught two 'twenties' each from the Willow and Evening Pitches respectively. Rod having already left, but Jack still fishing. Continuing, Chris also told me he'd caught two carp as well, a 'twenty' from the Fence Pitch, and the '38' from off the dam – on float tackle!

1974 at Redmire Pool was Rod Hutchinson's year. Out of a total of 22 carp over 20lb caught; Rod was responsible for more than half! I didn't do too badly I suppose, catching three 'twenties'. The maximum number of anglers allowed by the lease saw four of us fishing together in September; Bill in Pitchfords, Tom Mintram fishing the Evening Pitch, Jack Hilton in Inghams, and yours truly in the most famous area of the lot, The Willow Pitch. Early one midweek morning I caught a memorable brace of leather carp. Good job they were memorable, 'cos Bill, despite employing two cameras, mucked up all the photos. Don't know what he did with my camera, all I do know is that the film came out blank. It is easy to understand however, why no pictures were forthcoming from Bill's camera – he'd omitted to put a film in it! As Roger Smith so often reminds me, "You had to make allowances for Bill, 'cos he was Irish with a capital 'I'!"

Neither Bill nor Jack fished at Redmire in 1975; Bill because he had to concentrate sufficiently at work to keep the Inland Revenue men off his back; Jack because of personal problems, that it is not my place to discuss or divulge.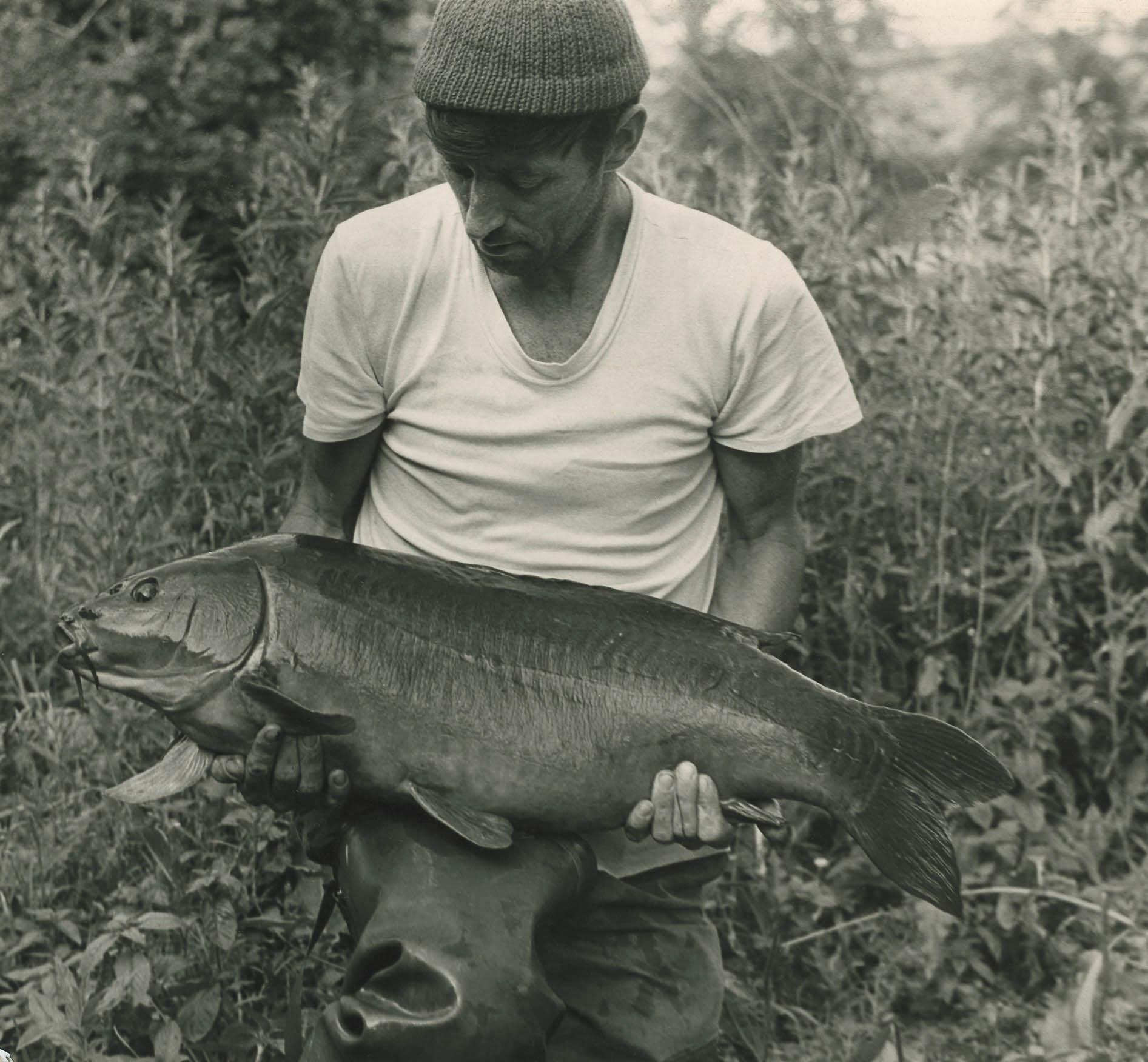 If 1974 was Rod's year, then 1975 belonged to my new rota partner, Kevin Clifford. Kevin caught at least 17 'twenties' from Redmire that summer, no less than eight coming during opening week with sweetcorn being largely responsible for the damage. Apart from catching the first and final Redmire 'twenties' of the year, in June and October respectively, there is nothing much else to report concerning my own captures. Oh! With one exception: The capture of the first, a 22lb 10oz mirror, giving Kevin and I the initial inkling of just how old some of the Redmire carp were.

Although only having seen a photo in Fred J Taylor's classic book, 'Angling in Earnest', Kevin thought my recently caught 22lb 10oz mirror, and Pat Russell's 27lb'er, caught in 1956, were one and the same individual fish – a suspicion readily confirmed on our return home.

Just prior to the long, very hot summer of 1976, Jack Hilton stood down as the Redmire supremo and handed over the reins to Tom Mintram. Bill returned to the syndicate yet, despite there being a vacancy to allow him to join Kevin and I, unfortunately, this wasn't permitted. Moreover, no valid reason was forthcoming from Tom to either Bill or I for the decision. With the exceptionally high temperatures that extended throughout that summer, and compounded by the previous unusually dry winter, the level of the pool dropped dramatically and alarmingly. Concerns that the carp would not have sufficient oxygen to survive, however, proved unfounded when Kevin acquired an instrument to measure the dissolved oxygen content of the pool's water. This was kept at the pool all summer to dispel the suggestion, from some quarters of the syndicate, that the Redmire carp ought to be moved to a more oxygen rich water for the duration of the drought. This was an idea Bill, Kevin and I were against, so long as the carp were in no danger at Redmire.

Mainly due to the heat wave conditions in that year, 1976, only for the second time since the formation of the syndicate in 1968, did the numbers of 20lb plus carp caught by the members from Redmire not exceed the previous year's total. Nevertheless, there were still seventeen such fish caught. Not a bad result when one considers most of the carp were basking for long periods – even at night! We could tell they were still on the surface during darkness when something or other disturbed them, when the surface of the pool would erupt instantaneously in the vicinity of the weedbeds, the Redmire carp's favoured basking areas.

Little did I know it at the time, but 1976 was the last year I would fish the pool for a very long time. Even with the end of the drought there were still moves afoot to remove some of the carp on one pretext or another, and eventually, in the closed season of 1977 a netting took place without proper permission. Some of the syndicate were, understandably I believe, quite concerned over this development and five of us, including Kevin and I, (Bill having already resigned), drove down one evening to inform the owners. The upshot being we were eventually chucked-out for our trouble.

It wasn't until the end of the syndicate's control, which, incidentally, I had nothing to do with, and Clive Diedrich took over the running in 1985, that once more my carp rods were put together at the magic pool. That return, despite being in the company of Bill Quinlan, was rather an anti-climax; to my eyes the place seemed so neglected and Bill made it abundantly clear he was of similar mind. (In case somebody might think this a personal attack on them, or others, details won't be gone into here). The carp were spawning as well, and we did well, considering the circumstances, by both catching a couple of the smaller Redmire residents.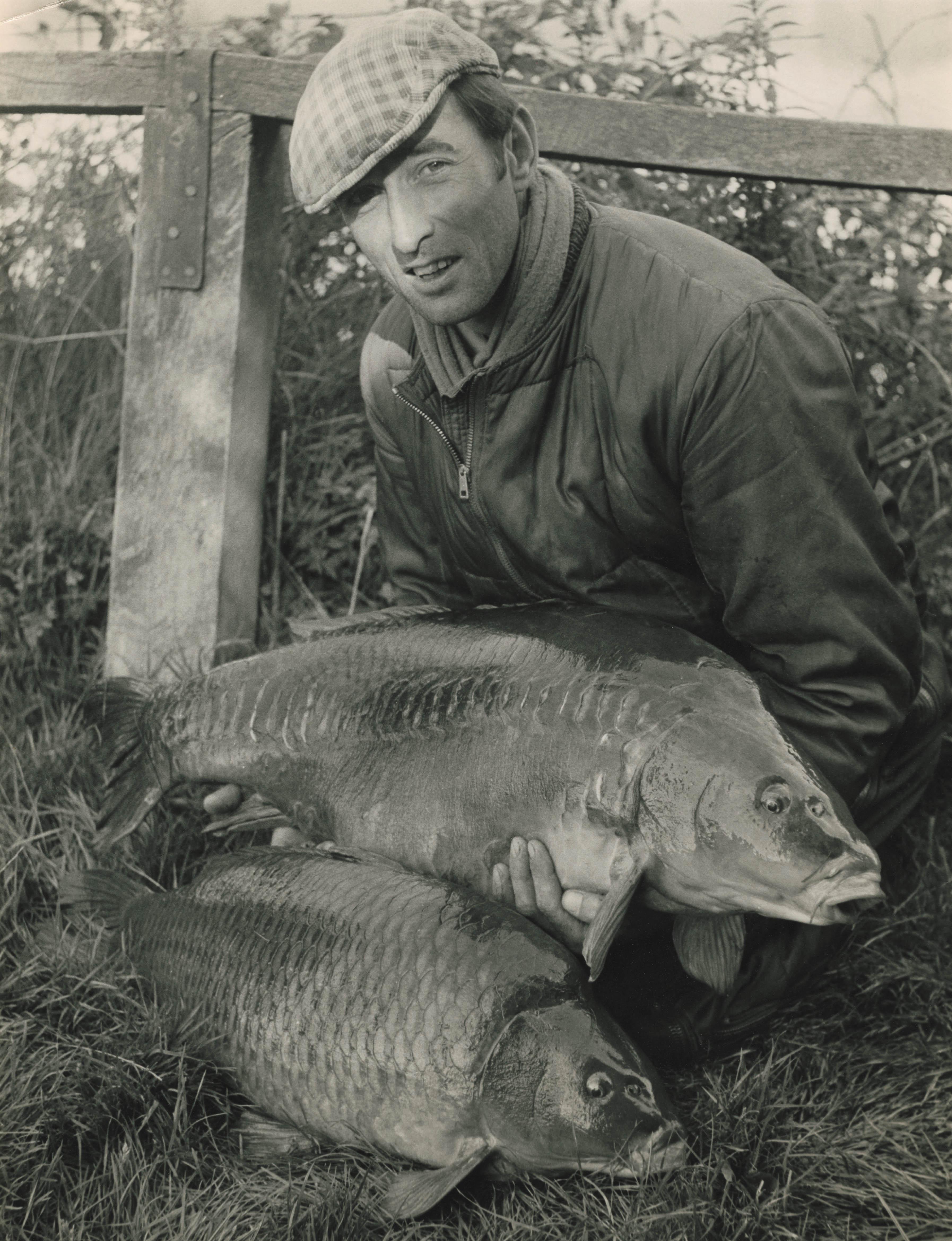 I also have Clive to thank for allowing Bob Buteux, my close friend for 35 years now, the opportunity to fish Redmire at long last. Despite knowing Jack Hilton very well, and being a close buddy to Bill Quinlan, as well as to me, because of the syndicate restrictions, Bob had never even seen the place let alone fished there. In October 1985, it was my great privilege and pleasure to accompany Bob on his first Redmire visit. I'd now like to report that we did great slaughter to the carp, but it was not to be. Bob did manage to catch two 'doubles' during the weekend. The 'icing on the cake' as far as he was concerned, but it wouldn't have been more than justice if they had both been infinitely more impressive.

The full story of my involvement with Redmire in 1986 has been told earlier, so it is unnecessary to repeat myself here.

It is now history that largely through the efforts of Tim Paisley, Kevin Clifford and myself, Redmire Pool has been run, extremely successfully I might add, by The Carp Society since 1987, but all our efforts, no matter how well intentioned, would have come to nothing if it hadn't been for the good offices of one man. He it was who accompanied me to see the Redmire owners and argued so convincingly; he it was who freely spent so much of his valuable time masterminding how The Society could manage to run Redmire; finally, and he won't thank me for mentioning this, he stumped up a considerable chunk of his own cash to finance the deal, and there was no way he could be certain he'd get any of it back. On behalf of all carp men, not just members of the Society, I say a big 'Thank You' to Les Bamford. Without your considerable input, Les, Redmire would not have been the success it has undoubtedly been, under your guidance, for the past 17-18 years. Cheers, Les!
LEN ARBERY