My Life (So Far) In Angling - Simon Crow
European ace and Mr. Consistent, Simon Crow reveals what's been the best bits so far...
FAVOURITE FISH
"There's one carp that stands out above all of the others I've had and that's The Estate Lake forty I caught from Yorkshire in 2009. When I first moved to the county in 1993 I knew all about this fish. It was an upper-thirty back then, but a highly thought of carp that was the 'one' to catch in the north. It's home is a 20-acre venue that in the summer is choked with weed. It's a very shallow water, covering 2-3ft over 75% of it, with a very low-stock of carp in the region of 20-25. They've seen everything down the years as the lake gets a lot of pressure, especially in the spring time.
"Obviously everyone wants the Big 'Un', which when I first stepped foot on the banks in 2007 was weighing just over 40lb. It doesn't get caught very often, mainly because of the natural food in the lake, and by the time I caught up with it in 2009 it had avoided capture for almost two years. There were all sorts of rumours going around at the time I caught it, people saying the fish was no longer in the lake. I was getting laughed at for still fishing there, but I'd seen it and knew exactly what I was after.
"Being almost 50 miles from my house, it was a long drive going there regularly as it can only be fished during daylight hours. I was backwards and forwards quite a lot, getting up at 4a.m. to go and fish for just a few hours before I had to go to work. Most of the carp tended to come out in a morning, so I knew the effort was worth it.
"Eventually when I hooked the biggie, it just roared off, like no other take I'd had from the water. I knew straight away which one it was. Its weight of 43lb 6oz was irrelevant. I just wanted to catch the finest carp in all Yorkshire, a very special carp indeed."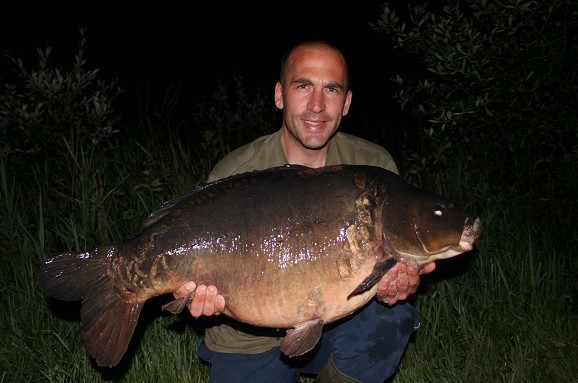 MOST AWESOME POND
"The 25-acre Tilery Lake in East Yorkshire. It requires a mile-long walk from the car park to some of the swims, over ploughed fields, through bushes and reeds. It's an open clay pit with very little cover, quite ugly really. There's loads of weed in the summer and when the wind picks up, it's tough getting your baits out or getting the fish in as a lot of the fishing is at long-range to a central bar. It's a proper mans water because the stock isn't particularly large these days. They're all old warriors in there too, making it very rewarding."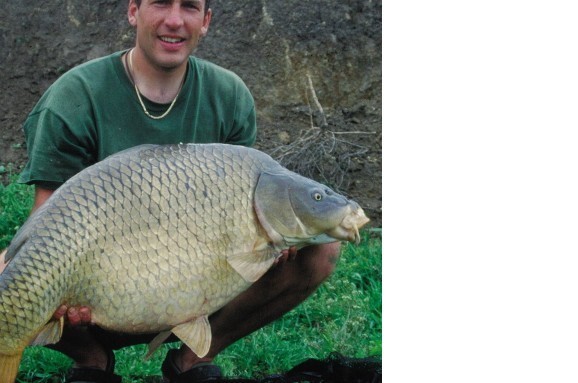 BIGGEST REGRET
"This would have to be not fishing Lake Raduta in Romania as much as I should have when the lake was first discovered in 1997. I was tipped off about the amazing water when it first came to light and didn't fish it until 1998 when I was in the party of first UK anglers to go there. I caught carp to 52lb and didn't go back until several months later. The best years of any lake like Raduta are always the first few, and during the first three years I only went there three or four times. I should have gone a lot more."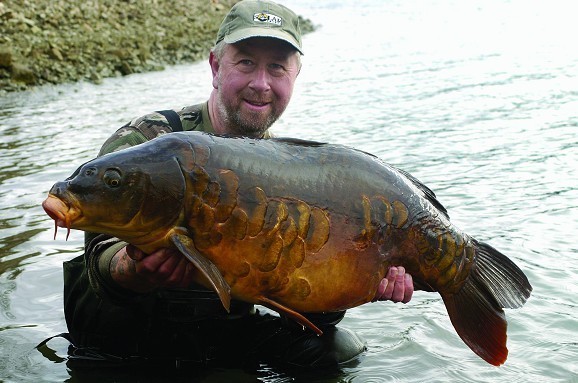 MOST IMPRESSIVE ANGLER
"I've fished with quite a few awesome anglers down the years: Rob Hughes, Martin Locke, Tim Paisley, but I'd have to pick Steve Briggs as the best. He's not only an incredible angler, but he's also a fantastic bloke. Apart from one particular famous angler who he had a run in with at Summerleaze, I've never heard him say a bad word about anyone. He's the Mr. Nice of carp fishing. Lots of people know him for his overseas exploits, especially Cassien, but he can catch them from anywhere. It only took him three or four nights to catch Cluster from Wraysbury at over forty, and he tackled the mighty Mere when he was almost fifty-years-old. Hiding in bushes, jumping fences and being successful on such a demanding water takes something special, and he truly is the best angler I've ever fished with."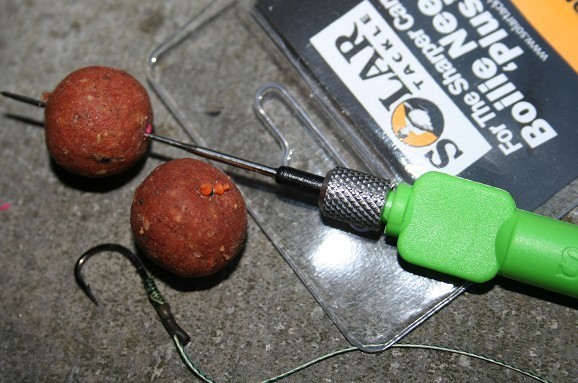 BEST PIECES OF ADVICE
"When I was growing up, Julian Cundiff was a big inspiration to me as a writer. His articles were great reading as he was 'normal', working 9-5 and still finding time to fish. He didn't follow the crowd and write about blanking at Yateley, he just did his own stuff in Yorkshire. He used to write about not chopping and changing things too much, not over-complicating angling. One of his catchphrases was, "if it ain't bust, don't try to fix it." Those words have stayed with me throughout my angling career. I've messed about with rigs down the years, been influenced by lots of anglers, but always found myself going back to a really simple rig that I first used when I was a teenager. I still use it today, often the brunt of many a joke. But like Jules says, if it ain't bust…"
MOST SUCCESSFUL SWIM
"I've been going to Orchid Lake in Oxfordshire for nearly twenty years so it'll be one of the swims on there. I really love it down there, a great water with some lovely old carp. I've had some great results from Orchid over the years. I've never been particularly lucky with weights though, catching lots of the thirties just below. However, the swim known as Island Dug Out has probably seen me catch more carp than anywhere else I can think of in the UK. It's a swim I've always felt comfortable in, probably because it's got a big drop to it so plenty of cover behind. There's a big set of pads to the left where the carp love to hang out. The margin leading to the pads is a great spot. You can also get the fish from off the island as well as open water. I've no idea how many fish I've had from there, but I can think of loads of sleepless nights and multiple catches from there. Great fun."
BIGGEST COCK-UP
"These days I tend to spend most of my UK carping in Yorkshire where I've been fortunate to have caught three different forties and almost forty different thirties. I've never had a Yorkshire 30lb common though, and I've wanted one for a while. Last year my chance came when I spotted the big common in Northern Stillwater basking on the surface next to a weedbed. It was next to a small fish and a mid-twenty mirror I'd caught the previous week. They were only a couple of rod lengths out. When I climbed a tree the common looked immense. I'd not seen the fish close up before. It was prime for a surface bait so I waited for the right moment to cast in as I didn't want to spook it. Eventually the group started nudging one another and they circled under some weed and out of view, giving me a few seconds to drop a free-lined Mixer to where they were. As the bait hit the surface, the common came back into view and gulped it down straight away! To cut a long story short, I gave it a bit too much stick trying to keep it away from the weed and after having it almost in the net, the hook pulled in front. It was caught a couple of weeks later weighing 38lb with a slipped hook mark in the corner of its mouth… ouch…"
BIGGEST LOSS
"My third trip to Lake Raduta in Romania was a bit of a nightmare. It started really badly as I lost one of my bags on the flight over. It contained everything important, my mobile phone, camera, reels, buzzers, etc. The lads helped where they could, lending me the bits I needed. I ended up fishing in Church Bay, full of bones washed up on the bank from the graves in the area. There were some massive fish rolling in front and I started with a couple of forties to 48ľlb. Then it happened. I hooked into something that felt like a bus it was that heavy. I got the fish in front of me, at my feet, its monster back sticking out of the water. I was up to my knees in water so I knew it was a monster. It was easily a 60lb-plus, waddling in front of me. It went to the left, then in front and to the right, the rod into a lovely curve. I couldn't shift it. Then the hook pulled in front of the net. I watched it gently swim back off into the depths in slow motion, wanting to run after it with the net!"