My Own Little Story
Jack Reid recalls a spring session when everything went just as he hoped it might… well almost!
Back in April, in the inky twilight of early morning I found myself navigating my barrow through fallen leaves, dead wood and brambles on the banks an old estate lake. I'd been given the green light for a spring session on an iconic piece of English countryside, and to add a cherry on top of this particular cake, I was sitting on nearly a month's baiting…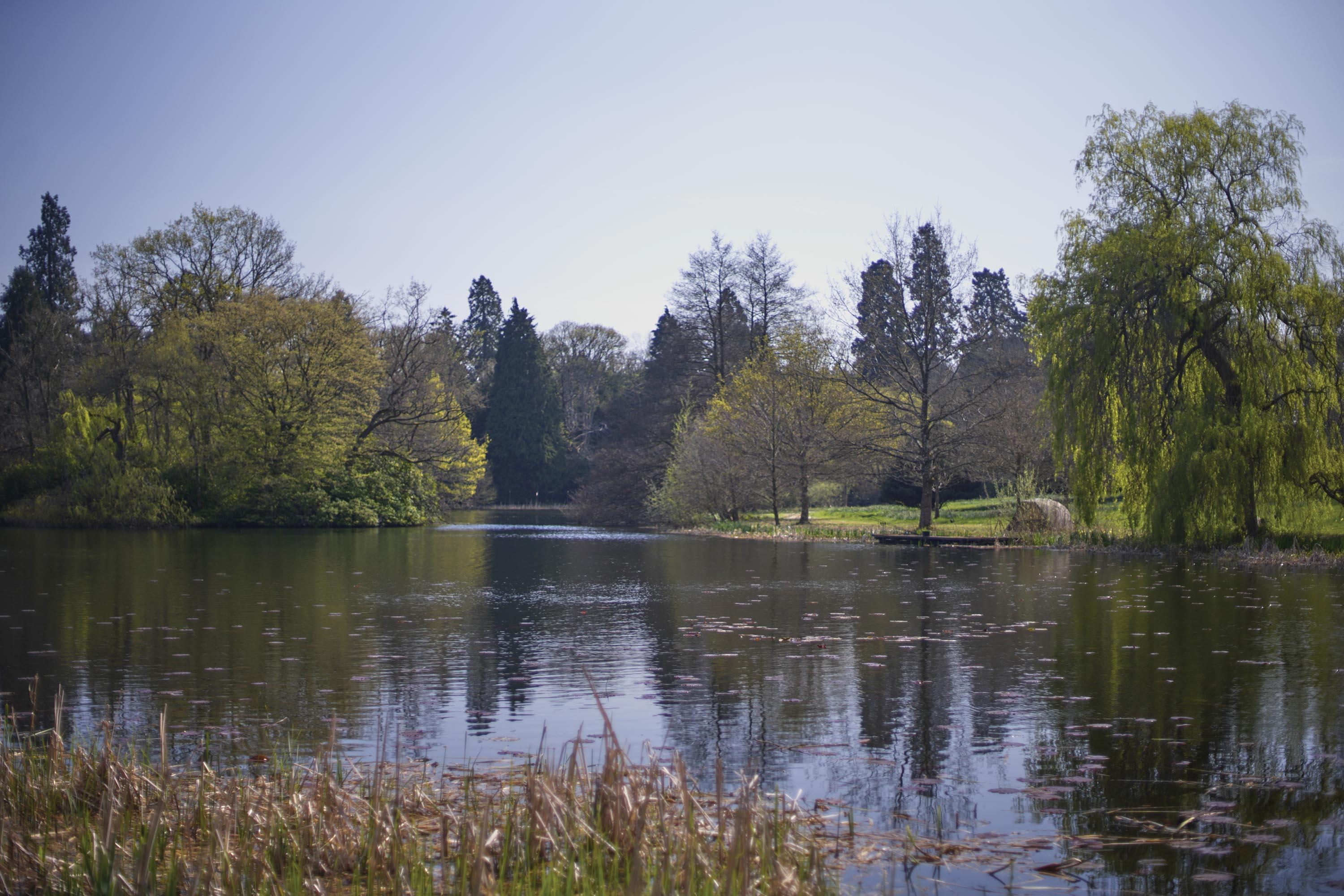 The plan
Rewind a month and there I was, brimming with anticipation and checking weather forecasts that were so long-range, they'd almost certainly prove to be useless. What dates would I block out in the calendar for my session? I was eager to go as soon as I could, but I didn't want to use my golden ticket too early, given that nighttime temperatures remained low. Having been to the lake a few times for filming, I had a good bit of background information and knew that I'd be fishing with an approach more suited to summer or autumn. By this I mean selecting a particular area of the lake for heavy baiting prior to the session, rather than roving around casting singles or setting small traps, as would usually be associated with early spring. The spot would have to be chosen carefully as virtually all my rod hours would be spent on it. In addition though, I wanted the freedom to perhaps nick a chance elsewhere, within range of the main rods - it's very difficult to wind in your main, baited-spot rods knowing that at any moment, a fish of a lifetime could slip up!
Despite the lake being relatively large, much of it is overgrown with no access to the water's edge and this obviously limits the number of places you can fish two or three rods from. Eventually I opted to fish the same bank Terry fished in the Old Friends and Mr Fox film, but on the other side of the island, further up towards the famous Boat House Bay. This area gave me room to cast three rods the 100yds into the body of the lake, where depths are slightly shallower than Terry had - but then it was spring after all. The swim also allowed me to keep my eyes on the lily pad-filled bay to my left, where fish were known to visit as it got warmer. If a fish or two turned up as I watched, I could still fish for them whilst keeping my main rods out, and so the swim ticked all the boxes.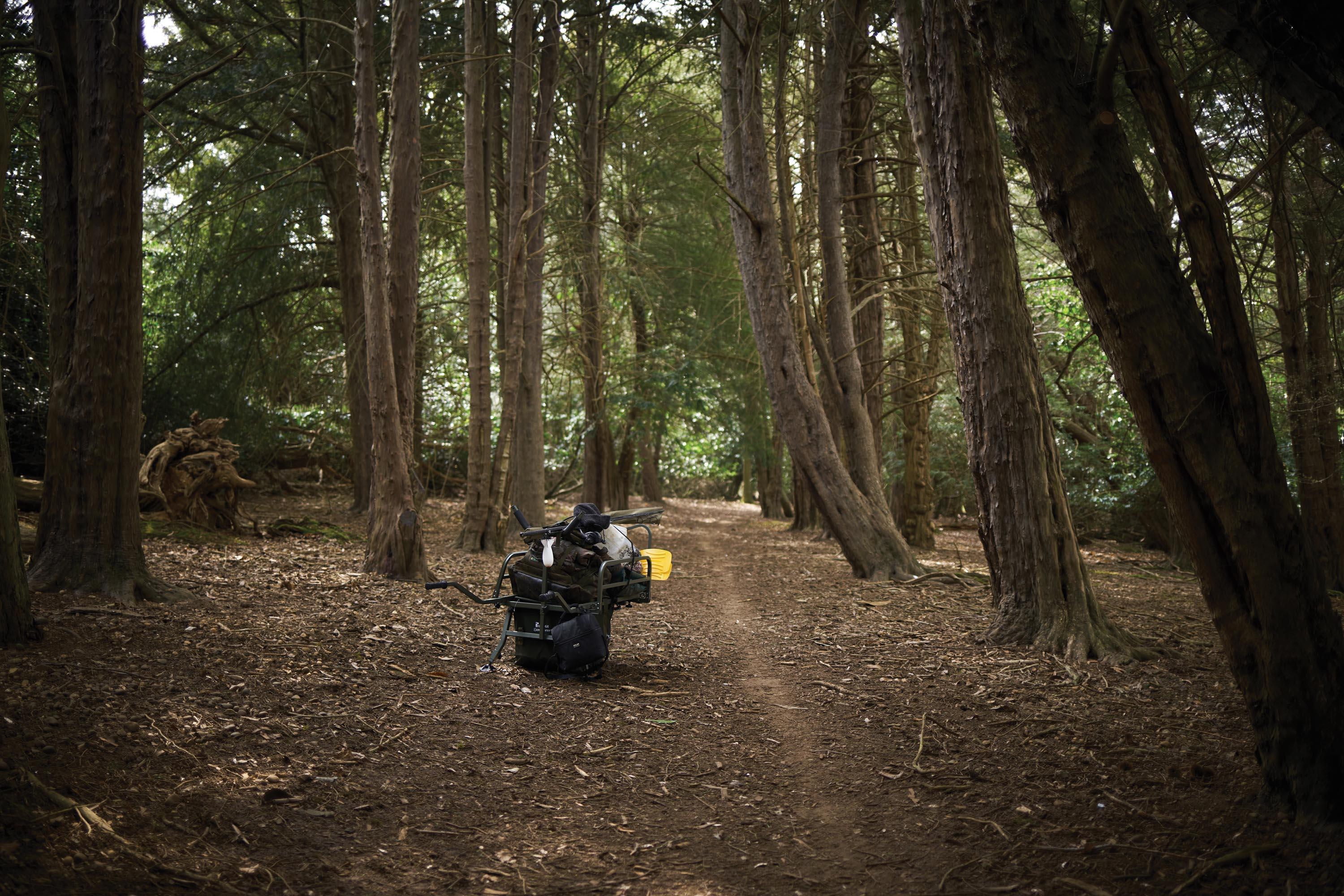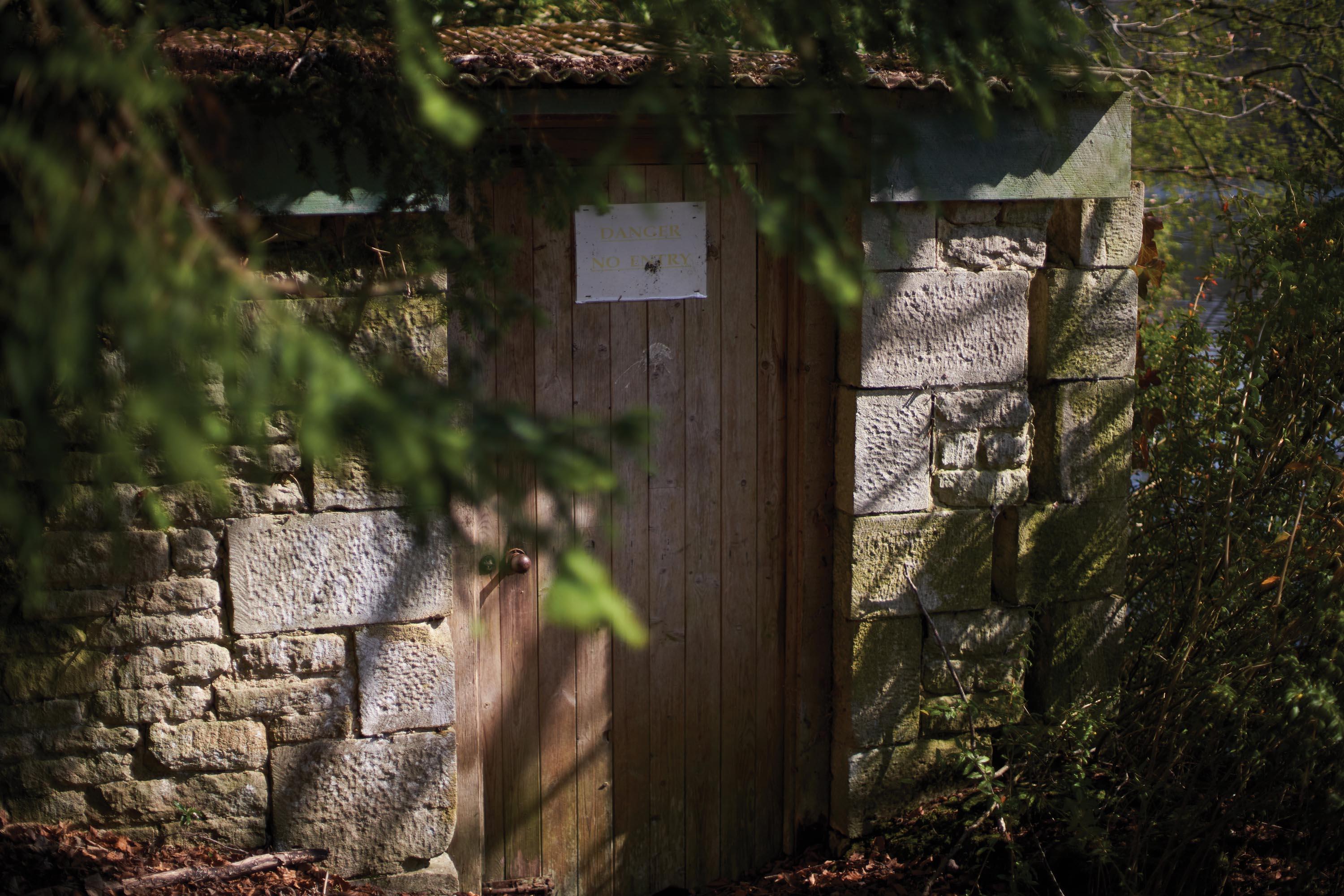 Recces and baiting
Once I had a rough idea of how I was going to approach the lake, it was time to start getting bait and kit ready. A range of bait was prepared in buckets, my dinghy was dusted off, the marker rod checked and my rucksack was slung into the car. The plan was simple: visit two Sundays in a row and bait heavily, before fishing the weekend after, on the third week in April. I notified the gamekeeper before leaving to deliver the first hit.
Every time I see the lake, I'm struck by the character of the place with its fallen trees, resident wildlife and overgrown margins. To be honest, it looked bleaker than on previous visits, but it was still pretty early in the year. At the swim I had a lead around at the sort of range where I'd looked closely at the image on Google Maps. If you imagine fishing three rods at a hundred yards, with perhaps a rod length between each; it felt like further to the right, the water deepened and became more silty, and to the left it became shallower (still 12ft or so however) and weedier. I was fairly happy with this and proceeded to get the bait out.
I had no plans to Spomb it all, and cast a marker rod to the area before heading out in the dinghy to give it the area a wide spread of Atlantic Heat boilie and pellet. I also introduced a huge, thigh-high bucket of particle and another good-sized one of tigers. I kept a little bit back for Boat House Bay and sprinkled any leftovers there, hoping the fish might get used to picking up the odd bait among the naturals. I repeated this whole process the following Sunday whilst also checking the weather on a regular basis and unfortunately, it looked like a savage cold spell was forecast for the weekend I was intending to fish. As much as it pained me to delay the session another week, I really thought that would be the sensible option - 'Good things comes to those who wait' and all that. I decided therefore, to bait a third Sunday and time my session for the end of the month when conditions looked much more favourable.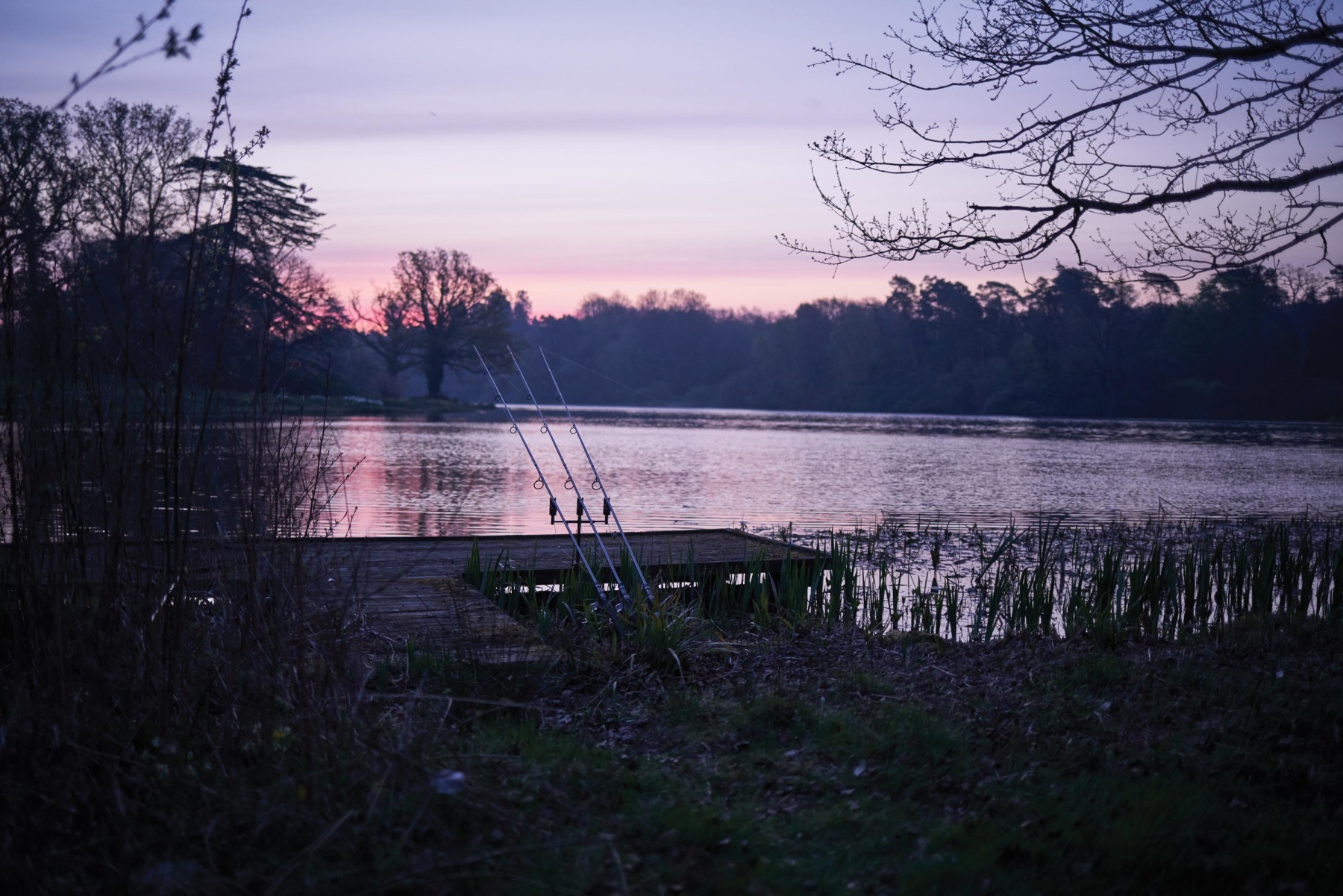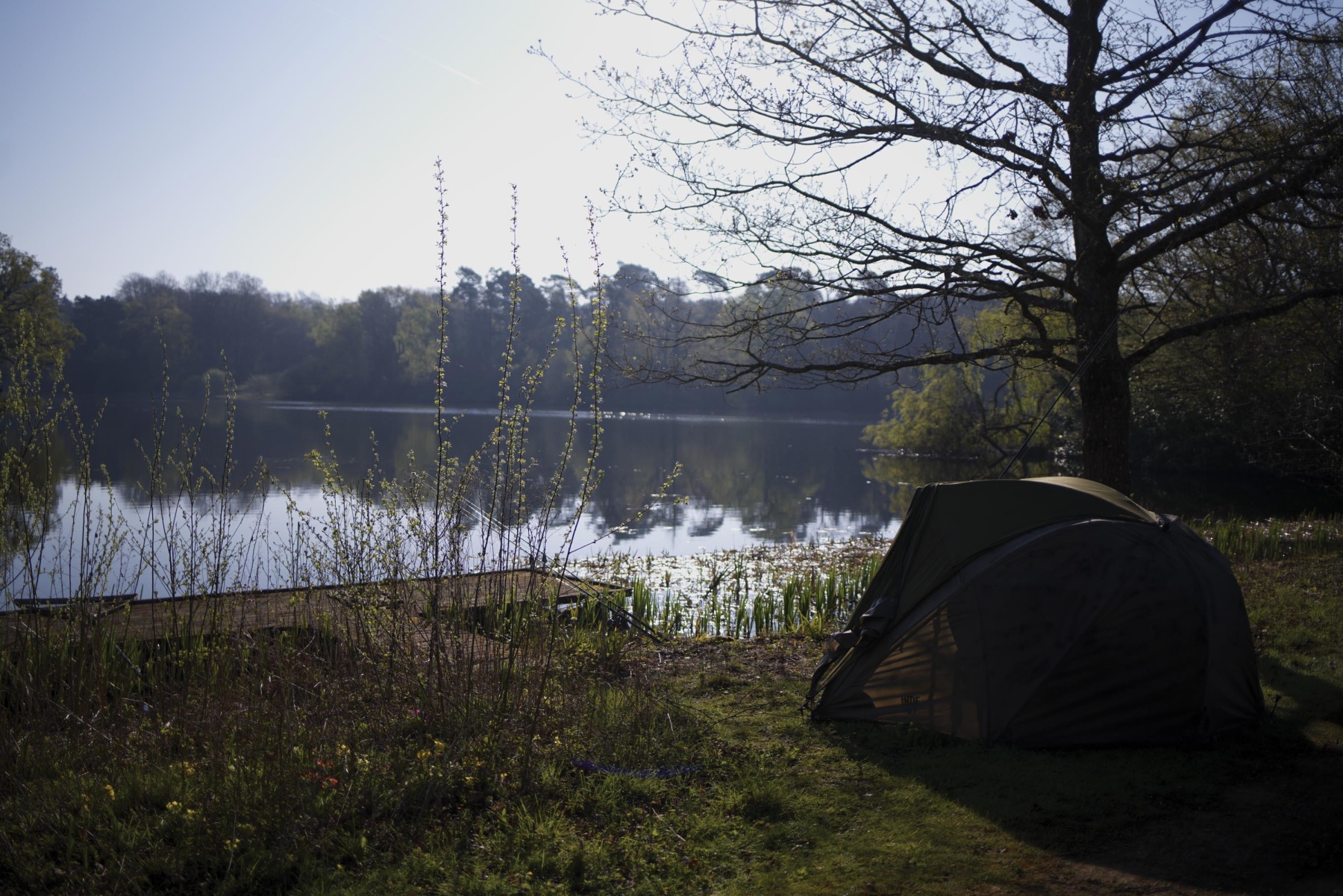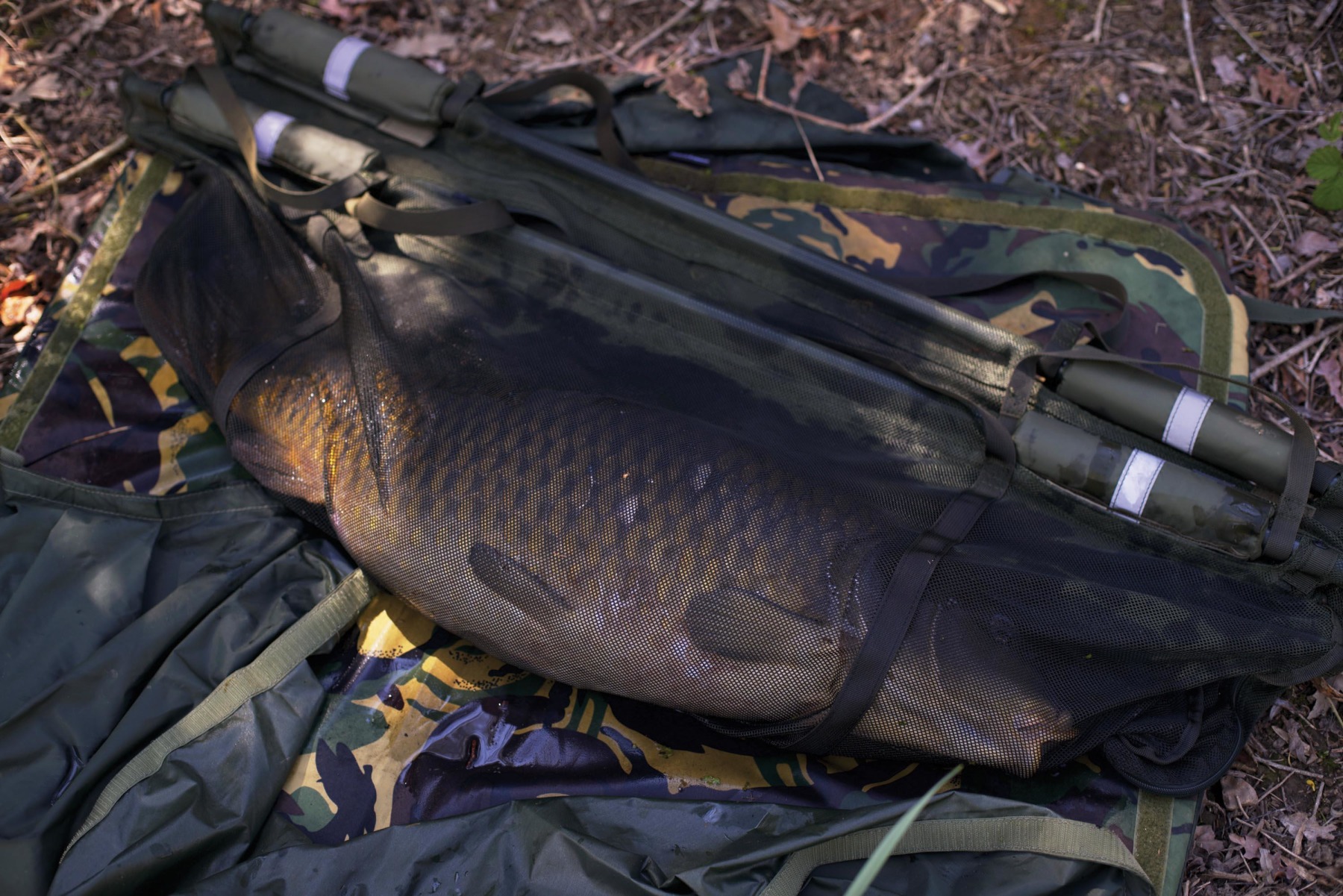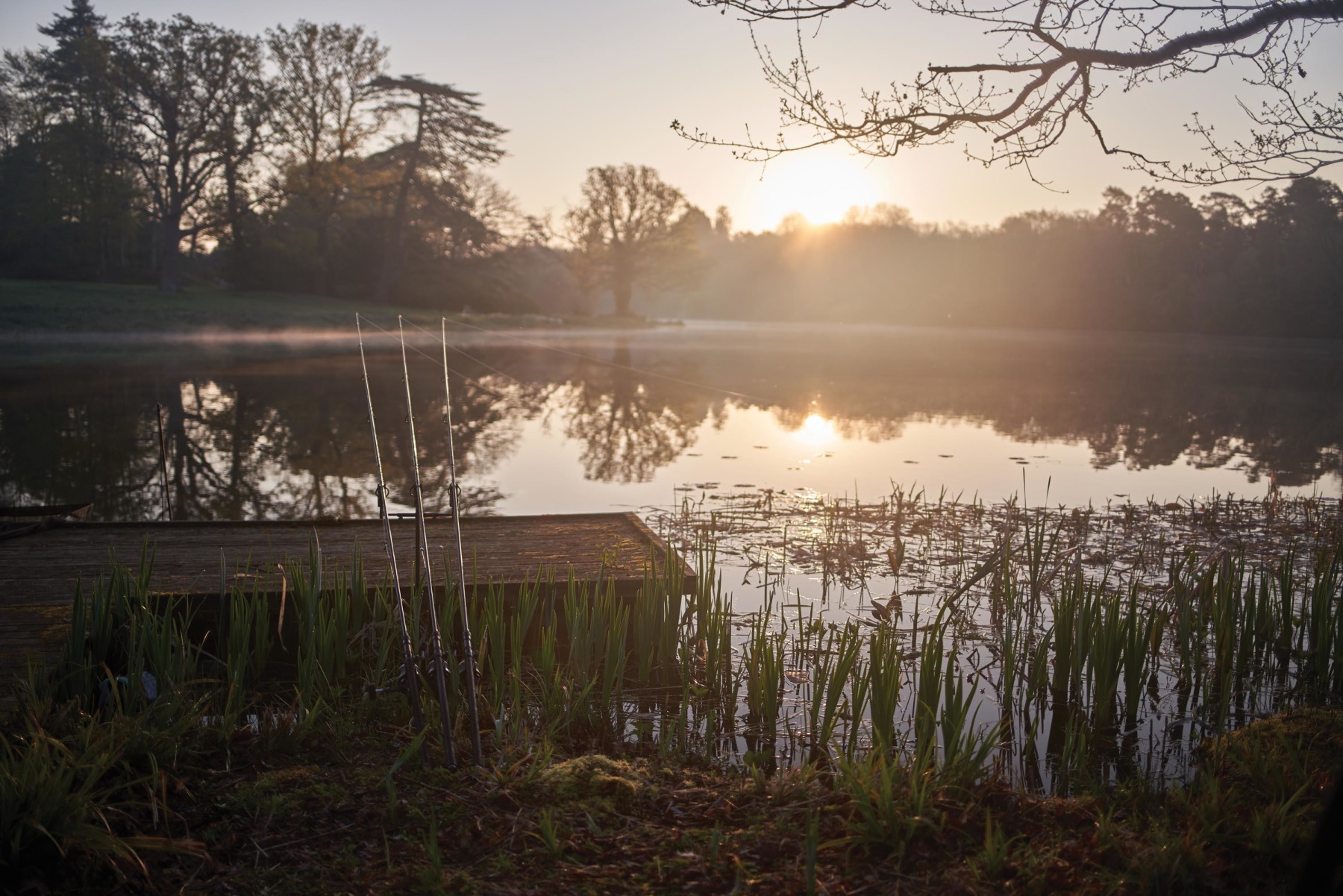 The session
I'm not one for arriving at lakes early in the morning and prefer instead, to get down the night before. That wasn't an option on this occasion however, so come Friday morning I was up early and loading the barrow in the dark. I felt I could be just hours away from my first estate-lake fish, and despite my efforts to reassure myself that the three-night session would be a marathon and not a sprint, my anticipation was almost uncontainable.
Once at the bank, I set about preparing three rods to cast onto the area. I decided not to Spomb any bait out for fear of spooking any fish that might be lingering - thinking about it, I can't recall when a Spomb would last have been used on the lake at all, and the fish certainly wouldn't be used to that level of disturbance.
All three rods went out perfectly and I began to unpack, set up my base camp and got the kettle on. Unfortunately, the rods going out nicely was all that went well that morning… I started to catch tench at a rate I hadn't envisaged, with hooked fish wiping out other lines occasionally at range. I decided I needed to get some 'less tenchy' bait out in the form of tiger nuts, but on the first cast I had a rare bird's nests - or 'eagle's nest' as Alfie Russell calls them - losing my one and only Spomb in the process. Shortly after, as I played perhaps my fourth tench, a pike cut me clean through. I sat back on the bedchair as the sun began to shine and with bite time fading, wondering how it had all gone so wrong, so quickly. After getting my base camp in order, I waited for the early morning to pass before heading to the nearby tackle shop to purchase another Spomb, and to take stock and regain my composure after everything that had happened.
By the time I returned to the lake, it was scorching, with the weather set to be the same for another three days. To my delight, I saw two carp enter Boat House Bay, the fish gently ghosting through the pads and appearing occasionally in clear water. Very quickly I made up a nine-foot rod and headed round with a little bucket of gloopy peanuts and sweetcorn, quietly palming some in on the odd likely looking spot. Within half an hour, two fish looked to have had a snuffle on one and I felt I had a good chance of catching one of them. The problem was however, that they looked small… smaller even than I believed were in the lake and perhaps only low-doubles. I remained patient and continued to observe the bay, not wanting to take one of these fish and ruin an opportunity of something better.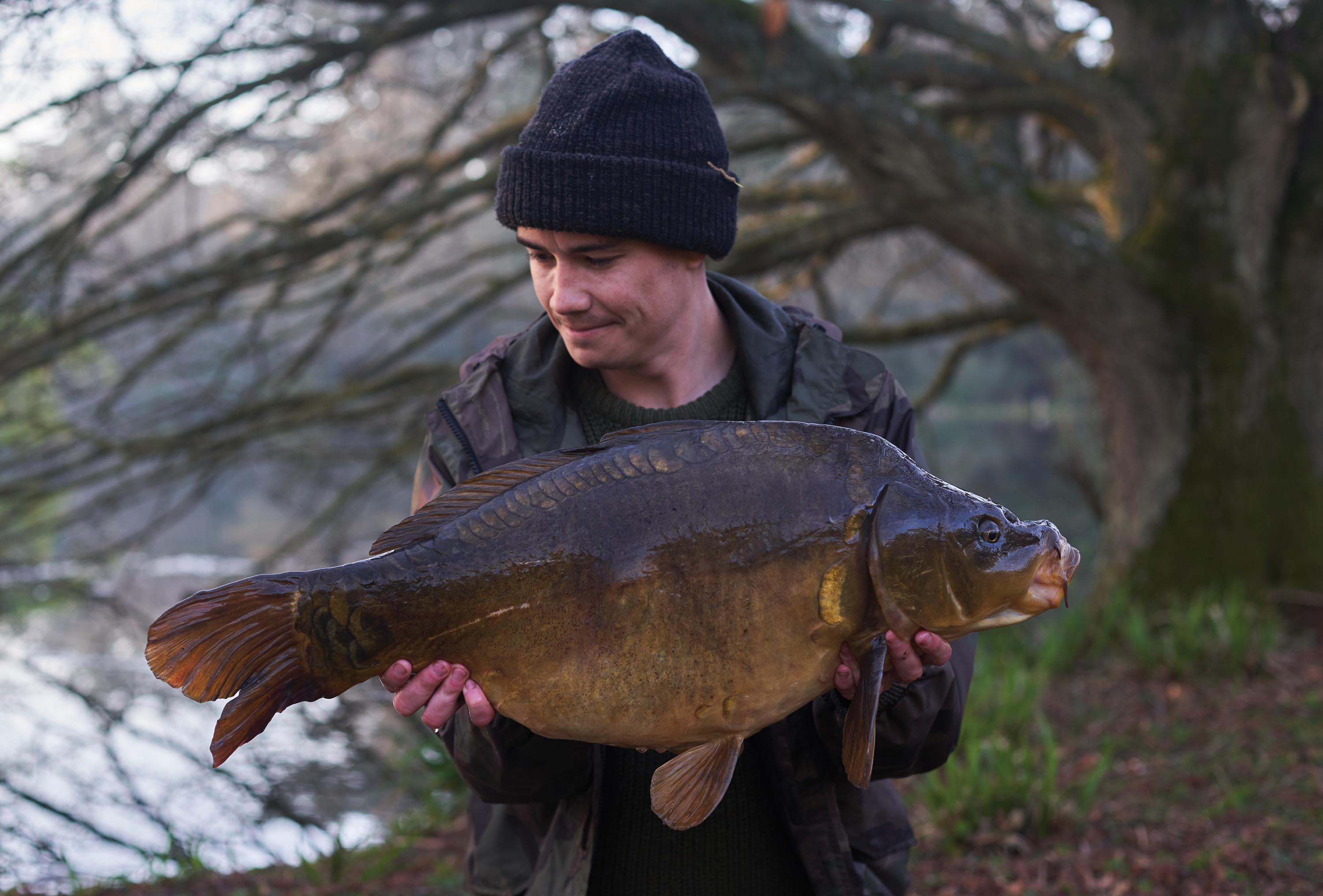 Thankfully, my patience was rewarded and I watched as new, and much larger fish started to enter the bay. On seeing some of the bigger mirrors, I realised that the two smaller fish weren't as small as I'd originally thought. I find on some waters that carp often appear smaller than they are, whilst on other venues they look huge - until they're in the net that is. On this occasion it was most certainly a case of the former!
By this point I was looking for an opportunity to drop a rod in and was flicking out the odd floating pellet as the temperature continued to climb. There was a brief moment when one fish came up and clumsily set about taking the floaters. As it turned side-on, I realised it was the big 'fully' that Terry'd had during our filming - this was one of those moments when your face flushes and your polarised glasses steam up!
The group of big fish looked like they were beginning to drift away and I felt that I had to drop a rig in the most likely looking margin spot in an effort to get off the mark and within ten minutes of doing so, the reel was spinning on the deck. Very soon after, I held my rod at its full test curve as the unknown fish powered out of the margin towards sunken pads. The fight was nerve-racking and violent, with that horrendous feeling of line scraping on underwater obstacles, everything locking up and then becoming free again, and with occasional explosions of water on the surface. The Size 4 Cryogen Curve held tight however, and minutes later I was thigh-deep in silt with my first carp from an old estate lake: a long, 25lb common with a classic little tail and a hoover of a mouth… I was living the dream!
I was absolutely chuffed to get a fish under my belt on the first day. After a bit of a tidy-up, I began to bait up my main spot out in the lake with 10 to 15 Spombs of tiger nuts and Atlantic Heat in an effort to prime it for the evening, night and following morning, all the time keeping an eye on Boat House Bay, but it seemed deadly quiet. To be honest, from what I could tell, the carp never did return from the moment I banked that first fish, to the day I left the lake. I couldn't grumble though, the baited zone provided more than enough action for the remainder of the session. That first evening passed with just the occasional tench coming to the bank and the night itself was completely quiet, other than the sound of owls hooting.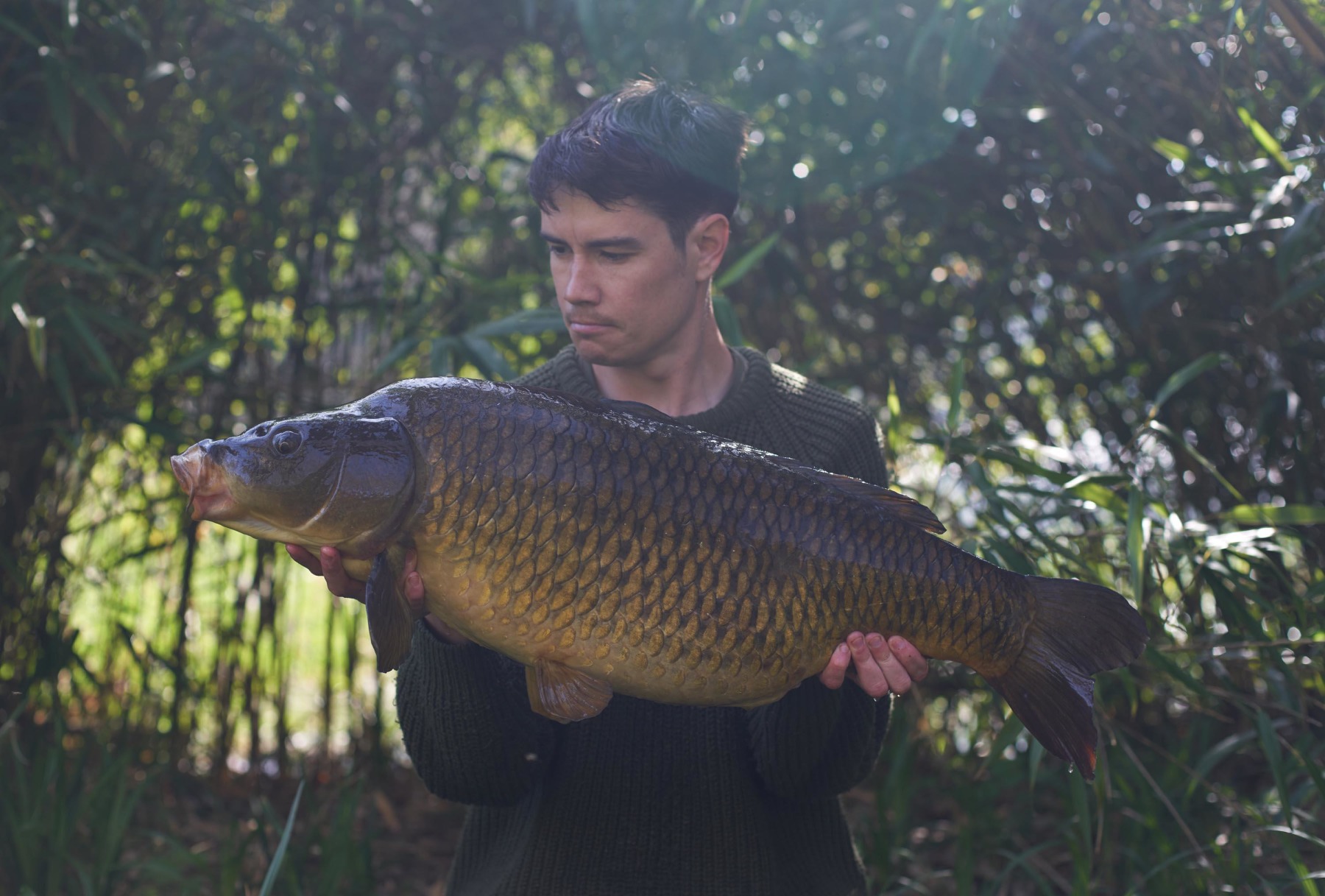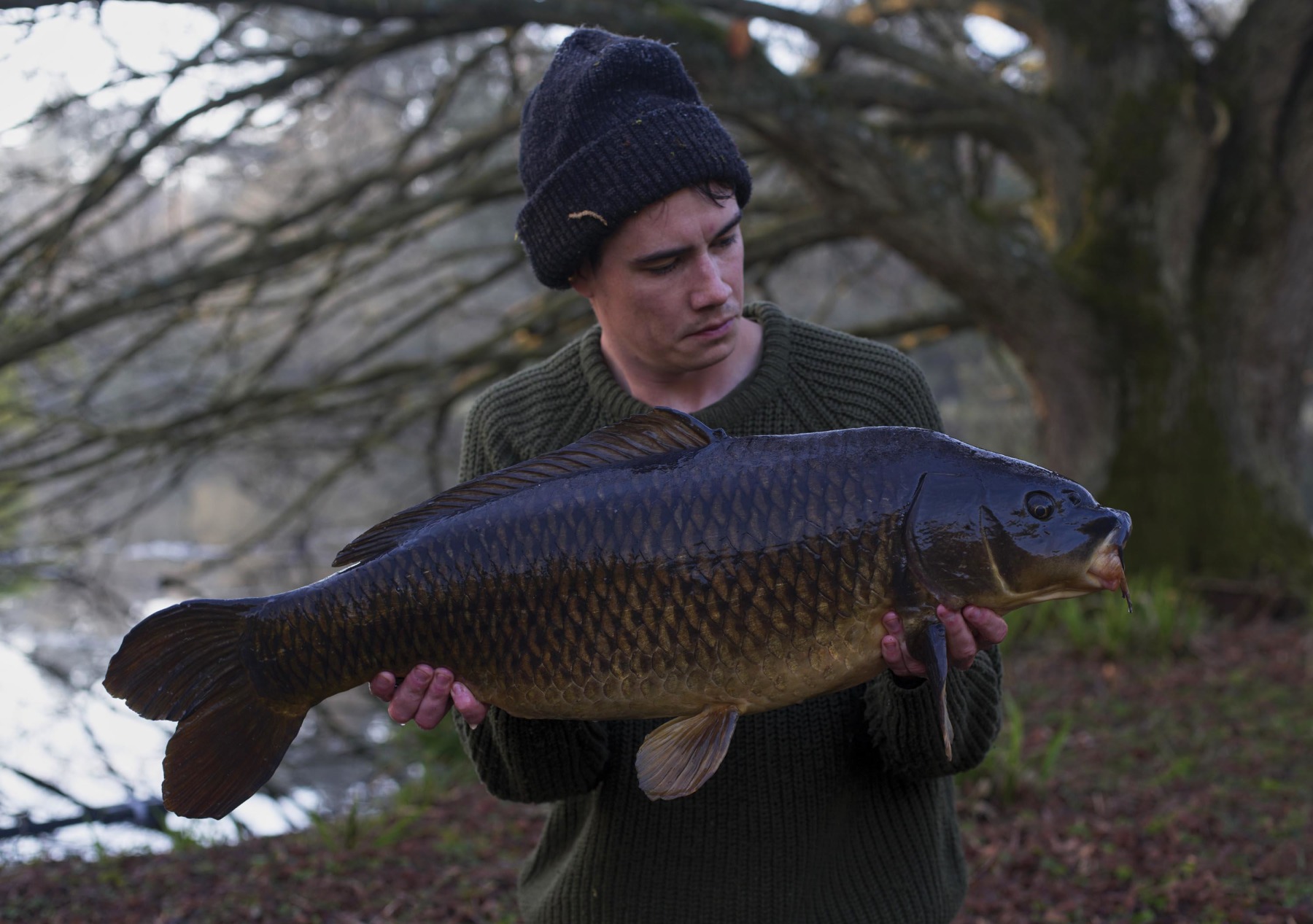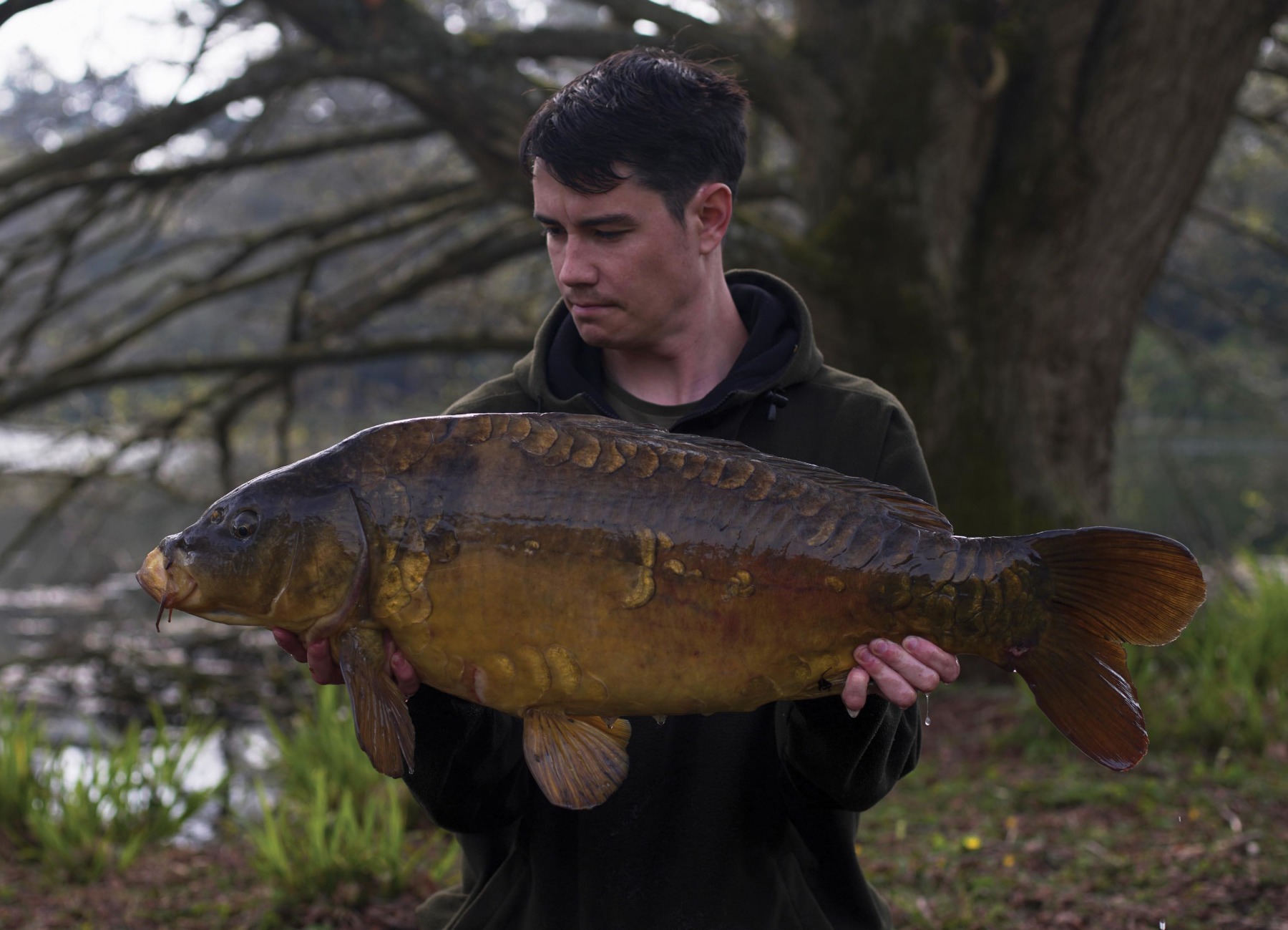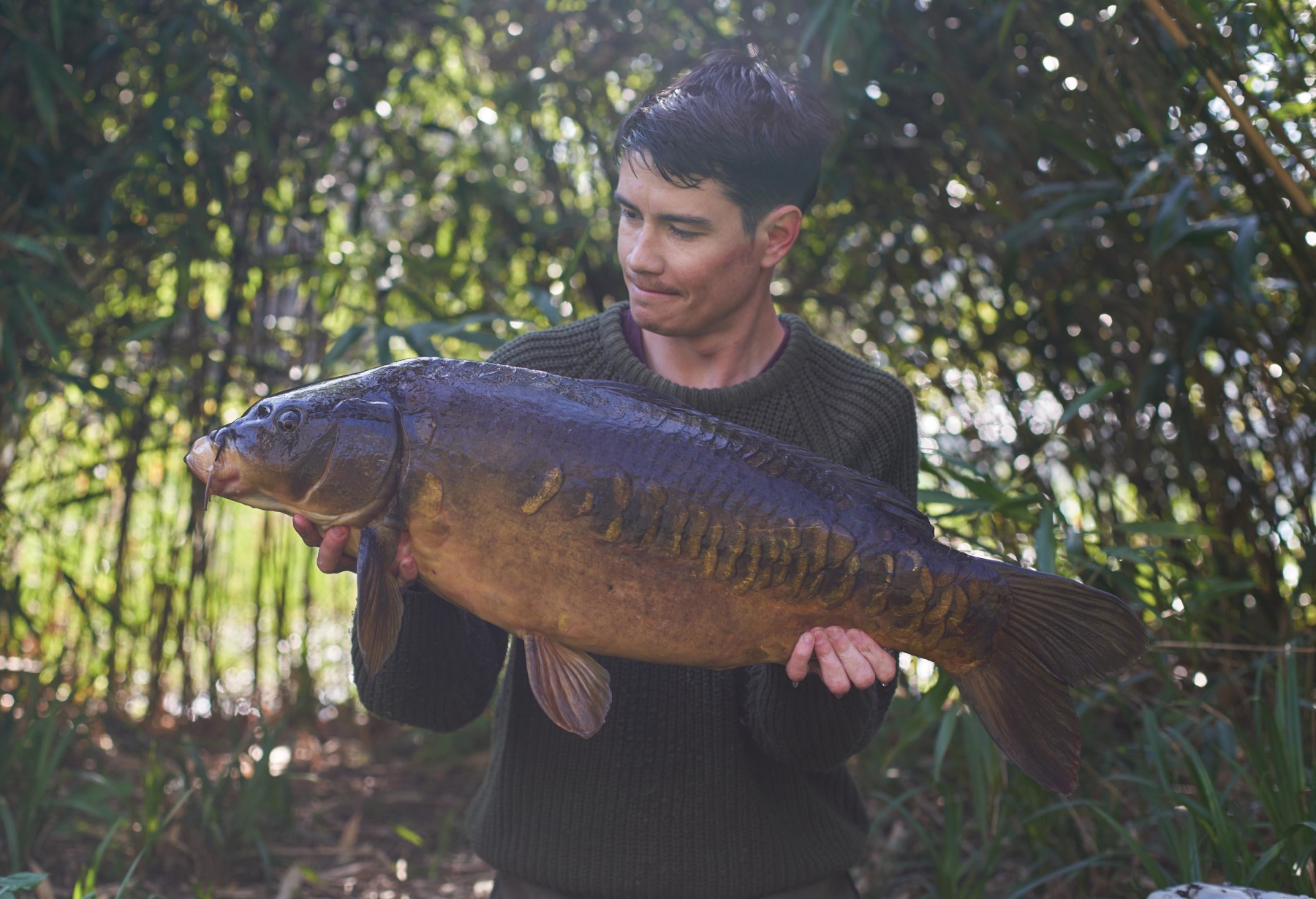 The next morning, all hell broke loose around first light and the action continued until perhaps 9 a.m. with three awesome battles leading to three awesome carp: a stubby old 'lumpy bumpy' mirror of around 21lb, an unreal common carp of 27lb and a smaller one of 21lb 8oz. Standing out on the boards playing those hard-fighting fish with the sun breaking through the trees was one of those occasions when I really appreciate everything I have in life. To make things even better though, I had two more mornings ahead of me…
Rather than shower you with full details of every day, I'll just say that the rest of the session was fairly similar in terms of how each played out. The bite times were either the mornings or evenings; the nights passed without a bleep; and the middle parts of the day saw me wind in, head to the shops and return to walk around the lake, briefly checking the margins for an opportunity that never did arise. Come late afternoon I'd put out a bed of bait with the Spomb and that would see me through until the next day. All of this activity was set against a backdrop of amazing, and somewhat unseasonal weather and complemented by nature, food and beer, as I listened occasionally to an audiobook. The action steadily decreased as the session progressed and captures included three spectacular mirrors of 30lb 2oz, 23lb and 26lb, each perfect in its own way and all giving the maddest of battles.
The largest of the fish deserves special mention… initial consensus was that we didn't recognise it, with no recent captures noted or record of it in the lake's decades-old stocking bible. I sent my photos to Tel - if anyone knew of this mysterious old character, he would. It turned out that it was one of his 'old friends' and it had even appeared on the front cover of Big Carp way back in 1998. We're fairly confident that this fish had gone 21 years uncaught after had perhaps come from the Thames in the 1980s.
Without doubt, the three nights on this dream venue were up there with the best fishing I've had, with everything coming together for my own little slice of history.