Over The Channel Belgian Bonanza!
A couple of spring trips across the Channel see Spencer Butler bank some special old canal carp
Over the last 25 to 30 years, I've enjoyed a love affair with the Continent, and during 1990s and early 2000s, I fished in various areas throughout Central Europe. Venues visited included the Kempisch Canal in Belgium, Cassien in sunny Southern France and the River Vetch in Holland. In the very early days, I also had the pleasure of catching catfish from the River Ebro. For me, Europe has always had a certain pulling power. The varying styles of fishing, the places you visit, the food you eat and the people you meet, are all part of an adventure that can't be matched back home.
A couple of decades ago, things were a lot harder than they are these days. Then, you had to follow A-Z Maps and trips required a lot of planning - you really had to do your homework. Nowadays, with just a click of a button, you have your route, estimated time of arrival and endless additional information, and it's this aspect and the advancement in technology that have seen me undertake trips abroad once again.
Since I first started my company, my fishing time has been somewhat limited. Whilst the continuous growth of any business is obviously healthy, working in the fishing industry and rolling bait comes at a price: just when you'd like to be out fishing, so do all of your customers! Bait sales go through the roof and available time quickly reduces. To fish successfully on hard, pressured syndicates and club venues here in the UK, you need dedication and consistency. These have been in very short supply for a good few years, so I saw my situation as the perfect excuse to rekindle an old flame, and an opportunity to get back across the Channel again. It may seem like a mad idea, given the limited time at my disposal, but with a bit of hard work, I've been able to get ahead with orders, and so have managed to book two- to five,-day breaks every few months for mini-adventures. On such trips, no real consistency is needed; rather, just a list of possibilities, a few postcodes and the dream of catching some stunning old carp.
After a few weeks of planning, we were sitting, bright and early, on the ramp of the Channel Tunnel, rubbing our hands with excitement. With the help of acquaintances who live in the area chosen, a rough plan had been drawn up and we had few recommendations. Before we knew it, we were belting down the lovely French motorways, en route to the mega canal systems of Belgium. Our plan was to fish two separate stretches. Alfie and Adam fancied a small, intimate length of canal that was covered in weed, whilst I wanted to revisit an area that I'd fished the year before. My chosen venue was a really old stretch of canal that had been reworked and dug out - quite a contrast, stock-wise.
Spring conditions continued to prevail and a cold wind swept across the water. After a quick mooch about, I hadn't seen much to go on. The stretch is maybe half a kilometre or so long, and where best to go, but slap bang in the middle for the best vantage point. After flicking a couple of garlic-flavoured hookbaits out to likely looking areas, I put up the brolly and set about preparing for an early night after a long day of travelling.
After an uneventful night, I rose to my alarm, half an hour or so before dawn. A light frost covered the ground, and I wasted no time in getting the kettle on. I sat poised on the edge of my bedchair, full of anticipation as the water came to a boil. As the sun broke through, a slight mist rose from the flat, calm water. I turned my attention up the canal, and after a while, noticed a good fish show, maybe 100yds away from where I was pitched up. Hastily, I skipped in the rods and packed up, before shooting up to the area of the show. I've found that quick moves onto showing fish on these canal systems can prove very effective, so this was a chance not to be ignored. I flicked out two White Garlic singles with no free offerings - classic spring tactics. I kept things very simple rig-wise, using size 4 Trig-Hammers on a Blowback-style set-up with tungsten-loaded, semi-stiff hooklinks.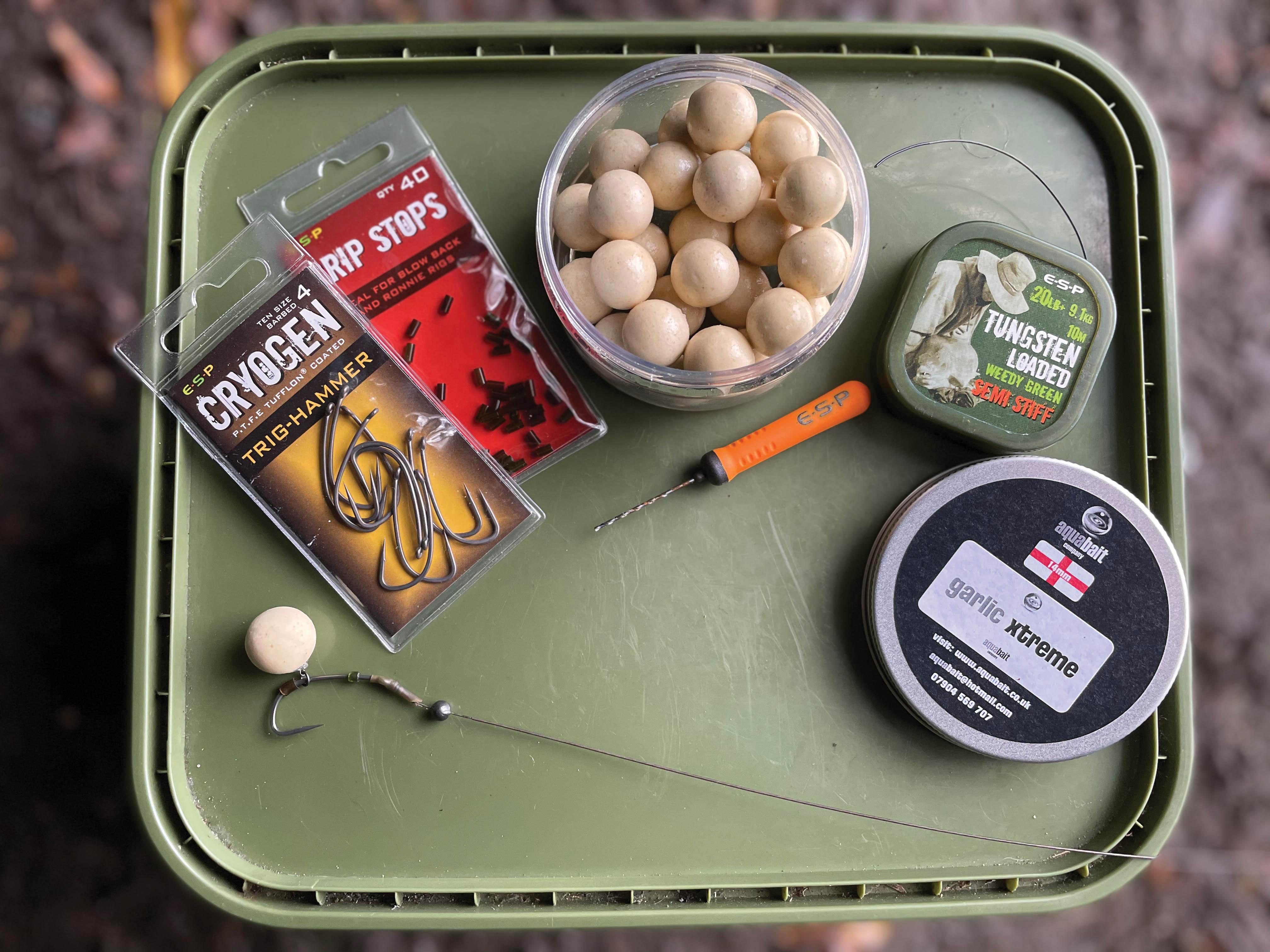 Once everything was in place, I set the brolly up once again and sorted myself some breakfast, whilst also keeping a watchful eye on what was going on in front of me.
The shrill tone of a Neville broke the silence a few hours later, signalling that one of the rods was off. A short battle commenced, and after a few minutes, a long, jet black corker of a canal carp laid in the folds of my net. This was a mega result, and I was pretty sure that the fish was the one I'd seen show earlier. After sorting everything, I hoisted her onto the mat. She was black and scaly, and in her spring glory, she was exactly what I go to the canals of Belgium for… I had well and truly struck gold.
The hook took some budging. It was my first time out with the prototype Trig-Hammers. I'm ever dubious about change, but they couldn't be ignored and they hadn't let me down. After a few quick pictures, she was sent back to fight another day. The rest of the day and night proved uneventful, and to round off our trip, Alfie, Adam and I met up at a small park lake close to the French border for a social. Adam and Alfie helped themselves to a few fish, and it was a nice way to cap what had been a successful and enjoyable first trip of the year.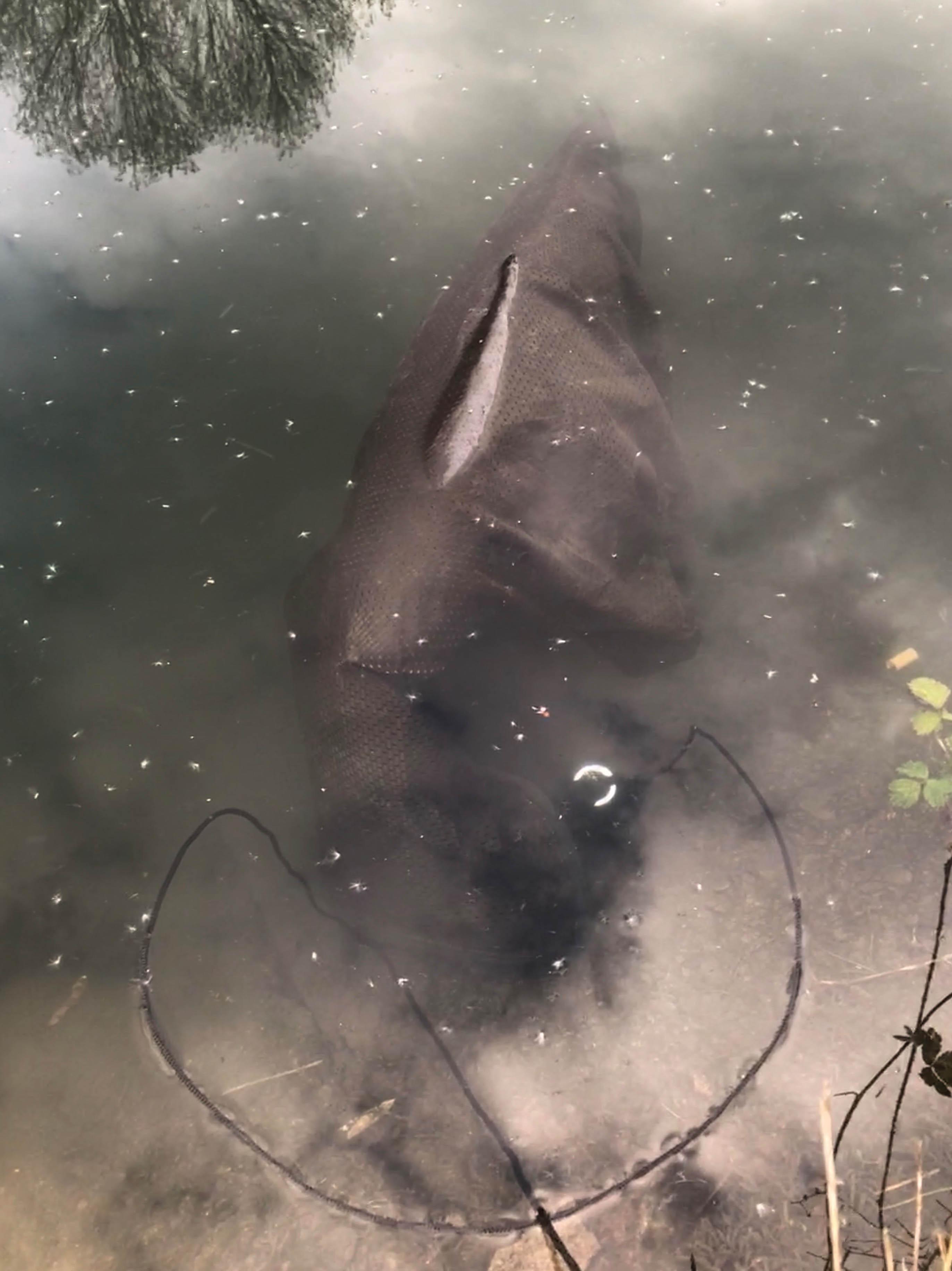 On The Road Again
After a busy month at work, Adam and I were once again sitting on the ramp ready to board the train to Europe. The weather was looking a lot better this time, and after the result we'd had on our first trip, it would've been rude not to get another in whilst the fish were plumpest before spawning. We shot through France after our short train journey, and before too long, we were into Belgium. On our arrival, things looked somewhat different. It was sunny, warm and calm: perfect fish finding-conditions.
After a quick skirt about, we stumbled across a group of fish sunning themselves close to an inlet. Adam was going to fish with me on this occasion, and we set up a short distance from each other, either side of the fish. We didn't want to disturb them, but also, we wanted to give each other the same chance. We prepared our kit, full of anticipation, and quickly got a few rods out before kicking back to enjoy the sunshine. Just as before, we kept everything very simple. We used the same rigs, with 12mm Garlic Extreme hookbaits and just a dozen or so 22mm Hot Shrimp baits over each rod. This baiting approach might seem a little strange, but it had its reasons and was adopted mainly to keep the bream away.
As good as things looked, the day and night passed uneventfully, and I scratched my head after waking up the next morning, wondering why we'd not seen any action. A light breeze was blowing down the canal and it looked absolutely perfect for it. Before I had a chance to get the kettle on, the sound of a Neville put my previous doubting to the back of my mind. After a solid tussle, a lovely common laid beaten in the net. At 31lb-plus, it was a good fish too, and a great start to the trip. After taking a few photos, we slipped her back, and little did I know what was to follow…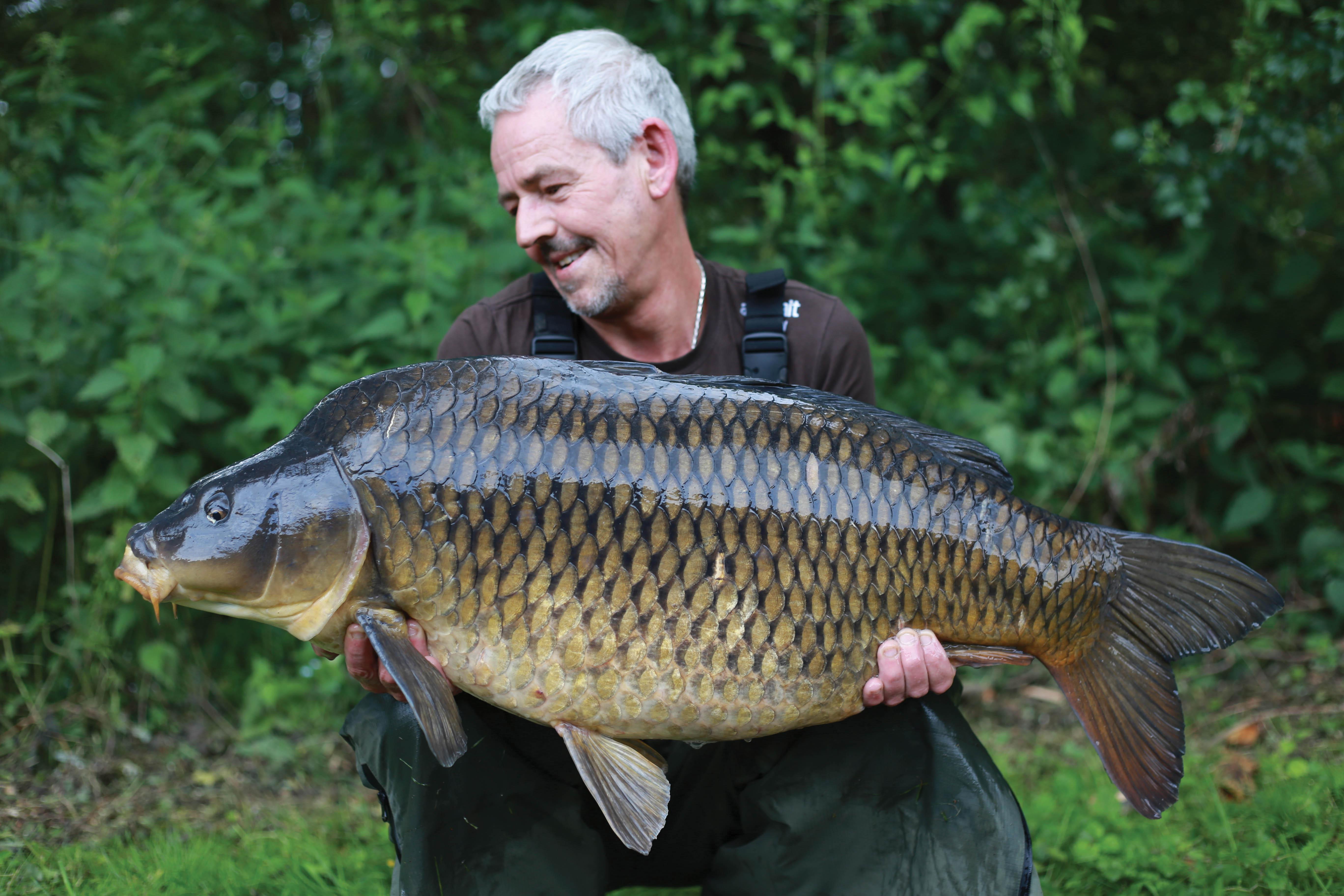 A short while later, the other rod was away. The disturbance of re-casting and baiting, obviously hadn't spooked them. The second fish felt big from the off, as it fought deep and hard. A long, dogged battle ensued, the fish thrashing every time it neared the surface, before it then stripped more line as it headed back down again. After following the fish up and down the bank for a good hour, it rose up to the surface once more. Finally, it was done, and at the first time of trying, I slipped the net slipped under a very big common. I ran to get Adam, and we hoisted the fish ashore. Our eyes were met by the most glorious common carp - a testosterone-fuelled male, judging by the battle. The scales recorded a weight of 41lb. 'Blown away' doesn't come close; this was a mega result that left us both absolutely buzzing. Adam snapped away in the morning sun as I hoisted the fish up for some photos… lovely times indeed!
The rest of the morning seemingly passed by in the blink of an eye, and Adam also banked a few fish during what was a mad spell. After a regroup, a quick sort-out and some much-needed food, one of the rods was away again. Very much like the previous fish, a long, dogged and occasionally explosive battle in the deep water ensued, and it seemed as though I was attached to another big 'un. The fish led me a merry dance, and at one point, I was some 200yds up the bank, standing by the lock at the end of the stretch. The fight went on and on, punctuated by huge explosive lunges every time the fish rose towards the surface.
A good while later, I had my chance, and I bundled another great big canal common into my net. Of all the times to be testing hooks! But as on the first trip, the Trig-Hammers didn't let me down - I was quite impressed, in fact. Fish such as these are rare on the smaller canals, and two in as many bites was absolutely mind-blowing - a beer or two would be called for later, that was for sure!
The needle spun round to beyond 43lb after we'd lifted the belting canal common onto the scales. I grinned from ear to ear as I hoisted him up in the sun for a few photos. It was a real pleasure to be on the bank that morning, and certainly one I won't forget in a hurry. As if that common hadn't been enough, both Adam and I went on to bank a few more during the rest of the day. Whilst no bigger than mid- to upper-twenties, they were awesome old creatures nonetheless.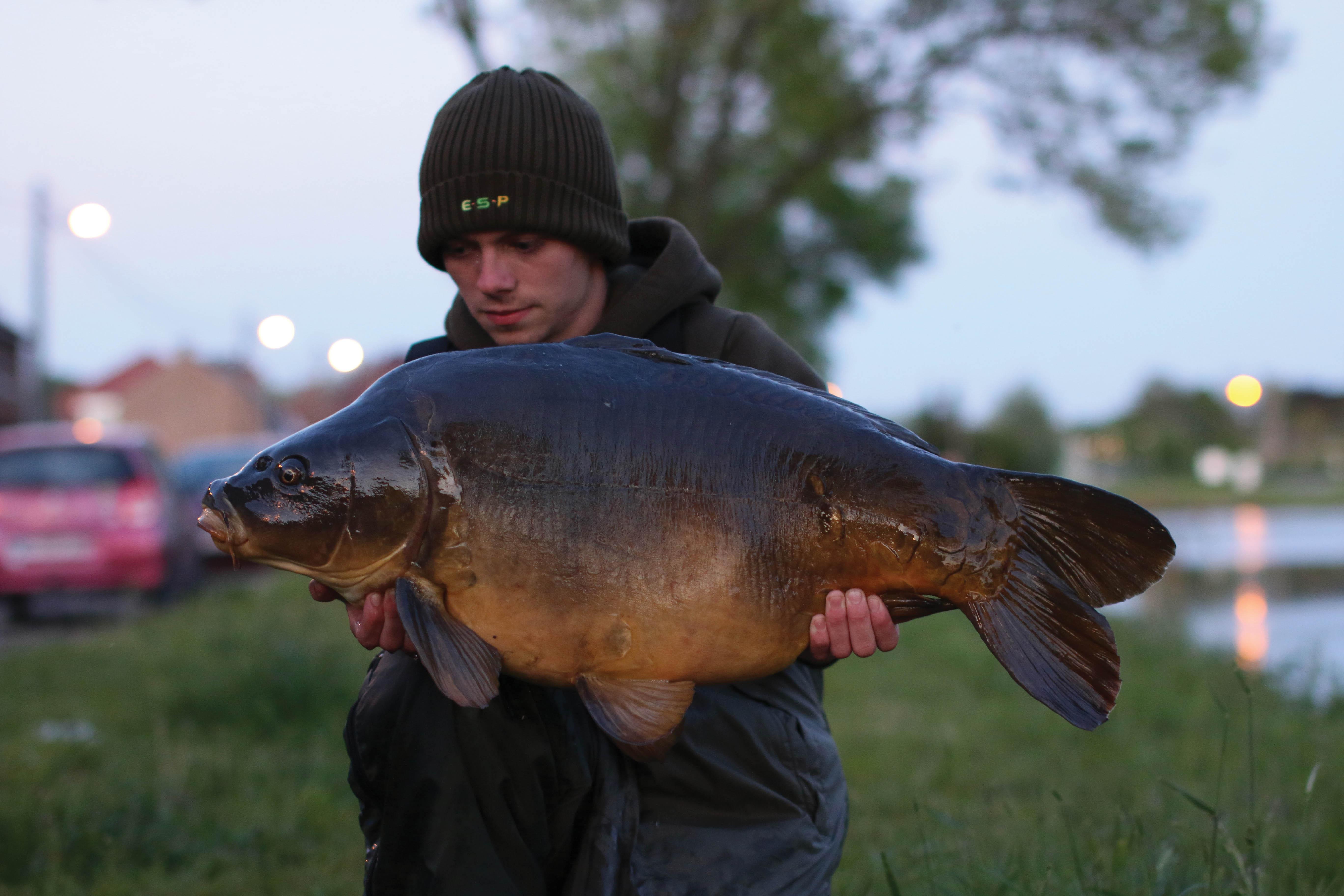 After a long day full of excitement, we each had a few cans and retired early. A quiet night followed - after the events of the previous 24hrs, it wasn't surprising.
Another early alarm woke me from my slumber. As ever, I quickly popped the kettle on for the first coffee of the day, full of anticipation once again. A few hours passed, the sun slowly appeared from over the horizon, and to our delight and appreciation, the same cool breeze picked up. Things turned out pretty much the same as the day before. We enjoyed the same consistent sport, as I landed a further five, and Adam another three. All were commons, mostly mid- to upper-twenties once again. Our third morning turned into a real red-letter session, perfectly timed, given that the warmer weather was returning and that the fish appeared to have started to spawn. That spelt the end of a fantastic few days' fishing on that small stretch of canal. We had one more night at our disposal, and rather than return home early, we decided to call in at the park lake by the border. This would give us a nice easy drive to Calais the following day, along with a good chance of a bite or two. This proved to be the right decision, as we enjoyed a nice social and a good night's fishing. Adam banked the biggest fish in the pond at over 37lb, and had a few others too, one of which happened to capture the attention of a local ladies' hen do - the pictures say it all!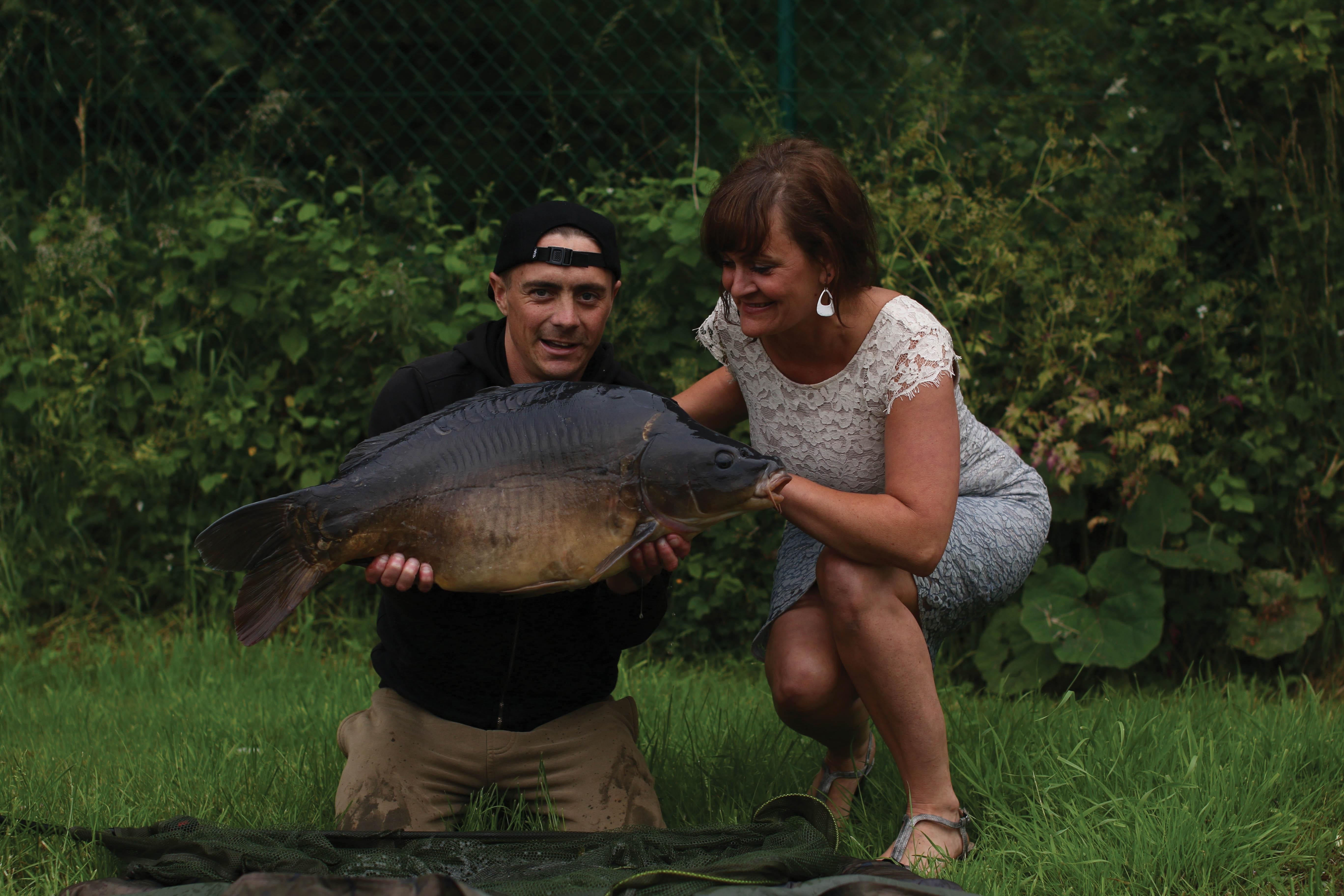 I picked up a 20lb common to round off a real red-letter trip. After fishing the Belgian canals for many years, the buzz remains strong. Once the world returns back to normal, we'll most certainly plan a few more trips. In the meantime, take care of yourselves. All the best.