Relive Issue 1! CARPology's 100 Greatest Moments - Part 2
In issue 100 we documented what we believed to be our 100 Greatest Moments, here's how numbers 49 down to 1 looked...
Footnote: This article was originally featured in issue 100 of CARPology (August 2012), and is being rerun as part of our 200 issues celebrations. This is the second half of our countdown - to read numbers 100 to 50, click here
---
49 MEETING ROB HUGHES
Not only has Rob supported us since the day dot, but he put his faith in us and run Below The Surface in CARPology and not another publication. Like Ben, Rob's now a great friend who we love meeting up with each month.

48 BEATING ALI HAMIDI AND TOM DOVE
Issue 26, Celebrity Cricket Fishing match. Joe and Rob had lost three of their four rods and it was all but over – a complete washout defeat. But then, by some miracle, they turned it around and ended up winning four-nil!

47 THIS IS EVEN BETTER…
As if coming back from the brink of defeat wasn't brilliant enough, when we took on Terry Hearn and Nigel Sharp in another Cricket match, we beat them in a straight four rod wipe-out – and all within 30 minutes!

46 BEST CAPTION 1
"…And a pound of mince and a shin of beef please."

45 BEST CAPTION 2
Rob bores someone else to sleep.

44 BEST CAPTION 3
Guess who doesn't use 'Persil For Colours'.

43 BEST CAPTION 4
Rob's left his unhooking mat on Lee's eye…

42 BEST CAPTION 5
Oh, how the aliens danced when Doctor Who raised his finger.

41 BEST CAPTION 6
Joe celebrates winning the annual Redmire Fart Race as his opponent still strains.

40 TESTING OUT ROWING BOATS
It was the perfect excuse to spend the day messing about on the river. Rob got to dress up like a sailor and John tested the array of lifejackets we had by diving off the side of the boats. Again and again…
---
39 ROB DRESSING UP AS A SQUIRREL
Unlike other publishers who'd just print product shots and some text, we wanted to add some humour to our 'product specials' features. This was done in the way of Rob dressing up as a squirrel.

38 ROB DRESSING UP AS A SAILOR
This then kicked-started the whole 'dressing up' and the following month he donned a sailor's outfit for our Boat Special. The editor then mimicked an isotope (he's extremely white!) when he turned up in his swimming trunks for the Bait Boat Special (page 22) which appeared in issue 6.

37 CALENDAR SHOOT
It was your classic win-win situation: you got a decent calendar to look at for 12-months and we got to stare at great norks for the day. And yes, it was brilliant. In fact, it worked so well that we decided to produce three in total, each one being bloody brilliant. And there's talk of another one this year...

36 CARPOLOGY WEBSITE
Always ones to embrace modern technology, when CARPology.net launched back in 2004 it was way ahead of its time. Full of Flash, moving imagery and pics. Our latest site maybe dated already, but we're working on something very special which will go live in October.

35 THE CARPOLOGY FORUM
Although forums seem to have had their day in this new modern era, when we launched The CARPology Forum back in December 2006, it was greeted with open arms from both you, the readers, and with the likes of Iain Macmillan and Wendy Lythgoe, who were regularly posting on there.

34 GETTING INTO LOADED
Just one issue into CARPology's life and we received an e-mail from lad's mag, Loaded, saying they wanted to run a story on us. We thought we'd hit the mother-load: surely overnight success was just around the corner? It didn't make the slightest bit of difference.

33 GETTING INTO THE EDP
To help promote the launch issue (13) into the high street, we managed to blag some editorial in our local newspaper (The Beccles & Bungay!). From there, the story was picked up by the EDP – the largest regional newspaper – and helped turn the East Anglian region to be our best selling area.

32 ON THE RADIO
40,000 people heard us raving about CARPology. And those same 40,000 people heard Rob answer the presenter's question of, "Is carp fishing expensive?" To which he replied, "Yes, it's quite an expensive sport. You need three rods; well, actually you can just use two… thinking about, one will suffice and it's quite cheap nowadays really." Nothing like a clear and precise response, eh?!

31 AMERICAN RADIO
On the back of all this media attention, our editor got asked to do an interview on an American radio show. At the time we were excited, overjoyed. This was the chance for us to tell the States what a brilliant product we had. Unfortunately the market is tiny and we had no distribution at the time.

30 RADIO 1
Other media highlights from the past eight years include Vernon Kay mentioning us on Radio 1. Unsurprisingly, they looked straight past the fact that Sharpy was on the cover and we had an exclusive with Simon Scott – they were more concerned with Dawn, our Fitty of the Month, from Romford dressed in a Santa's outfit…
---
29 E-NEWSLETTERS
Back when the iPhone was still a glint in Steve Jobs' eye and Facebook was only accessible to those who studied at Harvard, the only choice for carp-related reading material was the printed sort. That all changed on the 14th July 2006 when we launched The CARPology Friday Newsletter. Being such a brilliant idea it has now been copied by every other publisher.

28 GETTING INTO TESCO
How WHSmith was every specialist publishers dream in the 90's and Noughties, Tesco is now the modern-day alternative. The behemoth that is Tesco now sells Maximum Carp every month and we'll be listing CARPology very soon, helping to expend the availability of both titles.

27 TANK TESTS
The Tank Test concept was dreamt up by Simon Scott way back in 2007. Since testing virtually every bait going, we now run our annual Monster Test.

26 MEETING DAMIAN CLARKE
Damian was one of the first people to know about CARPology. Through him we got to go into partnership with one of the finest designers around...

25 MEETING JOHN HANNENT
...John Hannent. John was the brains behind the style, feel and flow of the early editions of CARPology. He also created the now world famous 'O' logo.

24 MEETING NIGEL SHARP
We also have Damian to thank for starting a wonderful relationship with one of the team members of CARPology: Nigel Sharp.

23 MEETING KARL JACKSON
In no uncertain terms, without Karl (our Finance Director) coming onboard from issue 8, we wouldn't be writing this 100 Greatest Moment editorial piece.

22 HOODIE MADNESS
It was John Hannent who has the foresight to see the market for angling hoodies and proved it so by (a) designing the first ever CARPology hoodie and (b) including an advert in our first ever issue. Eight years on and we've sold over 30,000 hoodies, 20,000 T-Shirts and created a completely new part of the industry, with new brands seemingly popping up every couple of months.

21 GOING TO CHINA TO GET OUR HOODIES MADE
Such was the success of the early years of the CARPology hooded top (and T-Shirts), we moved manufacturing from the UK to China, and at our peak were shipping over three 40ft containers every eight months.

20 SPOTTING CARPOLOGISTS
From someone walking past reading a copy of CARPology whilst we sat at some traffic lights to seeing hoodies at festivals, in supermarkets, whilst filling the car up with petrol, we've spotted you just about everywhere! This was the first one we ever noticed; a bloke at V Festival in Essex.
---
19 INCREASING THE STAFF
Going from three blokes (two working from box rooms and another in his bedroom) to new offices (which look very 'Apple' - although a tad messier right now), two designers, two writers, two sales guys, a web guy, proofreader and an illustrator, is a mark of the hard work we've put in.

18 TOUR OF THE CAR PARK
In terms of angling heritage, walking around Yateley's Car Park Lake is almost as good as it gets, but a guided, historic tour from Lewis Read and Nigel Sharp, two of the regulars (at the time) who's seen everyone on there over the years? It was an epic. We also got to wonder around The North Lake too.

17 AN EVENING WITH DAVE LANE
Looking back, we can't understand why we've not repeated his amazing evening. Held in a stunning old Suffolk pub in the middle of nowhere (seriously, it has a mile-long dirt track drive); beer and curry were provided and Laney gave a brilliant slideshow. What's not to like?

16 PETE BROXUP'S SAVAY DIARY
One of CARPology's biggest ever coups. Pete Broxup was a legend, who wrote a monthly diary on the legendary Savay every month for six months, detailing catches, stories and Savay myth, and it's for that reason it's made it to number 16 in our Greatest Ever CARPology Moments.

15 DANNY SMITH
When Danny wrote in issues 23, 24 and 25 about targeting an uncaught 40lb carp from a private lake where you had to walk through a mile of undergrowth, across a river and then dodge bullets from the land-keeper we thought it was just a very big lump of poetic licence. Turns out he wasn't lying: he caught the forty and almost has the scar wounds to prove it.

14 NIGEL SHARP'S CAPTURE OF THE BC
It was the news story that rocked the angling world and we got to run the world exclusive story. Nigel's capture of The Burghfield Common was the end result of one bike, six pairs of trainers, 200 gas bottles, hundreds of miles walking and a total of five years dedication. Our second ever article with Nige (issue 5) was on Burghfield and we followed his journey until he caught it in the May of 2006. Well in, mate.

13 BELOW THE SURFACE
February 2006. The month and year that changed CARPology. It was the first time the partnership of Ology and Hughes had come together and first showcased what a fascinating series it was going to be. Six years, 100+ dives, over 7,000 miles and 100,000lts of air later and it's taught us rather a lot.

12 MEETING PETE REGAN
It's Damian Clarke who we have to thank for what later became known as Regan's Ramblings. He put the editor in touch with the man who later went on to write in 97 consecutive issues, entertaining every reader with his amazing real life tales. Peter Regan, you're a true legend.

11 BRINGING IN ILLUSTRATION
There are always key moments in any business or product growth and one such area was taking on our extremely talented illustrator, Mark Smith. It brought a new feel and class about the magazine (and now in Maximum Carp too) and is an area we'll continually look to improve in.

10 HARDWARE COMPARISON
It was an idea of the editor to bring in two types of reviews: 'previews' and 'reviews'. The latter would be purely scientific and started in issue 70 when we used a thermal camera to prove which was the best sleeping bag. The impact it had was huge: shops sold out of the winning bag within a week of the on-sale.
---
9 FITTY OF THE MONTH
The first ever 'Fitty' appeared in issue 5, and although many CARPology-ers past and present lay claim to coming up with the concept, we don't actually know whose idea it was. That aside, it was a brilliant move and a 'fitty' has appeared in every issue since, well apart from the Summer Special.

8 CREATING A CULT
We think Daiwa's marketing man, Stephen McCaveny got it right when it wrote in issue 50, "It's not just a niche you have carved, but a cult following." Three different readers getting the CARPology tattooed on various parts of their body and shots of you in hoodies or with the magazine kind of proves that.

7 SAVAY EXPERIENCE
Being offered the chance to watch the fish in the close season was a privilege in itself, but then to be allowed 48hrs fishing on the mighty Savay? Wow. And to mark this momentous occasion we decided to fish right at the end of The Colne Bank – a good two-mile walk with the barrow. And of course we blanked...

6 THE NAME
As you may already know, it was Martin Locke who we have to thank for the name CARPology. John Hannent created various different styles for the logo and branding: Carpology, carpOLOGY and carpology. The name also worked so perfectly on some many levels too, regularly now known as 'Ology and its readers as CARPologists. Cheers, Lockie!

5 MAXIMUM CARP
Going from one title to two is a massive step. The risks become greater, the overheads quadruple and you've got to produce something that's better than what's currently serving the market. Of course our competitors knocked it and whilst they may have far bigger budgets, unfortunately for them we've got a better hard working ethic as 15 issues on, Maximum Carp is still here.

4 ADDING A COVER PRICE
It was the first stage in moving the magazine from a free hand-out to one that was worthy of a cover price and ultimately getting it into the newsagents. We changed it from the A5 rucksack-friendly size to A4 and increased our tackle shop database from 11 shops to 150.

3 OUR FIRST DISTRIBUTOR
The next stage in getting CARPology to the masses was to make the huge investment and go through a distributor so we could be sold through the likes of Martins and WHSmith. Our initial meeting took place at the back end of 2004 but by April 21st 2005 CARPology was on-sale in newsagents!

3 GETTING INTO WHSMITH
Although times have now changed, back in 2005 getting your magazine into WHSmith was the Holy Grail for magazine publishers and with issue 13, along with Terry Hearn and a Korda Lead Clip Action Pack slapped on the front, we did just that.

1 WE'RE STILL GOING!
Come on: what else could number one be? The fact we entered into a very competitive magazine market, with only just enough money to pay the first print bill let alone buy anything else. The fact we've gone through one recession; we've seen three other angling magazines come and go; we've taking the slaggings on the forums; we've suffered the frighteningly long hours and the heartache, but do you know what? We wouldn't change a thing. Gentlemen (and ladies), it's been a pleasure serving you and thank you so much for your on-going support.
---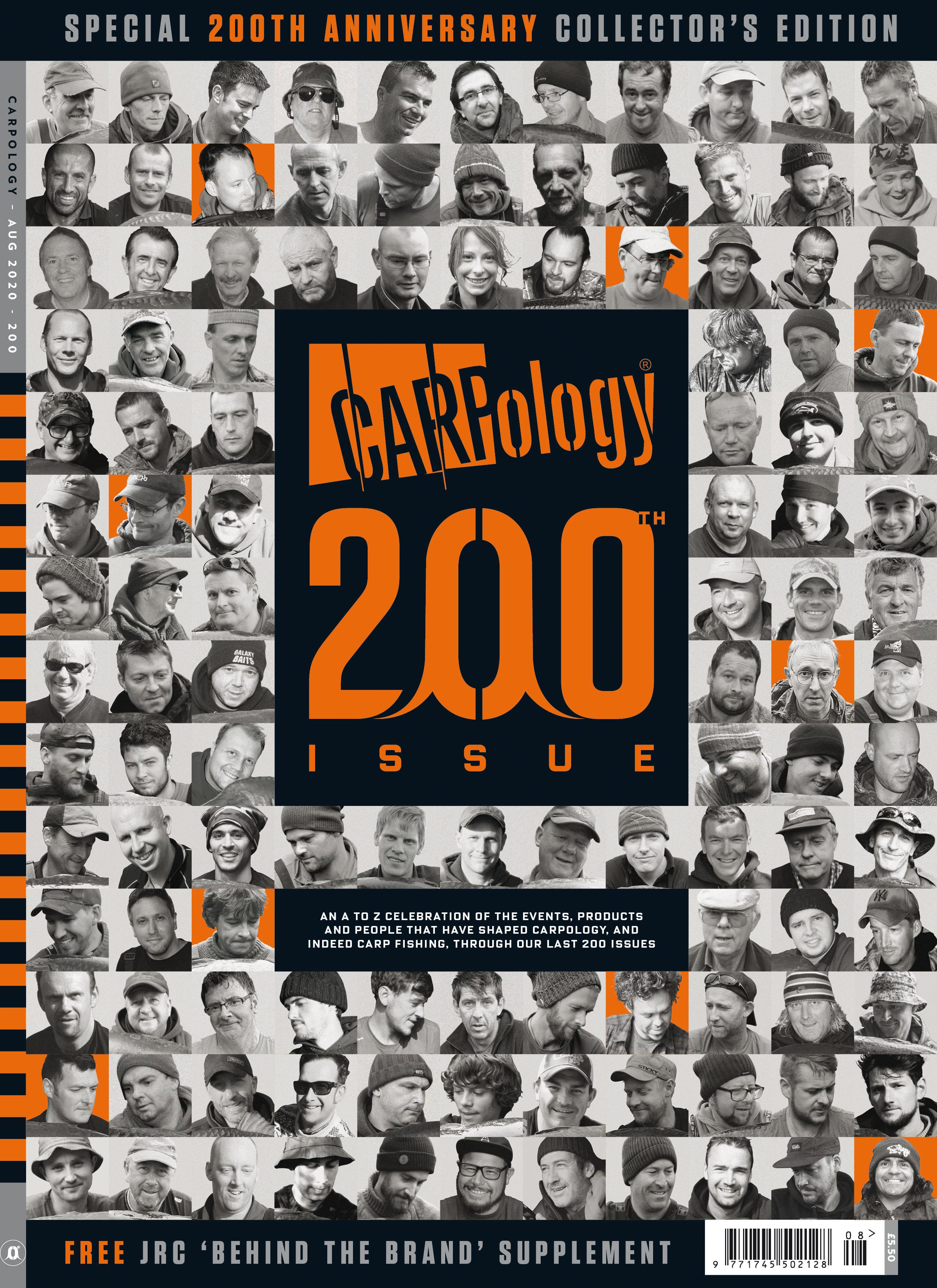 Our 200th anniversary collector's edition is on-sale now! An A to Z celebration of the events, products and people that have shaped CARPology, and indeed carp fishing, through our last 200 issues. Order your copy now