Taylor's Tales!
In need of some serious entertainment and some ace knowledge? The late Alan Taylor had this offering from issue 26... #CARPologyAt200
Footnote: This article was originally featured in issue 26 of CARPology (May 2006), and is being rerun as part of our 200 Issues celebrations.
Cor blimey, this writing lark is fun and games – no one prepared me for this. I haven't told the missus yet, but I have started getting fan mail! Well perhaps I am getting a bit carried away, but I received two letters last week.

The first one was from a delightful young lady called Nora. She wrote saying that she had been a big fan of CARPology since it became available in the shops. She went on to explain how she goes into her local paper shop in the mornings for a bit of a warm up, (as she puts it) before the off licence next door opens. This is where she has a good gander through the magazines. She explains she has spent most of her life recently outdoors. She seemed very lonely and explained she hadn't been with a man for sometime and liked to flick through the magazines looking for the good looking 'rough and ready type'. It doesn't cost anything to dream she says.

'That Mr. Broxup with his rugged good looks makes me go all weak at the knees, better than a couple of Tennants Extra lager' she says 'and that Mr, Regan – oh! He's lovely, I imagine him on his big boat with an eye patch and a pair of them big long boots. He's a pirate captain and I am his wench'.

The next part of her letter was a bit risqué to say the least. She mentions here that she is drinking Special Brew as she writes – her writing goes a bit wonky after her trip to sea with Mr. Regan.

It would appear that Nora came across my article and photos by accident as she goes on to say, 'I was looking for photos of Dave Woods. I loved his moustache and he reminded me of an old hippie boyfriend I used to have. Oh, how his moustache used to tickle my legs,' Nora goes off into one again. She says she doesn't normally bother with the front of the magazine, ' all those young men, too young for me, they look like they are out of those boy bands.'

She thought, although I was very young, she quite liked my boyish good looks. She said I reminded her of her first boyfriend. She went on to say she didn't have time to read my article as she was thrown out of the shop, which is apparently a regular occurrence, and is quite abusive about the shopkeeper.

Poor Nora obviously thinks my old photos from 30-years-ago were recent. Bless, she seemed a little confused. She has asked if I can get her a picture of Mr. Regan in his waders, as she often thinks about him before falling asleep on her park bench.

I have included a more recent picture for Nora, topless as she requested. This one was taken this Christmas fishing on the local canal. Southern boys ain't no softies.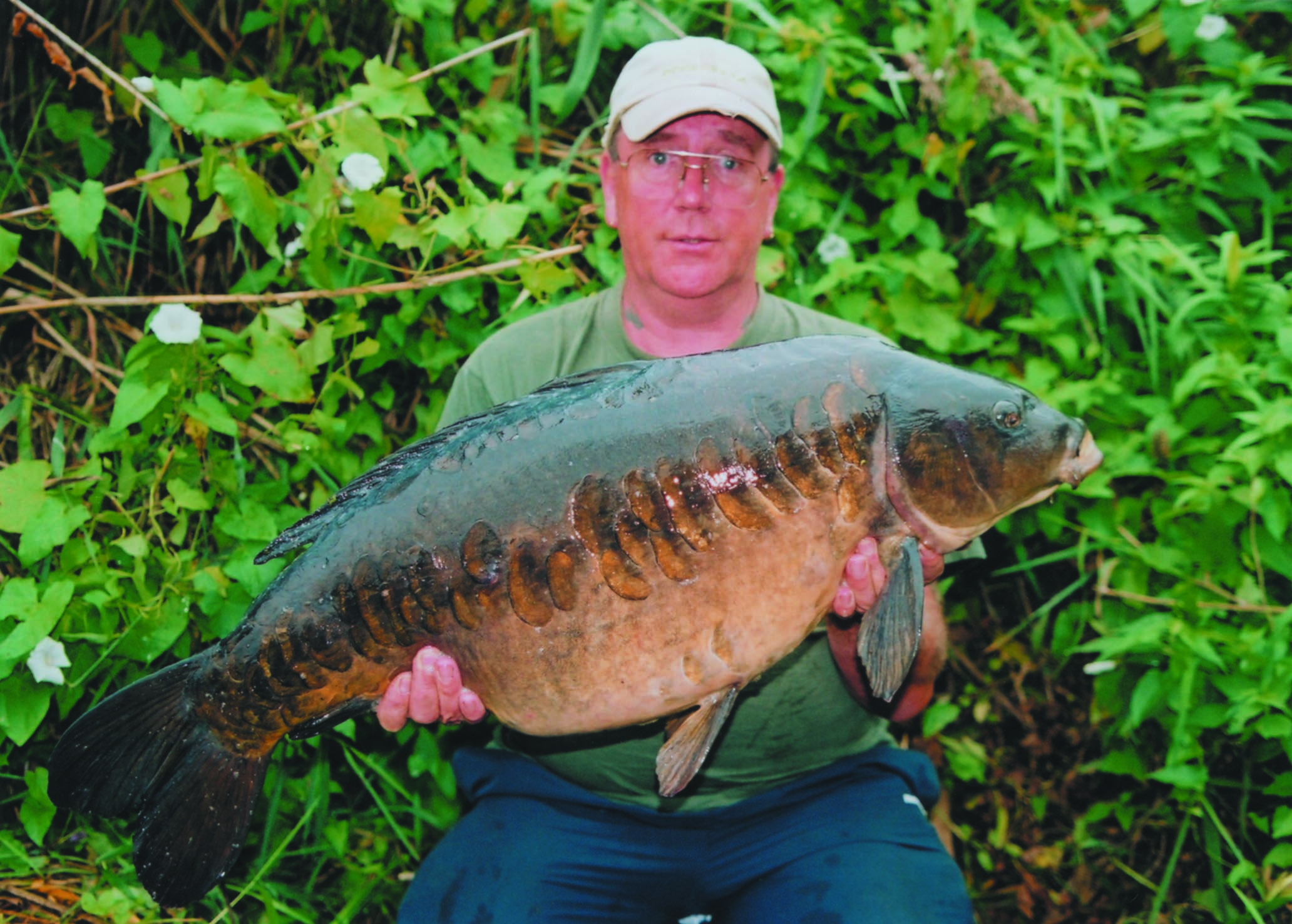 Startin' Carpin' 70s Style...
Right, let's travel back in time to the early 70s… I had been bitten by the carp bug big time. I only had eyes for them carp. There was little information anywhere, on any aspects of carp fishing, be it bait, rigs, water etc. No specific carp magazines, very few books and no carp organisations. The majority of anglers who targeted carp belonged to their local specimen group, and fished for them along with big fish of other species.

Tackle. Very few items were specifically made for carp angling, only a couple of proprietary rods were available, most tackle had to be adapted or in some cases made yourself. Not forgetting we had a close season, the majority of people stopped carping by the end of October making it a short season.

For my first few years carping, not being old enough to drive restricted me to local waters, within cycling distance or getting dropped off by my dad. I had just started work as an engineering apprentice on the princely sum of £12.50 per week, which I used to give 50p to my mum for board and lodgings, and then usually borrow a fiver off her by the end of the week.

A carp rod in those days would cost a week's wages or you could buy a kit and make your own for half that. My first rods I built were from kits, obtained from Oliver's of Knebworth (see catalogue). I had no buzzers, which didn't really matter as we used to sit and fish most nights, occasionally nodding off in the chair. Using maggots, worms, or bread usually meant something was happening, not normally carp, but attention from smaller unwanted fish, eels, bream etc.

My fishing buddy, Glyn, used to get these minute tablets, that he used to chop in half, a bit like Pro-Plus today, might have been a bit stronger, we used to have half each. I remember going one night and not being able to cast out as each time I cast a giant frog would leap from his lily pad and swallow my bait. That was a bad trip! Especially when one hopped of his pad and started chasing me around the lake, yeah, there were a few side effects to Glyn's wide-awake pills.

When I passed my test, my first car was a mini, which cost me £50. Not an ideal fishing motor, and with dodgy brakes, not too reliable either.

The first club I joined was Vauxhall A.C. which had a lake about ten miles away, at Woburn Sands, and another, forty miles or so at Stanton Harcourt near Oxford. Both were large mixed fisheries with a few carp in. By searching the local ordnance maps I also found a small reservoir that held carp, and managed to blag a ticket to fish there, being local to work, it was ideal for a short session afterwards.

I planned to do most of my fishing at Woburn Sands and the local reservoir. During the old close season, May to early June, when the weather had warmed up, the carp became active and visible. The Woburn Lake had a bay at each end which was very weedy, likewise the shallow margins, and this was where the carp could easily be spotted. Little information was available on stocking, previous captures etc. so I was left to my own devices.

Looking back through my 1974-75 logbook, I see that I didn't fish many nights, this was down to several reasons. One I wasn't really equipped for the job, night fishing equipment being an umbrella, sun lounger and a sleeping bag, and fishing clothing came from local army surplus stores, or mail order from Silverman's (big army surplus, mail order firm). Another reason could have been the strange occurrence I had at the lake one night, this is my recollection from that particular trip!

The walk from where you parked the car to the lake was probably getting on for a mile. One trip was all I could manage, so I used to dispense with the sun lounger, umbrella and cooking gear. Two rods, landing net and banksticks wrapped up and tied together, an old army rucksack with groundsheet, sleeping bag, a bit of bait, a few sandwiches and a bottle of pop, plus my tank suit if it was cold which weighed a ton. That was me done.
The Trip…
Anyway, one mid-week night I arrived at the pit. The place was empty as usual and I had a good wander with a stalking rod trying to find a bubbler or clooper, that I could present a worm (bottom) or piece of crust (surface) to. Several circuits later and no action, so I picked a spot for the night on a piece of open bank by the mouth to the bay, a spot I had caught from before.

In those days it was nothing unusual to have the lake to myself, and as I got the baits into position it seemed like this would be the case. A small running ledger with a bunch of cockles was dropped through a hole in the weed at the entrance to the bay, and a free-lined broad bean was lowered into a small hole in the weed along the bank on the shallow marginal shelf, no resistance to a taking fish and hiding the hook in the bait were the order of the day.

Looking through my log these seemed to be the two baits I was catching on. Mostly low doubles, there were a couple of twenties in the lake, I had lost one of the bigger ones which had taken a piece of crust in one of the bays, but lost it on an underwater obstruction, of which there were plenty. The place had a bit of a spooky feel to it on the best of nights, knowing its history didn't help. A murder had been committed near to the lake, of a young local schoolgirl. Also rumours of a body being found in the pit of an old boy that used to swim in the pit.

Anyway, work in the morning, I remember it being a very quiet and still night, so I got in my sleeping bag and rolled myself up in my groundsheet. I couldn't get off to sleep and began feeling a bit nervous as dark approached, I got the strange feeling I was being watched, the old hairs on the back of my neck standing up – anyway I must have eventually drifted off to sleep.

I remember waking to a strange noise, a kind of rustling, rubbing noise. I looked along the bank in the direction of the sound, without sitting up to see this thing lumbering along the bank towards me. It was human shaped but huge. It looked seven or eight feet tall, huge arms and legs, no neck with a bucket like head. I could see this thing approaching me very cautiously, it seemed to be trying not to make any noise. Panic set in, I thought to myself I had no chance of getting up and running wrapped in my bag and groundsheet. The thing was getting closer! I quickly hatched a plan. I could just about reach my rear bankstick, which I had constructed myself from heavy gauge conduit piping (and smuggled out of work). As the thing got closer my plan was to let it get up close, clump it with the bankstick and run like feck. As the thing got closer I tried to make out its face, but it had no facial features whatsoever. I reached for my stick and slipped it alongside me in the bag. I hoped the creature had not noticed.

It was getting closer and closer. It bent over my body and in a muffled voice said, 'hello'. With that I sprang from my bag and swung for the thing. "CRACK", an almighty blow caught it around the side of the head, and as if in slow motion its head seemed to detach from its body, somersaulting in the air before coming to rest at my feet with a clump.

"Oh mate, are you fishing?"

No, I couldn't believe it, I had killed someone!

"Hello mate are you fishing?"

Luckily I had only knocked the crash helmet off a geezer who turned up in his motorcycle gear, crash helmet and all, to put a bit of bait in. He said he was trying to keep quiet not to disturb me. We have a laugh and joke and off he trots with a cracked crash helmet.

Footnote: I managed a twenty and lots of doubles before I moved on. The fish continued to grow to over 30lb.
Super Snake!
Both the Woburn Sands and the reservoir responded to simple stalking tactics on the surface with crust, which was very exciting or just as much so as fishing for bubblers amongst the weedbeds.

Bubbler fishing was as simple as it came. You scoured the margins looking for feeding carp sending up bubbles or clouds of silt, both were easy to spot. Carp bubbles being easily recognisable to any others. A simple worm lowered on to the spot, freelined mostly, watch for the line to tighten – whack! Bobs your uncle, hang on! A method I still use today where possible, just incorporating modern tackle and know how about rigs, with a small light lead.

The Vauxhall Lake at Stanton Harcourt, although only about an hour and a half away, it seemed miles to travel to fish. We only used to go once a year, during the factory closure, July/August. My mate Steve used to do a mobile discotheque – hey, they were the days – anyway we used to load his transit up and go for a week. This was by far the longest we ever fished, rarely doing two consecutive nights, even at the weekends. The call of a bit of muff and some beer too much to miss for a whole weekend.

The first year/time we fished there we were using large paste baits made from black pudding and sausage meat. We got absolutely anialated by chub and small catfish. The following year we were on the yellow peril – sweetcorn. Well in a week, baiting up the margins and stalking there weren't many carp left that we hadn't hooked on, landing the biggest going around 17lb. The biggest fish we saw was a big fat black fish that swam on the tilt. I spooked him twice trying to catch him and he went on to make mid thirties and the pit has now done them over 40lb.

There have been a few strange occurrences at my lakes recently. Firstly, one of the local dog walkers has approached one of the bailiffs asking if he had seen his dog. He explained it was running in the field behind the lake and just disappeared, so we put the word around for people to keep their eyes peeled for a stray collie.

Well a week or so goes by and I get a strange call from Lofty, asking if little Gerry has been down the lakes recently. Now little Gerry – you wouldn't call him a dwarf, but he's short, and he doesn't need to duck when getting in and out of his bivvy. Also, when he is sat on his bedchair his feet don't touch the ground. He's a nice bloke, fishes mid-week normally when it's nice and quiet. The story goes… he comes down with Lofty in his motor, they have a bit of a bull and cow, Gerry throws his toys out of the pram and storms off across the field never to be seen again. Well, at the time we have a laugh and joke with people saying it's like something out of the Stephen King film where the monster lives in the field.

A week or so passes, still no sign of Gerry. Until last week that is, Steve the bailiff is driving down the track to the lake, when he notices something dumped in the hedgerow, nothing unusual in that, he stops and gets out of his motor to investigate. Somebody has wrapped something large in a bed sheet and tied it up with rope. As he drags the heavy bundle from under the edge he reckons it moves, and the thing also feels quite warm. He recalled that all sorts of things were running through his mind, call the police, being one of them, but thinks better of it. Don't want to look a prat, but the thought has crossed his mind it could be a dead body.

The bundle hasn't moved anymore. Steve being a bit of a Crocodile Dundee plucks up enough courage and cuts the rope to the bundle. With that this huge snake lunges at Steve and gets him round the neck and a terrific battle ensues with Steve finally subduing the beast…

Only joking… this snake is a 17-and-a-half-foot Burmese Boa Constrictor with its head caved in, but interestingly two large lumps down its body. Steve is thinking, the monster from the field with Gerry and the dog. The snake is still there if you want a look, no sign of the dig either, but Gerry has shown up alive and well.
---
Our 200th anniversary collector's edition is on-sale now! An A to Z celebration of the events, products and people that have shaped CARPology, and indeed carp fishing, through our last 200 issues. ORDER YOUR COPY NOW