The Struggles And Successes Of The Average Angler
Chris Cox battles with wind and budding Tom Daleys, and enthuses about the 'floater rota' before banking two personal beasts(!)
Having two new syndicates to tackle this year, with a huge amount of glee I eagerly anticipated April and May (as most of us turbo-charged anglers do!). My spring however, was fairly poor by my own high standards. I couldn't seem to get on the bulk of the fish over on Dinton Pastures when doing overnighters, and only managed to bag one carp before the venue closed for the month's spawning period the first week of May. The carp I did manage to tempt came on a typically chilly morning April morning, when I managed to get as close to the fish as possible. I dispatched a brace of Zigs to the middle channel of the lake, hoping any carp cruising in the middle layers would take an opportunistic fancy to a bug-like offering right in their eye-line. I was sitting on the bedchair, just thinking about changing the depth of the Zigs as I'd done the night with no luck, when the bobbin shot into the roller and stayed there, shaking from side-to-side. I grabbed the rod and a carp began plodding around just under the surface, bow-waving from the left side of my swim to the right and back again. With each turn I prayed the hooklink would hold, and after a few minutes a beautiful scale-ridden Dinton mirror was just waddling over the net-cord. I was truly in awe of its beauty: plated scales caressing one flank with some petal-like clusters on the opposite… special indeed. The Dinton strain of carp is becoming something very special and immensely coveted; it was clear from this fish as to why!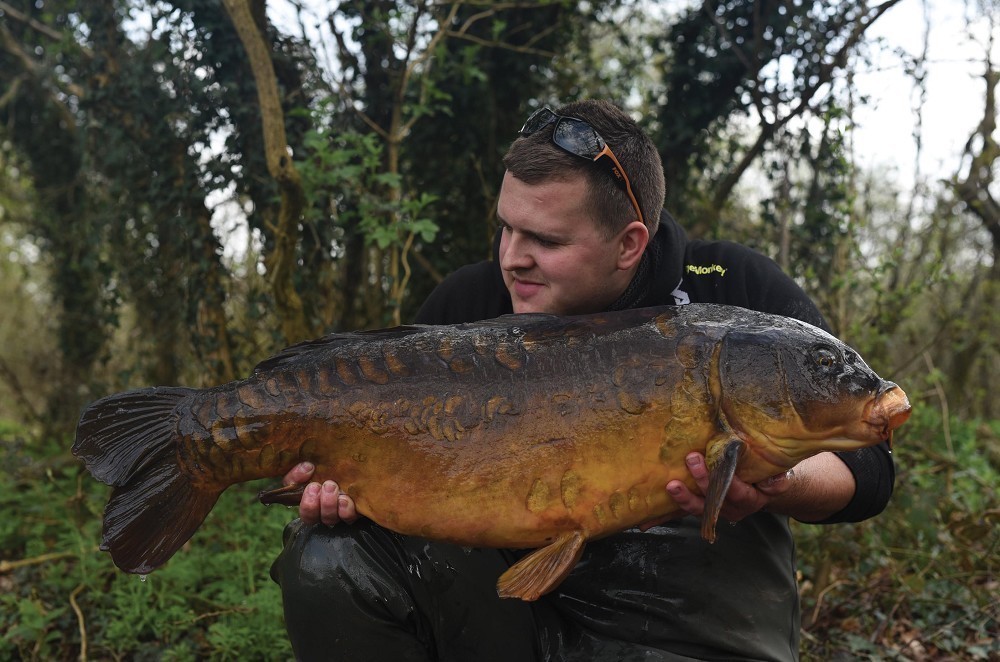 A Dinton White Swan beauty: 31lb 2oz
Dinton is notoriously tricky and it became clear the fish can be cute, but its difficulty is compounded by the anglers and general public. There's a talented bunch targeting the residents of White Swan this year and each is as keen as the other, meaning many swims are taken for three days-a-piece. When you're doing nighters between work, it means you have to squeeze in and although this is the name of the game for many, it's still difficult to get into any kind of rhythm or get bait introduced in an area with regularity.
Accompanied by a friend, I managed to get some carp going on floaters one evening after popping down for a few hours after work. Just as I'd got half-a-dozen or so carp taking floaters regularly, a bunch of Eastern Europeans decided they'd do their best Tom Daley impressions, diving into the margins and then swimming through the middle of the lake - much to my, and every other angler's fury and disgust! The fish spawned the following day and that put an end to any more action until mid-June.
Manor Campaign
My Essex Manor campaign also started the second week of April and what a charismatic lake it is. The carp are glorious-looking, and big too! The lake is like a bathtub really, shape-wise, with lovely tall reeds filling the margins around a deep pit. The lake changes from year to year with the water level fluctuating, depending on the amount abstracted via a farmer's irrigation pump for his crops. The stories the lads tell me of where they used to catch carp are really something: from banking fish on the actual steps of swims to under trees which currently form part of the swims themselves.
I did my first 48hr session in a swim called Mum's down the end of the lake. When I arrived the swim was black with carp basking in the spring sunshine; around 35 chunks swimming around was enough for my bottle to be put in there immediately on my first lap round. I did everything I could that session and really worked hard, but caught a generous helping of nothing! I tried everything from Zigs to floaters, Spodding over Zigs to bottom baits, but they just simply weren't interested.
My second session was during a spell of horrid 45mph north-easterly winds and rain, but undeterred I went for the obligatory walk around, but I saw nothing to go on. The wind was smashing the car park end of the lake, but it felt so cold up there it was unreal. When I went to the opposite end I saw it had a sheltered bay which was flat calm and I thought if I was a carp, that's where I would be: out of the polar wind, and that's where I opted to set-up.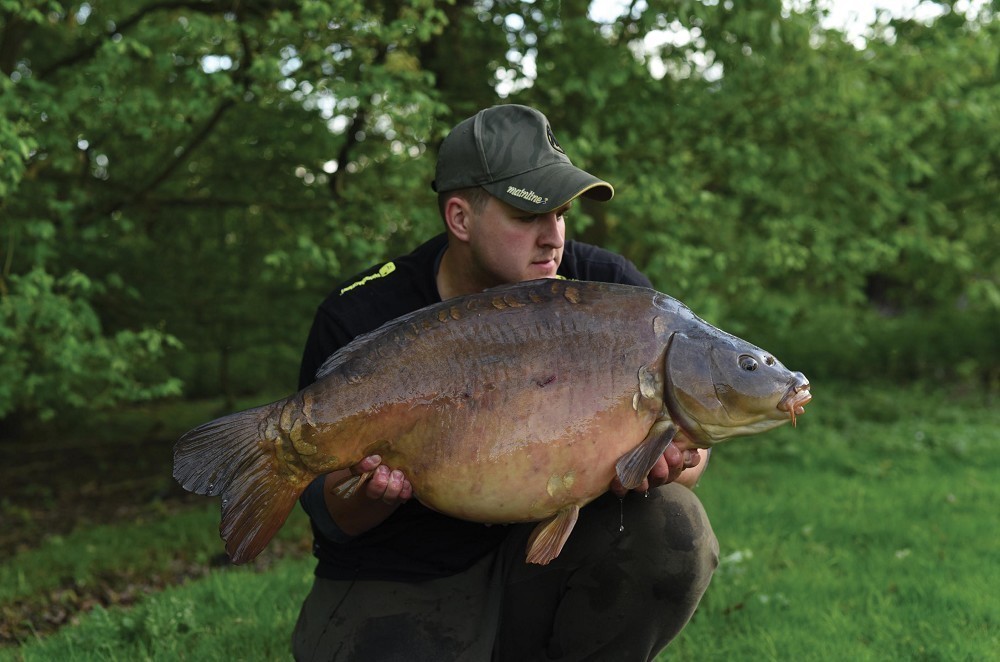 The first bite from a new water is always pleasing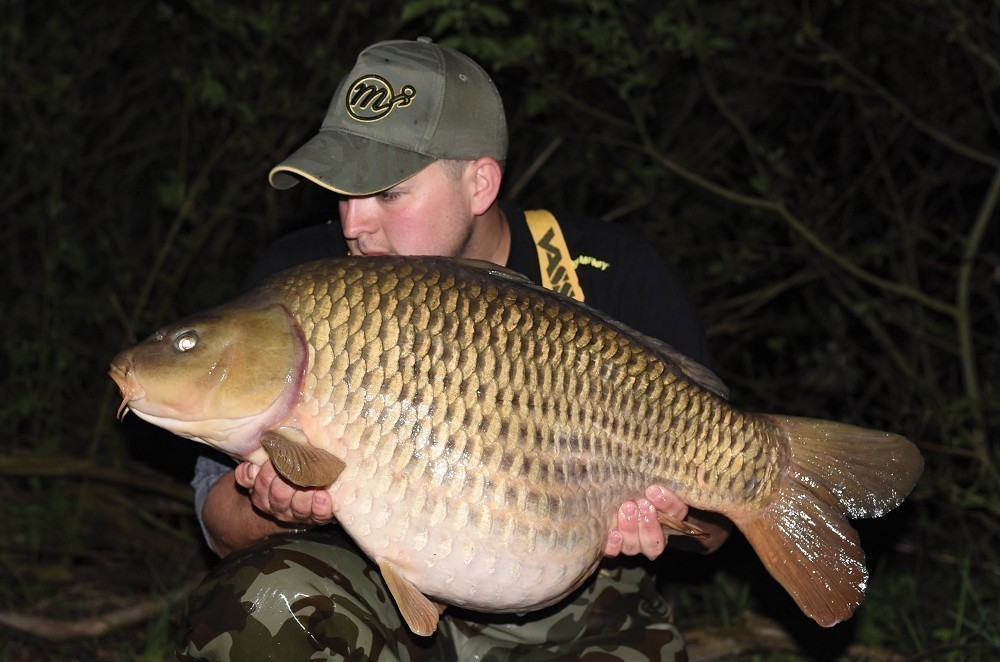 34lb 10oz of pristine common carp
The night set in and the wind got even worse, and coupled with relentless rain, I began wishing I hadn't got in the van to go fishing! As day broke it dawned on me the carp had thrown one of those curve balls to royally kick me in the doodahs. I could clearly see through my letterbox-style opening in my bivvy, carp after carp throwing themselves out of the water, right in the teeth of the wind. I couldn't believe it, and neither could the other lads. It went against everything I thought carp would do, especially at such an early time in the year.
Nonetheless they were up there, and so came the dilemma: move onto them - and according to regulars who've fished for these carp, they'd move as soon as someone set up on them and put some leads on their heads - or wait and see if the wind changed to a southerly as forecast and hope they got on it. Well, I decided to stay in the hope they'd arrive and as luck would have it, I was chatting to the missus when one stuck its head out half way from where they'd been up the car park end, and my swim. I remember saying to her that if they kept coming it was looking bang on. I got the traps set and my left-hand rod was placed down in the corner of a bay, with a liberal sprinkling of Mainline Cell and Activ-8 boilies around my hookbait, and the others placed near some pads in mid-bloom, just off the reed-lined margin opposite. Rig-wise everything was, as it is always with me, simple and strong. I opted for size 6 RidgeMonkey Curved Shank hooks, with Snowman set-ups incorporating Mainline Toppers in yellow and pink.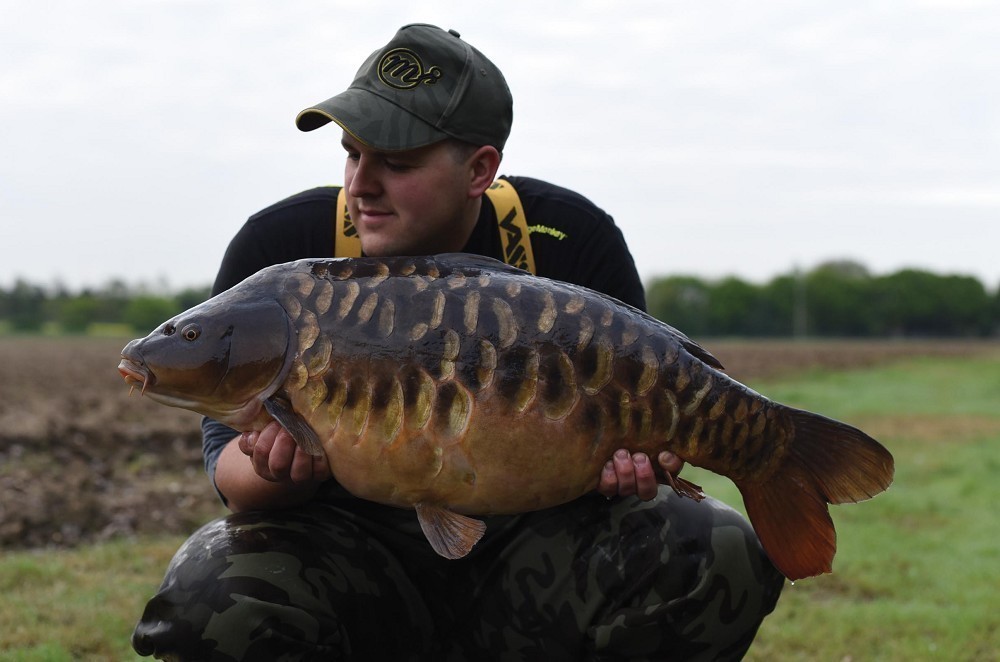 A near 30lb of beauty
A few hours later that southerly was in full swing and I got a few liners on my right-hand rod, and then the same on my middle one; they were here for sure. I was cooking my dinner when the left-hand rod smashed round and line started trickling off a tight clutch. I grabbed the rod and began playing a carp which I must say, behaved a bit too well. Don't get me wrong, it's nice to get them in, but I want a bit of a fight. This thing came in relatively easily and before long I had a chunky mirror in the net, and my first Manor fish too. It went 35lb 4oz, so a nice start.
I got the rod back on the spot just as light was fading, in hope of another and it must have been around midnight when my right-hand rod started to signal a take that wasn't nearly as aggressive as the first, but this time the fish came in like a sack of cement. It felt like like a massive bream and just as I was getting the net dipped in the water, 'ping', the hook came out! I took the loss quite well initially, then all the lads proceeded to tell me I'd probably lost The Anchor. This fish is notorious for its fight - or 'non-fight' should I say. Now, being one of the carp I'd love to have in my album, I was right jarred off and had a little sulk, feeling truly sorry for myself. The following morning the carp had moved out of the bay and I was off home anyway, but the two bites I'd had made me eager to return.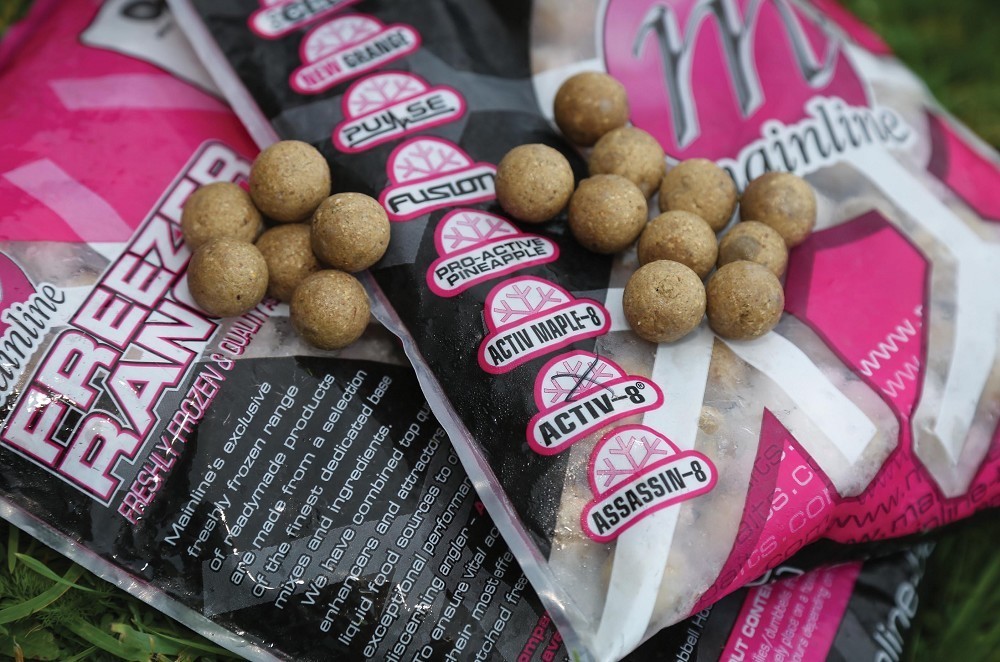 Classic old favourite: Mainline Activ-8 boilies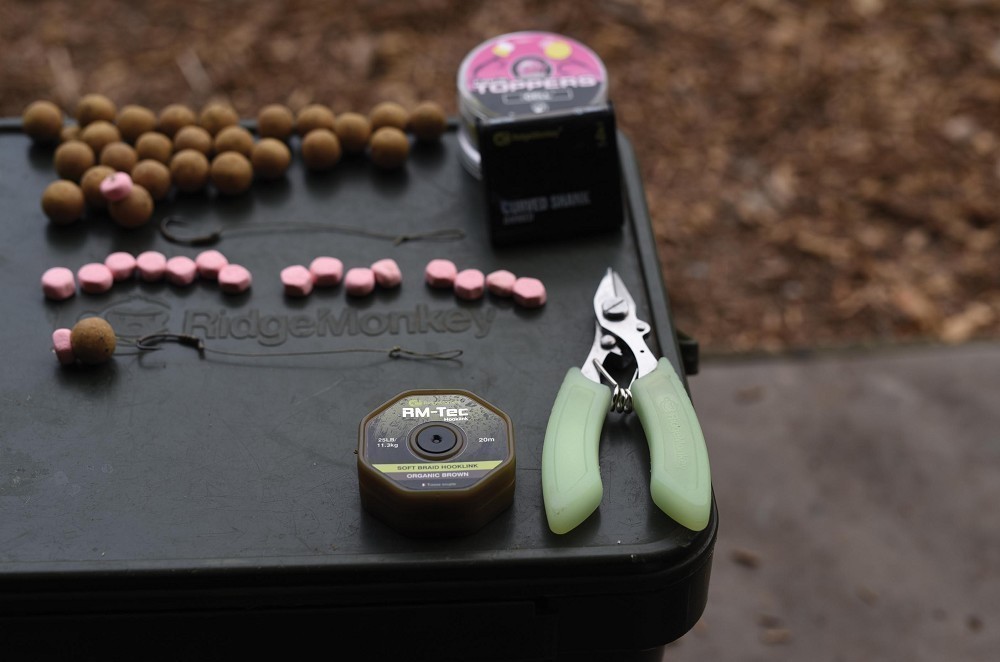 Strong and reliable components
The following week seemed to take an age to arrive, but when it did I was soon opening the gate, desperate to try and tempt another chunk. With most of the popular swims being claimed already on one side, I fished opposite, in the middle of the lake. The swim had a small, alcove-like cutting in the reeds that rose from three feet of water. My left-hand rod was placed in this area and plenty of Activ-8 boilies were fed over the top. The other rods were placed on the firmest drops I could find on the shelf, which seemed to have a much steeper gradient on my bank than opposite.
I had an early morning alarm call in the form of my buzzer at 5am with the rod rattling off; it was the left-hand rod fished in the reeds. I shot down to the edge of the swim and had to put the waders on first, as the reeds are so high in the swim I needed to wade out to get in front of them. The fish gave a fairly good account of itself and when it rolled in front of me I was shocked to see a lovely, fully-scaled mirror. She went just under thirty pounds and I was chuffed with the start. The day was a scorcher and I was struggling. I needed to get out of the sun trap of my swim and ended up reeling in and going for a walk to the other side for some shade, and having a good chat with the other lads. Just beforehand, I baited the spots heavily with more Activ-8s, hoping that by leaving the swim with no lines in, it might let any fish have a free munch before I got back. I returned just before dark and got the traps set for the night ahead.
Around midnight a steady take, again on the left-hand rod had me chest-deep in the lake trying to coax a good common out of the reeds. Once the initial, somewhat hairy lunges towards the reeds were thwarted, I had him under control and plopped in my landing net. This one went 34lb-plus and was an old, big-bellied Manor resident.
Floater Rota
It always seems the away - and I'm sure it is for all of us - but whenever I'm at work, carp seem to be hanging themselves… somewhat more so than when I'm at the lake. To be frank, it gets on my wick! I was constantly seeing pictures of carp on social media, and all caught on floaters! Now, I can't emphasise enough, the excitement the floater rota enthuses me, and the only thing I was fighting against was our typical weather. When I was at work, the glorious 'current bun' would be shining brightly, and yet when I went to the lake, it would be warm, but really windy - not ideal for a floater session I craved.
However, on a recent trip to the lake I set-up in the End Pads swim. A great swim on its day, but the moment I arrived it was apparent that all the carp were in the car park area at the opposite end. I chose therefore, to hope they'd drift down later in the day. I did the night with no action - not that I was expecting any to be honest - but as the sun rose higher, those black shapes started to manoeuvre in the surface layers at my end. There's nothing better than seeing those dorsal fins just caressing the surface with the fish bow-waving around. I watched with anticipation as another angler catapulted a few Mixers out. They stayed there for a while before a few carp began taking. Now with me not being one to miss an opportunity, I ran back to the van to grab the floater gear…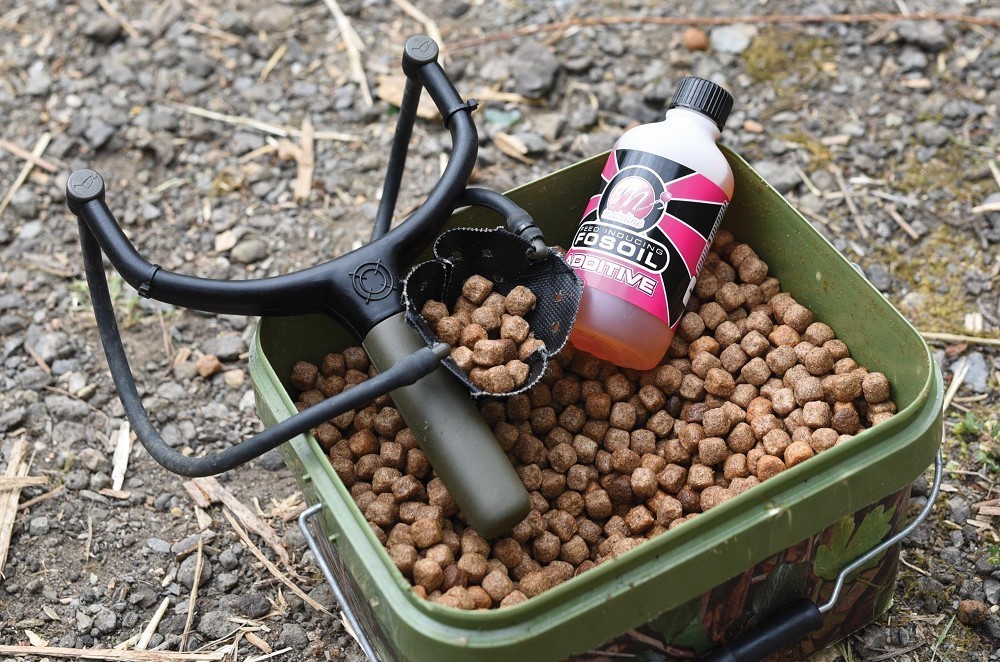 Mainline Fosoil really helps slick up those freebies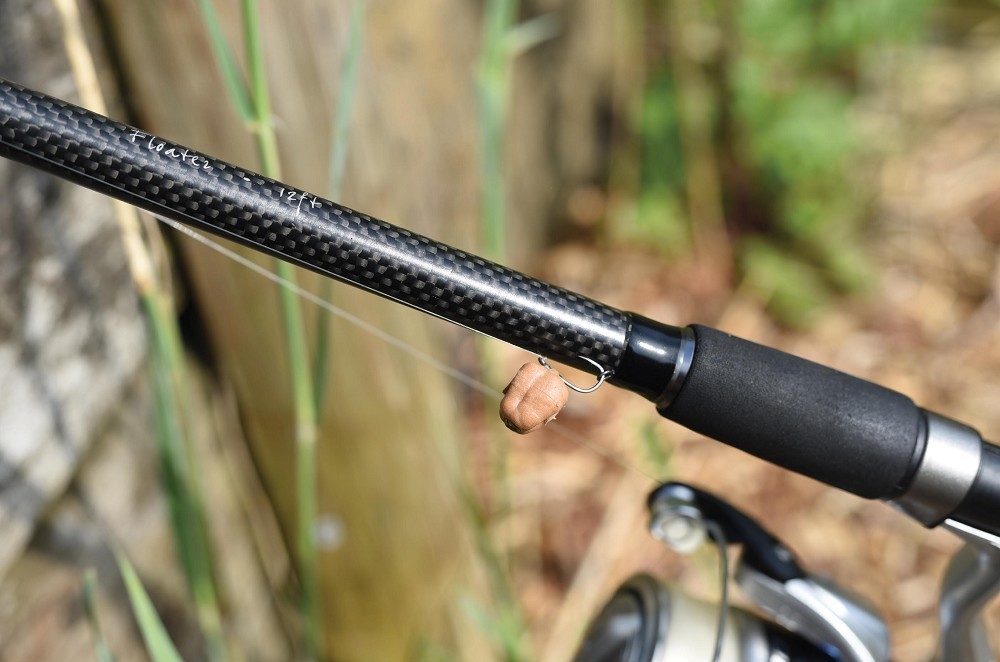 A sharp hook and a super buoyant hookbait: nothing more needed
I emptied a five-kilo bag of dog biscuits into a bucket and poured a bottle of Mainline Fosoil over the lot and gave them a shake before I was good to go. When I got back to my swim, I Spombed out a good helping of Mixers. The carp were looking quite confident to be fair, so I wasted no time in getting the rod out. The end tackle was a simple inline float set-up, light hooklink and a Mainline pop-up with a RidgeMonkey Straight-Point hook. I was watching the freebies disappearing at a rapid rate around the hookbait, when suddenly, with an eruption on the surface, my hookbait disappeared and a moment later, I struck into a steam train of a carp; all seemed to happen at the speed of a lightning strike. Whatever I'd hooked was not happy to say the least. It charged off, taking a good 40yds of line whilst staying relatively deep, indicating that I had a good fish. After 20 minutes or so I was still no nearer to landing the fish; in fact, I hadn't even seen it and a few anglers opposite were all at the end of their swims watching. Just as I got the fish within 30yds of me, another angler came in to help. He prepared the net, but neither he or I realised it was nowhere near ready. It proceeded to do everything it could, not to visit the bank, from trying to charge through two sets of reeds down the far margin, to boring deep down the shelf, flat-rodding me as it was almost under the rod tip. When Jay did get the net under the fish, I was overjoyed, almost speechless. It was a floater PB for sure, and after weighing her at 40lb 14oz we got some snaps and returned her.
I managed another one off the top that trip, but would you believe it, it was a repeat of the mid-thirty common I had off the bottom a few weeks previously… what were the chances? Eighty-odd carp in there and I'd only been fishing the place since mid-April, but had had a repeat. I then proceeded to hook one on the bottom and just as I was about to put the net in the water the hook pulled: a bitter-sweet taste to end the trip.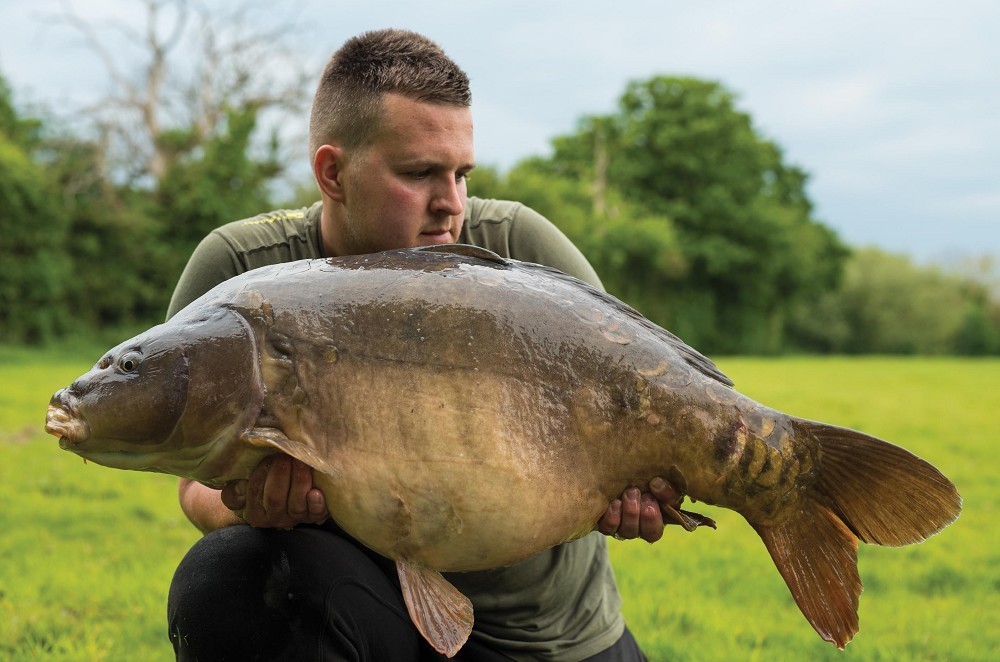 40lb 14oz of floater rota mirror
''Baby Northern!''
My latest trip to the Essex countryside saw me catch a fish I'm over the moon with, to say the least. I managed to get down in prime conditions for the floater rota and the carp began scoffing my mixer freebies almost the moment they hit the surface. There was a small pod of fish going absolutely nuts on them at 60yds range out in front of me. I dispatched a rod and wanted the bait to land just shy of the group, but instead it plopped straight on top of them. I thought they'd have spooked immediately and my chance would've disappeared, but instead my hookbait was engulfed and I was in… utter madness really. It just goes to show that sometimes, when carp are feeding with gusto, it can be clumsily easy to get a bite. The fish bow-waved through the swim from left to right, and it still amazes me now, but I said straight away, "Crap, it's the Baby Northern!" Its flank was so evident as it shimmered in the piercing sunlight. I'd only photographed this glorious creature for my mate Terry a month or so before, and it was now attached to my hook!
After what seemed like an eternity of endless swearing and praying, with two failed netting attempts on my own, I finally watched as she graced the net… what a carp! It was another floater PB with it taking the scales round to 42lb 4oz. (Many thanks to Tom Doherty for the epic photos.)
I've got a trip to France coming up and then I'll be back trying to lure a bite or two from the lakes, all whilst trying to do up my flat at the same time… oh, the life of a working angler! I suppose I wouldn't have it any other way. Until next time, keep catching!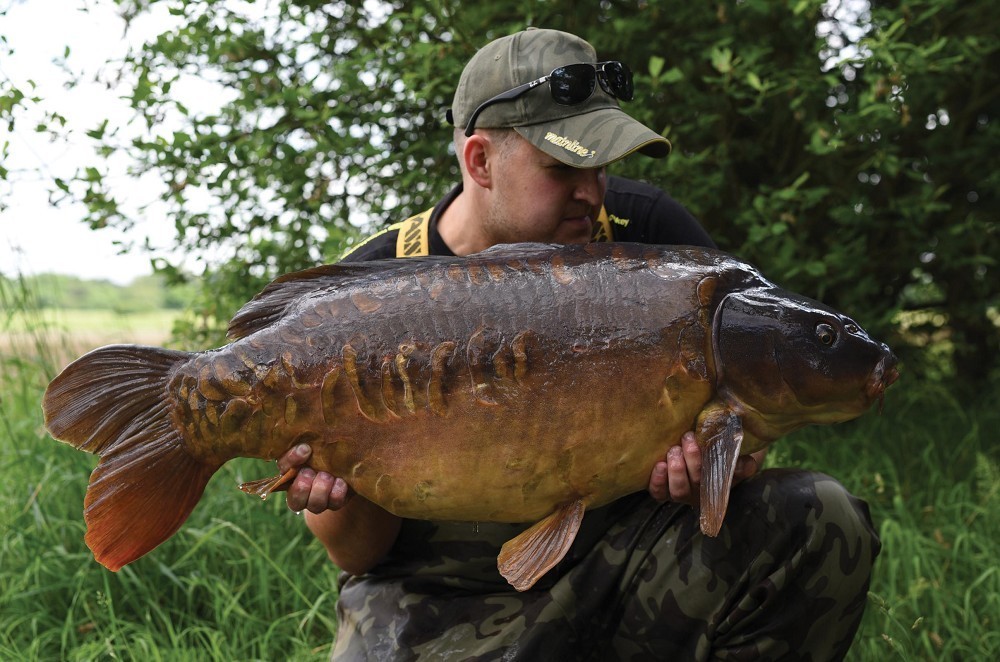 42lb+ of scaly greatness