Behind the scenes of Reflections 2
What life's really like for those who bring you the best fishing TV Shows...
The inside story by filmmaker, Rich Stewart, on how he, Dan Wildbore and Steve Metcalfe created what CARPology considers to be one of the finest angling films: Reflections 2
After following a forest track for half a mile, our convoy rolled up to a locked gate. Mind fogged from the early start, I rolled the window down to let the cool morning air slide into the car. The dust from our arrival had barely settled when a tired, red Toyota appeared in the rear-view mirror. I watched as the tall, slender figure of Chris Yates climbed out… ¶ In a year during which I saw, and filmed, some remarkable things for Reflections 2, that trip was the pinnacle. How had it come to pass that I would film with a guy who is a hero to so many, myself included? Well, as much as the romantic side of my character might want to imagine that it was fate, it was in fact Martin Bowler, a long-time friend of Chris, who set-up our shoot. Ahead of the shoot, I was aware that I might have to tailor my approach to make best use of the talent that we had to film with. If I've developed a style at all, then it's what you might call 'actuality', within which nothing is re-shot to fit the narrative, and we do our best to capture what unfolds in front of the lens. Because both Martin and Chris had shot with legendary filmmaker, Hugh Miles, often for years at a time, I expected that we'd arrive at a hybrid of styles with a few more set scenes planned than normal. ¶ Now, you can storyboard a film all you like, but as soon as you set foot on a lake, your plans often melt like smoke from a Kelly Kettle, so we embarked on a shoot that would push all of us a lot harder than you might expect. ¶ Given that we needed a special moment, and that moment had to be real, Dan Wildbore and I soon realised that lugging heavy cameras around an overgrown lake, as our anglers followed the neurotic carp that this little slice of heaven held, wasn't much fun at all. Brambles, dog rose and blackthorn tore at our bare arms, we had to limbo under fallen boughs, fully laden, all while trying to capture something beautiful through the lens, and at the same time avoid the ticks. It was with some relief then, when Yatesy managed to produce a magical moment for us on the first day. Richard Stewart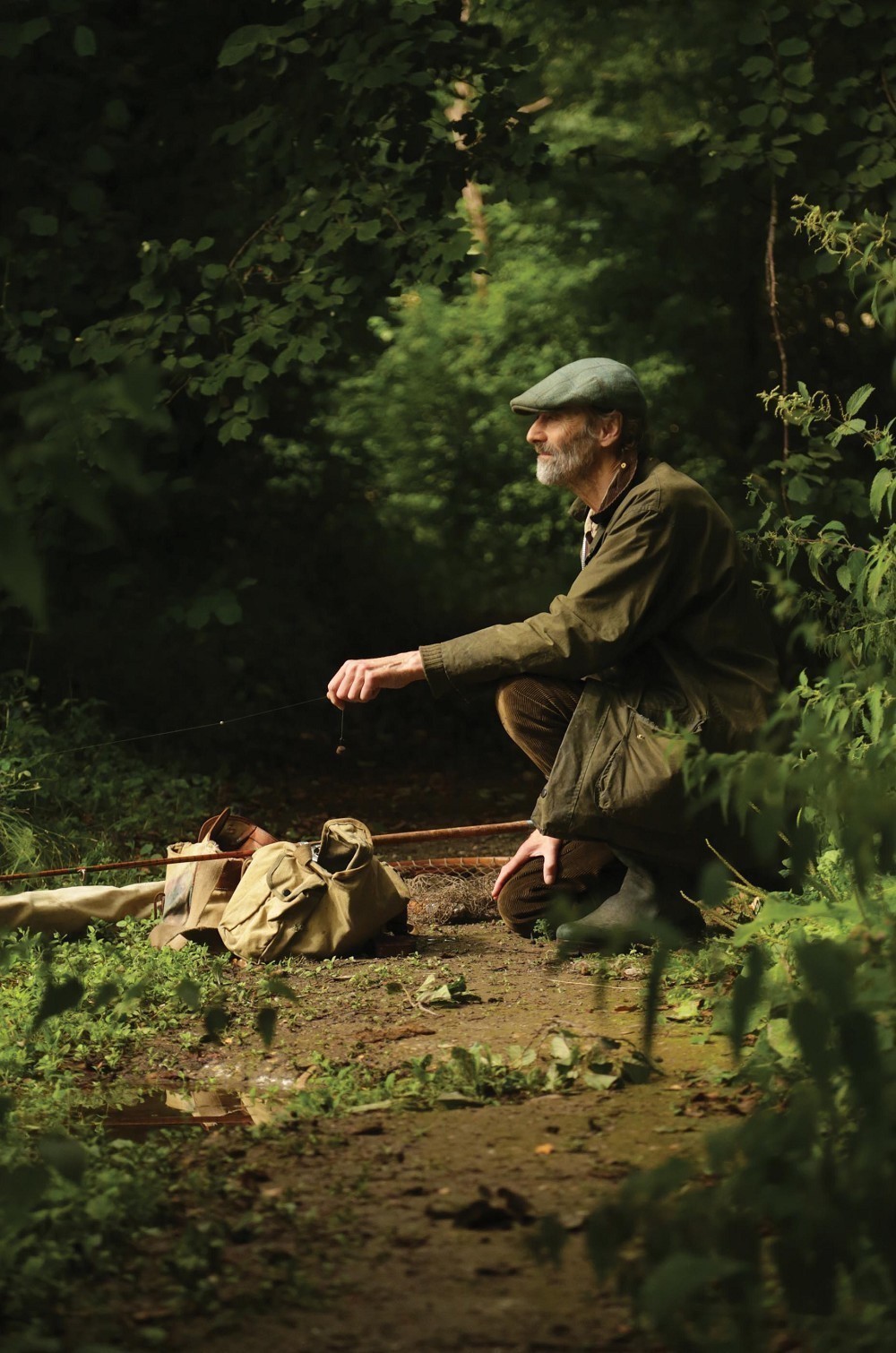 Yates ponders his chances on the dam
Given the choice, I would always shoot two-camera scenes, to make the result more visually interesting (and pacier if needed), but there were times on this shoot when we had to split and follow Martin and Chris alone, documentary-style. It's during these moments when you hope that the story is strong enough to carry the viewer, despite the limits imposed by the pursuit of carp! Both the guys are absolute pros, so we ended up with a huge amount of perfectly useable dialogue, which of course presents a big challenge for the edit.
In the end, I had two hours of useable stuff, before I'd even thought about placing the interview sections that are used to build the story and link the live action. To arrive at a film that moved along with a pace that was fitting for the subject, it would all have to be pared back, hard; and perfectly good footage consigned to the cutting-room floor. Maybe we'll do a director's cut one day?
In the end, the hardships are largely forgotten. The long slog back up the hill to our cars at the end of each day, to bed down among the steepling pines, as hornets buzzed crazily overhead, fades into memory, as does the rather undignified tick-check ritual before bed. What I am left with is a sense of huge privilege. Whatever happens in the future, I'll have worked with a genuine hero of mine, and there aren't many people who are lucky enough to be able to say that.
Pressure off, for a short while!
For those who are interested, Chris is exactly the man that 'Passion' captures, which is all we can ask, right? I suppose there will be people who might question his involvement in a project funded by a bait company. Of course, Chris has no ties with Sticky Baits, but it is a matter of pride for all of us that he was happy to make this film precisely because of Sticky's ethos, rather than despite it. We set out to make a film about two friends going fishing… that is all. Chris was only too happy to help us make that film, and I really hope you enjoy it.
Because films are now hosted on YouTube in perpetuity, they will outlast us all, which is why it was so crucial that we made something timeless, and so carefully handled the legacy of a true giant in angling. If we'd have included references to the baits that the guys were using, then sure, it might have helped Sticky to sell a few bags of pellets or boilies, but it would have also dated the film and stripped it of something intangible that we all felt a Yates film needed. Thankfully, that sentiment is closely aligned with the ethos that Sticky boss, Tom Anderson has built the company around; credibility above all else.
If anything could run filming with Chris Yates close as my highlight of the year, then it would have to be something quite special. Something, for instance, like a Thames record carp. Now, we all suffer from doubts; I certainly do, and when I drove down to film Nick Helleur with the first fifty that the Thames had ever produced, I could be excused for being a little nervous. We'd filmed several sections with Nick over the preceding year, and this would crown the film in a way that nobody involved with the project could ever have imagined, yet it so nearly hadn't happened. Had Nick caught a few Thames carp in autumn 2017, then we might have made the film then… and missed the chance to make something a bit special. As it was, the waters rose and forced Nick off as autumn drew on, and it wasn't until the start of the 2018 season that we joined him again on the banks of that magnificent river.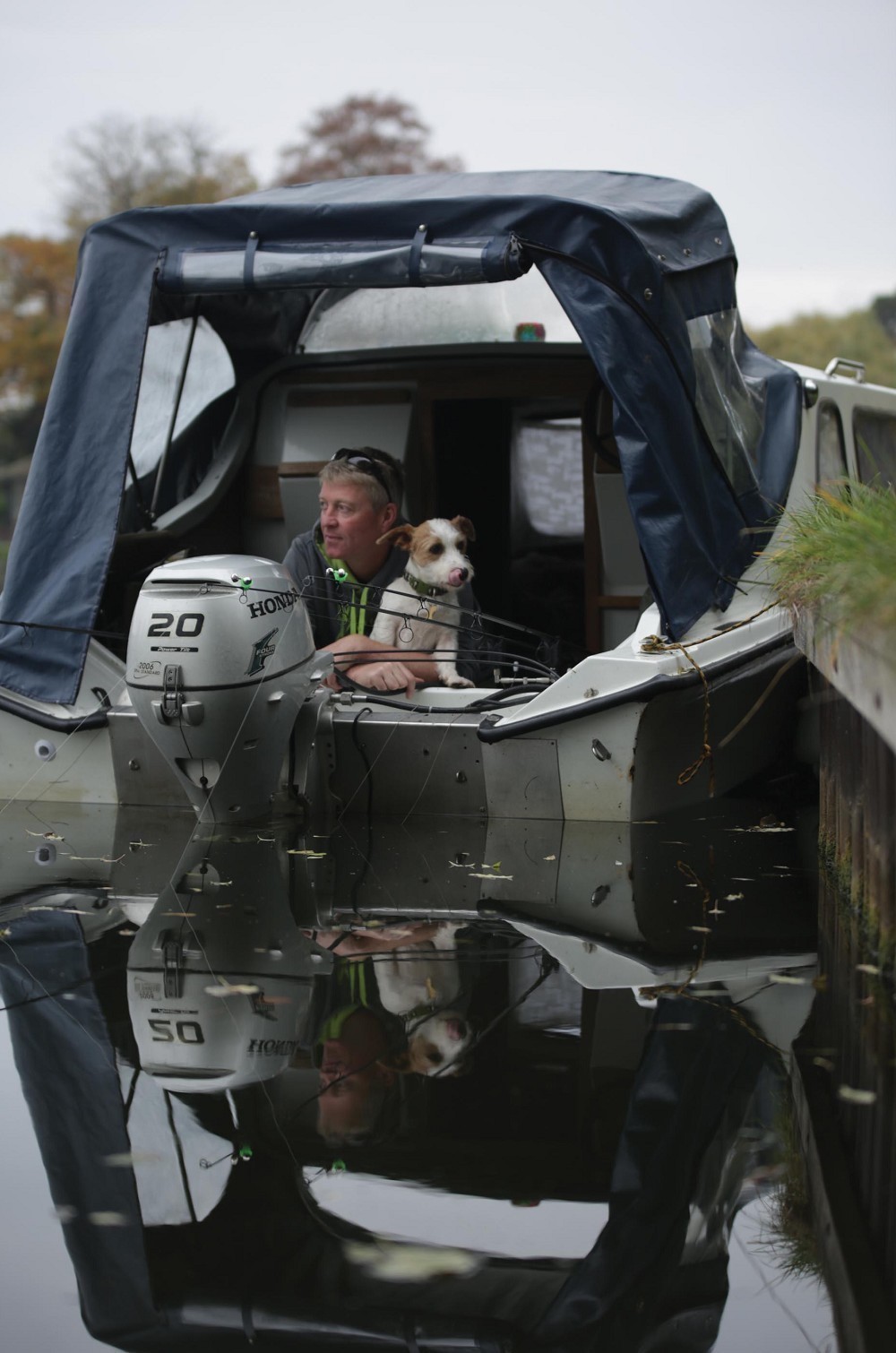 Lovely times on the river
After learning the ropes over the previous year, Nick got off to a flier on a new stretch in 2018, kicking off a story that, although we didn't know it then, would culminate in history being made. Our Thames shoots were among my very favourites. Nick is always entertaining, and he seemed in his element, floating on the gently swirling waters of the middle Thames.
Just like Yates, Nick is a one-off and he does not change one iota when that camera is switched on, which just makes filming him a joy. The flow of 'Nickisms' just keeps coming and I'm so glad that we were able to record something of the character of one of our most colourful anglers. We certainly hadn't set out to make a documentary on the Thames, rather, we'd hoped to capture a few sessions with Nick as he felt his way into this fascinating campaign, ending with him holding a decent fish; because any Thames carp is a good result.
So, after I'd accompanied Nick on a recce, Dan and I enjoyed a few trips with Nick that first autumn, fuelled by his percolated, supercharged coffee and entertained by his eternal optimism. It was all so easy! The river was benign and beautiful, every time Nick spoke it was gold, and we had, as he might put it, 'lovely times'. Then winter came. Then the end of the season. Still we had no carp for our film.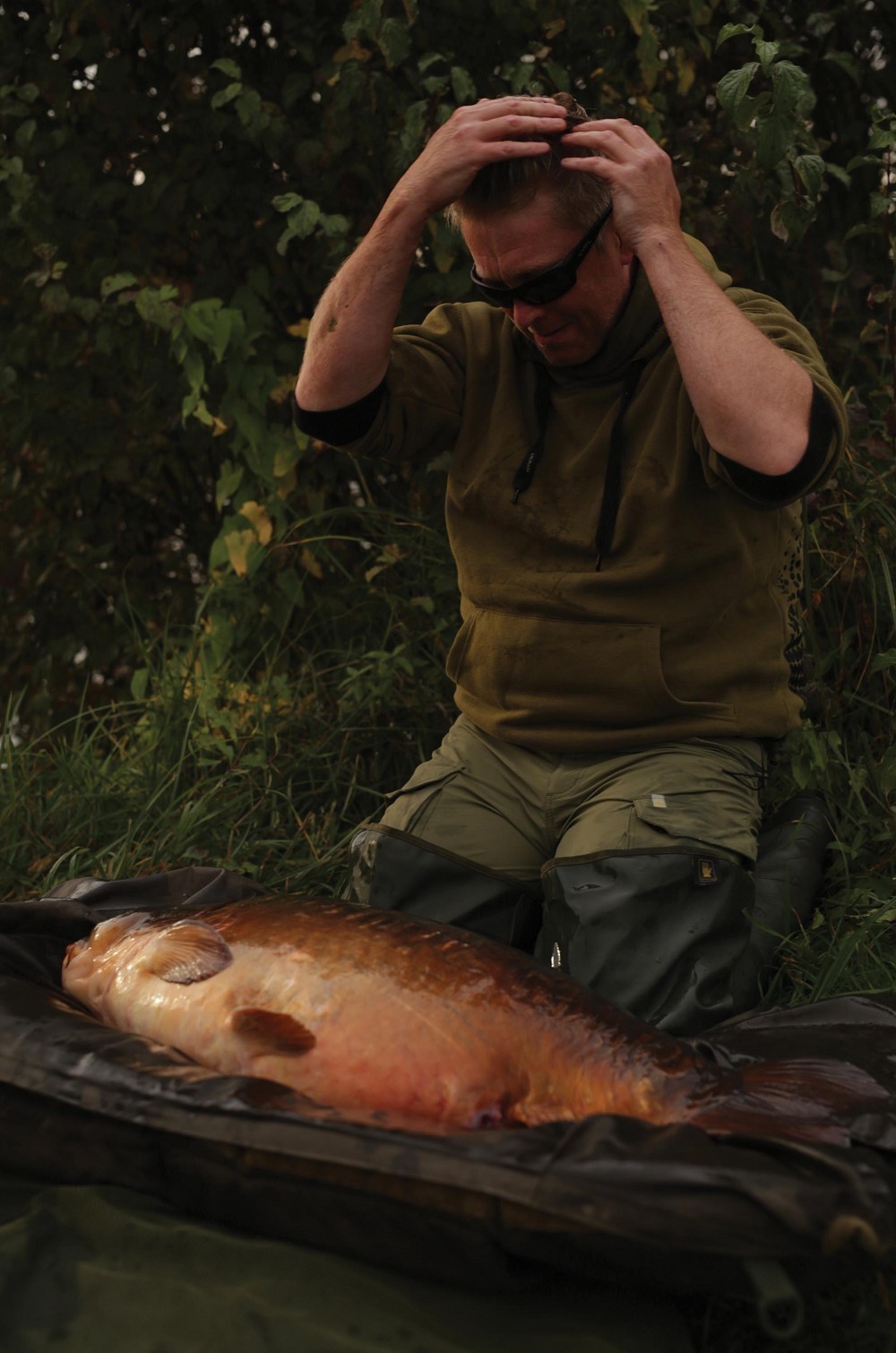 Nobody could quite believe it, least of all, Nick
We were at the start of the long, hot summer of 2018 when the season opened, and moored under the only tree on a scorched meadow, Nick opened his account. The next trip he caught more, and this time I was able to be there to record it. A few fish down the line, he caught a very special carp indeed, and it seemed that our mission was complete and the film would end there, but with autumn came news that he'd caught something mindblowing. Thankfully, once I was on the bank, any nerves dissipated, and we got on with filming Nick at the end of the most memorable quest of his fishing life. Sometimes, you just need the time to let the story unfold. But for a bit of fortune (and it didn't seem like it at the time) Dan and I may well have rushed the film out in 2018, and missed the chance to do something that we'd never imagined possible, and record a bit of history in the making. There will never again be the chance to film first fifty from the mighty Thames. Therein is the lot of the angling film-maker; you film hard and well, and the fish don't show up, yet occasionally, just when you're starting to think about canning your hard-won footage, the most remarkable things can happen!
It's not my intention to give a rundown on the content of Reflections 2 here, instead I've just highlighted a couple of the moments to give an insight into making the process involved in making them, and of course there are many more moments of note. Our road trip with the engaging pairing of Howarth and Fareham provides them, Tom Maker's approach to day-ticket fishing provides them too, as does an insight into Mitch Hammonds' life and fishing, and not everyone will like the same films but, as viewers, we've never had it so good.
YouTube serves up a daily feast for the eyes and there's some inspiring content out there from the corporate giants, as well as a thriving community of relentless indie film-makers whose energy knows no bounds. The breadth of content is breathtaking too; from pacey road-trip documentaries, to info-packed how-to films and rough-cut vlogs. This diverse ecosystem does seemingly allow for everyone to find a voice, and a niche, but if it weren't for the vision of companies willing to prioritise the portrayal of angling over and above short-term profit, or the willingness of indie filmmakers to self-fund their adventures, then we'd have a much less vibrant scene, that's for sure.
Of course, nobody makes a film on their own, and in fact, nothing could be further from the case with Reflections 1 and 2, which are a true group effort. Whether it's the anglers themselves, Dan and I filming them, Sticky's own Steve Metcalfe editing a few of the films or the landowners who made it all possible, you can see that each production is built upon the efforts of the many, not the few, so thanks to you all!
Richard Stewart
Reflections 2 will be live on Sticky Baits' YouTube channel very soon.