Carp fishing on the internet in the 90s
Paul Selman recalls carp fishing online before the advent of social media, and much more besides…
CARPOLOGY: You saw what the internet was capable of very early on, but what were your first experiences of online carp fishing sites and forums?
PAUL SELMAN: "From 1993 I'd been the managing editor of the Carp Society's flagship publication, Carp Fisher. The best 'gatherer' of carp material around, Julian Cundiff, worked alongside me. By the late 1990s it had become a 144-page magazine produced six times a year. I also edited the society's newsletter, Cyprinews, and in the late '90s laid it all out too. At first, Cyprinews was posted out separately to members. This was expensive, so we decided later to include it in the magazine to reduce costs.
"I lectured at a university college and began to notice the rapid and massive growth in IT and felt there must be a way we could scrap the costly Cyprinews and make use of the internet to communicate with members.
"At that time too, I was an equal partner in a fishing book company called Laneman Publishing with Steve Lane. Steve was at the cutting edge when it came to technology and we published books by Dave Lane, Keith Jenkins, Tony Miles, Andy Murray, Jim Gibbinson, along with my own. In those days, all modems were dial-up and we were using 386 and 486 computers. Itemised bills were received from the internet provider, so it could all get quite expensive.
"I came across a small American-based site run by Peter 'the Carp Man' Dawson, called Carp.net This had links to the fledgling Carp Anglers Group of America. It also had an early Infopop Bulletin Board which members could join, post stuff to and debate topics on. I then wondered whether we could we use this to replace Cyprinews, as it was an off-the-shelf product.
"A few of us Brits joined the bulletin board. This caused quite a stir at the time and a bit of hostility, but things soon settled down and we became friends with the likes of Peter himself, 'Fat Pat Mac', 'Oatmeal' Jack, 'Buckeye' Bob and ex-pats like Terry Fishlock. Some of the discussion online was controversial and there was basic carp fishing advice. There was also editorial material on catching carp, but no tackle advice as carp gear wasn't really available in the States at the time. A few though, were importing tackle from the UK.
"Carp.net certainly got Steve and I thinking, and then out of the blue, I received a phone call from the then chairman of the Carp Society who informed me that they had to cut costs and that I was to be replaced as managing editor of Carp Fisher. I told the chairman that I'd do all the work for free until the society got back on its feet financially; to this day though, I don't think that offer was ever put to the committee.
---
---
CARPOLOGY: How did the Fishing Warehouse site come about and what was your role within the business and on the site?
PAUL SELMAN: "As one door closes another one opens they say. Shortly after I lost the Carp Fisher position, Steve contacted me to tell me that there was a big role for me on a new project - that was late 1999.
"David De Vere, the owner of Old Bury Hill Lakes; John McCarthy; Vince Davies of Davies Angling; and Steve had got together to launch a new website, complete with an online tackle shop and had decided to call it the Fishing Warehouse.
"To attract people to the site and shop, they wanted to create a huge informational 'shop window' and so asked me to take that on, and I agreed. It was a steep learning curve. I had to research GIFs, ASP, JPEGs, etc. and grasp these things very quickly. I remember I wrote an article in the revamped version of Carp Fisher, really to let people know I wasn't dead and hadn't gone away. The new editorial team congratulated me on the piece. I told the guys we needed a forum on the new site, so we purchased the Infopop Bulletin Board software that Carp.net used.
"I had quite a large editorial budget as the guys wanted to cater for every branch of the sport and with tackle sales were not confined to just carp gear. I needed therefore, to appoint sub-editors for predator fishing, coarse, fly and game, match and sea angling. Fellow Daiwa consultant, Neville Fickling, took on the predator side; the late Tony Miles took on coarse; Bob Church initially took on the fly and game, but was so busy he had to back out and Steve Yeomans came in. Mick Lansdown took on the match fishing and Thames skipper, Dave Godwin, the sea angling. To give an international flavour, I later appointed Chris Woodrow to head up a world news article section.
"As the managing editor, I oversaw the whole site and the carp, and appointed moderators from among my friends to help me run the forum, which quickly took off."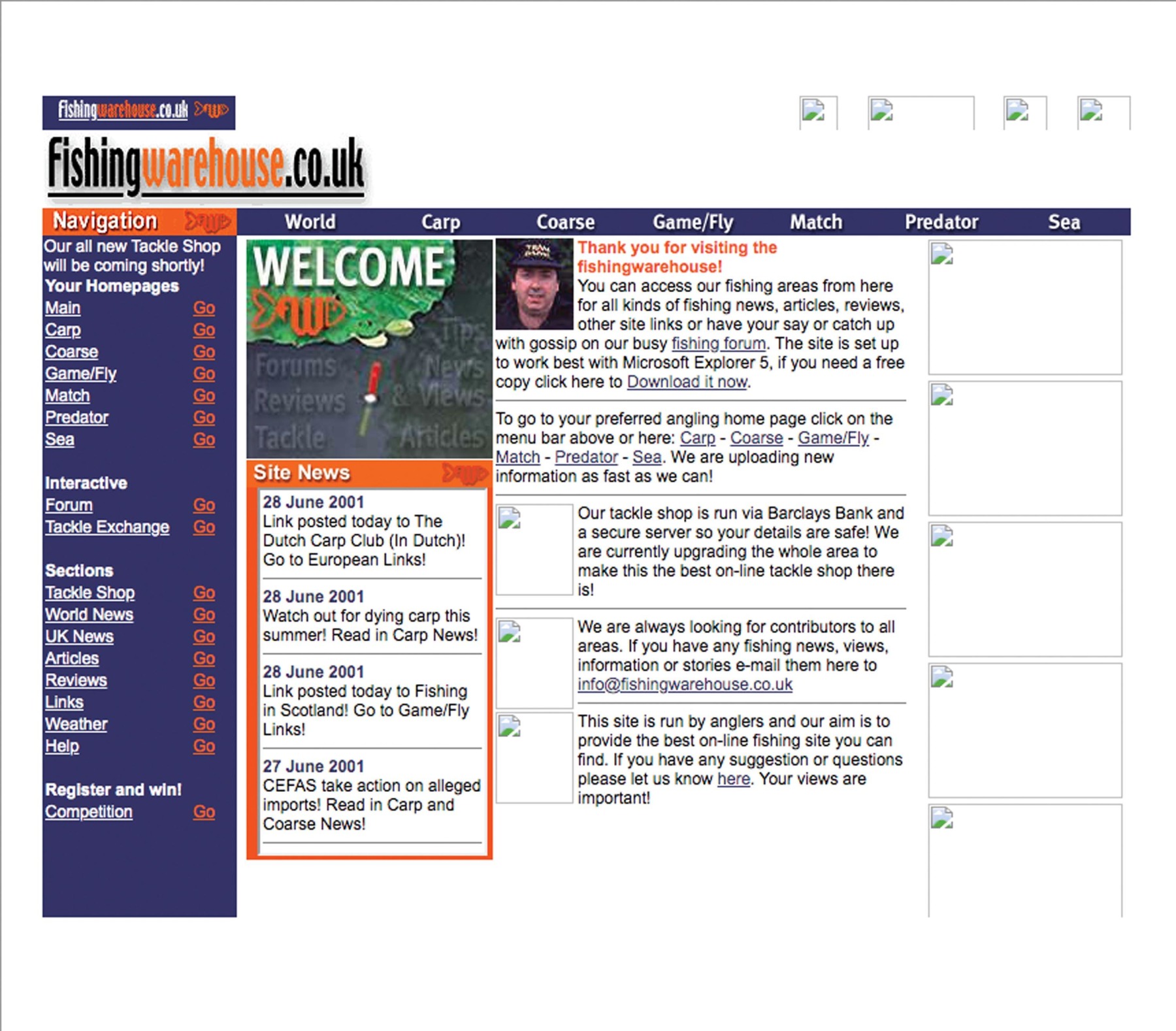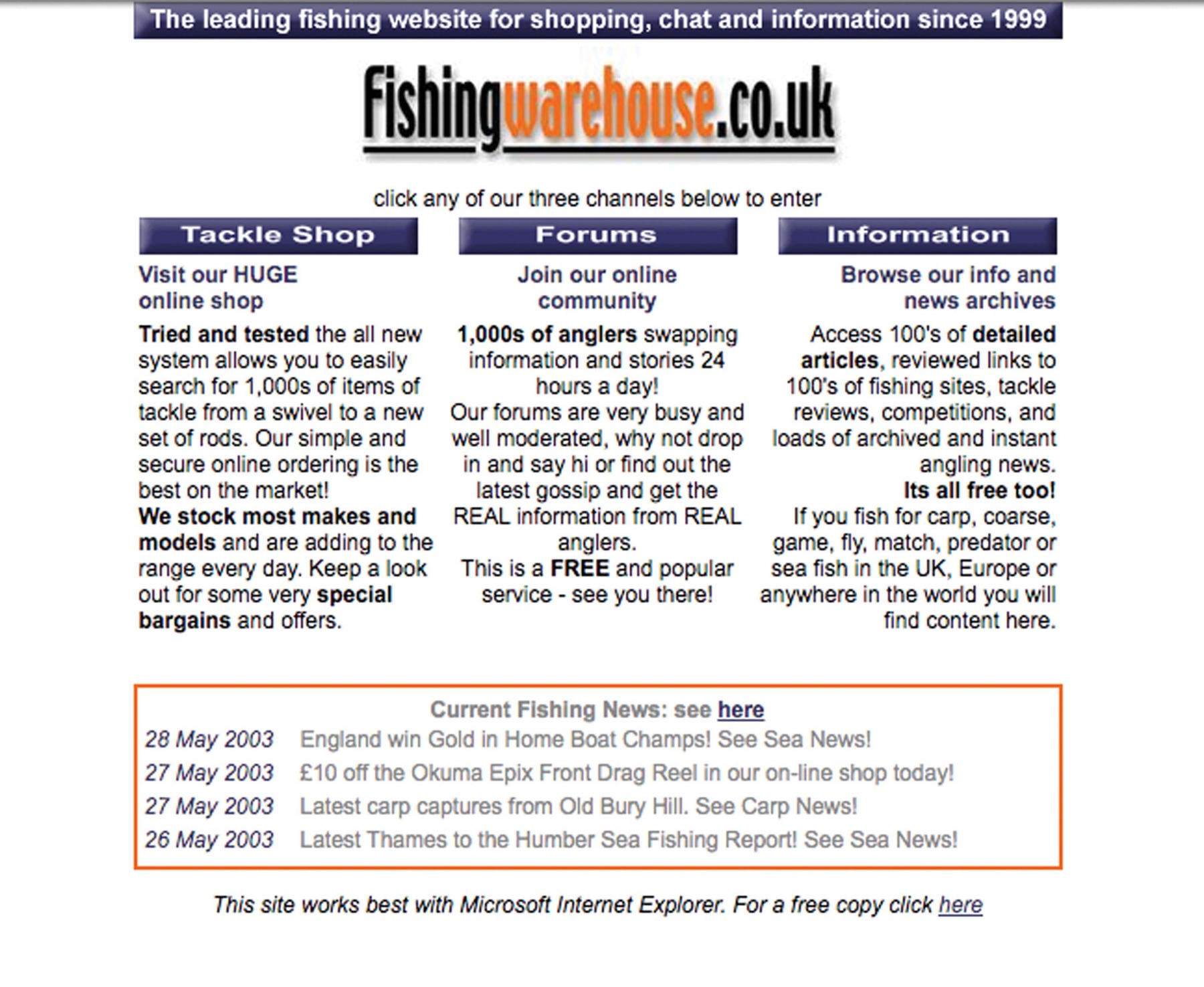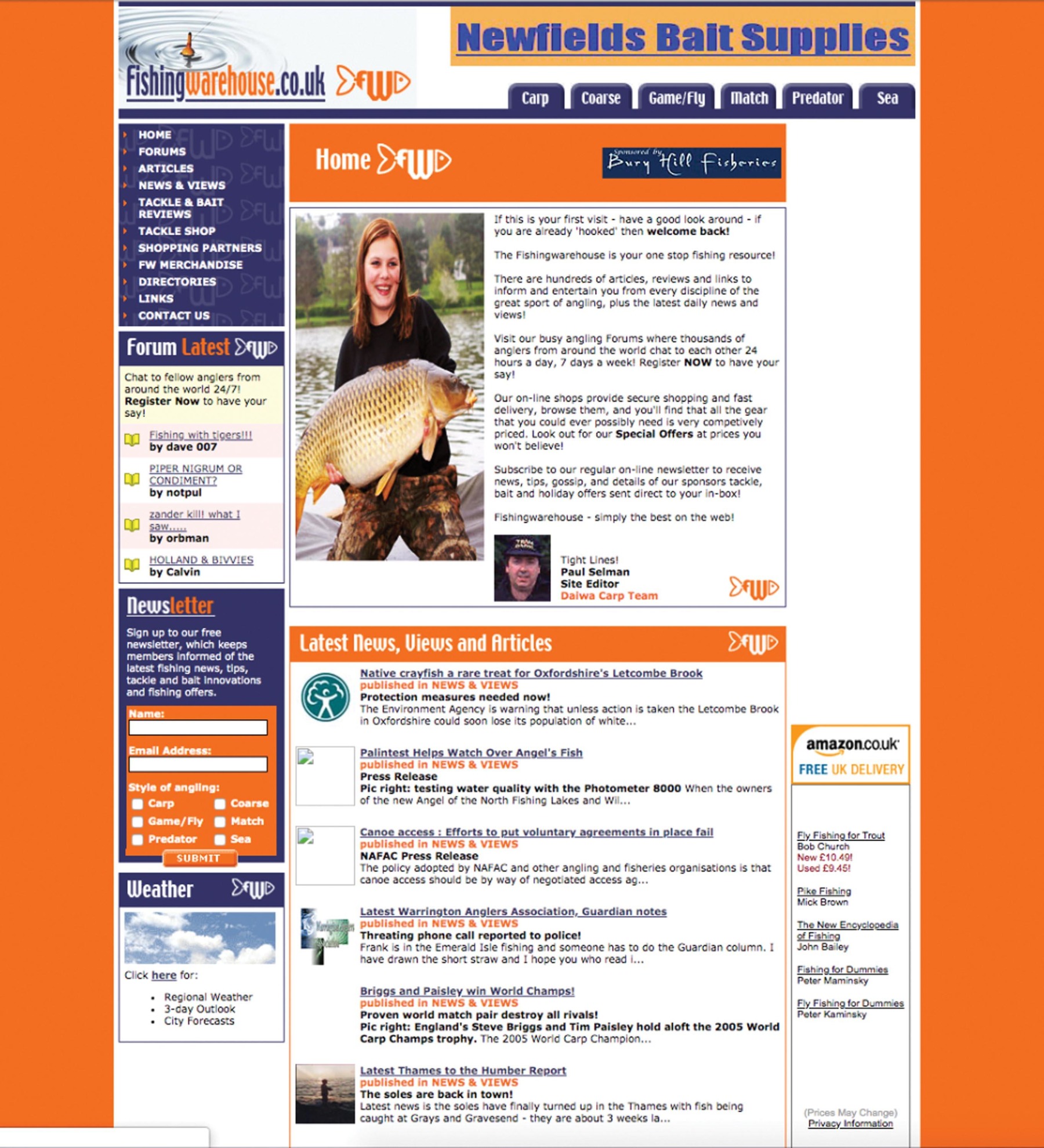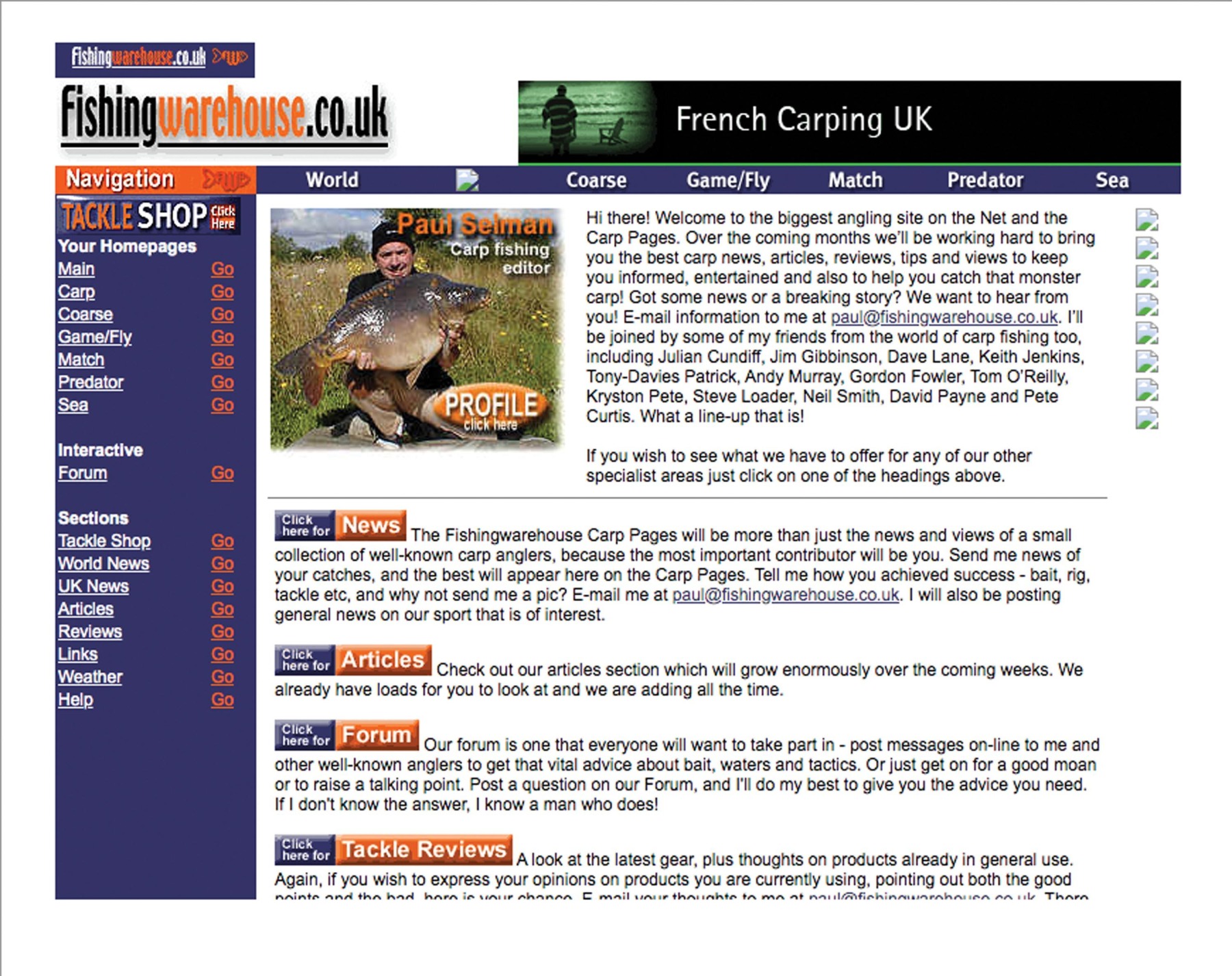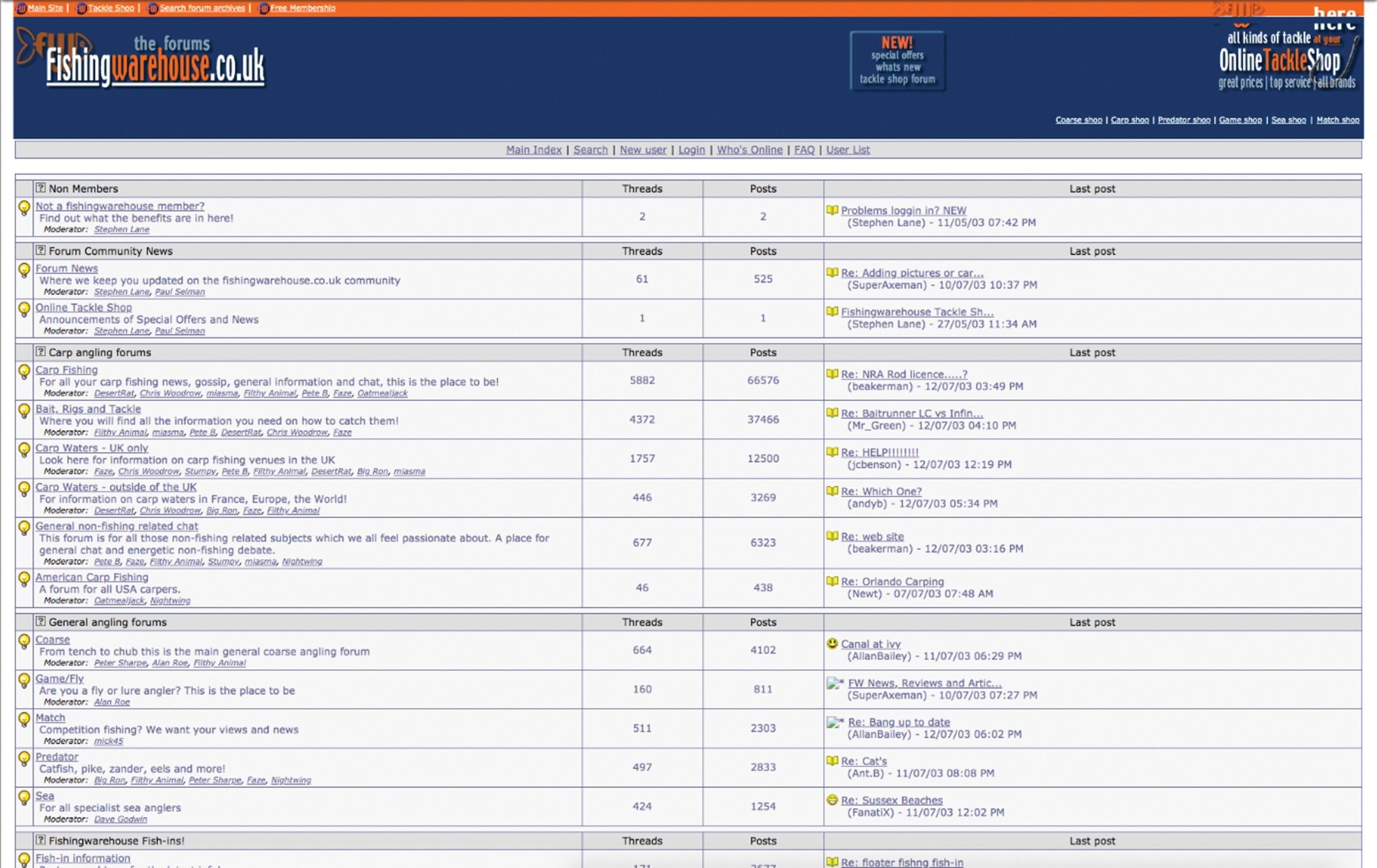 CARPOLOGY: Didn't you famously tell Tim Paisley back in the late nineties - I'm sure I read it in one of Tim's 'Carp Leader' editorials - that the internet would take over from traditional media?
PAUL SELMAN: "Tim and I are long-term good friends and he's been a huge influence in my life.
"I took over the Carp Society North West region in 1989, which had been run by the late Peter Barker. Tim was impressed with my organisational skills and the huge number of carp anglers that attended meetings. He proposed me for the national position of Carp Society General Secretary and I was voted in. Later I became their political coordinator and Tim and I founded the Specialist Anglers' Conservation Group (later, the Specialist Anglers' Alliance), when it became obvious to us that the National Association of Specialist Anglers was in decline. I wrote for Carpworld and Crafty Carper for years and fished Tim's syndicate waters Birch Grove and the Mangrove.
"When I told him I was going to publish online he was cynical about it; he had no interest in internet publishing. That's when I made the statement that in the future the internet would take over from traditional media. I think that's largely become the case as the vast majority of carp anglers read articles and follow stories every day and many publish themselves.
"I think it's remarkable that Carpworld and CARPology continue to be successful hardcopy publications; hats off to you both!"
CARPOLOGY: Did it ever make you money and did you ever expect it to make you money?
PAUL SELMAN: "Yes on both counts; I received a fee every month for 13 years. It was a commercial venture and I've always been a hard-working professional that hits deadlines and so expect to be paid. The problem in the early days was that the commission from the tackle shops - firstly Davies Angling, and then Reading Angling Centre - was so low that the site couldn't wipe its face, so to speak… even with a bit of revenue from using the early Google Ads. David De Vere's son was working in the New York office for what was then, a fledgling Google. In the end, the site only started to make real money when David bought all of the other shareholders out, took 100 per cent control and set-up our own tackle outlet in one of the empty barns at Old Bury Hill. Once set-up and operational, the Fishing Warehouse shop turned over £500,000 in the first six months and with our own full-time staff.
"After that, David sold the entire site… tackle, bait, the lot, for a six-figure sum to ex-IBM IT executive Kevin Coe. Kevin owned the fishing complex at Llyn Y Gors on Anglesey where he had a tackle shop and storage. He agreed to keep me on as the site's managing editor. We continued to be a financial success and even more so when I set up pages and accounts on Facebook, Twitter and eBay.
"Then tragedy struck… Kevin Coe sadly passed away due to an undetected heart aneurysm whilst working in the tackle shop in November 2012; it was very sudden. I continued working, and then his wife, Karen, who'd bravely battled breast cancer for many years passed away just six months later. Kevin's son had no interest in keeping the Fishing Warehouse site going and also sold the Llyn Y Gors fishery. In recognition of my many years' work, he gave me ownership of the Fishing Warehouse forum, which I keep online today in order to preserve a huge chunk of fishing history. I know some old members still post from time to time, although many have also passed away."
CARPOLOGY: For our younger readers who didn't really experience forums at their height, how influential were they and do you have any idea how many there were at their peak?
PAUL SELMAN: "The forums were incredibly influential and 99 percent of all carp anglers were members of at least one. The ones I remember - some of which are still around - are: carp.com (owned by Richard Fox); The Northern Monkeys forum (owned by Julian Grattridge); carpforum.co.uk (owned by Karl Staines); carp-forums.com; Carperslodge.com; theanglerscircle.com; rmcangling.co.uk; carp-talkonline.com; UKCarpfishing.com."
CARPOLOGY: When do you think the forums peaked and what sort of traffic were you getting?
PAUL SELMAN: "They were strong throughout the 2000s. We were getting heavy traffic all the time, but it was split between the website, the forum and the shop, all of which had different addresses.
"Sometimes what we were doing had a big impact on traffic. Whenever I published a Julian Cundiff article visitor stats shot up. I was doing daily onsite updates of my French fishing holidays - which at that time were mainly at Millers, Meunier, Le Mans, Fortinieres etc., and these were popular reads, as were the articles detailing the purchase and development of my own lakes which, for many members is a dream and for some an ambition; some of the advertisers were getting up to a million hits!
"On the forum, the biggest traffic day was when we had Kevin Maddocks on live. This was at the time of the foreign imports and English Carp Heritage Organisation controversy.
"We had a price-comparison feature in the shop too. If you found the same product as we had in stock, but cheaper elsewhere and you let us know, we'd sell it cheaper to you than the other source and would post it to you free-of-charge."
CARPOLOGY: How do you think that differs today?
PAUL SELMAN: "Sadly, the forums were killed off by the likes of Facebook, Twitter and Instagram. They're easier to use and navigate, have more features and are faster and far more fashionable. They have far higher levels of traffic and are more personable. You can set everything up yourself, you have control of how your pages look and how you want to come across. People often had problems uploading photos on the forums or had to use a specific gallery, with many others in too. You could ban people on the forums for, shall we say, mischief. We had to ban 'Uncle Jim' several times, but it had to be a moderator that did so and it was beyond the authority of an ordinary member. A Facebook, Twitter or Instagram user has much more personal control, and this is what people like. The forums weren't really compatible with the iPhone, whereas the likes of Facebook were designed for them."
CARPOLOGY: Do you still visit or use any carp forums today?
PAUL SELMAN: "Only the Fishingwarehouse forum to approve new members and to check all's well."
CARPOLOGY: Finally, how do you see the future panning out when it comes to carp fishing and the internet?
PAUL SELMAN: "I think the internet has made carp fishing more popular and will continue to do so. It has made carp fishing more international too, approximately 50% of my 5,000 Facebook friends come from outside the UK. It has also opened up the possibility of everyone self-publishing themselves if they want to from their own cell phones. It is a great leveller. I think it is wonderful that I can follow friends fishing on Cassien, the Mangrove, the Trent, Rainbow, Euro Aqua etc. I can get the latest news from my own lakes without even having to be there. I can remember being laughed at by a few in the angling trade when I said the internet would become a massive part of everyone's lives within a relatively short period of time.
"In 1968, the American artist, director and producer, Andy Warhol, wrote: 'In the future, everyone will be world-famous for 15 minutes.'"