Independent Venue Review: De Koperen Plas
Been to France a lot, fancy a change? Something a bit different, well this could be the venue for you and your mates.
De Koperen Plas or 'The Copper Lake' in English is one of the carp fishing venues that has been on my to do list for the last couple of years. The view with the hotel lit up bright green at night behind you, with a carp in your hands a lovely target to achieve, yes I'm odd haha. The lake open in 2016 by the new owners the De Koperen Hotel that resides by the lake, and managed by the wonderful Saviël Schrijver. All the pictures that I have seen in the past inspired me to go on my first adventure with The Carp Specialist UK!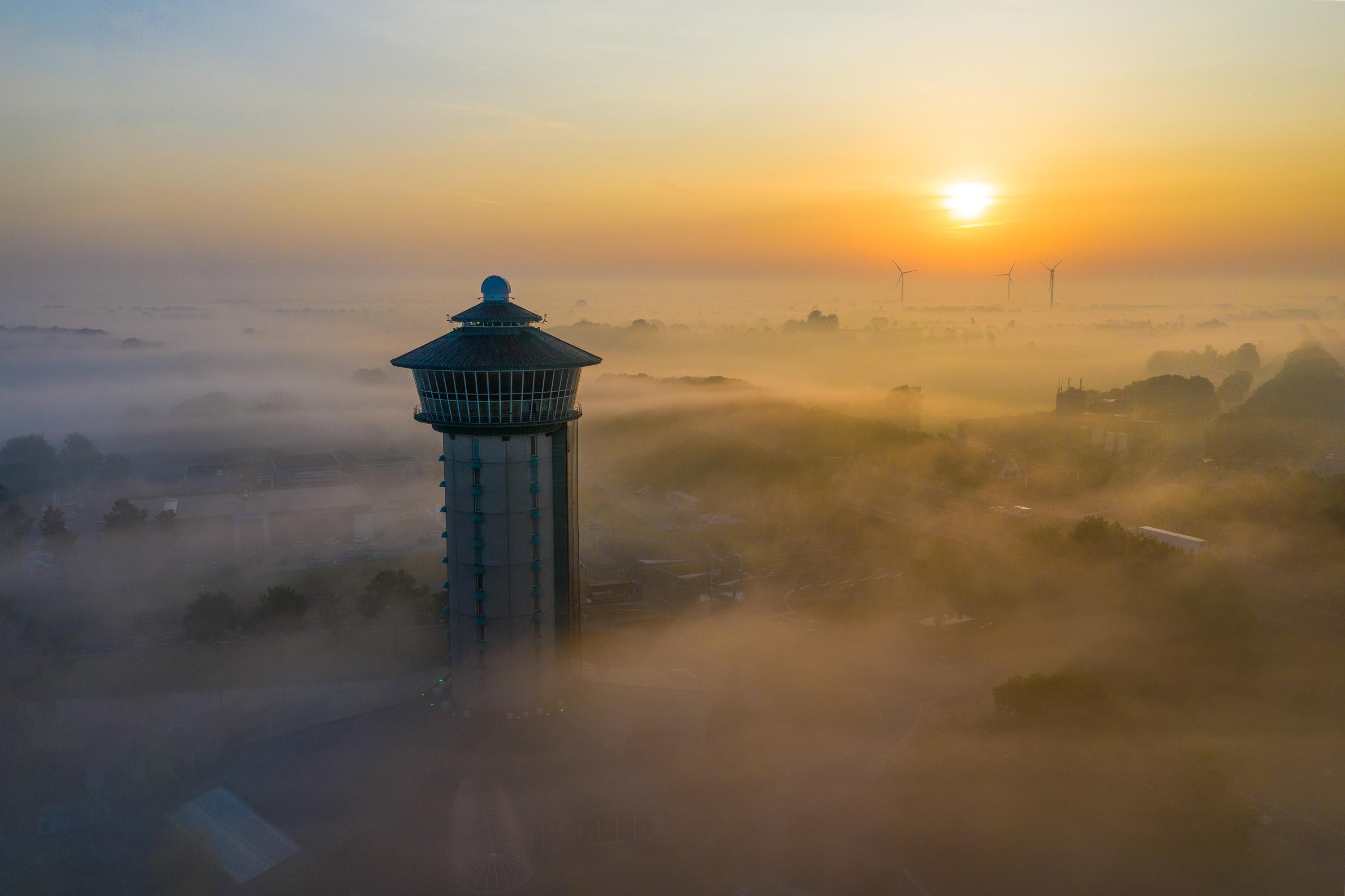 The Lake:
The lake 'De Koperen Plas' is situated just a couple miles north of Zwolle, directly off the A28, exit 22 'De Lichtmis'. An ideal water to visit, and choose as your first Dutch venue, also if you plan to visit the Zwolle show in the spring, you could combine the two, or any other time for that matter, it's open all year round! The Copper Lake is a beautiful and quiet place for carp anglers to fish and relax. The lake is around 18 acres in size, with an interesting bottom with depths down to 60 feet. We recommend anglers use a marker rod, rowing boat or bait boat equipped with an echo sounder, so that features and hot spots can be found. Because of the depth of the lake, anglers who use Spombs and zigs can have a benefit.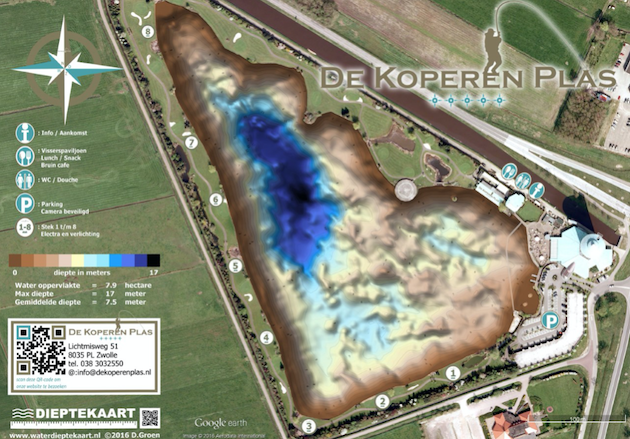 At the West and Southside of the lake are 7 swims (6 double & 1 single) in total, suitable for a maximum of 13 carp anglers. The 2 person swims can also be reserved for only 1 angler for a small additional charge, in that case you have even more space at your disposal. Every swim has a lot of space to put up your gear: no less than 50 square metres! Even the largest 2 man bivvies will fit without any problem. You can now drive round the lake and park at the back of every swim. They only ask that you keep your trips to a minimum of 1 or 2 per day, so you don't disturb the other anglers enjoying their fishing.
You can book your session duration as the following: weekend Fri-Mon, Midweek Mon-Fri or a full week either Fri-Fri or Mon-Mon. Arrivals 1.30pm, Departures 11am. Prices are reduced by 30% in the Winter.
They have stock ponds onsite, so the future is in safe hands, and they will continue to bring on young scaly carp, to replenish and replace any carp lost over the years to come.
Facilities:
The facilities are designed to offer the anglers all they need. In the pavilion you will find 2 showers, 2 toilets, a restaurant and a small selection of end tackle and bait you could require for your visit. The parking area is secured and in every swim there is a picnic table, power supply (you will require a Euro to UK convertor), unhooking mat, weigh sling, landing net and a weigh tripod available. There is no need to bring your own mat, sling or net. No wet smelly car on your journey home! There are also hard boats and outboards for hire if you choose too. Bait boats are also allowed and used a lot.
Session Preparation:
Wherever I go, I purchased all my food in advance for the trip, some nice fresh ready meals (curries etc) for the start of the trip, then I have packs of pasta and boil in the bag rice, to make up dishes such as chilli con carne or a Nando's kit for the latter end of the trip, then I only need to purchase some fresh meats (chicken, beef etc) from the local shops along with fresh bread and milk, Lidl in this instance 10 minutes up the road. I clean all my tackle, rods, reels, tackle boxes, check and clean my boat and outboard, charge the batteries up and tie a load of rigs up, sharpen hooks, but I have everything, just in case I need to tie something up different during the session. I take enough clothing and shower gear (I forget this sometimes!). I could have done with my Fortis salopettes to be honest in the cold weather we experienced (night temps down to -3) for this trip.
Arrival:
Upon arrival, I turned off junction 22 of the A28, took a right at the traffic lights, and pulled into the hotel entrance, then parked up and walked to the fishing pavilion to the right of the hotel (Sign posted). Here I was greeted warmly by the manager Saviël and his team as they offered me a coffee, then they took me through the popular areas and spots in my chosen swim (no 5), over a lake map highlighting all the depths and contours placed on the bar, also highlighting the boundaries to both the neighbouring swims (4 & 6). They will give you an A4 colour printed version for you to review and assess in your swim to keep. They then took me through the rules regarding rigs and baits. I purchased two tubs of particles and two bags of particles (Note: frozen, need time to thaw). Then I drove round to my swim and setup, and then went out in the boat looking for some spots to fish. The first and most obvious was the opposite margin under the helipad, depth start at 3ft and slope down to 25ft, I chose to place my bait in about 10ft of water a rod length of the margin, and I lightly sprinkled the area with a few boilies and pellets only. The fishing was slow the week before, and I'm sure this area sees a lot of bait.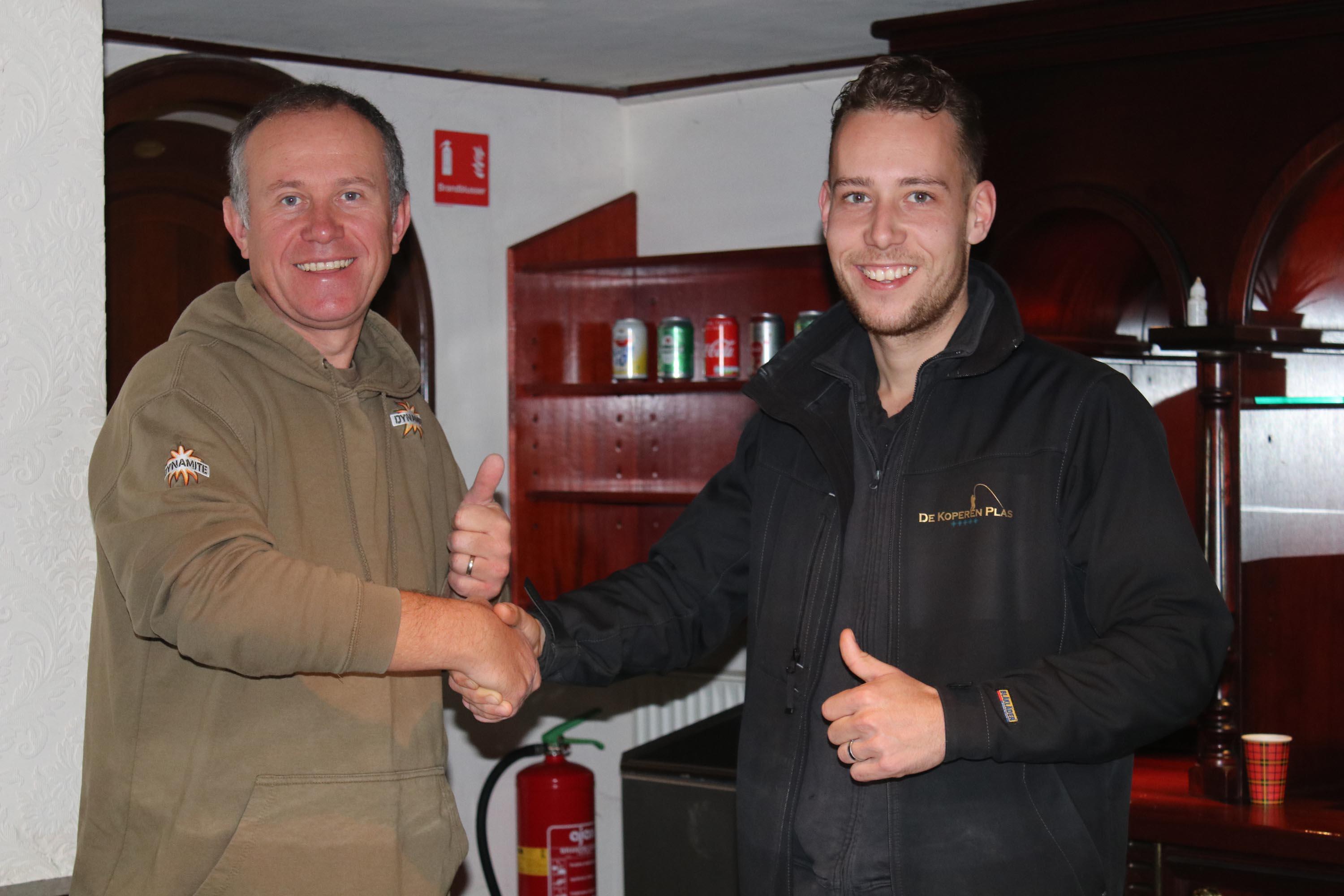 Our Session:
I had the first two nights to myself, and my fishing partner had a weeding to attend on the Saturday, and would join me on the Sunday afternoon. As I arrived into swim 5, I got my boat pumped up and then went out to investigate the water in front with the echo sounder. There are hard boats you can rent if you wish.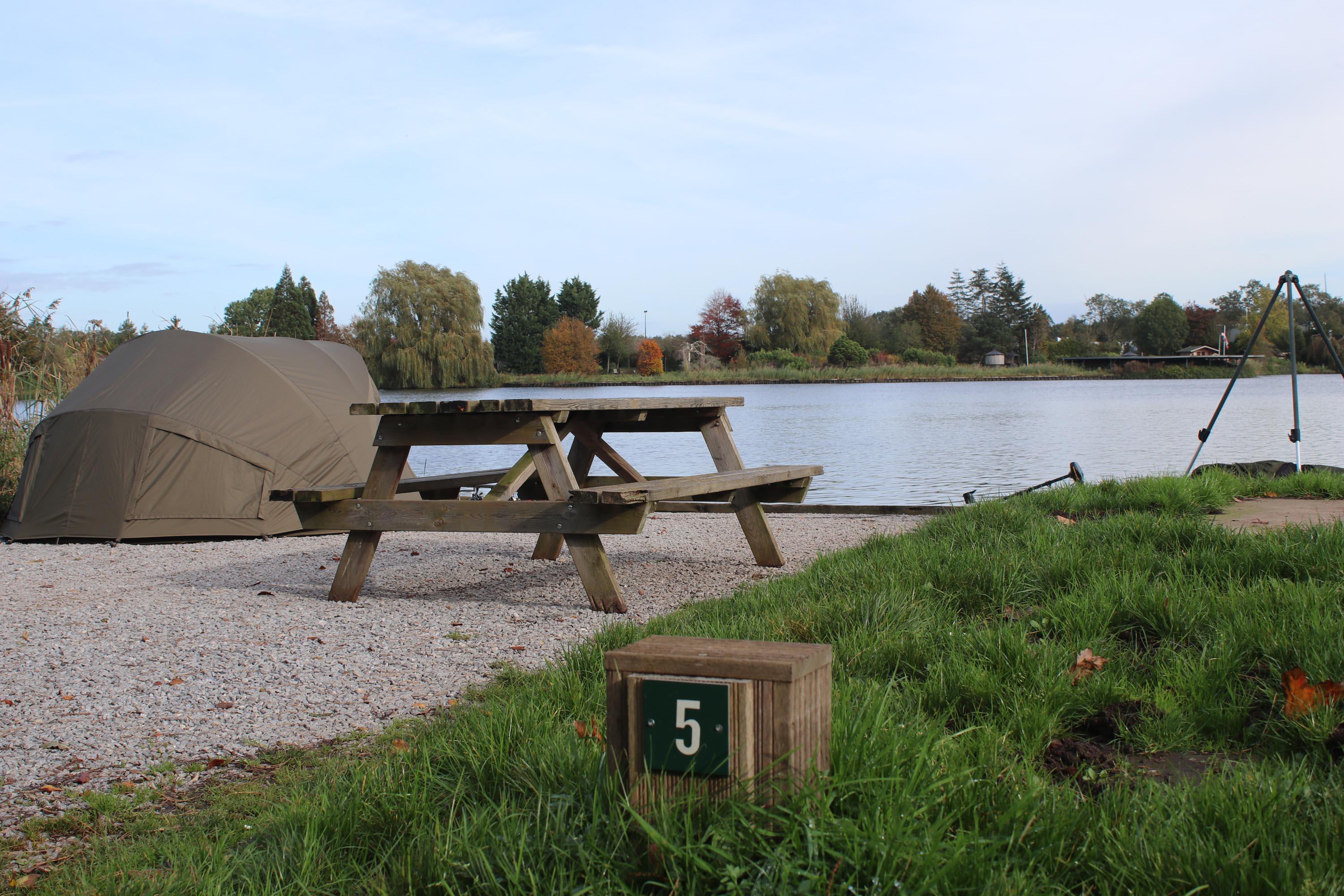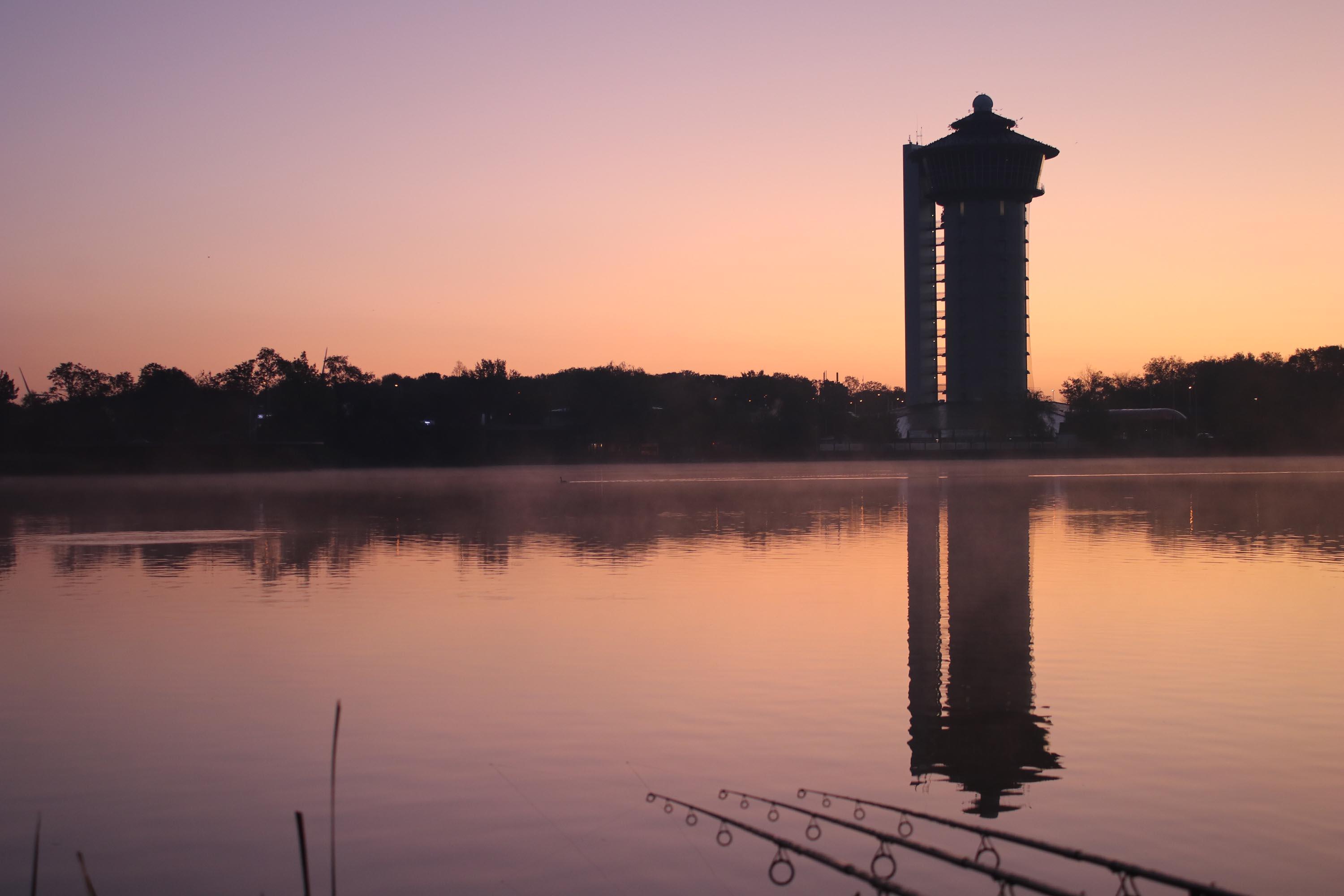 The water temperature was 55f at the start of the session, but dropped to 50f by the end of the week. I looked for spots for both me and my partner, with fish coming out to the right of the swim the week before, and none in this swim or to the left, I chose to take the left hand side, to give my partner the best chance of a fish, but spread my rods for the first two days. I had with me 15 & 18mm Complex T boilies, and purchased a couple of tubs of the Koperen Plas Pellets, of which the lake see's ton's of every year! I mix my 3 rods from 10ft to 30ft, the stat of the session the weather was wet and mild, perfect, but I couldn't elicit a bite, I see a few fish show over the deepest part of the lake in front of me, but I don't think they were going down to the bottom.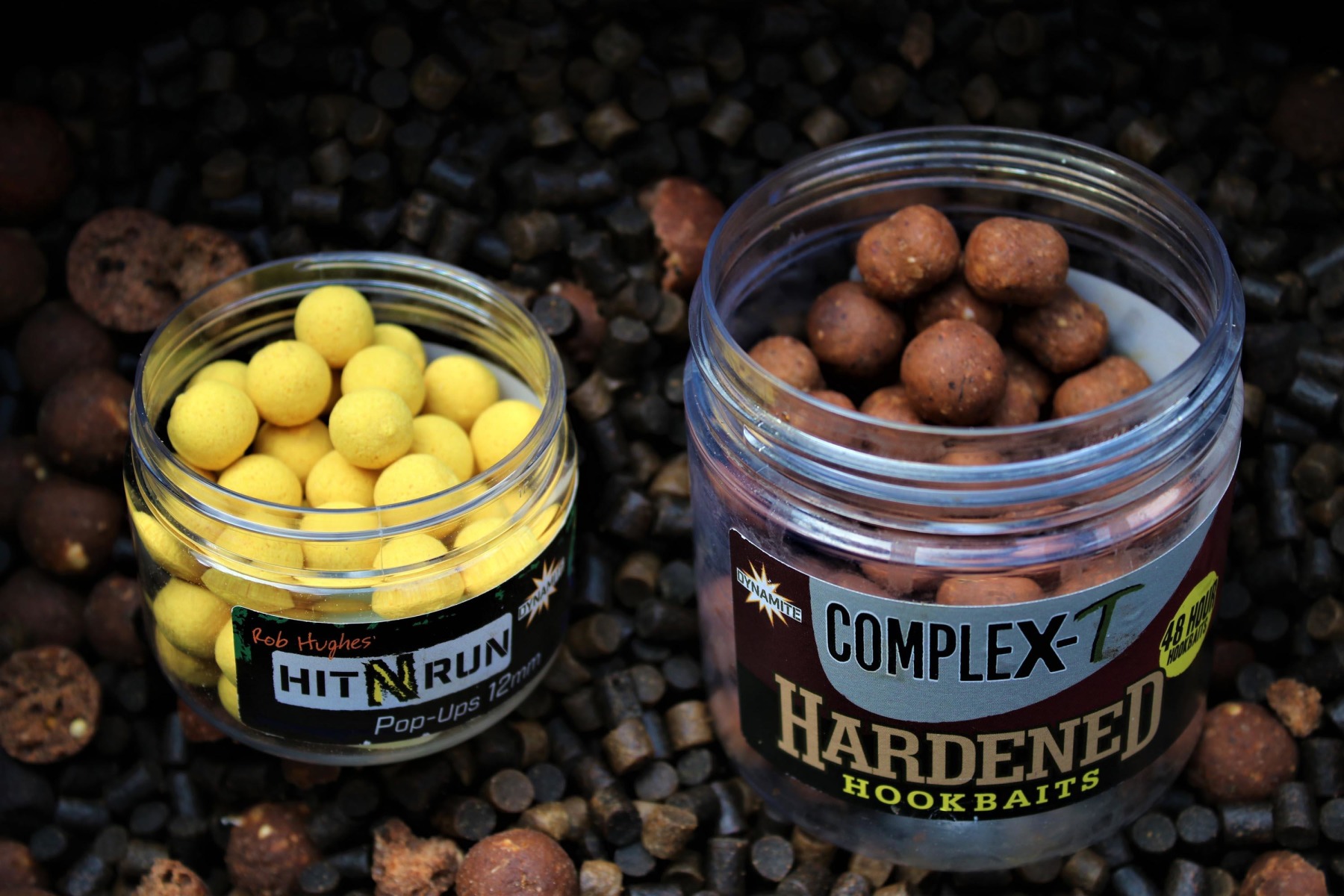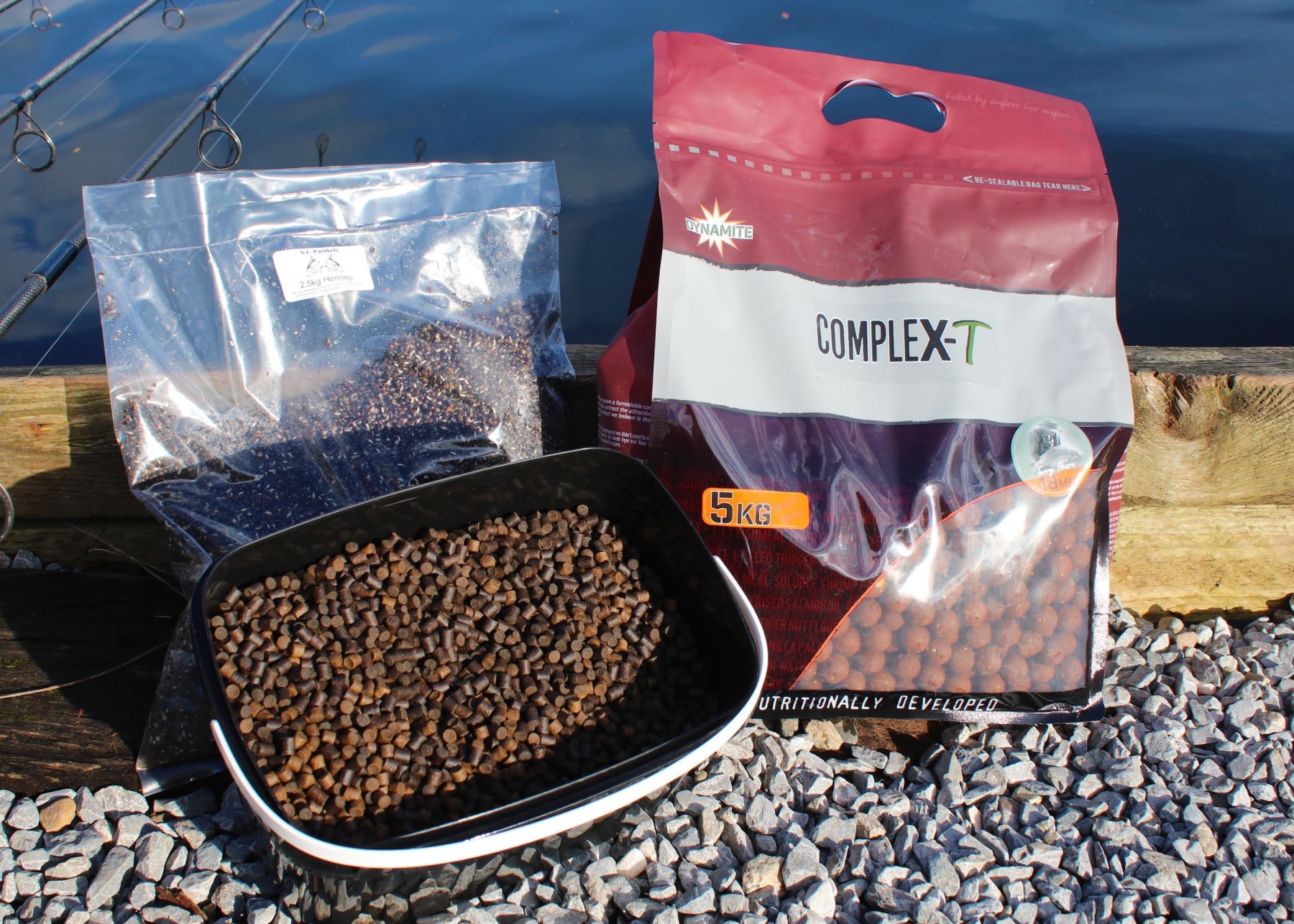 I would boat out my rigs once every day and drop them onto the spots by hand, and sprinkle just a small amount of boilies and pellets. Sunday Danny turned up, I had moved two rods that day, and had all 3 set just as he was arriving. Two on the far side, 1 still under the heli-pad as advised, 1 on the shallowest hump of 19ft (6m) roughly 150 yards to the let of the heli pad, and the final rod down the left hand margin, which had a deep slope, within 10 rod lengths went from 3ft to 30+ feet, a slight ledge and then carried on going down to 55ft 15 rod lengths out. Danny rather tired then wiped out two of my rods with the outboard, just what I wanted, I pulled him back in, untangled the outboard motor and stripped the now useless 150 yards of line, thankfully I had around 400 yards of line on the spools and so could get the rods back out again. He then fished a couple of spots in depths of 22ft I found on the first day, and one rod down the right-hand margin, where I'd seen a couple of shows. On the Monday the weather changed for the worse, cold north easterly blowing right into our faces with sky high pressure. With the high pressure and cold flat calm surface, Danny put an adjustable zig out, and over the next 3 days fished this from 20ft to 40ft in 45ft depth, but didn't receive a bite. On the Wednesday, with us both having a rod on the 19ft spot, Danny received a midday take, while I was interviewing Saviel for this article, which turned out to be a lovely plump 39lbs mirror, with one of Saviel's staff taking me round in the golf cart to do the photos.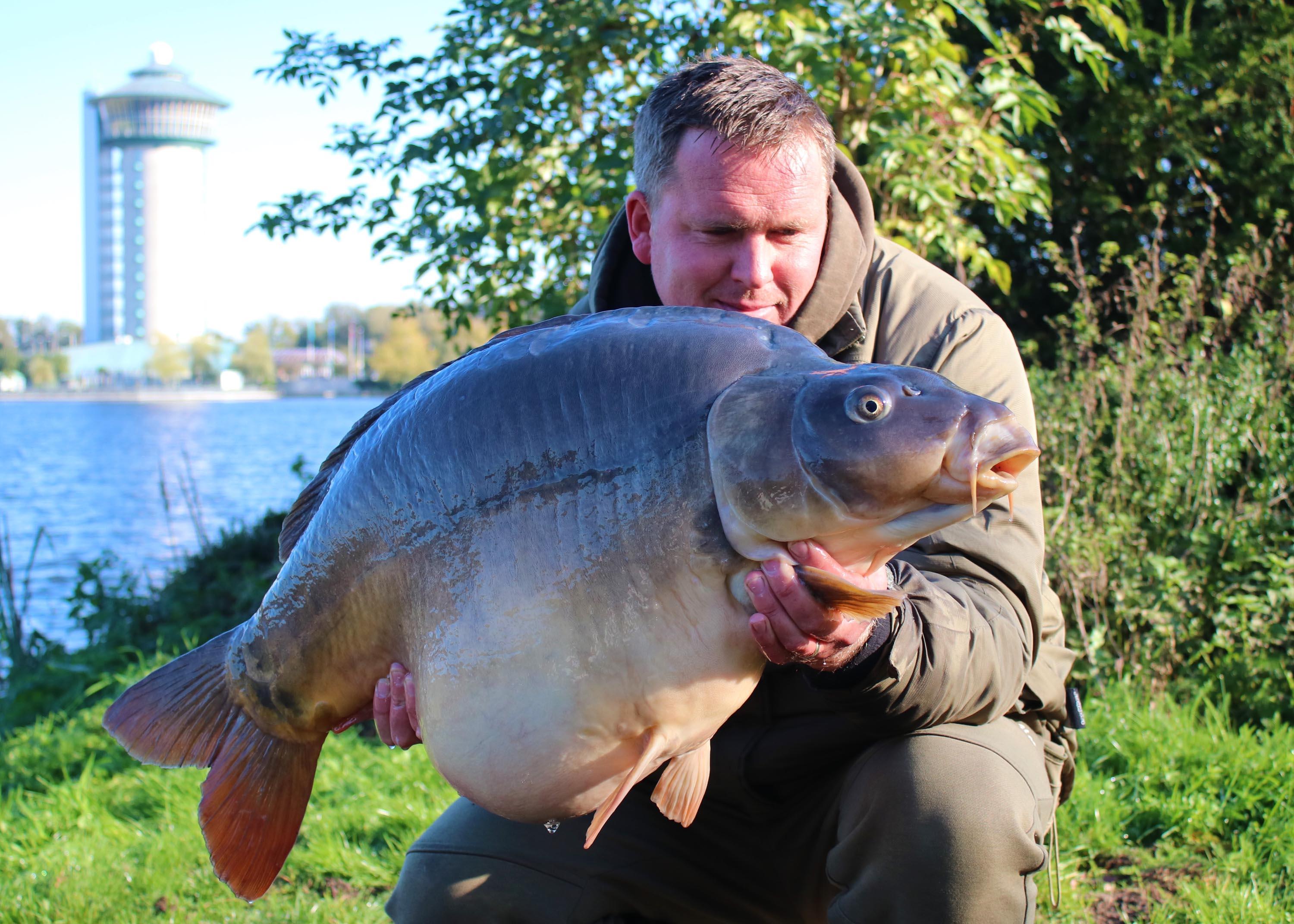 The fish fell to a yellow Hit N Run 15mm yellow popup, the popup was corked due to the length of time and depth it was being fished at to make sure it stayed affective, and this was fished over a small scattering of 18mm Complex T boilies and De Koperen Plas pellets. The spot had been baited on the Sunday and Monday, no bait added on the Tuesday, then the bite coming on the Wednesday, then I baited again on the Wednesday evening. The following morning in freezing conditions with a north easterly blowing a very cold wet mist/frost into our faces, I received a take from the side of the hump in 22ft, I had tried to imitate the pellets with a 14mm dumbbell Complex T hardened hookbait, and a few minutes later I had a lovely 33lb mirror in the net to photo, one I got the feeling back into my hands!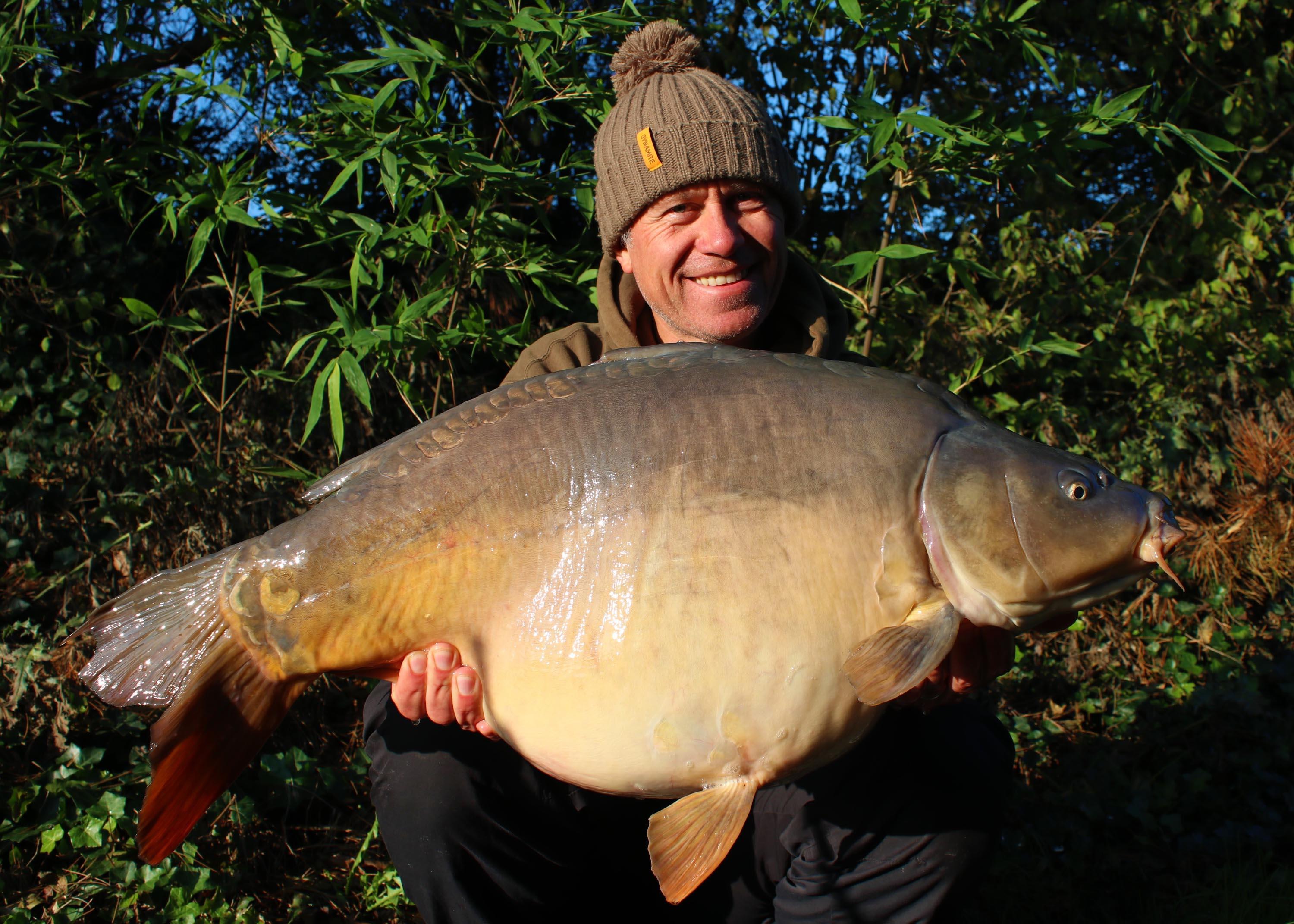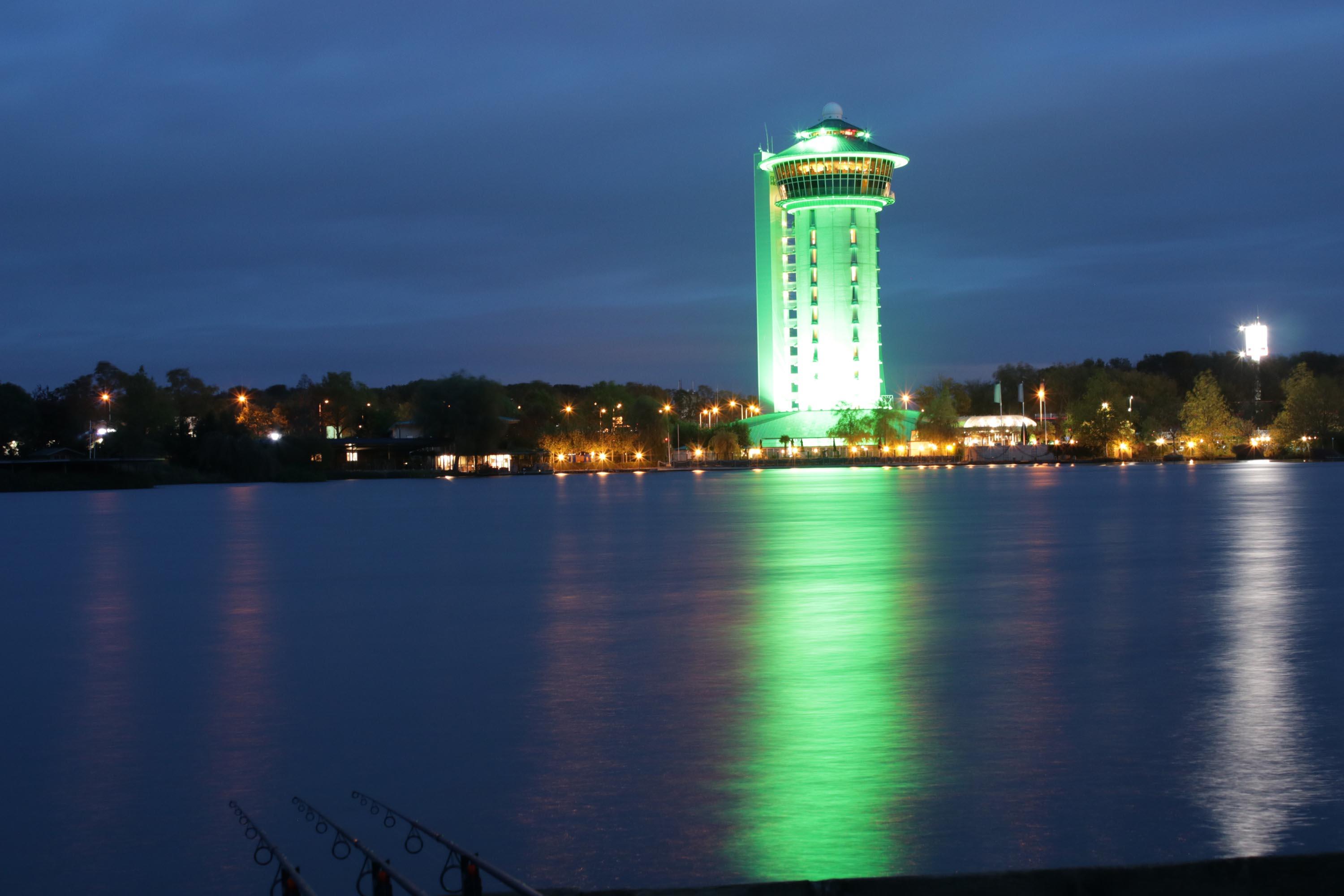 For the final night I chose to move my margin rod, to the other side of the hump in 21ft, I did have an occurrence the same time the following a final morning, but it didn't develop into a run. Danny had a bream of the other 22t spot, not what we were after, but informed us, that the bait had been going. It was a hard session, but we learnt loads for a first session, and will take that knowledge forward for future trips, we thoroughly enjoyed our stay and look forward to returning.
Ratings
The Swims:
At De Koperen Plas, all the swims are accessible by car via a tarmac track around the entire lake, the entrance is found at the bottom of the hotel car park. All the swims are spacious and gravelled, we had 2 cars and 2 bivvies in our swim, also with a weighing area and a picnic bench, other anglers had 3 bivvies and 2 cars in there's. so more than enough space. The margin is nice and deep, so no requirement to use waders, and there was an anchor point for boats to use. The electric sockets in the swim was very handy, and we could keep everything charged up. At times, but not always we could even pick up the free wifi from the hotel in the swim. It is only a 5 minute walk to the pavilion from the swim, but you could hire a bike if you wish too.
Conclusion (9 out of 10)
Well spaced out swims, with everything you could require. Rats were a bit of problem for us, not just 1 or 2, but lots of them. The road around the lake could do with a trim in a couple of places, so for this reason I will give the swims a 9 out of 10.
Facilities:
This venue has nearly all the facilities you could wish for, superbly clean and spacious toilets and showers (note: the outdoor toilet was out of order during our visit). They have a wall in the pavilion with small selection of the key end tackle and bait you could require. Coffee and cold drinks available. They have a freezer where you can store your bait, and you can request the staff to fill up your water bottle for you. The pavilion is open 9am-5pm, then locked after this period. You would need to use the outdoor toilet and sink next to the stock pond, or the toilets in the hotel reception. We were there at the end of October, so keeping our food/drink cold was not a problem, but as they have no fridge/freezer for food I could expect this to be a problem in the summer months. If you have a van or large enough vehicle you could bring a small fridge and plug it in your swim (not an option for me in a standard car), or visit one of the many local shops during your stay, but not perfect. Or you could take up their food package for your entire stay.
Conclusion (9 out of 10)
With the addition of a fridge/freezer installed in the pavilion (there is plenty of space to do so), I would give the facilities a 10 out of 10, but while there is not one, 9 out of 10 is my conclusion.
Services: (10 out of 10)
The food packages are fantastic and very flexible. You can choose a full food package including breakfast, lunch and dinner. You could always choose to take just dinner, or just breakfast, or just for a couple of days during your stay, whatever you desire. For dinner's you have to order by 2pm, for this to be delivered to your swim at 6pm. The menu is different every day. All food is prepared in the hotel restaurant in the tower at the top of the hotel, and hand delivered by golf cart to your swim.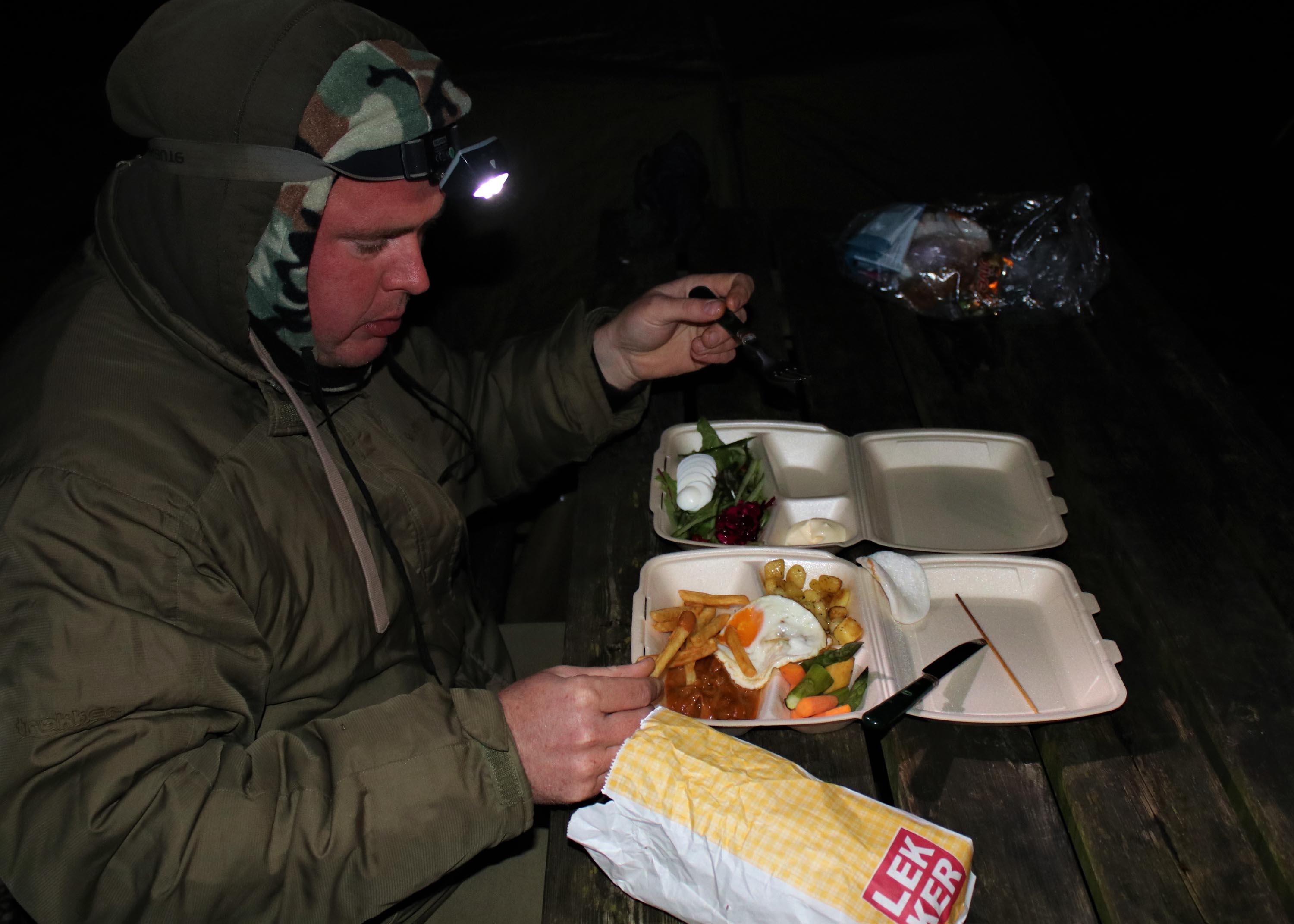 Breakfast: Choice of jam, cheese, ham sandwiches, boiled egg, if you have this served in the pavilion this is also served with coffee or tea
Lunch: Various sandwiches or croissants with cheese or hams, fizzy drinks can, or again coffee or tea in the pavilion
Dinner: Daily special from the restaurant menu. We had chicken in currywurst sauce, mini boiled potatoes and vegetables, French fries, cold salad and mayo sauce on one of the nights during our stay.
You can hire a bike per day.
You can hire a hard boat, equipped with 54lb outboard, battery and Lowrance fish finder. If the battery runs low, just give them a call, and they will come via the golf cart and swap the battery with a new fully charged one.
A whole range of baits, boilies pellets and particles, and I fully recommend the pellets, they are a must!
Order before you arrive, and all will be ready for you to use.
You can only use commercial particles such as Dynamite, or use the particles they prepare, you cannot prepare and bring your own.
There are various shops within 5 minutes, and a BP garage just across the road from the lake.
There will be a rubbish bag in the swim on your arrival and they will take the rubbish away from the swim for you.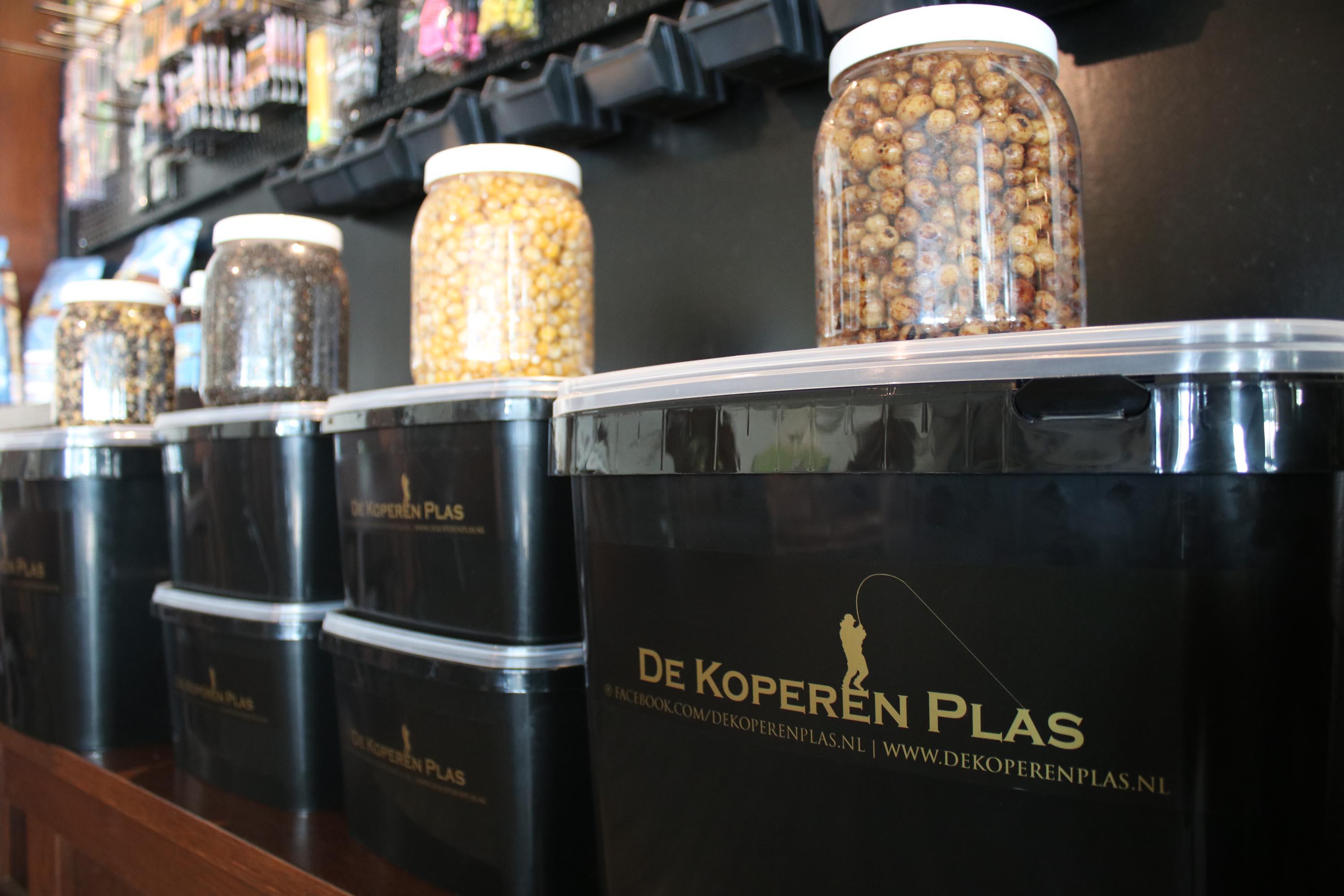 The Stock:
We caught fish to 39lbs, during our stay nearly all the fish caught were 30-40lbs. Saviël states it is roughly 80% mirrors, 20% commons. The original stock of the lake consists of 70 mostly common carp, with the heaviest of these carp weighing (22kgs) 48lb, called the Old Common. First known capture by the current owners was in 1993. So these are old, dark and typical Dutch common carp that I just love. Then the original stock is boosted with 4 additional stocking so far, 190 mirror carp and 1 common carp in the winter of 2015/2016.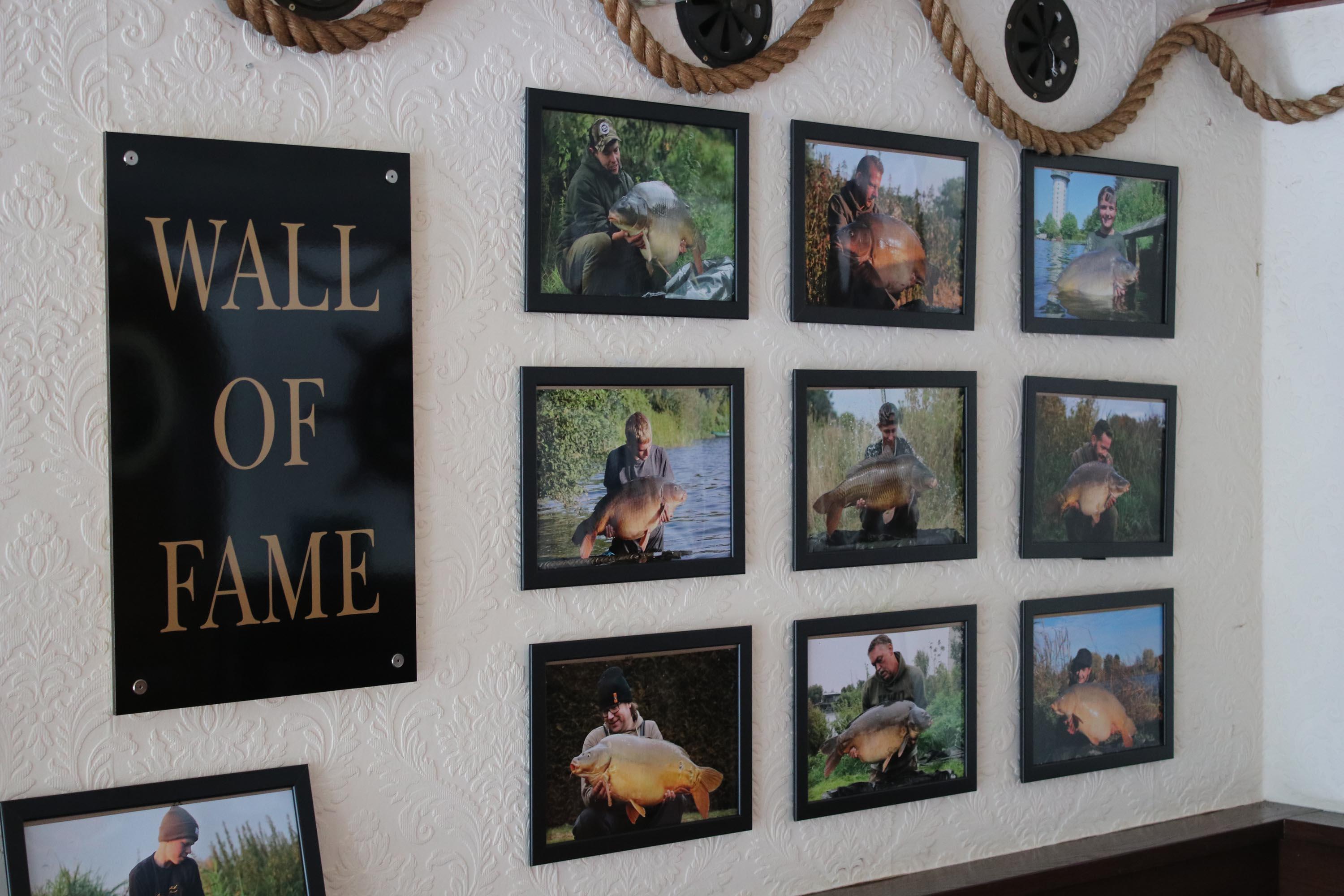 70 fish in the winter of 16/17, 65 fish in the winter of 18/18, and 22 from 6kgs to 13kgs grown in the stock ponds onsite including 1 Koi, were stocked during our stay on Nov 1st 2019. So with an estimated total stock of 400 carp, and with currently eight over 44lbs (20kgs) of which 3 are over 55lbs (25kgs) and a large % over 30lbs it's a great lake to visit. The lake record is 59lbs (26.9kgs) which is Evert, there are also big target fish called Kleine Axel (26.6kgs), El Chapo, Broken Fin & Old Common. With the large amount of food in the lake, including mussels, snails, the odd crayfish and bloodworm, they expect the size and the quality of carp stock to continue to grow. I doubt it will be long before we hear of the lake producing its first 60lb+. There are a few bream in the venue, but just the odd one gets caught, not too much of a problem, and there of no other nuisance fish in the lake.



Accessibility (10 out of 10)
Getting to the lake is just so simple, it takes 4 and a half hours from Calais – 267 miles, and 4hrs from the port of Dunkirk (DFDS Ferries) – 250 miles. The venue is just off the motorway, and it is motorway all the way there, with the added bonus of no tolls. So if you travelled the same distance to the Champagne region of France, this would be a saving of around £60-70.
Conclusion (9.4 out of 10)
I think as a holiday destination, for anglers travelling all the way from the UK, I believe the lake offers a difference to the typical French venues we tend to frequent, but this lake is deep and not easy, a blank is quite possible due to the volume of water, the size is around 18 acres, so not too bad. It's the depth, averaging 25-30ft, going down to 55-60ft, that's a lot of water with only maybe 400 carp. If you choose the correct swim and time of year, you could have in excess of 25 fish in a week, the wrong swim and wrong time of year and a blank is possible, the same as anywhere else though. Reviewing the catch reports, catches in the single figures of 2-8 is more the norm. There are currently eight fish in excess of 20kgs (44lbs), and three in excess of 25kgs (55lbs) but that is quite typical of lakes in the Netherlands, they don't have the big fish likes its neighbour Belgium or France, it is more along the lines of what we would find at home in the UK. But these are young growing fish, with a great stocking and breeding programme onsite, I'm sure it will produce a 60lb+ fish soon, and more will break the 20kg barrier. I feel to attract people and make the commitment of travelling, as an alternative to France, an increase of stock maybe required, a stock of 600 perhaps, to increase the sport and catch numbers, but for me personally it's perfect, I like a water that is a bit of a challenge and why I'm going to give it a 9.4 out of 10 review. I will be looking forward to returning but in warmer weather, it is a wonderful venue and a lovely change to France. With us being the only English anglers during our stay, and only a few to visit the lovely venue so far, it felt as if you were on a Dutch syndicate!
I would like to give huge thank you to both De Koperen Plas, the team there managing the venue, and to The Carp Specialist UK, I'm looking forward to my next European adventure…
Dan Cleary