Independent Venue Review: Estate Lake
Tania Williams reviews Estate Lake in Randonnai, France...
The estate dates to the 1300s. It was unfished until 2011, the owner and manager Julie resides on the lake in a majestic estate house overlooking this medieval setting. I was invited to visit the lake alongside Bianca Venema and this was my first adventure with The Carp Specialist UK.
The Lake:
The 'Estate Lake' is situated approximately 3.5hrs away from Calais. An ideal distance from most locations, I took a 12am Euro shuttle on Friday night, crossing from Folkestone to gain time and miss traffic once in France.
The lake is located amongst miles of natural woodlands, giving a remote, secluded and isolated feeling. The crashing of fish at night & gun shots from the organised hunting parties at the weekend broke the silence but didn't disturb the calm and serene atmosphere enabling carp anglers to fish and relax.
The lake is 20 acres in size, formed from a dammed riverbed, it offers several different lake features with depths down to 3 metres. It has a free-flowing freshwater feed, an inlet to the right-hand side of the lake and two outlets to the left. This flow feeds freshwater to the west side of Paris.
With the width of the lake (in some pegs), the distance to the far margin would be a challenge. I recommend anglers use a rowing boat, electric or bait boat equipped with an echo sounder, so that features and hot spots can be found but these are not essential.
There are six good sized swims on one side, ideal for small or large groups to socialise but enough space to be alone. All swims have ample space, even the largest 2-man euro bivvies will fit without any problem. You can drive to drop off gear at the back of every swim, returning your vehicle to the facilities car park. There are markers on the opposite side of the bank, so boundaries are clear and makes it easy to see where to fish to.
The lake is steeped in history. It's very natural and a stock take would be a real challenge. After speaking with Julie the owner, she is very passionate about the condition of the fishery and explains there is a good head of fish, with no one really sure of the true stock of the old carp. Julie has introduced several new fish over the last five years including in September 2019 - 70 new 20lb+ fish were purchased & introduced. These carp are now taking on weight quickly as there's an abundance of natural food.
Julie also feeds the lake regularly with a specially sourced pellet from a trusted local supplier (available to purchase onsite) which has a very high nutritional value. It has natural ingredients that promotes muscle development and weight gain.
During our session we were lucky enough to witness one of the many large older carp. It was an established mirror carp falling to the rods of Bianca using a Dynamite Source Hardened hookbait and a 15mm Hit-and-Run Wafter. This was landed on a Carp Spirit 10ft Magnum rod and came in weighing a massive 70lb and 5oz (32 kg).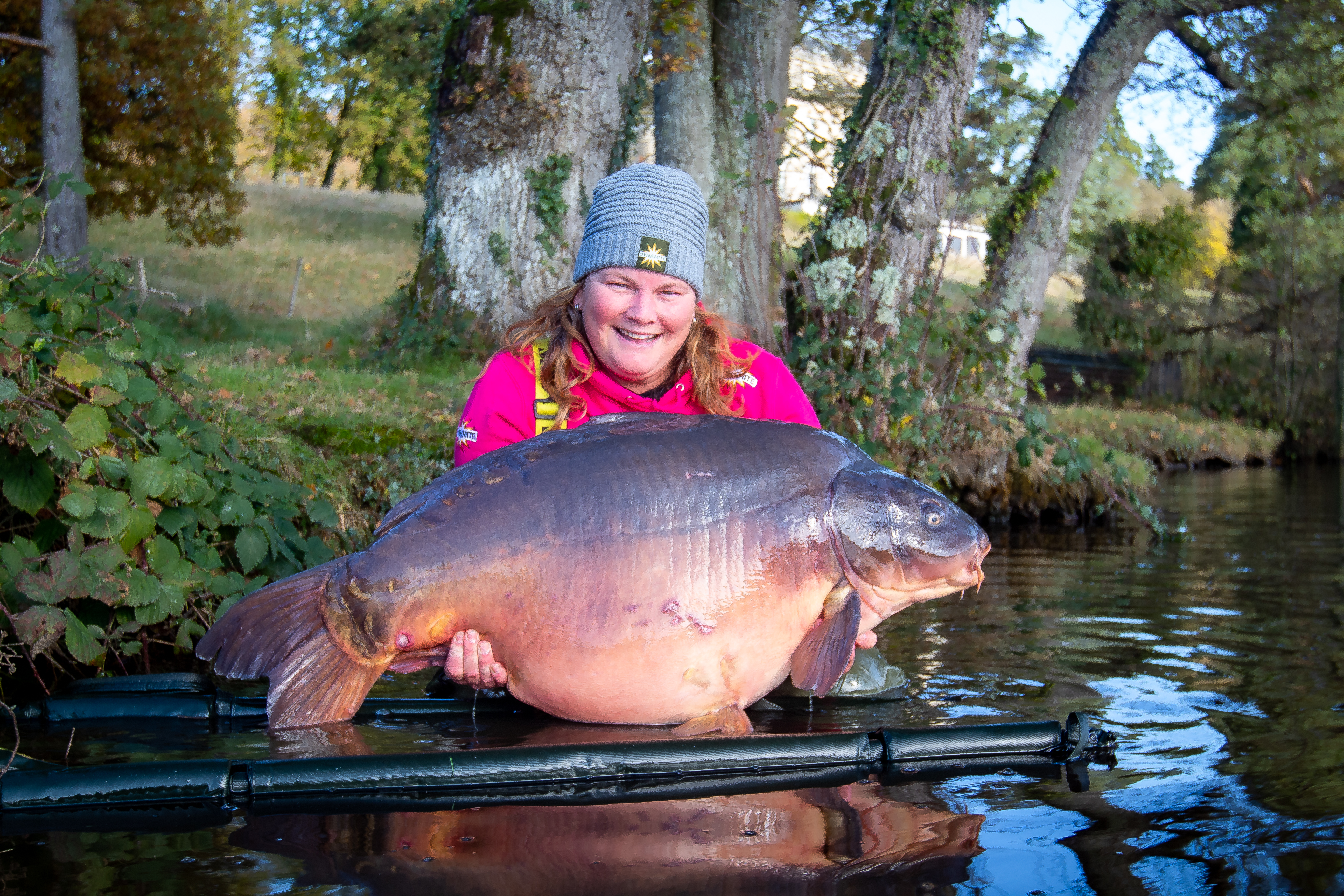 What an amazing fish, this fish was caught back in August 2019 where it weighed only 28.7 kg. This shows the feeding programme is very effective and the potential of the stock in this fantastic lake. This prompted me to review the lake catches on the website to ascertain what other beasts are there to be snared. There are many more established carp to catch including a very large common.
Check out the catch reports, there are carp to 70lb, catfish and sturgeon.
Facilities:
Estate Lake provides free of charge WiFi in all six swims – yes FREE WiFi!
The facilities are clean and highly maintained. The shower area has two showers, two toilets and even heated flooring. Allowing you to leave your muddy boots at the door. Showers are hot and powerful – home from home.
There is a separate kitchen area with cooker, sink, large fridge, a freezer and a large table & chairs, perfect for a group booking as there'll be plenty of time to socialise, share meals or just meet to discuss the catch of the day.
There are also comfortable gites available, which is perfect for that little extra bit of luxury. Plenty of time fish, relax, visit the local supermarkets or pop into Paris as it's only an hour away.
There is a small selection of bait & tackle onsite should you run out of something. There are several power points (you will require a Euro to UK convertor) in the kitchen area and in the bathroom. An unhooking mat & weigh sling are provided so saving space and no wet smelly car on your journey home is a bonus!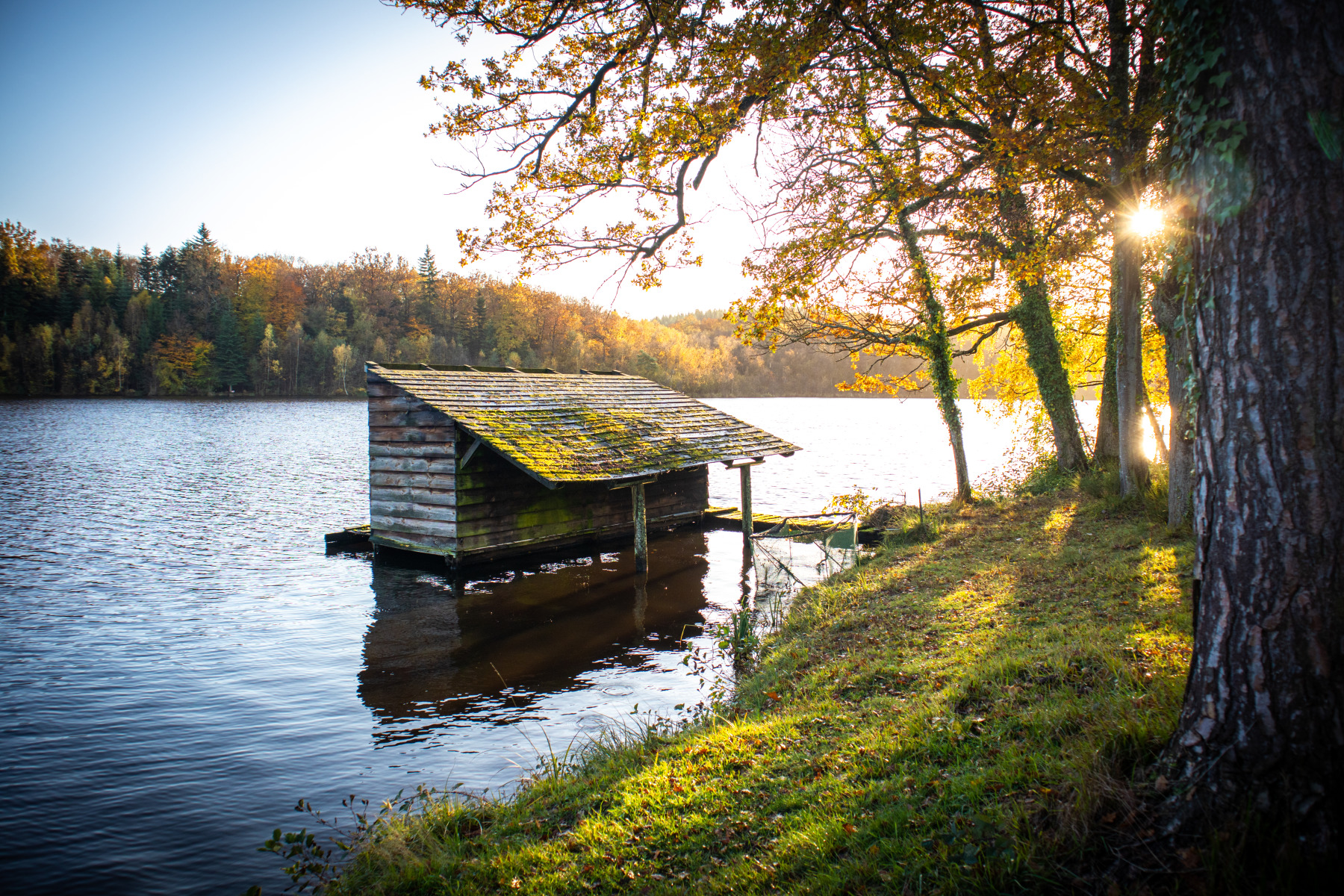 Arrival:
I pulled up to the entrance, I was taken back by the Grandeur of the House and its entrance. Within minutes I was warmly greeted by Phillipe. The electric gates opened, and I followed him down the purpose built stone track through the medieval grounds and statues. The lake had an air of mystery not only for a being a new lake to me but its shape and size. The dam wall & slosh gates made me wonder what depths and features it held – I couldn't wait to get started. We were lucky to have chosen a week with no one else booked on the lake, so I opted for the middle of the lake, Swim 3 and Phillipe took me through some of the popular areas and spots, highlighting the boundaries to the neighbouring swim where Bianca would probably select.
The Session:
My fishing partner would be joining me later that day. As I arrived early, I got my gear unloaded, bivvy set up, made a brew and watched the water. I quickly noticed fish showing on the far margin in several areas and by the dam wall.
The excitement was too much, I set up my bait boat and started looking for some spots to fish. Phillipe had indicated that the lily pads on the far bank normally produce fish. I went straight to where he explained the pads were visible in the summer. Being November these had reduced and were not visible from the surface so the bait boat and echo sounder were imperative and the debris/roots on the lake bed were very clear once found.
I chose to fish two rods initially and I placed single baits about 3/4ft away from the front of the pads in about 2ft of water over a few glugged chopped boilies.
Bianca arrived not long after I got the rods out. I had watched the lake most of the day, having seen some carp near the far bank and by the outlets on the dam wall Bianca and I started setting up the Carp Spirit 270 boat to reset the rods.
We had prepared some bait prior to the trip, pre-soaked particles & glugged boilie ready to go. Using the Carp Spirit 10ft Magnum rods and 5oz leads we started feeling the bottom to find our spots. This was my first time on a boat and was amazed by the detail as it was easy to feel how the lakebed had several interesting features, soft spots and some hard often finding large feeding holes going down to 3 metres.
We fished as a pair and placed all 6 rods on various featured spots, different depths and using different types of bait trying to lure the fish into feeding. One spot with 15mm Source boilies, another with 20mm Red Amo, some with prepared jars of Dynamite particle/hemp etc.
We used a 360 rig with various pop ups on soft beds and a standard German rig for a hard bed, bait of choice was a hardened Source hook bait topped with a hit and run wafter. Insert pic of Rig
Once the spots were established, we sprinkled a few baits in the general area of fishing, rigs were placed, and we were happy. Keeping disturbance to a minimum we then only used the bait boat to top up as needed either after fish or during the session.
We had several fish throughout the session up to 70lb including a couple of good-sized sturgeon.
Ratings
Swims: (8 out of 10)
All the swims are accessible by car via a manmade stone track. All the swims are spacious but found some were very boggy when wet, we had two cars and two bivvies in our swim, also with a weighing area. The margin was adequate. Waders were needed to land the larger fish, and there was plenty of room to anchor the boat. Free WiFi from the estate house the swim was very beneficial.
Well-spaced out swims, with everything you could require. Rats were a bit of problem for us, not just 1 or 2, but lots of them. The swims would benefit from being defined and maybe gravelled or wood chip but completely understand this is a very natural environment and Julie likes to keep it that way. The track to peg 6 wasn't quite finished but will be by time I return so for this reason I will give the swims a 8 out of 10.
Facilities: (10 out of 10)
This venue has all the facilities you could wish for, clean and spacious toilets and showers; a freezer to store your bait, food etc. The facilities are at one end of the lake so if you're in peg 6 it's a bit of a walk.
Services: (9 out of 10)
There is no option of a food package. It's a drive and survive venue with ample facilities that allow you to be able to cater for yourself or a large group. You will need to bring all food requirements but there are fridge and freezers on site so I recommend taking frozen ready prepared meals.
There are hard boats available in the swims free of charge, but no outboards.
A range of baits, boilies, pellets and particles are available on site. I recommend the pellets; they are what the fish are feed on. There are shops within a 20 minute drive from the lake.
Rubbish bins are located at the facilities building.
Stock: Unrated / Unknown
We caught several fish to 70lb during our stay & nearly all the fish caught were 20-32lb. The original stock of the lake are mainly mirrors with the heaviest of these carp weighing (32kgs) 70lb, now called Bianca. First known capture by the current owners was in 2011. So these are old, dark carp. The original stock was boosted with two additional stockings so far. With the large amount of natural food in the lake, including mussels, they expect the size and the quality of carp stock to continue to grow. It won't be long before the lake will produce a large common as well as the currently lake record.

Accessibility (10 out of 10)
Getting to the lake straight forward, it takes 3.5 hours from Calais.
Overall Conclusion (9.5 out of 10)
I would highly recommend the lake as it's ideal for anglers travelling from the UK, only 35 minutes on the Euro Tunnel and 3.5 hours from Calais.
With the potential stock of fish and growing I feel this is really one to watch and a visit in 2020 will benefit another visit in 2021 & 2022. The lake has a good depth in places coming down to 75cm. By the catch reports and speaking to the owner a blank is rare but quite possible due to the volume of water, the size is around 20 acres. Reviewing the catch reports, average is five with catch numbers of three to eight a week. Some of these carp are young growing fish, with a great stocking and feeding programme onsite, I'm sure it will produce several 40lb+ fish soon, and more will break the 50lb barrier on a regular basis.
The lake is inviting and mysterious and I really love a challenge. The swims are the only reason I am giving a lower rating 9.5 out of 10 review.
I look forward to returning in the summer. Julie and her team were very welcoming and even popped down one afternoon with a platter of cheeses and meats to discuss the session so far, great company and very knowledgeable.
It was a great session, I learnt a lot, personally I enjoyed the boat work and I will utilise this knowledge gained for future trips, we thoroughly enjoyed our stay and look forward to returning to the lake as soon as I can.
I would like to give huge thank you to both Estate Lake, and to The Carp Specialist UK, I'm looking forward to my next European adventure…
Tania Williams