Independent Venue Review: Lac De Villedon
Dan Cleary gives his honest opinion of Lac De Villedon in France...
Looking for a change of venue? Something a bit different or larger perhaps, well this could be the venue for you and your mates. Villedon is one of the top carp fishing venues in France that has been on my to do list for the last couple of years now. The lake opened in 2001 by (Dutch) Paul, whom lives by the lake. All the pictures that I have seen in the past of this lake and its inhabitants inspired me to go on my second adventure with The Carp Specialist UK team!
The Lake
In the middle of the hilly landscape of the French countryside just north of Limoges, lies the Poitou-Charentes region, and is probably the most Dutch lake in France: Lac de Villedon. Lac de Villedon is now a household name for a lot of UK, German, Dutch and Belgian carp anglers giving it a great international feel to it. It's one of the lakes I class as large enough to feel like a public water, but run commercially, so a bit like an intermediary type lake, like similar waters I've visited before, such as Le Grand Etang (Great Lake) for example.

Through the last 19 years Paul has developed Villedon to make it better every year. Note: 2021 will be his 20th anniversary running and owning the lake. He has reduced the amount of small carp (all under 20lbs), it's become a little harder than a few years ago, but there is still plenty of sport to be had! Not only is the amount of fish reduced but also the number of anglers. With that being said, every angler can enjoy their fishing area and privacy. If it's not your first time in France and you love the hunt of a big fish… Villedon is probably the right place for you!

With a small river feeding the lake is there always a stream of fresh, oxygenated, water. This results in an excellent water quality and hard fighting fish. The western end (Club house and boating dock) of the lake is the deepest part at around 8 – 10ft deep. The shallowest part is the eastern side with depths of 3 – 5ft. The bottom of the lake is slightly muddy and at other places, you will find some harder spots as well. It pays to search for some different spots and to fish in the really muddy soft areas or on the harder spots.

On site, Paul and the bailiffs are doing everything to make your carp fishing holiday carefree. They will have great tips, tricks for you if you require or ask. There is a tackle shop on site and dinner service delivered at your swim by boat. Each swim comes with its own hard boat large enough to take all your tackle, optionally you can rent a motor and battery. Please be aware, no swims are accessible by car. For all swims you will require to use a boat to take your gear to the swim. Only the Gite (Swim 1) is accessible by car. With 16 swims (up to 31 anglers) on 100 acres there enough space for every angler. Villedon is rarely fully booked and the best part is: a lot of big carp get caught at a short fishing distance! Also, it's possible to book a luxury Gite or a nice Cabin (Swim 21).
Facilities
The main facilities on Villedon are at the western side of the lake by the entrance. You will find the tackle shop stocked with tackle and bait, you can also find the possibility to order breakfast and dinner. There are separate ladies and gents' toilets, showers (token required €2.50), both European and English power sockets to charge your electronic devices, bait boats inside the shop. You can find European sockets outside the shop to charge your leisure batteries (so remember a convertor UK anglers). There is a chest freezer for bait and food, with a max of 30kgs per angler. For anglers that want to start their week fresh, it is possible to arrive Friday before 6pm and sleep next to your car at the secure parking lot (this must be pre-arranged). Which is what I chose to do.

Onsite restaurant is now open, breakfast menu starts from €1.75, and dinners from €8, there is an additional charge of €2.50 to have this delivered to your swim, there is also a weekly evening meal package for €85.

The nearest town of Bellac is 15 miles (25 mins) with the usual shops like Intermarche and Carrefour, petrol stations etc.

Gite - 4-persons, 2 anglers (Swim 1)
The 4-person Gite is located on the western side of the lake. This is the deepest part of Villedon and a perfect location for a luxury session in France. Inside the Gite, you will find a nice kitchen, spacious bathroom with shower, separate toilet, living room with a big sofa, fireplace and satellite TV with DVD-player. Upstairs you will find two bedrooms, a second living room with a bridge towards your fishing pontoon. It's possible to fish from your bivvy at the dam wall, but it's not possible to use any bivvy pegs at the dam wall, as it's a paved path. Bedding, electricity and hot water are including the price. The washing machine works with a token (€2,50), available in the tackle shop. Heating inside the Gite is not included. For indication, the weekly price with normal use with closed windows and doors is around £25 to £45. Also, it's possible to buy firewood for the fireplace.

Cabin – 2 persons, 2 anglers (Swim 21)
This Cabin is one of the hotspots for big carp, it's a perfect swim as well for the colder months. The cabin is perfect for two anglers that like to have a bit more luxury. It comes with two beds, fridge, electricity, heating, table, chairs and a kitchen with running water (no drinking water). To reach the facilities you can follow a small path near the to the entrance or use a boat.
Session Preparation
Wherever I go, I purchased all my food in advance for the trip, some nice fresh ready meals (Curries, Chinese etc) for the start of the trip, then I have packs of pasta and boil in the bag rice, to make up dishes such as chilli con carni or a nando's kit for the latter end of the trip, then I only need to purchase some fresh meats (chicken, beef etc) from the local shops along with fresh bread and milk, Carrefour in this instance 25 minutes up the road in the town of Bellac. A good tip for the hotter summer months, is too freeze a 2ltr bottle or two of water in the bait freezer, then you can use these in your food bag to keep everything cool. I'm a bit OCD, so I clean all my tackle, rods, reels, tackle boxes before a trip. I charge up the batteries (another tip: take 2 for Villedon) for the onsite boat, tied a load of rigs up, sharpened hooks, but I take everything, just in case I need to tie something up different during the session. Due to the rules I stripped off my preferred leadcore, and setup my rods with tubing, this also helps, as the tubing will be held tight in the rod bags for a couple of days, so nice and straight, no kinks or curls. Also, a requirement for Villedon is to bring your own toilet, so I have a camping toilet with me. If you plan to empty your toilet onsite before you leave at the end of the session, do not use chemicals, only water, the onsite toilets are bio, and the chemicals will kill the bacteria used to break everything down, I also then take enough clothing and cleaning gear.
Arrival
Unfortunately I hit traffic around Paris, and so ended up being later than planned, but upon arrival, after driving through the winding lovely French country side, with the local farmer ploughing the fields nearby, I came across the sign for Villedon, I took the right and a few hundred metres later arrived at a set of black gates, then parked up and walked to the fishing pavilion to the left of the Gite and was warmly met by Paul. He wasn't actually expecting me, due to the coronavirus 14-day quarantine rules back in the UK, but I had no work so this did not affect me. The swim (8 – single) booked for me was now taken, but an even better swim (15 – Triple) was becoming vacant in an hour, bonus! I could either setup in the car park and get some sleep, or head to swim 15 a night early, hmmm you don't need to ask me twice. With Paul taking me through the usual rules, handing me a bung for one of his hard boats and provided me with an A5 colour printed version of the lake denoting the boundaries to review and assess in your swim to keep. I then got set with changing clothes, placing some food and bait in their freezer, grabbed an unhooking mat (an extra-large Proline, I have one myself, they are great) off Paul, then I drove up to the boat dock with my car and transferred my gear into the (hard) boat all in one load. Please don't let this put you off, it's not that much hassle, you only need to do this the once at the start and finish of your session. Then I parked my car up and walked back to the boat dock, and set on my way to the swim, after a while I thought I must be getting close (the lake is about a mile long) and I had to get my binoculars out, to find I was still only half way down the lake at swim 18 (they are numbered on posts) then eventually swim 15 came into a view and turned the boat to the right from the middle of the lake towards the swim, I jumped out of the boat into the shallow sandy margin, and proceeded to unload and setup what would be my camp for the week ahead. It was getting late now, it was gone 9pm, so I just cast around trying to feel for drops, but it was quite shallow all around, and I couldn't really find anything of real note, except what felt like a harder stony area about 15 wraps out, and the shallow bay to my right being very silty, with the lead was clogging up. I elected to fish two rigs at 15 wraps, one further out towards the old river bed, roughly 20 wraps, and 1 into the middle of the bay. I would go out in the boat to investigate the bay in more detail the following day.
My Session
As I arrived into swim 15, I now had 8 nights not the 7 in front of me, brilliant. No marker rods, or braid are permitted on the lake, and it was getting late, so I did not want to go out in the boat again plus other angers opposite were already fishing, so I elected to lead about with just my usual rods with 15lb mono. I had a large body of water in front of me, and the entire bay of around an acre to my right, which I planned to make more use of, as the weather was planned to get hotter during the week. I don't know where the previous anglers had fished to either. So, I planned to fish with only a light scattering of bait to begin with, as I had no idea what I might be fishing over. I placed 2 rods at 15 & 16 wraps straight out, with 100 or so baits placed with the throwing stick, another rod cast around 100 yards towards the river bed with just a stringer, and the same for the final rod in the middle of the bay, all rods were in place by just after 11pm, I had with me 20kgs of 15 & 18mm Complex T boilies, and a 25kgs sack of 8mm coppens premium select pellets.

At 1.15am the rod fished to the river bed was away with a screamer, this fish fought hard, going on several long runs in the shallow water, but eventually I netted the fish of 37lbs (16kgs), the first fish from a new water always tastes sweet. Then on the Saturday I had a look around the bay for some better spots to fish from the boat, as the hookbait had been nobbled by a crayfish. Using a prodding stick, I found the majority of the bay was quite soft and silty, roughly a foot of silt for the majority of the bay, and a depth of 3-4ft. I found a slightly firmer bottom down the middle, but if you pushed hard enough it would break the firm crust on top. I baited this area, left the stick in place, so I could cast to it from my swim, attain the distance (18 wraps), then return and remove the stick. I then investigated the open water, I found another firmer area, and what felt like a patch of weed just short, there wasn't much weed in open water, but quite a lot in the bay. This was also at 18 wraps. I then baited both the 15w and 18w spots via the spomb (note: the only person on the lake that week to do so), with whole and crushed boilies, pellets, and half a tin of sweetcorn each day, not a lot, but a little bit of visual bait in the area. I would then fish snowman rigs, tipped with either yellow or orange pop-ups, and reassess and change if required during my session. The first fish had fallen to the yellow snowman hookbait setup. It wasn't until the following morning that I received my second run, from the open water 15w spot, a common of 38lbs (17kgs). Then in the early hours on Monday, the open water 18w spot produced for me with another 37lbs mirror. A pattern would emerge from this spot, where it would produce one bite every morning for 5 mornings, with the first being the largest, oh and a sturgeon too. It also become apparent, if the fish were not visiting your spots, the crayfish soon would be, as the lake is stream fed, they will be hard to deal with, so they are are quite numerous, even hardened hook baits wrapped, were being dealt with by these critters. But I never had a problem with them on the 18w spot, so that must have been visited by fish regular I could only assume.
A group of fish started to spawn, and this would carry on for the remainder of the week, as a different group of fish would spawn in the morning, the largest activity being on the Wednesday, where their were groups of fish spawning in at least four different areas on the lake from my view. Obviously, this was going to slow down and reduce the no of the captures for the week.

It wasn't until the Tuesday before I managed a bite from the bay, I had moved the rod to the far margin (fish were spawning on the near margin), when I had seen feeding fish rooting around in the silt from the boat, including an orange koi. This fish I caught was a mirror of 33lbs (15kgs), but was to be the only bite from the area, and I didn't see a fish there again. I moved the rod, to the opposite corner of the bay on the Wed morning, and it took nearly all day, but in the evening I received a take, but sadly after playing the fish for more than 10 minutes, the hook pulled just in front of the net, from what looked like a common of around 15kgs+. But I did receive another take just before midnight on the same rod, but it snagged me under the tree canopy on the far margin, I donned my life jacket and made my way over in the boat, once there I slowly but surely untangled the line from the maze of branches, then suddenly spotted the pale shape under the surface, unbelievably the fish was still attached, I lifted the line by hand and somehow managed to net the fish, just as the line snapped! It was the smallest carp of the session at 22lbs (10kgs), but it made up for the loss earlier in the day. That spot then also went quiet for the rest of the trip, although I kept a rig there just in case they did return under the cover of darkness. Thursday and the 15w spot had not produced another fish since the Sunday. So, I now had 2 rods on the 18w spot cast slightly to my left at 11 o'clock, if looking at a clock face. I then placed the 15w rod, also at 18w but slight to my right at 1'o'clock. I had been baiting every afternoon, with a 1kgs each of boilies and pellets for about an hour, the new 18w spot would get its first supply of bait Thursday evening, with me thinking it might produce for me on the Friday or Saturday morning before packing up some 24hrs or more later.

With all the work done, sadly the angler opposite in swim 8, then towed a rod over my left-hand spot at 18w (70 mtrs), and over 150mtrs away from his swim, I retreated to my bivvy shaking my head. I was not going to let a Dutch angler ruin my trip. A storm brewed up, with lightning flashing all around us, even as I spombed the bait out. It was one of those hot humid, but damp summer nights we love as fisherman, I always seem to do well in. And that night was just the same, the first run came from the new 18w spot at around 3am, with the far sky line being lit up by the lightning, although no thunder, it appeared to be just an electrical storm. I managed to wriggle into my waders and make my way out into the lake, with the net resting in the shallow water in front of me, and the handle resting on my shoulder as this fish led me on a merry dance, it was breathtaking playing the fish with such a spectacular lightning display lighting everything up around me, I didn't even need the headtorch, the lightning was so often, after a long spirited fight I finally netted what would be my biggest fish of the session, a short but large framed common of 45lbs (20kgs), I dubbed it the mini beast. That spot would produce 2 more fish of 30 & 34lbs that morning. Bringing my tally up to 11 fish from 12 bites, excluding the sturgeon. I then started to see fish roll, show and bubble over my other baited area.

At around 8am, I received a steady take, but I didn't feel right, but I couldn't tell what it was, until my rig came clear of the water caught on the opposite angler's line. I tried to get his attention, but noticed he was dealing with another fish in a sling, so I carried on winding in his line to my swim, so I could untangle my rig. I was just reaching over my head to grab the tubing when he picked up his rod and struck, I was so close to grabbing hold so I walked backwards and then wound down some more, I managed to grab hold and free my rig from his line, I held his line aloft while he was trying to wind in, I don't think he knew what was going on! I was furious, then I noticed the line in my hand was moving from my right to left, and there was still a fish attached looking very tired as it swam slowly under the surface 20 yards in front of me, and over 250 yards away from the angler attached to it, so I let go of his line, it pinging free of my grip like an elastic band. He then wound in and made contact with the fish, sometime later he netted the fish, and stood in his margin with the fish in the landing net for quite some time, I can only guess what state that fish must have been in. Showing such disregard for the fish, I packed up there and then 24hrs early and left, the owner Paul said there was a misunderstanding, to me there was no misunderstanding, he boated out and dropped a rig on top of my bait with no free offerings, he knew what he was doing. As I started to pack, he placed a rod even further to my right (he was set-up to my left on the opposite bank), and was now past two of my rods. If I were to receive a run, he would more than certain get a false run from me or take mine out if he was to receive another himself, and cause untold damage to a fish's mouth, something I could not allow. As I left, he was still fishing very long to the spots he had dropped from the boat. It was a sour note to leave on sadly.

Out of the 12 bites I received, four came to the snowman tipped with a yellow pop-up, and eight from the orange Complex T pop-up.
Ratings
The Swims: At Villedon, none of the swims are accessible by car except for swim 1 & 21, the entrance is found at the windy single tarmac road with a gravel car park on a hill above the tackle shop and Gite, with several stock ponds below. All the swims are very spacious and natural, no gravel, woodchip to be seen. There are 16 swims that cater for 1, 2 or 3 anglers, to suit all needs, with a maximum of 31 anglers at any one time. I was in a swim designed for 3 anglers, so had more than enough space, but I elected to setup right by my rods in the open, so I could view as much of the water as possible, but I also knew I would not get any shade from the nearby tree's, as it was going to be 30-33 degrees most of the week. The margins were sandy, firm and shallow, making it easy to wade out to net any fish, and get in and out of the boat with ease. There was an area right at the back of the swim you could bivvy up, and be out of the sun, but this was too far back for my liking, but each day I would take my food, toilet, rubbish etc, and sit back there in the shade, making rigs, stick mixes, and watch the water for any signs of fish movement.
Conclusion (7 out of 10)

Well-spaced out and situated swims (16), Back to basics, natural feel to them, like you were on a large public lake. No electric or gravelled swims like you can find on some of the Carp Specialist books, if you prefer such venues. I didn't see a rat or mice the entire time. Frogs in the millions, the night chorus was something else! I even had a family of coypu close by eating the weed 4ft from my bivvy (if you like wildlife like I do, this was great). A kingfisher came and sat on my rods. But sadly, no access by car to the majority of the swims, only boat, as the lake is surrounded by different farmers' fields which is understandable. But I could not even walk to the next swim. I know you can from some of them, I could be wrong, but I think a path in places could be possible (e.g. 15 to 16, 17 etc), with a bit of trimming of the brambles, maybe not all swims but to some of them, reduce the boat usage on the lake, assistance with big fish etc. For this reason, I will give the swims a 7 out of 10.
Facilities: This venue has nearly all the facilities you could wish for, superbly clean and spacious toilets and showers, attached to the side of the Gite and accessible 24hrs, with a sink outside to clean your pots and pans. They have a wall in the shop with a selection of the key end tackle and bait you could require. Coffee and cold drinks available (small and large bottles). They have a chest freezer outside where you can store your bait and food (30kgs max per person). The shop is open 9am-11am and 4pm-5pm, then locked out of these times. When I was there at the end of June, keeping my food suitable for freezing was ok, but anything requiring a fridge as they have no fridge (Beer, fizzy drinks, salad, sauces etc) can be a problem in the summer months. If you have a van or large enough vehicle you could bring a small fridge and run it off a leisure battery and inverter (not an option for me in a standard car), or visit one of the many local shops on a more regular basis than I would personally prefer. Or you could take up their food package for your entire stay, but this is only for the main meal at 6pm and delivered by boat.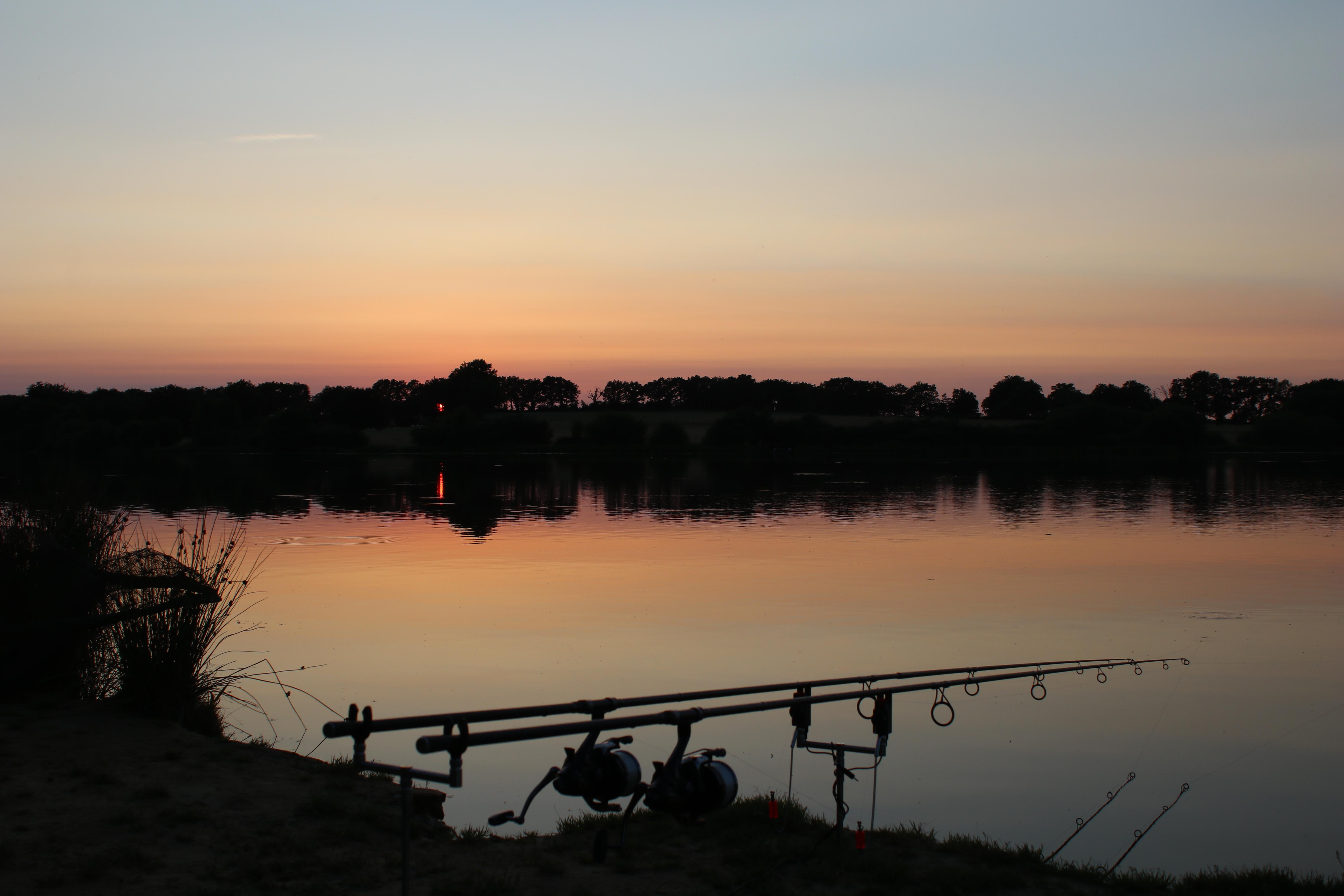 Conclusion (8 out of 10): With the limited time to access the shop, 9-11am which was sadly too early for me, I had 2 of my bites during this time period, and 4-5pm was when I was baiting up for the night ahead. This really gave me no time to use the shops facilities. With the addition of a fridge installed next to the freezer (there is plenty of space to do so) and maybe open 1hr at lunchtime say 1-2pm, I would give the facilities a 10 out of 10, but while this is not the case, 8 out of 10 is my conclusion.

Services: (8 out of 10): The food packages are ok. You can only choose an evening dinner package or individual evening deliveries, there are no options to include breakfast or lunch, this is due to the boat activity required to do this unfortunately. It's quite popular to order on the last night, so you can pack all your cooking equipment away, ready for your departure in the morning. For dinner's you have to order in the morning, for this to be delivered to your swim at 6pm. It is a set menu, with a good choice. All food is prepared in the onsite restaurant (which looked very clean and professional to me), and hand delivered by boat to your swim, you boat out to the middle to collect your meal. Sadly, as I left a day early, I never got to try any of the food on offer, as I had planned to order a meal for my final night.
Breakfast: Set Menu, including: Small Bread, Baguette, Croissant, Pain Au Chocolat
Lunch: None
Dinner: Set Menu, including: French Fries & 2 Sausages, Pasta with Pork in curry sauce, Veal & rice with curry sauce , French Fries & Deluxe burger, Entrecote (Rib-Eye steak) with echalotte-sauce (Onion shallot sauce) and French fries, Spare-ribs with French fries, Chef's pizza (tomato, cheese, union, French sausage, bacon, courgette, mushrooms and egg), Kebab (kebab and vegetables in a wrap) with French fries, ½ Chicken with French fries, Marinated pork with saté-sauce and French fries

Boat delivery surcharge of €2.50. You get a hard boat with your swim, you can equip this with an outboard, battery, oars and life jackets at a surcharge. There is a wheel barrow by the boat dock, so you can run the battery to/from the shop either to swap if renting, or charge up, if using your own.
A whole range of baits, boilies, pellets, popups, stick mixes, liquids are available onsite. You can also rent, bedchairs, chairs etc as well. Order before you arrive, and all will be ready for you to use.

There are various shops within 25 minutes, in the nearby town of Bellac
The Stock: I caught fish to 45lbs, during my stay nearly all the fish caught were 25-60lbs. Mine was probably below average, and they had just spawned as well. The stock of the lake consists of roughly 900-1000 carp, with the heaviest of these carp weighing (36kgs) 80lb (75lbs caught by rod), called Daisy. The biggest common is 70lb+ called the Beast. Paul has managed the venue since 2001 The average weight is around 38lbs. With around 150 over 40lbs, dozens of fish over 50lbs to 75lbs, with that it's a great lake to visit. With the large amount of natural food in the lake, including mussels, snails, crayfish and bloodworm, they expect the size and the quality of carp stock to continue to grow. I doubt it will be long before we hear of the lake producing its first 80lb+. There are a few sturgeon in the venue, even I caught one. But it's just the odd one that gets caught, not too much of a problem, and there are no other nuisance fish in the lake I'm aware of anymore.

Accessibility (10 out of 10): Getting to the lake is quite easy, it takes 6 and a half hours from either Calais or Dunkirk – 430 miles via the French motorways for the majority of the journey. The venue is not far off the motorway, and it is nearly motorway all the way there (roughly 400 miles out of the 430). It is around 2-3hrs longer to drive than the champagne region, but well worth it. Toll fees (as of 2020) each way is around: £35

Conclusion (8.25 out of 10): I think as a holiday destination, for anglers travelling from the UK, I believe the lake offers a real difference to the typical French venues we tend to frequent. This lake is not deep and fairly easy, a blank is always possible due to the size of the lake at around 100 acres, but if you fish and bait well, you are more than certain to catch in my view. The depth averages 2-8ft, I had 3-5ft in front of me. that's a lot of water with a stock of 900-1000 carp, or 10 fish per acre. If you choose the correct swim and time of year, you could have well in excess of 25 fish in a week, the wrong swim and wrong time of year and a blank is possible, but very remote in my opinion, but that's the same anywhere. Reviewing the catch reports, catches in the region of 5-15 is more the norm with a few fish in excess of 20kgs (44lbs). The weights of my fish were probably below average on conclusion. For me personally it's a perfect sized lake with the correct layout of swims. I like a water that is a bit of a challenge and why I'm going to give it an 8.2 out of 10 review. With their being only one other English angler during my stay, with a few German anglers, a few Belgium the week before and with the majority from the Netherlands, it gave it a very welcome international feel to the lake. Access to the swims is by boat, no denying it, that could put people off, but it really shouldn't in my view, you soon get used to it and the rewards are there to be had. I did have a problem with an angler, but this is not the first or probably the last time I will be faced with that issue, it's not isolated to just Villedon. It just sadly ruined the trip for me.

I would like to give a thank you to both Villedon, the team there managing the venue, and a massive thank you to The Carp Specialist UK for organising the session for me, I'm looking forward to my next European adventure…