New PB mirror and Estate Lake record!
Bianca Venema recalls catching a PB mirror at Carp Specialist's Estate Lake
Recently I was fishing via The Carp Specialist UK for a weeks carpfishing holiday together with Dynamite Baits / CarpSpirit team member Tania Williams at the stunning Estate Lake venue in France. The Estate Lake venue is a renowned and known carp lake in the Normandy region of France just a short 1.5 hour drive as well from Paris as from the East Coast and a 3 hour plus three quarter drive from Calais. The Estate Lake dates from the Middle Ages, is hand dug, has 6 swims and is 15 acres big surrounded by a stunning 2.500 acre nature forest. The nature on the property of Estate Lake is splendid and looks like a fairy tale. The 6 swims are situated at the North side of the lake and when you look to the other side of the lake you see an extensive forest. The original carp stock at Estate lake existed mainly of original French Royals, like most French lakes. The average weight of the carp in Estate Lake is around the 25lb.
The beautiful nature surroundings of Estate Lake was like a dream of nature for me to be in for a whole week of doing the best hobby there is: 24/7 carp fishing. Since the predicted weather conditions for this first week of November was lots of rain, heavy winds and even frost in the night Tania and I were the only two carp anglers on the Estate Lake for this whole week so we could choose our swim on the spot. To be the only two anglers on the lake is a good thing of course because you have all the freedom in the world, but since it's the first time I fished ate this carp lake its also a very big water surface to explore. In addition to this; when all swims of the lake are full the fish will move around the lake much more than when there are only two anglers fishing from one swim. On the other hand when you have the whole lake to yourself it's always possible and you have lots of space to actively search for the fish and move towards them when needed. In this cases in Holland we say: "every advantage has its disadvantage."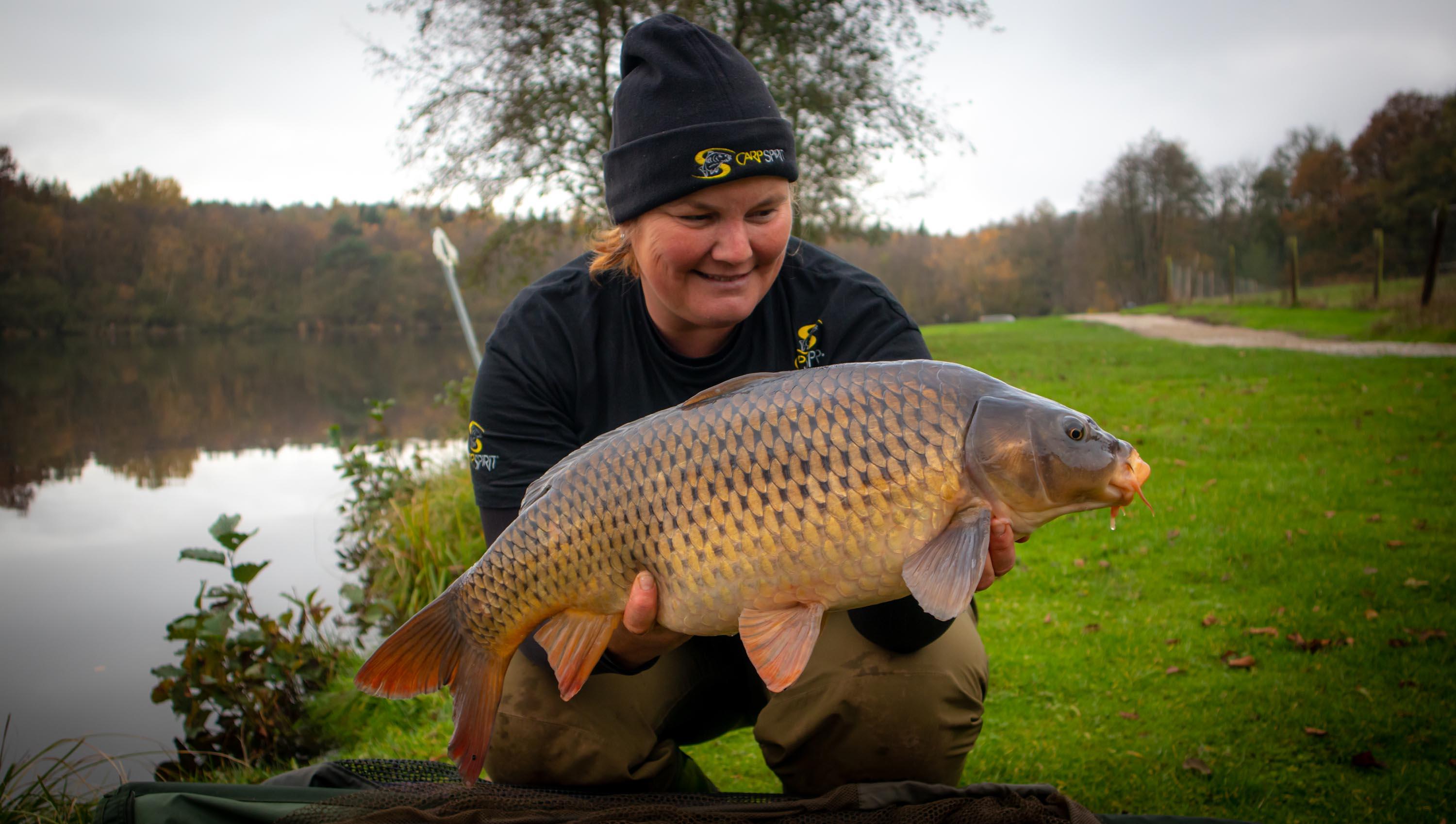 Because we were the only carp anglers at the lake I decided not to put the rods in immediately but at first instance take all the time I need to observe the lake and to see where the carps are possibly showing, which features from the lake could be interesting for the carps as a hold up area or feeding area and to observe where and how the water streams are for example as a result of a water in- or outlet. So I took the time to set up the Arma Skin Everest+ bivvy, the Blax Rod Pod, the Black Boat, Tripod, landing nets, cradle, filled water bucket and Carp Care first so we would be totally ready for the first carp to visit us.
After observing, thinking and speaking with Tania about the possible plans of action to catch some carps the second day I decided to sail over the whole lake with my CarpSpirit 270 Black Boat and sonar to look for features underwater like (feeding) holes, trenches, depth differences and different sorts of soil structures in the water. Trough thorough research we found different interesting carpy spots and features. To be exact we found these in three areas from the Estate Lake. We pre baited those three spots spaciously with respectively on the West side of the lake 20 and 15mm Dynamite Baits The Source and Hot Fish & GLM boilies, the middle opposite side of the lake with the same mix of sizes of Monster Tiger Nut Red-Amo boilies and the right shallow East side of the lake with Frenzied Particles.
I think a we fed total of approximately 3 kilos per area not too much because of the low water temperature. We chose to feed different boilies on different spots so experience which ingredients the carps were the most in need of. The Source and Hot Fish & GLM boilies for example are after all higher in protein then the Monster Tiger Nut Red-Amo boilies.
After about 1 hour or even shorter then this I think I've already got the first take on my rod which was positioned at the right side of the lake in a big hole. I decided to fish this spot with a 360 rig made from CarpSpirit Opti-Mex fluorocarbon and a Razor Point MCS size 4 with the Camfusion safety lead clip system. This turned out te be a good choice. This first and very fast carp was a flawless 10lb common who couldn't resist a 15mm yellow Hit 'N Run pop-up. Not bad to catch so quickly when the water temperature is about 8 degrees!
The owner of Estate Lake, Julie, told us that she recently plotted about 70 new carp in the lake in a average weight of 10lb - 35lb. This fast catch was definitely one of the new carps. After this quick bite the day after we caught more carps from a certain area from the lake. Some of these catches I caught on the new prototype hook from CarpSpirit. About this new hook I must say I'm very enthusiastic. It's design, sharpness, type and finish is really top op the bill. I can't wait until the moment this hook will be available in the tackle shops so every carp angler can have the pleasure and edge to use this hooks!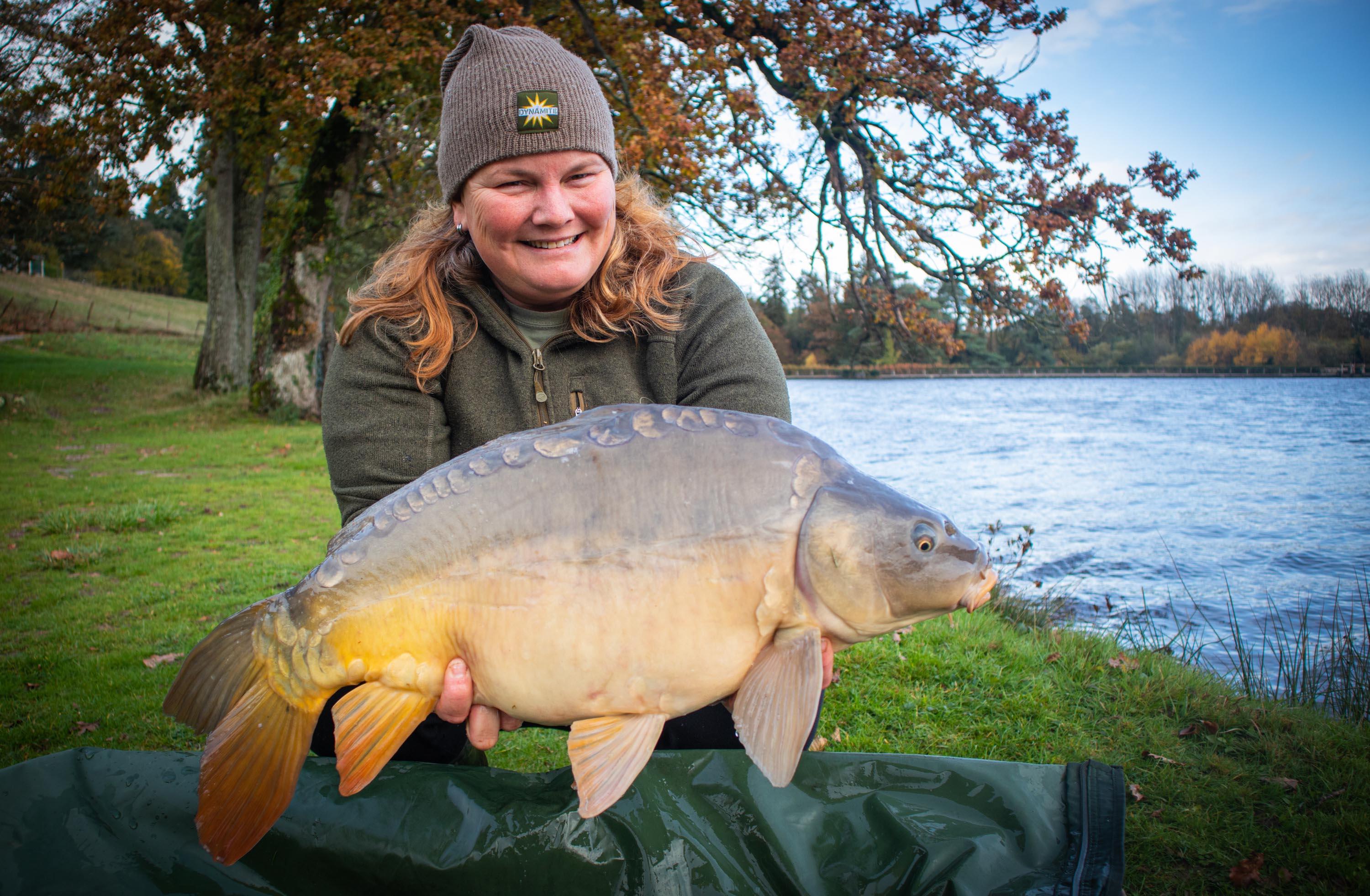 Since the most takes came from one side of the lake I decided to bait up this particular area very spacious in a 120 yards line with 15mm The Source boilies. I could reach this spot by biking to it and spread the baits very generous around. On this way the carps would be definitely get more and more active and busy feeding with this baits. Additionally I made an attractive mix of Dynamite Baits Chubby Groundbait, Spod & Bag Fishmeal, Monster Tigernut and Complex-T 8mm pellets, crushed The Source and Hot Fish & GLM boilies enriched with Premium Worm Liquid Carp Food to create a horizontal and vertical attraction to my hookbait. I decided to place my rig accurately on the spot with the bait boat since I noticed that the Estate Lake carps were very shy. Using the Black Boat to place my rig only would scare them. As hookbait I choose a 20mm hardened The Source topped of with a 14mm red Hit 'N Run wafter on a combi-rig made from partly stripped CarpSpirit 25lb Kameleon hook link with a line aligner and a BBP size 4 hook.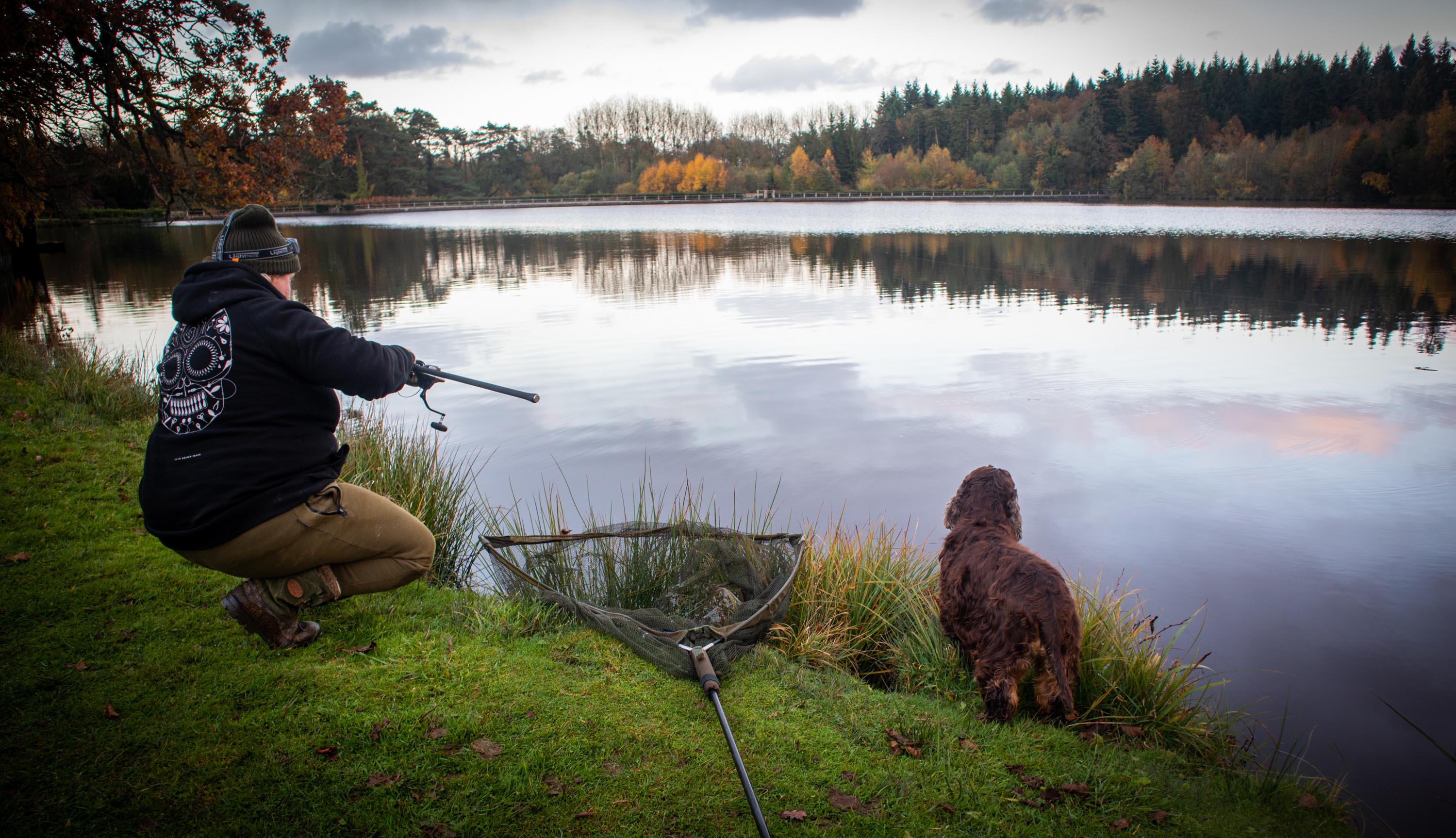 This combination was a good choice because it soon turned out to be BIG FISH time… In pouring rain and heavy winds my left Magnum X1 10ft. rod went off. At first with a big and loud run on my HD5, so I ran as fast as I could to my rods, and then it stopped… The line totally slacked so quickly but carefully I reeled the line in and suddenly… I felt something big and heavy on the other end of the line! Tania was there with me, she attentive grabbed the Magnum landing net and together we looked expectant with our head lights into the dark lake waiting for some signs of the fish I had hooked.
At first glance we couldn't believe our eyes, so we looked surprised to each other with big eyes. "OMG this is a really BIG carp" we both said out loud. Amazing! And this we said at the point that we only saw her tail splashing out of the water playing the fish. This big bellied lady gave an extremely good fight under the rod tip and really gave all her best to get rid of the hook. Since this was a Razor Point -a hook range I definitely trust in for many years now- she was fixed. To the max so I had all the trust and therefore time in the world to tire her out properly. Tania then netted her very adaptively and we had to carry her with our four hands carefully in the weight sling to the cradle. The hook was well placed in the lower seel of her mouth so no harm done there.
We couldn't believe our eyes when we say her laying in the cradle. What a stunning big beautiful dark mirror carp. Amazing! Tania and I looked at her with lots and lots of admiration and respect. She filled the entire cradle and her weight on the dual scale turned out to be an incredible 70lb 5oz!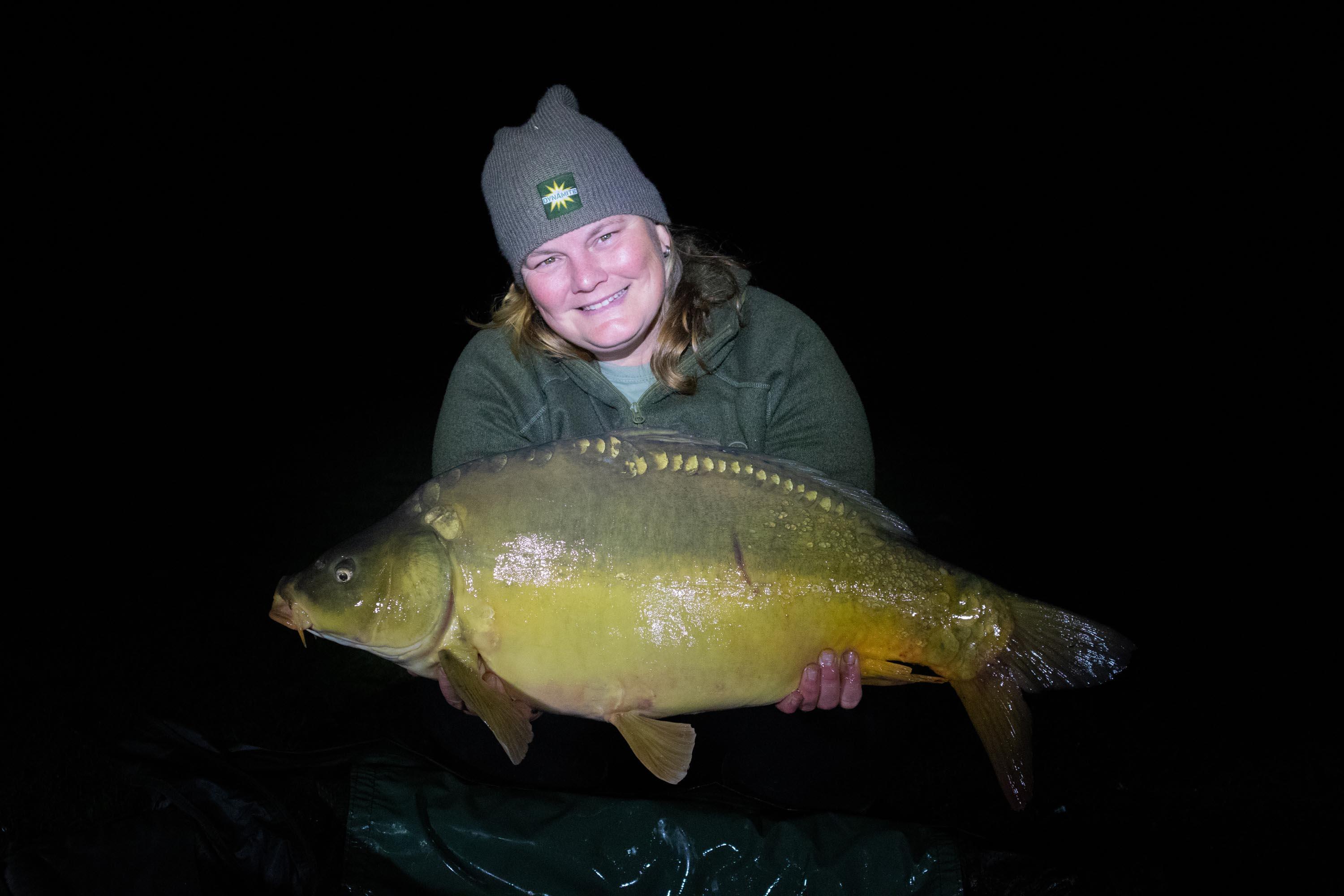 With all due care we placed her in the water in a big spacious weight sling to get our camera stuff ready and take pictures and film of her. This is the least we could do to honor and show this unique big beautiful lady to world because she deserves to be shown at the best we can. She obviously couldn't resist The Source with the 14mm red Hit 'N Run wafter in combination with the ground bait mix on which she came to this amazing weight to get trough winter. The luck was on my side with a new PB and Estate Lake record and I'm still over the moon with this once in a lifetime carp! On top of this I still can't believe I caught 3 carps over 30 kilo in one year!
Julie as owner from the Estate Lake was very happy with this capture since this was the first time in history that a 70lb+ carp was caught on her lake. She brought a good bottle of champagne as a present to congratulate me and celebrate this memorable moment. As a cherry on the pie she asked me if she could name the carp after me as "Bianca". Of course I said yes! This is a big big honor for me and I am very grateful to Julie for this. Tania and I had a great time on this lake and beside this massive chunk we caught several beautiful carp and two sturgeons. For Tania this was her first sturgeon she caught so this was all in all an amazing week and one to remember for a lifetime. We'll definitely go back to this unforgettable Estate Lake in future!