The 50 Greatest Carp Of All Time: Part 4
Including one of the country's most perfect commons...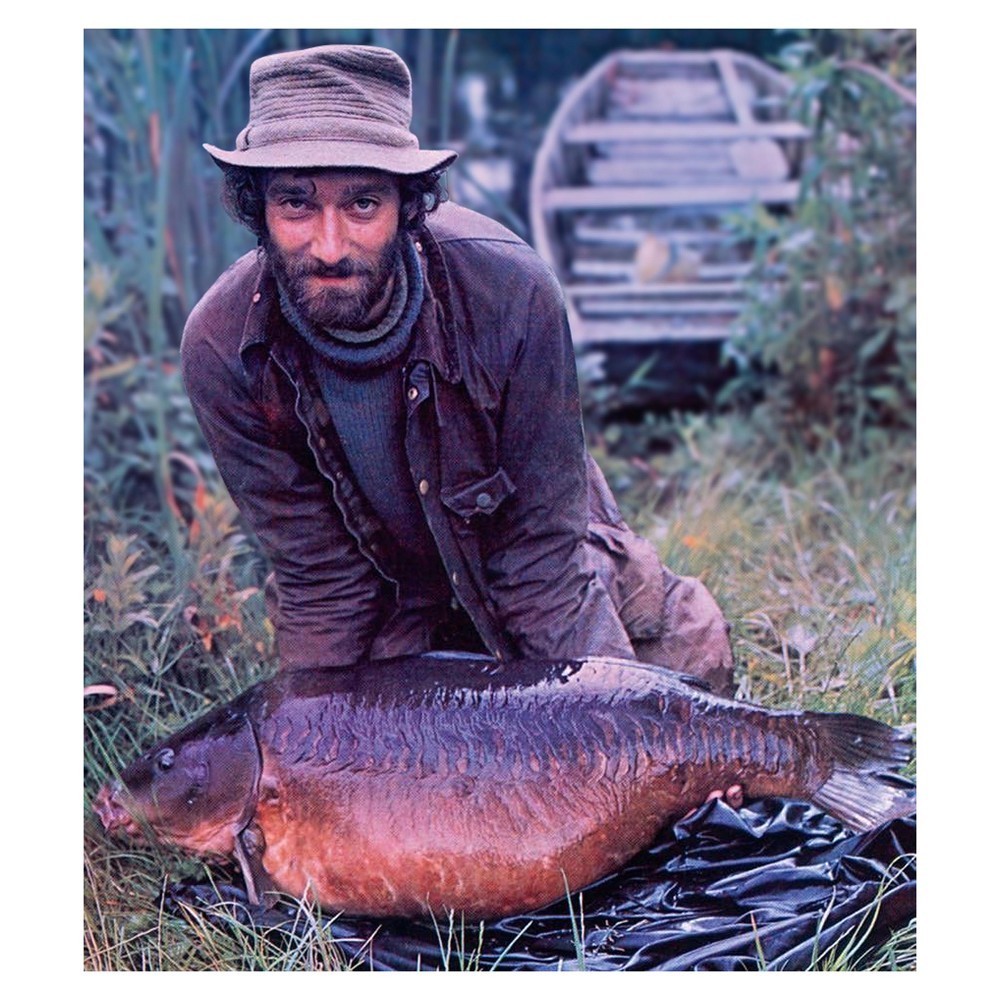 31. The Bishop
Venue: Redmire Pool
Pic credit: Chris Yates
History: Here is a capture of a fish from the enigmatic Redmire Pool which could not be left out and caught by Chris Yates. The year of 1980 saw the man himself land this huge 51lb 8oz linear called The Bishop from the historic venue. At the time, the Record Fish Committee did not accept it as a new British record, as they still insisted on having the corpse to do so. Chris wasn't prepared to kill the fish, but in time the new record was accepted.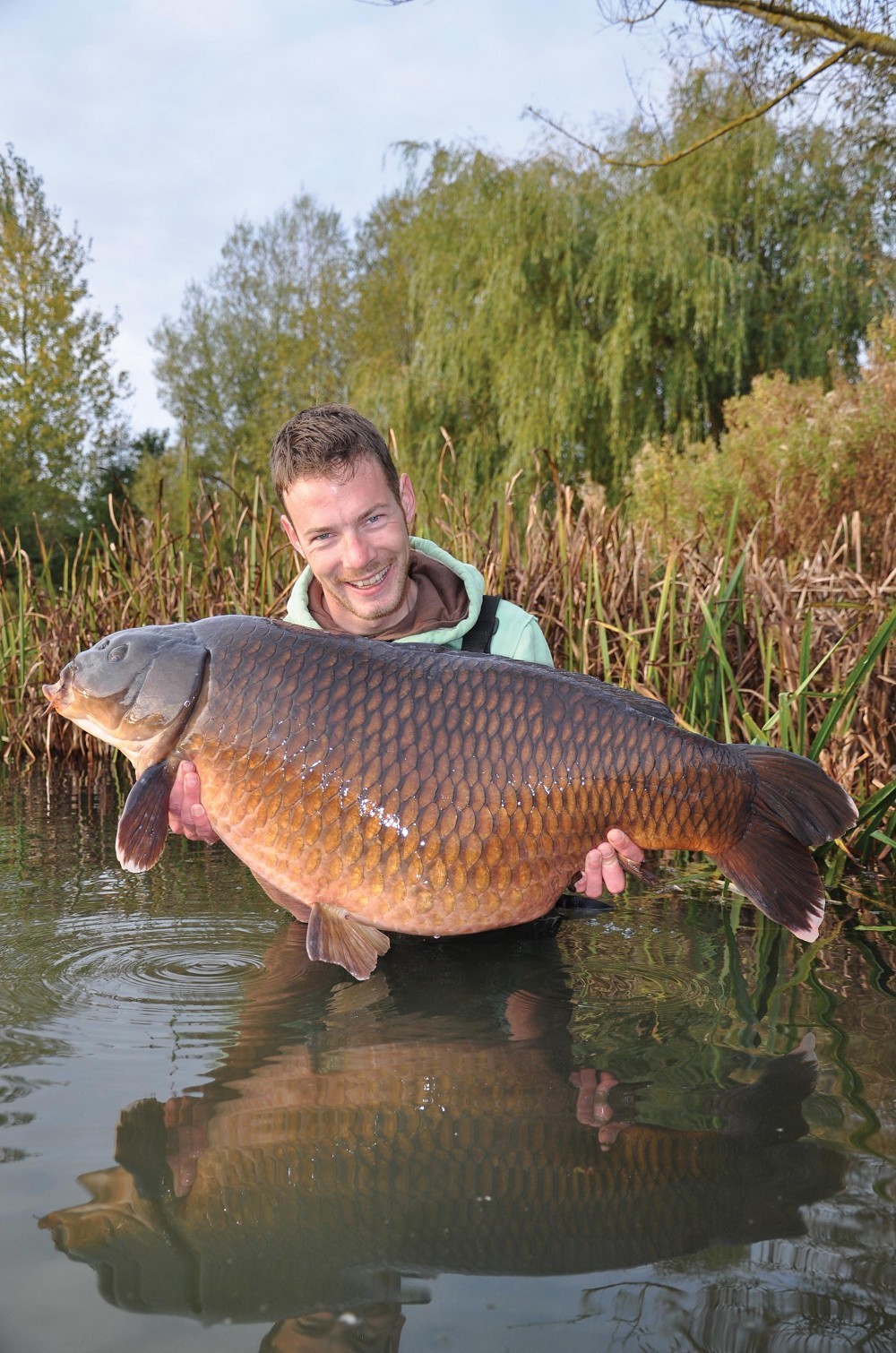 32. Wood Common
Venue: Spitfire Pool
Pic credit: Rich Wilby
History: In Norfolk lives one of the country's most perfect common carp and a very large one at that! The Wood Common is a highly sought after fish which lives in Rich Wilby's Airfield Lakes in Spitfire Pool. This intimate little water of 1.5 acres is no pushover and has seen many a good angler walk away with their tail between their legs. For Joe Morgan the story is different as his obsession with catching the fish was rewarded when he saw the Wood Common slip up on his baited trap.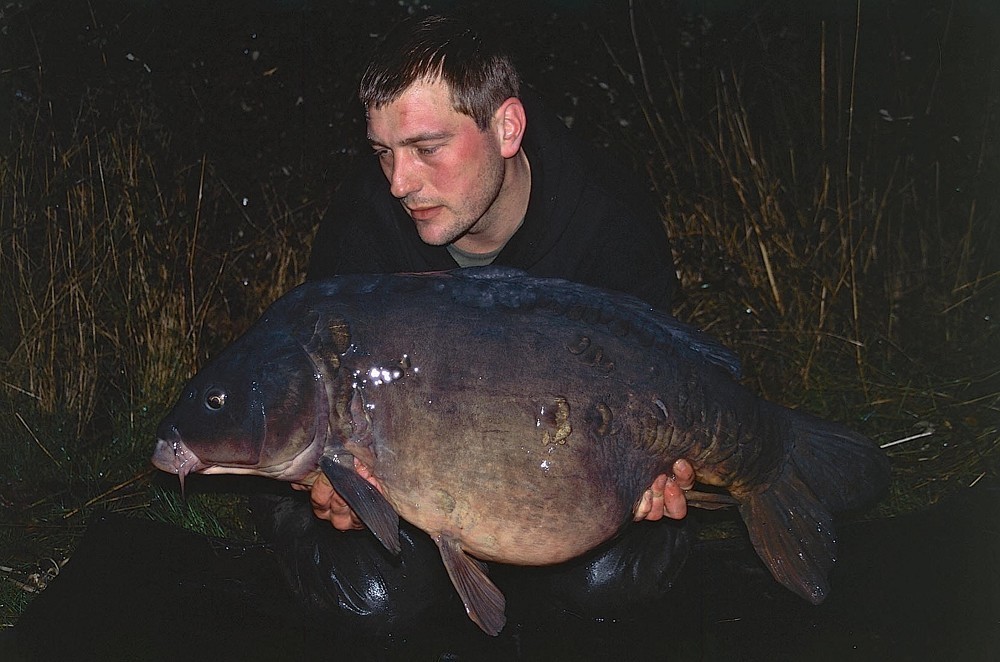 33. The Pug
Venue: Wraysbury 1
Pic credit: Jon McAllister
History: The last of the Wraysbury 1 carp to be featured, and a fish which couldn't have been left out is the mirror carp known as The Pug. Living in a lake with the likes of Mary, Mary's Mate and Mallins, this fish was extremely sought after by anglers from all around the country. Jon was one that was fortunate enough to have met many of the carp which resided in the historic big pit and in 2001 he landed The Pug at 40lb 2oz… special in every way.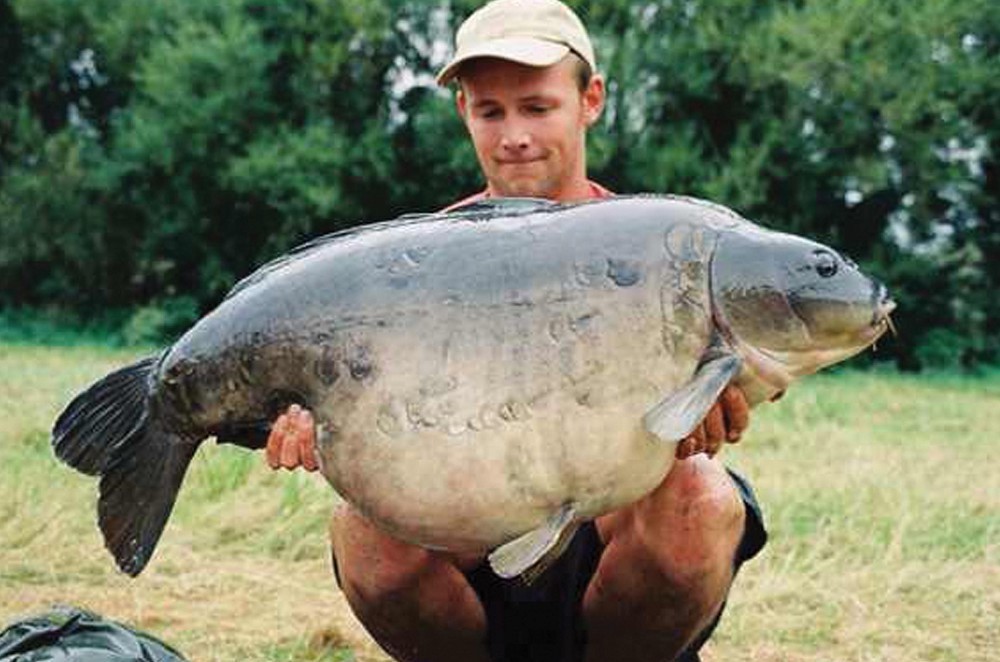 34. Fat Lady
Venue: St Ives Lagoon
Pic credit: Darrell Peck
History: The Fat Lady was on the target list for many and managed to peak over the 60lb barrier during her lifetime. Some anglers managed to outwit this sought after and scaly grey mirror quickly, whilst others had to put in a considerable amount of time to be rewarded, if ever! St Ives Lagoon held a very low stock for its size - estimated to be 30-acres. This is one of the best shots of the carp right here, with Darrell landing it at an impressive 49lb 6oz.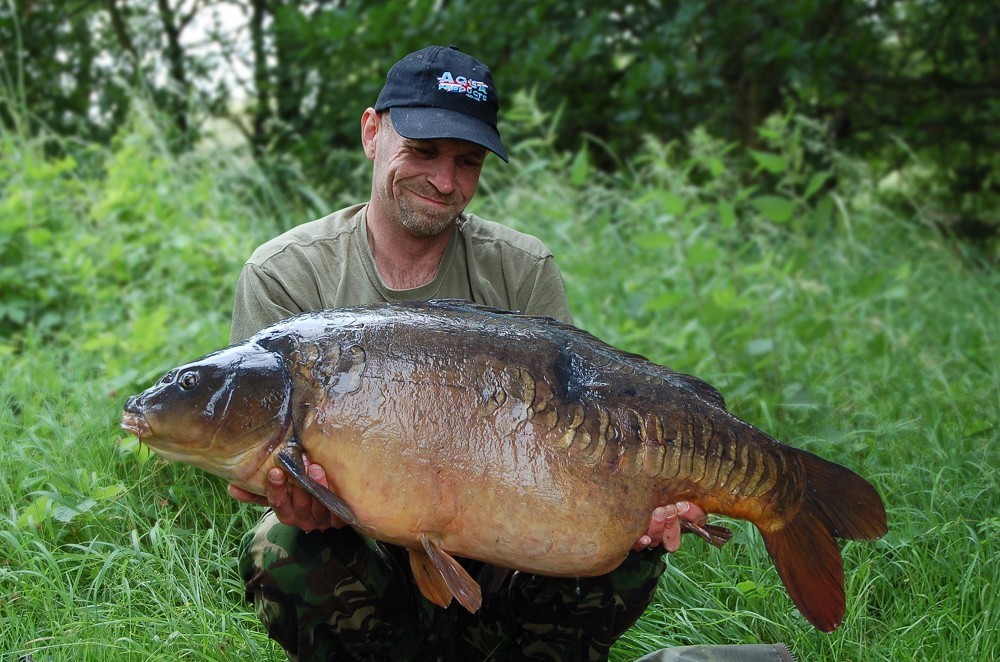 35. King Fungus
Venue: Wraysbury 1
Pic credit: Phil Bunyan
History: It seems like only yesterday that Phil Bunyan wrote an article about his exploits fishing the challenging Wraysbury 1. Many of the Wraysbury originals had unfortunately passed on, but a new generation of fish were pulling through and were developing extremely well. The largest of all of them was the half-linear mirror called King Fungus, at a weight of 47lb.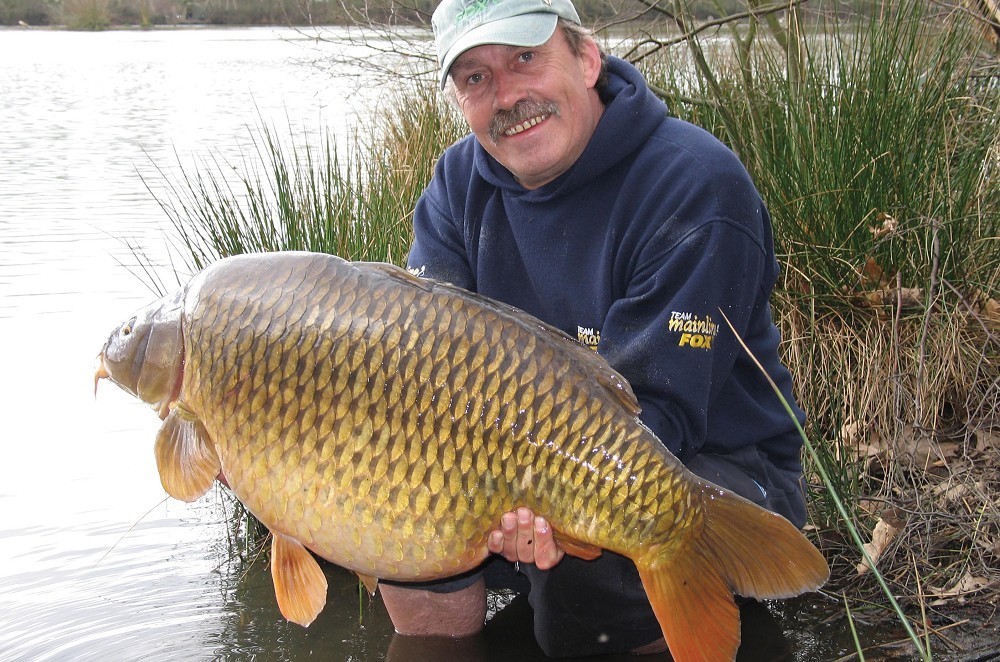 36. Charlie's Mate
Venue: Frimley Pit 3
Pic credit: Ian Chillcott
History: Frimley Pit 3 is well known for producing very big common carp and over the last few years several 40lb-plus fish have been landed. The most well known fish in the lake is Charlie's Mate which, at the time of writing, has recently reached 54lb at a new lake and is a complex record. Ian Chillcott was one of the anglers who set his sights on catching this fish, having been inspired by the capture of Clarissa from Redmire. After his third winter he caught the lake's jewel at 44lb 4oz and a dream was finally realised.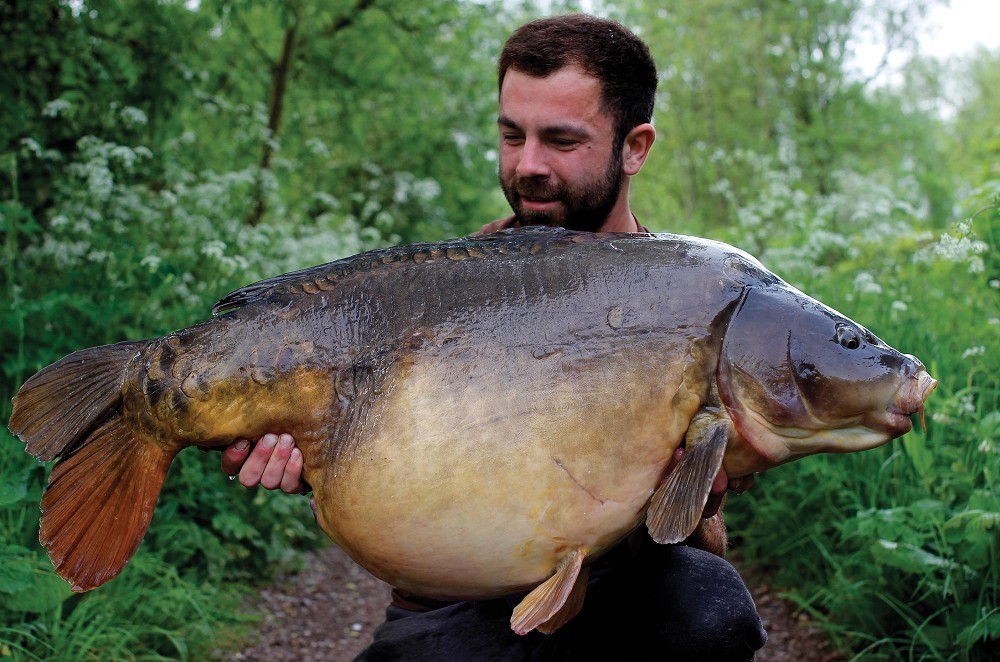 37. El's Fish
Venue: North Met
Pic credit: Luke Vallory
History: In 2016 Luke Vallory had a dream session on the large and challenging southern pit of around 60-acres called The North Met. Luke endured a hectic feeding spell and managed to catch two big carp in very quick succession with his brace almost breaking the 100lb mark. El's was the lake's largest resident to be caught at 53lb 8oz, when only moments later Baby Bazil was banked at 46lb 5oz.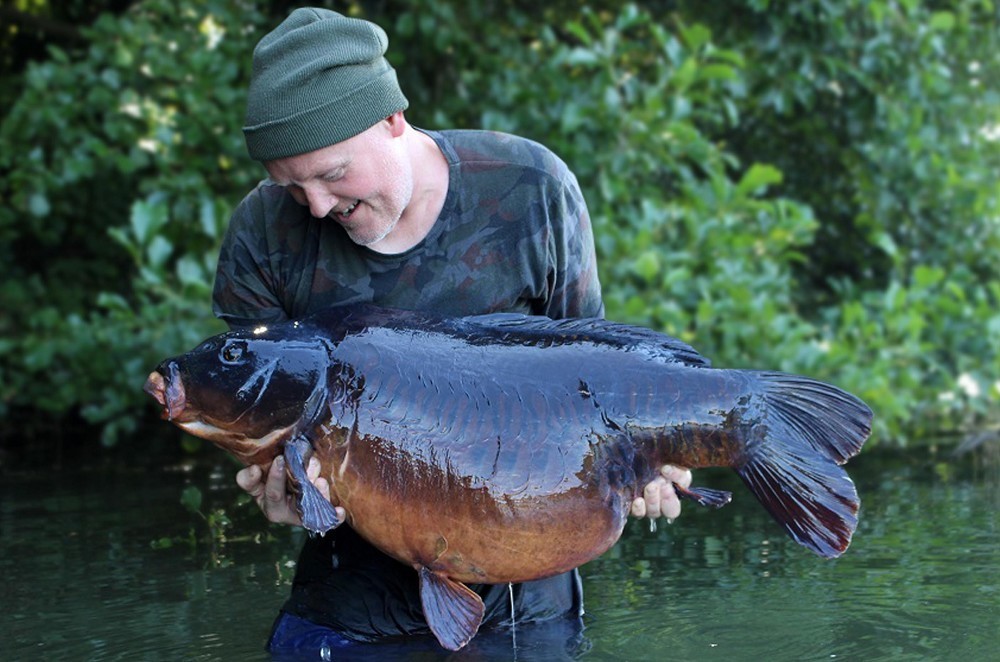 38. Son of Triple Row
Venue: Dinton White Swan
Pic credit: Jason Walker
History: Dinton Pastures is very well known for having produced carp of enormous sizes, but also some of the best looking. Son of Triple Row was caught by Jason Walker in 2017 at 46lb 2oz and this was its first capture for over 14 months. There are very few lakes around the country that produce carp of this size and with such incredible beauty. The fishing is far from easy on this weedy park lake venue, but the rewards are certainly there.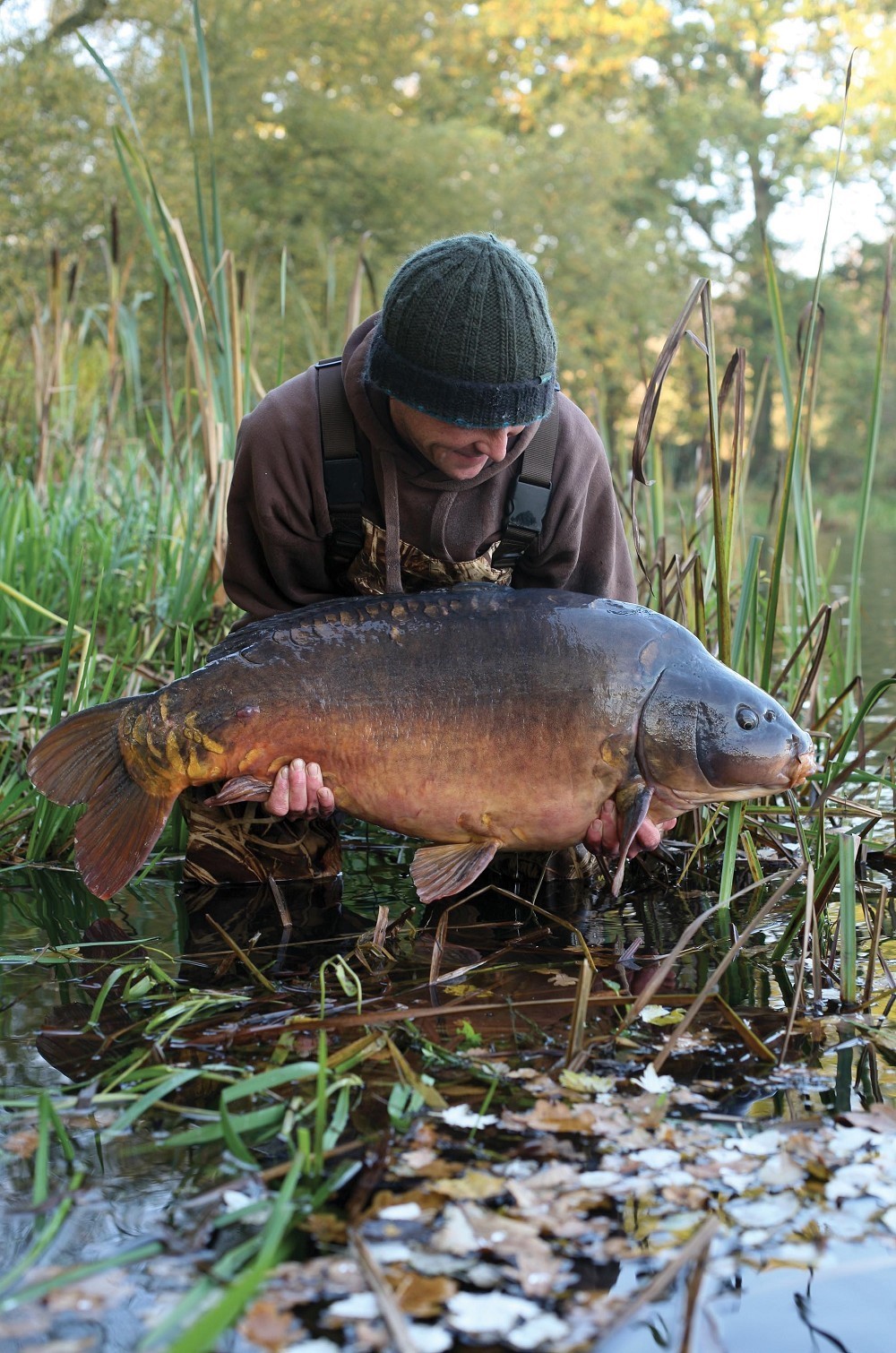 39. Chertsey Fish
Venue: Chertsey
Pic credit: Terry Hearn
History: CEMEX Angling's Chertsey Lake soon become very popular as a result of a rather large mirror caught from the venue, and in recent years it has grown to a monstrous size. Terry Hearn was one of the anglers who have had the pleasure of landing this incredible carp, which at the time weighed 51lb 4oz and was his seventh UK carp over 50lb. To catch this fish Terry had to endure several repeat captures from the low stock venue before he banked the one he desired.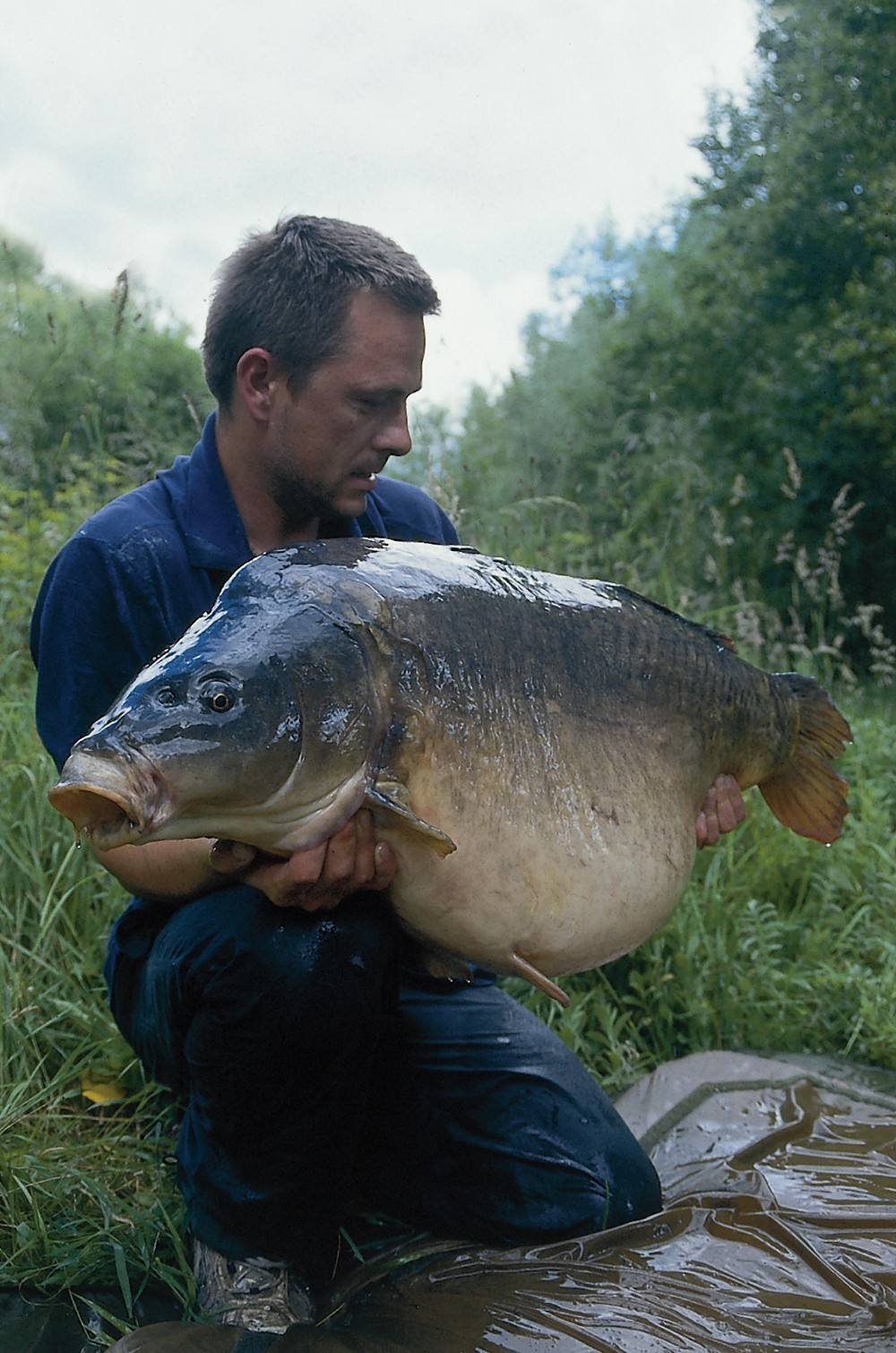 40. Arfur Tail
Venue: Yateley Car Park
Pic credit: Steve Pagulatos
History: Many of us know how difficult the fishing was at Yateley Car Park and the quality of fish that were available, but targeting one individual fish from the pressured venue was extremely difficult. Arfur Tail was one carp which didn't reward the anglers' efforts too easily by any means. The lake's largest mirror which was old, sparsely scaled and had small withered fins, was caught by Steve Pagulatos during a golden period for him, when he banked many of the lake's originals; Arfur Tail weighed 51lb 6oz.