A Clever Gizmo
Jon 'Shoes' Jones reveals a very clever little product avid carp are soon to be releasing and explains how why it's a must-have gizmo
I've been using these neat weights for sometime now and I can honestly say they have transformed my fishing. When you first look at the Line Droppers, you could be forgiven for thinking they are a niche product with just a couple of uses, but when you start experimenting with them, the applications are endless. Firstly, let me start by explaining what Line Droppers are and how they work. They are basically unique little weights that can be added to any form of line or hooklink. Unlike other products on the market, these weights can be added or detached from your line in a matter of seconds, making them brilliant for a multitude of applications.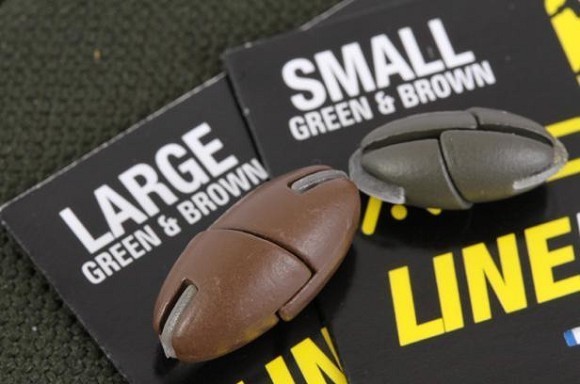 Line Droppers are made up of two small weights that are joined together with small piece of elastic. You simply slide your main line into the groove on the Line Dropper, pull the two weights apart and twist one half of the Dropper 360-degrees. As you twist one half of the Line Dropper, the line wraps around the elastic and the Dropper clamps tighter and tighter on your line. The more you twist the Dropper, the tighter it will clamp on your main line. We recommend that you only twist the Dropper a couple of times though, ensuring that it can slide off your main line under pressure.
Transforming my fishing
So you maybe wondering how these little products have transformed my fishing, well let me explain. I've used putty for years to weigh down Chod Rigs, pin down main line and overshot pop-ups. Although putty is great, it can sometimes be a bit of a nightmare to work with, especially during the colder months. Plus, once it's in place on your line it's quite hard to reposition it somewhere else. 
"Although lots of anglers like to critically-balance their pop-ups, over the last year I've done really well over-shotting them with the Line Droppers."
When I received my first batch of Line Droppers, I instantly started playing around with rigs and experimenting with them on my hooklinks. Like lots of anglers, I've always been a fan of adding large blobs of putty to my hooklink to encourage the hook to flip in the carp's mouth. The main problem with putty is, it can be time-consuming attaching it to a new rig. With the new Line Droppers, you can and them to a fresh rig in a matter of seconds.
Although lots of anglers like to critically-balance their pop-ups, over the last year I've done really well over-shotting them with the Line Droppers. When I'm targeting big fish, I actually like to make sure that my pop-up stays put on the bottom as the carp cruise into the area. When large carp are close to a balanced bait, they can often waft them around, resulting in rigs that aren't sitting perfect on the bottom. I'd much prefer my hookbait to stay put in position, slap bang in the middle of my baited area. But, if you do like critically-balanced baits, it's actually extremely easy to create them with the Small Line Droppers. You can simple add one to your pop-up rig and trim the pop-up until it slowly sinks under the weight of the Line Dropper.
As well as using the Line Droppers for conventional pop-up rigs, I've also used them on Naked Chod Rigs to balance my pop-up. Rather than fiddling around molding putty, you can simply add one of the small Line Droppers to your stiff filament to create a balanced Chod Rig.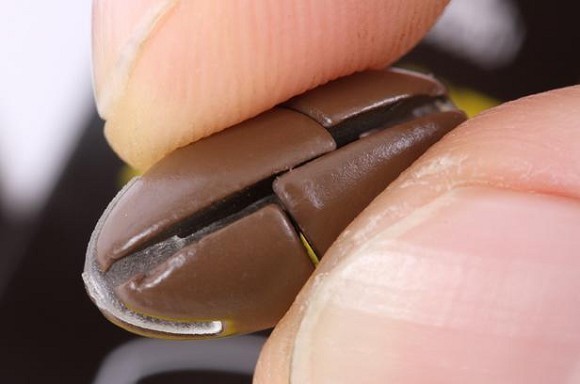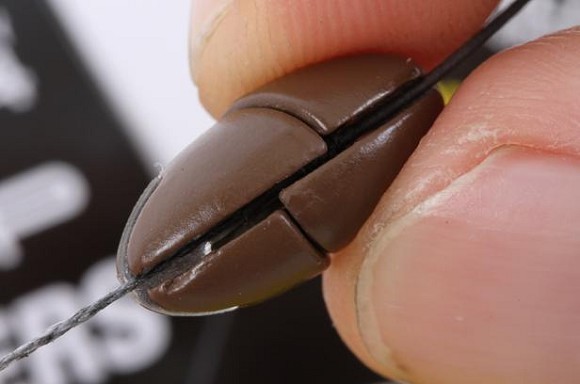 Pin down your main line
After I'd experimented with the Line Droppers on my hooklink, I started to look at the bigger picture. With so many anglers intent on keeping their main line pinned to the deck, I started looking at how they could be used in conjunction with main line and leaders. The Line Droppers obviously have a whole host of applications in these circumstances and you can really utilise them to suit the way you fish. They can be placed on your main line above leaders to ensure that everything is pinned to the deck. It's obviously essential that, in the interest of fish safety, that you don't place them below any leader knots.
Over the past year, I've been doing a little bit of time on venue that bans leaders and tubing. To ensure that my main line behind my lead clip is pinned to the deck, I've been playing around with the Line Droppers. Although you can fix them relatively tight on your main line in a fixed position, I've actually been using them as a flying backlead. If you fix them loosely onto your main line, when you cast they will actually travel up the line a couple of yards. On venues where leaders are banned these nifty little weights could make all the difference.
If you do a lot of stalking during the warmer months, you will have probably already seen the potential with the Line Droppers. Earlier in the year, when the fish could be found a lot closer to the bank, I did really well using the Line Droppers for stalking. Rather than using a large lead and conventional lead arrangement, I found on of the Large Line Droppers offered just enough weight to flick a hookbait close to margin-creeping carp. Plus, I found the Line Droppers were great when the carp could be found cruising around in the marginal weed, because they allowed me to carefully position a hookbait on top of the weed, when using one of the smaller Line Droppers.
To be honest with you, I've only just scratched the surface with these neat little weights. They have a whole host of applications and every angler will have their own view on what they are good for. Regardless of where you fish and what your favourite approach is, I'm sure you'll be able to find a use for these neat little weights. Every angler should have a packet of them in their tackle box.
Jon 'Shoes' Jones