Advanta Endurance 6 Leg Memory Foam Bedchair
Advanta's new luxury bedchair is all about comfort, and once you sink into its doughy embrace, you won't be leaving anytime soon (aside from a screaming bite alarm)
Advanta, the in-house tackle brand at Angling Direct, are quietly building an empire of quality products to match many more established manufacturers. With products like this bedchair with a memory-foam mattress they are clearly demonstrating there is more to their output than just good-value gear. This is a luxury bed, built to provide supreme comfort, with plenty of high-end features. It's the sort of kit that can rightfully go toe-to-toe with the big boys in the industry.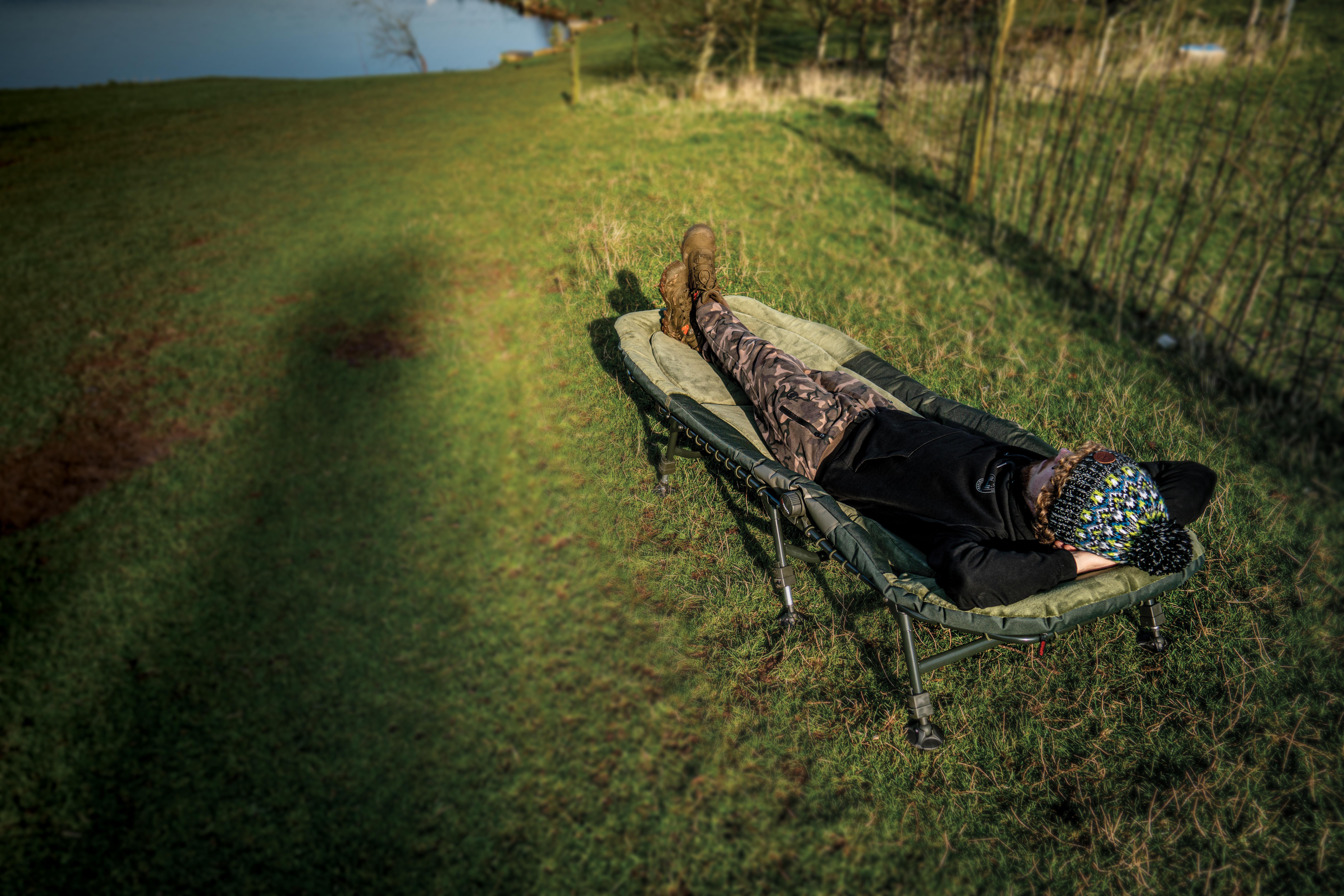 The Big Questions
I've seen mentions of memory foam before. What is it?
Essentially it's a thick padding that retains its shape - hence the 'memory' part of the name - when under continuous pressure. It's not fighting against you, it's moulding itself to the shape of your body so you get comfier quicker. Plenty of bedroom mattresses use this stuff, and it's found its way into the bedchair market in recent years.
It sounds good.
It feels good, too. Lie on one of these and you won't want to get up again! The mattress has a lovely peach-skin feel to it and is padded all the way around the edge of the frame. It's also removable, so you can give it a brush down and a clean easily.
So this bed is all about getting a good night's kip?
Absolutely. Everything about it is geared towards keeping you comfortable on the bank. The six legs provide support, while the ratchet wheel that controls the angle of the head section is designed to allow the bed to lie completely flat.
What's the frame like?
Considering this is a luxury bedchair, the whole package is relatively light, and that's all down to the use of aluminium (and steel) in the frame's construction. So all in it's only 12.2kg, which isn't too bad. The legs are strong and easily adjusted with a 'Push n Lock' mechanism that can be easily operated with one hand. At the end of each leg sit large self-levelling mud feet to help spread the bed's weight on soft ground. Advanta's Grip-Hold Leg System is also in place here, which means the three sets of legs snap firmly against the frame to lock them in place and prevent frustrating collapses during set up and while sleeping.
Any other goodies?
Advanta have included a zipped wallet, or valuable pocket, that's cleverly positioned on the underside of the bed. It's the perfect place to stash your wallet, keys or even your bite-alarm receiver. Remember, too, that unlike many modern bedchairs the Endurance 6 Leg Memory Foam has a ratchet wheel to control the angle of the head section. So if you miss being able to pitch your head up during the day, or for reading in bed at night, this bedchair gives you that capability.
How big is it?
This bedchair would fall into the 'standard-sized' category if you're thinking of pairing it with a specific sleeping bag, though it is larger than some. It has a length of 213cm and a width of 86cm. With a current retail price of £159.99, down from an initial £179.99, it represents pretty stellar value for money.
£159.99
When you buy something using the retail links in our product reviews, we may earn a small affiliate commission.