Avid Carp Carbon Yard Sticks
Avid's original Yard Sticks carried many unique features, but we reckon their carbon versions even trump those…
Distance sticks, wrapping poles, Yard Sticks… call them what you like, they have certainly dominated the carping world in recent years. Our increased reliance on accurately hitting spots with rigs and spods has made these tools a must-have item in the 21st century. Avid were one of the first companies to bring their own design to market and have issued a few variations down the years. The latest model is constructed from carbon fibre. Here's why we reckon they trump the originals…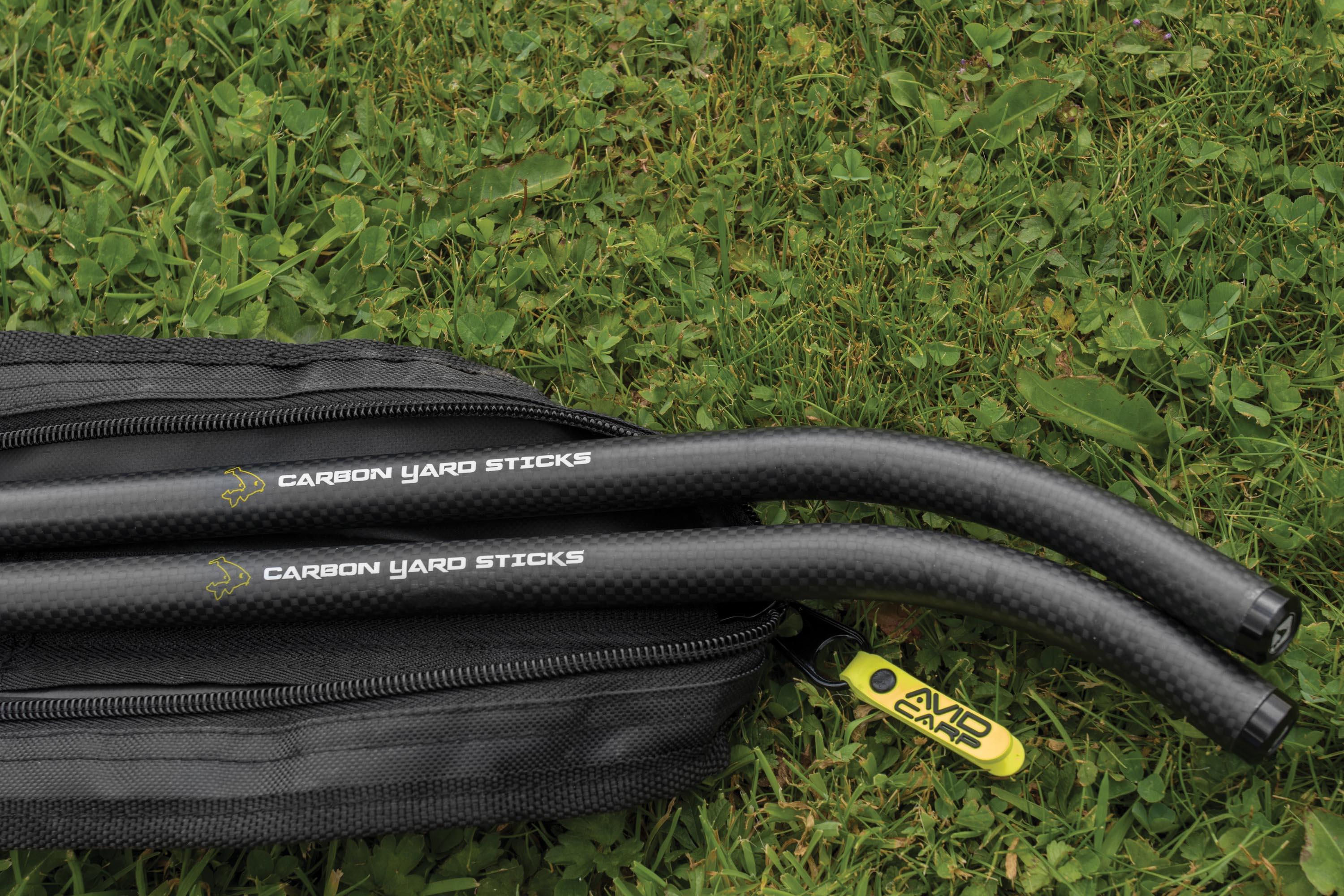 1 Lighter
Made from high-grade carbon, it is instantly apparent that these Yard Sticks weigh much less than the metal originals, meaning you can shave a little bit of bulk from your kit. They appear just as strong, with a tough metal spike to dig into the ground.
2 Just the right height
The original Avid Yard Sticks, which sold in their thousands, were ideal for novice distance wrappers because they stood about 3ft tall. Then came the Overnighter Yard Sticks which were shorter for anglers who wanted to travel lighter, but these ones could cause tangle issues for less-experienced users. The Carbon Yard Sticks are the best of both worlds with a lightweight feel and enough height to stop line slipping off.
3 New toggles
Each set of Carbon Yard Sticks comes supplied with a 12ft cord for setting the perfect distance between each pole. Neatly, however, there are also three sliding toggles on this cord for you to record the exact spot for all three rods. The originals
had three black toggles - now they're individually coloured.
4 Classic angled design
The beauty of the original Yard Sticks was the angled neck which helped funnel line back to your reel once you'd wrapped up. These new versions boast the same feature. Just remember, the swan necks should point in at each other. Lots of people set them up incorrectly!
5 Looking good
There is no denying that quality carbon adds an air of class to your swim, and these new sticks certainly look the business. They are very well finished with an Avid Logo in the top cap, and they come supplied with a zip-up bag to keep them safe.