Carp Spirit Arma Skin Speed R
Carp Spirit have produced one of the most complete brolly-based shelters the market has ever seen
Carp Spirit are making a massive impact on UK shores with a succession of heavy-hitting products - from rods to bite alarms, bedchairs to terminal tackle, they've got it covered in their 234-page catalogue.
They also offer a great range of shelters - 11 models in all, covering budgets, sizes and designs - including this pearler of a luxury brolly. The Arma Skin Speed R is part of the emerging breed of luxury brollies. Based on the traditional umbrella design, the main frame is very easy to put up and collapse away, but the added storm-pole supports and the many features of this shelter give it a real air of solidity and comfort.
The first thing you will probably notice, and swoon over, is Carp Spirit's exclusive Arma Skin fabric. It's hard to describe in print just how good it looks and feels, but the texture and colour is absolutely perfect, while it's slight stretchiness gives a really classy finish. Spray water on it, or get caught in a downpour, and you will be impressed by how beautifully the water beads up and rolls off this stuff. It's got a 10,000mm hydrostatic head (so that's a column of water 10m tall that can bear down on the fabric before it leaks) and, crucially, is also breathable with a 5,000g breathability rating to reduce condensation.
There are four storm poles (two long, two short) provided, and a put-together fibreglass pole which helps brace the internal space. The brolly mechanism is very well designed with fibreglass ribs that are lightweight yet strong. Carp Spirit have also put neoprene protectors over the sections that contact the fabric, meaning there's no danger of creating stress points in the Arma Skin outer.
Internal space is very good and the whole brolly comes in at 290cm long 150cm tall and 230cm deep.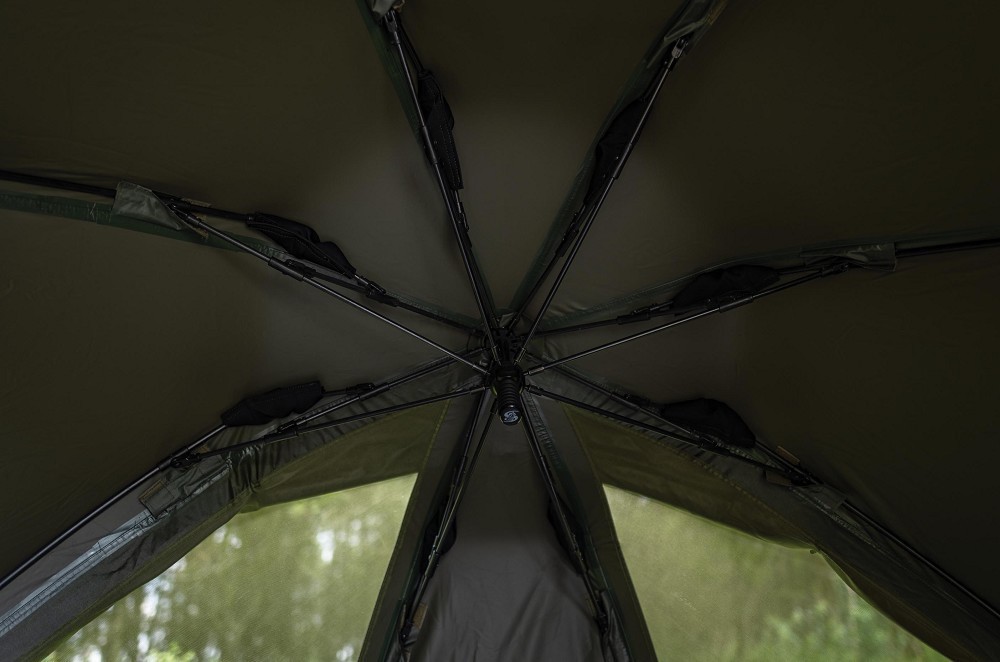 The shallow spokes gives you masses of headroom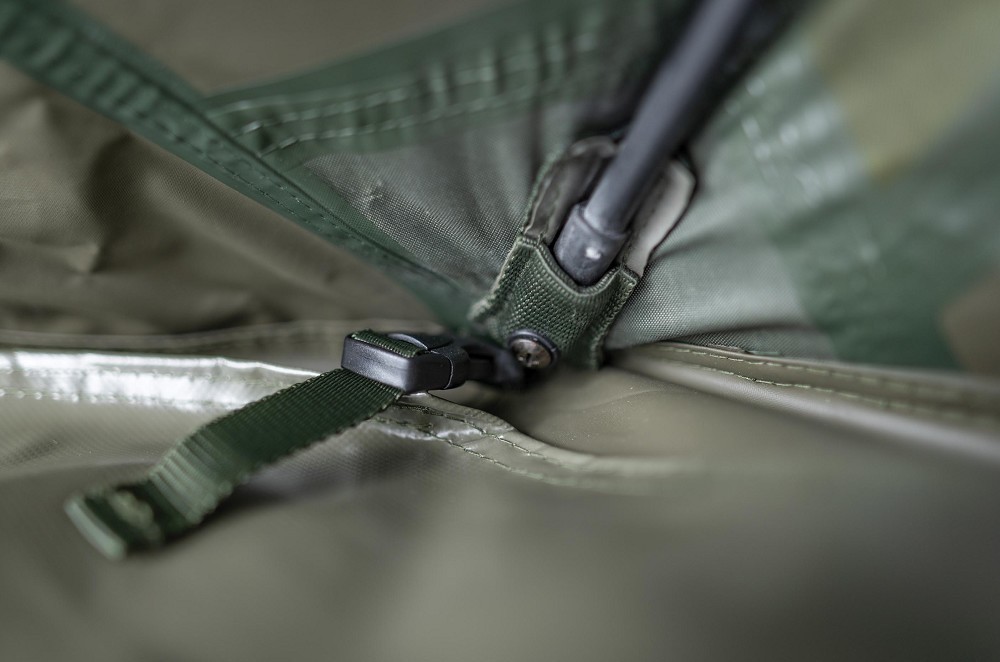 We love the clip-in groundsheet - it makes life a lot easier
The zip-in front section is very well designed with a three-layer system allowing you plenty of control over how you configure it. Those layers are solid green, see-through plastic and mozzy mesh, and all are very easily accessed with over-sized zips and strong Velcro fastenings.
At the rear there are two large vents, neatly accessed by a central zip that allows the outer material to be simply rolled back and stowed with toggles. You also get a durable heavy-duty groundsheet and two Velcro rod supports over the front.
If you want extra comfort then there's a full Winter Skin Overwrap available for the harshest of conditions. This provides an extra layer over the brolly to aid warmth, reduce condensation further and provide a little extra porch room. It too has a three-layer front door with the same options as the brolly's complete front panel, and both the front rod supports and the rear vents are retained so you don't lose out on any features by adding the Winter Skin. The additional overwrap weighs in at 5kg, while the Arma Skin Speed R itself is 15.5kg.
It's worth noting that while all bivvies these days come with proper pegs, Carp Spirit have had the sense to provide a proper durable peg bag, too, so you won't pierce any fabric with the sharp ends. It's this attention to detail, exhibited throughout the design of the Arma Skin Speed R, that marks it out as a very special shelter.
£364.99; carpspirit.com/en