Cygnet's put on weight
CARPology presents Cygnet's new line of rod supports, the 20/20 collection – a completely interchangeable range which looks divine
Less that three years ago, Brand Manager at the spiritual home of aluminium, Cygnet's, John Walker promised us big things under his new leadership of this hit brand from the mid-90's, but reassured us that "the company's core values and principles would remain the same: quality and desirable products that are lightweight and look the part" and what has followed in that time is a collection of bars, sticks and must-own essential gadgets and gizmos, all of which are smothered in those four core values – along with a big dollop of black paint to give them their now signature look.
Following in the footsteps of the hugely successful Sniper and Snug range comes this, the 20/20 – a collection of bars and sticks which are completely interchangeable. All the collars on the sticks correspond with the threads on the bars size-wise, the colours are the same and the diameter of the round bar used is consistent throughout, giving a perfectly balanced look.
One of the other key changes with the 20/20 collection to Cygnet's original lines is the "diameter of the round bar used". This new chunky finish doesn't just look great, it also means the complete range is incredibly strong and durable, but thanks to Cygnet's connections with the stainless and aluminium world, they haven't compromised on weight or looks. See, it's those core values again.
In total, to get this perfect balance of strength, weight and looks, it's taken John and his team nearly two-years but the result is a range that is a 100% metal construction and either powder coated or anodised aluminium, which looks pretty damn rad and has a price tag to please any girlfriend or wife. So here's what's available…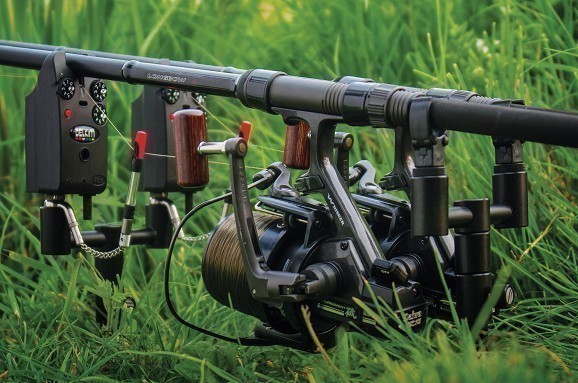 20/20 Snugs 2 and 3 Rod
Cygnet's rod support systems are some of the most desirable around. First came the 'Sniper' sticks and then the Snugs, and just like we stated when we reviewed those back in May '12, where do they go next, just like the makers of the 2013 Hollyoaks calendar? Cue: the 20/20. Following in the super success footsteps of the original Snugs which were renowned as mega space efficient, lightweight and simply awesome looking, John didn't want to change too much. The solution: he upped the spec of the material – in other words, beefed them up a bit.
The 20/20 version is made from a 16mm solid aluminium bar along with 22m collars throughout and all anodised in black. The build quality is second-to-none and you only have to screw them onto the chunky 20/20 sticks to see it all lines up seamlessly.
As per the original Snugs collection, one of the real beauts about the range is the variance in size – you can mix and match to suit the size of your reels, space you need or the splay you want on your rods – they offer complete individuality and come in the following sizes: 2 Rod Snugs 4.5", 5", 5.5" and 6" and the 3 Rod Snugs come in: 8.5", 9.5", 10.5" and 11.5".
"GIMME": The 2 Rod versions retail for £9.99 each and the 3 Rods £12.99 each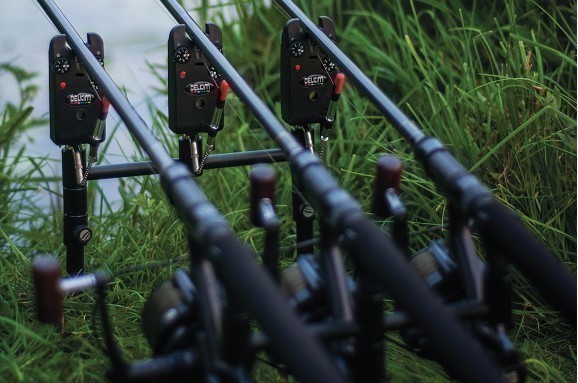 20/20 Snugs 3 Rod Goal Post
Following in the same chunky footsteps as the standard Snugs, these are identical to the 3 Rod Snugs but obviously for use as goal post bars only. Again, they are crafted and machined from the same 16mm solid aluminium bar along with 22mm collars throughout and all anodised in black. Looking for a rock solid set-up? Push these into the ground and you're guaranteed it. Available in the following sizes: 8.5", 9.5", 10.5" and 11.5".
GIMME: Each retail for £12.99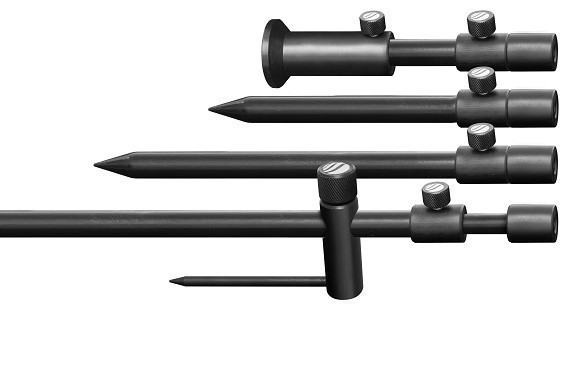 20/20 Banksticks
Both practical, functional and just damn awesome looking, the new 20/20 sticks are produced from a powder coated 16mm O/D shaft and 22 O/D anodised collars making them one seriously strong mother. The thumbscrews they have used are a hybrid of an anodised grip with a stainless thread for absolute reliability and strength – and before you ask, cam locks were considered, then tested, but then binned as they weren't up to the job. These thumbscrews really are impressive – and they just look right too. The 20/20 Banksticks are available in the following lengths: 6-10" (for use with stage stands mainly), 9-16", 12-22" and 18-34".
GIMME: From £9.99 each
20/20 Stabiliser 16mm
Forget wobbly banksticks with this all-metal anodised aluminium stabiliser. It features an oversize aluminium thumbscrew for rock solid tightening.
GIMME: £11.99
20/20 Stage Stand 16mm
If your venue dictates you must use a stage stand (do it over using a pod), then this one isn't just lovely to look at, but it's outrageously strong. Machined from one piece of aluminium that Cygnet has anodised, they are mega solid and feature the same hybrid thumbscrew as the banksticks. Inside the packaging you will also find a cross-headed screw supplied to secure your kit to your chosen staging/sleeper.
GIMME: £14.99