Daiwa Tournament Basiair 45 reel
Less big pit reel for more money? Where do we sign?
Weight is the bit pit reel designer's natural enemy. Always has been, always will be. In years gone by it was "bigger is better and to hell with the weight", but in today's lighter, techie world we all want higher performance but without that extra flab. Take a supercar for example: for extra speed and frill simply add lightness and the same rule applies for winders.
So, every couple of years, the top reel manufacturers' wheel out what they see as being the most hardcore, beautifully designed and made, reels they've yet built. And this usually means they've stripped off all unnecessary nonsense, having been put on a crash diet. The only bummer is that you're still charged heaps more for the privilege.

"As a standard reel, the BASIA isn't exactly flabby, but this new version tips the scales at just 445-grams."
At an eye-watering £875.00 (and an extra £85.00 per spare spool), Daiwa's latest release to the ever-lighter-big-pit market is a second generation BASIA, the Tournament BASIAIR 45. It costs a whopping £224 more than the original and some £170 more than their nearest rival, the Aero Technium MgS XS-A from Shimano, yet it weighs fair less which must mean you get less, right? Well, to put it simply: no. The reel's magic is hinted at in its name: BASI-'AIR'. The 45 tells us it's an ultra long 45mm double anodised spool profile that produces supreme casting and thanks to the 4.1:1 retrieve, it still brings home a shade under 90cm of line with one turn.
As a standard reel, the BASIA isn't exactly flabby, but this new version tips the scales at just 445-grams, some 50-grams lighter than their competitors best offering. And how have they achieved this despite the reel being the same size as its predecessors and competitors? By using two new materials that are a first in reel design and manufacturing: AirMetal magnesium alloy and ultra light ZAION. They've also shaved off any excess material that's "not really required", i.e. in the machine-cut wishbone aluminum handle, under and around the rotor and in the spool. And talking of the spool, once again Daiwa has incorporated their quite simply brilliant QD drag engagement.
So you get less weight for your money but in terms features and developments you actually get more. To start, you get eight ball bearings including five CRBB's, whereas on the original you'll find just seven and not CRBB's. You also get a High Impact Line Clip (which is that good Daiwa have patented it), StarLight holes on the spool skirt and of course their ace stainless steel AirBall.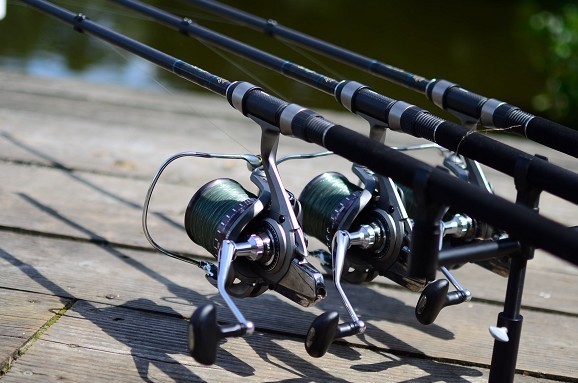 Now having owned a set of BASIAIR for some 12 months, I've come to a few conclusions regarding the world's most expensive carp reel. First off, in terms of design and engineering they're the equivalent to an Aston Martin. They've got the looks, the beauty, the style, but more importantly they work at a very high performance and as yet, they haven't faulted once. My rod sling is now massively lighter. Going from five Tournament ST 5000's to three of these and two standard BASIA's makes a saving of almost 1.5lbs. The clutch is that amazing I've actually switched from playing fish on backwind to off the clutch, such is my belief in their super smooth system. The QD drag engagement is the best free-spool facility I've ever encountered and the line lay is mind-alteringly good.
"They're like nothing else, trust me. So sell everything you own."
But, and this is a lovely, big rounded 'but', it does have a few drawbacks. For almost £900, I would like to see a line guard. On my first outing I almost gave up on the reels as the line was consistently going under the spool, which meant undoing the spool, removing it, untangling the line before replacing it. Okay, the issue was partly my fault as I had overloaded the spools and by simply removing some of the line it solved the problem, but still, a line guard isn't a big ask is it?
Originally I wasn't overly in love aesthetically with the reel, but the more I looked at it, the more I felt and used it, the more I fell in love with it. And in terms of faults, that's it.
To me, they're the pinnacle of reel design. They have the big pit ethics but the match-fishing reel weight. They're like nothing else, trust me. So sell everything you own, flog gran on eBay if you have to and steal the rest, because these really are worth the guilt of such acts and the price tag. P.S. Sorry, nanna.