Deeper PRO+ Feature Finder
Smart sonar to enhance your swim research!
Location: whether that's the fish whereabouts or the most likely areas and spots in your swim to do a bite, it is one of, if not the most important elements of your fishing and it's about to get a whole lot easier. Say hello to Deeper Smart Sonar PRO+, the newest Deeper product. A piece of fishing tech that'll replace the location worries echoing around your head with accurate echo sounder details of what's in your swim straight to your smartphone or tablet!
Tech? That sounds like this is going to be complicated?
Well, despite the fact that the Deeper Pro+ is jam packed with smart sonar know-how, it's actually extremely easy to set-up and use. In fact, the user guide included will have you up and running in just four easy steps. Simply charge the Deeper device, download the Deeper app to your smartphone or tablet and then attach the device to your fishing line and cast into the lake, at which point the Deeper Smart Sonor will connect with the app and begin relaying detailed sonar information.
That sounds easy enough, but won't casting this out spook my swim?
No, not really. You just need to address the fishing situation as you would before casting any rod – i.e. if fish are present and active then you would perhaps hold back with your marker rod casting. In fact, the Deeper Pro+ is quite guileful once in the water as all you're doing is reeling the small black sphere just a few inches in diameter slowly and gently across the surface so you're not disturbing the lakebed at all. This also makes the gadget perfect for weedy conditions as you can see where the weed is without getting a lead or marker float clogged up in it before dragging back a clump of weed – now that can spook your swim.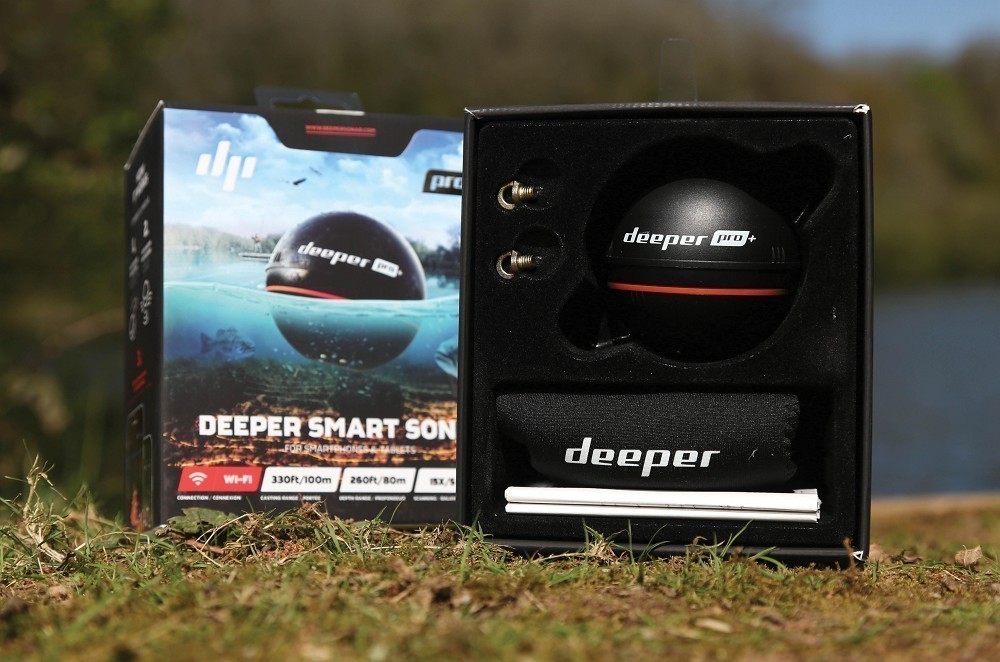 The Deeper PRO+ device comes with two attachment bolts, a protective neoprene case and a USB charging cable
Do I need a special rod or line to cast this?
The Deeper Pro+ weighs just 100-grams so 3.5ozs, so that means your average carp rod will suffice, along with a line you'd normally cast that size lead, like 15lb mono. So, no, special equipment is needed.
Okay, I'm beginning to understand, but is it easy to use the app?
Yes, the app is well thought out, functional and has a number of useful features – all of which are very easy to use. As soon as you open the app and cast out your Deeper Pro+ you'll start to see a clear display showing you the topography of the lakebed, as well as the depth and temperature of the water. The display is then updated seamlessly as you draw the sonar device back toward the bank. Pass over any fish and it'll show you that too, but the features don't stop there. You can also record information within the calendar and history tabs, as well as view the weather. The camera of your smartphone or tablet can also be operated via the app to share pictures such as your latest catch to social networks.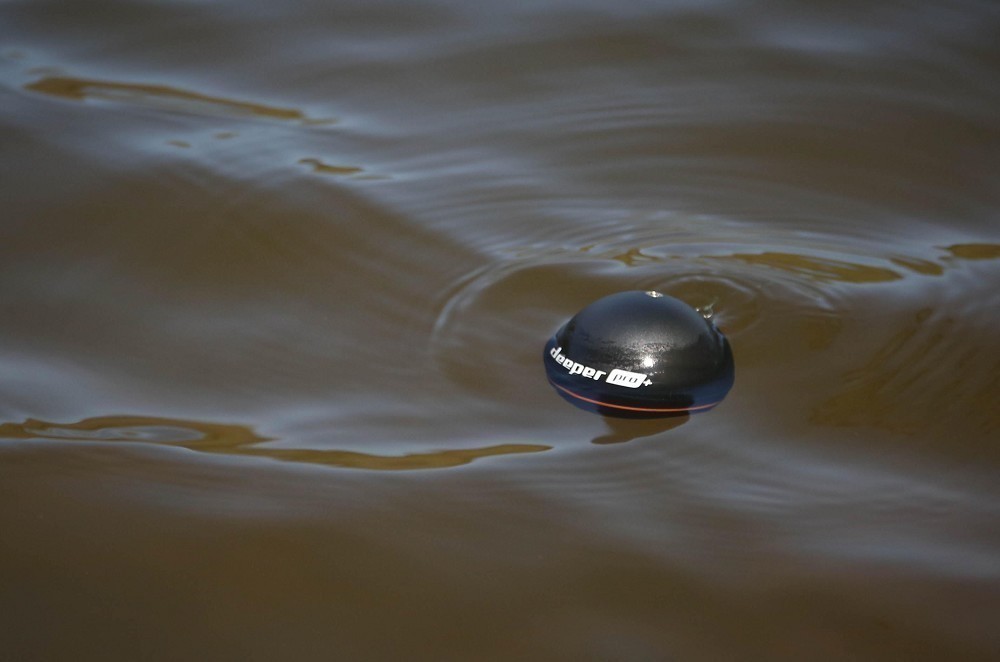 Although it's only small, the PRO++ will read depths from 1.5ft up to an impressive 260ft!
Sounds awesome, but do I need a good phone signal or internet connection for the system to work?
The Deeper Pro+ produces its own WiFi signal to which you connect your smart device, so no, you're not dependent on signal – just find and connect to the Deeper within the WiFi settings of your phone or tablet and away you go. The Wi-Fi connection secures the distance between the device and its user up to 110yd.
That's sounds ideal, but I do fish a deep water venue with depths of up to thirty-feet, will this still work on that sort of depth?
Despite the Deeper ball being small in size, it packs a powerful sonar capable of functioning in depths of 1.5ft up to an impressive 260ft!
Okay, it sounds like a really useful piece of kit. Anything else I should know?
That's pretty much it. Everything you need such as a USB charging cable, two attachment bolts and a protective neoprene case are included in the box. Accessories are also available, such as bright night covers and a flexible arm that would be useful to anyone looking to attach the Deeper Pro+ to a boat. Oh, and finally, the other exclusive Deeper Pro+ feature is its ability to create bathymetric maps even when fishing onshore. How cool's that?! "GIMME": £189; deepersonar.com